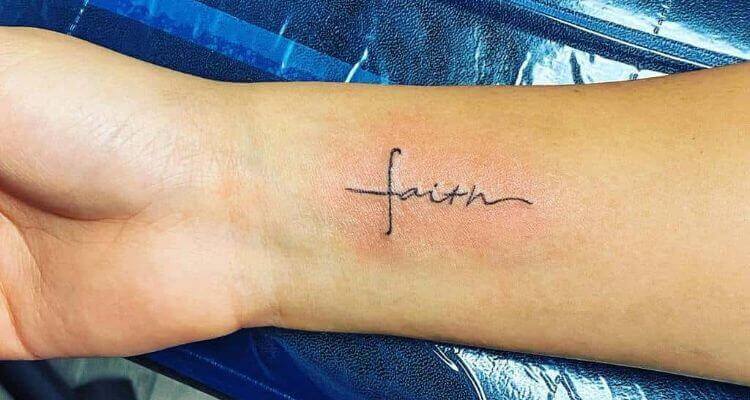 25 Inspirational Faith Tattoo Ideas for Men and Women
Posted on
Are you planning to get a faith tattoo but don't know where to start? Do you want the design to be as unique and dynamic as possible? If so, you should be aware of some of the most
popular Faith tattoo designs and where to find them.
For centuries, tattoos have been used to represent an ultimate expression of beliefs. And why not? They're, after all, a great way to showcase to the world what you believe in. However, finding the best faith tattoo among many faith tattoo ideas can be a taxing job for you. But you don't need to worry! We've rounded up a list of some very expressive, eye-catching, and best faith tattoos for you to look through for inspiration on what type of faith tattoo will suit you best.
Here we go…
Table of Content
Christian Faith Tattoo
"Faith" etched on Wrist
Cross & Wing Faith Tattoo
Tribal Cross Faith Tattoo
Faith Symbol Tattoo
"Faith" with Cross Symbol Tattoo
Celtic Cross Faith Tattoo
Intertwined Three Crosses Tattoo
Rosary Beads Faith Tattoo
"OM" Faith Tattoo
Jesus Christ Faith Tattoo
Vesica Piscis Christian Fish and Cross Tattoo
Dove Faith Tattoo
Line Cross Tattoo
"by grace through faith," Faith Quote Tattoo
Christian Word Tattoos
Infinity Tattoo with Cross
Cross & Infinity Faith Tattoo
Sanskrit Verse Faith Tattoo
Jesus Fish Christian Tattoo
Cross & Flower Faith Tattoo
White Ink Cross Tattoo
Faith. Hope. Love. Tattoo
Strength with Cross Faith Tattoo
Cross + Roses Faith Tattoo
Meaning of Faith Tattoo
There are myriads of faith tattoo designs to choose from. Faith tattoos are generally associated with the person's faith in God. Still, these extremely popular tattoos are also inked for a variety of other reasons, such as hope, commitment, faith in belief, tradition, etc.
Faith is a deeply personal belief that a person carries with them throughout their lives. Faith can and often does manifest itself in religious terms. Almost all religious tattoos are significant to religious folk because they remind them of things they stand for.
Moreover, different religions have different symbols of faith. Cross, dove, praying hands, rosaries, and scripture are all powerful symbols of faith for Christians. Each of these faith tattoos has some common meanings and precise meanings, making it easier for people to choose the best faith tattoos for themselves.
The majority of people create their own religious symbols to express their faith in their religion. However, some people prefer to have other religions' faith symbols etched simply because they like it or because they believe in other religions. In contrast, others get them simply because they like them.
Let's take a look at the different faith tattoo designs…
Faith Tattoo Designs
There are numerous ways to express your faith through faith tattoo designs. You could, for example, have your religious symbol etched on your body. Alternatively, you can have a religious symbol etched alongside other elements such as a rose, heart, infinity, and so on.
1. Christian Faith Tattoo
Christian faith tattoo is a very popular tattoo design. People who follow Christianity or are Christians straightaway choose this simple yet elegant tattoo design.
2. "Faith" etched on Wrist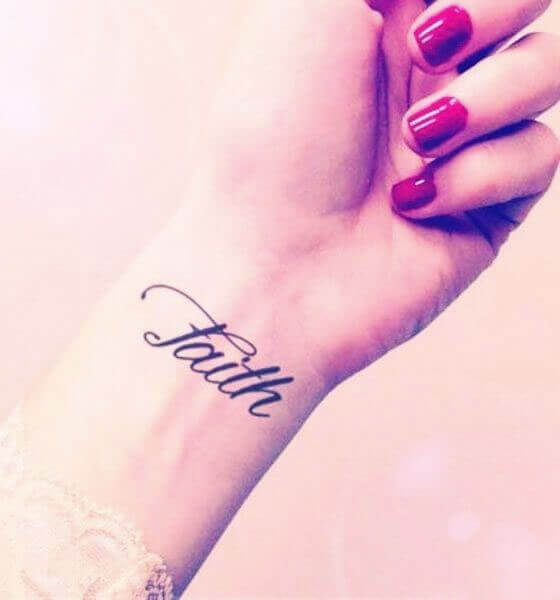 This is the design for people who want to showcase their beliefs in a very simple way. Simply have the word "Faith" engraved in cursive on your wrist in a small size. It will make a great faith tattoo design.
3. Cross with Angel Wing Faith Tattoo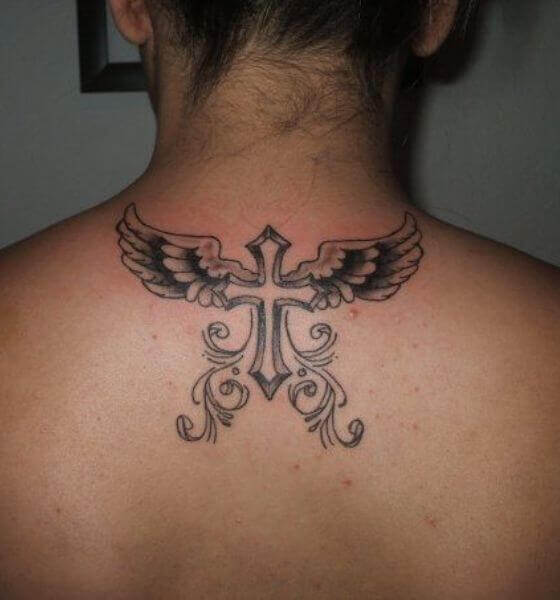 A cross symbol combined with angel wings creates a stylish tattoo that will catch everyone's attention. Get it tattooed on the back of your neck. It'll look fantastic there.
4. Tribal Cross Faith Tattoo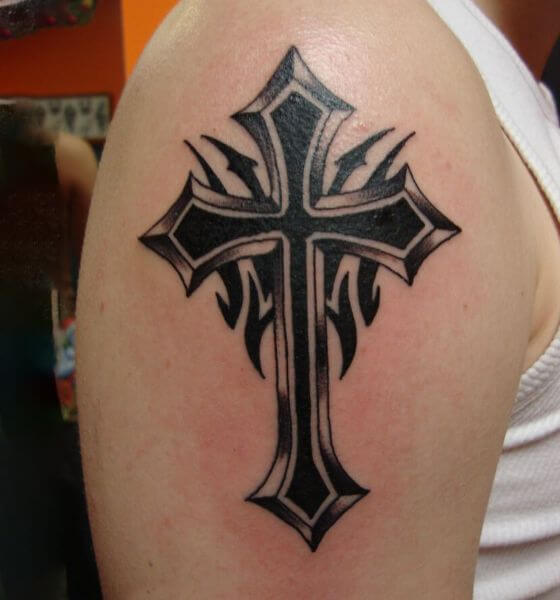 Tribal tattoos are undeniably beautiful, and a tribal cross faith tattoo is a captivating tattoo design. This is the design to go with if you're looking for a simple faith tattoo idea.
5. Faith Symbol Tattoo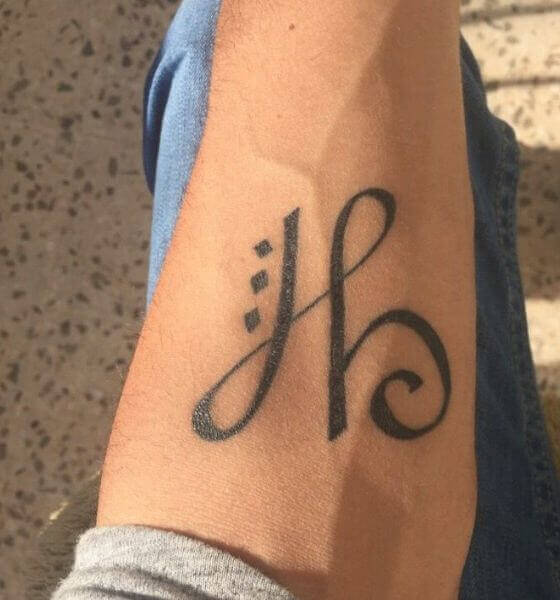 If you don't want to go overboard with your tattoo design, opt for a simple Faith symbol tattoo.
6. "Faith" with Cross Symbol Tattoo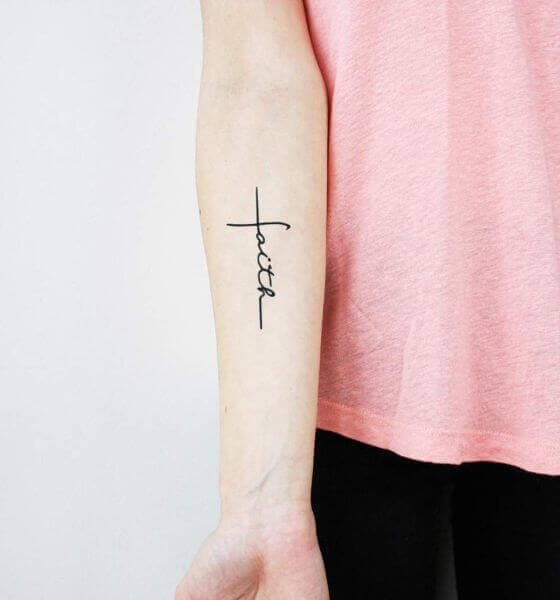 This is a one-of-a-kind tattoo design. You don't have to do anything special for that; simply replace the "I" in faith with the Cross symbol, and you'll get a very stylish and chic faith tattoo.
7. Celtic Cross Faith Tattoo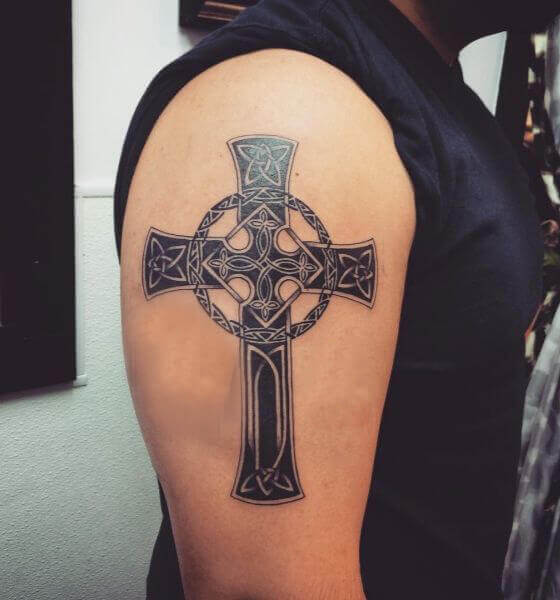 The Celtic Cross is an extremely popular design that depicts Christ's cross. Some believe the circle represents the Roman sun-god Invictus, making it a mix of pagan and Christian symbolism known as the Celtic Sun Cross. Others believe it represents Christ's halo. Whatever it represents, the truth is that it makes an excellent tattoo design.
Also See: 35 Superb Small Cross Tattoo Designs
8. Intertwined Three Crosses Tattoo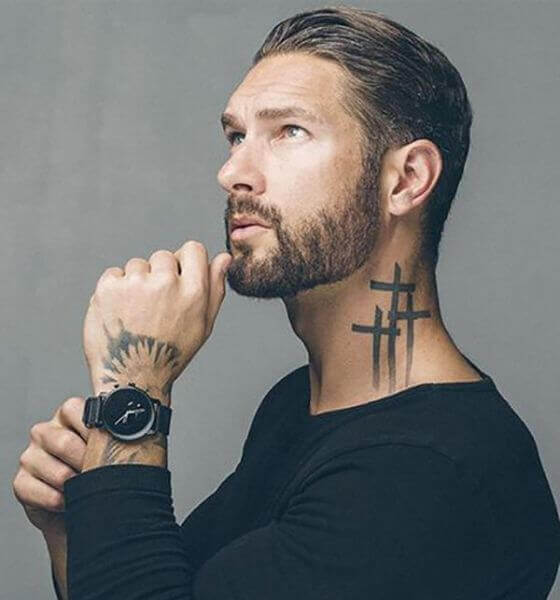 Simply get three crosses intertwined together to form an out-of-the-box faith tattoo design.
9. Rosary Beads Faith Tattoo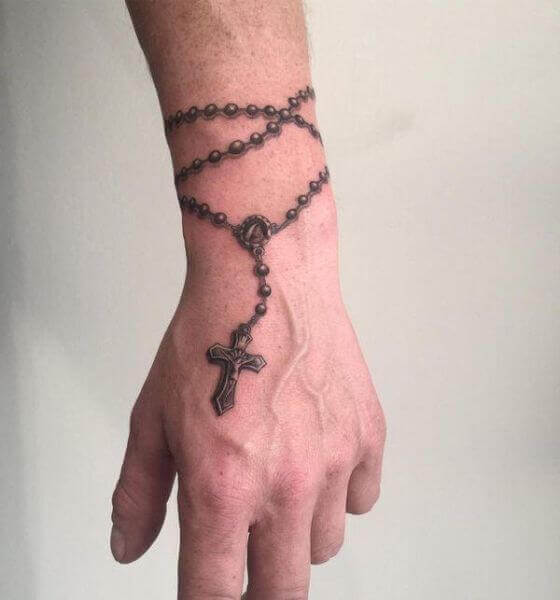 Rosary beads tattoo design is another stunning faith tattoo. Beautifully etched rosary beads, either in black ink or color, make a realistic tattoo design.
10. "OM" Faith Tattoo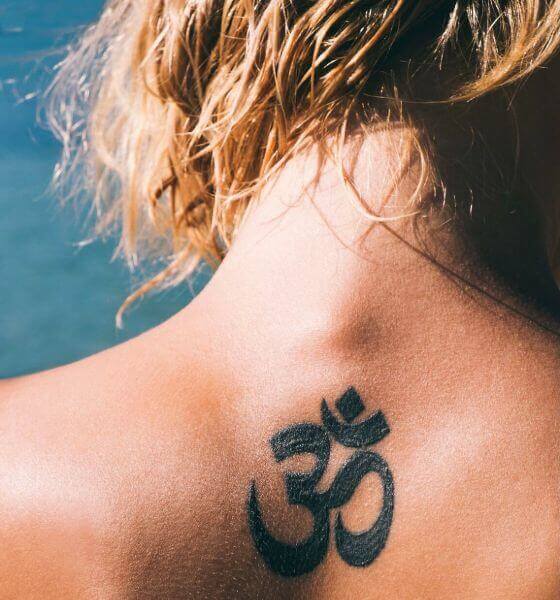 Om is a part of Hinduism and its teachings. Many people are familiar with it because it is the first sound in the universe. The Om symbol is associated with religion and is frequently chanted as a mantra or used during meditation and yoga. The Om is frequently abbreviated as "Aum." It makes for great faith tattoo design. You can even get an "OM" symbol etched on your body.
11. Jesus Christ Faith Tattoo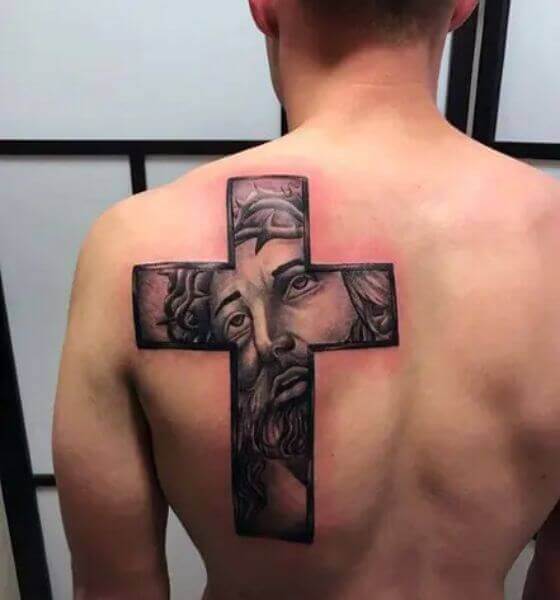 To demonstrate your faith, have the face of Jesus Christ etched on your body.
12. Vesica Piscis Christian Fish and Cross Tattoo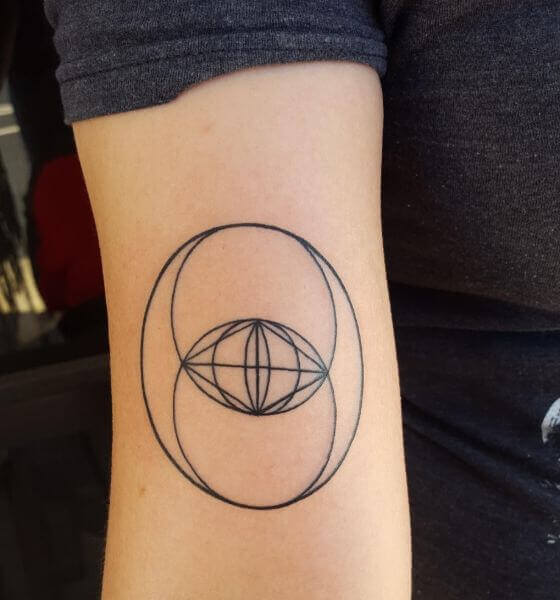 Vesica Piscis Christian Fish symbol is adorable and elegant. Combining it with the cross symbol will result in a one-of-a-kind tattoo design. To get this tattoo, have a cross etched inside the outlined fish tattoo.
13. Dove Faith Tattoo
The dove is commonly associated with victory, God's will, peace, love, and Beginnings. Doves, as in the story of Noah and the Arc, represent new beginnings and fresh starts. As a result, dove tattoos frequently represent a new beginning. If somehow it relates to you, you can get this one.
14. Line Cross Tattoo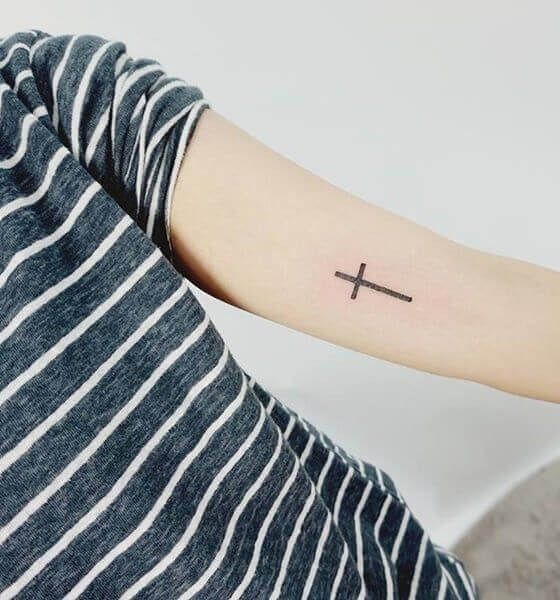 It's a charming tattoo design that is sure to catch people's attention. And the best part is, it takes very little time of yours. You can get it etched on your finger or wrist for the eye-catching placement of your tattoo. It doesn't take much effort to get the cross tattooed in simple lines.
15. "by grace through faith," Faith Quote Tattoo
Quote tattoos are another great way to express your beliefs. Get a tattoo of your favorite quote etched on your arm. Your arm is the best place for a faith quote tattoo design. And "by grace through faith" is an excellent quote to get inspired by.
16. Christian Word Tattoos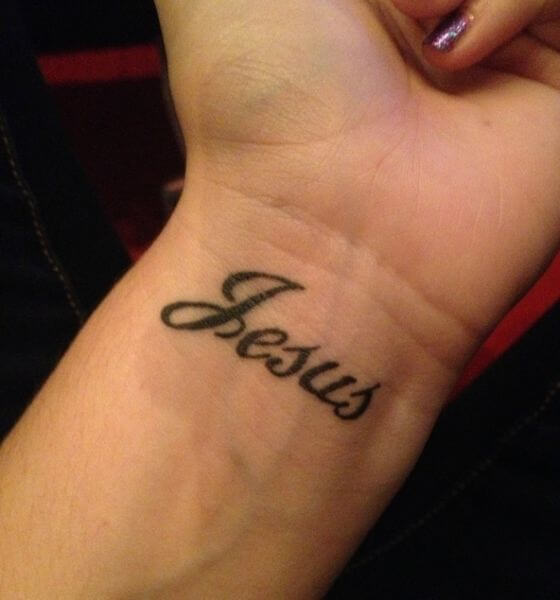 There are a variety of Christian words that can be tattooed on your skin. If you adore any Christian phrase, have it engraved on your body. Words like "Hallelujah," which translates to "praise the Lord," and "Isaiah 41:10," which represents God's words that say "fear not, for I am with you; be not dismayed, for I am your God; I will strengthen you, help you, and uphold you with my righteous right hand."
17. "Walk by Faith, Not by Sight" Faith Tattoo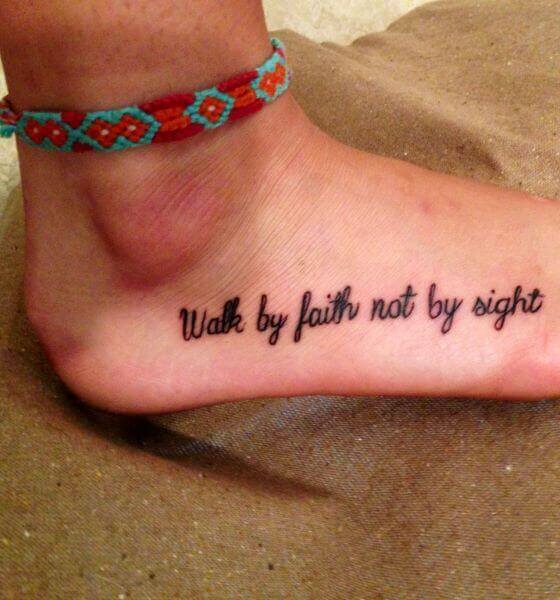 Another lovely quote to express your faith and demonstrate what you believe in. "Walk by Faith, Not by Sight" is a beautiful quote tattoo design.
18. Infinity Tattoo with Cross
Combining the cross symbol with infinity can represent eternal devotion to God for those who are religious. Similarly, the infinity tattoo is a popular choice for representing and honoring one's family, indicating a connection to ancestors' past and future. It's a beautiful faith tattoo idea that you can consider for your next tattoo design.
19. Sanskrit Verse Faith Tattoo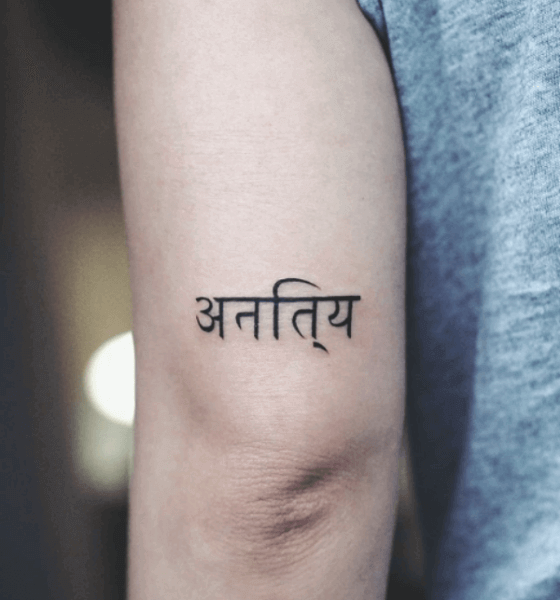 Sanskrit verses are a lovely way to express your faith. They make for one-of-a-kind tattoo designs. Many celebrities already have Sanskrit verses tattooed on their bodies. Consider a Sanskrit verse tattoo design if you want something out of the ordinary. "Vivsena Vimukta," which translates as "Liberated by Faith," is one such well-known Sanskrit phrase. Similarly, there are numerous other meaningful and thoughtful Sanskrit verses to choose from. Choose the one that fits your personality well.
20. Jesus Fish Christian Tattoo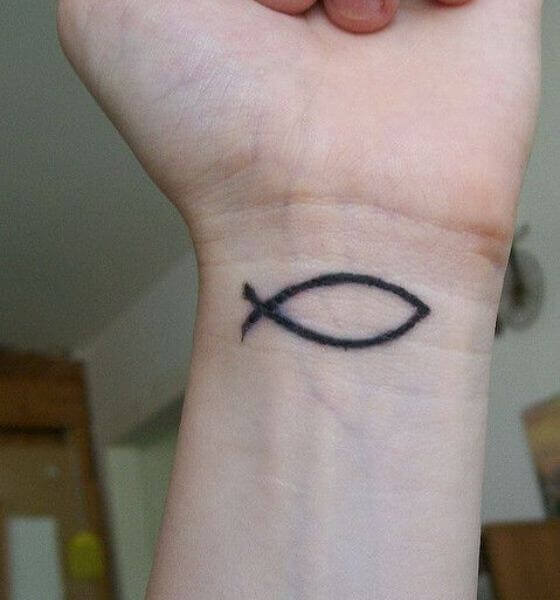 The Jesus fish is one of the most well-known symbols in the world today. This symbol is shaped like a fish, and its official name is ichthys or ichthus, both of which are Greek words. A Jesus fish tattoo represents your Christianity and strong faith in God. A simple outline of Jesus Fish, believe it or not, will make an excellent faith tattoo design.
21. Cross & Flower Faith Tattoo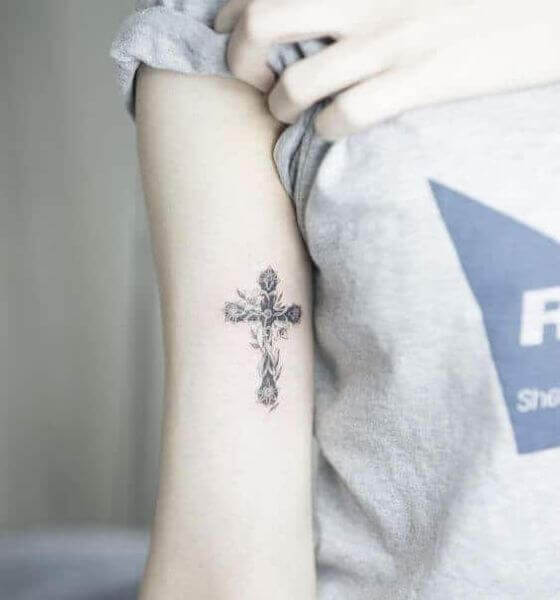 This is the one to get if you want to add a chic element to your faith tattoo. Get a flower-encrusted cross etched on your skin. And your nape is the ideal location for this piece. It will make for an eye-catching tattoo design.
22. White Ink Cross Tattoo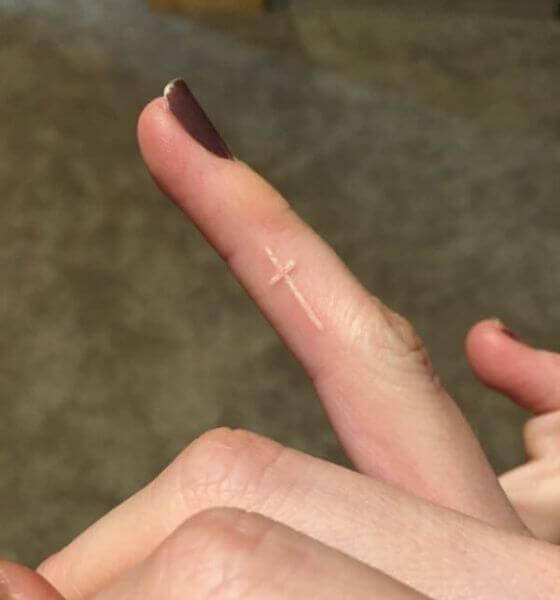 White ink cross is the best design to consider if you want to show your faith or just want a tattoo for fun. Despite its Christian origins, the cross now has a variety of meanings for different people. It could be about anything, including love, faith, death, or spirituality. Get your cross etched with whatever meaning you believe it holds.
23. Faith. Hope. Love. Tattoo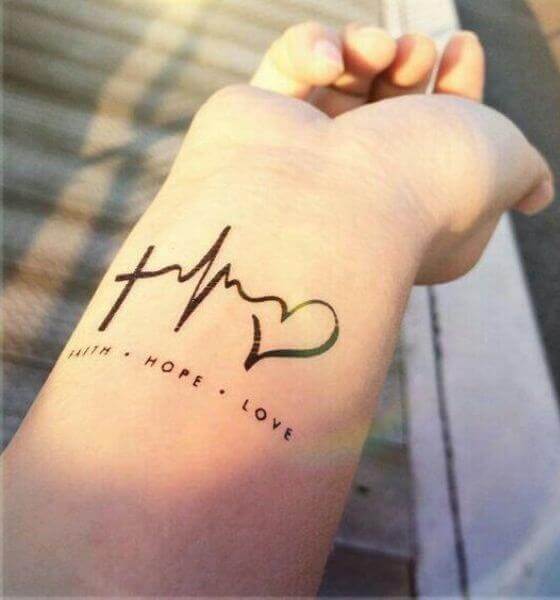 Faith, Hope, and Love are three powerful words that make an excellent faith tattoo. It simply conveys a beautiful message that says, you have faith in God and love in your heart to live a great life, and this ink is a lovely reminder.
24. Strength with Cross Faith Tattoo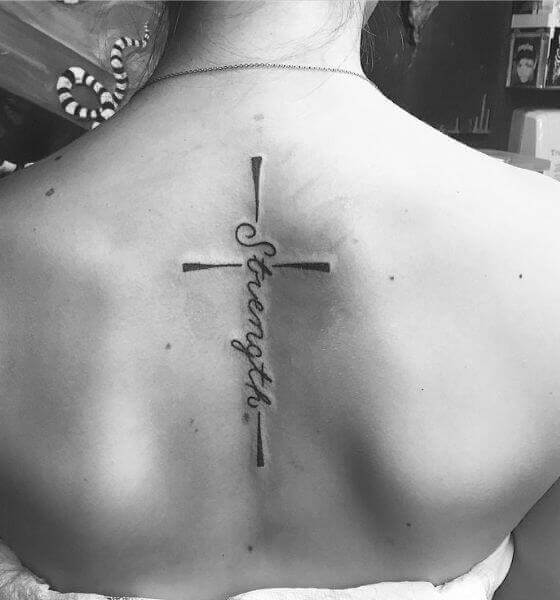 People who have a deep faith remain strong even in the face of adversity. A STRENGTH Tattoo is for you if you are faithful and strong. Strength can be etched with a cross symbol, or the cross symbol can be etched in the spelling of STRENGTH itself by simply replacing one "T" with the cross symbol.
25. Cross + Roses Faith Tattoo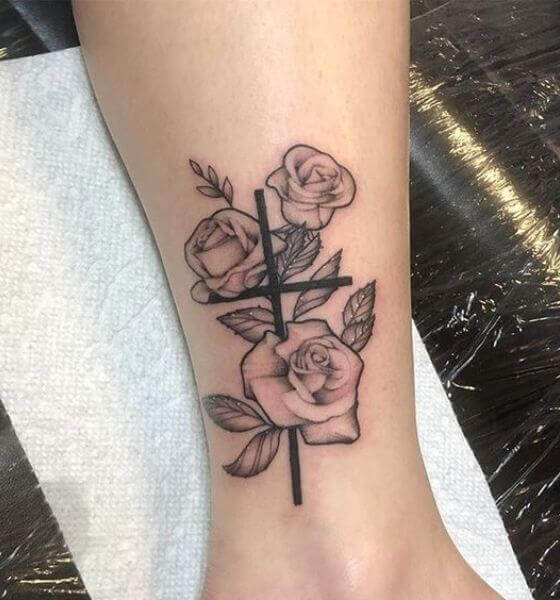 In Christianity, roses represent many things, including joy, purity, and martyrdom. As a result, it's no surprise that many Christians choose to pair these lovely flowers with their cross tattoo. If you're a Christian seeking a unique faith tattoo to show your belief, then this is the one to opt for.
Faith Tattoo Placement
Your faith tattoo can be placed anywhere on your body. However, the best places to get your faith tattoos are as follows:
Arm
Nape
Neck
Chest
Rib
Fingers
Wrist
Shoulder
Forearm
FINAL THOUGHT
So there you have it, the 25 best Faith Tattoo Ideas to get you started. If you're looking for a one-of-a-kind Faith Tattoo design, it's a good idea to do some research on different tattoo designs, characters, and settings. That way, you can be confident that your design is suitable for you before going under the gun.
Remember that most tattoo parlors frequently have very simple and basic designs available, allowing you to get in and out quickly. If you want a unique tattoo for you, do your research thoroughly.
Please follow and like us: