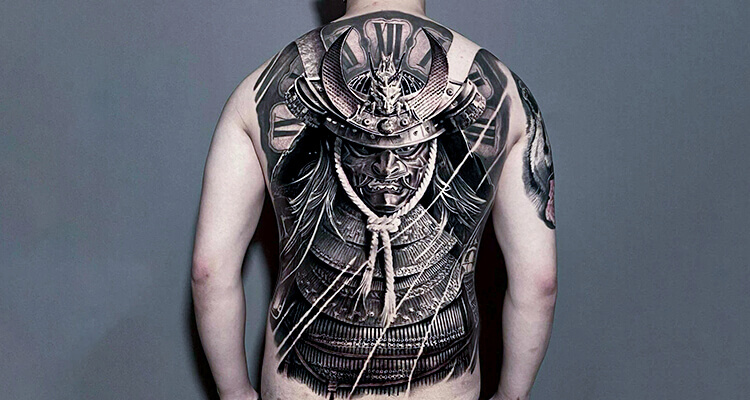 Top 40 Samurai Tattoo Design Ideas with Meaning
Posted on
Tattoos with a Samurai theme are all the rage in Japan, and they're slowly making their way into the mainstream. The tattoos portraying Samurai are usually bright and intricate. They are represented in a variety of styles and in a variety of hues. Due to the increased intricacies on the tattoo, the size of them tends to be on the bigger side.
Have you ever felt like a warrior internally or are you someone who appreciates and has a blast while seeing combat scenes, justice, and Japanese culture? If any of these phrases relate to you, you'll definitely like the following collection and suggestion for Samurai tattoos. Tattoo lovers too are going to have a ball while having a look at the same. Girls who want to have really daring tattoos and males who grew up watching Samurai Jack will appreciate this piece of article.
Meaning of Samurai Tattoo
The samurai tattoo is meant to represent the power and courage that are associated with the noble samurai. They make fantastic tattoo designs for sleeve wear because of this, as well as their exquisite detail work. Other design elements might be added to the tattoo to make it more interesting. Because of the Samurai's long history and cultural significance, their tattoos have a lot of symbolic meaning. Because of the legends of courage and enormous masculinity associated with the Samurai, many men would want to have a samurai tattoo. The samurai were considered and admired as noble warriors whose life aim was to serve and defend the higher ranked members of society.
Top 10 Samurai Tattoo Designs
1. Samurai with a Tiger Tattoo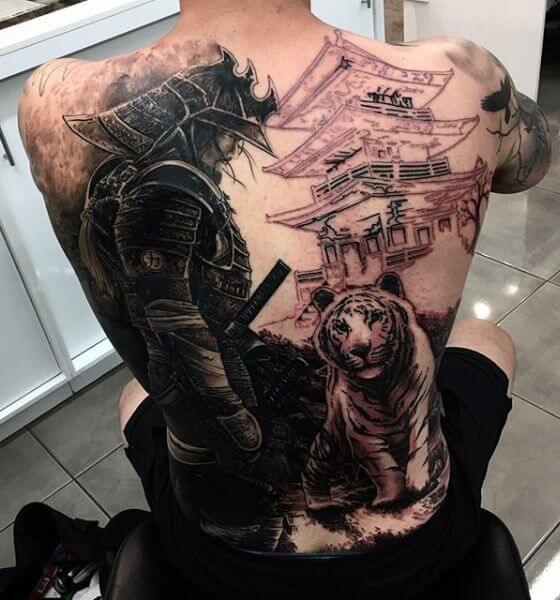 Black and white ink does not have to be boring or straightforward. In fact, you may combine your samurai insignia with a beautiful animal-inspired tattoo. It will take you 4-6 hours to drape this one around your body. If you're an animal enthusiast, a tiger will be perfect for you. With a samurai and tiger notion, you may show that you cherish your unique opinions, inner convictions, and spiritual journey.
2. Forearm Tattoo of Samurai with Mask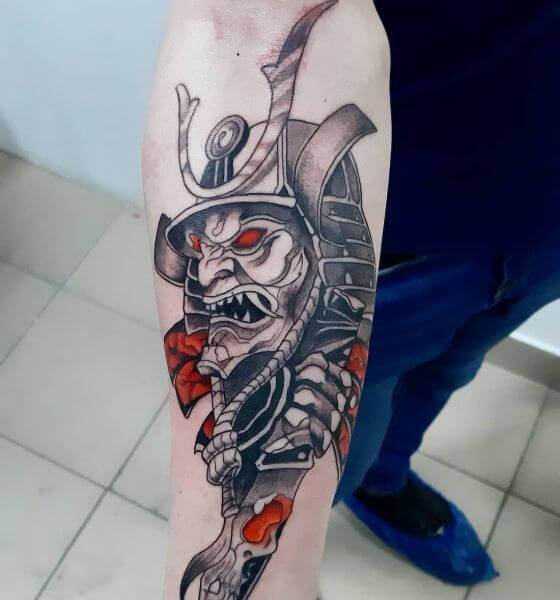 You'll constantly desire and need something comparable if you're a lover of anime and cartoons. It's ideal for everyone who has personal experience with inner feelings and ideas. This concept is unique in that it highlights the joys of growing up. With this samurai ink, you may show that you're continually learning and that you can express all of your feelings.
3. Black Samurai Tattoo on Thigh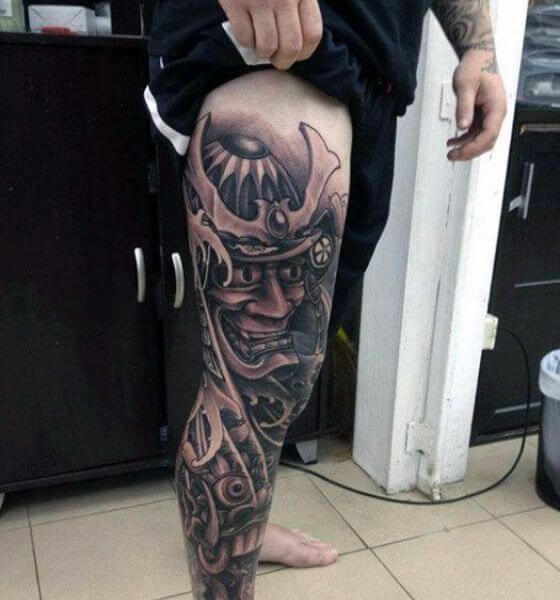 Giant thigh tattoos are for people who like to make a statement with their tattoos. If you're not terrified of tattoos and enjoy the tattooing procedure, you'll find this one tolerable. You'll have the appearance of the main character in your tale and adventure. Demonstrate that you're tenacious and always prepared to win, no matter what.
4. Red Samurai Cat Tattoo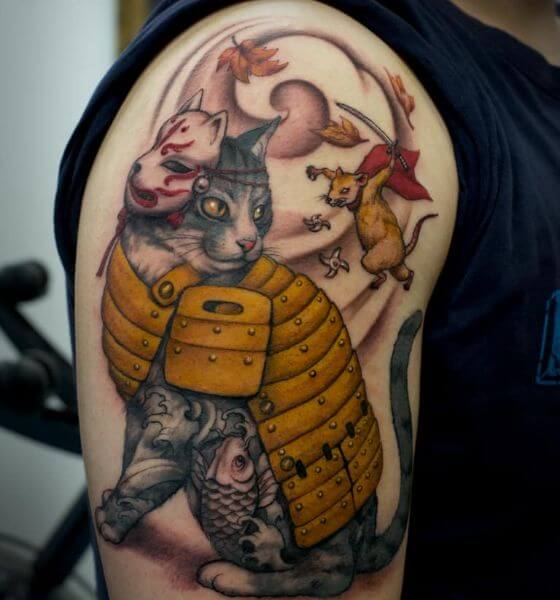 This is another fantastic tattoo for cat and samurai fans. This colour combination is both lovely and distinctive, making it suitable for enthusiasts of bold, dynamic tattoos. Your cat dressed as a samurai will show the rest of the world that you're a brave warrior. You have a strong bond with your loved ones and like giving for the appropriate reasons.
5. Small Samurai Tattoo on Leg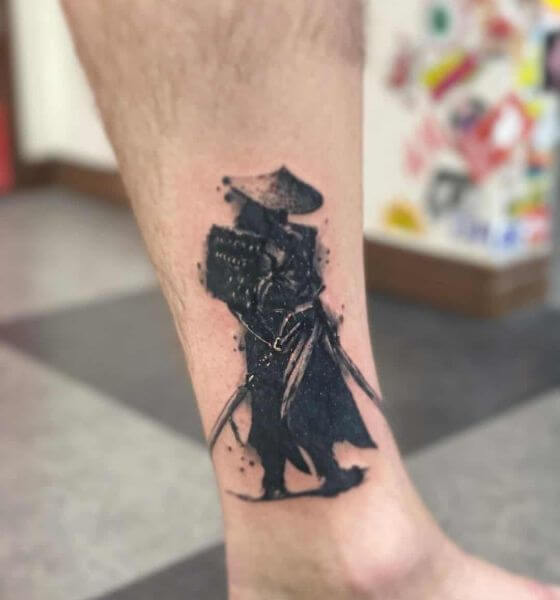 Tattoos on the knees or legs are quite popular among men. This is a great suggestion for someone who enjoys showing off their legs. For this basic work, black ink is the finest option. Allow everyone to perceive you as a warrior who can balance his or her personal and professional lives and show that you're in charge at all times.
6. Accurate and Intricate Samurai Tattoo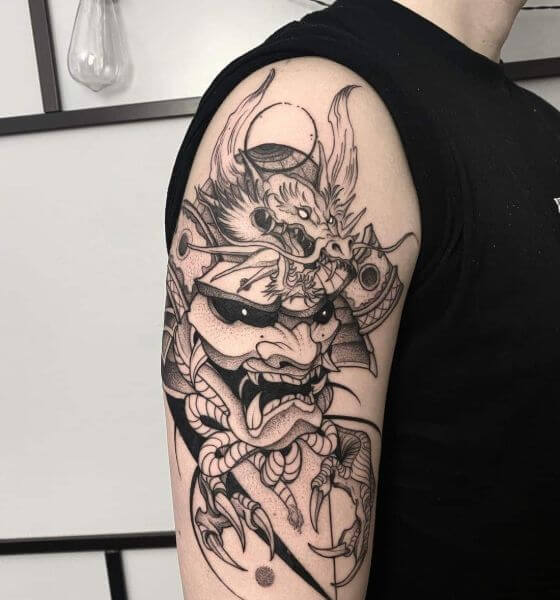 You may also get a tattoo on your foot or ankle. This is a fantastic concept for folks who like accuracy and distinct lines. Demonstrate that you can maintain a healthy balance in your life and ideas by using your own way. Is this you? Everyone will perceive you as a tenacious individual.
7. Samurai on Horse Tattoo on Back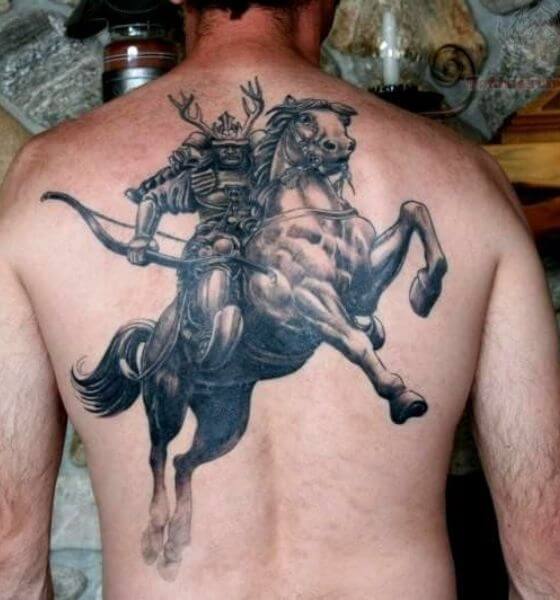 Soldiers on the front lines are more prone to get these kinds of samurai warrior tattoos. The horse represents speed and might, while the samurai holding a sword denotes the start of a battle. This samurai tattoo depicts the warrior's power in achieving triumph and defeating evil. With the grey shadings, the tattoo's dark tone creates a fantastic impact. This samurai tattoo is primarily made on the back to provide a clear view.
8. Samurai's Defending Tattoo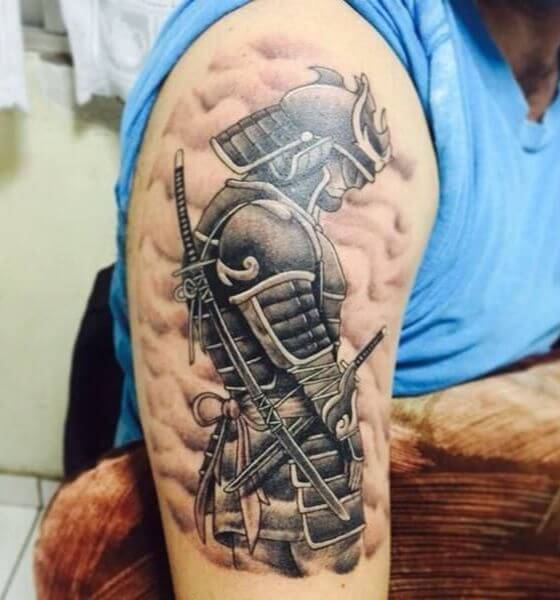 Non-Japanese people are drawn to this masterpiece as well. This samurai tattoo represents defence and represents the mood of the time. This tattoo is seen from the sleeves or back. The many colour combinations employed in this tattoo will make it highly appealing. A samurai with a skull face represents a samurai's might and power in the face of evil. As a result, this samurai tattoo depicts the true cause for their piety.
7. Samurai Holding Sword Tattoo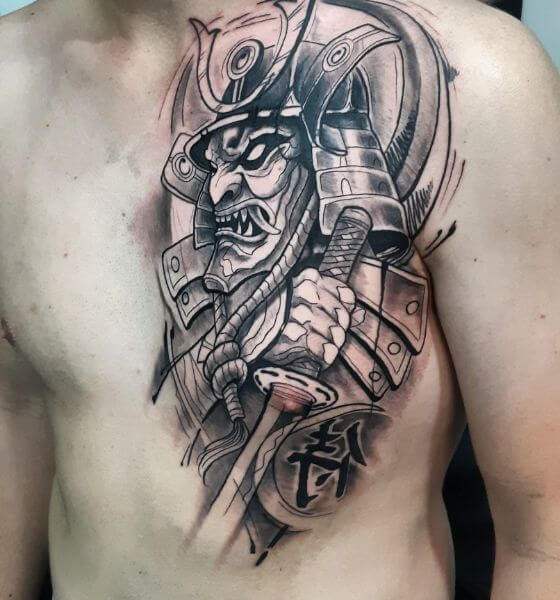 The defeat that a samurai experiences when he discovers how much of humankind it has slain with its prowess is revealed by a bowed samurai face flowing in blood with his sword hands. It's a terrifying image that would make a great tattoo. This tattoo also represents a warrior's victory despite being terribly battered and bloodied. The tattoo is more vibrant because of the colours utilised. Soldiers and militants are mostly responsible for this tattoo.
8. The Samurai Skull and Helmet Tattoo on Arm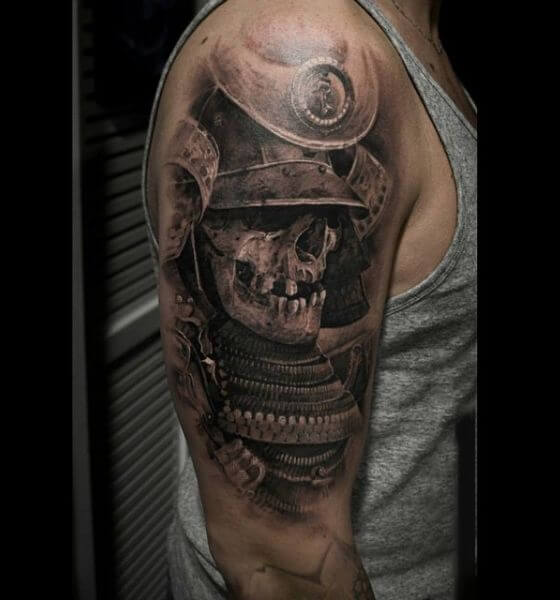 This is a one-of-a-kind combination of funkiness and samurai heritage. A skull dressed in traditional samurai garb looks awesome and conveys a sense of force and power! The skull is a symbol of death and danger. As a result, this tattoo denotes a dangerous battle victor. The lovely crimson sun adds a stunning look to the tattoo. The courage and warriorship are symbolised by this sort of skull with samurai tattoos.
9. Geisha Samurai Tattoo on Thigh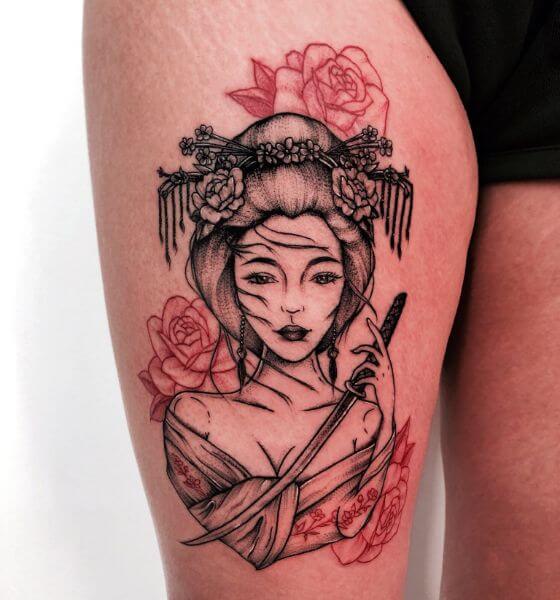 If you like realistic tattoos, you'll like this concept. It's stark and basic, yet it's done so well. Demonstrate to the world that you're a realist and that you're someone who always succeeds in life, although at your own speed.
10. Oni Mask Samurai Tattoo on Back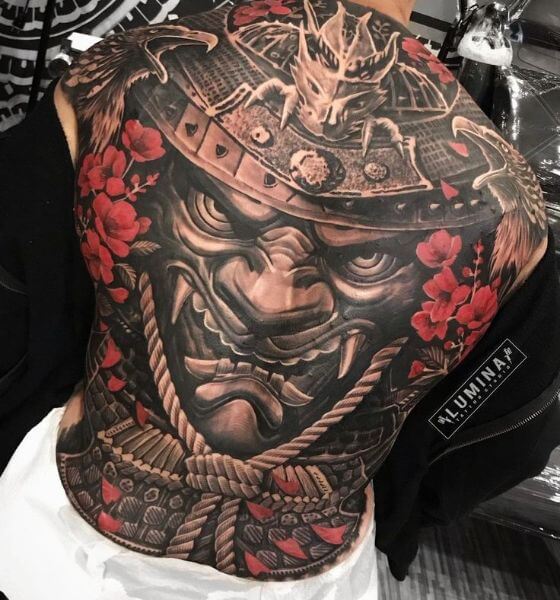 When it comes to samurai tattoos, chest tattoos are a popular choice. If you're a manly man, you'll appreciate this as your next go-to. This warrior with a sword is distinct in that it has a demonic aura. Since you're a little devil yourself, why not show the world that you're always up for a good challenge?
11. Forearm Samurai Tattoo
Attractive Samurai Tattoo Design Ideas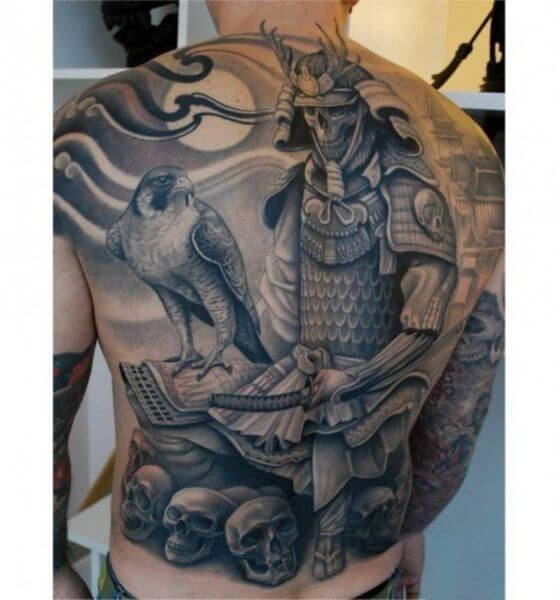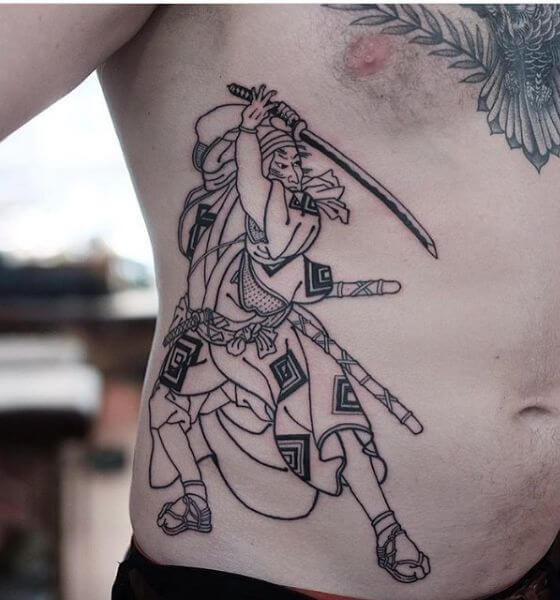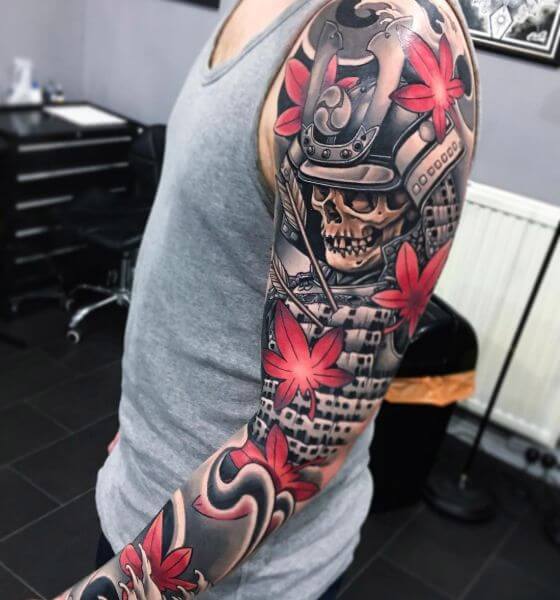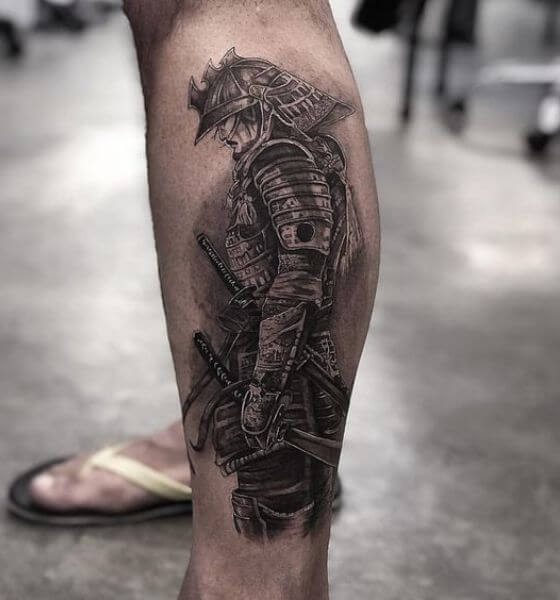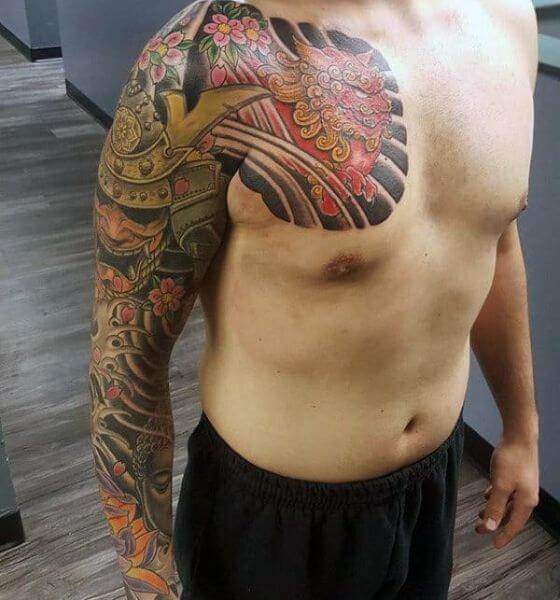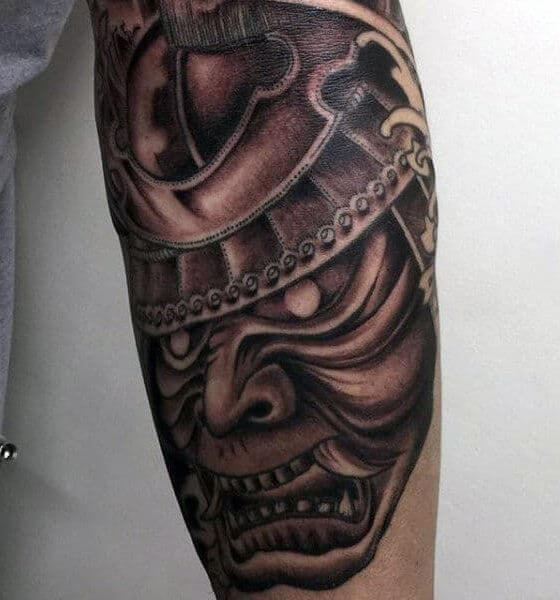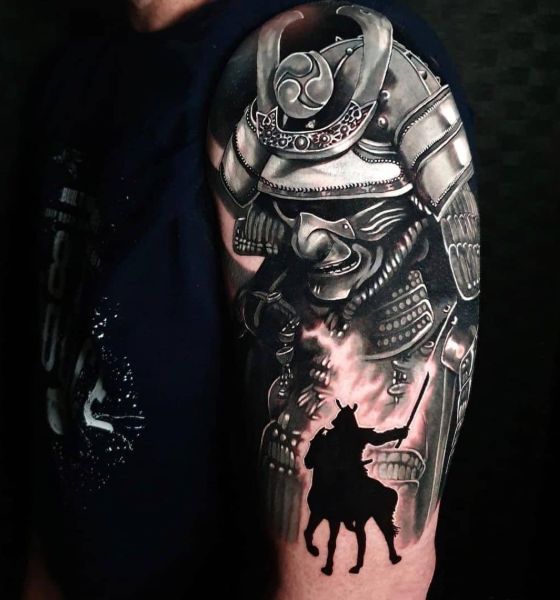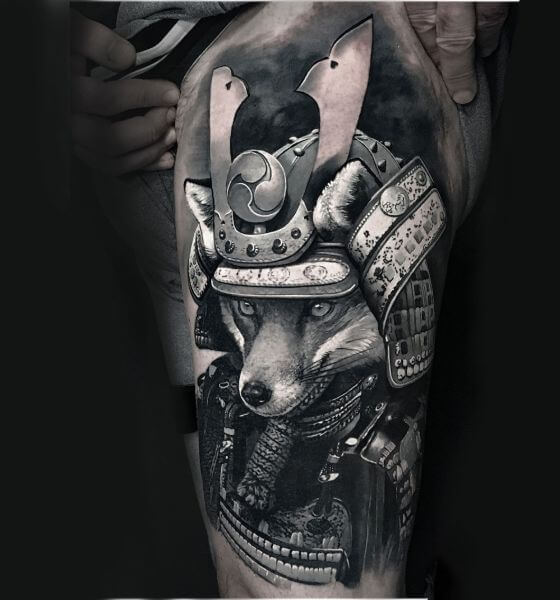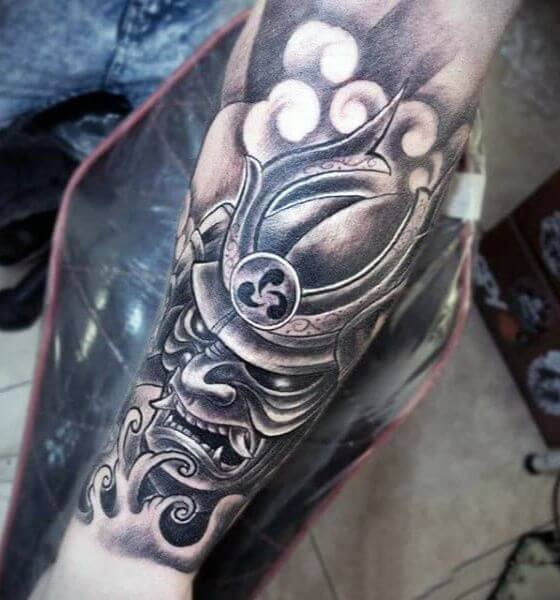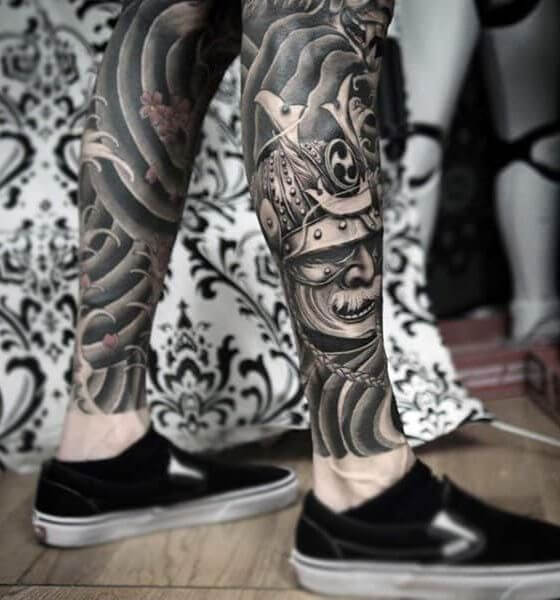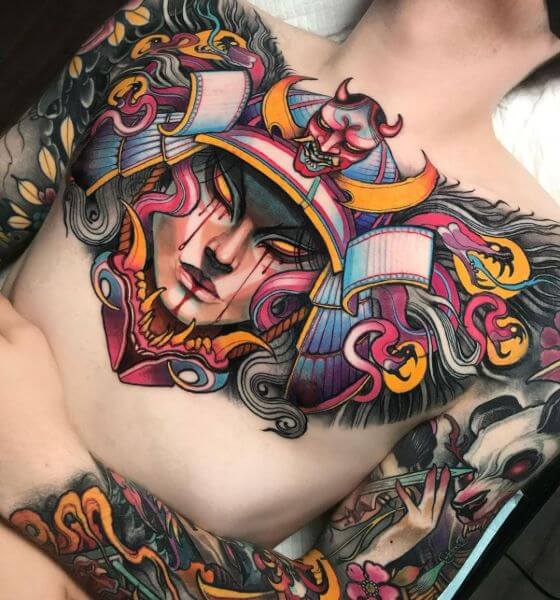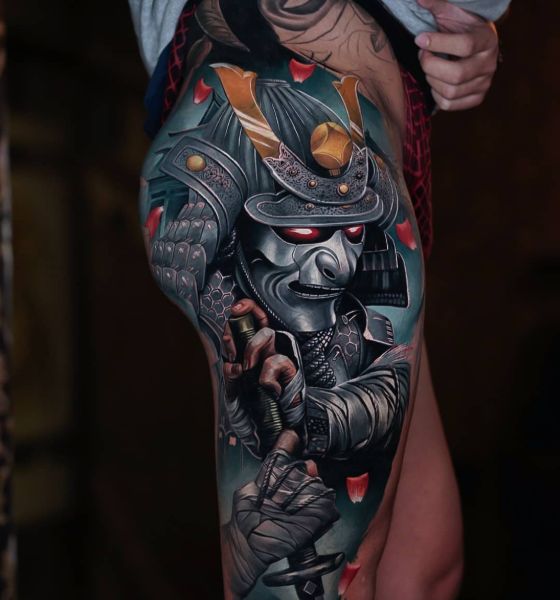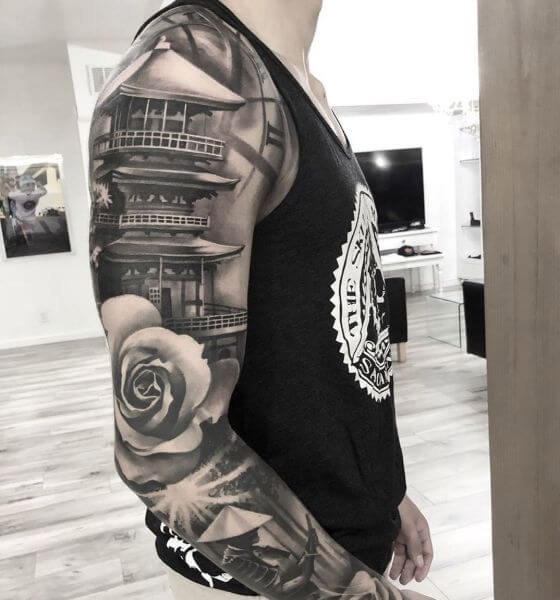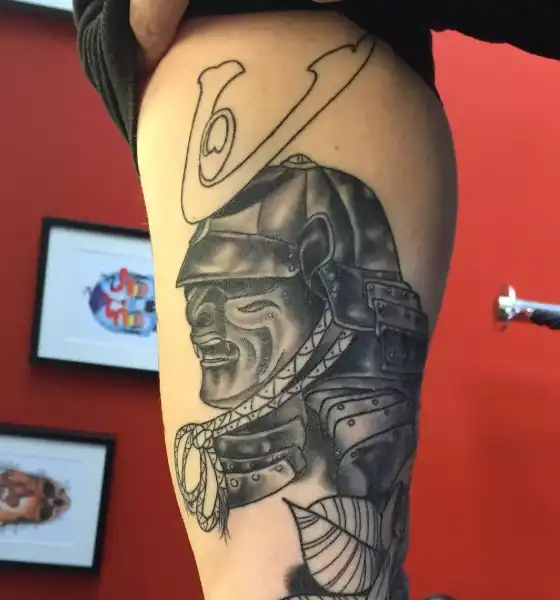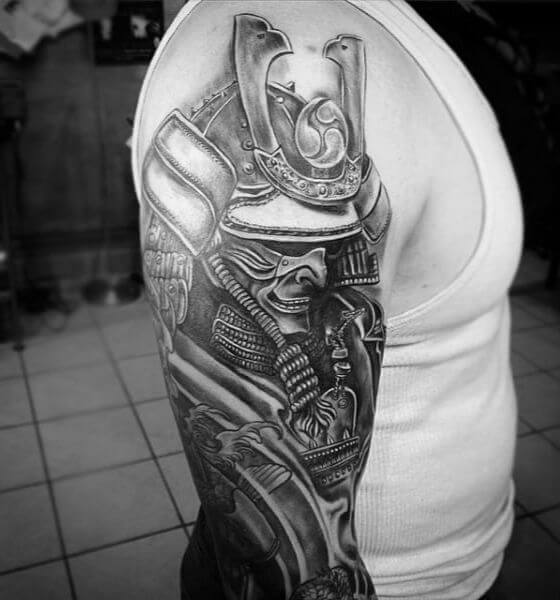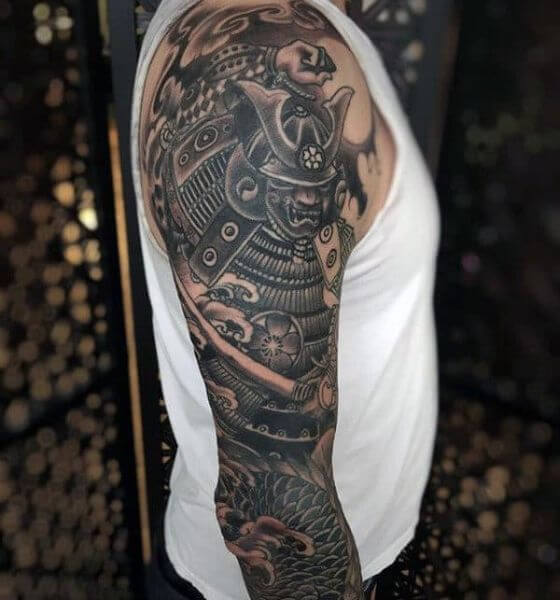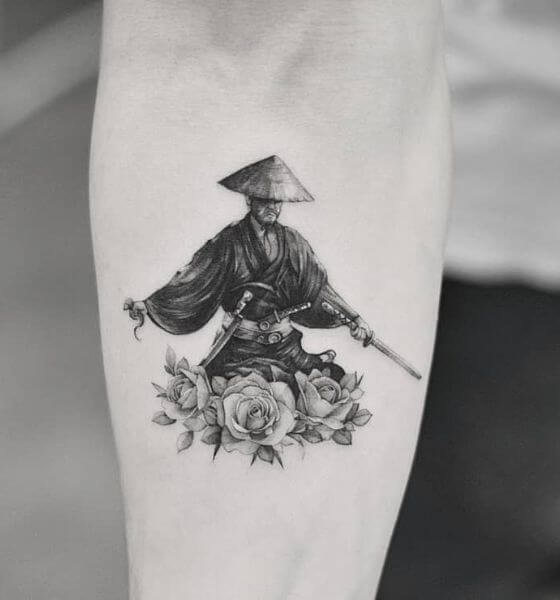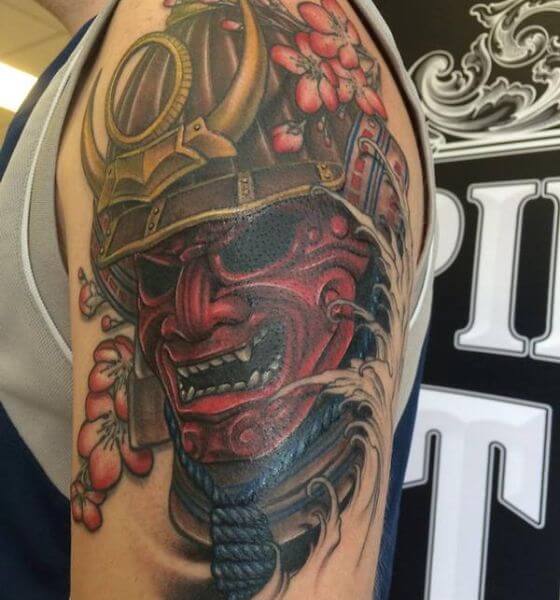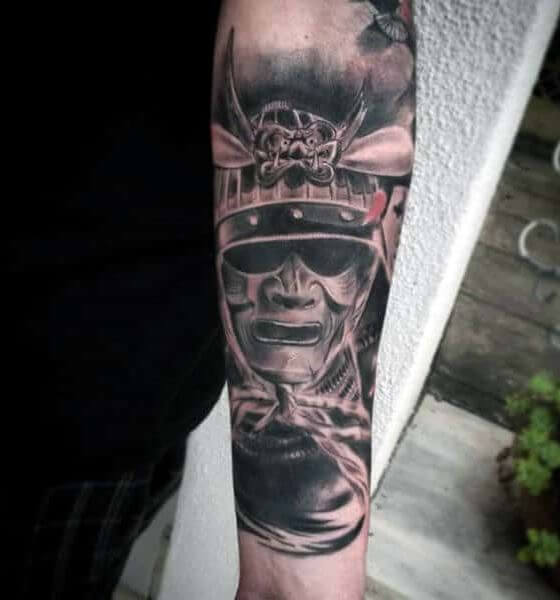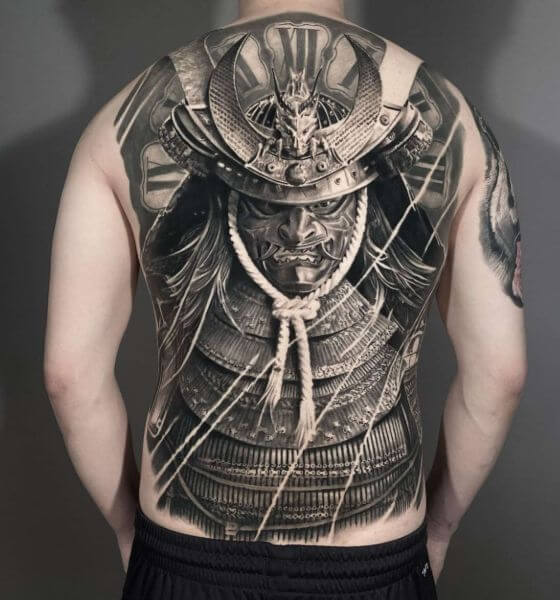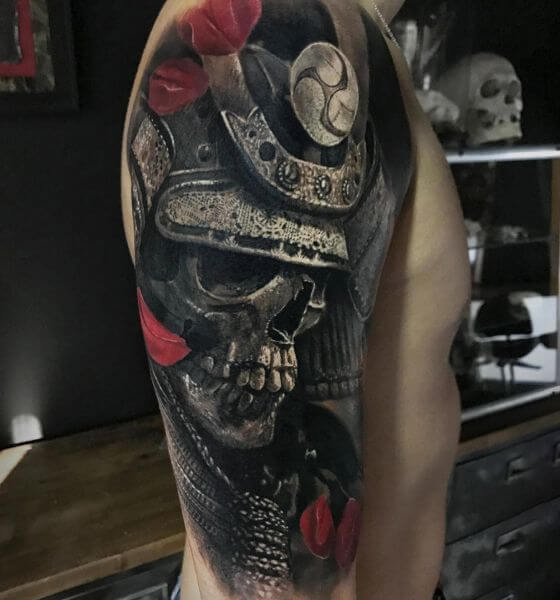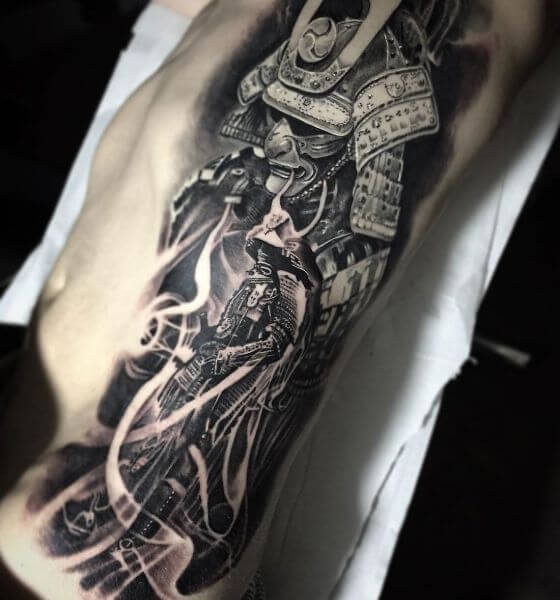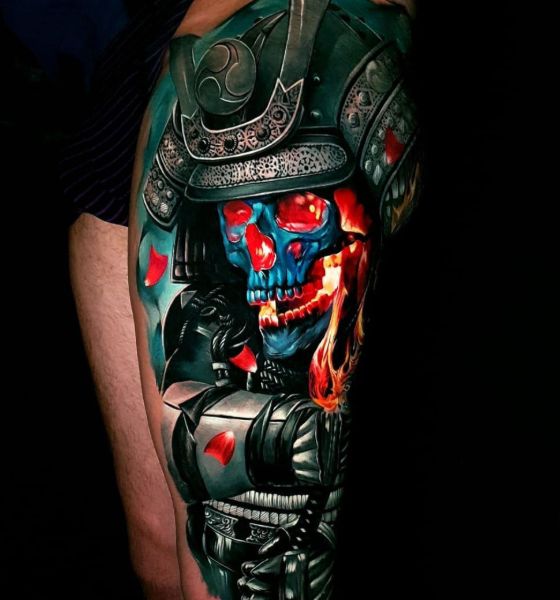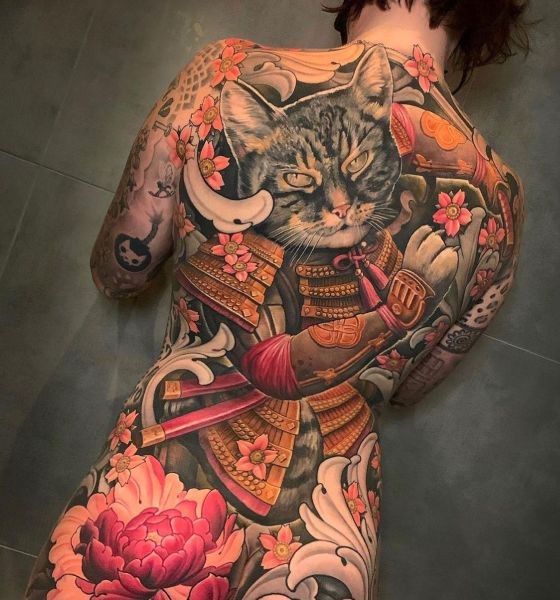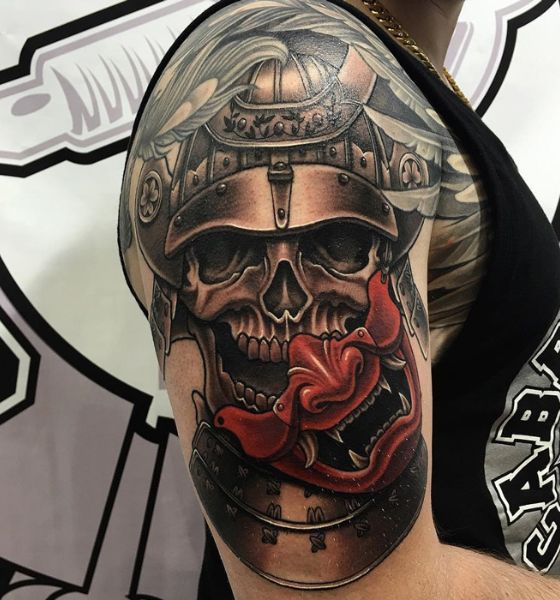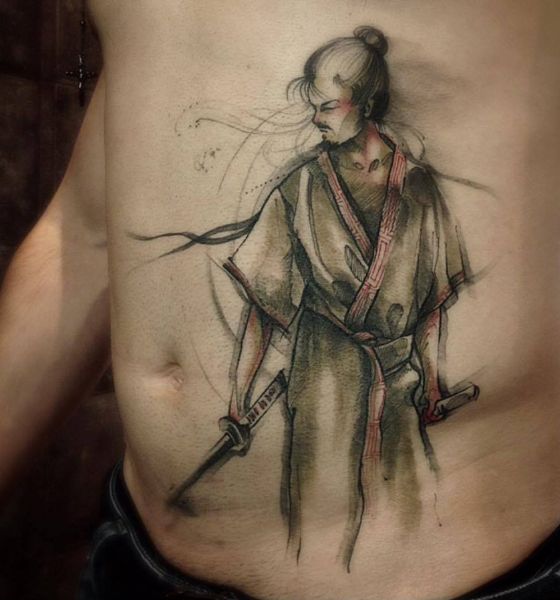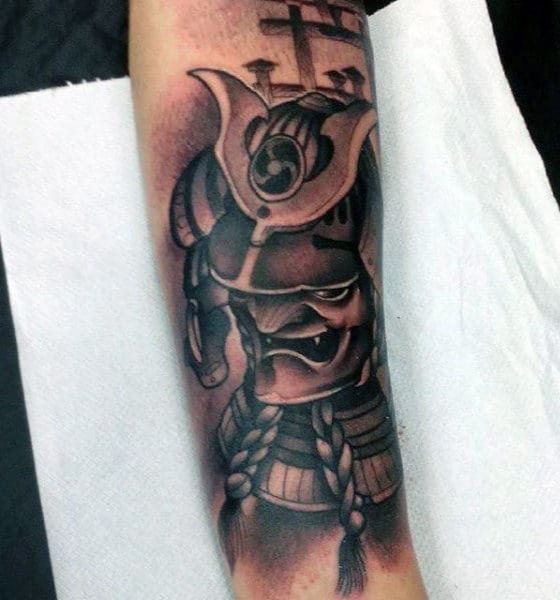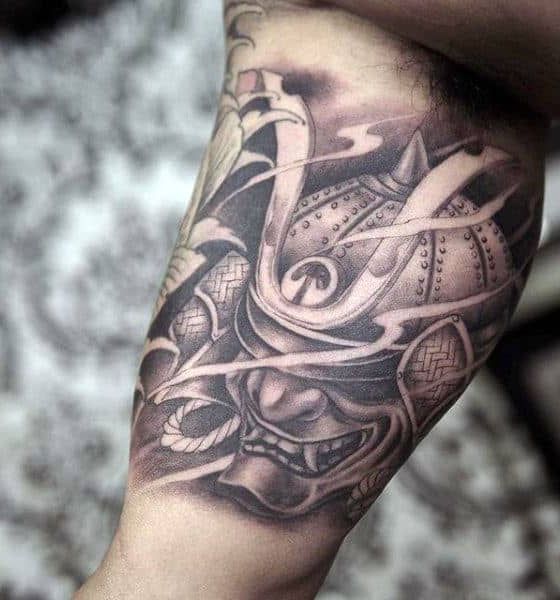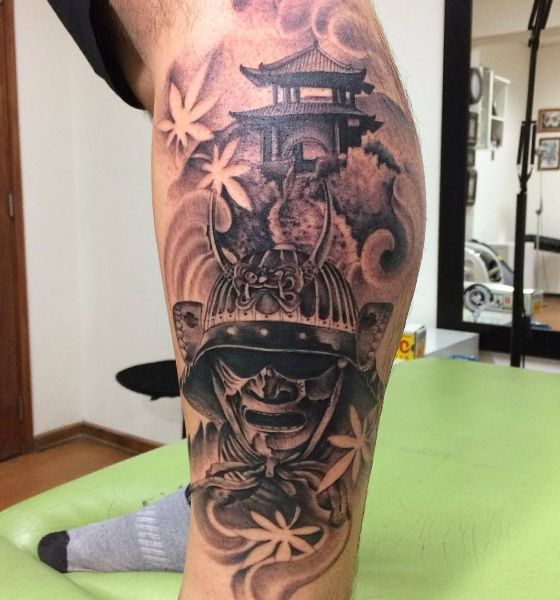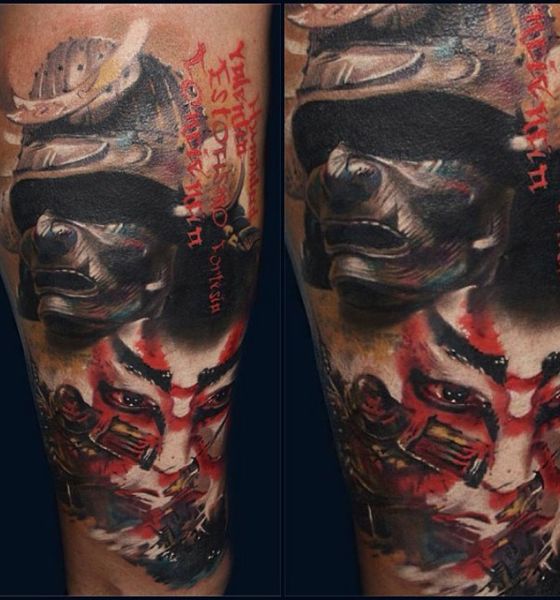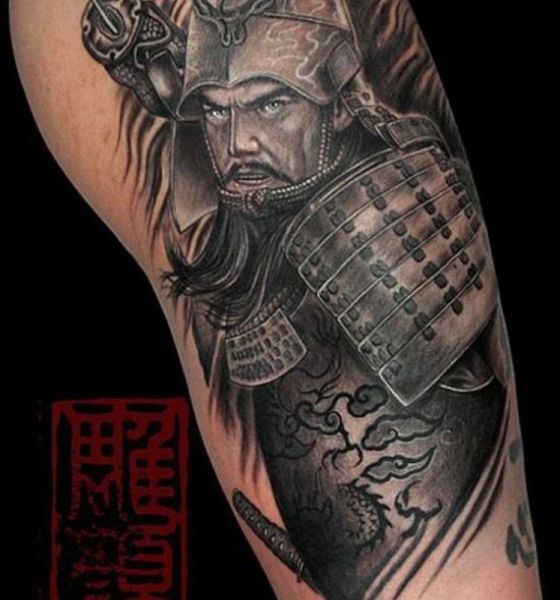 Please follow and like us: