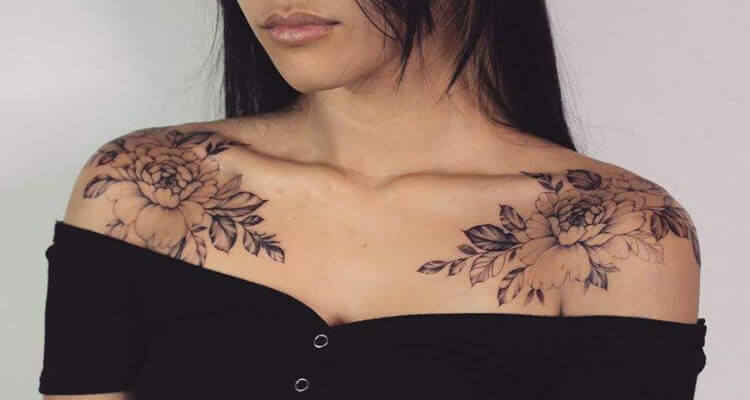 70 Superb Shoulder Tattoo for Females
Posted on
Shoulder tattoo look amazing and very scintillating. And if you are fond of wearing off-shoulder tattoos, then the shoulder is the best place to have your first Tattoo. There are myriads of shoulder tattoos for females, and trust all the designs look equally cool. That's the reason most women prefer to have their tattoos on their shoulders.
Shoulder tattoos come in many different sizes, from small to large. There are also sundry styles to choose from; you can get anything from a vintage tattoo design to geometric figures on your shoulder. Some of the most popular feminine tattoos include flowers, butterflies, mandala, cherry blossoms, and roses.
You can even combine shoulder tattoos with sleeve tattoos, perfect for a large tattoo, especially when looking for a giant shoulder tattoo. There are myriads of ideas that you can incorporate, such as feathers, angels, quotes, dragons, roses, beach scenes, etc. There are many distinctive shoulder tattoos for females that look amazing, and you can show them off during your beach vacation.
Here we are sharing with you 70+ shoulder tattoos for females ideas; take a look…..
1. Flower Tattoos
Flower tattoos look stunning on the shoulder. You can get a floral tattoo in any size, from small to large.
2. Intricate Mandala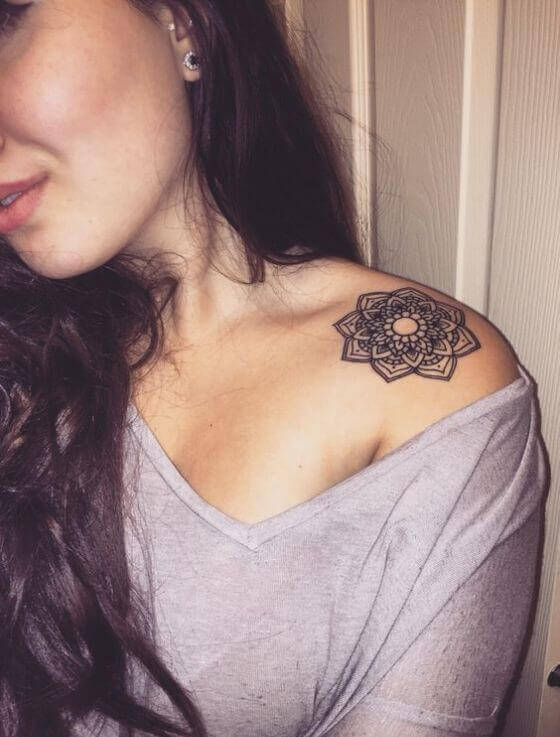 Mandala tattoos look very beautiful, and the shoulder is a perfect location for a mandala tattoo. Amazing shoulder tattoo designs for females.
3. 3D Shoulder Tattoo
3D tattoos look awesome on the shoulder. You can even extend it to your sleeve to make it more appealing!
4. Religious Symbol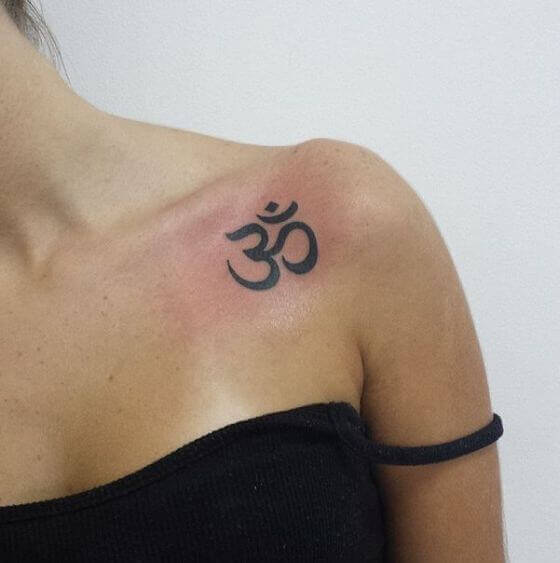 Religious symbols also make for perfect shoulder tattoo designs. You can choose the one that you like the most of the one you belong to, to show your belongingness to a particular religion.
5. Minimalistic Tattoo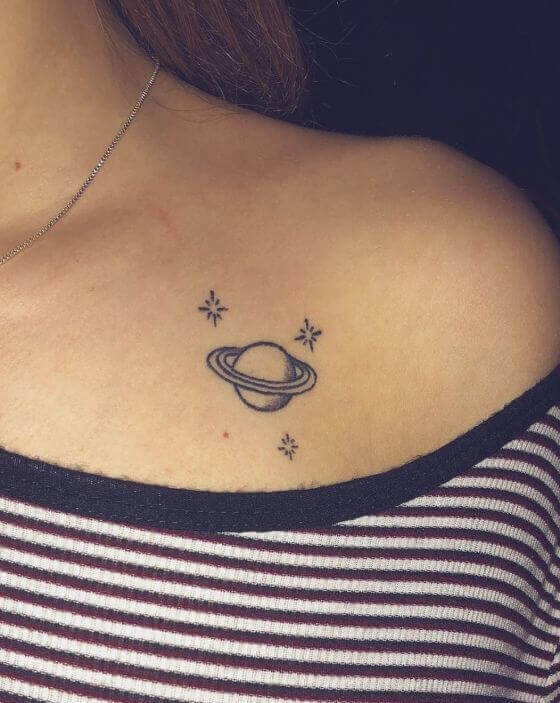 Lastly, a minimalistic tattoo for women who want to have something sweet and cool sitting on their shoulders!
6. A Flying Bird
Simple yet beautiful tattoo design for your shoulder.
7. Eagle Tattoo
Even an eagle makes for a wonderful tattoo design when it's about a shoulder tattoo. This design will cover your shoulder, making it look more beautiful.
8. Black Rose
How about having a black rose tattoo etched on your shoulder? It's amazing!
9. Butterfly Tattoo
If you're looking for some colors on your shoulder, then a butterfly tattoo is apt!
10. Scintillating Dream Catcher
Believe it or not, dream catchers look amazing on the shoulder. Make sure you get one in a big size.
11. Watercolor Tattoos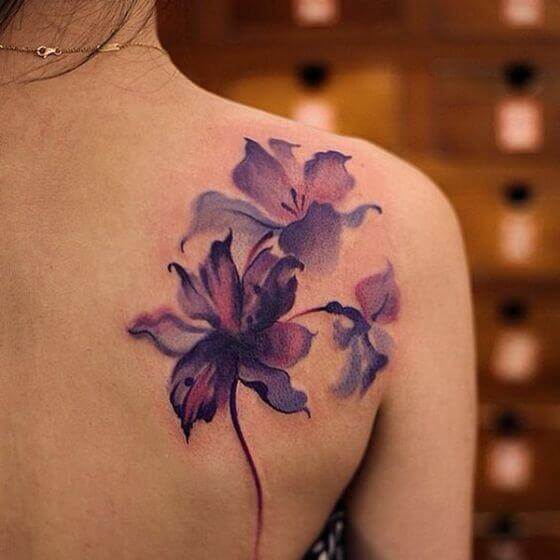 A watercolor tattoo design looks stunning on the shoulder. Try it out!
12. Colorful Flowers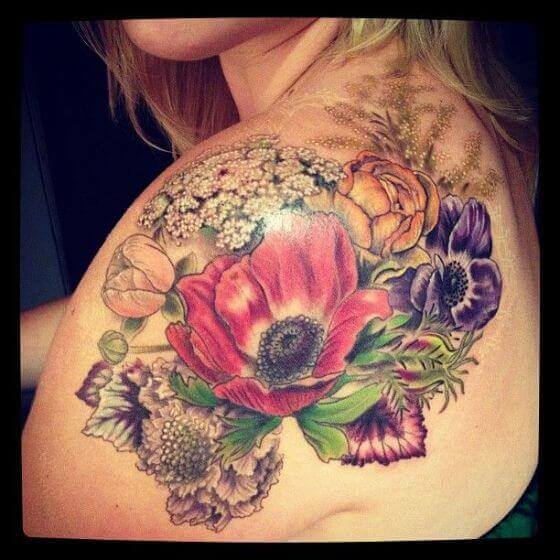 How about having a bunch of colorful flowers on your shoulder? This will look awesome, and I can bet on it!! It makes for a bright, vibrant, and beautiful shoulder tattoo.
13. Black & White Tattoo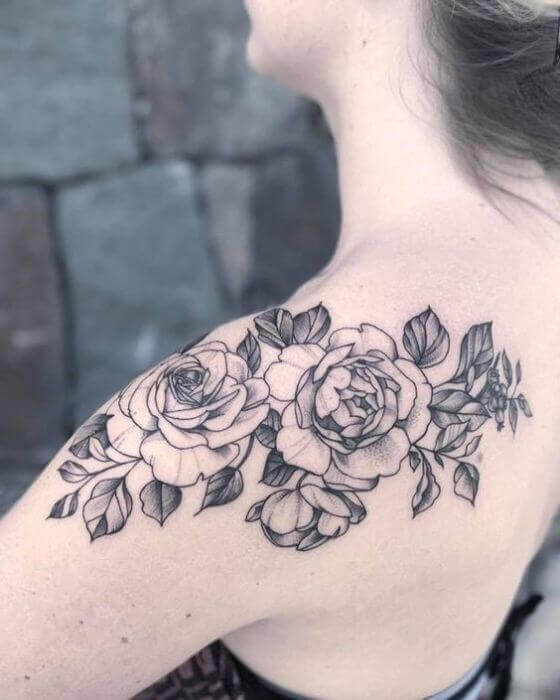 Black and white tattoos look awesome against the shoulder; you can choose anything from a flower to a dragon.
14. Heart with Quote
A lovely heart with your favorite quote will make a perfect tattoo design.
Also See : 40+ Beautiful Shoulder Tattoos For Women
15. Love Tattoo
Love tattoos are for the ones in love; if you're one, then this design is for you!
16. Skeleton on Shoulder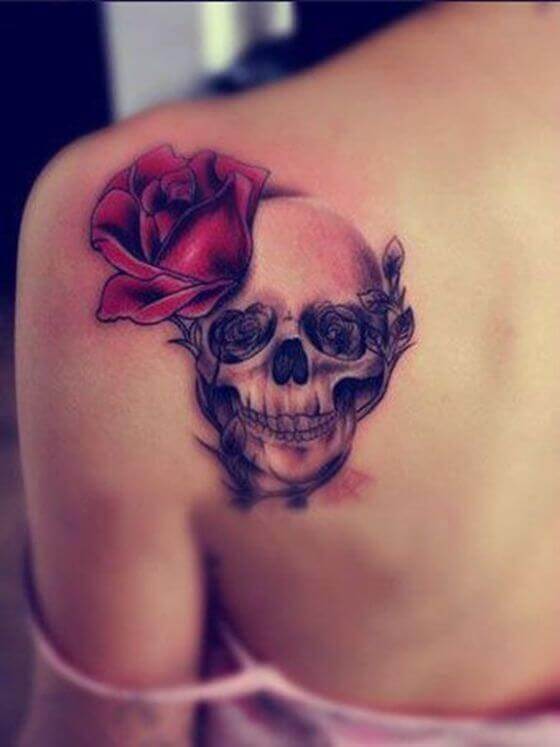 If you want to show your fearless side, then a skeleton tattoo is the one to go with.
17. Koi Fish
If you are fond of sea life, then a koi fish is another beautiful tattoo design. It can be incorporated with other elements like a lotus.
18. Triangle Tattoo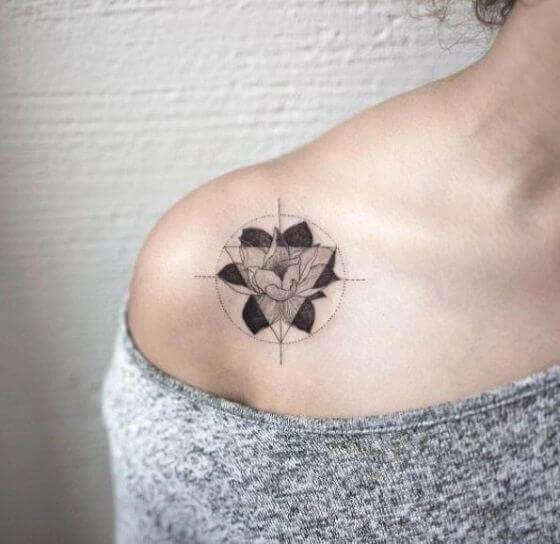 Geometric shapes, be it any, from a triangle to a square, looks great on shoulders.
19. Pink Roses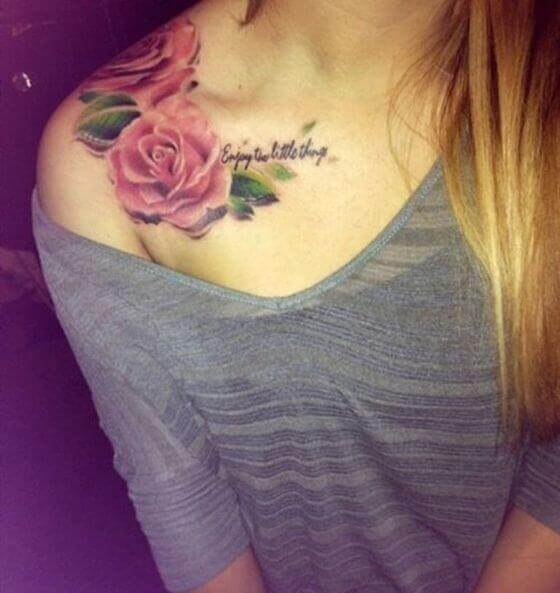 Get a bunch of pink roses etched on your shoulder.
20. Polynesian Design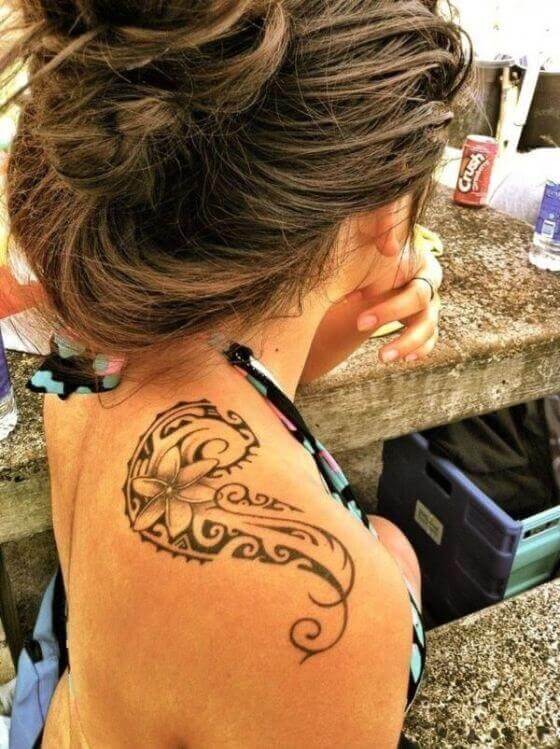 Get something unique etched on your shoulder, and that's a Polynesian tattoo design.
21. Unique Floral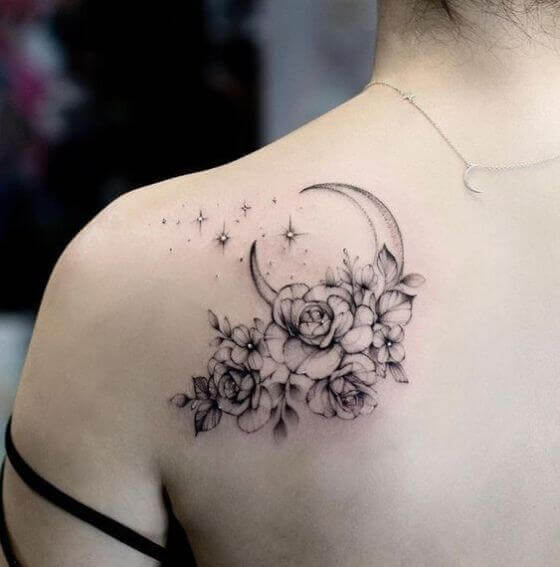 Get a unique floral design etched on your shoulder.
22. Chandelier Necklace
A beautiful chandelier necklace design will look both elegant and gorgeous!
23. Ying Yang Tattoo
Ying yang tattoo (two Fish swimming together in harmony) will look stunning on your shoulder. You are going to love this one!
24. Maori Tattoo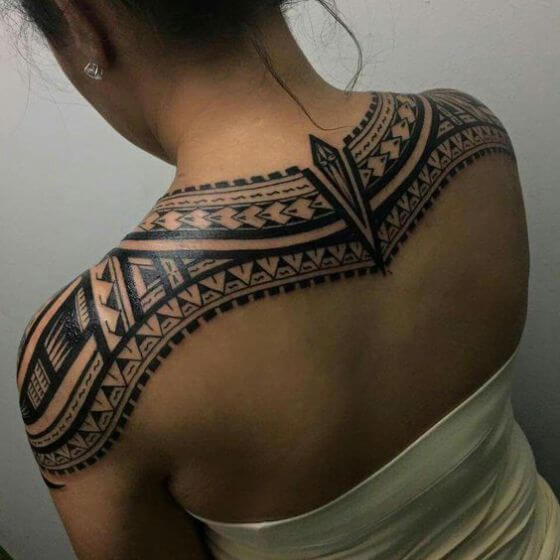 Maori tattoo designs look great no matter etched where, and the shoulder is a great place for a Maori tattoo.
25. Dog Paw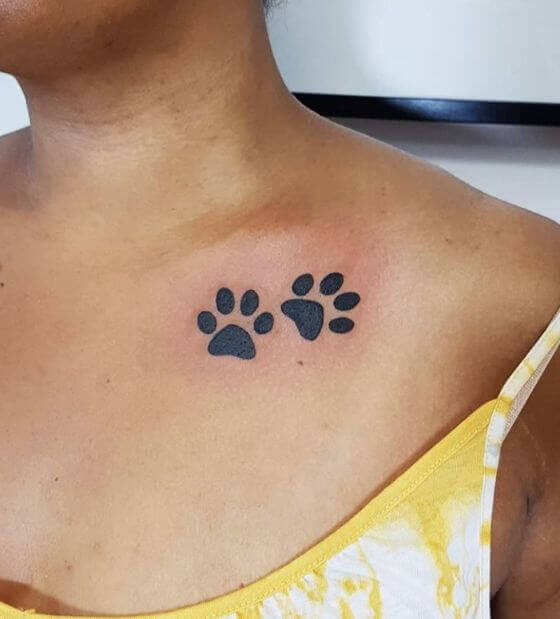 If you have always loved your dog and want to dedicate body art to your pet, then a dog paw on the shoulder is a great tattoo design.
26. A Palm Tree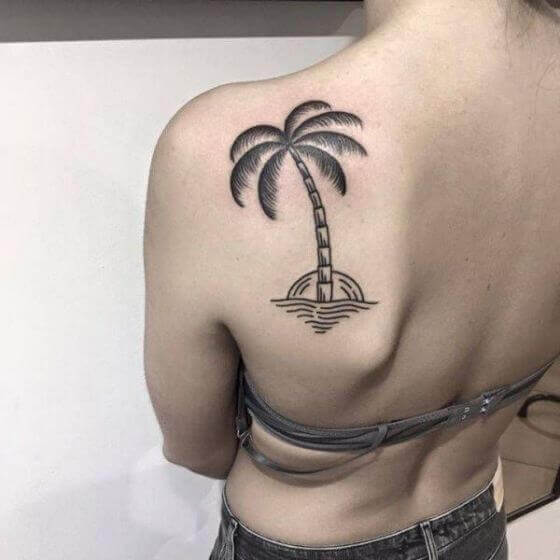 Palm tree tattoo not only look great on a beach, but they also make for awesome tattoo designs.
27. Travel Shoulder Tattoo
Get all your favorite travel elements etched together on your shoulder to show your fondness for travel.
28. Chinese Tattoos
A full sleeve detailed Chinese Tattoo will look great. You can get all your favorite elements incorporated into it.
29. Favorite Quote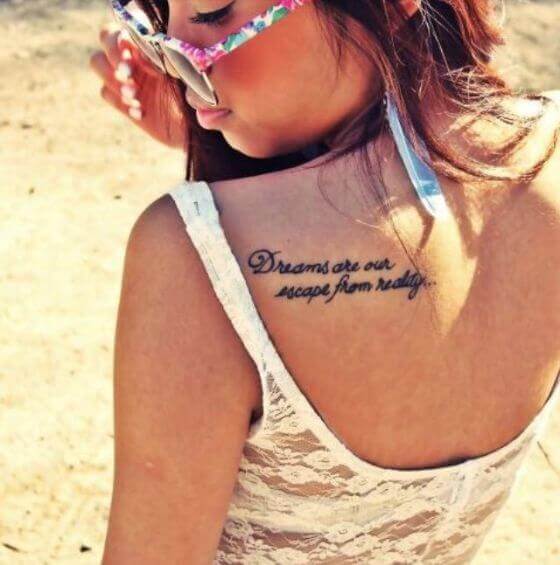 Many people love quote tattoos; if you also love quotes, then get a quote etched on your shoulder.
30. Tiny Tattoo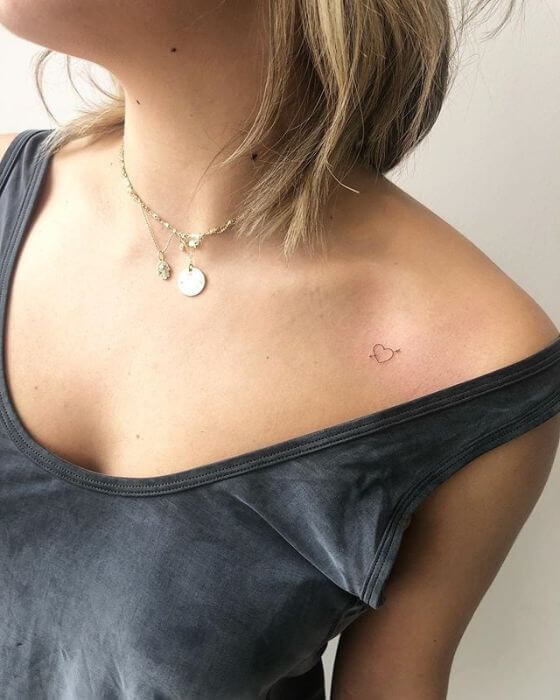 Tiny tattoos look awesome; if you do not want to overdo them, then get a tiny tattoo inked on your shoulder. Now a days this is the best shoulder tattoo for females.
31. Dog Outline
If your dog is important to you and you want to have a tattoo dedicated to it, get a dog outline tattoo.
32. Fish Tattoo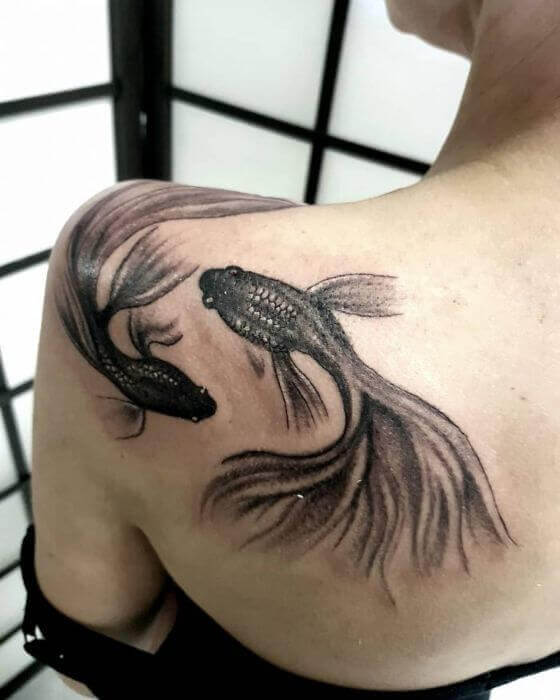 Get a single fish etched on your shoulder in black ink with perfect shading.
33. An Octopus
An octopus may not appear very beautiful in real, but an octopus tattoo looks great on the shoulder.
34. Wish Tree Tattoo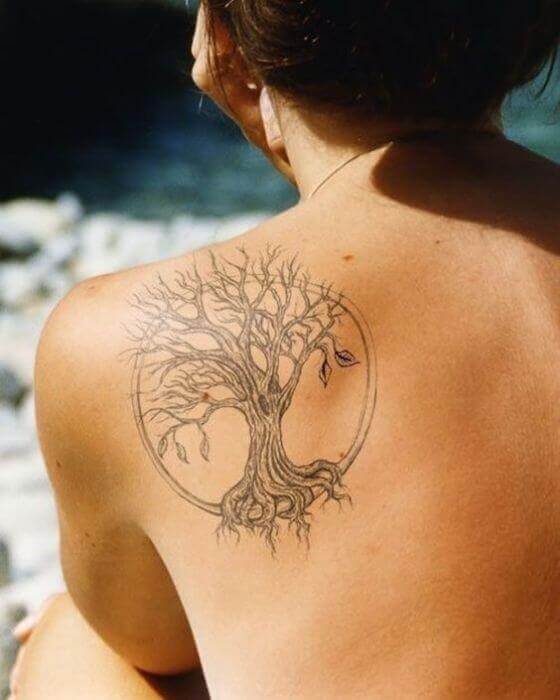 This will start from your back and go all the way to your shoulder. It looks beautiful if you have a curvy figure.
35. Creative Floral Design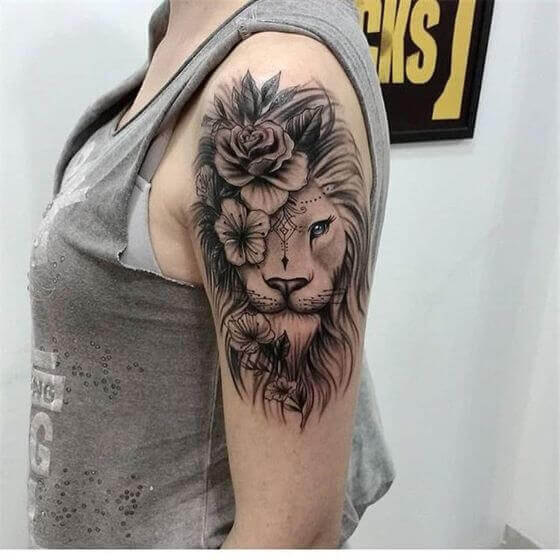 The creative floral design looks amazing, especially when it comes to a feminine design.
36. Cartoon Tattoo
Get your favorite cartoon etched on your body. A beautiful way to relive your childhood memories.
37. Turtle Tattoo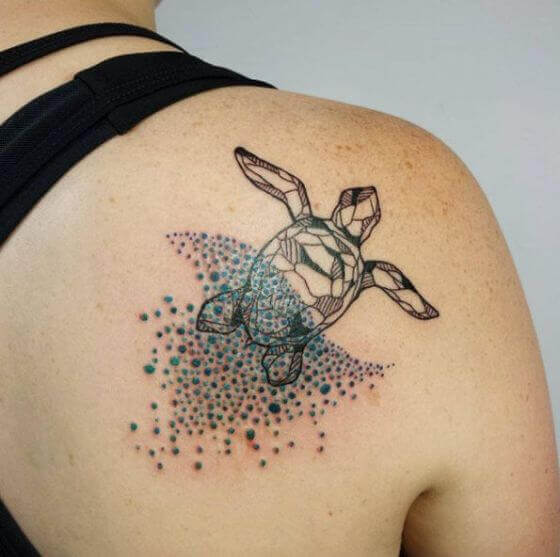 An unusual tattoo but very unique and detailed.
38. A Whale
A standard tattoo design that can be etched both on the front and back of the shoulder.
39. Skull and Flowers Tattoo
An amazing design that combines a skull with some beautiful flowers. Perfect for the ones looking for a badass tattoo design!!
40. Tribal Tattoo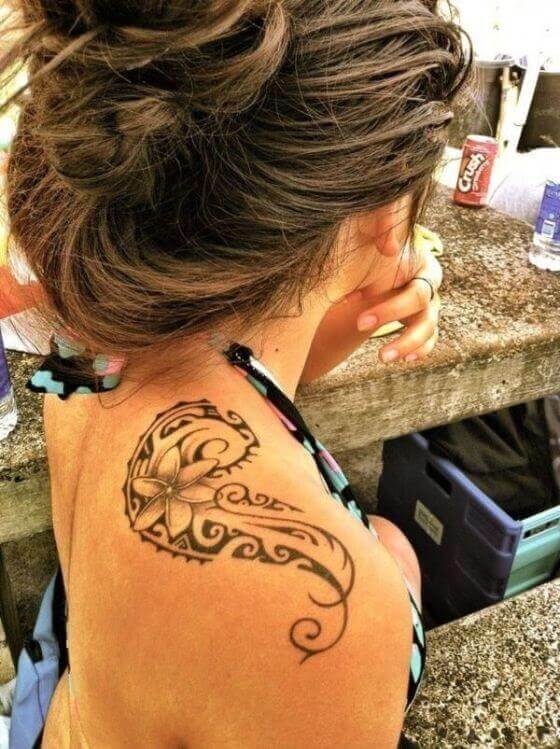 Another wonderful shoulder tattoo for females. This design looks amazing on the shoulder.
41. Purple Floral Tattoo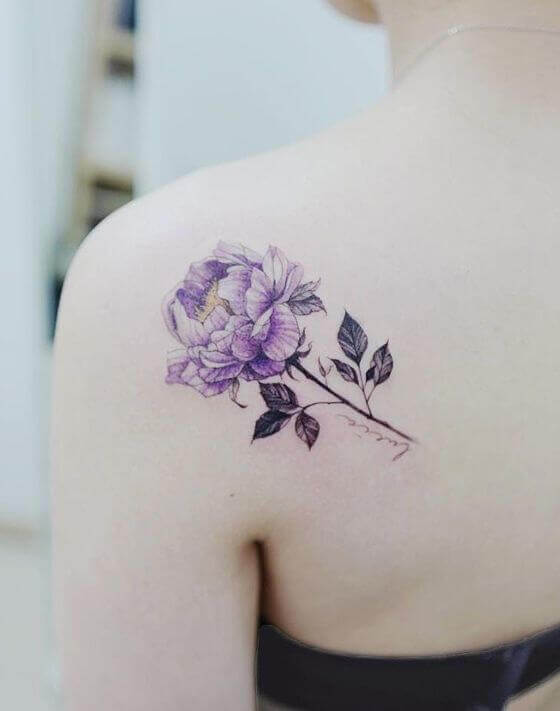 You will love the beautiful colors in this tattoo design; the Purple floral Tattoo makes for an eye-catching tattoo design.
42. The Silhouette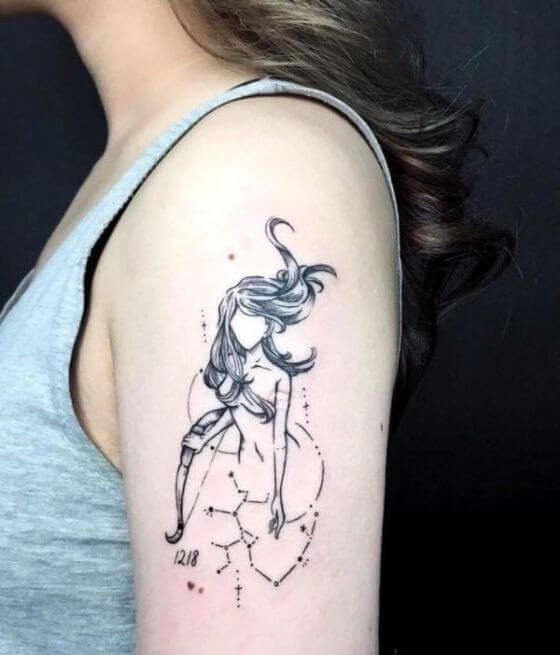 A beautiful geometric silhouette tattoo is really a fantastic way to flaunt your way.
43. Text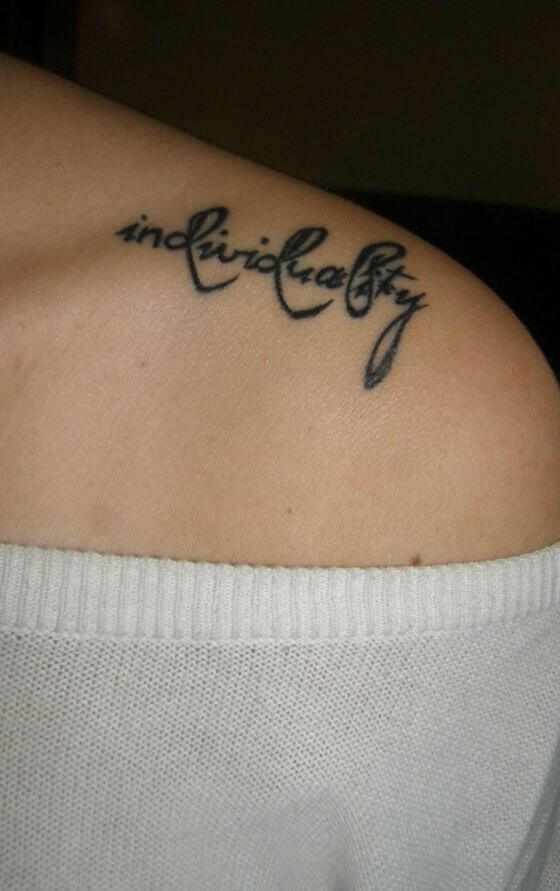 Get your favorite text etched on your shoulder. It looks awesome.
44. "Love Never Fails" with Flower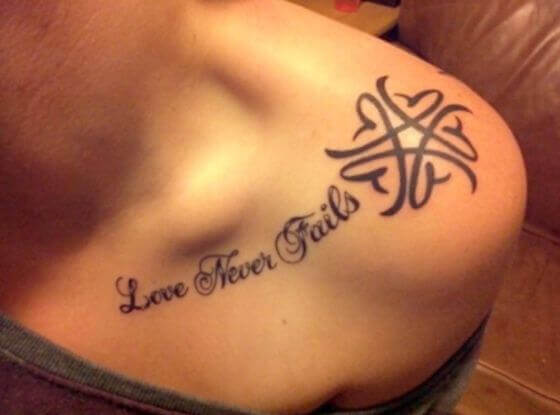 Get "love never fails" with a flower inked on your shoulder.
45. Three Butterflies
Get three butterflies etched in black on your shoulder. It will look great.
46. The Tulip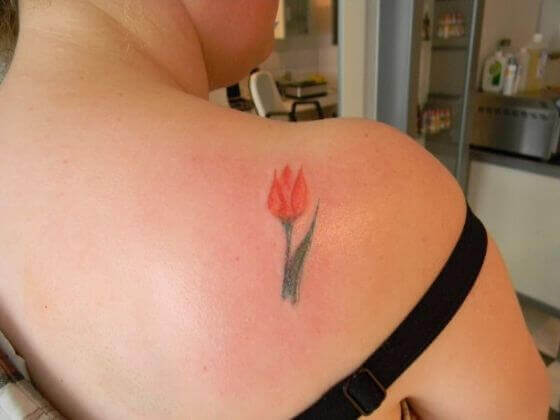 Nothing looks more beautiful than a tulip tattoo on the shoulder. Best shoulder tattoo for women.
47. Uncaged Bird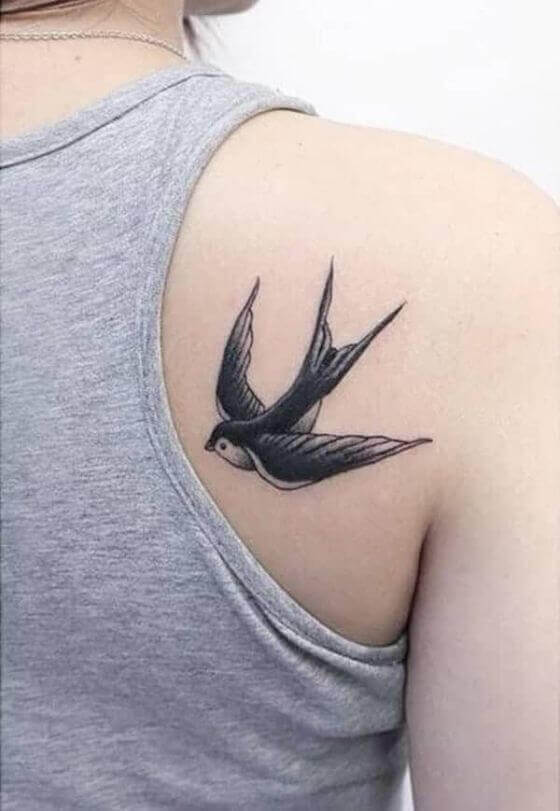 A breathtaking tattoo design for those who love freedom, just like this bird!
48. Fox Tattoo
Get just the outline of the fox etched on your skin. It makes for a stunning tattoo design.
49. Red Flower
Red flower sitting right on the top of your shoulder will look mesmerizing. An elegant and gorgeous shoulder tattoo for females.
50. Tribal Elephant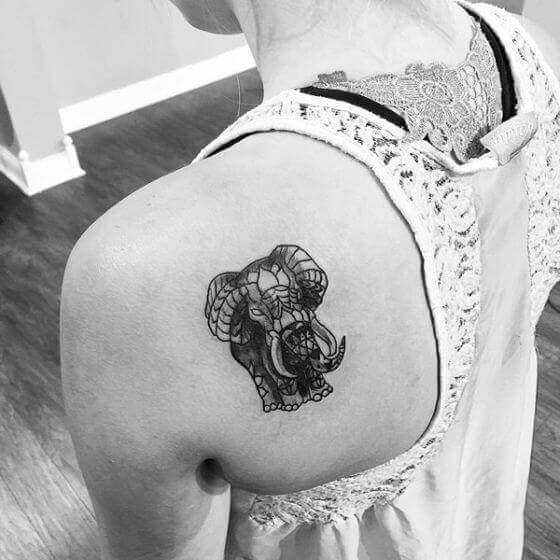 A tribal elephant design will look striking on the shoulder.
51. Skull with Flowers
A skull surrounded by floral will make for a usual tattoo design.
52. Beautiful Dandelions
If you are looking for an extraordinary tattoo design, then go for beautiful dandelions. You can get them incorporated with flying birds to add additional elements and beauty to your Tattoo.
53. Large Floral Tattoo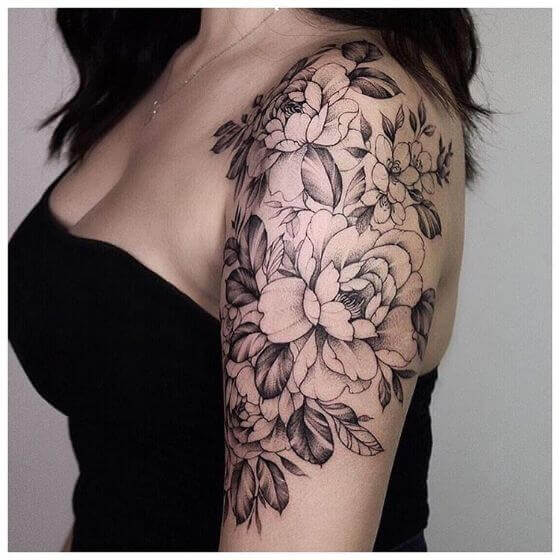 A large and gorgeous floral design filled with beautiful colors looks vibrant!
54. Rich Roses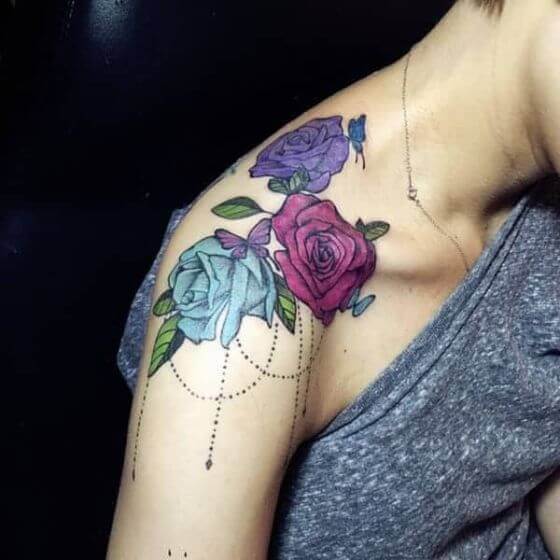 The rich red roses tattoo makes for a beautiful design. You'll love the beautiful colors in it!
55. A Sword
Looking for an edgy Tattoo, then a sword tattoo is apt for your shoulder.
56. Whimsical Tattoo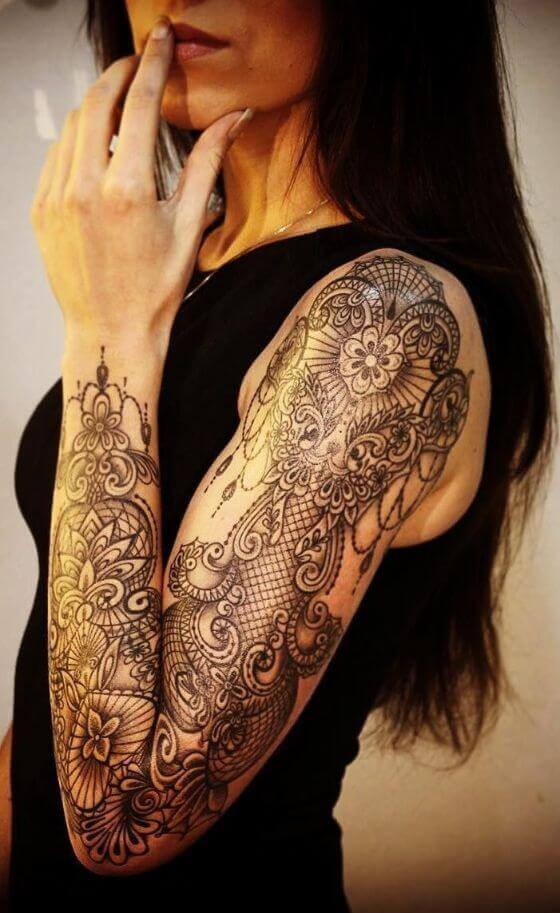 Get your flowers etched along with some whimsical elements.
57. Cherry Blossom
The cherry blossom tattoo looks beautiful sitting on your shoulder.
58. Star Tattoo
If you do not want to have a giant tattoo, get a star tattoo etched on your skin.
59. Hot Air Balloon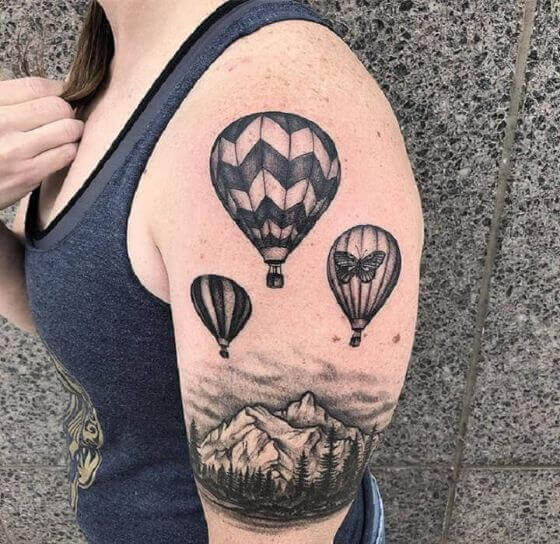 A bright and colorful tattoo for women, get a hot air balloon etched on your shoulder.
60. Ambigram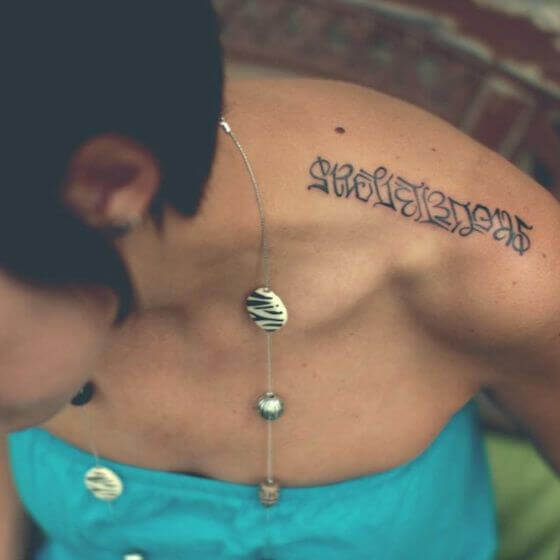 Ambigram tattoos look great on shoulders; you can try one!
61. Pair It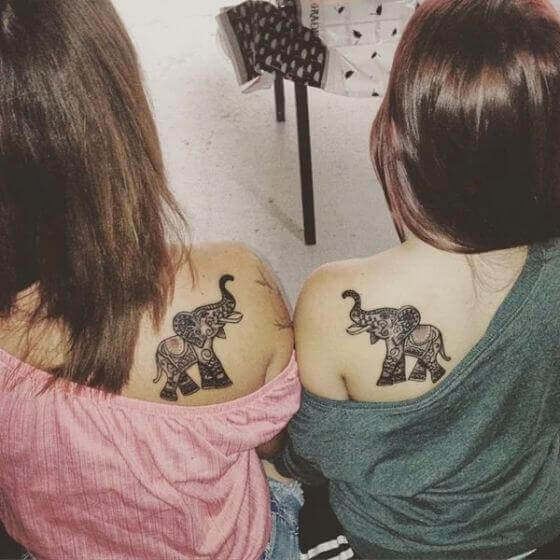 Get bows etched on the top of both your shoulders. A perfect pair tattoo.
62. The Japanese Samurai
Japanese Samurai will start at the shoulder and go all the way down on your sleeves. This Tattoo looks extraordinary, looks perfect in any size.
63. Abstract Color Tattoo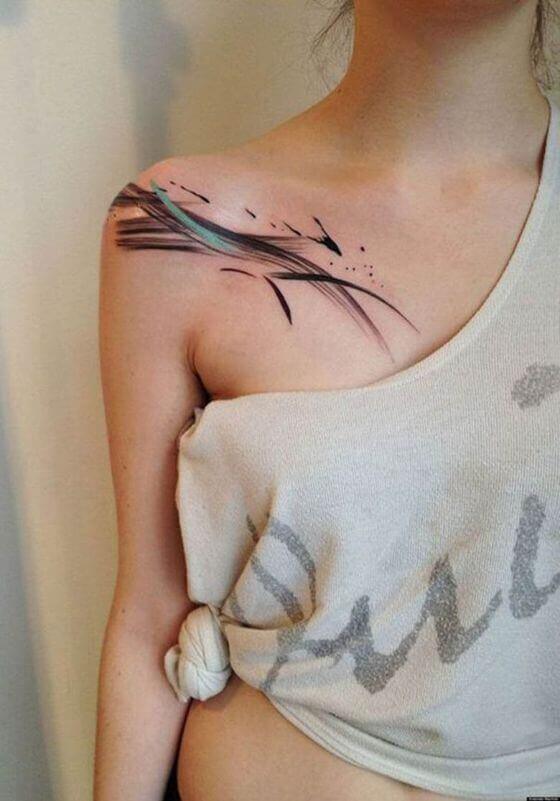 If you love colors and are into too many colors, then an abstract color tattoo is perfect for you.
64. Mandala Flowers
Get mandala etched in a floral pattern on your shoulder. You can get this Tattoo in beautiful colors.
65. Landscape Tattoo
The landscape tattoo design looks awesome on the shoulder. This tattoo starts from the shoulder and goes all the way to the chest and sleeves.
66. Constellation Tattoo Shoulder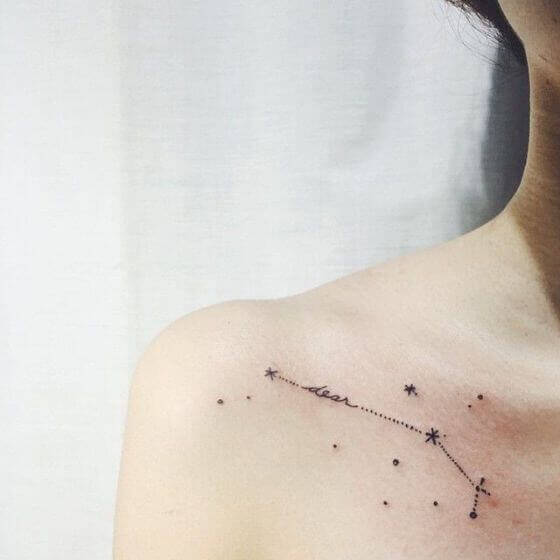 Constellation tattoo shoulder looks elegant and very pretty on the back of the shoulder.
67. Mother-Daughter Shoulder Tattoo
A beautiful way to show how much you love your daughter.
68. Symbol Tattoos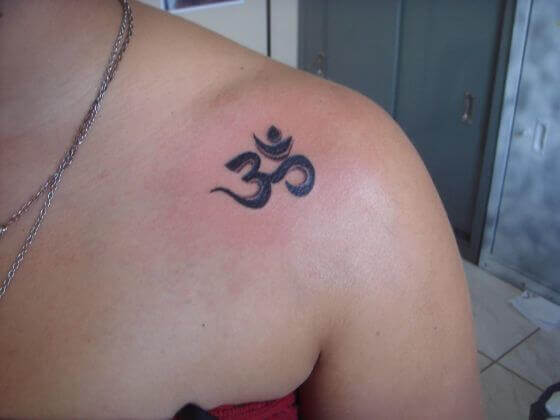 Symbol tattoos look awesome; you can get your favorite symbol etched on your shoulder. They make for perfect tattoo designs.
69. Flower Trail
A unique and very elegant tattoo design for females. This Tattoo starts from your shoulder and goes all the way to your sleeves. It looks sleek and sweet!
70. Circle Tattoo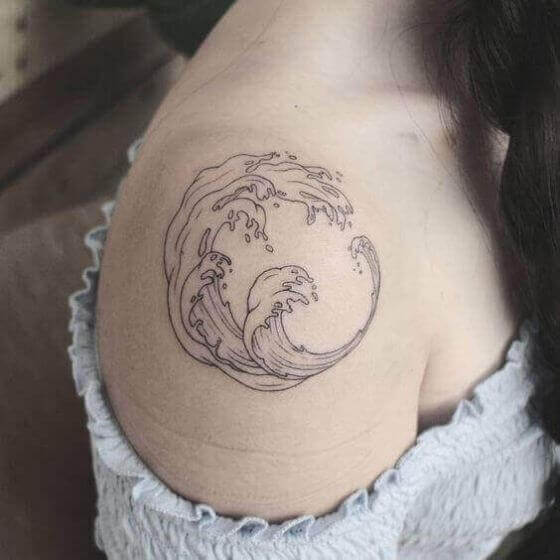 An intricate tattoo design with lots of beautiful details.
Wrapping it up…..
So, these are the 70+ shoulder tattoo for females. You can select the one that suits your needs the best. All these tattoo designs are very popular among women.
Happy Tattooing…. ☺ ☺
Please follow and like us: