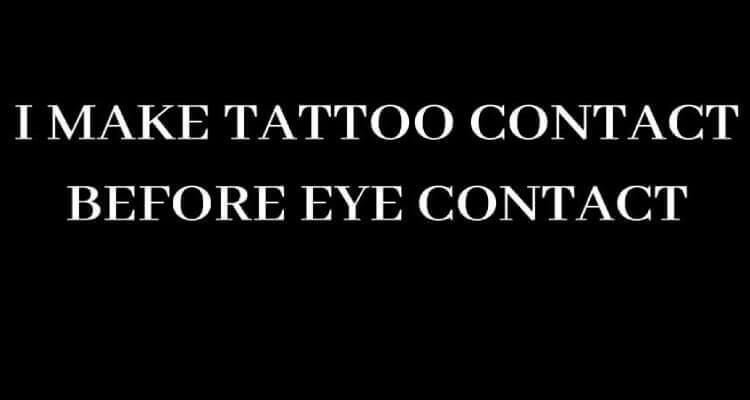 70+ Best Tattoo Captions and Quotes
Posted on
We all love to flaunt, and a tattoo is something that should not go unnoticed. There are several social platforms, such as Instagram, Facebook, etc. where you would want to showcase your newly etched tattoo. A beautiful tattoo with a great caption will make your post stand out. Here I am sharing 70 best Tattoo Captions that you can consider using for your Insta or FB posts.
Here we go…..
1. Don't let others tell you what's good for you.
2. Some artworks are exceptional, and the tattoo is one.
3. If the body is a temple, then tattoos are its embellishments.
4. I am in love with my tattoos, extremely in love with them!
5. Our body is a canvas, and tattoos are the artwork that makes our bodies look like a beautiful painting.
6. If you want to come out of a breakup, get a tattoo.
7. The pain that comes with a tattoo heals all the other pain of the mind.
8. Tattoos are great reminders of all the good times.
9. My tattoo reminds me of my origin.
10. I love tattoos because they simply look good.
11. Tattoos have the power and magic of their own. Not only do they decorate the body, but also they enhance the soul.
12. You think you have more pain, get a tattoo then!
13. Don't listen to those who say tattoos are bad!
14. Happiness is getting a tattoo.
15. My tattoo depicts the most challenging chapters of my Life.
16. Tattoos are no more just sailor thing.
17. Every day is the best day to get a tattoo.
18. You manifest both pain and pleasure at the same time while you get a tattoo.
19. My tattoos are my tale.
20. The most beautiful way to tell a fantastic tale is a tattoo.
Also See: Popular Tattoo Hashtags for Instagram, Facebook, Twitter
21. Love may not happen the second time, but tattoos can happen as many times as you want.
22. You can never go wrong with the right tattoo.
23. Tattoos are no less than a story; they symbolize the most beautiful moments of your Life.
24. Your tattoo should reflect your story and not anyone else's.
25. Don't copy other's stories; create your own!
26. Tattoos are a permanent mark of confidence.
27. They can't be your friends if they abhor you for your tattoos.
28. If they abhor your tattoos, they are not your friends.
29. Don't let others decide your tattoo design.
30. Each body has its own story.
31. My body is my journal, and my tattoo my story!
32. Nothing can be more beautiful than a beautiful tattoo on your body.
33. If you tend to get bored of things so easily, then get your tattoo on your back.
34. Neck is a beautiful place to have sultry artwork.
35. Be brave, get a tattoo.
TATTOO QUOTES BY FAMOUS PERSONALITIES
36. "My body is my journal, and my tattoos are my story." ― Johnny Depp
37. "I am a canvas of my experiences, my story is etched in lines and shading, and you can read it on my arms, my legs, my shoulders, and my stomach." ― Kat Von D
38. "Just ink,' he says. 'Just ink.' Probably the most dangerous substance on this here earth. There've been wars started by 'just ink." ― Christian Baines, Skin
39. "When you are looking at a tattoo, you are actually seeing it through the top layer of skin. Think of a color printer, printing on white paper versus color paper. The images printed will be affected by the color of the paper. The same is true for skin tone in tattoos." ― Shelly Dax, The Tattoo Textbook: Escape the Grind, Do What You Love, and Launch Your Kick-Ass Tattoo Career
40. "She spoke with all the authority vested in her by her flea-market prayer beads and her lotus-flower tramp stamp." ― Joshilyn Jackson, The Opposite of Everyone
41. "Do you want to stick needles in the living or scalpels in the dead?" ― Alice Broadway, Ink
42. "Tattoos made my skin more' me.' ― Larry Smith, It All Changed in an Instant: More Six-Word Memoirs by Writers Famous & Obscure
43. "For future reference, ink discussions involve showing. Mine are in spots that require lack of clothes." ― Zoe Forward, Off Her Game
44. "If I decide to get a tattoo, it'll be a map of where I live on my chest in case I ever get amnesia." ― Stewart Stafford
45. "Show me a man with a tattoo, and I'll show you a man with an interesting past." ― Jack London
46. "Being open-minded dramatically reduces one's chances of getting a permanent tattoo." ― Mokokoma Mokhonoana
47. "All the things I've done to my body, I've done out of love. Seriously. I've gotten ink to remind me of all sorts of places and memories, but at the core, everything I've had done has been my way of saying that this is my body. That I don't want the body everybody else told me I should have." ― Becky Chambers, The Long Way to a Small, Angry Planet
48. "Wear your heart on your skin in this life." ― Sylvia Plath, Johnny Panic and the Bible of Dreams: Short Stories, Prose and Diary Excerpts
49. "I'll become someone new. Through blood and pain and ink, I can be remade." ― Alice Broadway, Ink
50. "You could hear the voices murmuring small and muted from the crowds that inhabited his body." ― Ray Bradbury, The Illustrated Man
51. "My tattoos, like most people's, were reminders, badges of personal experiences. Yes, I might wear them on my skin for the world to see, but their meaning was a little too personal." ― N.R. Walker, Spencer Cohen, Book One
52. "Tall enough. Toned arms with just the right amount of ink. Blond wavy hair. Oh, hell no." ― Kella Campbell, Rock God in Exile
53. "Great God! hast Thou has given men Thine own image that it should be thus cruelly defaced by the hands of their brethren!" ― Walter Scott, Ivanhoe
54. "I've got tattoos; I'm subculture. Some kind of post-teen bag lady, that's me." ― Salman Rushdie
55. "Life is like a tattoo: we have a certain space available, and that's it. The more we fill it with negative elements, the less space will be left for the positive ones. Shape your Life like a work of art as you would do with your tattoos, and keep the good in it. Shape your dreams." ― Roberto Gemori
56. "You don't choose your tattoo design; your tattoo chooses you!" ― Shirin Naghashlou
57. "Books are to me as homemade tattoos are to an inmate. Can't get enough of them." ― Laurie Notaro, I Love Everybody
58. "New Rule: Any tattoo that has more than one line is too long." ― Bill Maher
59. "Yes, I say. Three of these flying birds. I touch my collarbone, marking the path of their flight-toward my heart. One for each member of the family I left behind." ― Veronica Roth, Divergent
60. "I want a tattoo over my heart that reads TRY HARDER YOU LAZY PARAMEDIC SHITBAG OR I WILL HAUNT YOUR BEDROOM FOREVER" ― Warren Ellis
61. "Maybe. Although I doubt most Shadowhunters get a tattoo of Donatello from the Teenage Mutant Ninja Turtles on their left shoulder." ― Cassandra Clare, City of Bones
62. "Maybe that's what I needed. Another tattoo. Some pain on the outside to ease the pain on the inside." ― N.R. Walker, Spencer Cohen, Book One
63. "Sometimes, you have to go a little crazy before you can find sanity. I think I'm close." ― Tawny Lara
64. "Tattoos are a right of passage. They're a marker of bravery, of maturity, of cultural acceptance. The tattoo represents not only a willingness to accept pain – to endure it – but a need to actively embrace it. Because Life is painful – beautiful but painful……." ― Nicola Barker, The Yips
65. "Tattoos give us the inspiration to be ourselves." ― Anthony T.Hincks
66. "Comparatively, tattooing is not the hideous custom which it is called. It is not barbarous merely because the printing is skin-deep and unalterable." ― Henry David Thoreau, Walden
67. "To whoever swapped my tattoo cream for toothpaste…….. well played." ― R.D. Ronald
68. "So good it'll make you ink." ― THIGHBRUSH
69. "Tattoos, after all, are a passionate, usually doomed assertion of mastery of your own destiny, or at least a defiant embrace of one that you cannot control." ― Mark Simpson, Saint Morrissey: A Portrait of This Charming Man by an Alarming Fan
70. "Two teenage boys have tattoos on their necks, instantly halving the alienation they'd hoped to achieve." ― Samantha Hunt, Mr. Splitfoot
71. "The ink of a pen is simply the blood of a heart" ― Michael Biondi
These are the 70 tattoo captions and quotes by famous personalities that you can use for your tattoo posts across all social media handles.
Happy Tattooing…. ☺ ☺
Please follow and like us: