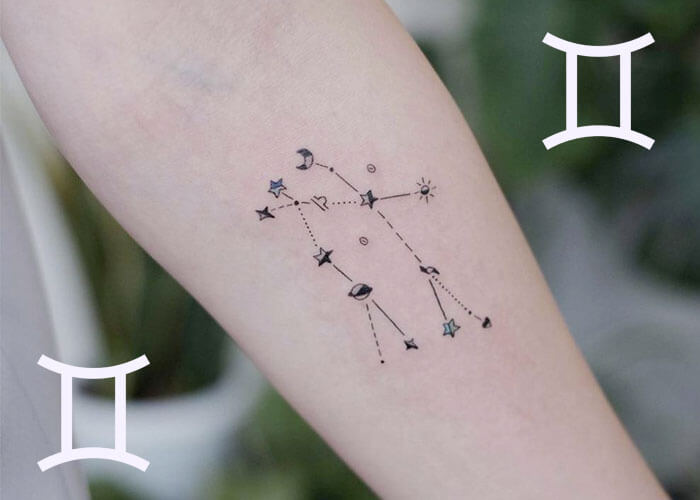 40+ Best Gemini Constellation Tattoo Ideas 2023
Posted on
Gemini is famously known as fun lovers or pleasure seekers in all the zodiac signs. They are all very witty and adventurous, which is why they are the center of attraction at parties and social gatherings.
Constellation tattoos are perfect if you want to add more to your personality. They can be anything from astrology-based constellations, spiritual messaging, or even astronomical symbols.
Gemini's are the most misunderstood because of multiplicity in their personalities, and they are called two-faced as their star sign. However, the Gemini's are never one, much like their constellation 'The Twins'. Throughout this article, we examine Gemini constellation tattoo ideas.
Which is the ideal place to get Gemini Constellation Tattoo-
For Men
Forearm

Neck

Back

Leg

Chest

Biceps
For Women
Behind the ears

Hands

Shoulder Blades

Behind the Ears

Wrist

Ankle

Finger Space
These are the most popular spots to get tattooed, but always take the tattoo artist's advice before getting it.
Gemini Constellation Tattoo Ideas
Some people think that having a constellation tattoo is simple. But all the tattoos are tough to get, be it Gemini tattoos, as they may look simple but are hard to reach up to your dream tattoo.
Gemini Constellation Tattoo With Flowers
All tattoo lovers are obsessed with flowers. There are many flower tattoo ideas you can select from.
1. The Yellow Flower Tattoo
If your favorite color is yellow, this could be your ideal choice. It is a Unique design with a couple of yellow flowers on the stems.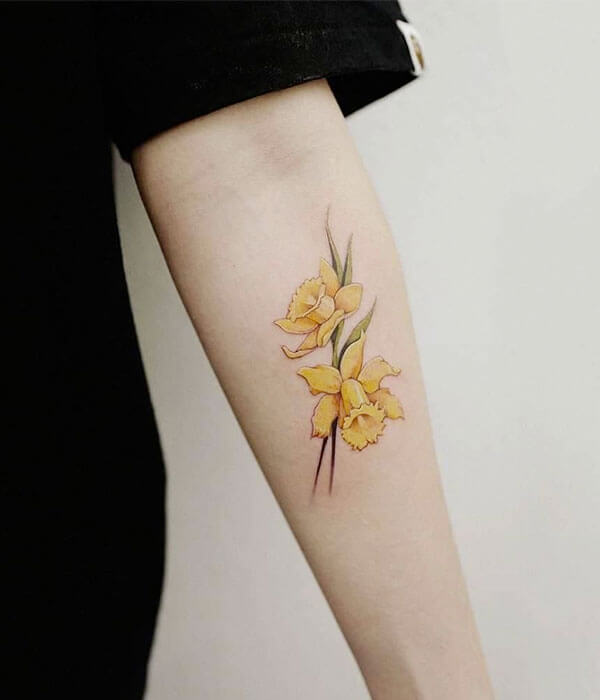 2. The Black and White Bouquet Tattoo
It's a short black ink tattoo that looks pretty. It has a few full bloom flowers and Some still growing buds. The design is simple but unique, with beautiful stars below the flowers. Just go for it without any speck of doubt. 
3. The Arrow Tattoo
The arrow tattoo means anything like two arrows facing the opposite direction, something completely different, but arrows with feathers in this tattoo symbolize victory over life struggles and liberty, and independence.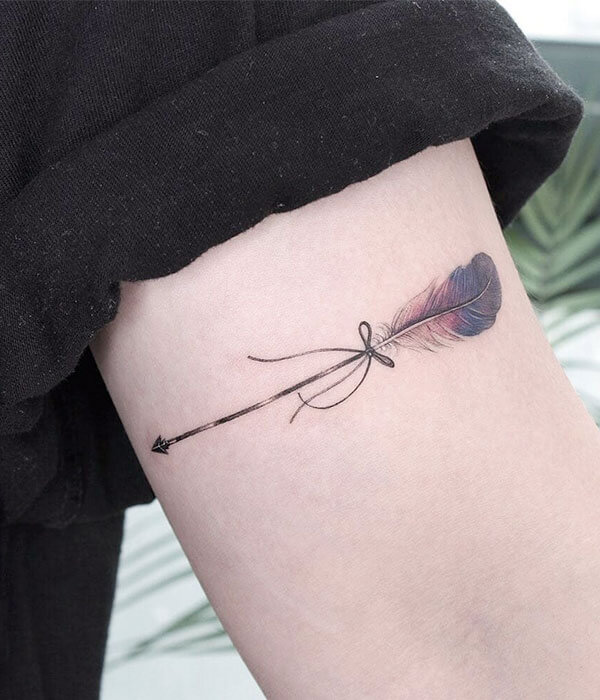 4. The Minimalistic Gemini Constellation Tattoo
You don't have to worry when you are not a big fan of connected lines but are still looking for a minimalistic constellation tattoo. This one is a simple tattoo that you would love, with just cute stars around your wrist that make it look cool.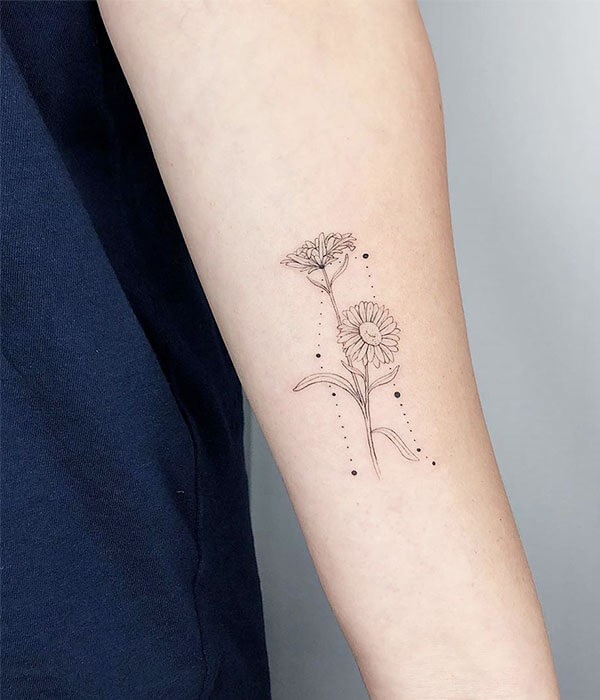 5. The Geometric Gemini Constellation Tattoo
This tattoo reminds me of Paramount Pictures for many reasons, like the river, the mountains, the tall trees, and the black sky in the background; all of this makes it a perfect geometrical constellation. Yet, it's anything but not dull and looks magical.
Also See: 320+ Fabulous Geometric Tattoo Designs For Men And Women
6. The White Ink Tattoo
The white ink tattoo is one of my favorites as it is different in color yet powerful. In addition, the white ink gives a very different look to the tattoo.
7. Gemini Sign Tattoo
The Gemini sign tattoo is just two straight lines crossing two horizontal lines. Thus it's a simple tattoo option, similar to the symbol of 'pi' in mathematics. It's ideal for tattoo lovers looking for something small at the back of their neck or wrists. Gemini sign tattoo, you are very simple but meaningful.
8. Gemini Constellation Tattoo
If you opt for a variable tattoo – miniature or big, the Gemini constellation tattoo gives plenty of variety to the tattoo artist. Even if you prefer minimalistic detail, the tattoo can be specially designed to fit your bill.
9. Gemini Twin Tattoo
People with the Gemini star sign have a dual personalities and oppose and complement each other; this aspect is represented in the form of twins.
You can opt for detailed twins, both feminine and masculine, and you can go for minimalistic and simple twins that suit your style.
10. Gemini Tribal Tattoo
Tribal designs make a great pair with a Gemini tattoo. The most standard way to get a Gemini tribal tattoo. It gives a unique touch to the otherwise classic character.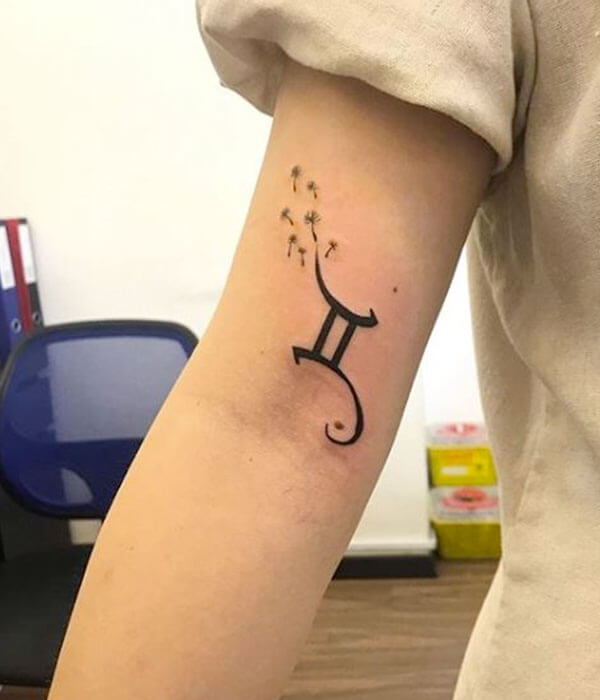 11. Gemini Snake Tattoo
Geminis are known to be manipulative and sneaky sometimes. Gemini snake tattoo allows you to venture into the opposing side in you.
There are many options for a Gemini snake tattoo, but the best is a snake with two heads.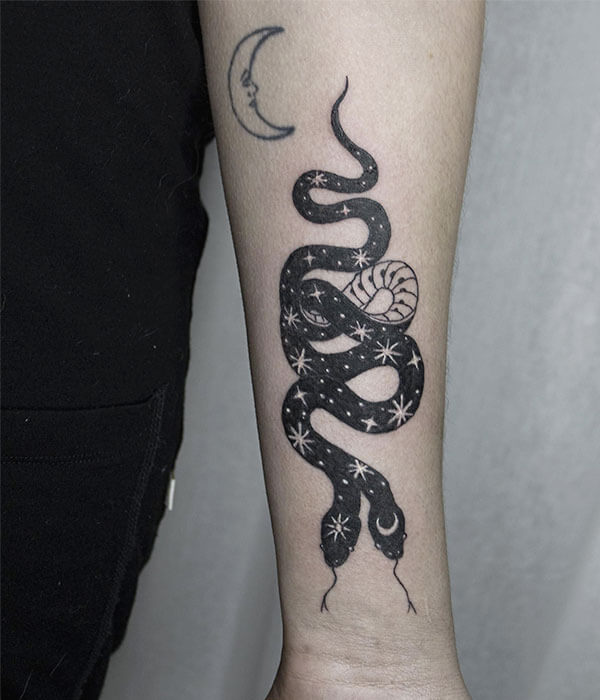 In the constellation of Gemini, there is a star—the brighter twin—that looks like a snake. It has been said that this symbolizes communication and diplomacy between twins or those who are alike but have been separated by circumstances. If you don't already know the meaning behind your tattoo, it may be best to find out before you spend time and money on it.
12. Gemini Dragon Tattoo
There is no direct connection between the Gemini and the dragon, but Geminis are known to be e intelligent, witty, and aware, and they can represent these aspects With a dragon tattoo. There are a variety of designs to choose from, like two dragons with intertwined tails create a powerful picture.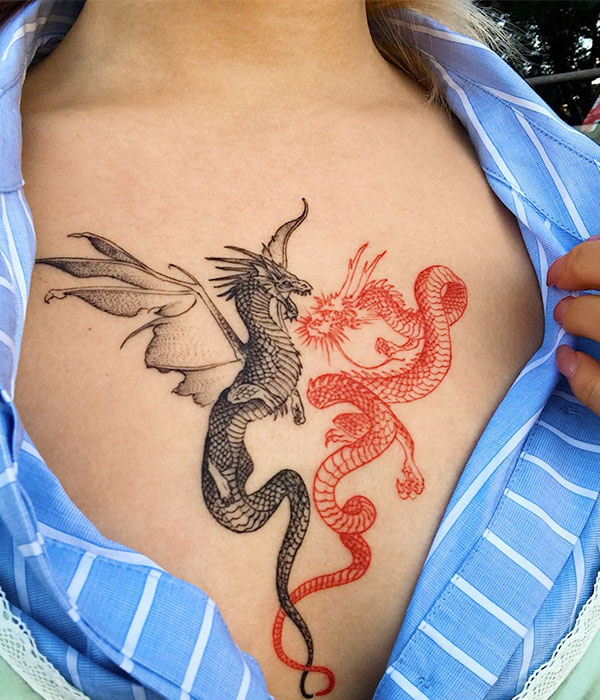 13. Taurus and Gemini Constellation Tattoo
The Gemini season follows the Taurus season, so a Taurus and a Gemini constellation tattoo can be done on someone whose birthday is close to the dividing line between these two signs. It's an excellent combination for encouraging balance.
14. Angel and Devil Gemini Tattoo
The tattoo with one wing of an angel and the other of a devil is the best in this segment.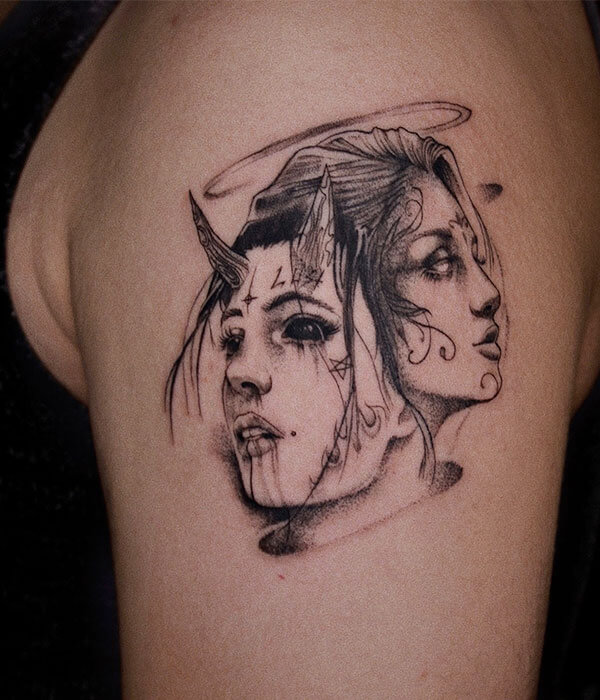 15. Gemini Skull Tattoo
Gemini skull tattoos are mysterious and dark, making them perfect for men who want to show their intense look and style. Although these tattoos are at their best in black and white, they can be done in color if they suit your style.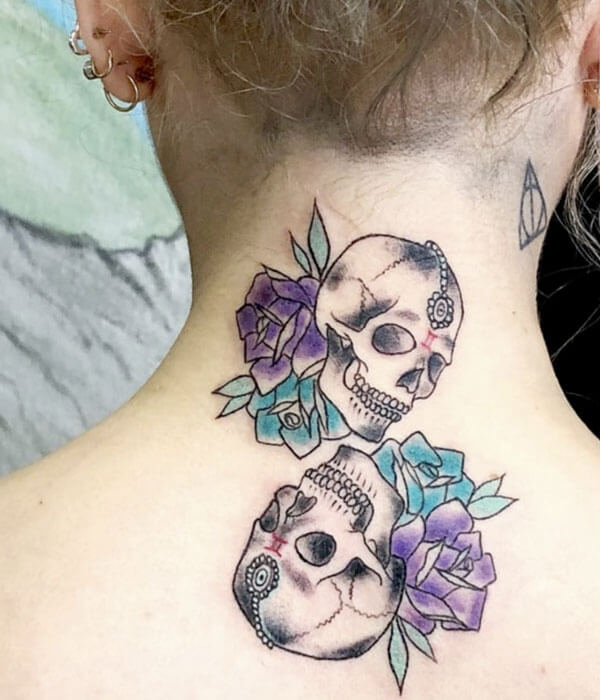 The most popular skull ideas are two skulls separated with the help of a flower and twin skeletons attached to the neck.
Also see: Horoscope Symbol tattoos
16. Small Gemini Tattoo
Small tattoos are ideal for someone who is darting for something elusive. However, if you want something modern, go for a Gemini tattoo on a very exposed place like the forearm or wrist.
17. Gemini Finger Tattoo
They are always miniature but not dull. If you want your tattoo to get noticed, get the Gemini symbol on top of your pointer finger and avoid the top of the hands.
18. Gemini Thigh Tattoo
The thigh is the best place if you want to hide your tattoo, and the thigh is also a huge area ideal for a great tattoo design. You can choose from various tattoo ideas on thighs like Gemini twins, Gemini snake designs, or even devil tattoos.
19. Gemini Wrist Tattoo
The Gemini wrist tattoo's beauty is that it must be essential and small. The design requires just simple line work and does not need any detail for shading.
20. Gemini Tattoo on the Neck
A Gemini neck tattoo is for bold people who want to display their tattoo, but those looking for something subtle can have it on the backside of their neck. There are numerous possibilities open for neck tattoos. You can go for an uncomplicated shot of the sign or something extensive and detailed. 
21. The Snake Star Tattoo
If you like snake tattoos, this one is ideal for you. The two snakes of different colors are twins of Gemini; the black snake symbolizes the planet, the stars, and the galaxy, and the white snake represents sunshine and ferns.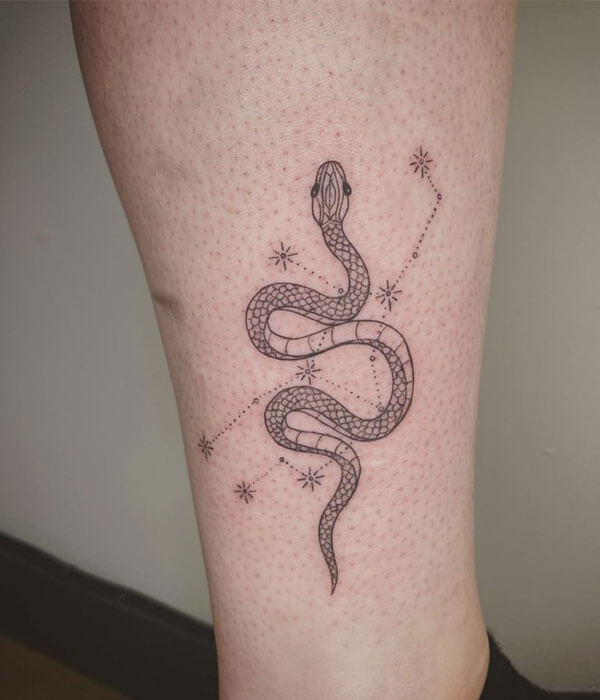 22. The Daisy Tattoo
If you are into flowers and petals, this is a perfect choice. It's elegant and straightforward and will probably not hurt you much while getting inked.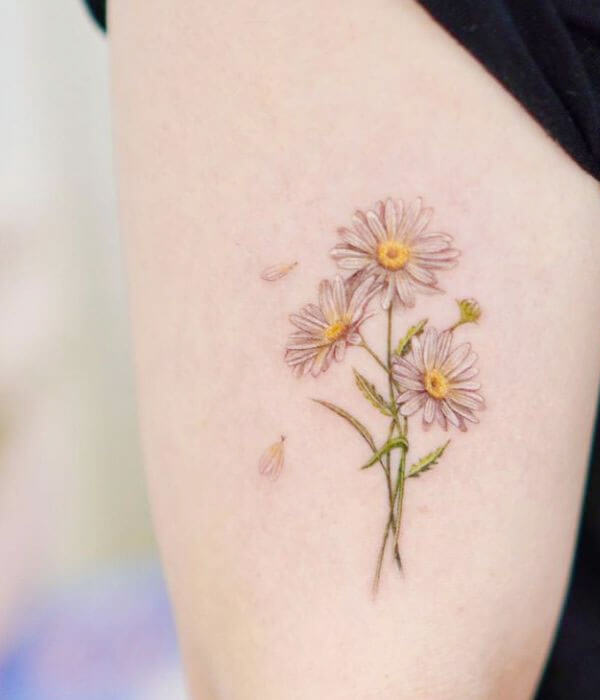 23. The Birth Flower Tattoo
Gemini's birth flower is lavender, a beautiful color for all skin tones. The best part of this mono-color tattoo is that it can be paired beautifully with black and white ink.
24. The Whale Tattoo
Even Wales has a combined personality like the Geminis. The whales symbolized balance, calmness, strength, and even the ability to Elevate moods. This is a perfect tattoo idea if you associate yourself with this consolidation.
25. The Moon and the Star Tattoo
This tattoo Is the ideal choice if you are looking for a minimalistic, uncomplicated, clean tattoo and those who love stars, planets, and the moon.
26. The Butterfly Tattoo
Butterflies are loved by all as they are beautiful creatures and symbolize freedom, faith, and transformation. They are also analogous to femininity and romance. So go for it if you are obsessed with the beautiful creature. 
Also Read: 75 Butterfly Tattoo Ideas And Designs
27. Gemini and Scorpio Tattoo
They are famously known as the opposite signs. Gemini and Scorpio are polar personalities in one frame. The most simple design is Scorpio on the facade of the Gemini symbol. 
CONCLUSION-
The constellation of the sign of Gemini is composed of two birds representing the two sides of our personality. On the one hand, the raven symbolizes intelligence and creativity, while the phoenix represents stability and endurance. On the other hand, consider the arcs, circles, and stars in your constellation tattoos! There are many ways of expressing your personality in a tattoo. You can be as courageous and audacious as you want. On the other hand, you can be full of creativity and try something new with your next tattoo. The Gemini Constellation Tattoo Ideas could work for different people, whether on your back or sleeve.  
Please follow and like us: