Update 20 Best American Football Tattoo Designs
Posted on
As an American football fan, you've likely considered getting an American football tattoo to show your team pride. A carefully chosen design can be more than just skin-deep; it can commemorate milestones in your life and remind you of the game you love so much. With such an abundance of design possibilities, however, how do you narrow down which idea is best for you?
To help make this decision easier on you, we have prepared some inspiring ideas for tattoos relating to the beautiful sport of American Football. From subtle inkwork featuring helmets or logos through detailed portraits and 3D artworks inspired by past tournaments – these examples provide plenty of creative fodder, whether strictly traditionalist or with modern twists!
Here are some of the unique American football tattoo designs
1. The Orange Helmet
The Orange Helmet tattoo is an eye-catching and inspirational symbol of American Football. Representing the strength, unity, and determination of a team or individual player to reach their goal – this unique design has become a popular choice for fans around the world.
Not only does it look great on its own, but when paired with bold colors like black and red, that stand out – creating an intense visual impact that any sports fan can appreciate! With its symbolic meaning behind it – The Orange Helmet offers the perfect way to show your love and loyalty towards America's favorite sport!
2. American football tattoo small
Football tattoos are an increasingly popular way to show your love of the game. Whether you're a die-hard fan or enjoy watching on Sundays, consider getting a small tattoo celebrating America's favorite sport. The possibilities range from team logos and mascots to inspirational phrases about perseverance and courage.
With so many options, finding something meaningful that expresses your enthusiasm for the game won't be hard—or even pays homage to its greatest players! Take some time (and ink!) out of your day by visiting local tattoo artists who can help customize and design the perfect football tribute pieces today!
3. The jersey number tattoo
Football jersey tattoos are a popular way for some American football fans to show their dedication and loyalty to the game. Jersey numbers have been associated with specific teams, players, or even favorite colors since organized sports began in America.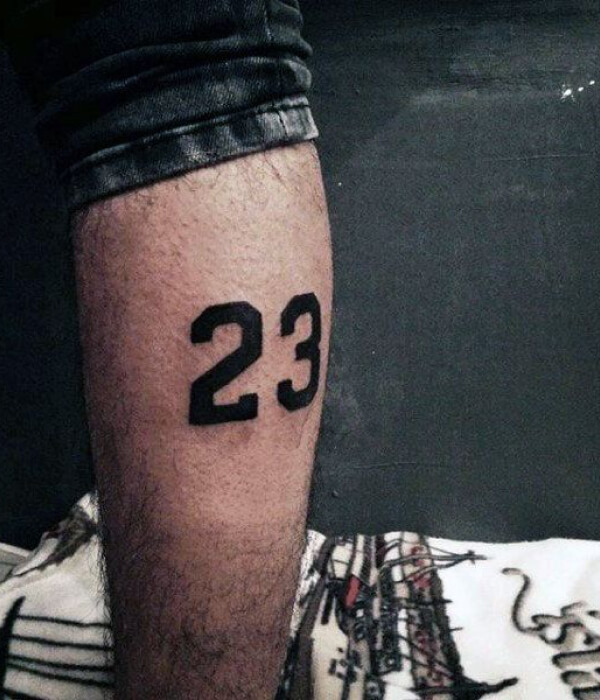 For some people, these tattoos represent a deep connection between themselves and an organization they consider part of their family. Getting your team's number tattooed on you is not only about showing off your fandom but also it can be a reminder that no matter where life takes you, you still bleed for this one thing above any other: Your favorite NFL Team! It's one of the best American Football tattoo ideas.
4. Black and white American football tattoo
Black and white American Football tattoos have become popular for showing your passion for the game. They are bold, symbolic designs that capture the essence of being a true fan. Whether it's an intricate design showcasing some memorable plays or simply an eye-catching logo symbolizing team loyalty, there is something special about having black and white ink on one's skin dedicated to this sport.
The vivid contrast between these two colors makes them stand out from other tattoo styles and adds extra character while expressing admiration for America's most beloved game – football! It is one of a unique American football tattoo designs.
5. Ripped-skin Chicago Bears tattoo
Getting a Ripped Skin Chicago Bears Tattoo is ideal for showing your support for the American football team. This professional tattoo will be custom designed based on your style and preferences, making it unique. The ripping of the skin gives off that realistic look which enhances its appeal while also giving you a powerful expression of pride in being part of this great organization!
Whether planning ahead or looking at commemorating past memories from games won, this type of body art can last a lifetime with swift turns allowing no time for fading away due to age. With professional artists lending their expertise in tailoring various styles, you'll surely wear a one-of-a-kind piece with centuries-old artistic techniques used, adding value worth remembering forever!!
6. Realistic American football tattoo
A realistic American football tattoo is the perfect way to show your allegiance and passion for the sport. If you want a unique design that will stand out, consider getting one professionally inked! From classic designs such as helmets to more creative options like laces or even entire fields of play, there are endless possibilities with this type of tattoo.
Not only will it make heads turn wherever you go, but its intricate details ensure an eye-catching piece that lasts forever! So take advantage now because no matter how long you've been a devoted fan –now is the time for an accurate statement expressing your love; A Realistic American Football Tattoo.
7. Amazing American football helmet tattoo
The fascinating art of American football helmet tattoos is becoming increasingly popular among professional athletes and fans. These intricate designs are beautiful to look at and an excellent way for teams or players to show their loyalty, commitment, and identity within the sport.
From unique mascots portrayed in vibrant colors, detailed illustrations showcasing player accomplishments, or suggestive photos that capture team spirit, these tattoos can be both meaningful and eye-catching! Helmet tattooing offers an innovative canvas through which sportspeople can express themselves while combining fandom with individuality.
8. Washington Redskins helmet tattoo
Tattoos have become a popular form of self-expression and customization, but few tattoos are as eye-catching or meaningful as the Washington Redskins helmet tattoo. This creative ink art represents loyalty to one's team and hometown city and is bold enough to be noticed yet subtle enough not to overwhelm its wearer.
Professional artist designs crafted with precision ensure that each piece captures every detail perfectly; from the iconic logo colors down to minute feathery information on helmets, these vivid representations will add an extra sparkle when cheering for your favorite players at game day events. Whether you're looking for an edgy look or displaying pride in solidarity with fellow supporters – get your exclusive Washington Redskins Helmet Tattoo today! It's one of the best American football tattoo ideas.
9. Blue Green Seattle Seahawks tattoo
Are you looking for an American Football Tattoo design with a unique and creative? Look no further than the Blue Green Seattle Seahawks tattoo! This eye-catching sports logo is expressive and highly symbolic of courage, teamwork, and loyalty. Whether placed on your arm or somewhere else, this professional look will elevate any traditional ink style.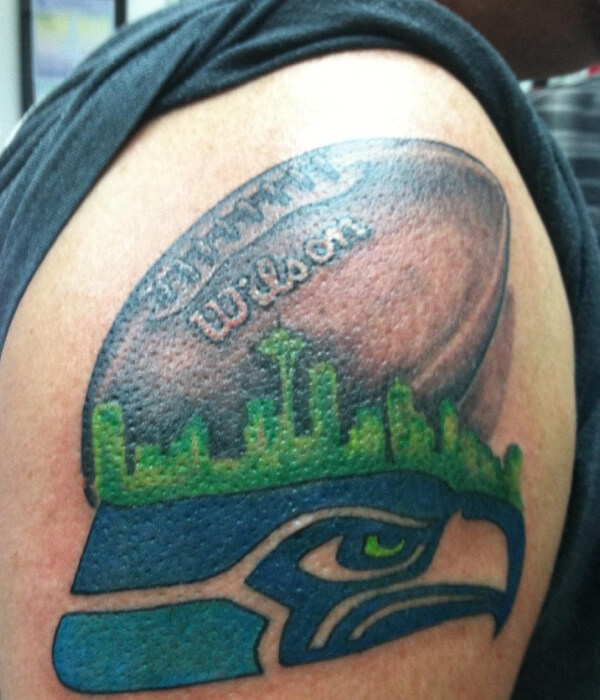 Show off your pride in the game with this striking blue-green motif incorporating elements from one of America's most popular sports teams: The Seattle Seahawks. Let everyone know who you root for when they see the colors intertwined in stunning detail – make sure to get your customized take today!
10. New York Giants helmet tattoo
Are you a fan of the New York Giants? If so, why not express your love for the team with an impressive helmet tattoo? Let everyone know who is number one in your book by personalizing a unique design that showcases iconic symbols and colors associated with this popular American football franchise.
From logos to helmets and even player images, get creative about how you display the greatness of New York through body art! It's sure to be eye-catching on game day—so don't shy away from getting an unforgettable tattoo now!
11. New England Patriots tattoo
There's something special about a New England Patriots tattoo. It speaks to loyalty, hard work, and dedication—qualities that have defined the success of this storied franchise for decades. Whether it be an image or a saying that reflects personal meaning, those who get inked with their favorite team are sure to enjoy the thrill of having artwork dedicated to such an important part of their lives.
From full-sleeve designs featuring iconic images like helmets, jerseys, and even Tom Brady himself; to smaller subtle pieces sporting slogans or logos – there is certainly no shortage when seeking professional American football tattoo ideas inspired by one's love for The Pats! This is one of the best American football tattoo ideas.
12. Minnesota Vikings-I bleed purple tattoo
The Minnesota Vikings have long been one of the NFL's premier teams, and their fan pride is second to none. In recent years, a popular way fans show off their team spirit has become increasingly popular – I bleed purple tattoos! From full-back pieces that feature iconic players from past eras to unique designs inspired by Norse mythology and Viking culture, these tattoos truly showcase how seriously Minnesota natives take their football team.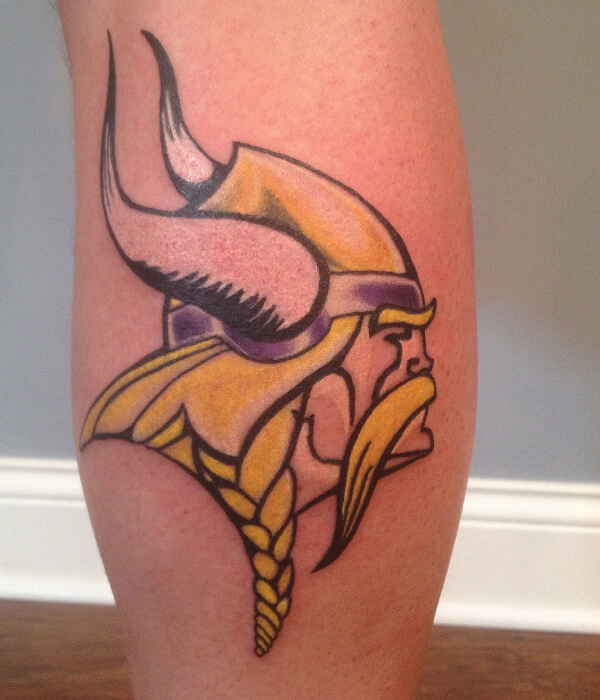 No matter what design you choose for your inkwork, there's no denying this trend is an epic statement of dedicated devotion towards the Purple and Gold – Go Vikings!
13. Dallas Cowboys tattoo
Dallas Cowboys tattoos are a popular way to show support for America's professional football team. These unique and meaningful American Football tattoo designs come in many styles, from traditional tribal patterns to stylish abstract art pieces.
Whether you're looking for something simple or complex, Dallas Cowboys tattoos will let your inner fan shine through with permanent ink on the skin! With so many eye-catching options, it's easy to express yourself by wearing a piece of personalized body art that pays homage to one of the sport's most beloved teams.
14. The Pittsburgh Steelers helmet tattoo
The Pittsburgh Steelers have one of the most iconic helmets in American Football. From fans to players, a popular way of expressing team spirit is through tattoos featuring the helmet design. Unique black and yellow designs take inspiration from their classic 'Steeler' logo and modern elements like stars and flames.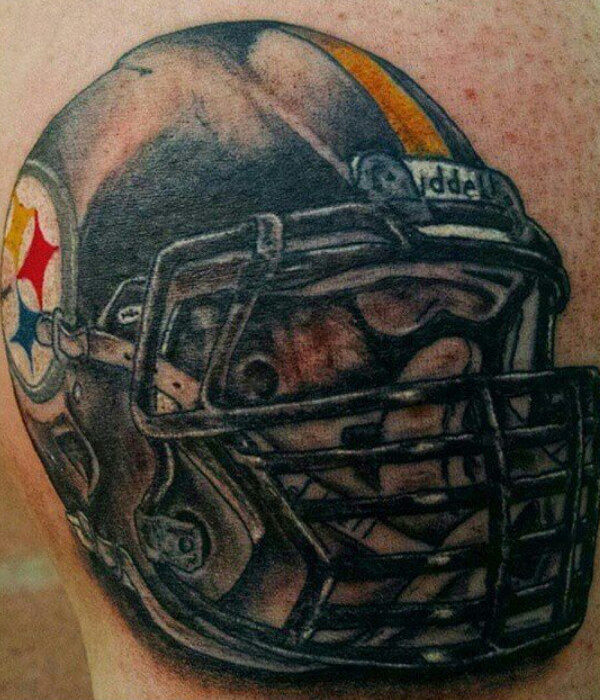 For life-long followers of this legendary franchise, nothing quite compares to wearing these beloved symbols on your skin forever – creating an everlasting bond with the team you will always carry wherever you go! With its bold yet beautiful colors and plenty of creative versatility for customizing your tattoo ideas, getting a Pittsburgh Steelers Helmet Tattoo will show off some great pride!
15. Oakland Raiders tattoo
Tattoos have been an integral part of the game in professional sports, and Oakland Raiders fans are no exception. With a unique style that combines elements of traditional Americana with its rugged edge, it's no wonder why Raider Nation proudly wear body art representing their favorite NFL team! From vibrant iconic logos to personalized shields emblazoned with words like "Loyalty" or "Strength, there is something for everyone when it comes to designing custom tattoos featuring the beloved Raiders logo.
Whether you're looking for expertly-crafted ink from your local tattoo parlor or taking on a DIY project using kits designed explicitly by professionals – now is the time to show off your allegiance in style!
16. Classic American football tattoo
Express your passion for classic American football with a unique tattoo design! Tattoos are an art form; getting one is a special way to show pride in the beloved sport. Whether it's incorporating team logos or artwork inspired by plays, you can get creative while marking body parts.
Celebrate touchdowns, interceptions, tackles, or any other unforgettable play with words or symbols that mean something personal. Plus, having professional-quality ink ensures your custom American football tattoos will look great on game day – no matter which team wins!
17. Colored Denver Broncos
The Denver Broncos are known for their iconic blue and orange logo, but the team recently unveiled a new set of designs that take fan tattoos to an all-new level. Fans can get custom American Football tattoo designs in team colors ranging from navy, yellow, white, and grey – giving them a chance to show off some great Bronco pride with unique body art!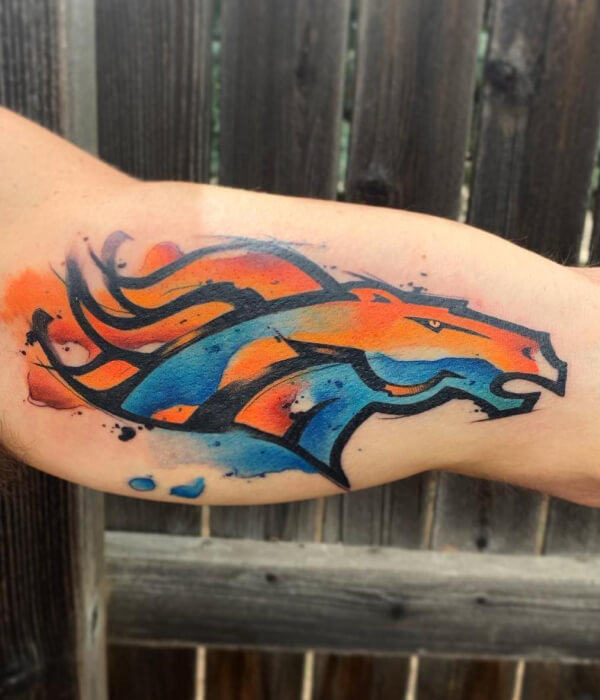 Whether fans prefer intricate patterns or simple line work inspired by classic football symbols like laces – there's something here for everyone who loves America's favorite sport. Get creative with your next piece and experience game day in a way you never thought possible!
18. Michigan Wolverines tattoo
The Michigan Wolverines are one of the most show-stopping brands in American football. Whether you're a fan or not, there's no denying that their fierce mascot and bold colors create an unforgettable visual image. Nowadays, it is trendy for fans to get tattoos inspired by this beloved team, ranging from traditional shoulder-piece designs to smaller forearm pieces featuring the Wolverine logo.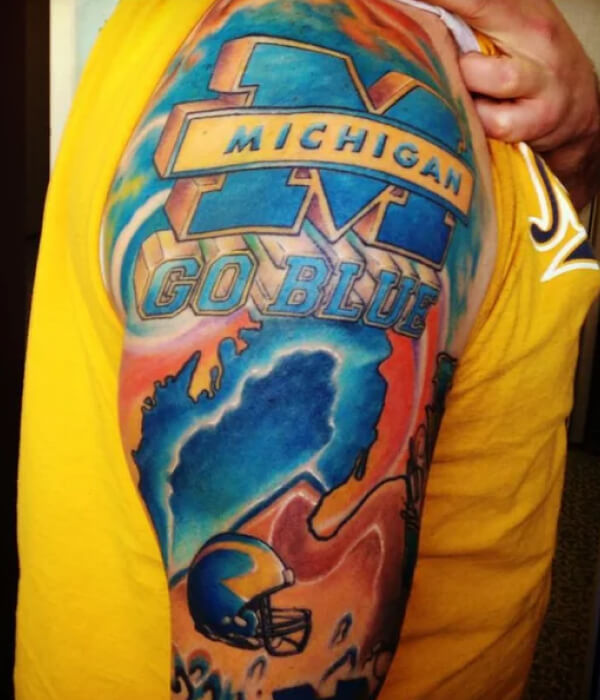 Unique custom artwork can also be created with modern tools like airbrush stencils and watercolor ink techniques producing unique body art masterpieces immortalizing your favorite collegiate team!
19. Colorful skull with football helmet tattoo
This colorful skull and football helmet tattoo is an American Football fan's dream! It perfectly captures the spirit of game day with vivid imagery that stands out against the skin. The combination of a traditional skull design, bold colors, and iconic silhouette make it one-of-a-kind artwork for any collector.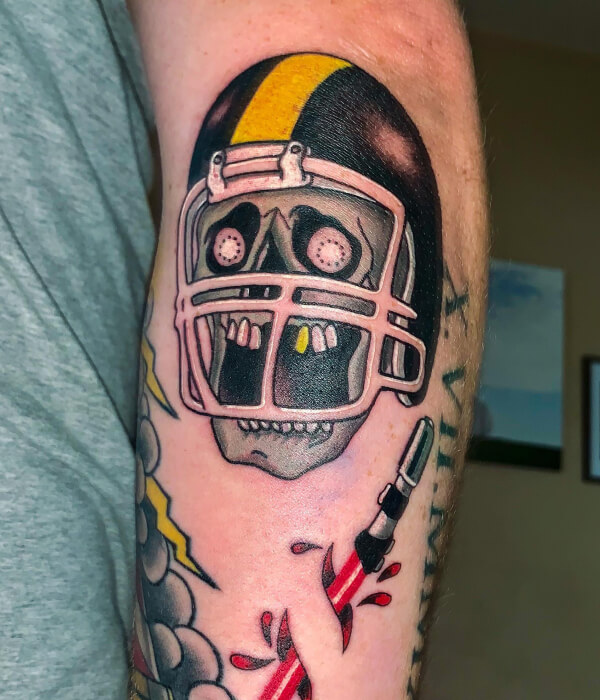 With intricate details gracing this mesmerizing piece, you won't have to worry about anyone else sporting such an awe-inspiring work of art on their body anytime soon! Whether as a showstopper or simply your way of expressing team loyalty – this stunningly detailed yet straightforward design has never looked better than now. It's one of the best American football tattoo ideas.
Conclusion
American football tattoo is a great way to show your devotion to the sport. Whether it's an iconic play or something you find meaningful, getting inked with a design related to the sport will turn heads and show off your true team spirit. From symbols of rivalries like helmet logos, players' numbers, or mascots of favorite teams, there are plenty of ideas out there waiting for creative interpretation on skin.
With so many styles available – from traditional artwork to modern designs – no two American football tattoos will be alike! We hope this blog on American football tattoos is useful to the readers.
Please follow and like us: