Virat Kohli's Tattoos & Their Meanings
Posted on
People worldwide are fond of body artwork. Not only ordinary people but also athletes and celebrities get their body etched with tattoos. Many celebrities have more than one tattoos engraved on their body. And one such personality is Indian Cricketer and Team India Captain Virat Kohli. Virat is not only famous for his mind-blowing performance on the field, but he is also renowned for his amazing tattoos. Here in this post, we will share all about Virat Kohli's Tattoos & Their Meanings.
Let's know what Virat says about his Tattoos…….
Who doesn't know Virat Kohli, he is a world-famous personality. He captained India Under – 19 to victory at the 2008 Under-19 World Cup in Malaysia. And after a few months later, he made his ODI debut for India against Sri Lanka at the age of 19. Initially having played as a reserve batsman in the Indian team, he soon established himself as a regular in the ODI middle-order and was part of the squad that won the 2011 World Cup. Today, he is the best batsman across all three formats in the world and is the only cricketer to have his name listed in the Forbes highest-paid athletes list.
Virat has got a total of eleven tattoos on his body, and each symbol signifies something subtle and specific. Each tattoo etched on his body has a story behind that explains the turning points in his life. Indian Skipper unveiled secrets behind all his symbols in the first episode of National Geographic's Mega Icons, which was based on him.
He said in a statement: "To be very honest, when I was young it was about being a little cool when I started to get inked, but slowly I realized that this is something that gives me a sense of my own identity. And from getting a random tribal design, to getting Shiva on my forearm now, it is a reflection of how my life has gone where it stands today and what I think and see of life back then to now."
Here is the list of his tattoos along with their significance:
1 Tribal Art Tattoo
The very first tattoo that Virat got was the Tribal Tattoo. It is etched on his right forearm. Virat's journey of tattoo began with this Tribal Art tattoo; he got it etched because it is a symbol of aggression. After getting this one probably, Virat became fearless about the pain that comes with permanent tattoos. And that is why he got another ten tattoos in a row.
2. God's Eye Tattoo
Virat has got a big celestial eye, which he calls 'God's eye'. The tattoo is etched on his left shoulder. Speaking about the tattoo, Virat said, "I call it the God's eye. So, basically, the all-seeing eye. That everything that's happening is being watched and there's someone always keeping a count of everything that you do. So that makes you feel connected in a way and also, that makes you understand the essence of life and what we need to do as human beings and what our eventual goal is."
3. Japanese Samurai Tattoo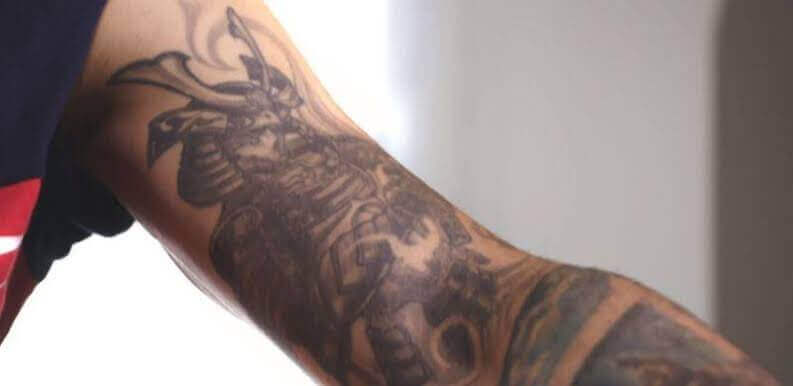 After God's eye, he got a Japanese Samurai warrior with a raised sword etched on his upper left arm. This tattoo is based on the Bushido code of the Samurai which depicts the seven virtues of being a warrior, which are: Chugi (Loyalty), Gi (Justice), Jin (Benevolence), Makoto (Honesty), Meiyo (Honor), Rei (Politeness), and Yu (Courage).
Speaking about the Japanese Samurai tattoo, Virat said, "I felt like these are the same characteristics that I share. I've had to fight for everything that I've got in life so far, and I will have to be this person all my life because of the choices that I will keep making. And hence it was a representation of me wanting to do something so badly which was wanting to become a professional cricketer."
4. 175 Tattoo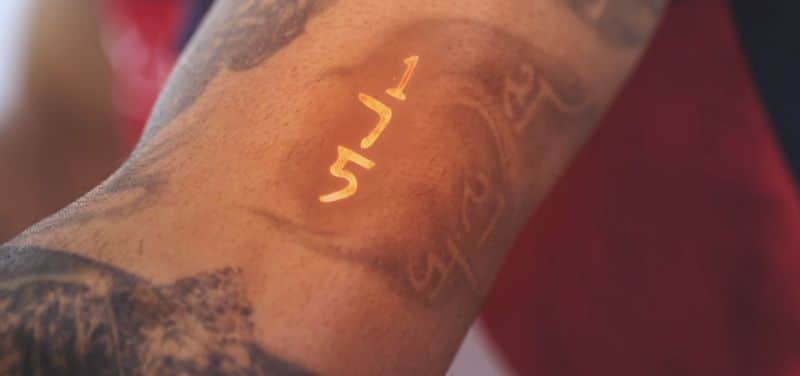 The next tattoo etched on his left arm is of his ODI cap number 175. The story behind this tattoos goes like this – In the year 2008, Virat made his debut in ODI against Sri Lanka in Dambulla, and he became the 175th Indian cricketer to play for India in ODIs. So, he got this number etched on his body as a memory that he can cherish all his life.
5. 269 Tattoo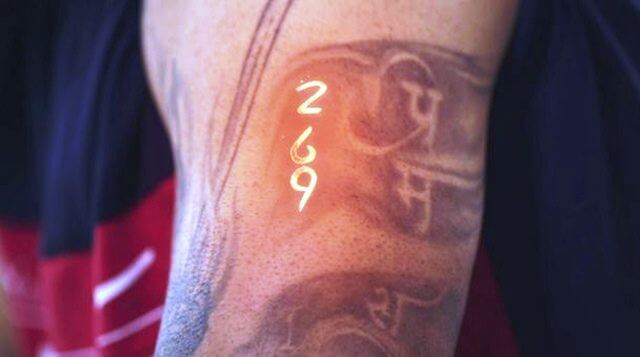 Three years later, when Virat became the 269th Indian to represent India in Test matches. He got 269 etched on his upper left hand. It is his Test Cap Number. Speaking about the Test Cap Number tattoos, Virat said, "These numbers will always remain with me because when you look back at the charts 200 years from now, in front of these numbers, there will be my name. These will always be special numbers, and hence I decided to get them."
6. Name of his Mother Tattoo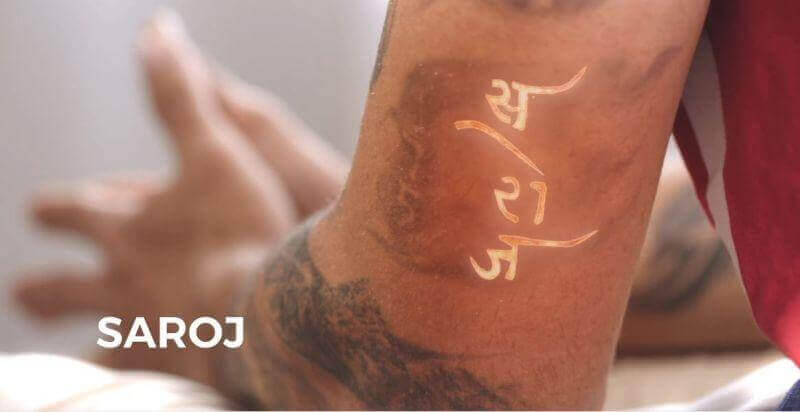 Virat has got 'Saroj' etched on his upper left arm. He dedicated this tattoo to his mother, as 'Saroj' is his mother's name. He just wanted to commemorate the bond that he shares with his mother by getting his mother's name inked on his body. The name is inscribed in Hindi, which looks amazingly beautiful and unique.
RELATED: 
7. Name of his Father Tattoo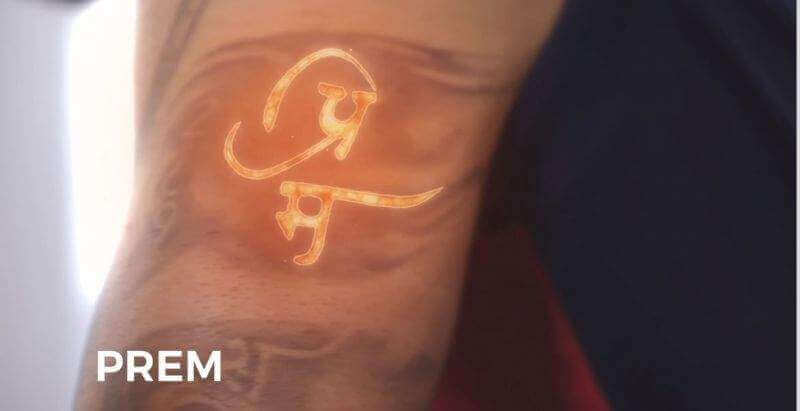 He has also got his father's name inked on his left hand. His father's name is 'Prem' that he got etched in Hindi. The reason behind getting his parent's names engraved on his body is simple. His parents have always supported him, and he respects his parents from the core of his heart. In fact, he was introduced to the game of cricket by his father when Virat was just 3 years old. He got his parent's name etched on his body to display his love and respect to them. About his parent's name tattoo, he said, "Purely because the connection that I have felt with them is something that is unexplained. It is a feeling, it's not even something that can be put into words. Hence I wanted to make it a part of me until I'm alive."
​8. Lord Shiva Tattoo
On his left forearm, he has got a tattoo of Lord Shiva with a meditating image of him on Mount Kailash and Lake Manasarovar in the background. Lord Shiva, who is referred to as the Destroyer of evil and the God of creation, is one of the three principal deities in Hinduism. Virat is a firm believer of Lord Shiva, and that's the reason he has got Shiva etched on his arm. According to Virat, he tries to become a better person by following the principles of Lord Shiva.
9. Monastery Tattoo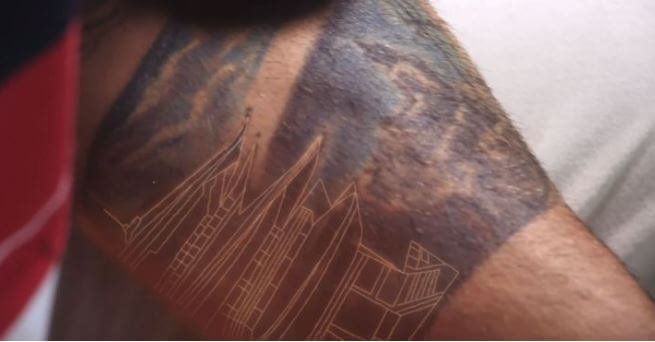 Virat has got a Monastery etched on the left side of his shoulder. The monastery on his shoulder symbolizes peace of mind and power. The tattoos are just beside the symbol of Lord Shiva. Virat has dedicated his life to the monastery of 22 yards, as it has helped him excel in the cricket pitch and experience as well.
10. Scorpio Tattoo
Then Virat has got a Scorpio Tattoo inked on his upper right arm. Scorpio is his Zodiac sign, as he was born on November 5th, 1988. He has got Scorpio written stylishly on his right bicep. Undoubtedly, people born under Zodiac sign Scorpio are strong-willed, dedicated, and determined, so is Virat. He is probably one of those who went through a lot of difficulties in their lives and could make a difference.
11. Om symbol Tattoo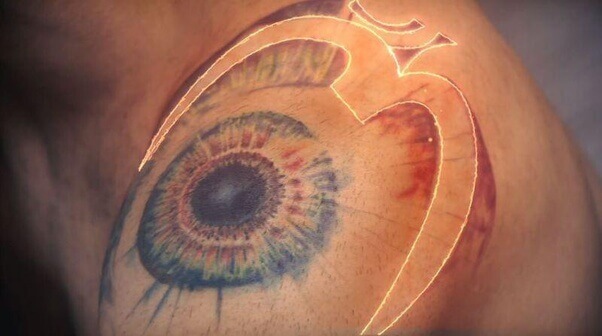 At number eleven, Virat has got OM (ॐ) symbol etched on his shoulder. The tattoo is inked close to his first tattoo that's God's Eye tattoo. OM is the most sacred syllable symbol and is the holy mantra of the Almighty God Brahma. The symbol is found in the primordial texts of Hinduism. The symbol simply signifies Creation, Preservation, and Destruction. And the nasalized consonant in the symbol, which is referred to as silent syllable, signifies "beyond creation." Om is a universal syllable; neither has it belonged to a particular religion nor does it relate to any God in particular. It is considered as the cosmic sound that initiated the creation of the universe.
Virat believes that it is the symbol of spiritualism. Speaking about his Om Tattoo, he said, "The last one that I have here is finished with an Om symbol, which is the universal sound, which is probably the most consistent thing in the whole universe. Anywhere you observe sounds of the universe, that is, you know, what is the most consistent sound that you will hear, and that is the essence of life. To understand you're not even a dust particle in the universe and sometimes our ego allows us to think that we're everything. So, I think it's quite astonishing and quite magnificent in a lot of ways. I've started to understand that now… So, I have started to realize strongly that I'm meant to be where I am, and this is not random."
Summing it up……
So, this is all about Virat Kohli's Tattoos & Their Meanings. Virat is famously known for his magnificence. He is a man of words and great deeds; each tattoo that he has got depicts his personality subtly. If you believe you are his fan, and if his body artwork also inspires you, then get one of your favorites etched on your body as well.
Happy Tattooing….. ☺ ☺
Please follow and like us: