Walk-In Tattoos: Everything You Need to Know About
Posted on
Gone are the days when tattooing was taboo. Today, people from all walks of life are getting themselves tattooed; the reason could be any from flaunting their body artwork to showcasing their support for their culture. You must have seen your friends taking prior appointments; however, walk-in tattoos are not based on prior appointments.
So, if you're new to this kind of body artwork and want to know more about walk-in tattoos, this is the post for you.
In this post, we will walk you through the details of Walk-in Tattoos – everything that you need to know about them.
Let's get started…
So, what exactly is a walk-in, and how can you acquire one?
The majority of tattoo parlors require appointments, but that's not the case with walk-in tattoos. With walk-in tattoos, you are free from the constraints of conventional timekeeping. These kinds of tattoo parlors allow you to get ink on the spot.
It's very simple to get a walk-in tattoo. All you have to do is to just go in, choose a tattoo, and get it done without an appointment. However, make sure to see the artist's portfolio and ask if they have any availability for highly styled artwork. A simple tattoo can be done by just about any artist working in the store.
But for an intricate tattoo design, make sure you get it done by a highly skilled professional. Sometimes, a studio or performer will have a flash sheet of options to select from. In the tattoo industry, "flash sheets" refer to a selection of quick and easy designs that clients can choose from. These are less complex and more compact. Moreover, they typically cost less.
Know that you may find several people having the same design as yours with walk-in tattoos.
Do we need to have a specific design in mind before going for a walk-in tattoo?
Well, the answer to it is – yes and no. You might go in for a walk-in tattoo, fall in love with the artist's style and get a custom. You may even get an already-done piece by them with a few key tweaks. You can even choose a hybrid of their own styles. But if you wish to have something unique, something of your own, then having a specific design in mind can help.
Do we need to get an appointment for a Walk-In Tattoo?
There is virtually no preparation required for walk-ins, but a fair amount for appointments. When you've decided on a tattoo artist and have talked to them about getting a tattoo from them, whether it's from their book or a custom design, you'll need to schedule a tattoo session.
The tattooist probably has a good idea of the intended placement and final size of the tattoo. They may reserve a specific time slot for you.
Can you just walk into any tattoo parlor?
Well, that depends on the parlor you're planning to visit. The thing is that there are only a few tattoo parlors that offer walk-in tattoos. You need to make appointments in most tattoo parlors. If you have a specific tattoo artist in mind, you may need to make a prior appointment.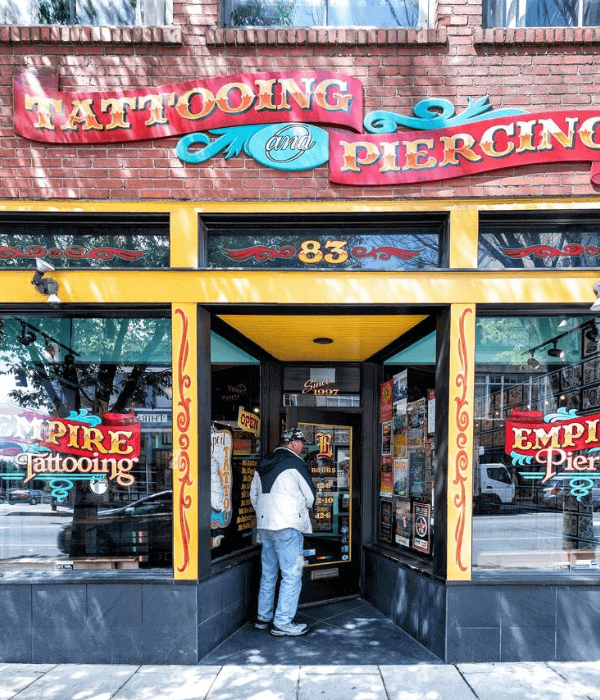 Sometimes tattoo parlors and artists operate on a walk-in basis, with appointment slots available just a few times a week. So, it basically depends on the tattoo studio you choose for your body artwork.
What shall I do if I need a tattoo instantly?
There are many tattoo events where tattooists participate and are available to give walk-in tattoos. So, if you want a tattoo instantly, visiting a tattoo event can be helpful for you.
But you may have to wait for some time as there will be too many people like you to get instant tattoo design.
Even highly skilled professionals who normally only work by appointment will occasionally host a walk-in event. There are many people who would like to get tattooed but have to wait months to get one.
If you don't care who you get your tattoo from, then you can get a walk-in tattoo from a reputable artist. And if you're particular about getting a tattoo from a specific artist, you may have to wait for months.
Aside from that, charity tattooing is on the rise in the tattoo community, particularly in the form of tattoo giveaways and fundraiser flash days, both of which are ideal occasions for flash tattoos to be used as a means of raising money for a particular cause.
What exactly happens when you enter a tattoo parlor for the first time and inquire about a "walk-in" tattoo?
Once you've found a tattoo artist or shop that offers walk-in tattoos, the following is what is going to take place: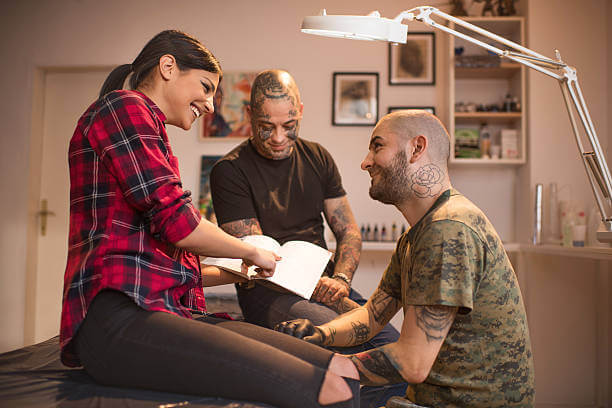 You walk inside the studio.
The first step in obtaining a tattoo at a walk-in shop is to understand their business first.
Make yourself comfortable.
Now, investigate a few things about them, such as their portfolio, tattoo artist, experience, and so on.
When you walk in, they sometimes look at you as if to ask, "Do you have an appointment?"
No?
Now, what exactly are you doing around here?
Please take into consideration that certain studios operate on an "appointment only" basis, which means that you will not be able to simply stroll in.
If anything like this occurs, it could be embarrassing, but you shouldn't allow it to stop you from trying!
If you wish, you can even Google the shop and then phone to ask questions.
Examine the contents of the Books
The tattoo artist's reference materials are referred to as "the books."
When you enter a tattoo parlor that employs more than one artist or even just one artist, you will see books that have the appearance of photo albums and contain the artist's contact information, as well as a selection of the artist's tattoo designs and samples of their previous work.
Inquire with whoever is in the vicinity whether any of the artists are available for walk-in appointments.
If the answer is yes, you should inquire about their portfolio.
Just take it slow for now.
You should look through the books and decide which tattoo artist you would want to have work on you as well as which of their designs you prefer best.
After you have chosen a single artist to focus on, you are prepared to move on to the next step.
If the design you want is straightforward enough, you won't require the services of a specialized artist.
You can get the tattoo done by any tattoo artist that is currently working and is available.
If, on the other hand, none of the designs strike your fancy, you should simply express your gratitude to the front desk for their time and exit the premises.
Look for another tattoo studio!
What are the questions that you may ask before getting a walk-in tattoo?
Some of the frequently asked questions include:
Are you able to do this design right now?

How long will it take to complete?

How much will it cost?

Do you charge by the piece or on an hourly base?

Can I alter this design a little bit?

Would you be able to do it now?

What time today are you available to do it?
After you have determined that obtaining this tattoo would not be impossible, you should ask some additional questions about their procedure to ensure that you will be comfortable with the results.
Do you accept cash, cards, transfers, or online payment?

Is the ink used for tattoos safe to use?

Do you use sterilized equipment?

Do you apply numbing cream or a numbing gel?

What kind of things should I do to get ready for the tattoo appointment?
When getting a tattoo at a walk-in shop, you won't have as much time to make changes to the design.
In most cases, things are exactly as they appear.
Ask your tattoo artist about making any little alterations that you'd want; they may be pleased to oblige, or they may tell you it's not feasible. If there are any minor adjustments that you'd like, ask them about it.
If everything seems good, you should start thinking about where you want your new tattoo to go.
Also See: What To Eat Before Getting A Tattoo?
What should you know before getting a tattoo at a walk-in parlor?
The preparation for your walk-in tattoo should be done in the same manner as you would an appointment for a more traditional tattoo. Here are the things that you should do before getting a walk-in tattoo:
Make sure to sleep the night before. We know it's hard to get enough sleep, especially when you're excited about your tattoo. However, getting enough sleep the night before is a MUST in order to get an exciting tattoo design. This will ensure that you maintain a high level of energy throughout the tattooing procedure.
Avoid drinking alcohol the night before. Consuming alcohol the night before may hamper the procedure, and you may end up getting disappointing body artwork.
Make sure to eat a balanced diet before leaving for the tattoo parlor.
Wear loose clothes that do not hamper the tattooing procedure at all.
Last but not least, before committing to getting your tattoo from a certain tattoo artist, make sure to do your research on that artist. Even if it's a walk-in shop, that doesn't mean you shouldn't research the tattoo artist and look at some of their previous work before going in.
Related Post: Different Tattoo Styles, Directions And Types in Tattooing
What to anticipate when getting a tattoo at a walk-in parlor?
Know that you may have to wait for some time when you get in a tattoo parlor for a walk-in tattoo. This is because you cannot be certain that the tattoo artist will be available to work on you as soon as you arrive at the shop.
You need to have a clear idea of what you want the tattoo to look like before you go to the parlor. More often than not, artists won't have time to help you through a variety of different designs. Having some idea of your design will help you and your tattoo artist save a lot of time.
Be on time, as your tattoo artist may have other commitments for the rest of the day. They would definitely not want to waste their time waiting for you.
You should also give some consideration to how painful the tattoo will be. If this is going to be your first one, you should give some consideration to the location of your body where it will be performed, as certain regions are more painful than others.
Once the tattoo artist has begun the process, you should not interrupt them while they are in the middle of it.
In the event that you are unable to tolerate the discomfort, you may end up with an incomplete tattoo.
What happens during the walk-in tattooing procedure?
Once you have finalized your design and the placement, the top tattoo artist will then likely shave the part of your body that is going to be tattooed.
After that, they will clean the area with antibacterial soap and water.
Then they will place a stencil on your skin and then have you examine it in a mirror to ensure that the positioning and dimensions are accurate. This is the only time when you can have any adjustments. So, make any objections now, or you will eternally have your tattoo that is the incorrect placement and size!
After your tattoo is done, it's time to make payment and say thanks!
You have already determined the several forms of payment that your artist is willing to accept. Opt for the best payment option available to you.
It is appropriate for you to tip your tattoo artist because they provided outstanding customer service, created pleasant conversations, went the additional mile for you, made some time for you, etc. The amount may vary greatly depending on the design you choose and the location where you are.
As customary, you should pay at least 15 – 20% of your total tattoo cost. However, you can consider paying whatever you can afford or whatever feels appropriate at that time.
If you are concerned, another option is to call a friend or ask the tattoo artist what is typically done in situations like this. You don't need to stress yourself out for it.
Aftercare Procedure of Walk-in Tattoos
Tattoo aftercare is one of the most important aspects of having an appealing tattoo for a long time. No matter whether you get a traditional tattoo or a walk-in tattoo, tattoo aftercare is a MUST. Aftercare is essential for any type of tattoo since the skin around the tattoo needs to be carefully tended to in order for it to heal correctly.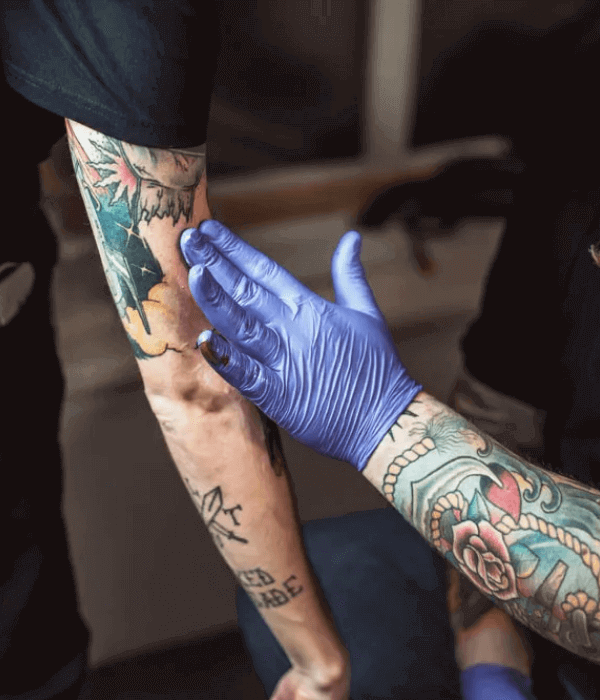 Pay attention to what your tattoo artist has to say, as they are the most knowledgeable on how to care for your freshly inked skin. Also, make sure you adhere to them religiously. Some of the aftercare tips include:
Avoid removing the bandage. Your tattoo artist will apply a bandage over your newly etched tattoos. You must avoid removing it. It should be there for at least 24 hours. After 24 hours, the bandages should be removed, and the wound should be washed with antibacterial soap, warm water, and clean, odorless hands. Use a fresh towel to pat the item dry.

Avoid consuming alcohol. Yes, you read it right! You must not consume alcohol even after getting your walk-in tattoo.

Avoid scrubbing your tattoo. Do not at all scrub your tattoo. Newly etched tattoos are just like wounds. You may sometimes feel an itching sensation on your new tattoo, but you must avoid scratching or scrubbing it as it can affect your tattoo adversely.  

Keep your tattoo clean. It is essential to keep your tattoo clean. Use a high-quality tattoo cleaner to clean your tattoo. Also, wash your hands twice a day and after engaging in any activity that leaves you dirty or sweaty.

Keep your tattoo moisturized. It is essential to keep your tattoo moisturized each time you clean your tattoo.

Don't overdo anything. More often than not, people start to overdo things in order to heal their tattoos. Well, this is not a great practice at all. You must avoid overdoing anything, be it cleaning or moisturizing it.

Invest in high-quality tattoo aftercare items. Tattoos come with a price. And surely you want your tattoo design to look appealing for a long time. Hence, it is crucial that you invest in high-quality aftercare products. Avoid using chemical-based products on your newly etched tattoo, as it can affect your tattoo negatively.
Is it crucial to select the tattoo artist beforehand for a walk-in tattoo?
Of course, selecting a tattoo artist beforehand for a walk-in tattoo is essential. Even if it's a walk-in tattoo parlor, you must take your time in selecting the best tattoo artist for the job. Here are a few tips for choosing the best tattoo artist for the job:
Don't get a tattoo at the first tattoo parlor that you come across; shop around beforehand.
Look at the tattoo artist's web portfolio and social media profiles to get an idea of their work.
Talk to people you know and people you work with who may have utilized their services in the past. It will help you select the right artist for your walk-in tattoo.
Related Post: 20 Best Sunscreen For Tattoos Suitable For All Skin Types 2023
How can knowing my walk-in tattoo design in advance help me in the process?
Knowing exactly what you want before going in to get a walk-in tattoo is one of the most important things to do. You can't just show up and announce that you want a tattoo; you need to know what kind of design you want, how big of a tattoo you want, and where on your body you want it.
Having at least a general concept of what kind of tattoo you want is essential. It will help you and your artist save a lot of time, which otherwise, you'll waste seeing different designs and getting confused.
Also, know that walk-in tattoo artists lack time. They cannot be available for you to help you choose the design you want. They will be pleased to assist you in selecting a design, but they need something to start on.
Putting it all together…
So, this is all about walk-in tattoos. Hopefully, this article has been informative for you and will help you get the best walk-in tattoo.
When getting a walk-in tattoo, you should make it a point to get a simple and tiny design. Of course, you cannot suddenly ask your tattoo artist to etch an intricate tattoo design on your back or thighs.
Also, you must not ask your tattoo artist to replicate the work of another person. Of course, you can use it for some inspiration but copying exactly the same is not wise.
Keep in mind that getting any kind of tattoo will cost you money. A walk-in tattoo is not less expensive than a traditional tattoo. Hence, it is crucial that you have enough money to pay for your tattoo along with the tip.
Finally, trusting your tattoo artist and the process is a MUST!
Happy Tattooing… ☺ ☺
Please follow and like us: