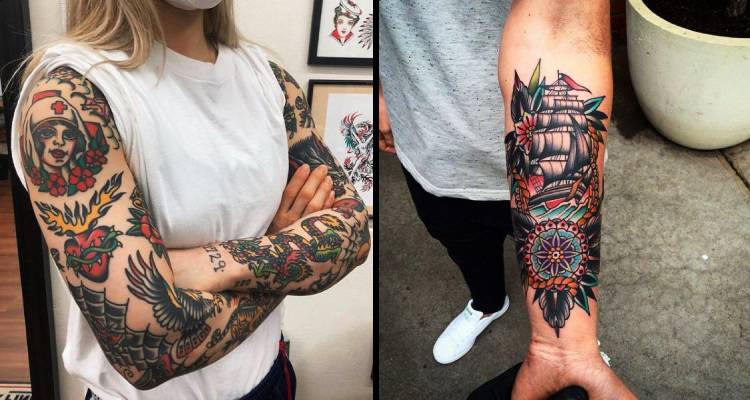 Top 70 American Traditional Tattoo Ideas And Their Meaning
Posted on
Tattoos are popular as modern body art and fashion accessories. They are in trend now! Tattoos have been around for a long time and are still a hip thing. Everyone wears them, from celebrities to everyday people.
Various ancient traditions and cultures have used different types of tattoos to identify them. Tattoos have been a popular form of body art in Europe and Asia for thousands of years. They were equally popular in America as well.
So, if you're interested in Traditional American tattoo designs, this is the post for you. Here in this post, we shall describe different American traditional tattoo ideas and their meanings.
So, let's get started…
Table of Contents
Top 31 American Traditional Tattoo Ideas Along With Their Meanings
American Traditional Anchor Tattoo
American Traditional Ship Tattoo
American Traditional Lighthouse Tattoo
American Traditional Hourglass Tattoo
American Traditional Compass Tattoo
American Traditional Snake Tattoo
American Traditional Bottle Tattoo
American Traditional Octopus Tattoo
American Traditional Deer Tattoo
American Traditional Lettering Tattoo
American Traditional Butterfly Tattoo
American Traditional Gypsy Girl Tattoo
American Traditional Panther Tattoo
American Traditional Jesus Christ Tattoo
American Traditional Cat Tattoo
American Traditional Wolf Tattoo
American Traditional Portrait Tattoo
American Traditional Circus Tattoo
American Traditional Arrow Tattoo
American Traditional Skull Tattoo
American Traditional Swallow Tattoo
American Traditional Sun and Palm Tree Tattoo
American Traditional Flower Tattoo
American Traditional Lion Tattoo
American Traditional Tiger Tattoo
American Traditional Bee Tattoo
American Traditional Diving Girl Tattoo
American Traditional Bear Tattoo
American Traditional Cactus Tattoo
American Traditional Eagle Tattoo
American Traditional Heart Tattoo
The Bottom Line
Top 31 American Traditional Tattoo Ideas Along With Their Meanings
1. American Traditional Anchor Tattoo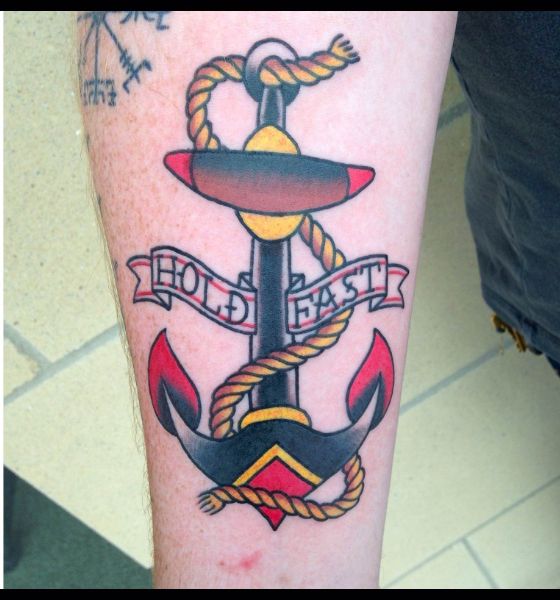 As a sign of staying firmly rooted or tempering the storm, an anchor is regarded as a symbol of stability and resilience. It is one of the most popular American traditional tattoo ideas that most sailors have favored for decades.
Sailors used to get this design inked after they returned from a trip or as they set out on their journey. Anchor tattoo frequently includes a banner with the name of a loved one. Sailors used to get this tattoo in the memory of their loved ones, reminding them of what awaits them at home or bringing them comfort on their journey. Anchor tattoos go well with other nautical images, such as a ship.
2. American Traditional Ship Tattoo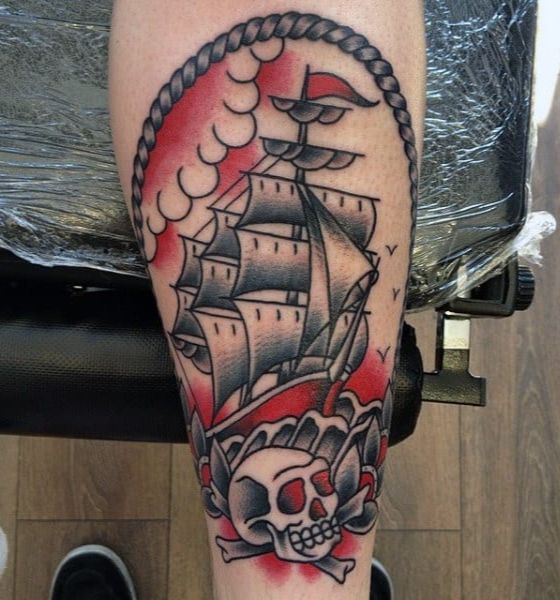 Sailors used to spend months, if not years, at sea on a ship, making ship tattoos an important design for a sailor. It was not only a place to live, but it also represented a sense of purpose and a way of life. Sailors spent the majority of their time traveling to various locations. A ship tattoo depicting a journey is ideal for those who enjoy traveling and sailing into waters.
You can incorporate elements like anchor, swallow, octopus, etc., to enhance the meaning of your tattoo.
3. American Traditional Lighthouse Tattoo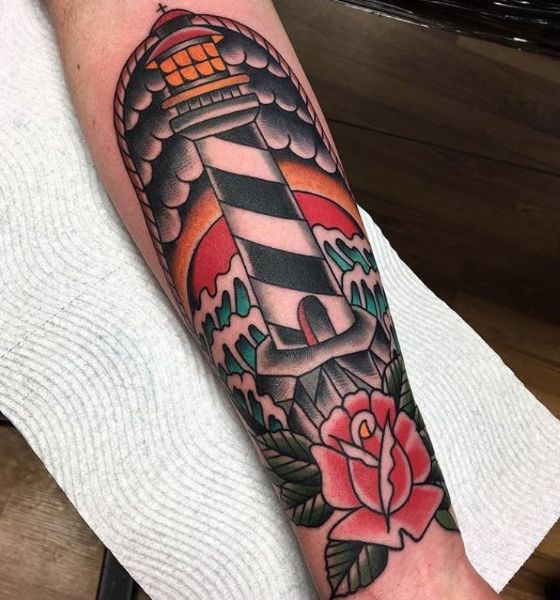 Lighthouses are benign beings. They exist solely to shed light and guide people. A lighthouse was a welcome sight for any sailor who had been lost at sea for too long. A Lighthouse tattoo symbolizes strength, safety, uniqueness, and even death. Lighthouses signify strength because they are built to withstand powerful storms and tumultuous ocean waters. If you possess all these qualities, a lighthouse is a good tattoo design for you.
4. American Traditional Hourglass Tattoo
When it comes to traditional American tattoos, the hourglass tattoo is one of the most beautiful body artworks. An hourglass symbolizes life and its ephemeral nature. As you watch the sand grains in the hourglass run out, you are reminded not only of the importance of time but also of its scarcity. If you believe in the transience of life, this is the tattoo for you.
You can even get an hourglass tattoo in memory of a loved one or as a reminder to live each day to the fullest and cherish every moment.
5. American Traditional Compass Tattoo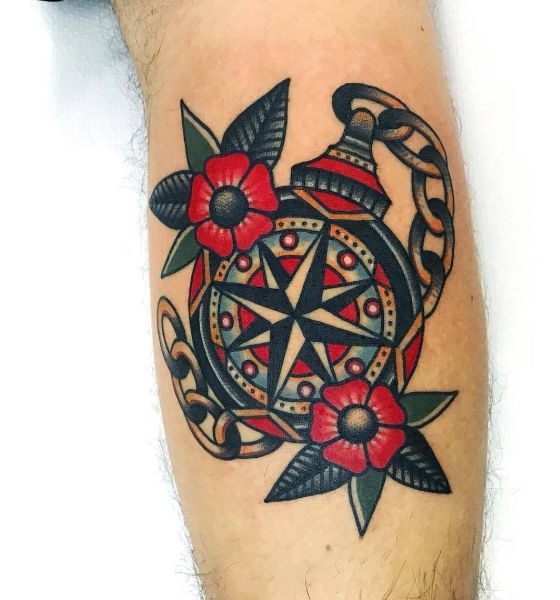 A compass is a popular tattoo design due to the symbolism associated with the navigational instrument. In addition to representing safety and protection, a compass guides travelers, assists them in staying on track, and prevents them from becoming lost while sailing. It is the best option for those who know where they want to go and who know how to stay strong and determined in the face of adversity.
Related Post: Best American Flag Tattoo Design Ideas
6. American Traditional Snake Tattoo
Snake tattoos are yet another popular American traditional tattoo idea quite popular amongst tattoo lovers. Some believe that snakes represent evil and lead us down a destructive path, while others think that they represent knowledge, rebirth, and transformation. So, if you're enticed by what a snake tattoo depicts, then go for it. A realistic snake tattoo design will look mesmerizing etched on your arm.
7. American Traditional Bottle Tattoo
A bottle is another lovely traditional American tattoo design. Sailors would frequently get bottle tattoo designs etched on their bodies. A bottle tattoo is an excellent way to combine several themes and symbols into a single tattoo. A bottle tattoo can be used to express your deep love or to pay tribute to cherished memories, people, or feelings.
8. American Traditional Octopus Tattoo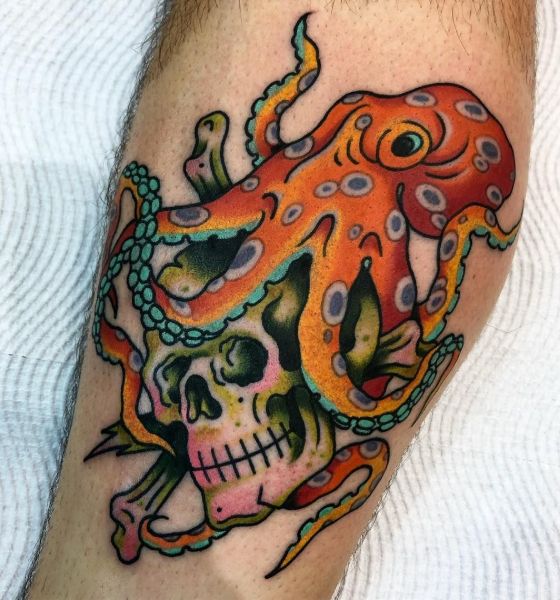 The octopus is another popular American traditional tattoo design. The octopus is an enthralling creature that has long been the subject of many sea tales. An octopus is a symbol of deception, intelligence, and mystery. Adding different elements to your octopus tattoo design, on the other hand, can have a variety of meanings. You can incorporate a variety of elements into your octopus tattoo design, such as a ship, waves, and so on.
9. American Traditional Deer Tattoo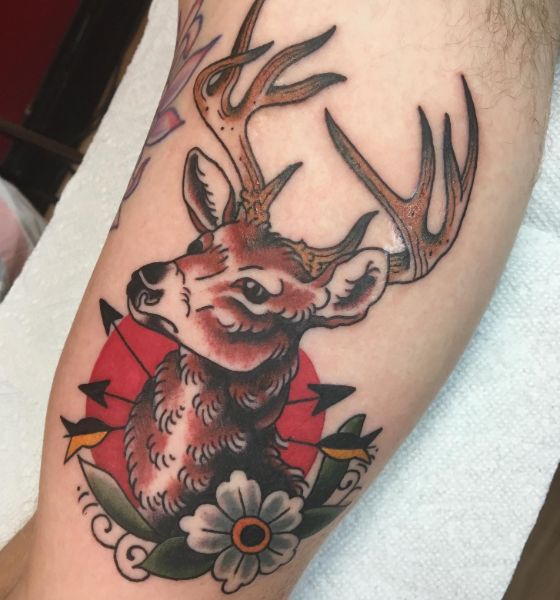 A traditional American tattoo design that is popular is a deer. It represents gentleness and kindness. Apart from that, it represents tranquility, fertility, and motherhood. If you adore animals, a deer tattoo is ideal for you. You can get a deer tattoo alone or combine it with other elements such as a flower or a quote.
10. American Traditional Lettering Tattoo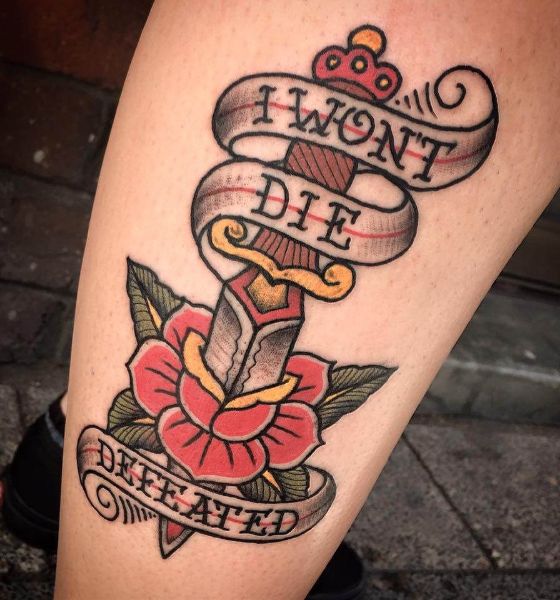 Lettering tattoos are a great way to express yourself. These tattoos are good to have in the memory of a loved one. You can have anything etched on your skin, from a quote to a phrase. The traditional American technique is distinguished by its appearance. These tattoos are done in black ink and look fantastic.
11. American Traditional Butterfly Tattoo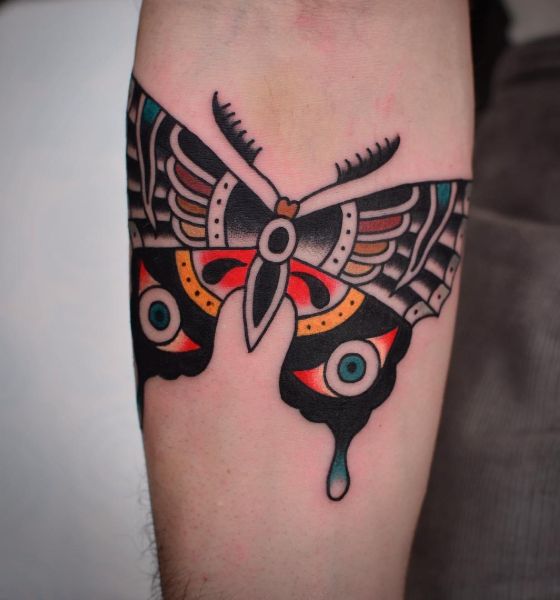 Traditional butterfly tattoos suit both men and women. Their ornate wings allow them to be highly customized. In America, traditional butterfly tattoos have almost adorned wings. Butterfly tattoos are beautiful, and they often symbolize renewal, transformation, and hope.
12. American Traditional Gypsy Girl Tattoo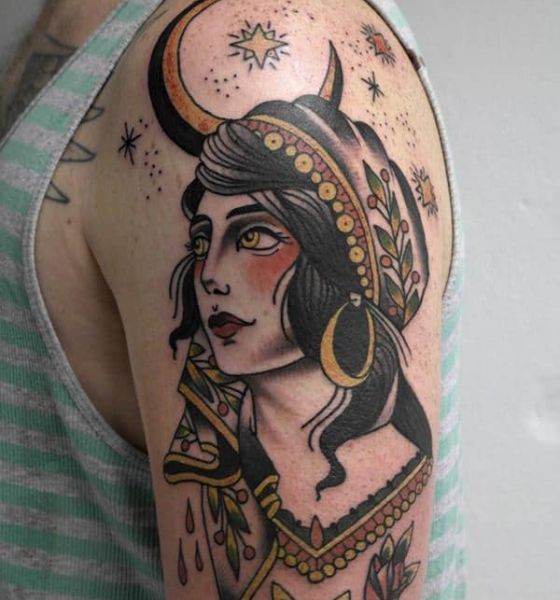 Gypsy girl tattoos are brightly colored tattoos. This tattoo features a lovely woman with a headscarf and flowers in her hair. It's a popular image to have inked in the classic American style. A gypsy girl tattoo, as the name implies, represents wanderlust, good fortune, freedom, mysticism, and prophecy. A fantastic tattoo design for those who prefer to travel, have fun, and live life to the fullest.
13. American Traditional Panther Tattoo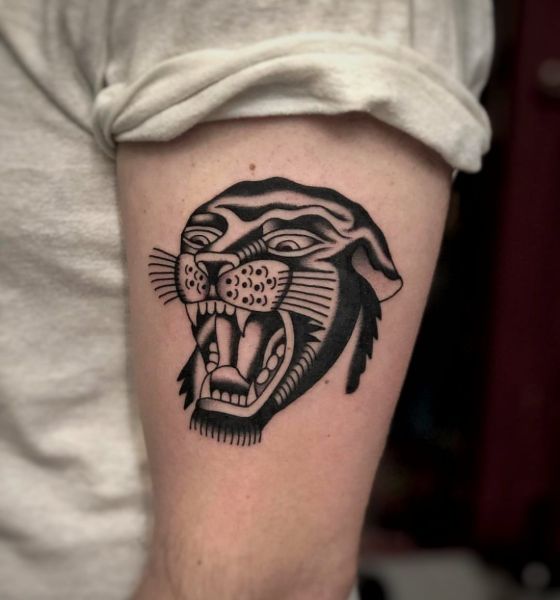 The panther is a wild animal with gangly limbs, remarkable hunting abilities, and foisting sharp teeth. Among other things, a panther tattoo can represent power, custodianship, freedom, and courage. There are numerous designs to choose from when creating a traditional panther. The crawling panther is one of the most well-known.
14. American Traditional Jesus Christ Tattoo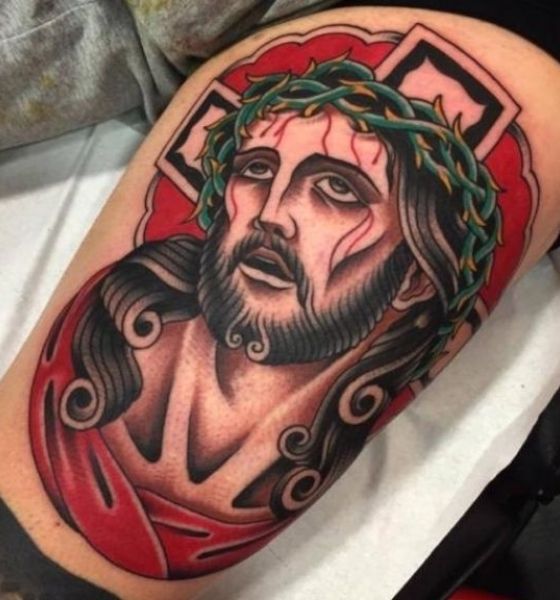 The tattoo of Jesus Christ is a popular traditional American tattoo design. It is a great way to show off your faith and beliefs. Because Jesus died just for humanity, a Jesus Christ tattoo is frequently associated with unconditional love, compassion, and sacrifice. Aside from that, this tattoo symbolizes the balance of good and evil. This tattoo often includes a halo above his head, along with a heart or flower.
15. American Traditional Cat Tattoo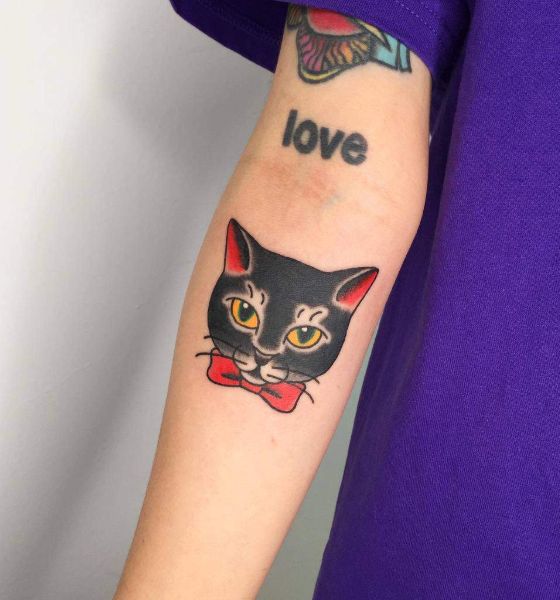 Cats, particularly black cats, are frequently associated with bad luck; however, the meaning of an American traditional cat tattoo is just the opposite of what other cultures believe. The black cat tattoo appears to be one-of-a-kind. In traditional American style, a black cat is a popular image. In America, it is believed that wearing a black cat will ward off evil and protect the wearer. The cat is often associated with luck, mystery, grace, and intelligence. If you adore cats and have even owned one, this is the ideal design to commemorate your pet.
16. American Traditional Wolf Tattoo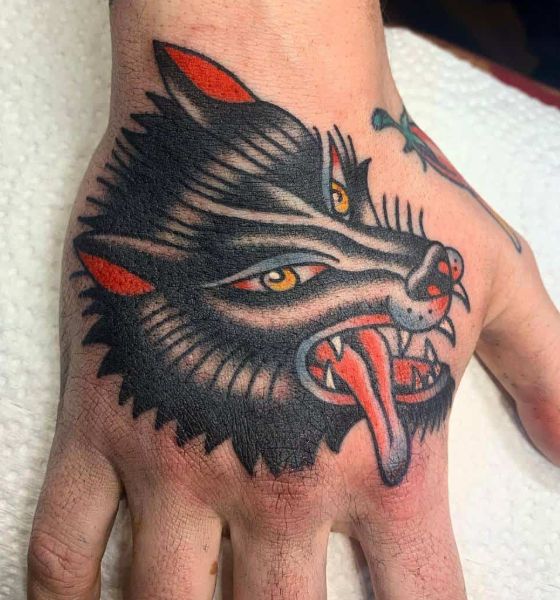 If you're a family person who wants to dedicate a tattoo to your family, consider getting a wolf tattoo. A wolf tattoo is symbolic of family, close bonds, and unity. Having a wolf tattoo on your body simply communicates to the world how important your loved ones are to you. Aside from that, it represents conflict and leadership. The traditional American wolf tattoo has red or yellow eyes and a protruding red tongue, which can frighten others and warn others to back off.
17. American Traditional Portrait Tattoo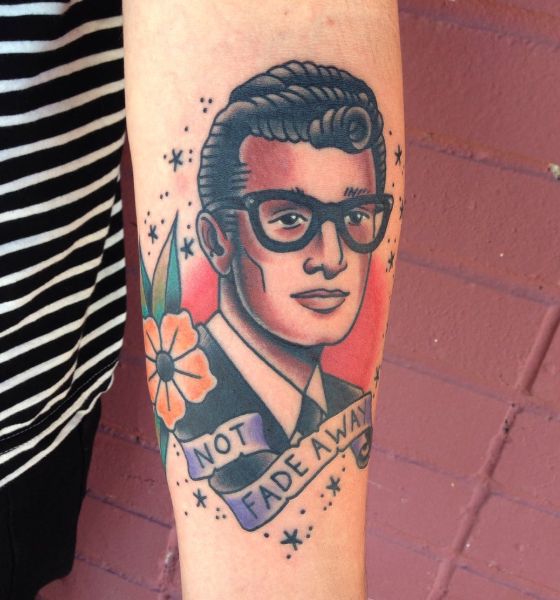 Are you looking for a statement piece? Make a portrait tattoo on your skin. The traditional American portraiture approach is intriguing. Most of these tattoos have dark shades and heavy lines with a splash of color. The best thing about a portrait tattoo is that you can have a tattoo of your favorite person etched on your body. It could be of your loved ones, a favorite celebrity, or some other. Since they frequently feature a woman's face, these designs can be interpreted as a celebration of femininity and fertility.
18. American Traditional Circus Tattoo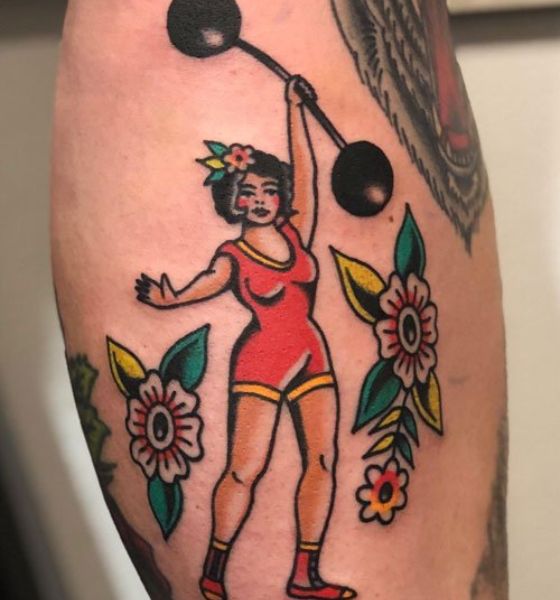 Circus tattoos were frequently reserved for those who did not fit in with mainstream society, such as circus performers. When it comes to choosing a circus tattoo design, there are far too many options.
It is one of the most popular traditional tattoo designs in the United States. Which act piques your interest the most will determine your design. The significance associated with each piece will vary, but this is a great way to celebrate your uniqueness.
19. American Traditional Arrow Tattoo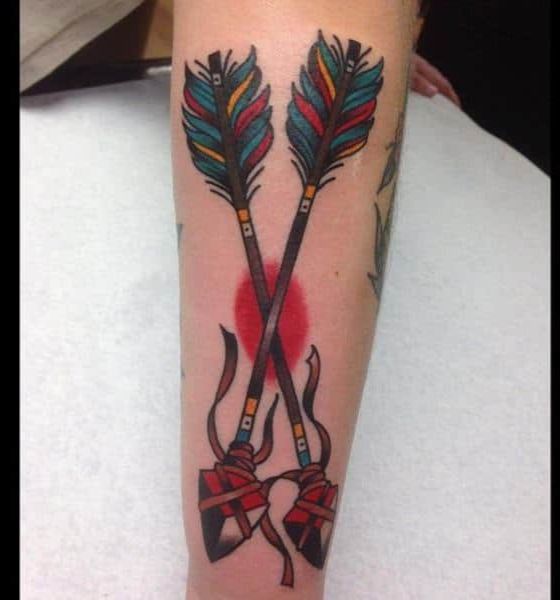 This is one of the most meaningful traditional American tattoo ideas. An arrow tattoo represents direction, strength, and bravery. Native American tribes used arrows for hunting and fighting in wars. If you are overly attached to your tradition, an arrow is a great tattoo design for you.
20. American Traditional Skull Tattoo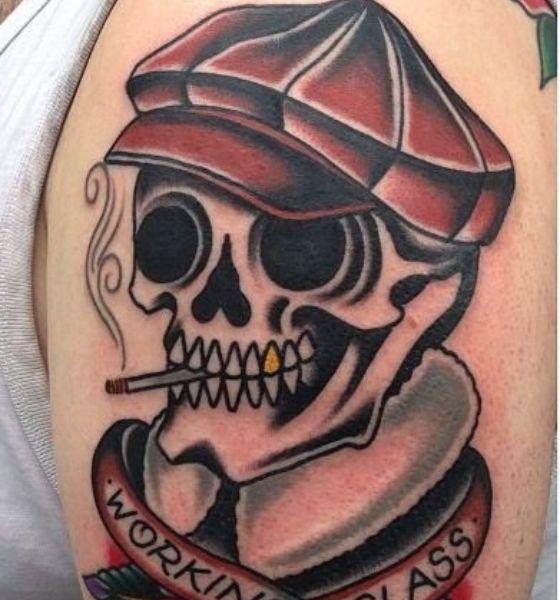 Human skulls are frequently interpreted as a death symbol or a bad omen. Tattoo designs based on skulls are intriguing. This is the design for you if you believe in the morbidity and impermanence of life and want to express it through a statement piece. It's also a good tattoo design for people who aren't afraid of death or adversity and who live each day to the fullest. A skull tattoo can be etched with other elements such as a rose, a dagger, and so on.
21. American Traditional Swallow Tattoo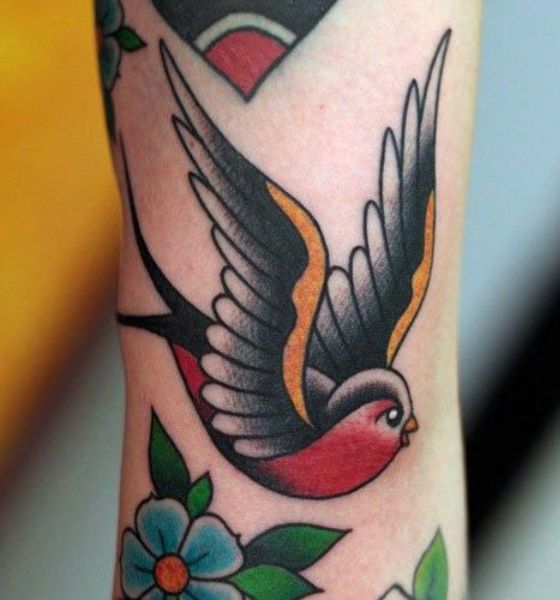 The swallow tattoos were often etched by sailors that they used to get at the end of a journey or after completing 5000 nautical miles. They used to get a swallow bird to demonstrate how far they've traveled. The bird symbolizes sailors' return from their journey. Aside from that, it represents someone who died at sea. The bird is believed to transport the spirit to the afterlife. You can have it engraved with the names of your loved ones or your favorite lettering.
22. American Traditional Sun and Palm Tree Tattoo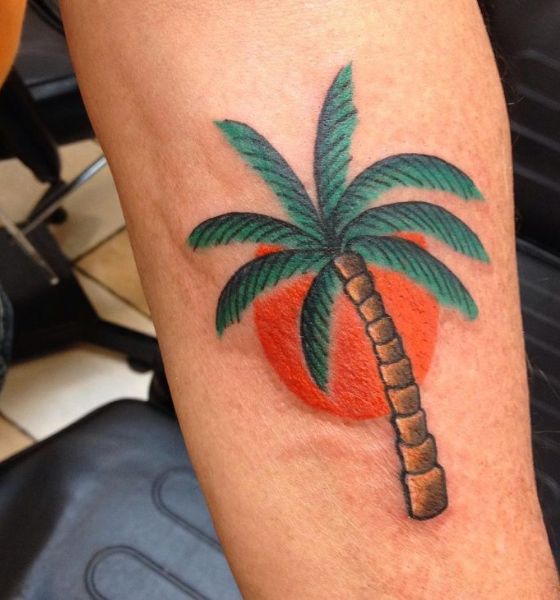 Tattoos of the sun and palm trees simply represent enjoyment, warmth, and vacations. This tattoo serves as a beautiful reminder of a memorable journey. Alternatively, it represents the effort required to live life to the fullest.
23. American Traditional Flower Tattoo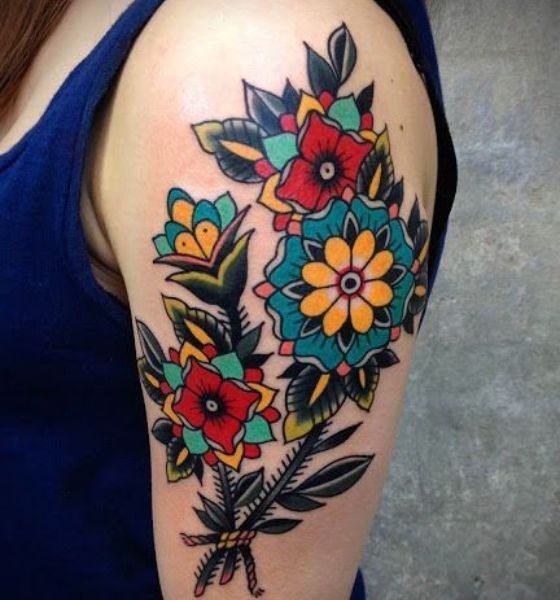 Flowers are frequently used in traditional American tattoo designs. Any simple tattoo design can be jazzed up with a colorful flower to make it more visually appealing. The flower symbolizes beauty, growth, and life, and it is suitable for both men and women. You can have them stand-alone pieces or incorporate them with other elements. The best thing about flower tattoos is that there are so many different designs to choose from.
24. American Traditional Lion Tattoo
The lion is a majestic and fearsome animal that makes for a beautiful tattoo design for both men and women. It is symbolic. The lion is associated with strength, nobility, and bravery. The traditional American technique frequently depicts the lion with its mouth open, creating a ferocious and intimidating appearance. If you possess the same characteristics as a Lion, then get a lion tattoo.
25. American Traditional Tiger Tattoo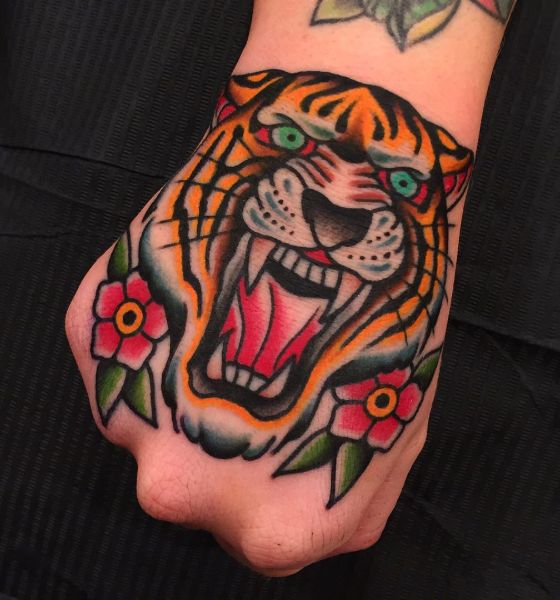 A tiger tattoo, like a lion tattoo, is an excellent choice. It is a symbol of strength and power. Tigers that are thought to be related to the cat family are predators. This animal is frequently featured with its teeth clenched in traditional American technique, giving it a persuasive and even terrifying appearance.
26. American Traditional Bee Tattoo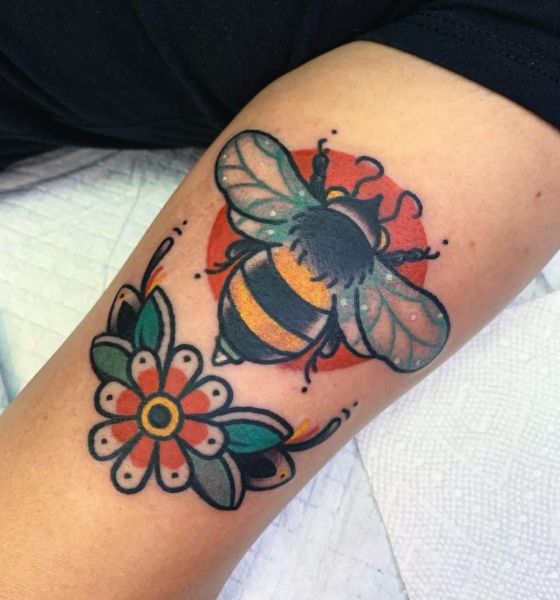 The bee tattoo is rich in symbolism, representing hard work, loyalty, and a sense of belonging. Aside from that, a bee tattoo in traditional American style represents selflessness or dedication to family. It can serve as a reminder to work hard for what you want in life. Furthermore, it represents unity and togetherness because bees always work in groups, demonstrating a strong bond and connection. If all of this, and what a bee represents, entices you, have a bee tattooed on your skin.
27. American Traditional Diving Girl Tattoo
The diving girl tattoo is a symbolic tattoo design. This beautiful tattoo symbolizes femininity and female power. It's a great tattoo design for females who wish to flaunt beautiful body artwork.
28. American Traditional Bear Tattoo
Many cultures, including Native Americans, revere the bear. A bear is a symbol of strength, wisdom, and healing. It had spiritual significance as well. It also connotes courage, strength, and defense. It is frequently depicted with its mouth open, exposing its teeth, emphasizing its power and the danger that this magnificent creature represents.
Also Read: 15 Fantastic Yakuza Tattoo Designs Infused with Symbolic Meanings
29. American Traditional Cactus Tattoo
The cactus is an excellent choice for a tattoo design. This is one of the best American traditional tattoo designs. In addition to healing, the plant represents endurance and protection.
30. American Traditional Eagle Tattoo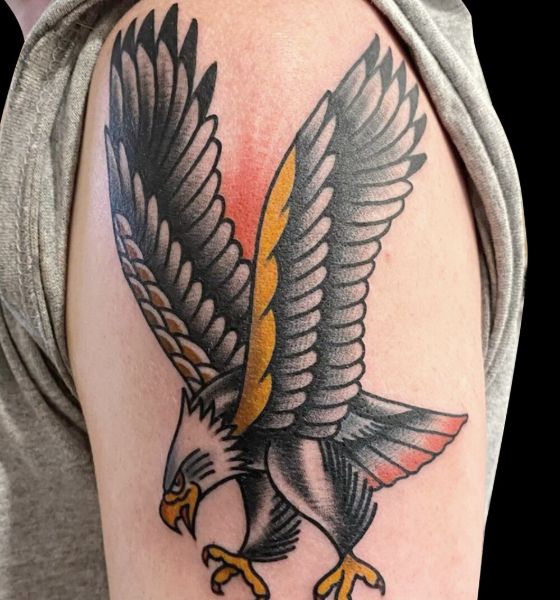 The eagle is one of the birds that can fly very high. This bird is often associated with power, spirituality, and freedom. The eagle represents patriotism in America. Both men and women look great with eagle tattoos. It's an excellent tattoo design for displaying patriotism toward your country.
31. American Traditional Heart Tattoo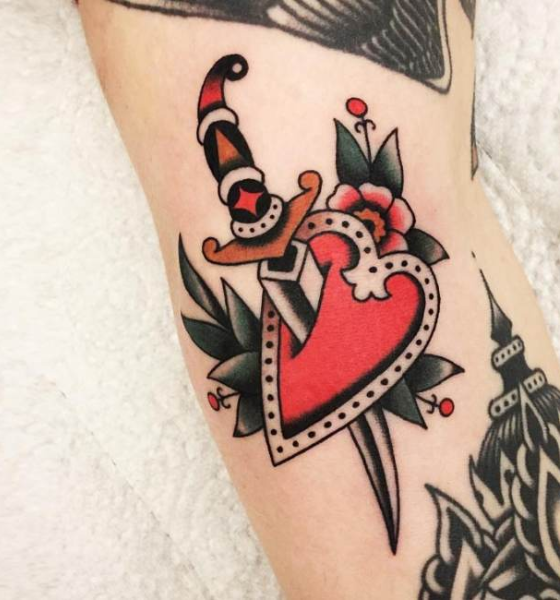 Finally, a heart tattoo is one of the most well-known traditional American tattoo designs. The heart symbol is the best way to show your love. It is one of the best ways to communicate to the rest of the world what is important to you. Sailors would frequently get heart tattoos etched to express their love and emotions towards their loved ones. It is because of the fact that they spent most of their time sailing. If you want to express your feelings for someone special or loved ones, this is the tattoo for you. You can have it etched on its own or with a phrase or quote.
Related Search: Mind-Blowing Aztec Tattoo Meaning Design & Ideas
Wrapping it up…
So, there you have it: 31 best American traditional tattoo ideas along with their meanings. Hopefully, this article has given you some ideas about what you want to put on your body. These are some of the most beautiful traditional tattoo designs from the United States.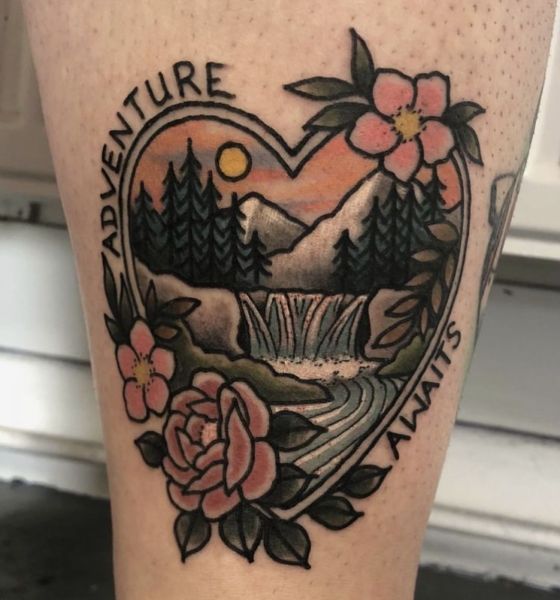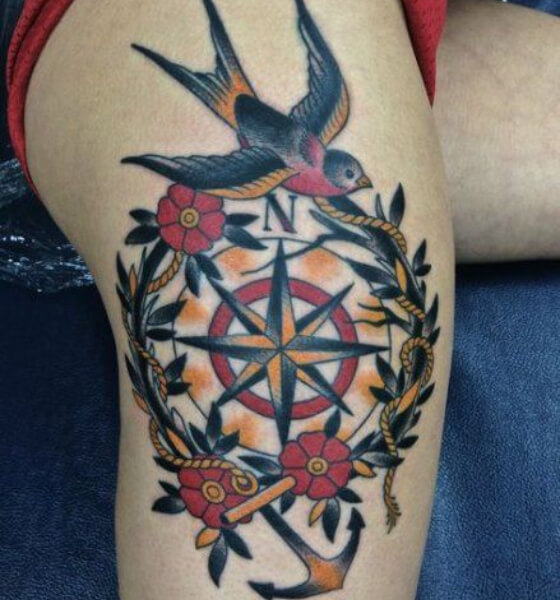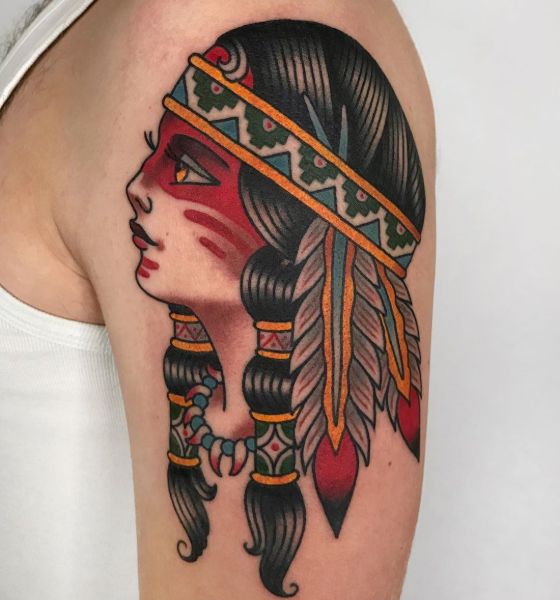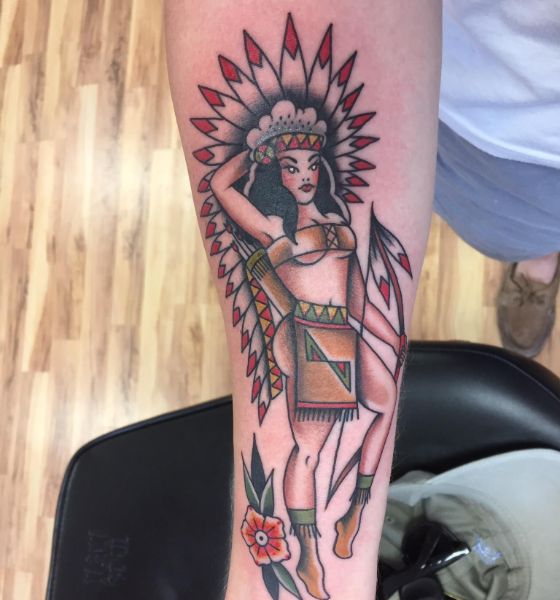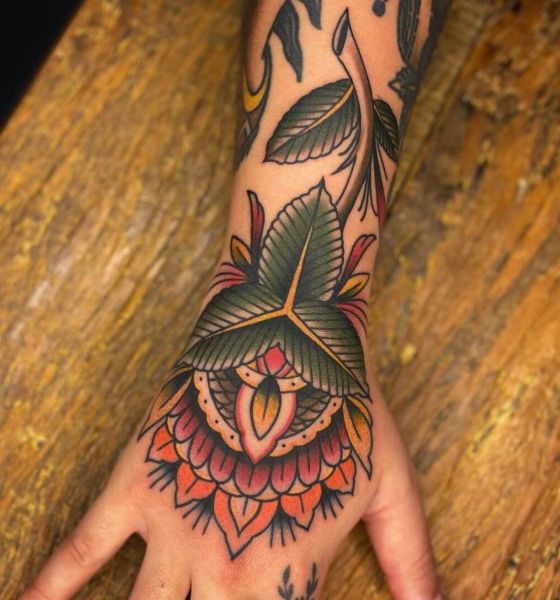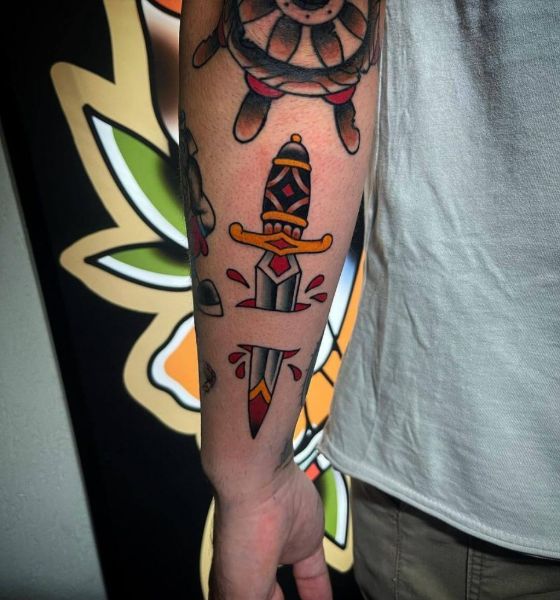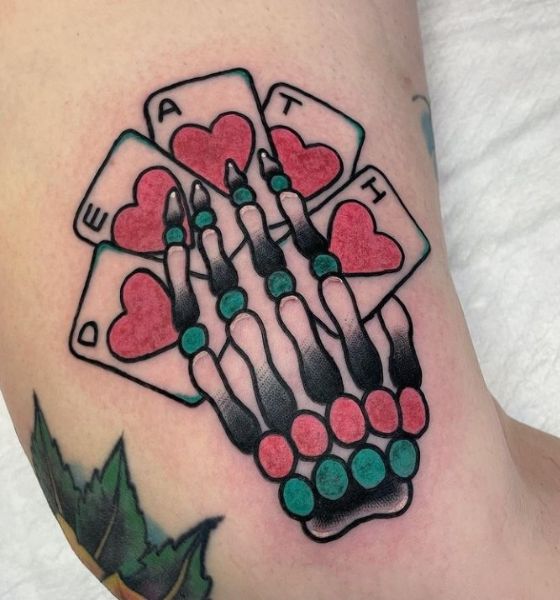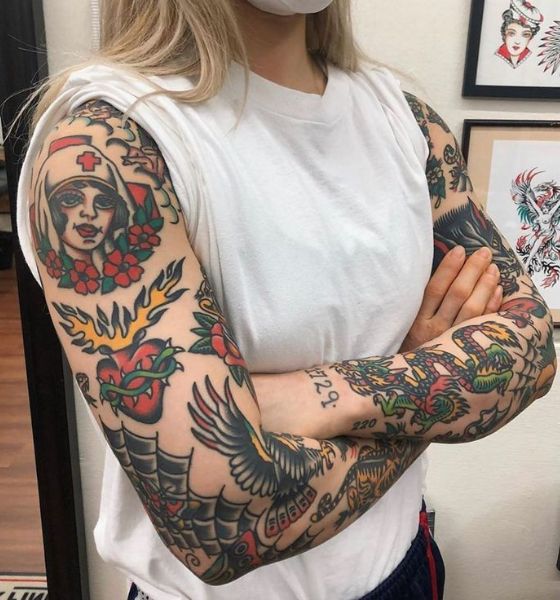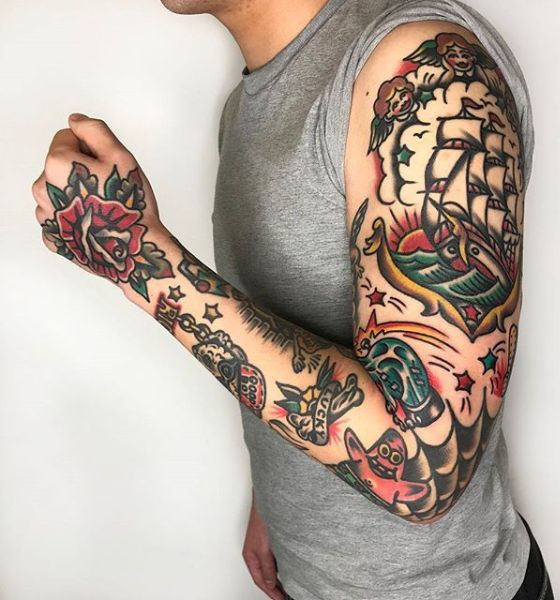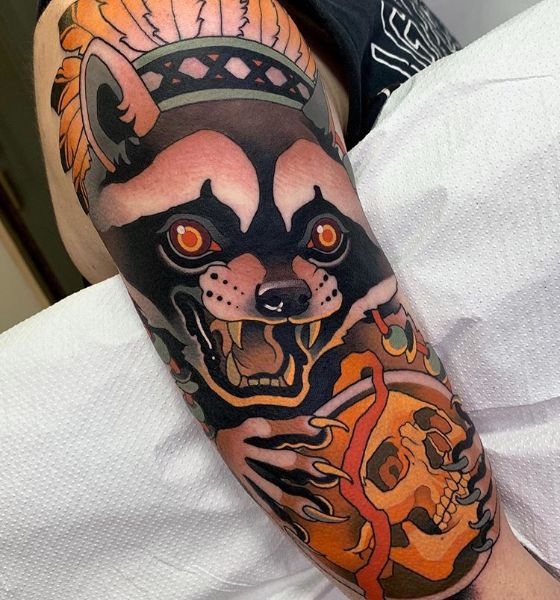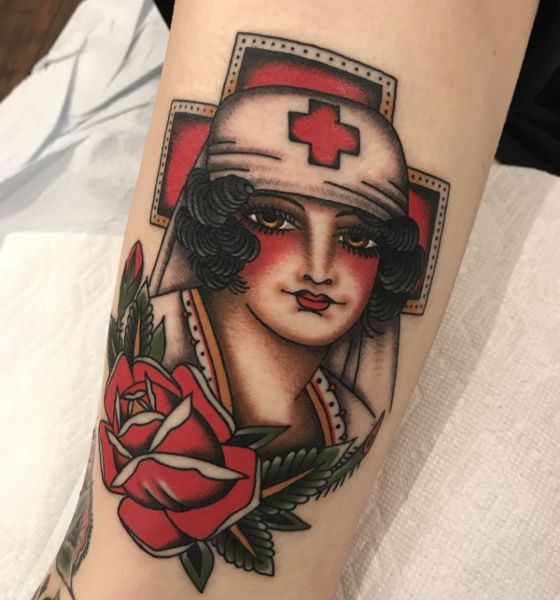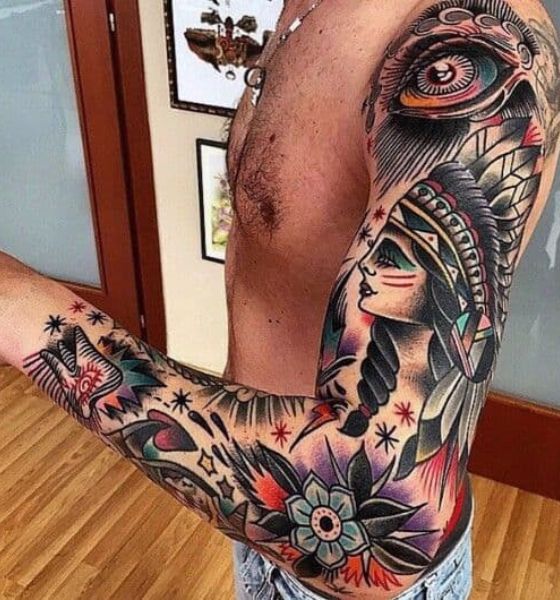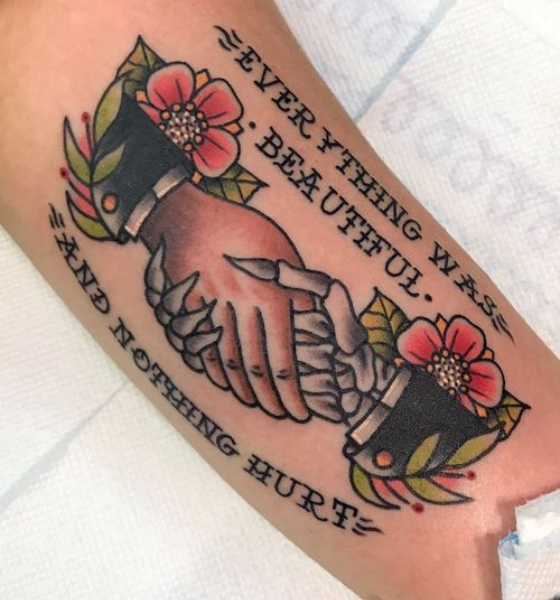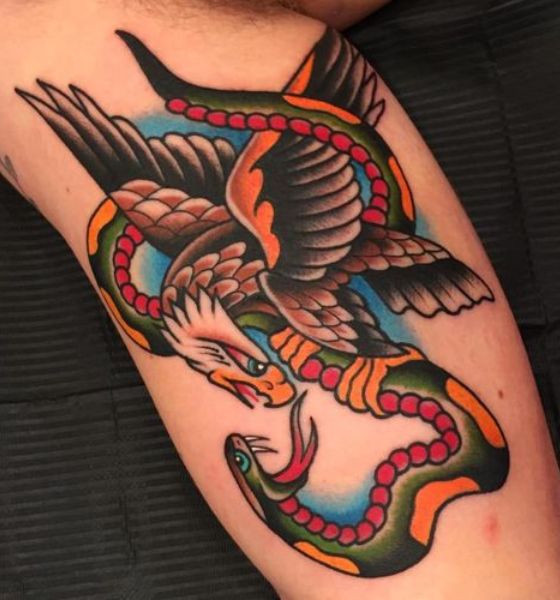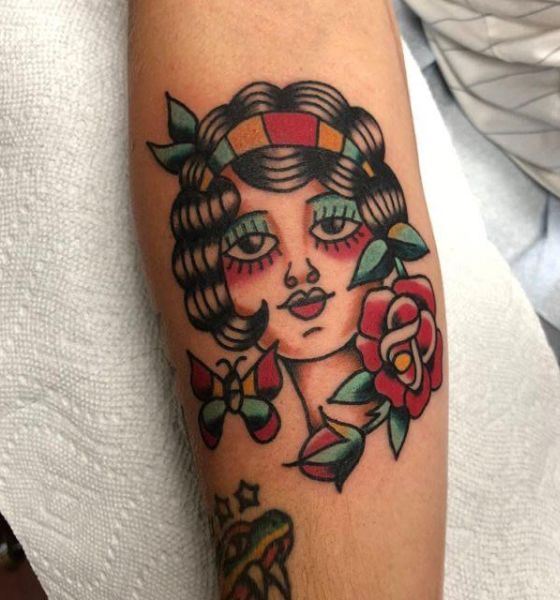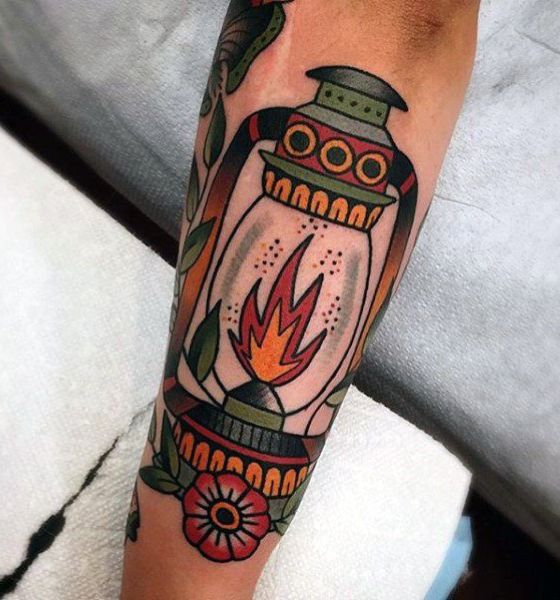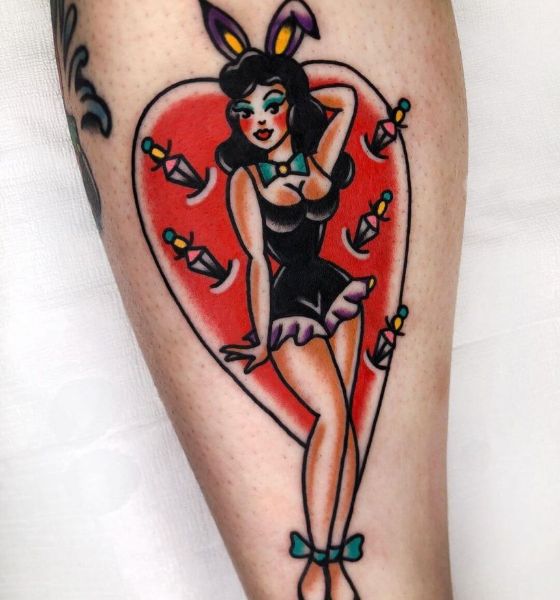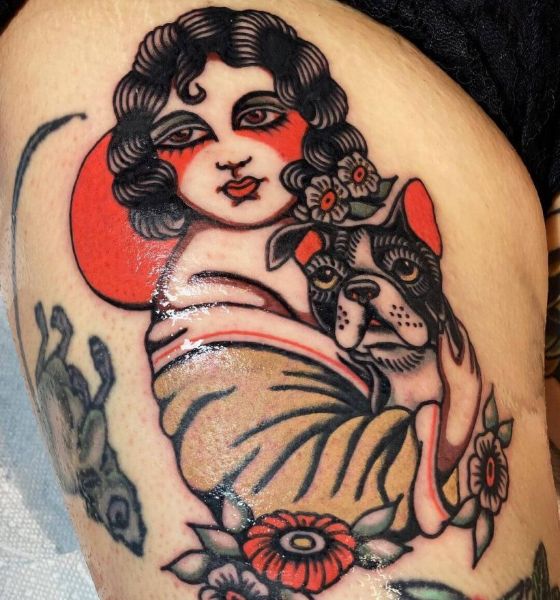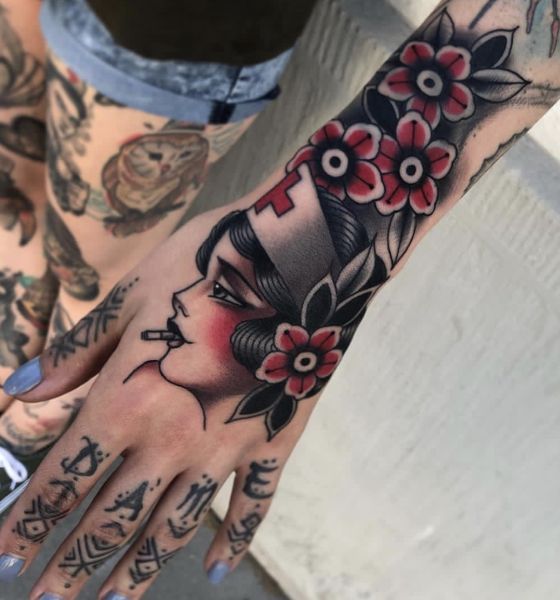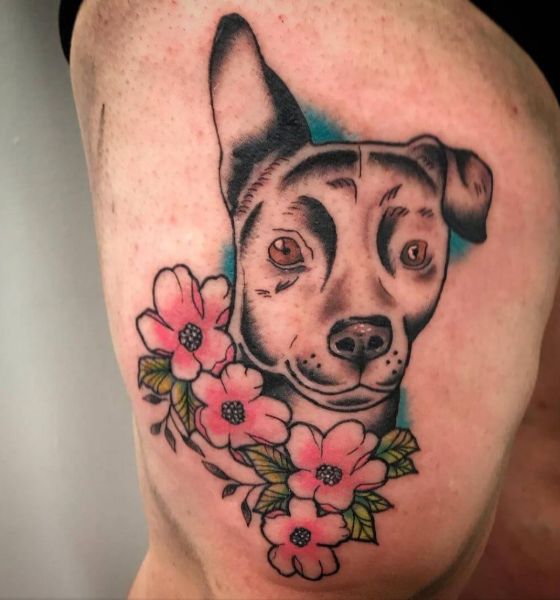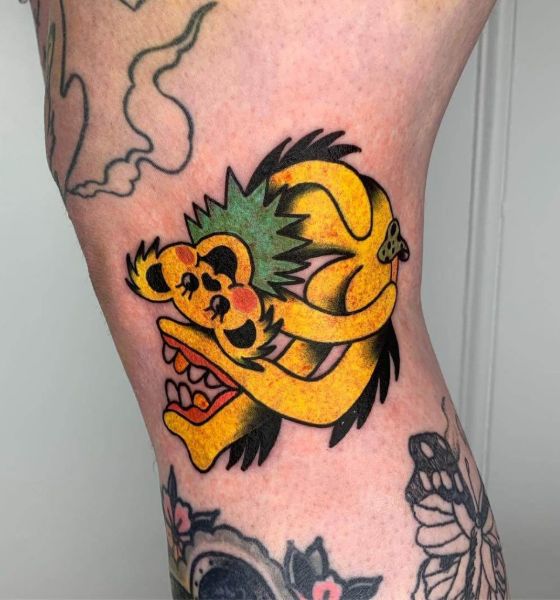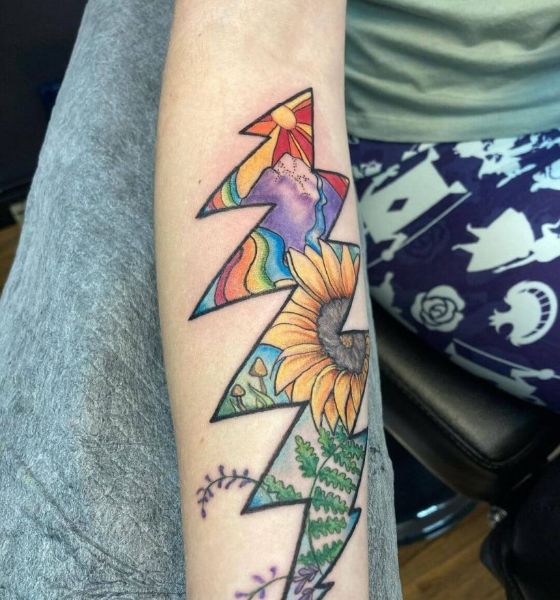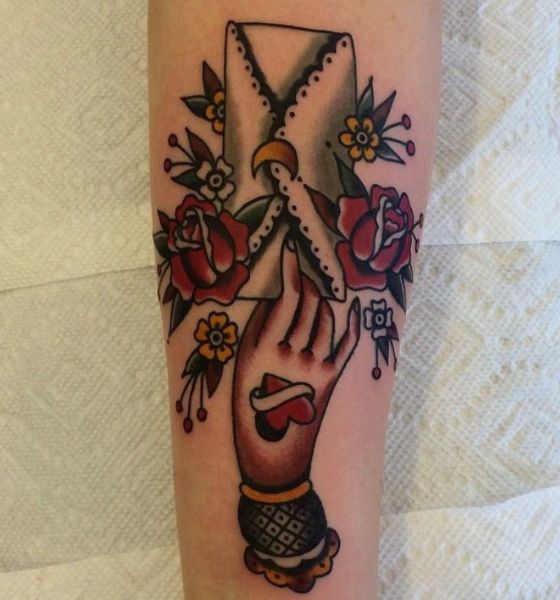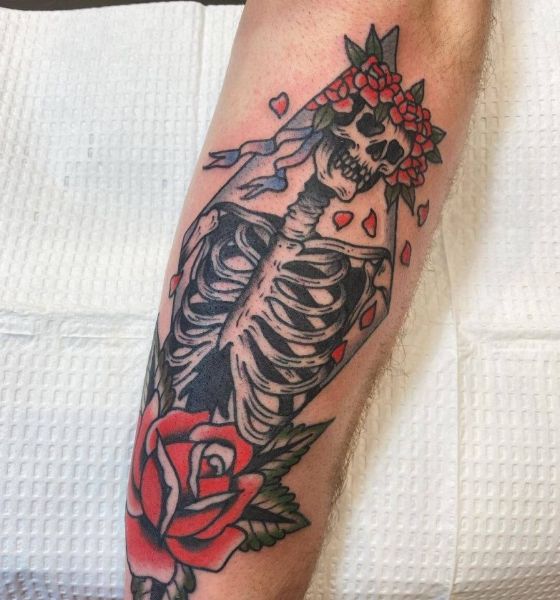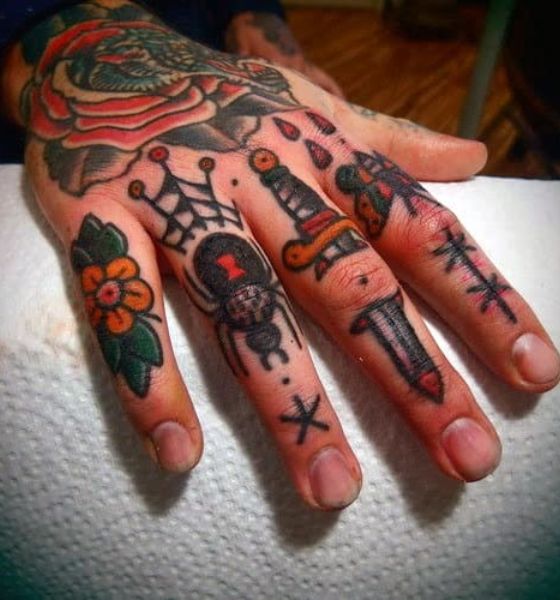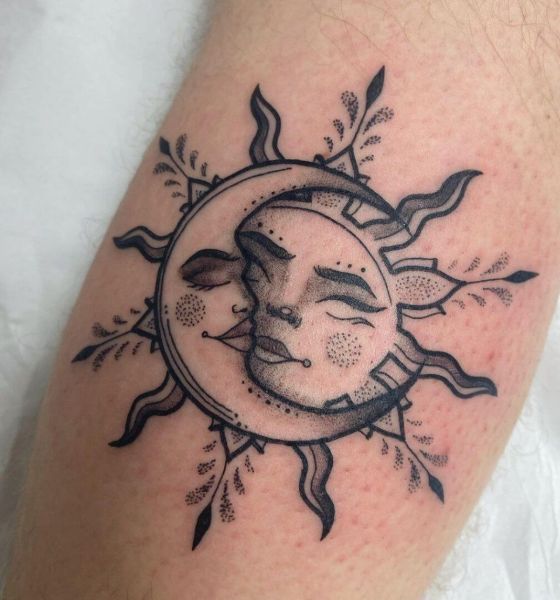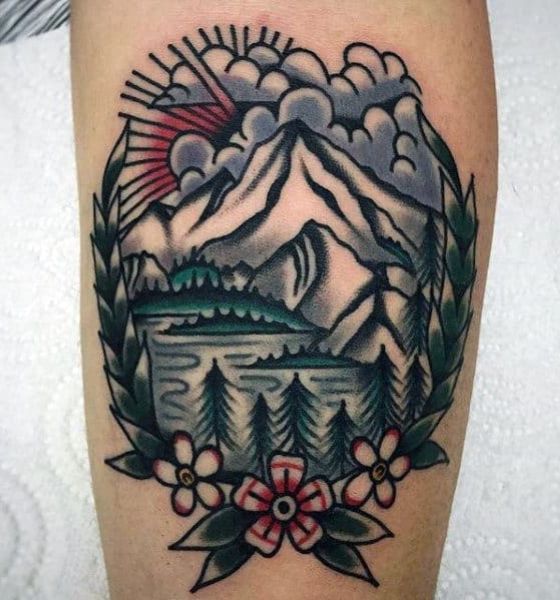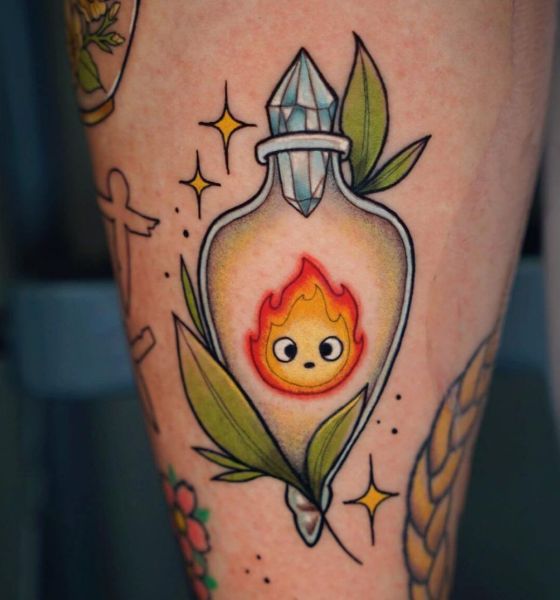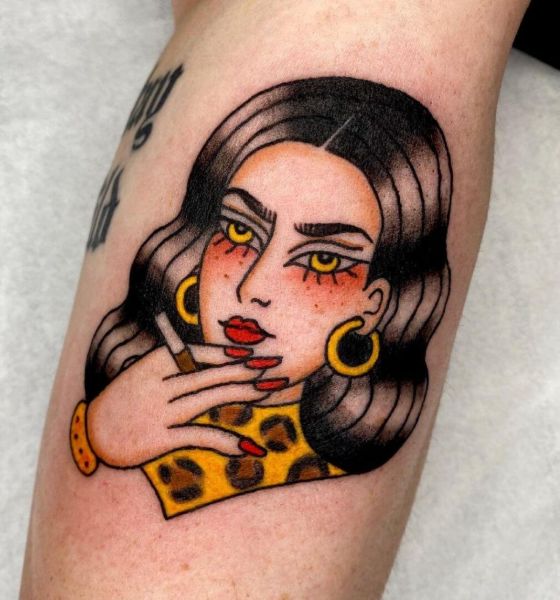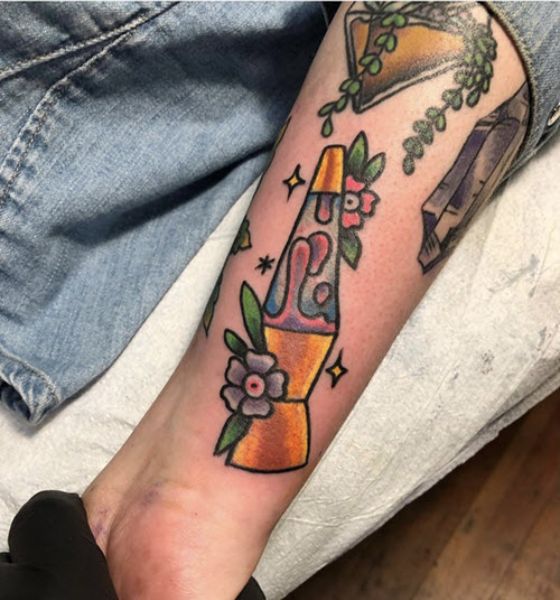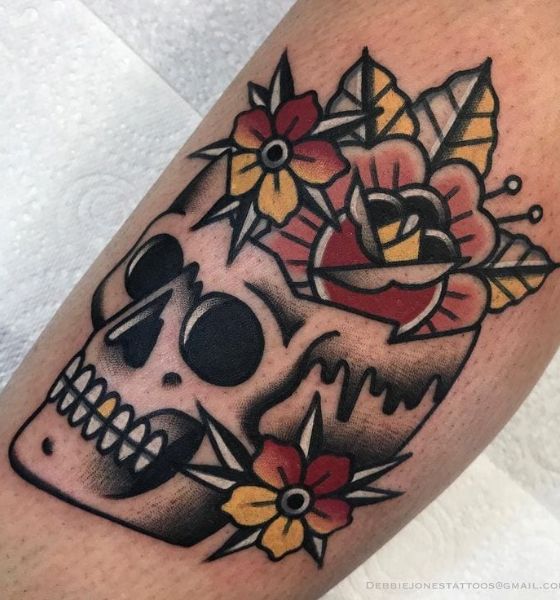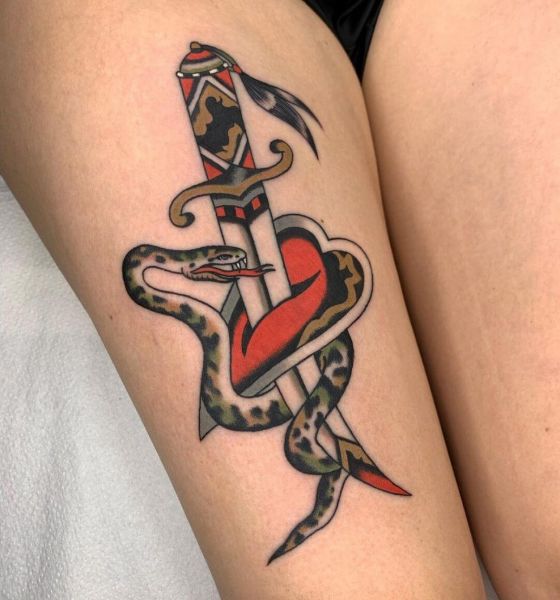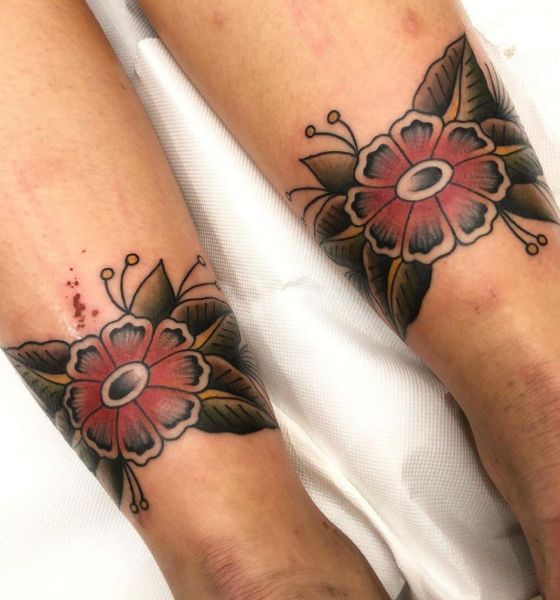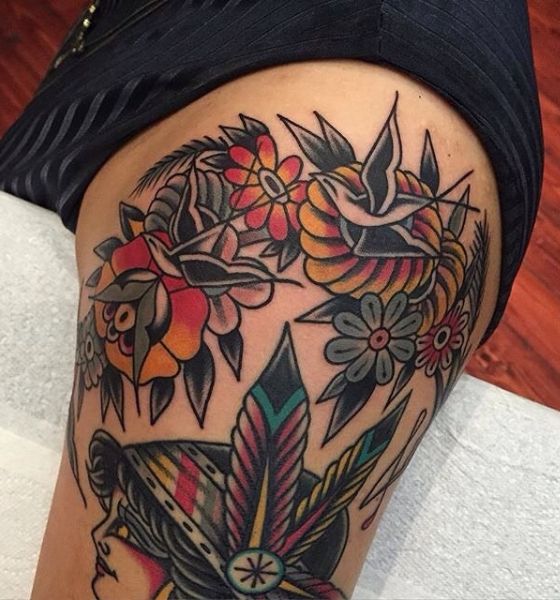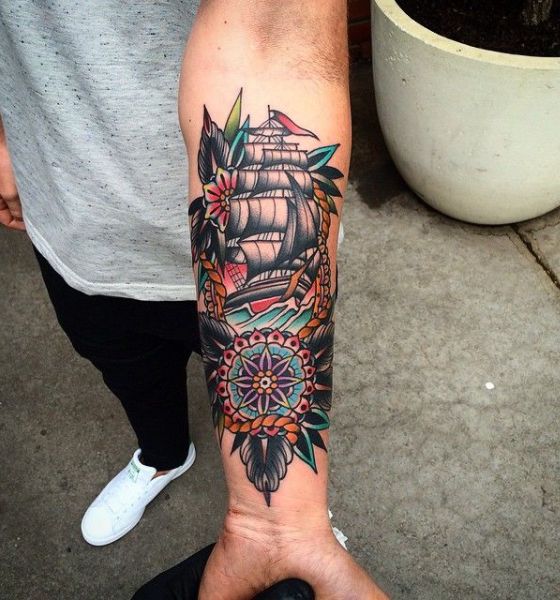 Please follow and like us: