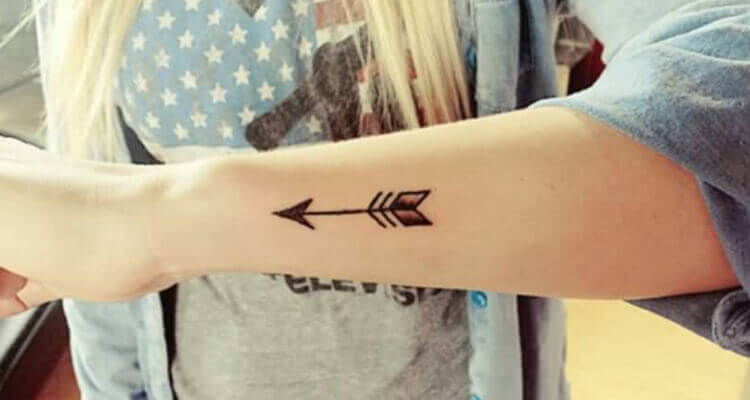 50 Mind-Blowing Arrow Tattoo Ideas
Posted on
Simple yet elegant, Arrow tattoos are inspired by Native American culture and their way of life. An arrow tattoo represents strength in hunting as well as a powerful weapon in the war in Native American culture. Native Americans cherished the arrow symbol because their weapon of choice for protecting their homes, families, and tribes from the attack was a bow and arrow.
That is why arrow tattoos are supposed to be representing strength. Besides, they also symbolize direction in finding your way along with personal achievement and the struggle required to achieve it.
There are numerous arrow tattoo designs, including black arrow tattoos, Compass arrow tattoos, Broken arrow tattoos, etc. Each arrow tattoo design represents a distinct and individual meaning. In this post, we will walk you through some of the most popular arrow tattoo designs along with their meanings.
Have a look…..
1. Small Arrow Tattoo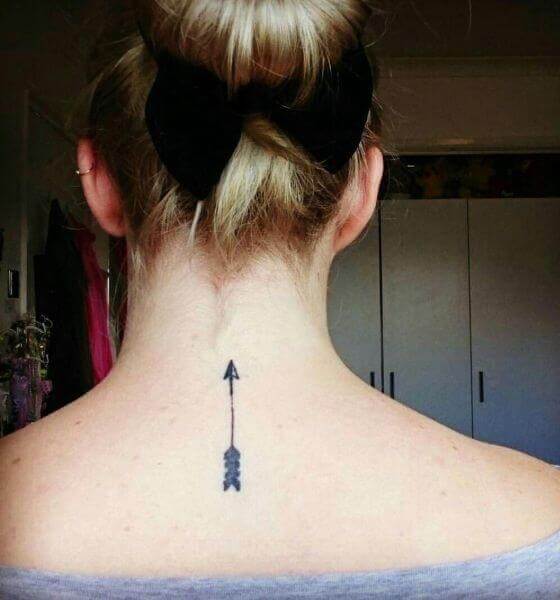 Small arrow tattoos look elegant and cute. They are a popular choice amongst women. Small arrow tattoos lend themselves well to a variety of placement possibilities. You can get a tiny arrow etched on your nape or behind your ear, or wherever you want. This is a perfect tattoo design for first-timers. And the best part about tiny arrow tattoos is that they require less time to complete and are less expensive.
2. Feather Arrow Tattoo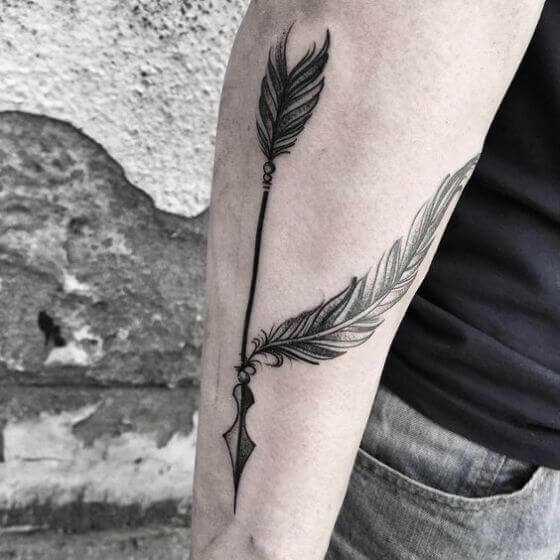 For a unique tattoo design, feather arrow tattoos are best. Feather and arrow together make for a beautiful tattoo design that can be etched anywhere. A feather represents wisdom, strength, and honor, while an arrow symbolizes direction and power. The confluence of these two signs has a lot of symbolic value because it represents independence and freedom. If these qualities are important to you in life, this is the tattoo design for you.
See More: Feather Tattoo Designs and Their Meanings
3. Geometric Arrow Tattoo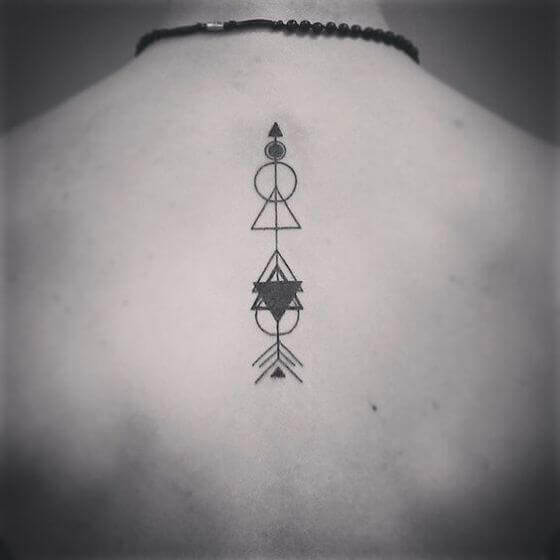 If you don't want a regular arrow tattoo design, then go for this one. It has lines and shapes creating something visually appealing tattoo design. Geometric arrow tattoos represent symmetry, balance, and harmony. If you possess all these qualities, then this is the design for you.
4. Bow and Arrow Tattoo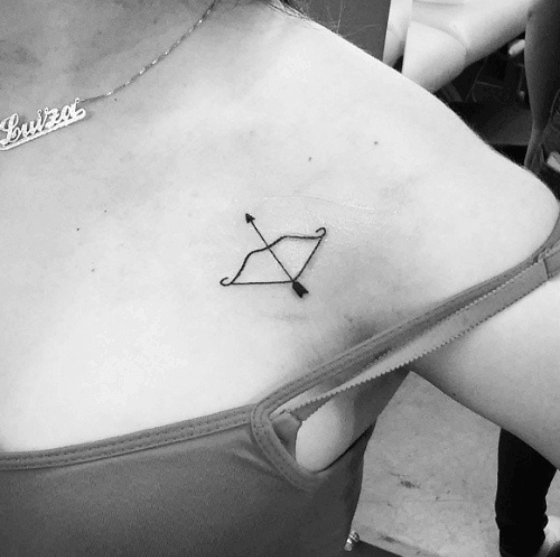 A bow and arrow is an excellent choice for getting inked. Not only is it a visually appealing design that can look great in a variety of placement options, but also it is a tattoo with meaning. The combination of bow and arrow represents strength and power. Also, it signifies leaving the past behind and focusing on the future. A bow and arrow tattoo is an excellent choice for women.
5. Infinity Arrow Tattoos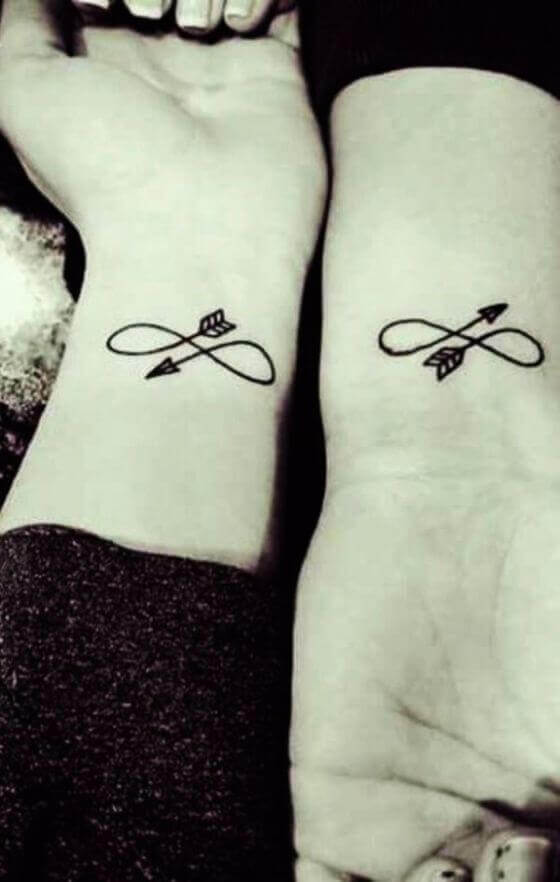 The infinity symbol is a widely used tattoo design. This mathematical symbol represents the concept of limitlessness or eternity. An infinity symbol can represent different things for different people. Some get it etched for expressing their everlasting love, while others want to showcase eternity. An infinity symbol with an arrow signifies positivity towards the challenges of life.
6. Compass Arrow Tattoo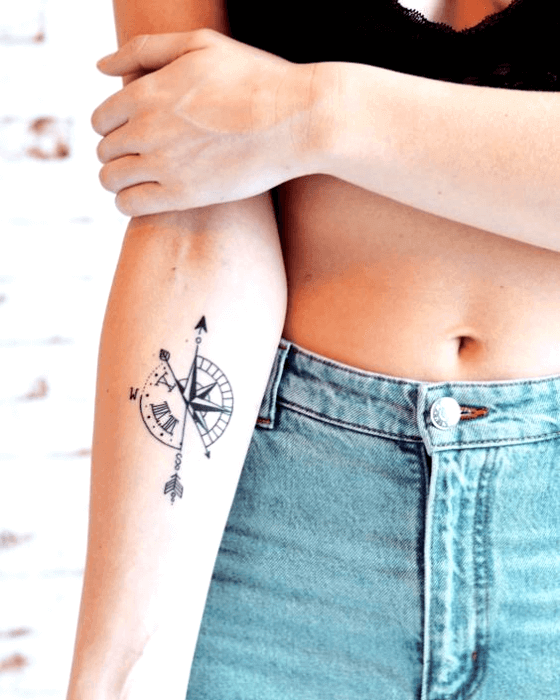 Another very popular element that women love adding to their arrow tattoos is a compass. Both the arrow and the compass are associated with the direction. The confluence of both elements makes for an amazing tattoo design.
7. Sagittarius Arrow Tattoo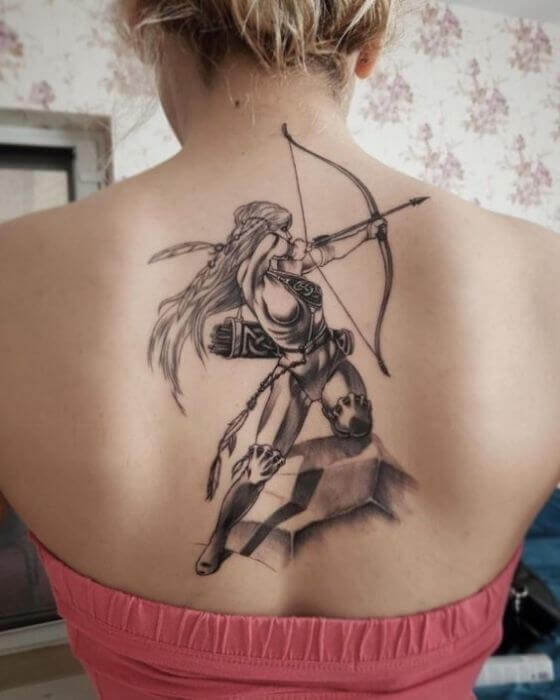 The ninth astrological sign, Sagittarius, makes for an amazing arrow tattoo design. It is a great tattoo option for people born under this sign. Because the constellation is frequently depicted as a centaur archer, the bow and arrow are given special significance. Sagittarius Arrow Tattoo makes for perfect tattoo designs.
8. Broken Arrow Tattoo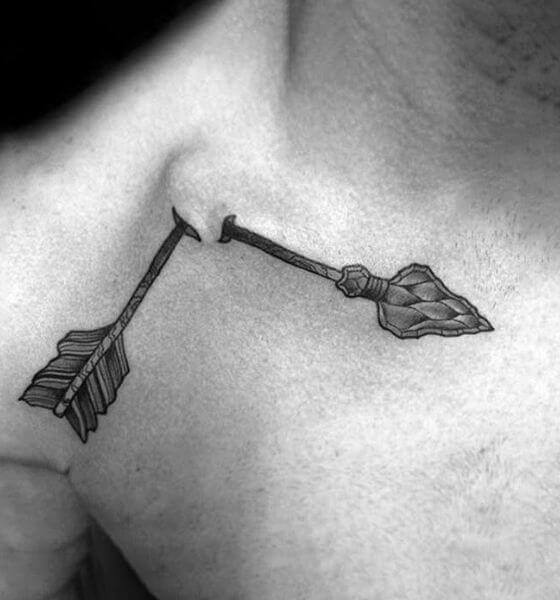 A broken arrow tattoo signifies a very positive meaning; that is the end of a battle, in other words, challenges. A broken arrow tattoo is a great way to showcase how powerful and strong you are. How have you overcome your problems and grew stronger in life? If all this relates to you, then this is the design for you.
9. Forearm Arrow Tattoos
The forearm is one of the best places to get an arrow tattoo. However, it is important to give this placement a good thought as forearm tattoos are easily visible. It is important to consider your lifestyle while choosing the tattoo placement. If you're looking for a spot that demands attention, then the forearm is the place for you. The best thing about forearm tattoos is that they are less painful!
10. A

rrow Tattoo with Name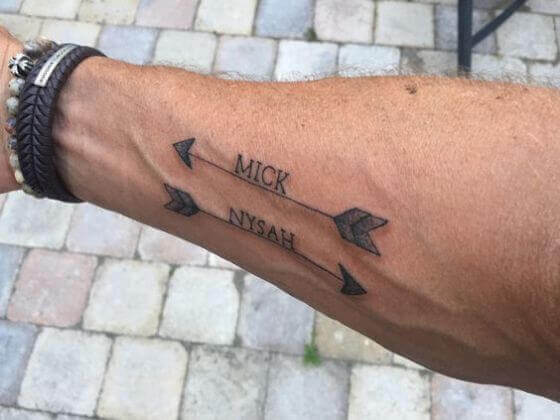 If you're looking for an outside-the-box tattoo design, then the Arrow Name tattoo is the design. Arrow name tattoo designs make for beautiful body artwork. Adding someone special's name to your arrow tattoo will make it look unique and meaningful. But be sure you're in a stable relationship before you plan to get your boyfriend's name etched on your body.
11. Warrior Arrow Tattoo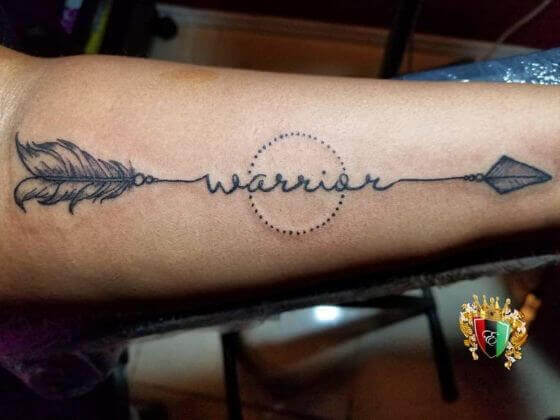 The arrow in Native American culture symbolizes strength and power—a perfect tattoo design for those who value these qualities.
12. Tribal Arrow Tattoo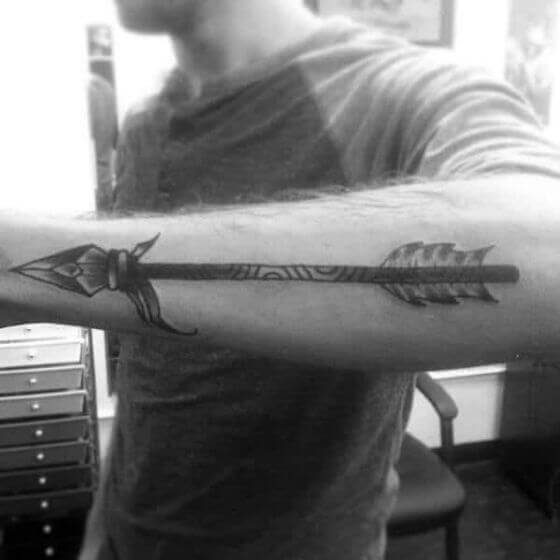 Bow and Arrows were used for hunting, weapons, and protection. This style of tattoos explicitly represents strength and power, along with the instinct of protection towards loved ones. This makes for a beautiful tattoo design.
13. Three Arrow Tattoo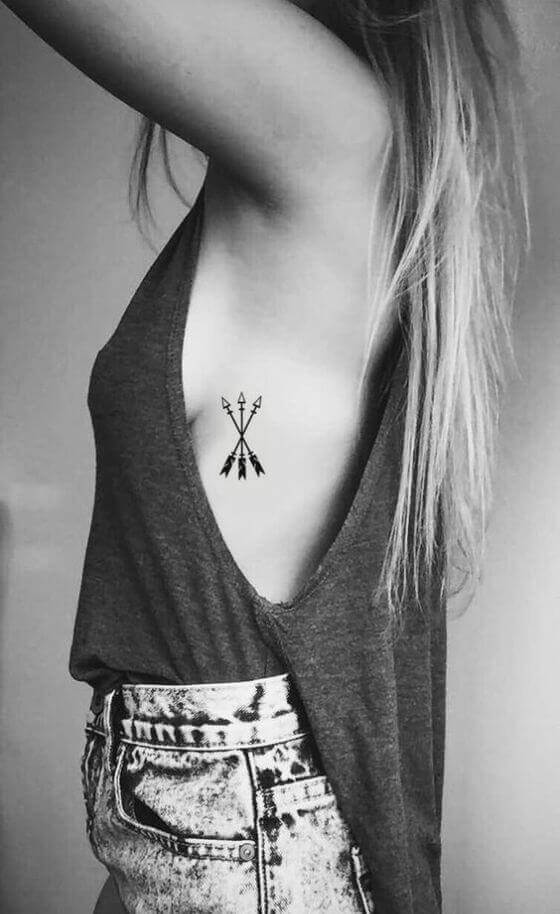 Three arrow tattoos symbolize friendship, love and strong bond, making it a perfect tattoo design for those who care about people they love and are connected to. It is a creative tattoo design that makes for a perfect matching tattoo design. It is a fantastic tattoo design to get with friends or loved ones.
14. Arrow Tattoo on the Arm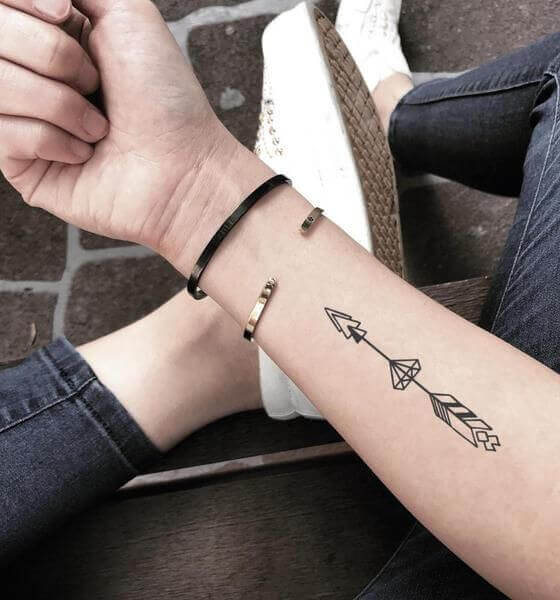 Depending on your preferences and lifestyle, there are numerous excellent locations for body art, but the arm is unquestionably one of the most popular. The coolest thing about this placement is that it is not considered painful. If desired, the area is large enough to accommodate a detailed tattoo. If you want to flaunt a meaningful design, such as an arrow tattoo, look no further.
15. Heart and Arrow Tattoos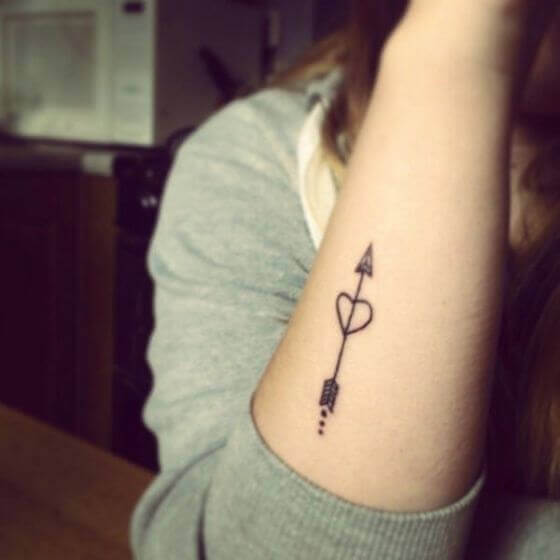 Heart and Arrow Tattoos represent passion and desire. If you value these qualities, then this is a perfect tattoo design. It is precisely ideal for a woman who wants something cute yet meaningful—a great way to show your love for that special someone who you love more than anything.
16. Two Crossed Arrow Tattoo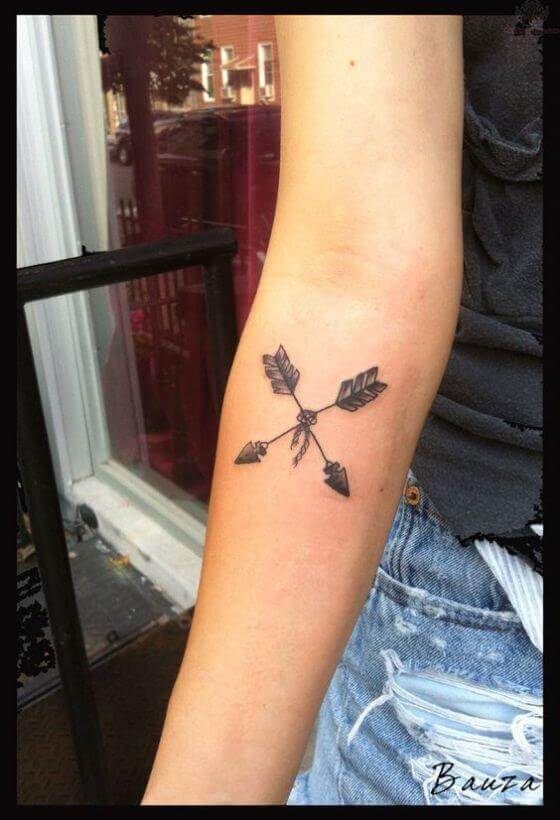 A two-crossed arrows tattoo is another excellent choice for a friendship tattoo. The symbol is believed to protect the wearer from negative energy.
Arrow Tattoo Placement
You can get your arrow tattoo placed on your
Arm
Forearm
Finger
Wrist
Ankle
Behind the Ear
Nape
Neck
Chest
Waist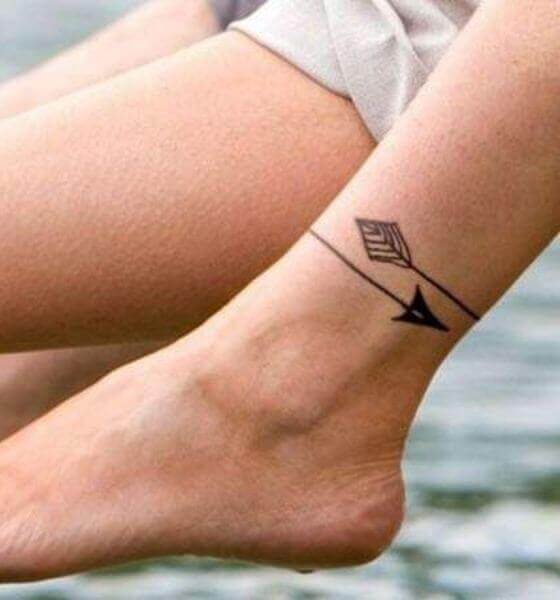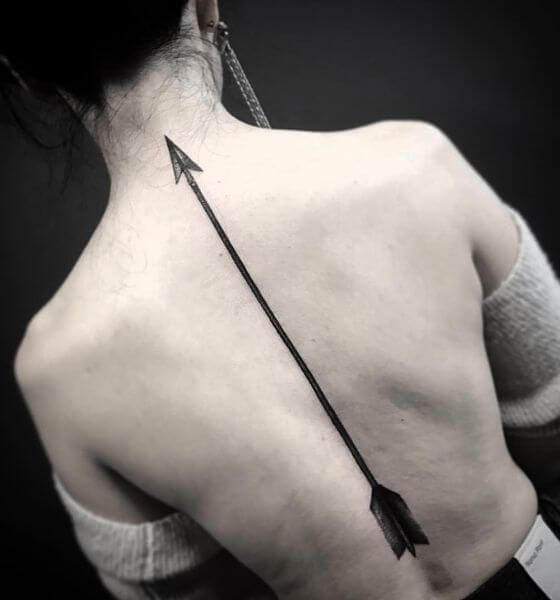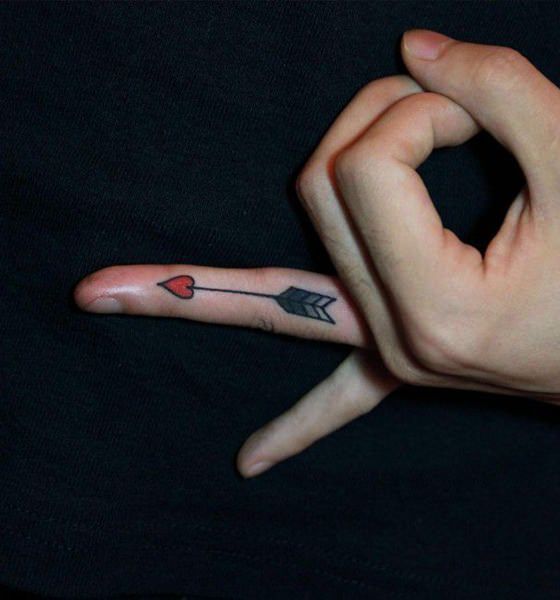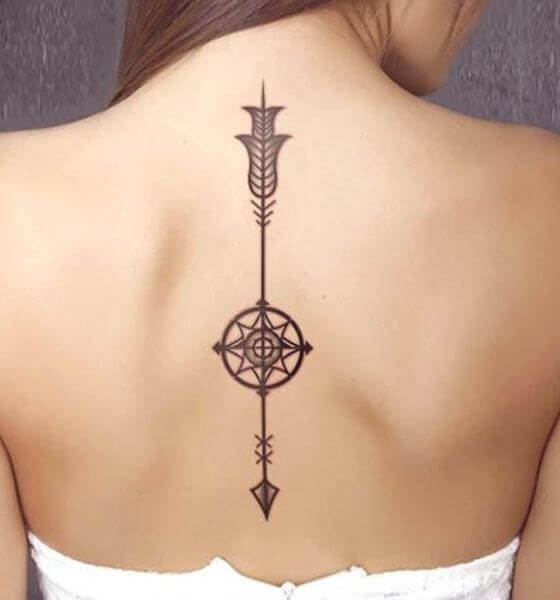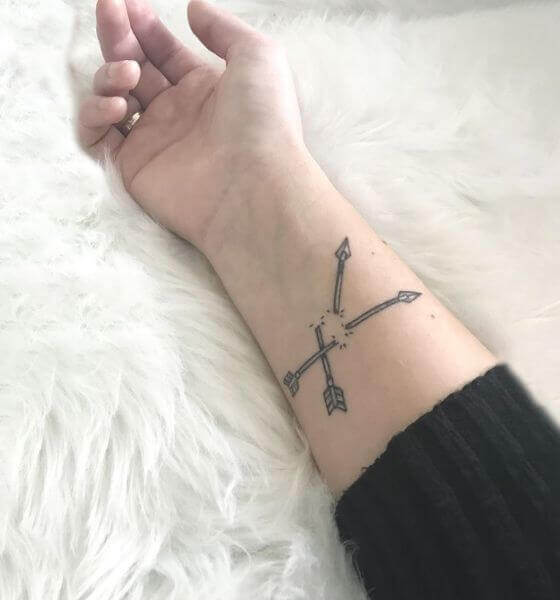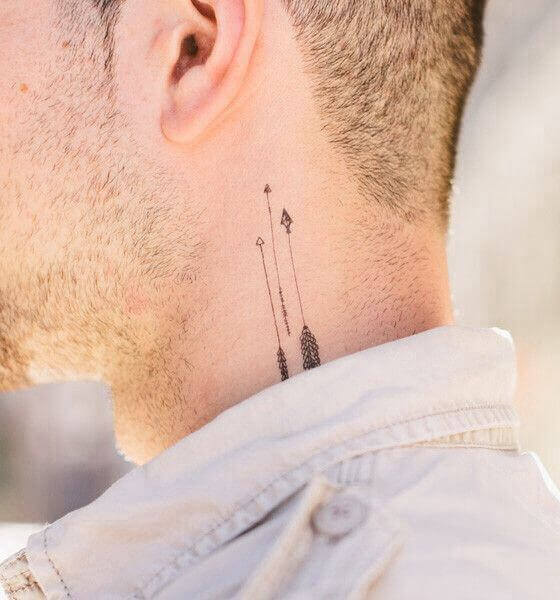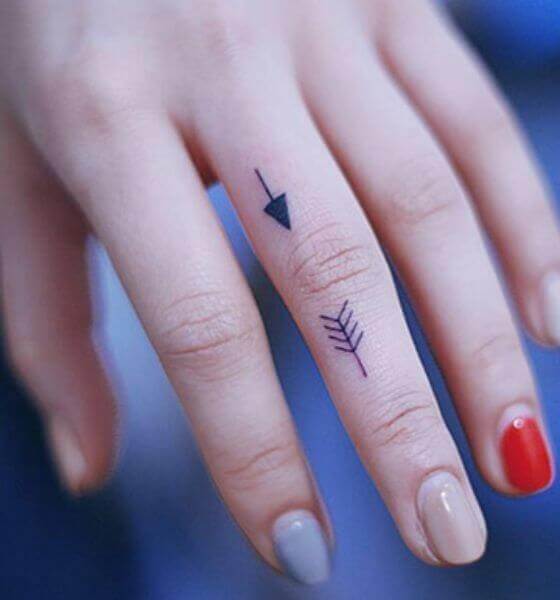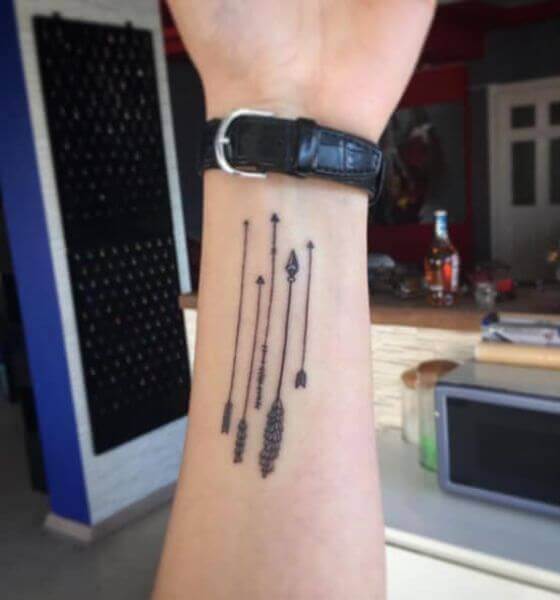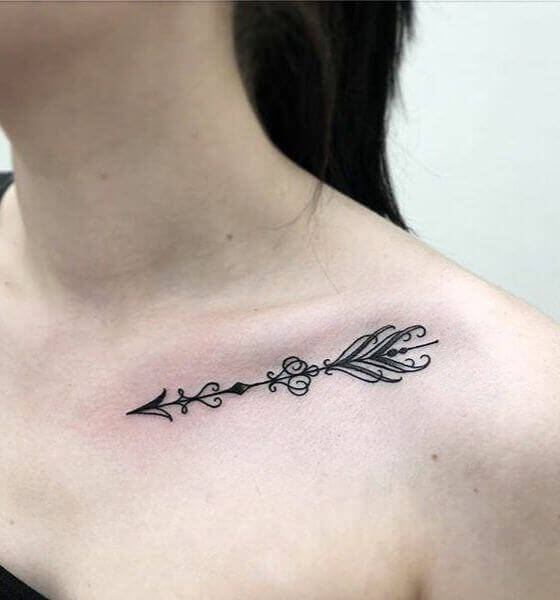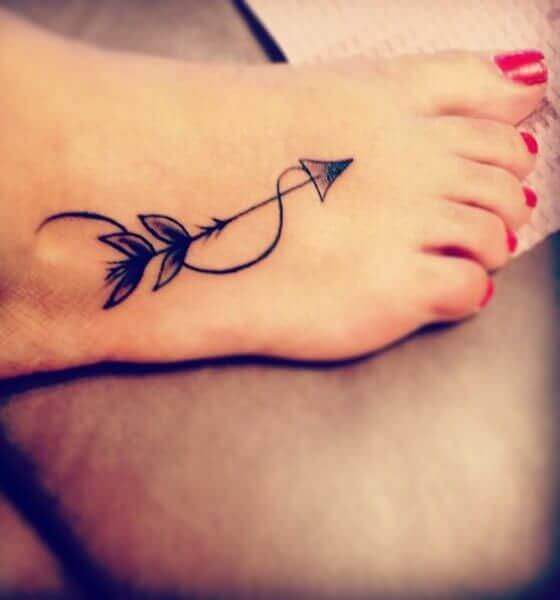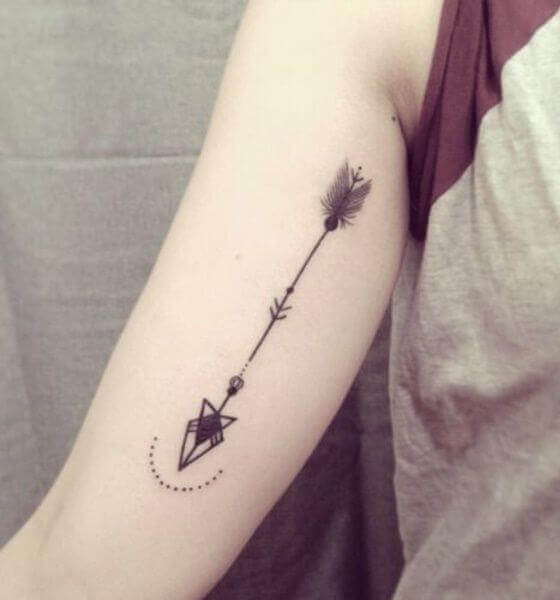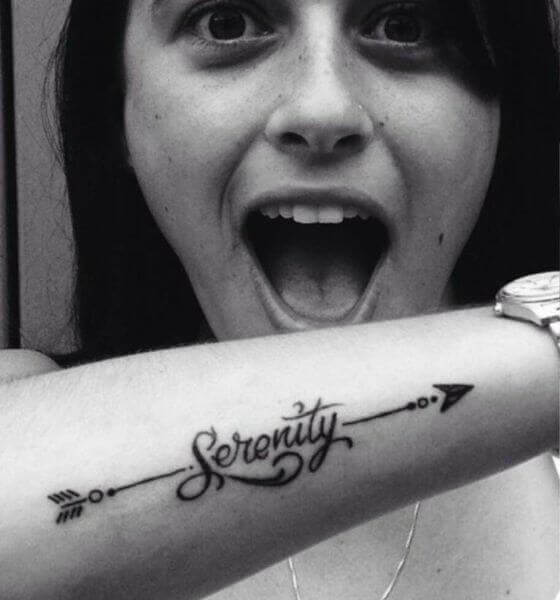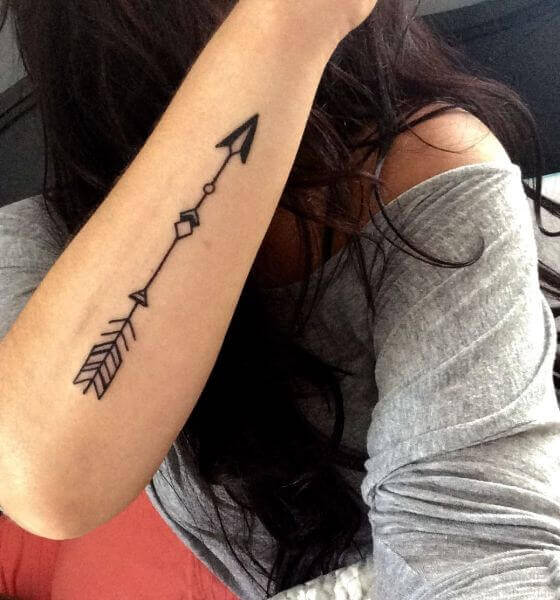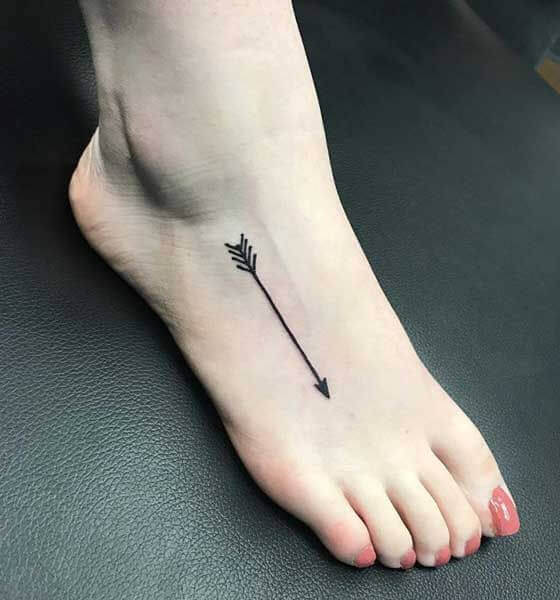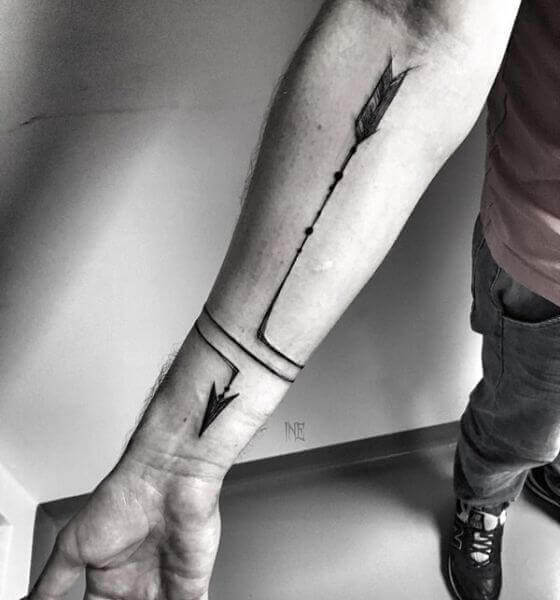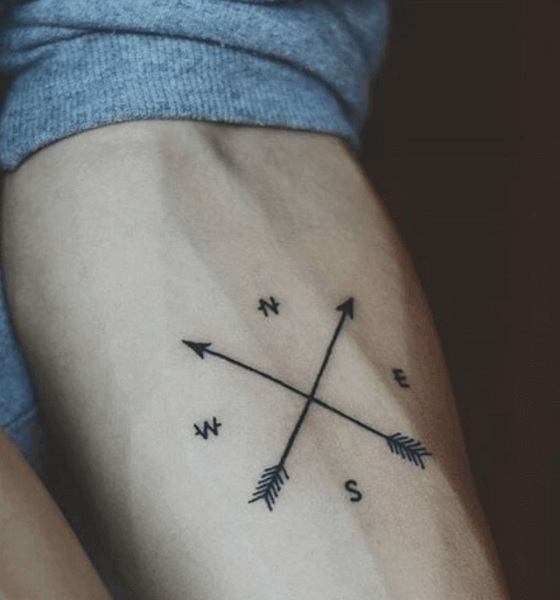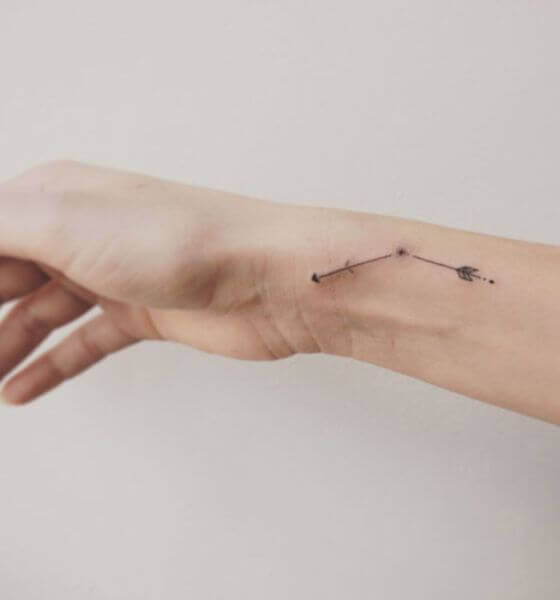 Final Thought
These are the 50 arrow tattoo designs that you can consider getting. These designs look awesome. You can get these designs etched anywhere, from your finger to your forearm, depending upon the size of the tattoo design.
Happy Tattooing…. ☺ ☺
Please follow and like us: