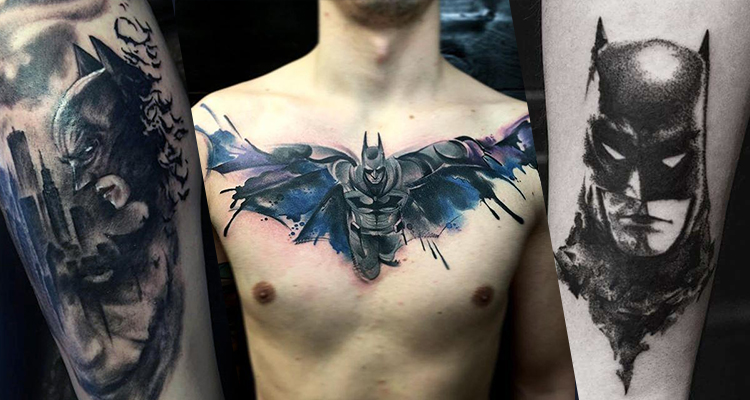 Batman Inspired Tattoo
Posted on
Batman is amongst the most popular superheroes, and the symbol of Batman makes for the perfect tattoo designs, especially for those who are great fans of these superheroes. Batman tattoos basically represent most amazing part of superhero movies and comics. Most of the Batman inspired designs make for really tattoo designs.
If you are also looking for a batman inspired tattoo, but wondering if that will be the right tattoo for you, then this article is for you.
Bruce Wayne or Batman, is a globally iconic superhero that is created by DC Comics in the 1940s. The superhero in the movies maintain justice in a city. Because of the absence of his super powers, he relies mostly on his martial arts skills, quick wit, along with an array of gadgets. People easily relate with Batsman because of the fact that being a superhero he is so human yet.
People easily relate with Batman's humanity as they believe that his abilities are achievable by any dedicated soul. His qualities, along with his overall cool look, makes it a cool tattoo design. No matter what type of Batman tattoo you choose to get, be sure that it will make for a great tattoo design.
Batman Tattoos Stand for……….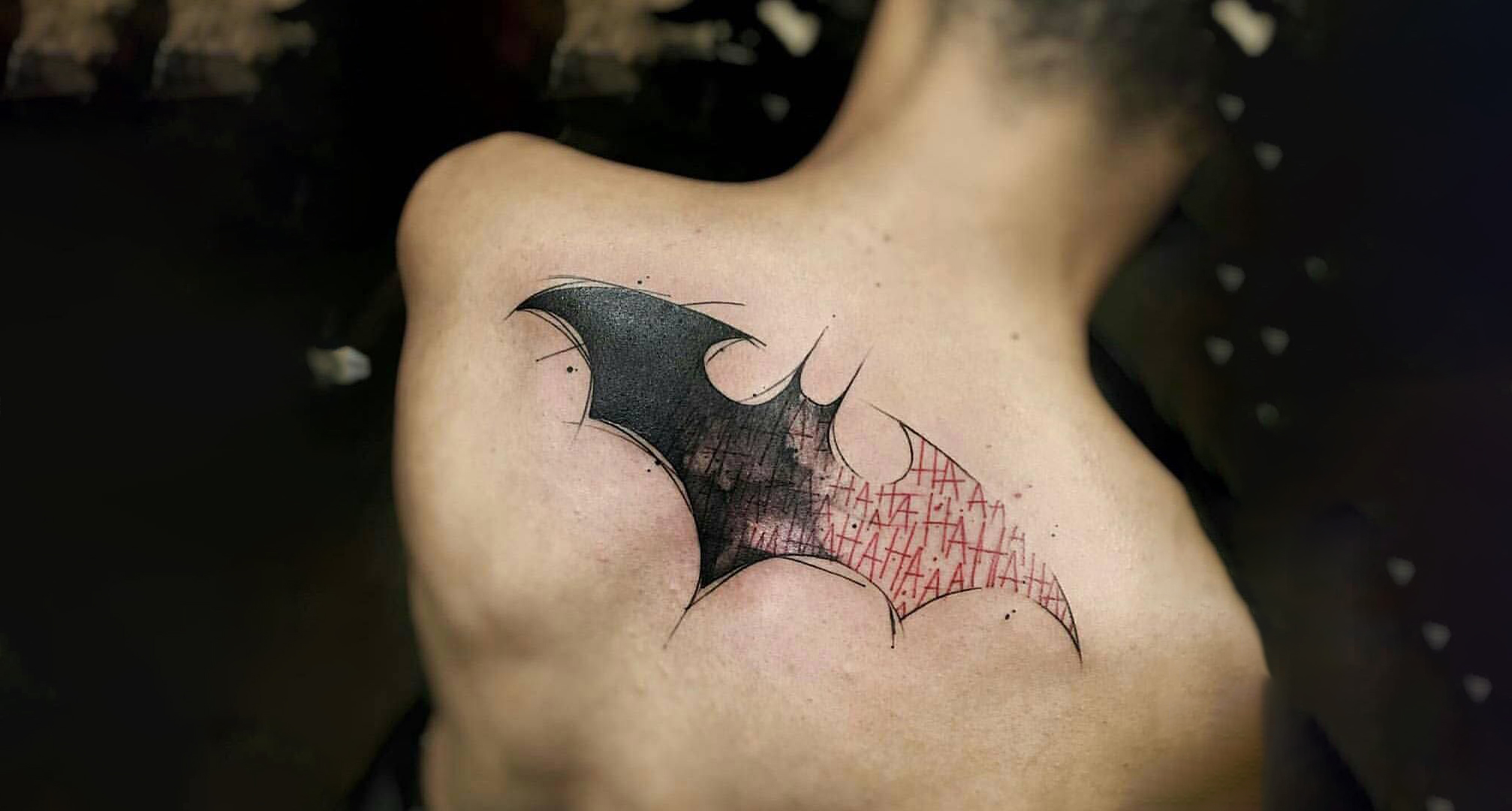 Some may get Batman tattoos because they feel they possess those qualities or because they associate themselves closely with what the caped crusader stands for. Well, some simply get this tattoo because it simply stands for a mighty force, and justice and is a symbol of hope.
Batman inspired tattoos are symbols of courage, dedication, fear, power, and strength. Whatever your reason of getting Batman tattoos, believe you me it looks amazing. Batman tattoos can be both simple and complex. This dark and powerful tattoo designs simply represents your strength.
The Power of the Caped Crusader……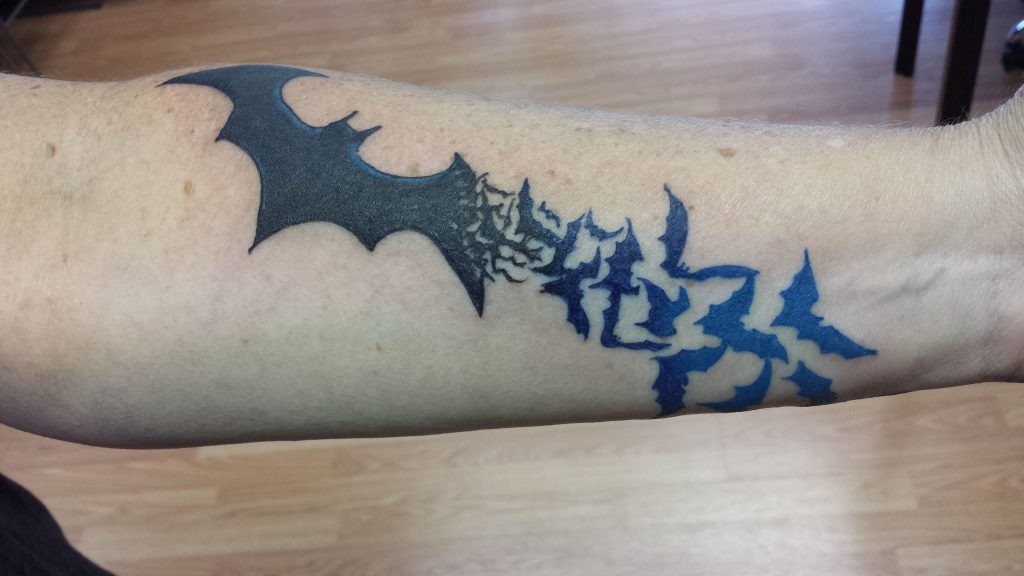 Batman inspired tattoos, whether based on the face or silhouette of the dark knight, are easily recognized and they make a powerful statement.
Having Batman inked on your body symbolizes the powerful force within! Someone who is in a constant battle with things in his/her life, still refuse to surrender to situations, and is determined, batman inspired tattoos are perfect tattoos design.
Batman inspired tattoos are cool tattoo designs that can be inked anywhere on the body, in a way that they keep reminding you about the inner battles or demons that you are dealing with.
Batman Inspired Tattoos Make for a Simple yet Elegant Tattoo design…….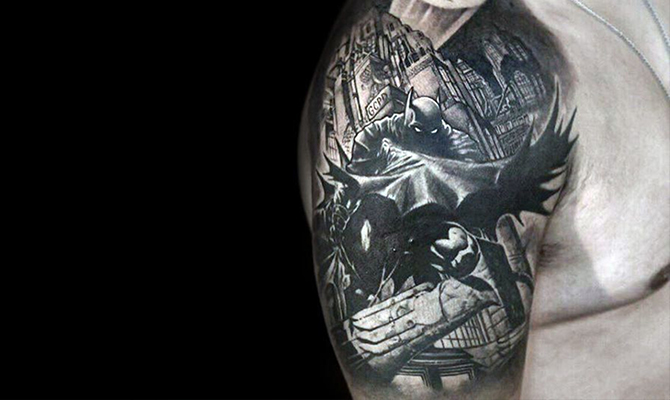 Batman inspired tattoos represent the qualities of the person who is good at the core, and has a rough outer shell that represents becoming tough when needed, and who continue to battle his/her demons.
Precautions while you get Batman Inspired Tattoo….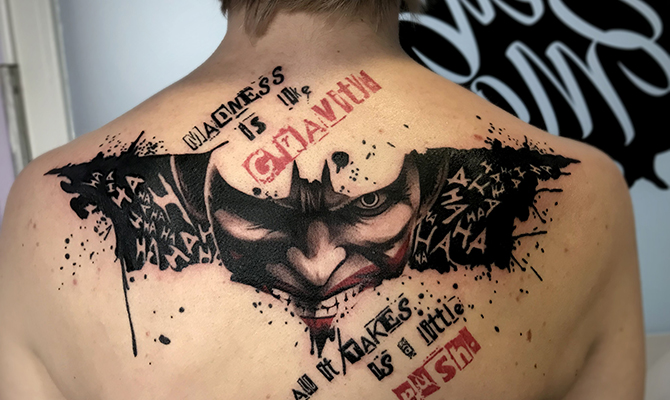 While you plan to get a Batman inspired tattoo make sure you go to some experienced tattoo artist, who is experienced in superhero tattoo designs as well. Because batman tattoos are intricate and need to be done efficiently that they come out perfect. Also, it is essential that you go to your artist with your desired design and details clear in mind.
If you will have clarity what exactly you are looking in your batman inspired tattoo it will become easy for your tattoo artist to make your tattoo exactly how you want it. If you are also interested in Batman tattoos, get it done now….. You will never regret your decision. Also, it will make for an eye-catching tattoo design.
Batman Tattoo Designs…….
Here are some of the best Batsman inspired tattoos for you to choose from…..
1. Batman Logo
The Batman inspired tattoo designs can be many, but the most common is batman logo. Batman symbol tattoos can be rendered in many ways. Believe it or not, but the sharp-lined bat silhouette is originally solid black but if you want you can fill it with some enchanting designs to make it look more appealing. Batman logo make for a wonderful tattoo design if you want something in smaller size. Batman logo can be etched on your forearm, shoulder, wrist, and even your fingers. But this also tattoo looks great in a larger size that can be done on your back or chest.
2. Batman Face Tattoo
Batman face make for a great batman inspired tattoo. Most importantly, it can be done in any color. The man in the mask etched on your shoulder will make for a head turner tattoo design.
3. Batman Logo with Batman Face Tattoo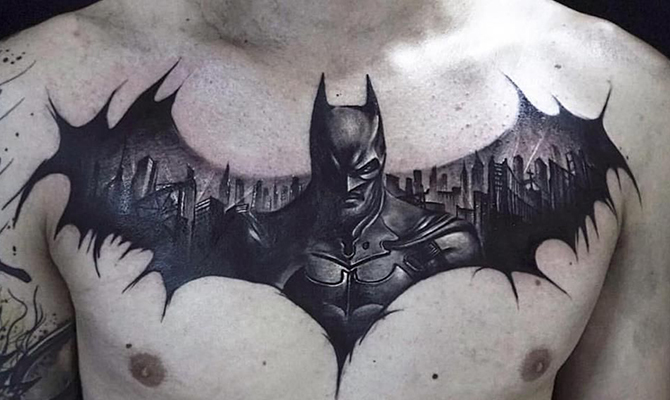 If you want you can even get batman face etched inside batman logo, making for a cool tattoo design. Getting the man in the mask on a batman logo will allow you flaunt how much you admire the man and his superhero abilities.
4. Batman Logo with Other Elements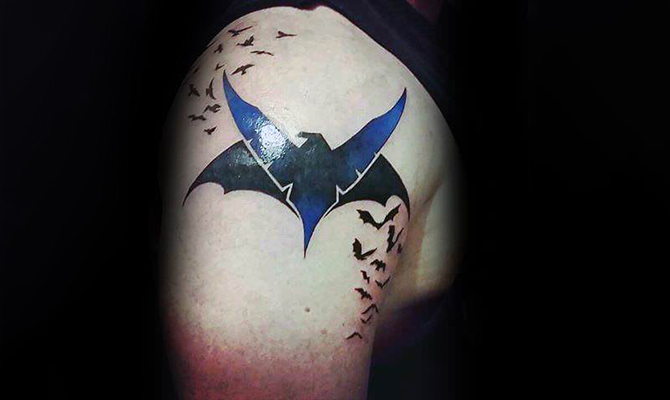 Batman logo can be inked along with additional elements and it looks amazing that way. There are many people who not only choose to get the Batman logo tattoo, but also they include other cool elements in the design to make it more appealing. For instance, some get Batman's face in the middle of the bat silhouette, while others prefer to put the logo in the bat signal with a light shining up into the sky.
5. Batman Logo Outline Tattoo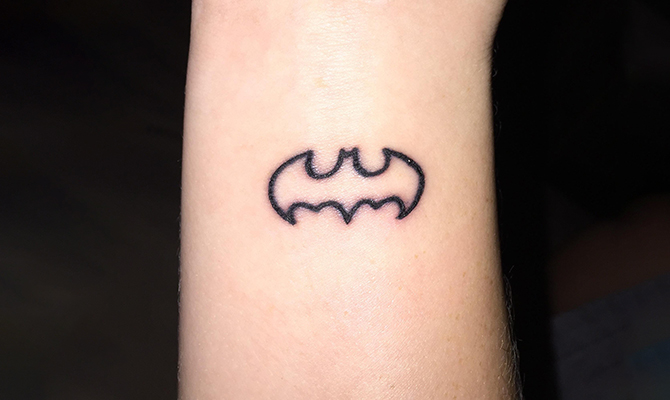 Another cool batman inspired tattoo design is just the outline of the batman logo. Just the outline of batman tattoos looks cool on neck, shoulder, forearm, and chest. If you want you can add your favorite quote inside the outline of the logo.
6. The Bat Signal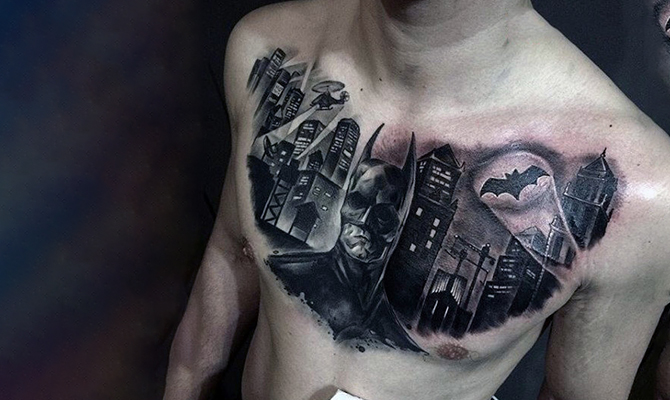 The bat signal with or without shining light also makes for an amazing batman inspired tattoo designs for boys. The iconic Batman image used by the Commissioner to alert Bruce Wayne of crime looks great as a tattoo design.
7. Logo from the Movie/comics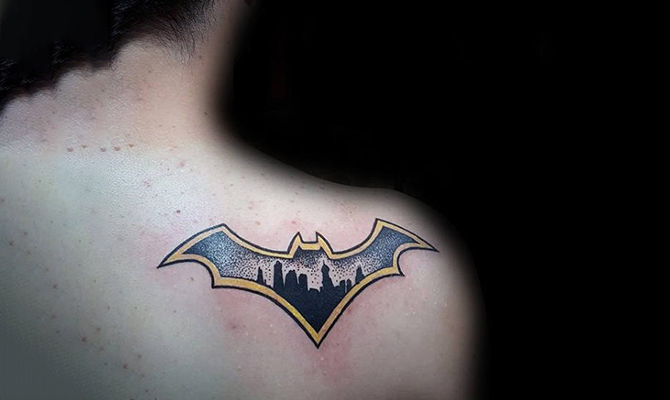 Besides using batman logo, you can also get an outline of the logo images of Gotham City, other Batman villains, such as the Riddler, the Joker, Penguin, Poison Ivy, etc. as well as Commissioner Gordon, who calls upon the hero can be in the list, or other elements that are related to the comics will create an amazing tattoo design for boys. Basically, you can mix in as much Batman content as you want without having to make the design look messy.
8. Batman Standing with Menacing Glare Tattoos
Another beautiful batman inspired tattoo is Batman drawn in dark ink, standing with menacing glare. This tattoo will symbolize your inner qualities that how you are determined to fight back all odds, without getting disturbed of outside forces.
Also Read: Where Tattoo Came From? – A complete history of Tattoo
To pan out…….
Besides these designs mentioned here, you can even create some complex design for yourself. So, make sure you work with an artist who has experience doing superhero tattoos.
Having a Batman inspired tattoo will help you exhibit your fervor for the renowned comic superhero. The batman inspired tattoo will add that extra zing to your personality. The batman inspired tattoo designs can be small, medium, or large in size, and they look neat and cute done in any size. The batman inspired tattoo designs come in a lot of mind-boggling variations. You can wear it anywhere on your body and flaunt it to others.
The Batman inspired tattoos symbolize deep, and core qualities. They are a great way to associate or relate your values and beliefs to the dark knight.
Thanks for reading…
Happy Tattooing…. ☺ ☺
Please follow and like us: