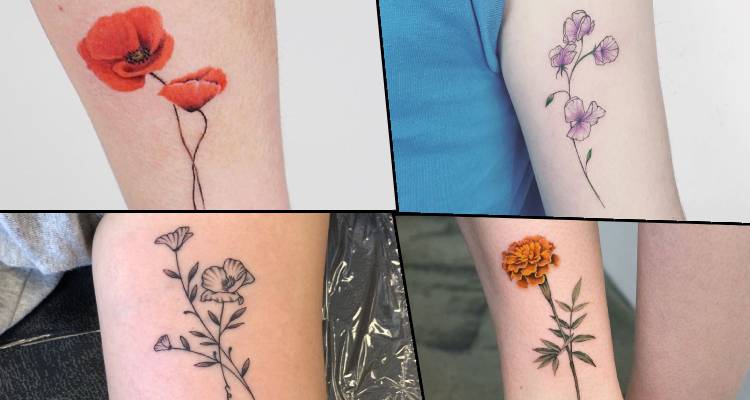 27 Gorgeous Birth Flower Tattoos that You'll Actually Wish Always
Posted on
There are 12 different flowers that represent each month, just like birthstones, and each month has its floral representative that makes for the most delicate ink. Birth flower tattoos are the latest Insta-worthy tattoo trend you'll enjoy, whether you're a July child rocking the quirky larkspur, the October sunshine marigold, or perhaps an April baby daisy.
You can never go wrong with astrology-themed tattoos when it comes to picking a design for your tattoo. More than 200 years have passed since birth flowers and their significance was discovered. People who wish to add additional meaning to their tattoos are naturally drawn to tattoos that feature them.
Flowers can have a variety of meanings depending on the flower, the plant, the color, and so on. The rose, which is the June birthday flower, has a lot of meaning, with the red rose frequently indicating one of the purest expressions of real love and the yellow roses symbolizing true friendship.
As a result, it's no surprise that flowers have come to be associated with specific months to represent them. Birth flowers, like Zodiac signs, are given to months and associated with specific attributes and personality traits. Many people are interested in the gemstone and flowers associated with their birth month.
Knowing your Birth Month Flower:
Many people are interested in the gemstone and flowers associated with their birth month. The natural growing period of that flower during a specific season, and hence its availability, presumably determined how each month received a certain flower. Poinsettias, for example, are one of the flowers linked with December. The poinsettia has long been linked with Christmas, a Christian holiday commemorating Christ's birth that occurs in December.
Birth Flower According to Month:
January Birth Flower Tattoo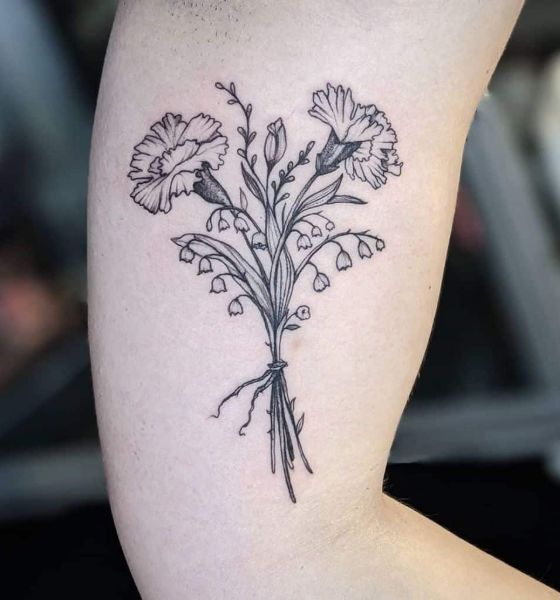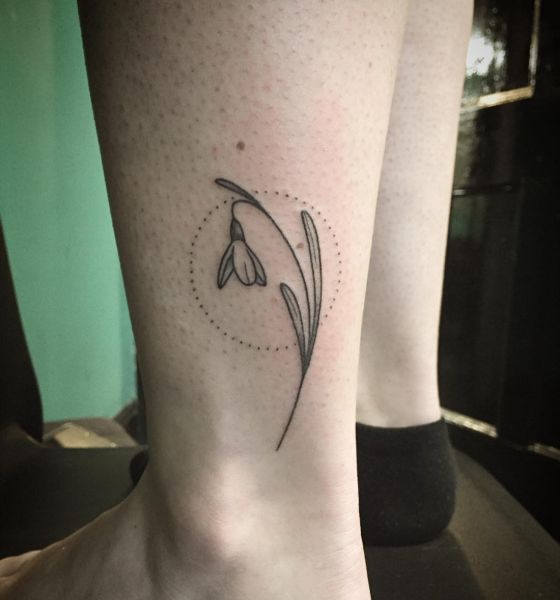 Carnations and snowdrops are the flowers of January. Carnations are available in a rainbow of colors, each with its meaning. The carnation represents a variety of things, including pure love and good fortune, which is why it's such a popular flower to give and receive!
Snowdrops symbolize hope because they are one of the first flowers to bloom when the seasons change from winter to spring. In the midst of a severe winter, this is a lovely sentiment.
February Birth Flower Tattoo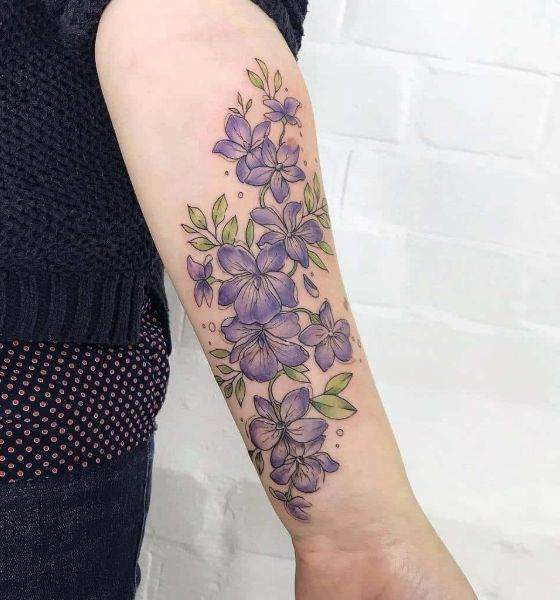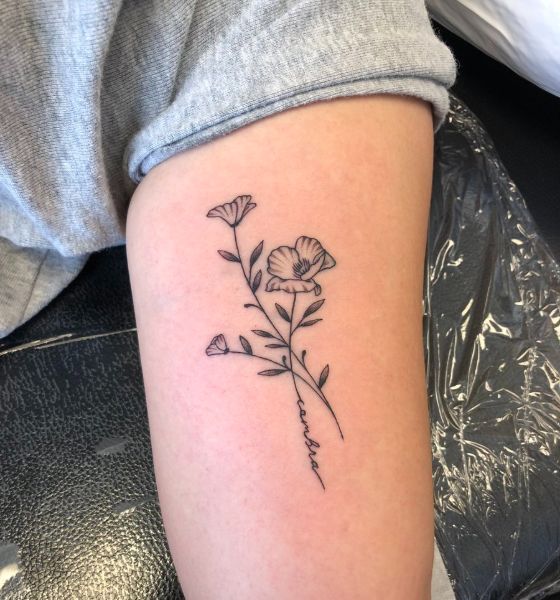 Violet and primrose are the blooms of February. These flowers are also symbols of adoration, despite the fact that Valentine's Day happens in the middle of the month. A white violet signified innocence, while a purple violet indicated that the giver's 'thoughts were engrossed with love' for the recipient.
The primrose embodies not only notions of love, but also the stages of it. These little buds bring to mind youth, love, birth, femininity, and suspicion.
March Birth Flower Tattoo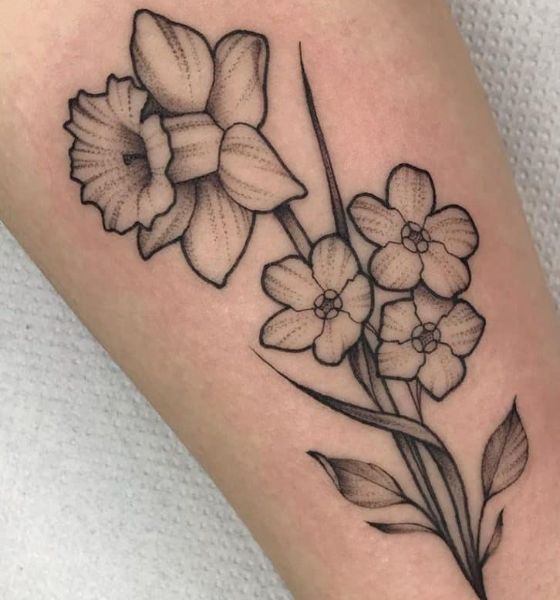 "March's beautiful, laughing birth flower is daffodils!" The daffodil is practically synonymous with spring, as it represents rebirth and new beginnings. Daffodils, despite their botanical name of narcissus, are sometimes known as jonquils, and in England, they're known as the "Lent Lily" because of their long relationship with Lent.
Not only is this a lovely birth month flower tattoo, but it also has fantastic connotations. There are so many various ways to express this magnificent flower, whether you want an illustrative piece, a Neo-Traditional bird and floret, or even a little realism watercolor tattoo!
April Birth Flower Tattoo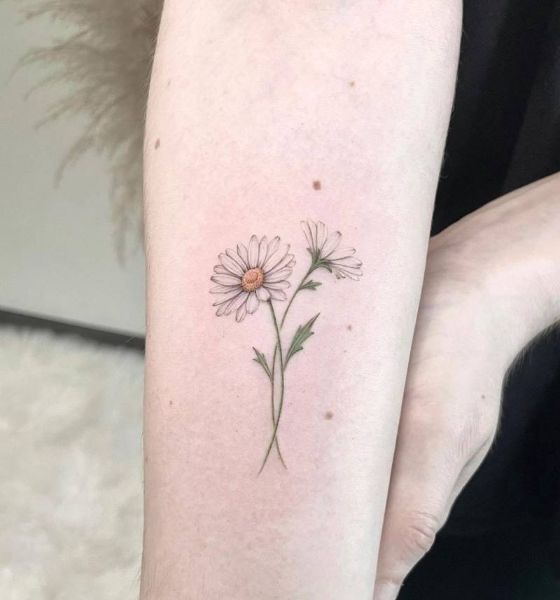 April's birth flowers are daisies and sweet peas. With every bounce of their laughing leaves, two blossoms promise happiness.
A daisy symbolizes not only happiness but also innocence and purity. Sweet peas aren't the same as regular peas. It can also imply pure enjoyment, leaving, or a fond farewell. The sweet pea is thought to be a favorable omen for brides, according to folklore.
May Birth Flower Tattoo
May's birth flowers are lily of the valley and hawthorns. Hawthorns have a fascinating legend attached to them. The Hawthorn tree, often known as the Mayflower tree in England, is a symbol of hope.
Lily of the Valleys, commonly known as the May lily, has a long history. It means "return to happiness" and is frequently associated with chastity, purity, happiness, luck, and humility."
June Birth Flower Tattoo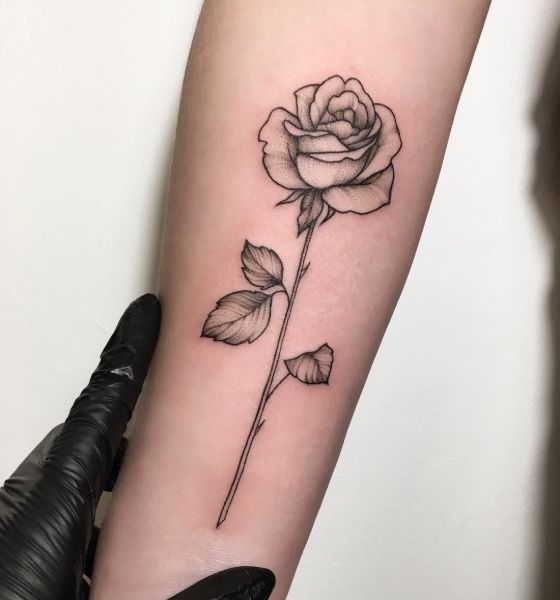 Roses, along with honeysuckle, are the birth month flowers of June and are perhaps the most popular flower. Two delectable blooms with undeniable charm. Roses, like carnations, come in a variety of colors, each with its significance. Roses are frequently associated with wonderful sentiments of friendship, love, and joy. Honeysuckle, of course, conjures up images of sweetness and joy.
July Birth Flower Tattoo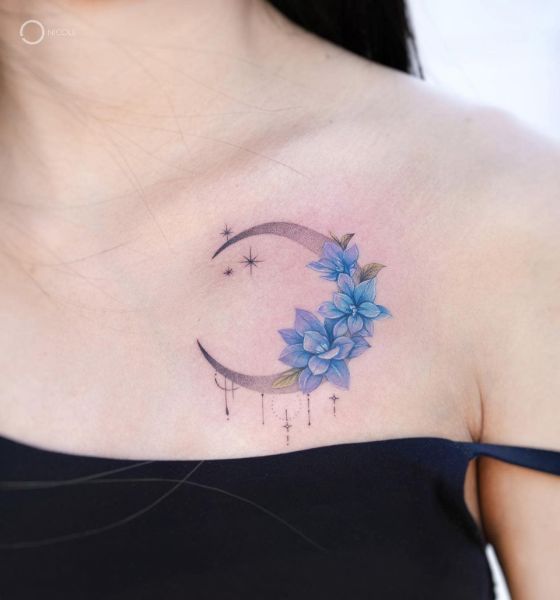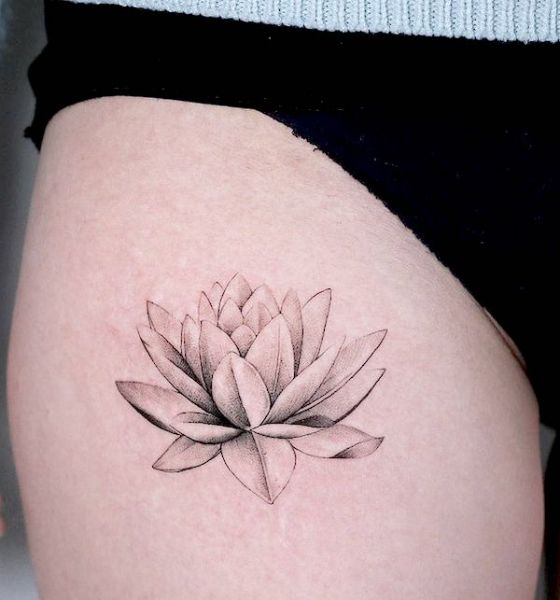 Larkspur and water lilies are the flowers of July. For various cultures around the world, the water lily represents a variety of themes, but many of them are related to life, such as beauty and enlightenment.
Larkspur, on the other hand, appears in a bewildering array of colors, each with its significance. They do, however, represent love with an open heart in general.
August Birth Flower Tattoo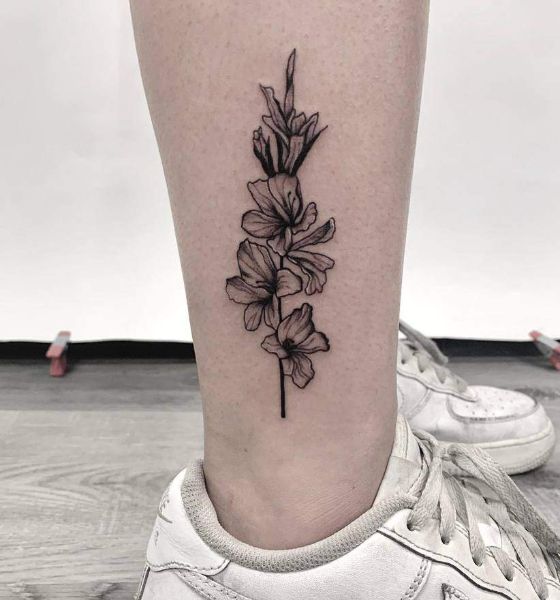 The birth month flowers Gladiolus and Poppies arrive in August. Because opiates have been extracted from poppies for a long time, their connotation is frequently associated with death, sleep, and oblivion, but this floret can also represent pleasure and love.
Gladiolus is a flower that represents power and moral integrity, as well as infatuation.
September Birth Flower Tattoo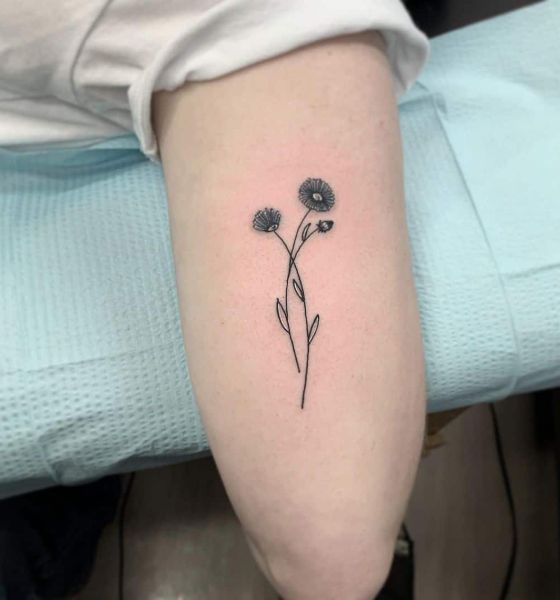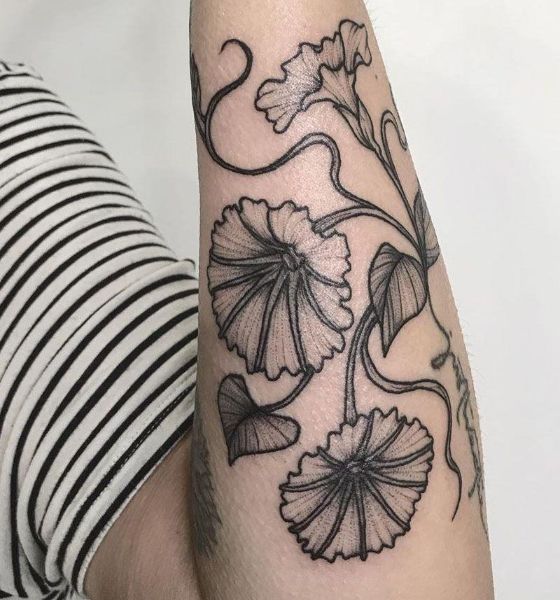 September's birth month flowers include aster and morning glory.
Morning glory flowers represent love, tenderness, or mortality, despite their common association with affection. Aster is regarded as a love talisman and a symbol of patience.
October Birth Flower Tattoo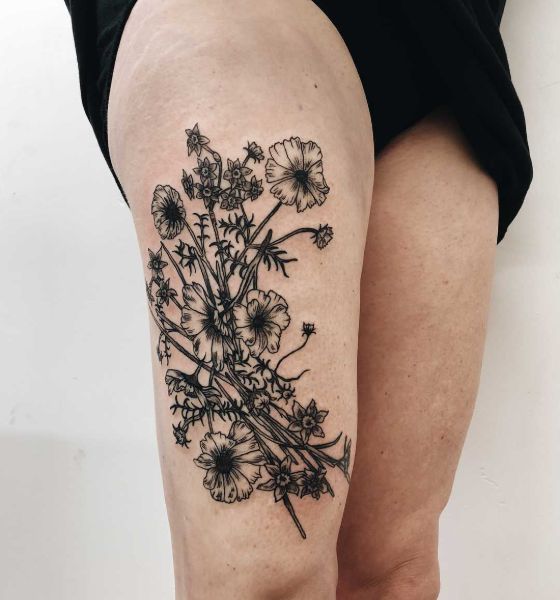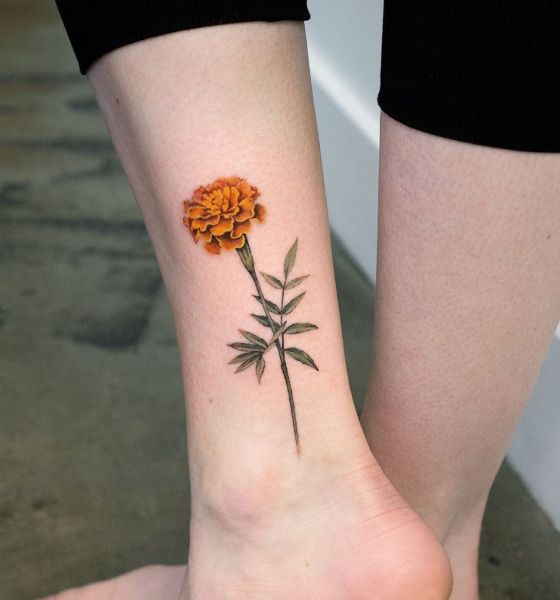 Cosmos and Marigolds are the flowers of October's birth month, and both are stunning blossoms. The scent and bright hues of the flower evoke feelings of serenity, wholeness, and modesty.
The marigold has a very different connotation. This flower is known as the "herb of the sun" because it only opens its face when the sun shines, and it might represent passion.
November Birth Flower Tattoo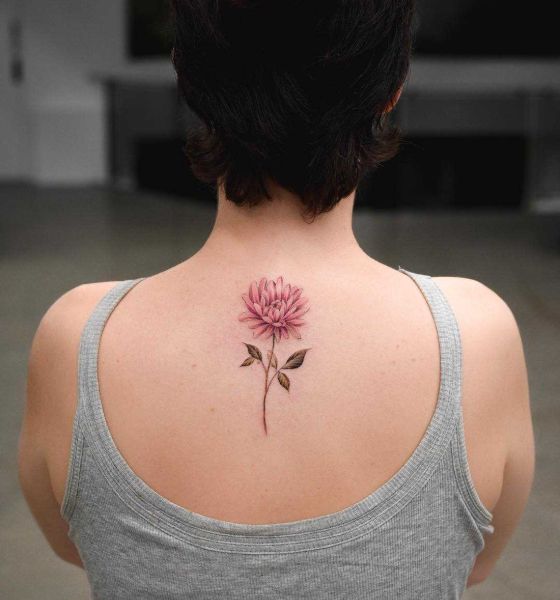 The chrysanthemum is the flower of November's birth month. A single petal of this well-known flower put at the bottom of a wine glass is thought to promote a long and healthy life. Not only does this beautiful flower appear in many legends and folk tales, but the Japanese have a celebration dedicated to its beauty known as the "Festival of Happiness."
December Birth Flower Tattoo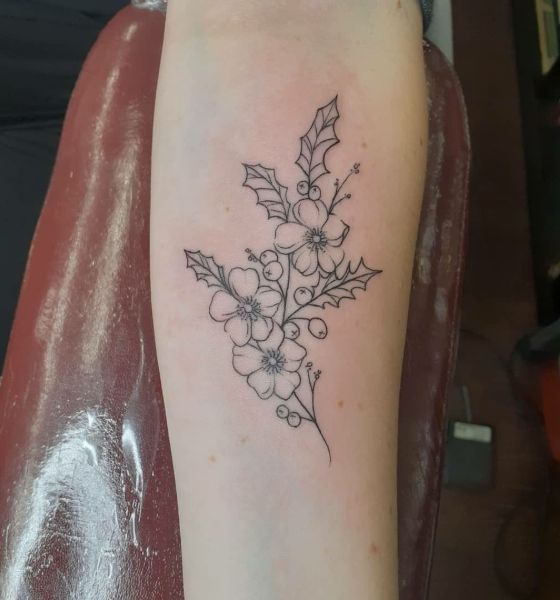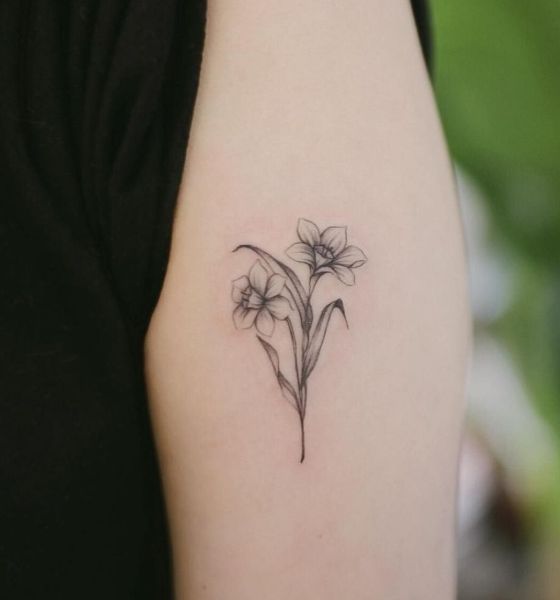 Flowers for December's birth month, as well as the others, differ depending on who you ask and where you are in the world.
The narcissus, holly, and poinsettias are frequently in agreement. December has traditionally been associated with a plethora of festivities.
List of Birth Flower Tattoo Ideas:
Minimalistic Carnation nad Name Tattoo Design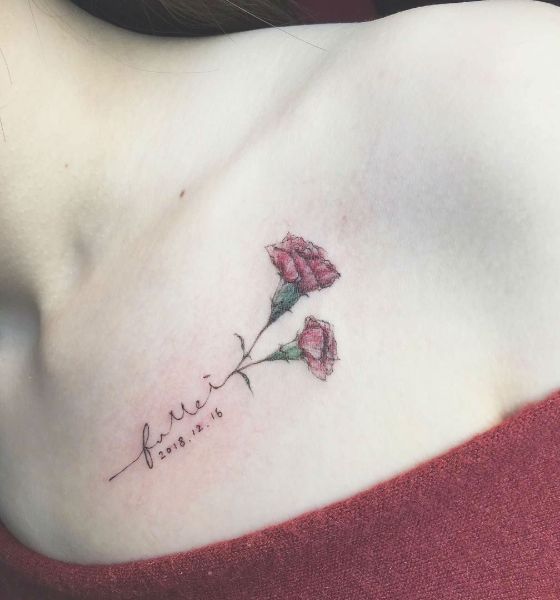 If you like to express your love for your lover through a delicate and lovely tattoo, this carnation blossom design is a great option. With green leaves at the bottom, the reddish-pink flower is packed with lines, giving it a lifelike finish. Another distinctive element of this tattoo is that the name, rather than the stem, is etched, giving it a personal touch.
Carnation and Rose Tattoo on Thigh or the Back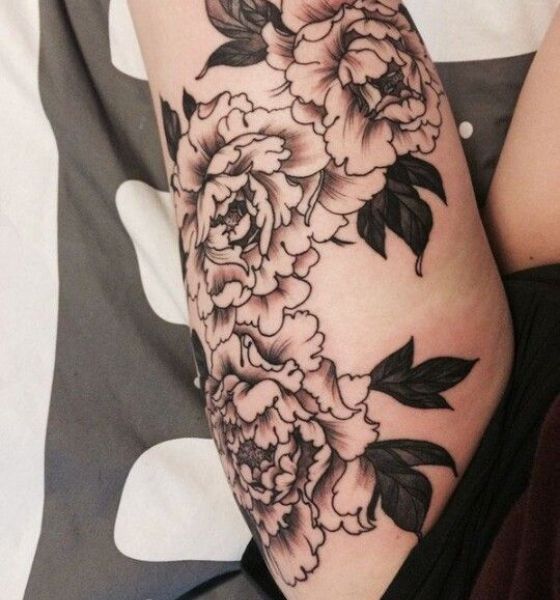 Thigh tattoos are popular among ladies who aren't afraid to flaunt their voluptuous thighs. The combination of carnations and roses, which blend in well and create a compelling impression on the onlooker, is a distinctive aspect of this tattoo. This one can be engraved in black and white, but watercolors give it a more natural and realistic look. These tattoos are frequently preferred by young women, and they appear best when engraved on the thigh or back.
Carnation Flower blue in color Tattoo Design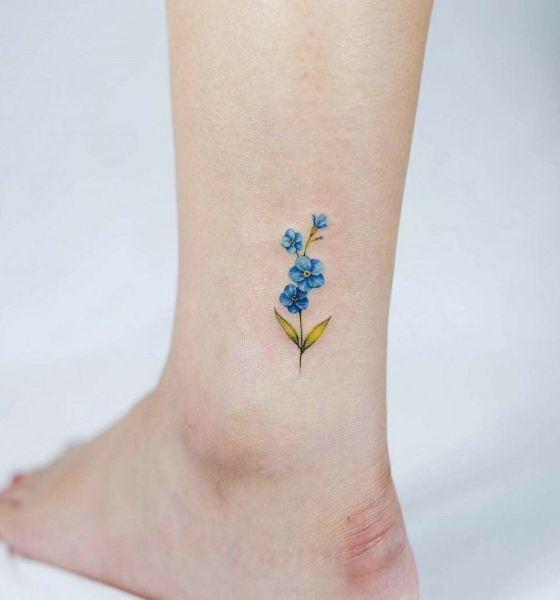 The blue carnation tattoo is beautiful and represents feelings of love, fortune, and respect. Unlike more prevalent colors such as pink and red, this color makes the flower stand out, giving the user a fashionable appearance. The flower's attractiveness is enhanced even more by the usage of a gorgeous white boundary that runs the length of the design. This tattoo is gender-neutral and appropriate for people of all ages. It also appears best when engraved on the wrist, biceps, neck, and back of the neck in a small to medium size.
Daffodil and Butterfly Tattoo Design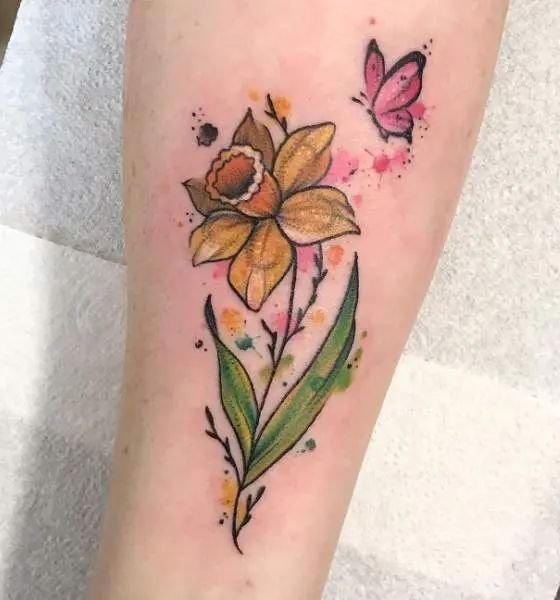 Floral arrangements are a great way to express your appreciation of nature, and adding a butterfly is the icing on the cake. Although this tattoo is more suited to women, there is no reason why guys cannot get one as well. You can experiment with different color combinations to suit your preferences. The optimum size for this tattoo is medium.
Simple Black and White Daffodil Tattoo Design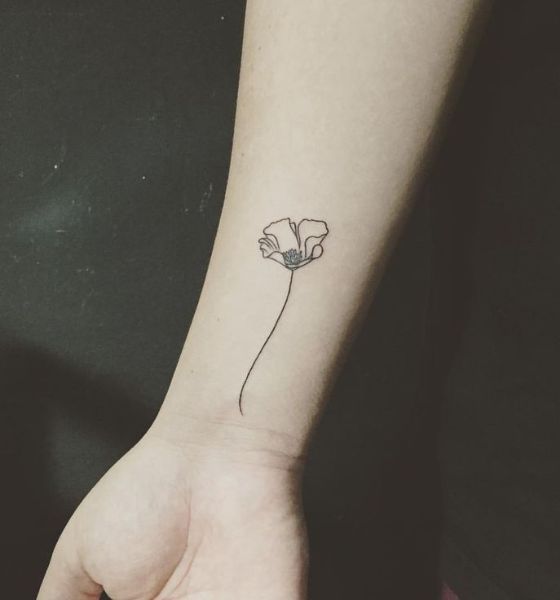 This daffodil tattoo is a great alternative if you prefer basic tattoo designs. Although the tattoo outline is simple, the shading within the petals gives the tattoo a genuine sense. This tattoo is appropriate for all genders, regardless of age. The arm, back of the neck, wrist, and ankle are the greatest places to engrave it.
Minimalistic Yellow Daisies Tattoo Design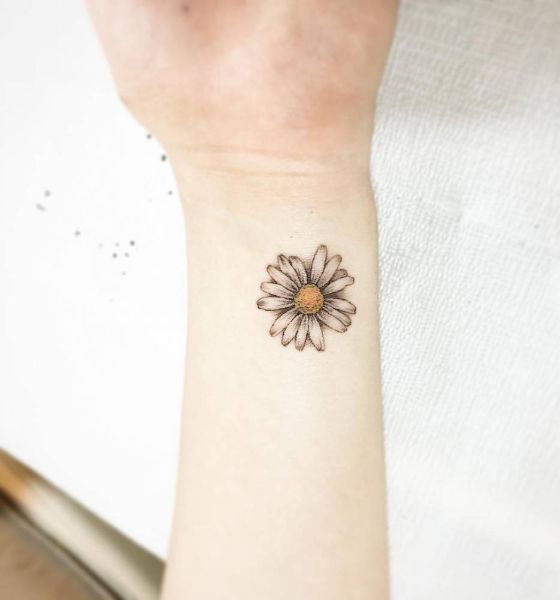 There are two sorts of daisies that are frequently depicted. As previously said, the color of the daisy might have an impact on its significance. Radiance, originality, quick wit, vitality, and communication are all associated with yellow daisies.
Watercolor Lily Flower Tattoo Design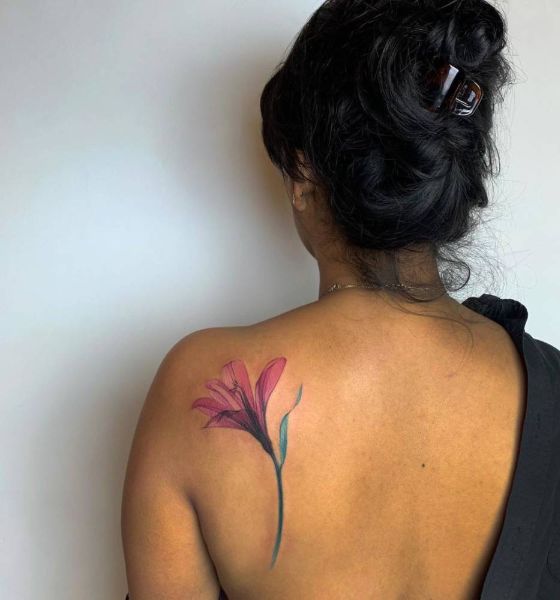 Because the Lily flower tattoo design includes a lot of colors and subtle shading effects, this lovely and colorful method is appropriate for it. It also separates a person's needs from those of others. A white lily, for example, may be used to represent purity and innocence, whilst a red flower may be used to represent passion and love. One of the key reasons why so many people prefer Lily's floral tattoo design is the variety of colors she offers.
Lily Flower Tattoo in Neo-traditional Manner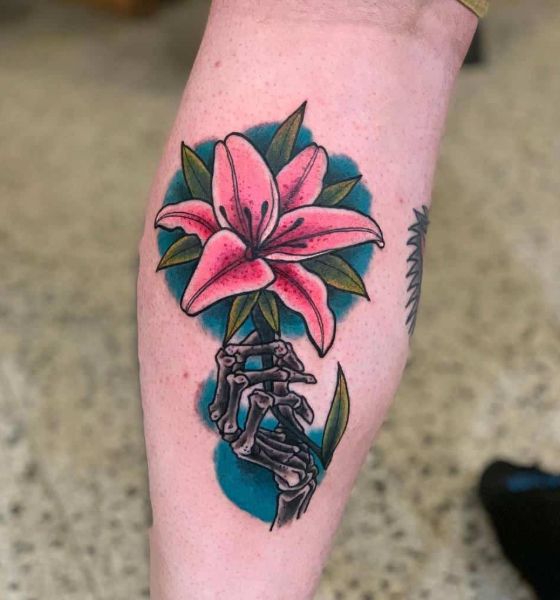 Neo-traditional tattoos are a type of ink design that originated in the United States. The modern style, on the other hand, employs stronger lines and vibrant colors to create a comical image. When opposed to American traditional tattoo design, it is more relaxed when it comes to the aesthetic of the design.
Japanese inspired Chrysanthemum Flower Tattoo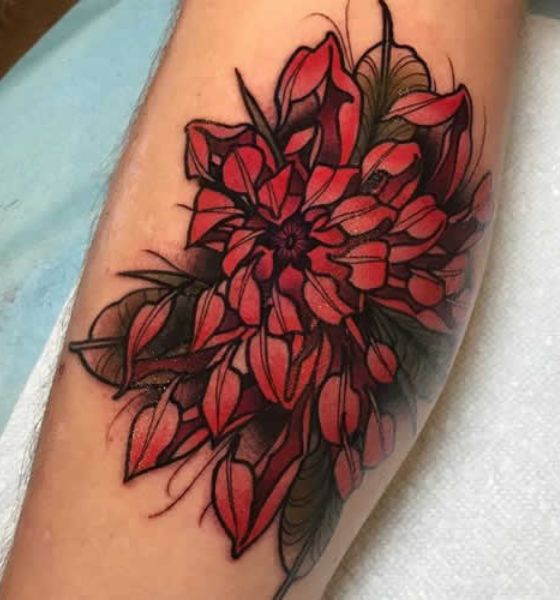 In Japanese tattooing, the Chrysanthemum is a popular flower. It's known as the 16-petal daisy and is associated with the Imperial Family, making it a royal symbol. Narrow curving petals radiate from the center to the apex of the flower in many depictions.
Also see: 40+ Traditional Japanese Tattoo Style Designs With Meaning
Skull and Chrysanthemum Flower Tattoo Design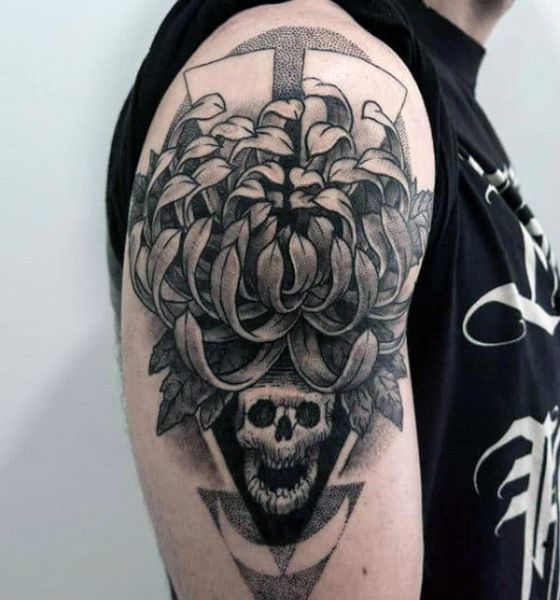 A dramatic and edgy ink style is a chrysanthemum and skull tattoo. This style combines life and death by using details and contrasting motifs. Death is symbolized by skulls, and fresh life is symbolized by chrysanthemums. The design functions as a protective amulet when put together.
Colorful Aster Flower Tattoo on the back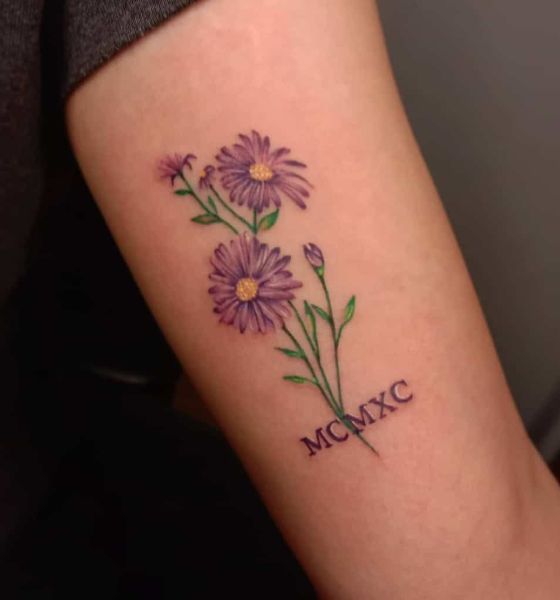 Women who appreciate sensual placements and feminine thoughts are particularly fond of back tattoos. Give it a try if you're looking for a cute concept and you like colored ink. The red aster flowers tattoo will demonstrate your emotional side, which is constantly ready to bond with new people.
Minimalistic Black and White Aster Flower Tattoo Design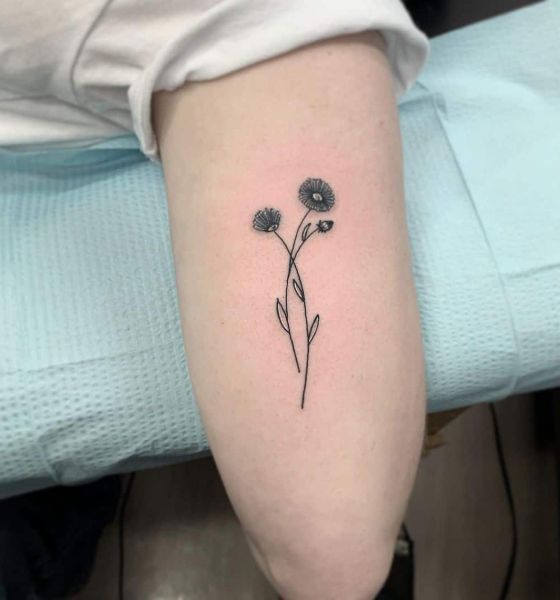 A black ink tattoo is both adorable and artistic. If you like feminine notions and want something in black and white, this is the one to go for. A beautiful aster flower tattoo will reflect your meticulous and organized personality, as well as your willingness to try new things.
Simple Red Poppy Tattoo Design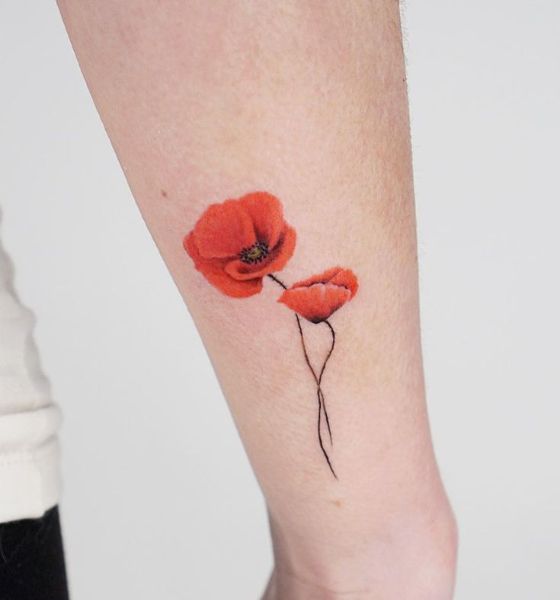 People who are attempting to cope with the grief of unrequited love or living through the betrayal and deception of a loved one get a tattoo of a single crimson poppy blossom. A red poppy flower tattoo can also have a positive connotation, such as love, passion, or fidelity. If it's a tattoo for a couple, it might also represent their undying love for one another.
Black and White Poppy Tattoo Design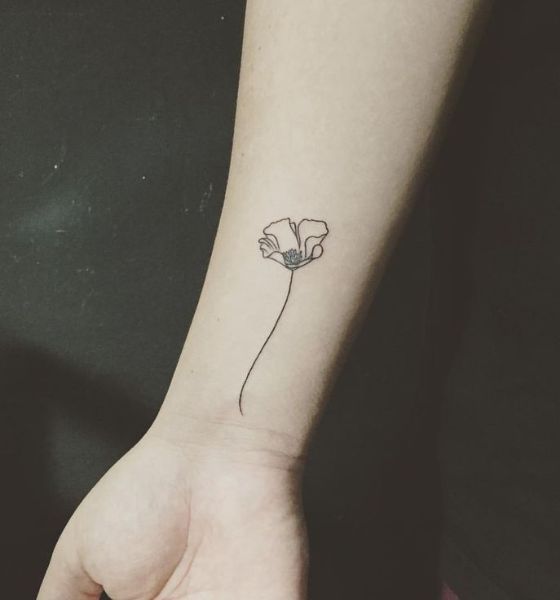 Sorrow, worry, loss, or tragedy are all symbols for the black poppy flower tattoo. A tattoo design like this can also signify someone related to witchcraft or otherworldly forces in some way. The black poppy flower tattoo has a negative connotation in general.
Colorful Larkspur Tattoo Design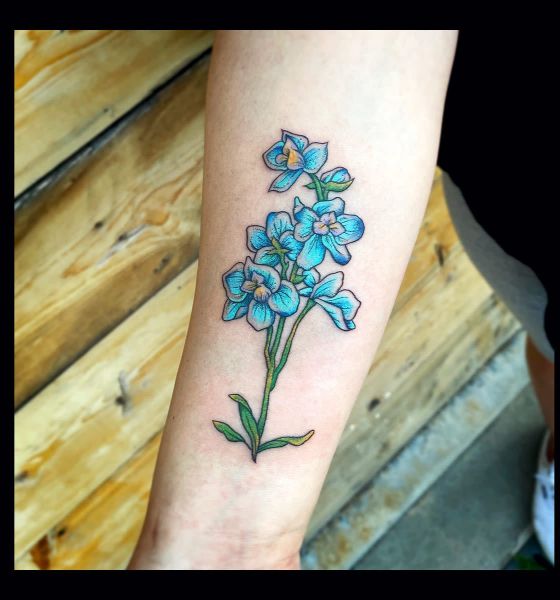 Pink larkspur blossoms are a well-known sign of irrationality and discord. White larkspurs, on the other hand, are on the opposite end of the spectrum, representing happiness, joy, and a laid-back attitude. The most prevalent colors for larkspurs are purple and blue. Purple flowers represent first love and affection, whilst blue flowers represent grace, honor, and respect.
Please follow and like us: