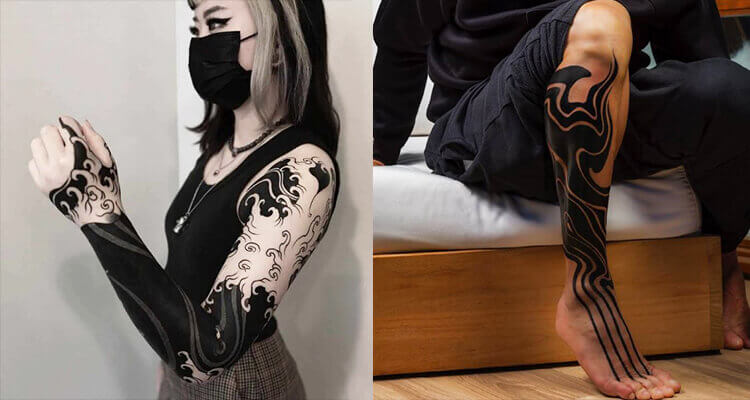 25 Best Blackwork Tattoo Ideas and Their Meaning
Posted on
The rule of nature indicates everything that goes comes back in a new form. Though tattoos have been in the limelight for a decade, they have their roots in various ancient civilizations thousands of years back. This body art of the modern era has been derived from the ancient and medieval eras. Presently, it is just a body art with an aesthetic appeal revealing the thought process and identity, but in the early times, it was used for identification of everything, whether it be age, gender, marital status or profession, and even the gender, culture, rituals and religious beliefs.
Blackwork Tattoos: What Are They?
The blackwork design is one of the most distinctive tattoo styles. The term "blackwork" refers to tattoos made entirely of black ink. Blackwork tattoos, which have been popular for decades, are known for their large and complex designs. With blackwork tattooing, the possibilities are endless.
There are many variations of blackwork style tattoos, in addition to being an extraordinary and impressive kind of body art. Tribal, Spanish Blackwork, and calligraphy-style tattoos are some of the variants.
Tattoos typically incorporate black ink solid shapes with patterns and designs depending on the tattoo style.
Geometric shapes and abstract designs characterize a large number of blackwork tattoos. Blackwork tattoos are more than just geometric and abstract designs. The term "blackwork" encompasses a wide range of tattoo designs that use exclusively black ink.
Blackwork tattoos are adored for their incredible boldness. As a result of their long history in the tattoo industry and human culture, they have found their way into current society. Tattoos done in the blackwork style are still popular and have been for a long time.
Tribal-style blackwork tattoos, for example, have been a part of human culture for what seems like aeons. Tattoos in the Hawaiian tribal style and traditional designs date back to the year 1100 A.D. in the islands of Hawaii.
Traditional Hawaiian tattoos are significant to the people of Hawaii because they represent their culture, heritage, and sense of self.
Origin of Blackwork Tattoos
Now, if we talk about blackwork tattoos, they are often known as Tribal tattoos. And when the matter comes to its origin, Blackwork tattoos or Tribal tattoos are the pictorial abstracts from many cultures like
Polynesian, Micronesia, Hawaiian and Native American, etc. These cultures and tribes used tattoos for different purposes. Some people wear them as body accessories, and others use them to mark important times in their lives, like puberty or marriage. Tattoos were also used to represent age, gender, and profession. If we talk specifically about the tribal tattoos of American Indians, they used them to represent their spiritual beliefs, culture, rituals, and natural spirits. Many tribes also used these blackwork tattoos as a symbol to mourn death. Aside from that, they were also a sign of bravery, and different ranks of warriors carried them.
Why are the tribal tattoos also known as BLACK WORK tattoos?
Just as the name indicates, these are bold black solid work that uses only one color – black in large amount for tattooing. And again, if we go to ancient times, the people used natural ingredients of Charcoal derived from the burning of bones or woods. Against the black ink of modern days, this carbon was used for inking the body tattoos in ancient times.
How do Blackwork tattoos look after years?
Well, a blackwork tattoo remains the same for quite a long time. According to experts, a black tattoo done by a professional should remain in good condition for at least 15 – 20 years without showing any indications of fading. That is a very, very long time before you will require the services of a tattoo artist to make any adjustments to your tattoo.
Moreover, in comparison to colored tattoos, blackwork tattoos are more adaptable because they can be incorporated into virtually any design.
They remain visible for a much longer period of time than colorful tattoos. As time passes, colored tattoos can lose their vibrancy and may require periodic touch-ups to maintain their original appearance.
However, that's not the case with blackwork tattoos. They do not fade readily, and that's they're not required to be touched up at regular intervals.
In a nutshell, blackwork tattoos are low maintenance and long-lasting. And if you'll take good care of your tattoo, it can stay vibrant even for a more extended period. So, make sure to take very good care of your blackwork tattoo to have it look great even after ages.
Placement of Blackwork Tattoo
Generally, these tattoos are big in size. Sleeves, Upper back, Lower-back, forearms, hands, chest & Legs are the best body parts to showcase these BOLD & BLACK TATTOOS.
Blackwork Tattoo Styles
Although tribal tattoos certainly make up a significant element of the Blackwork style, in recent years, other looks have been added to the list along with them as well. It is generally agreed that Dark Art, illustrative and graphic art, styles resembling etching or engraving, writing, and calligraphic scripts all fall under the category of "Blackwork."
Generally, Blackwork or tribal tattoos are geometric or abstract in style. But, the scope and style of art is unlimited, and it spreads its wings to the imagination of the creator i.e., the tattoo artist. Just as the tattoo machines have taken over the hand-poked traditional style of tattooing, similarly, the traditional tribal designs now are inclusive of exclusive geometry, abstract, freehand, tribal, and figurative patterns of modern times. Along with, many modern cultures & religious symbols are used in different patterns to form an exclusive form of blackwork tattoo.
In a nutshell, the Blackwork tattoos include any and all tattoos that are created solely using black pigment.
Blackwork tattoos feature thick outlines and regions of bold, solid black color. Any design that utilizes just black ink throughout its entirety, with no other colors or shades of grey added, might be considered to be an example of Blackwork.
Let's now take a look at some of the stunning Blackwork Tattoo designs. Here we go…
25 Stunning Blackwork Tattoo Designs
1. Blackwork Tattoo Geometric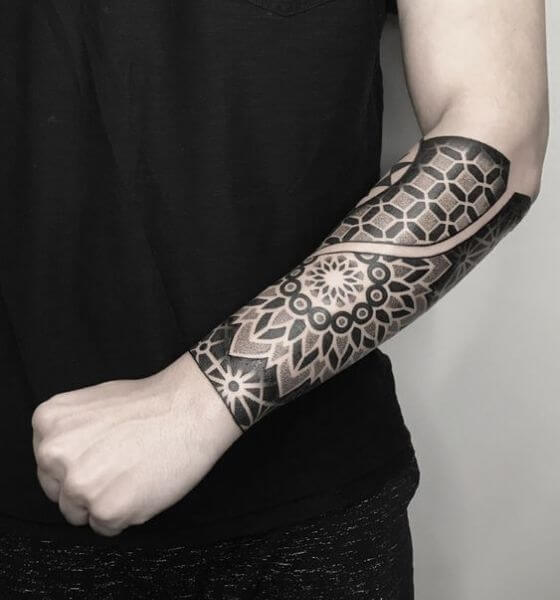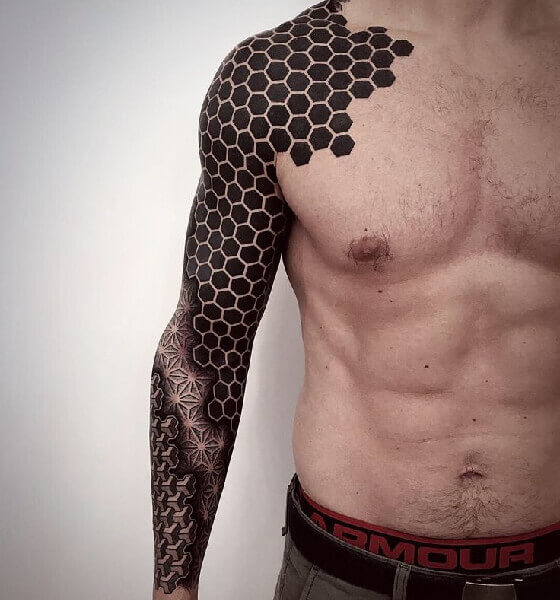 If you really want a tattoo that stands out, a blackwork geometric tattoo is for you. Geometric tattoos are a great way to showcase your distinct taste. Date back to ancient times, blackwork geometric tats are associated with spiritual and religious traditions. However, in the modern world, they stand for things like equilibrium, symmetry, stability, intelligence, mystery, and much more.
More often than not, tattoo lovers get Blackwork tattoo geometric on their arms. They make for an eye-catching tattoo design there. So, if you're looking for a unique tattoo design for your arm, this is the one for you.
2. Japanese Blackwork Tattoo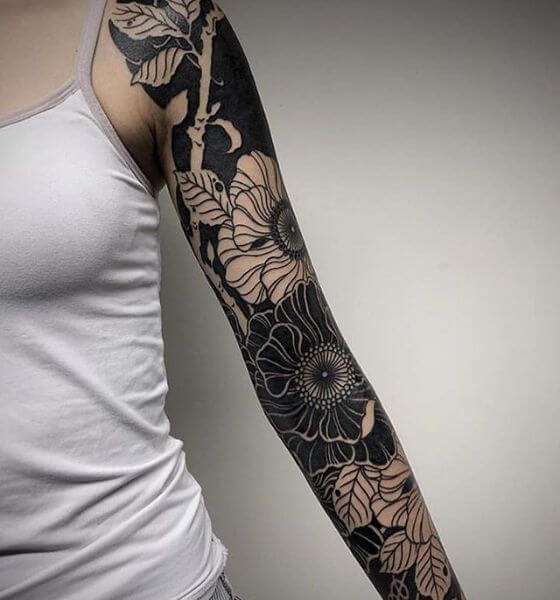 Although it is indisputable that Japanese is one of the most popular tattoo styles, massive black pieces are quickly becoming the norm rather than the exception. Traditional Japanese tattoos typically incorporate a lot of red and black, along with other colors such as yellow, orange, and various hues of grey.
The color scheme is essentially the same as the conventional original American colors. Nevertheless, throughout the course of time, Blackwork rose to prominence. Japanese Blackwork is particularly effective in making the subject stand out because of its frequent and skillful use of negative space.
3. Blackwork Tattoo Leg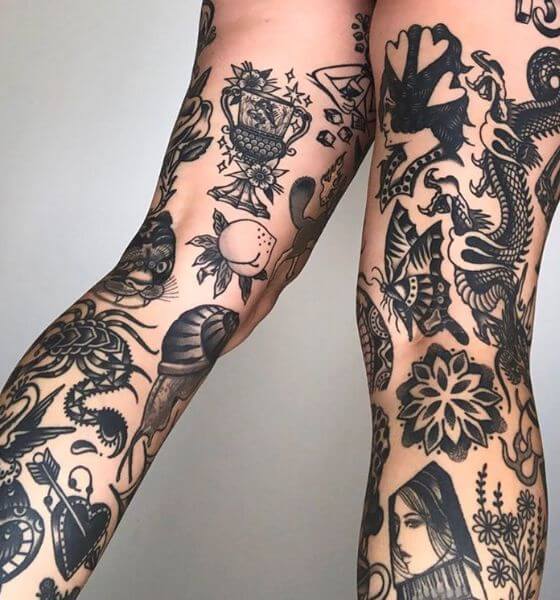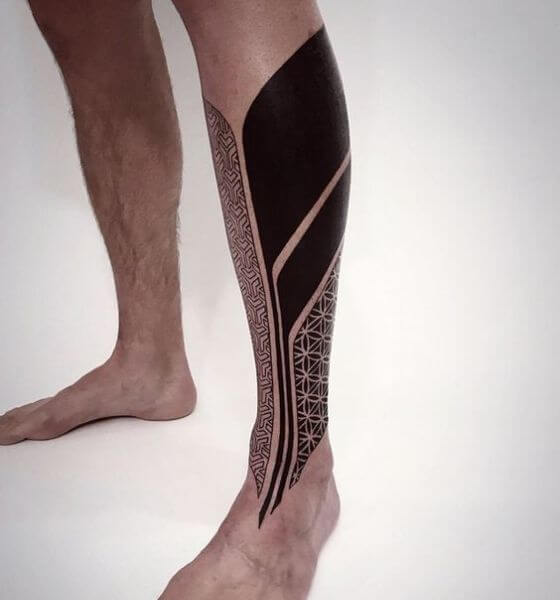 If you're looking for a large tattoo design, then a blackwork leg tattoo is apt for you. A blackwork leg tattoo can have a geometric pattern, or you can opt for an abstract design for your leg. If you're not fond of large tattoos, then a small blackwork tattoo on your leg can also do the job well. The best part about a leg tattoo is that it can be kept hidden as and when you want.
4. Blackwork Tattoo Chest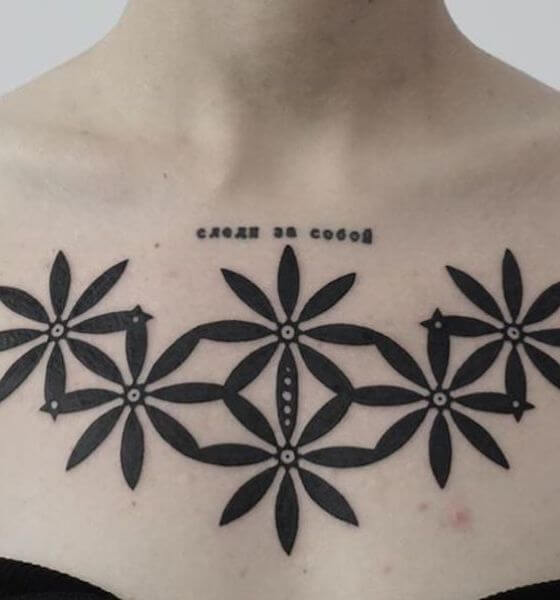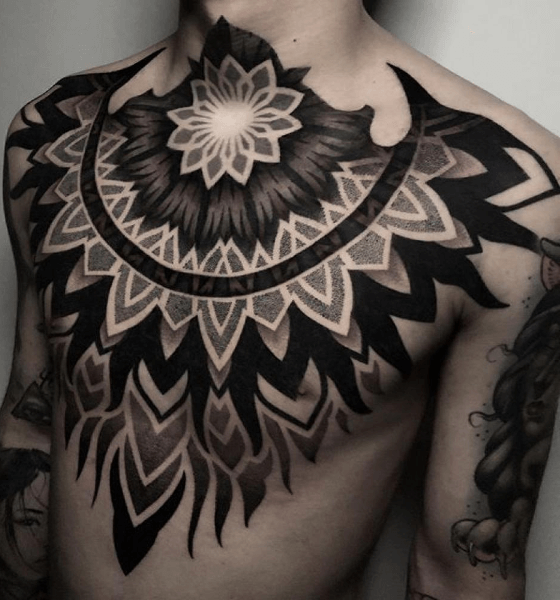 When it comes to blackwork tattoos on the chest, the options are unlimited. You can get anything from a thoughtful quote to a beautiful flower etched on your chest in black ink. People often get chest tattoos to express their profound feelings. So, if you also have some such feeling that you want to express through a tattoo design, get a blackwork tattoo chest then.
5. Blackwork Abstract Tattoo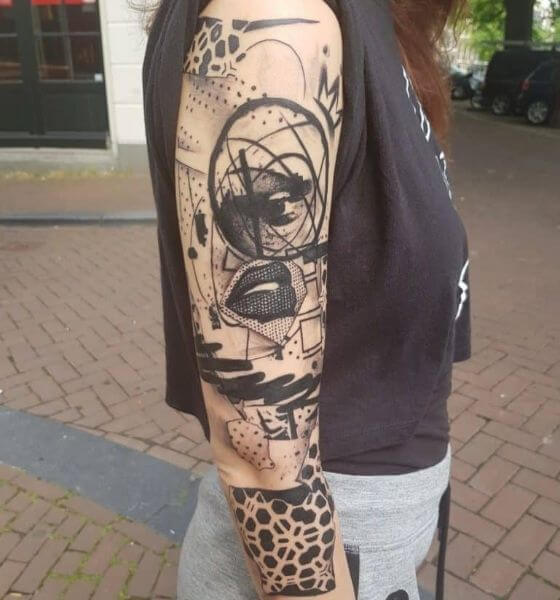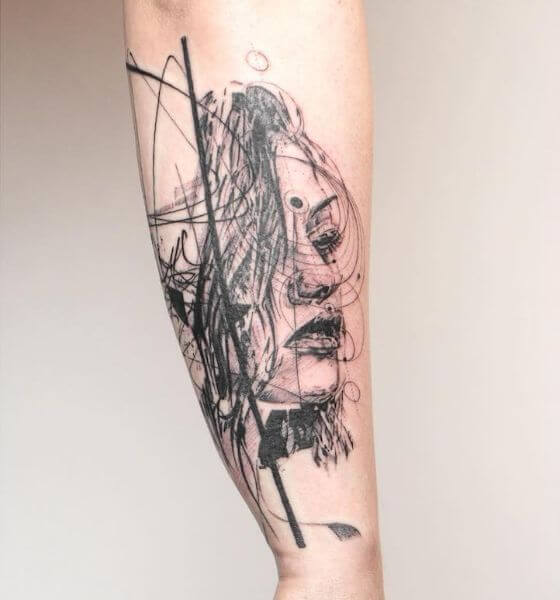 Do you love abstract art? This method of tattooing is favored by a significant number of individuals, both male and female. If you are the type of person who thrives in the spotlight and you want to ensure that people notice you no matter where you go, then this is the tattoo for you.
6. Blackwork Tattoo Woman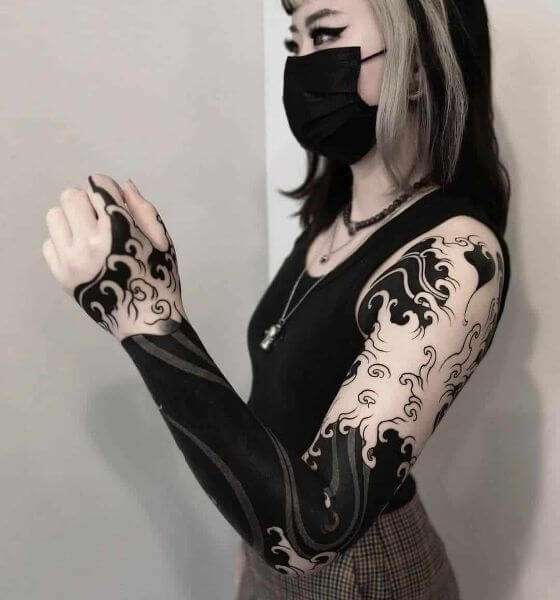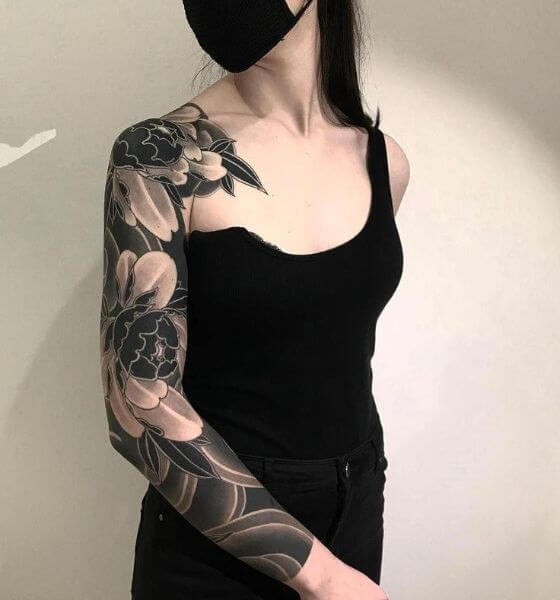 If you're fond of figurine tattoo design, a blackwork tattoo woman is apt for you. Blackwork lady tattoos demonstrate that color is not always required to create stunning body art. Blackwork tattoo women are bold and stand out spectacularly.
The dark shading of a blackwork woman tattoo quickly stands out and captures the attention. Choose a stunning blackwork lady tattoo to astound onlookers if you desire an unconventional tattoo design.
Undeniably, figurine tattoos look awesome, provided you get it done by an expert artist. So, choose your artist wisely to avoid any regrets later.
7. Blackwork Tattoo Hand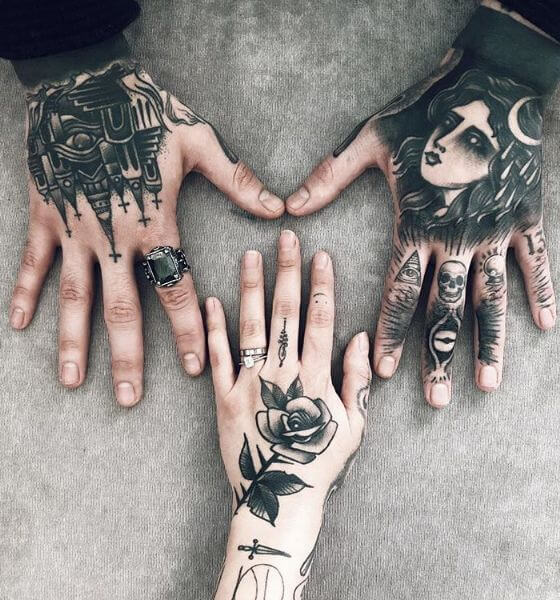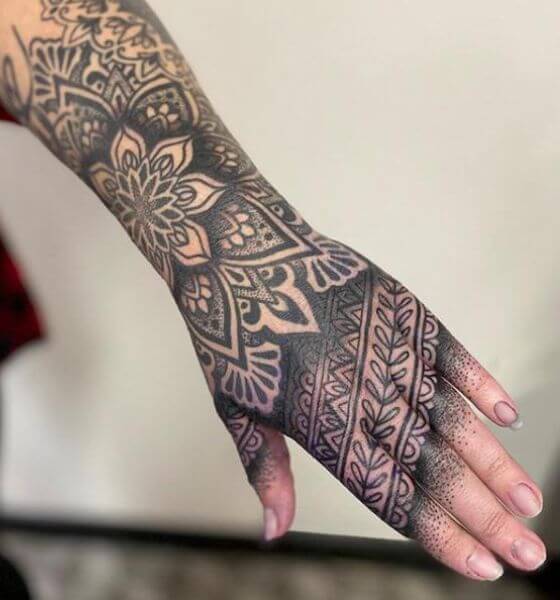 A blackwork hand tattoo looks gorgeous! The best thing about a blackwork tattoo on hand is that it can be done in any size. This implies that if you don't want to overdo your tattoo design, then get a small black tattoo etched on your arm. Music symbols, flowers, dates, etc., make for amazing tiny blackwork tattoo designs on hand.
8. Blackwork Flower Tattoo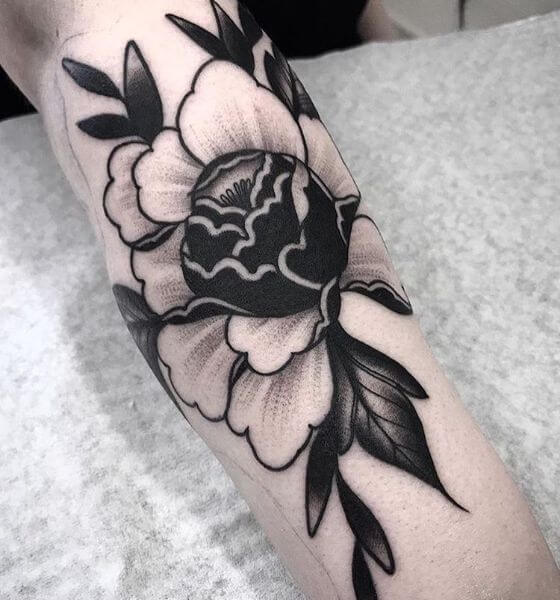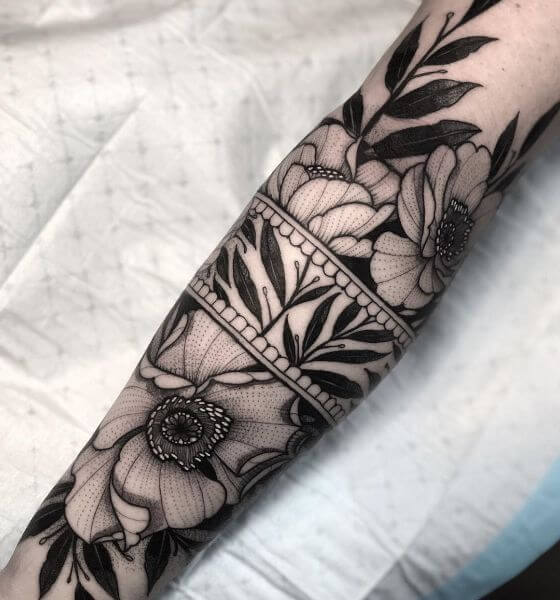 Do you love floral tattoo designs, but the color isn't really your thing? Well, worry not! There is a better way to get a beautiful floral tattoo – get a blackwork flower tattoo!
Yeah, you read that right! Floral tattoos look fantastic in black ink. The blackwork flower tattoos have the same forceful lines, but instead of color, the blossoms are tinted in only black, giving them an elegant appearance.
9. Blackwork Tribal Tattoo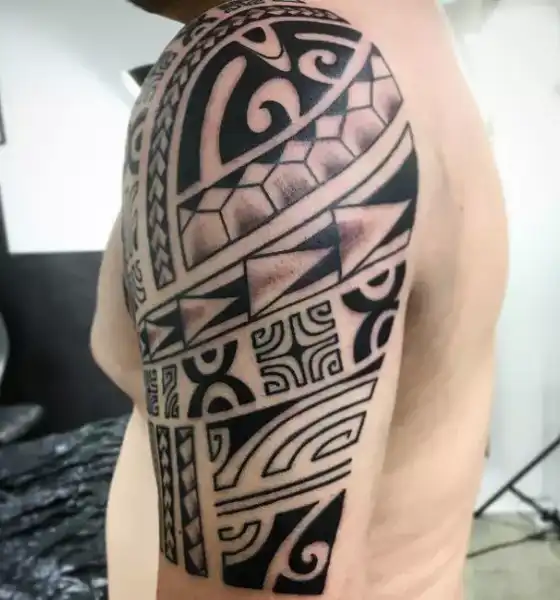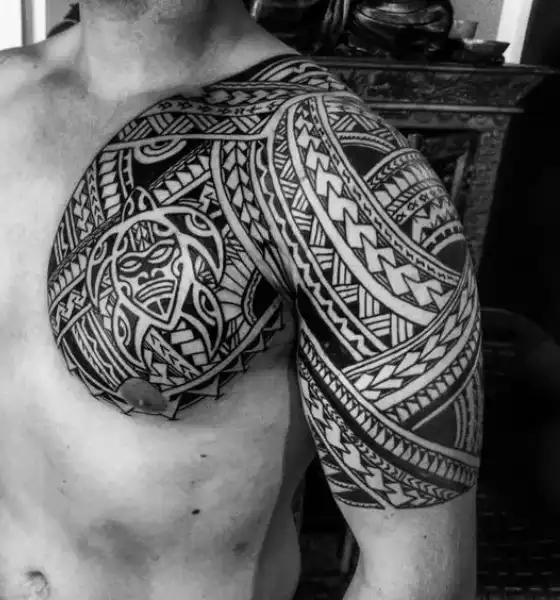 Do you love tribal tattoo designs? Then get a blackwork tribal tattoo to have a unique tattoo design. A bold tribal tattoo design is an excellent choice for males who have muscular arms and who are passionate about working out. A blackwork tribal tattoo is a great way to show off your fierce side.
Sports personnel and bodybuilders can often be seen sporting tribal tattoos. If you don't want to go overboard, get a modest blackwork tattoo etched on your body.
10. Blackwork Butterfly Tattoo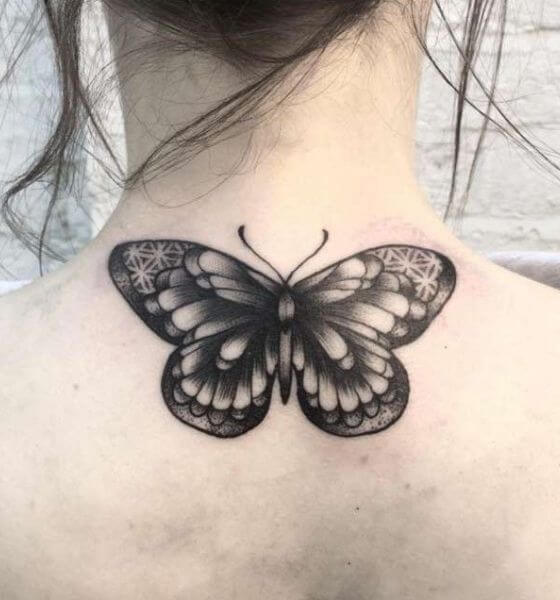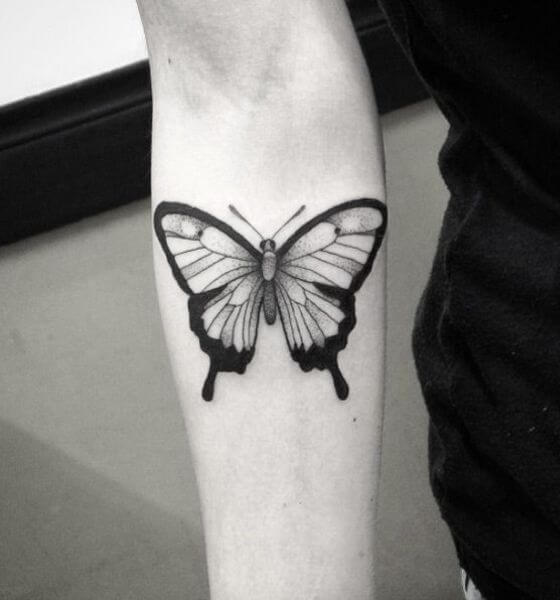 Black butterfly tattoos, which are frequently done in a tribal or Celtic style, are often associated with the transience of life. A black butterfly can also be interpreted as a portent of something ominous that is about to take place.
Nevertheless, there are some bright spots! Blackwork butterfly tattoos can also be interpreted as a symbol of coming to terms with the concept of ageing. If you want a tattoo that will really make an impression, consider getting a blackwork butterfly etched on your shoulder or neck.
11. Blackwork Tattoo Sleeve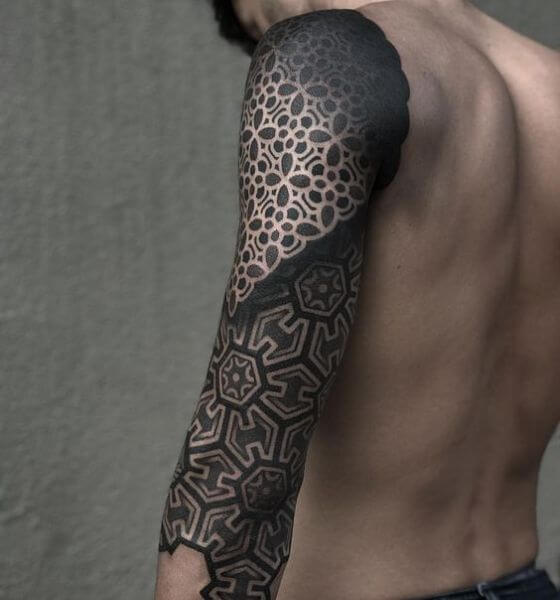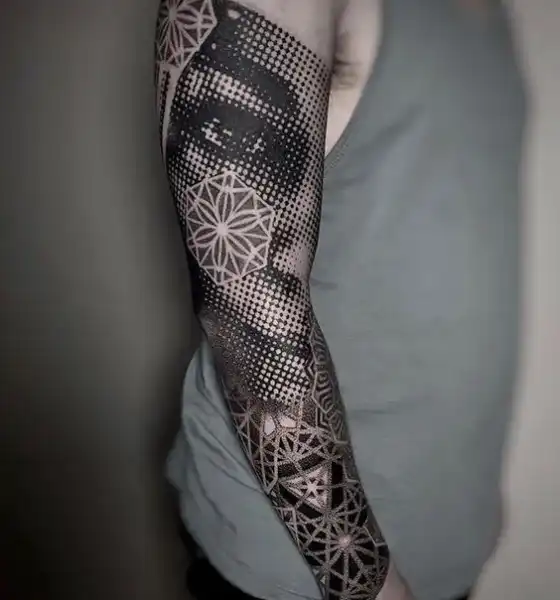 Blackwork sleeve tattoos are quite popular among males, especially those with solid bodies. So, if you're a macho guy with muscular arms, then a blackwork tattoo is for you. You can choose any design of your choice, from a blackwork skull to a full geometric pattern. No matter what design you choose, make sure it reflects your personality. Also, make sure you choose a professional tattoo artist for your blackwork tattoo sleeves.
12. Small Blackwork Tattoo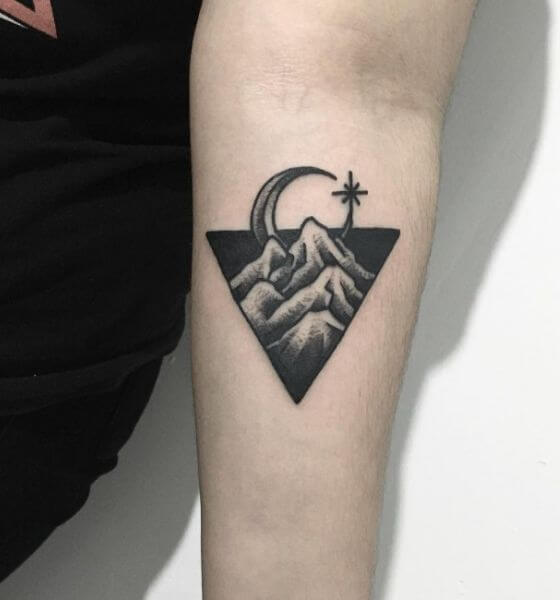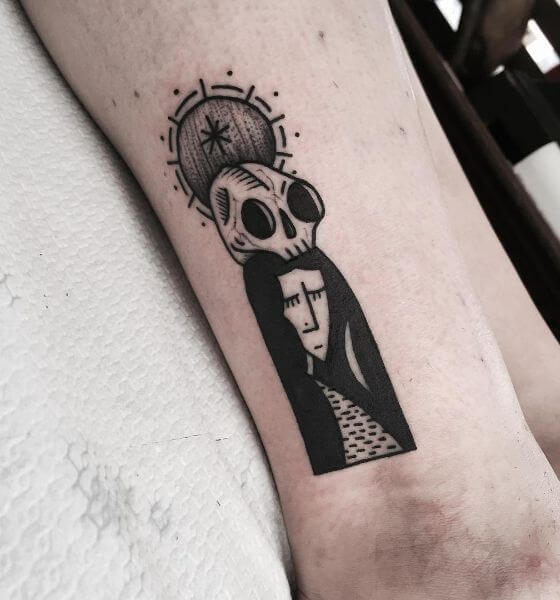 If you're getting a tattoo for the first time and don't want to go overboard, opt for a tiny blackwork design. Tattoos that are only a few mm in diameter are sharp and can be covered up at any time. Also, small tattoos are the best option for those who are fashionable but reserved – a small blackwork tattoo can do wonders.
Even while small tattoos aren't ominous, they nevertheless allow you to express yourself and give you the courage to get inked up. Make sure to choose your tattoo design and its placement wisely.
13. Koi Fish Blackwork Tattoo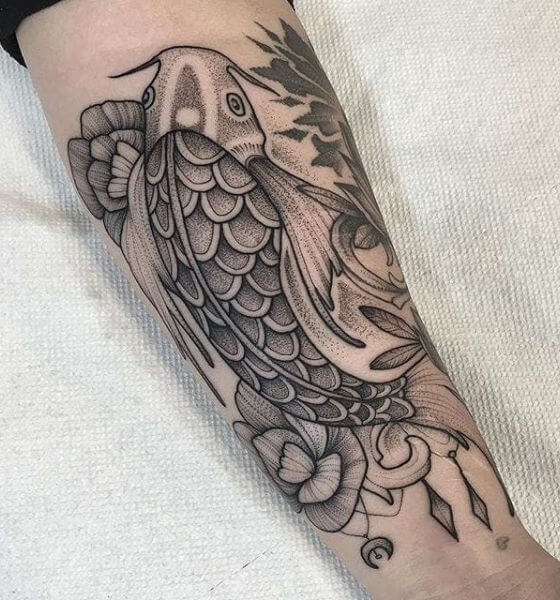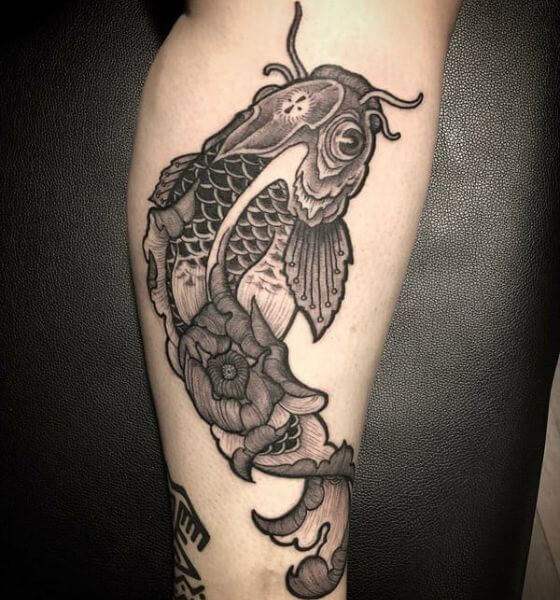 If you're fond of animal tattoo designs, then get a Koi fish blackwork tattoo etched on your back. Koi fish incorporated with additional elements such as flowers will make your back look stunning. You can keep it hidden or show it off as and when you want.
If not fish, you are free to select any animal blackwork tattoo design you like, and it will turn out looking stunning on you. A blackwork tattoo always looks gorgeous irrespective of its design and placement. Get this one in large size on your back.
14. Raven Blackwork Tattoo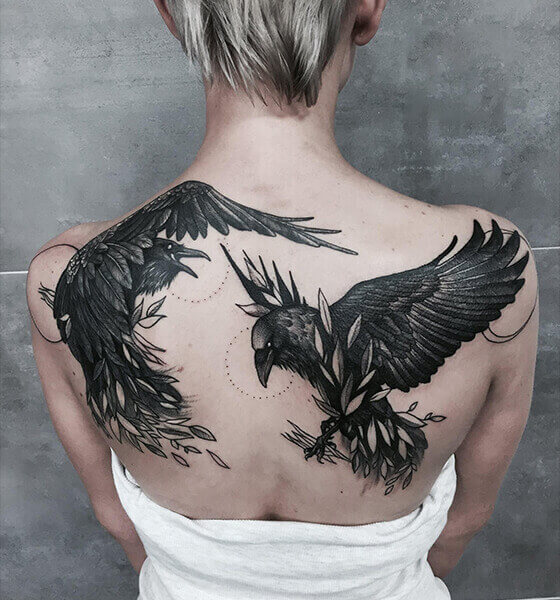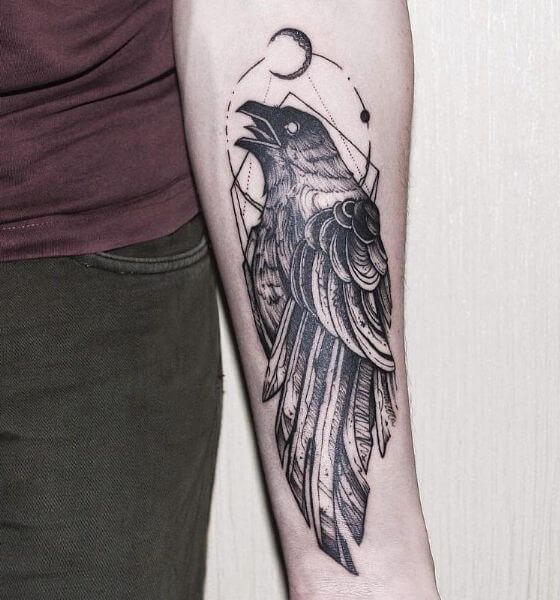 Birds make for popular tattoo designs, and the Raven is one of those birds that look stunning when etched in black on your body. You can have a raven blackwork tattoo etched on your chest or arm; it'll look stunning.
The symbolism of the Raven is associated with knowledge and insight. Also, it is considered to be more symbolic of positive qualities and conduct. An attractive black raven design etched on your chest will make for an eye-catching tattoo design.
So, if you have a well-built chest, get a Raven tattoo. Make sure to get this inked by a professional only.
15. Landscape Blackwork Tattoo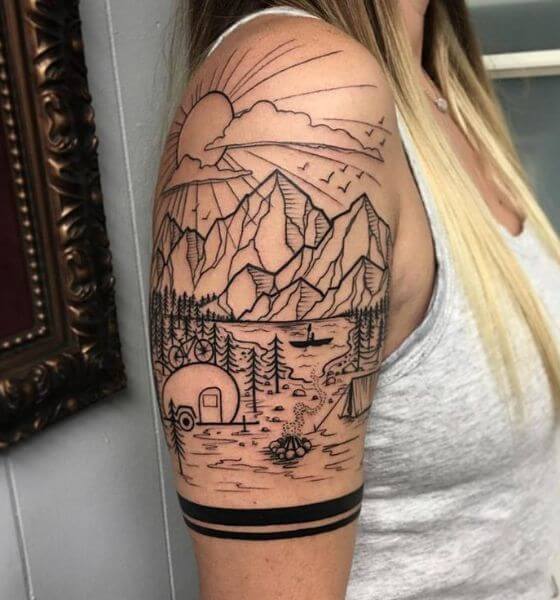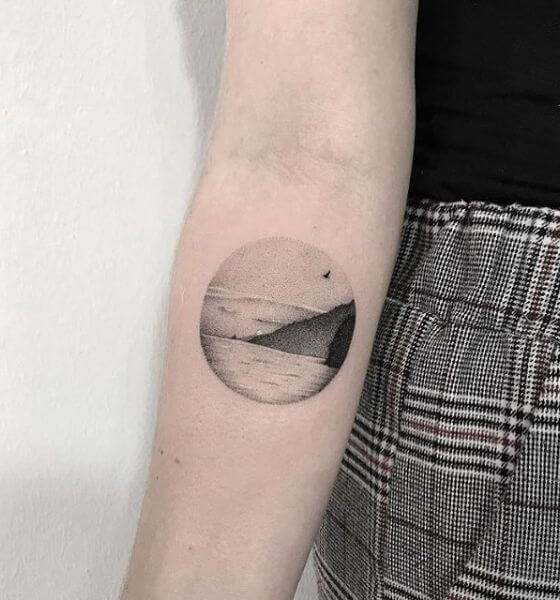 Another wonderful design that makes for great blackwork tattoos include landscapes. The most famous landscape tattoos date back to the Middle Ages, yet contemporary artwork is quickly catching up to and surpassing the popularity of these older designs.
Know that you will want a substantial amount of space in order to successfully execute a landscape blackwork tattoo design, mainly if your goal is to convey the indescribable majesty of an expansive landscape. You can get a beautiful landscape tattoo inked on your arm.
16. Nature-inspired Blackwork Tattoo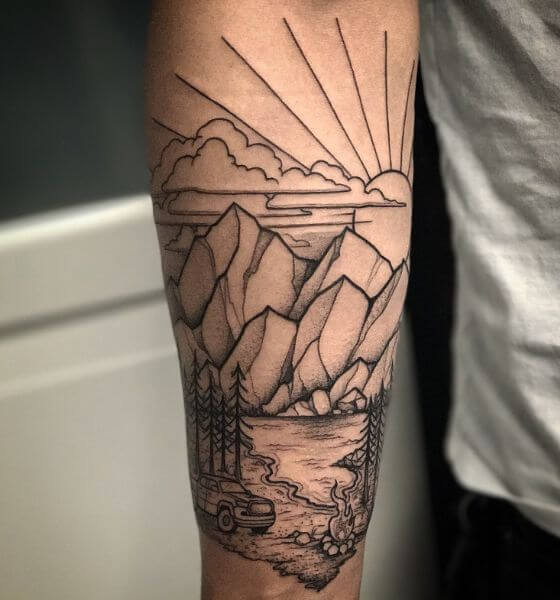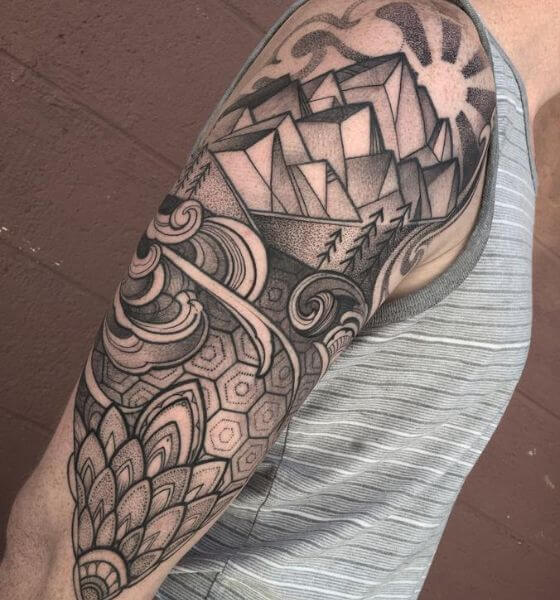 People who are passionate about preserving plants and animals, as well as forests and trees, might consider getting animal or tree blackwork tattoos to spread their message. The adverse effects of deforestation are easily demonstrated through the use of blackwork tattoo art. It is a meaningful and very subtle tattoo design for all those who love nature.
17. Blackwork Dog Paw Tattoo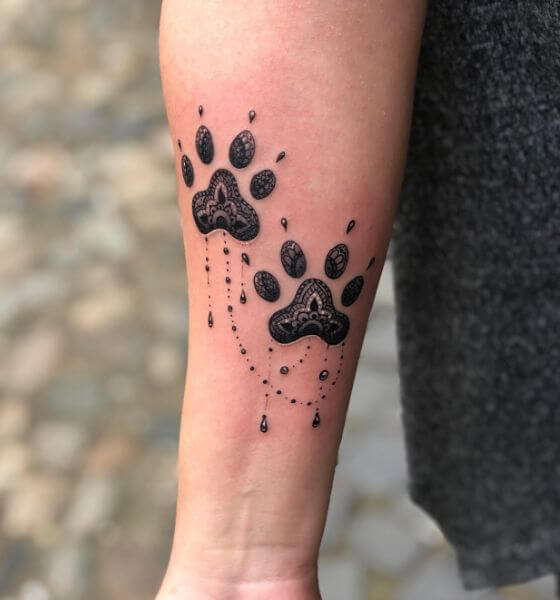 A dog paw tattoo is unquestionably the most stylish way to pay tribute to the animal that has been called "man's best friend." These clever adornments exude a heavenly sweetness that much body art lacks nowadays. Dog paw tattoos are designs that are quite nostalgic in nature and manage to merge the beauty of dogs with a tough austerity.
A blackwork dog paw tattoo will stand out for sure! So, if you love your dear dog and want to commemorate your friendship with the little creature, this is the blackwork tattoo design for you.
18. Tree of Life Blackwork Tattoo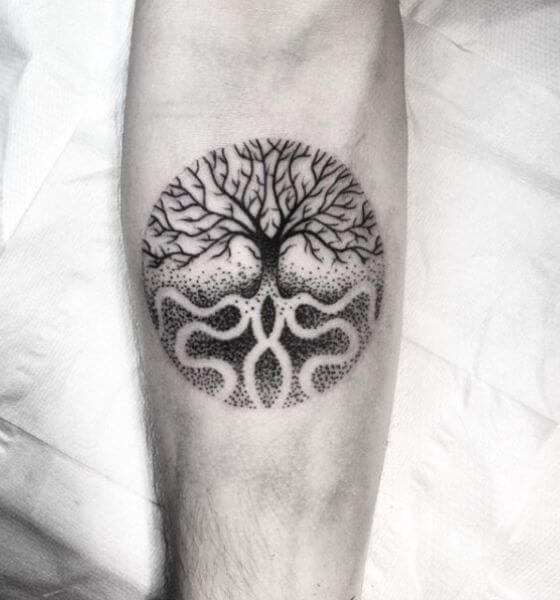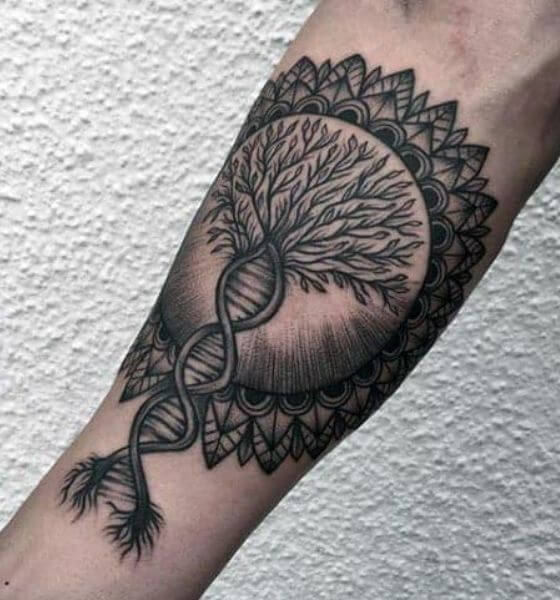 Another beautiful blackwork tattoo is of tree of life. These crafty embellishments exude an aura of sublime delicacy. It is a symbol of personal growth and development, as well as power and beauty on the inside and out!
It signifies different things to different people, but overall, it makes for a stunning design that everybody can appreciate and use. If the meaning of the tree of life tattoo resonates well with you, then get this one on your skin.
19. Blackwork Panther Tattoo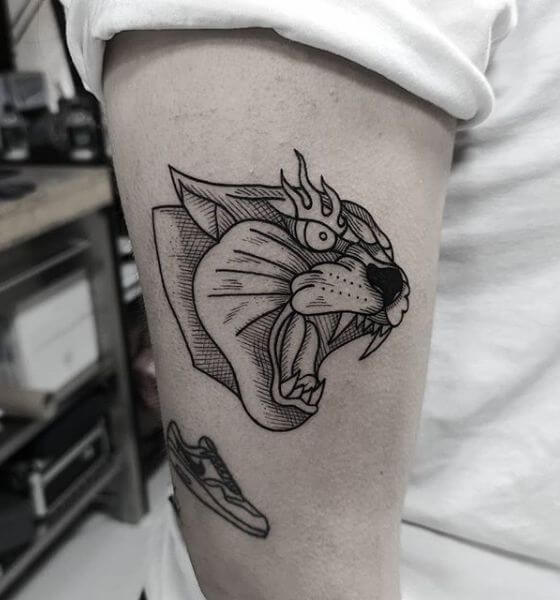 The blackwork style of tattooing allows for the creation of large and fearsome animals as well. A Black Panther design done in blackwork would be the most attractive option for those who want to flaunt their fierce side.
A panther tattoo can represent a wide range of meanings, including independence, bravery, strength, and guardianship. There are many different options available to pick from when looking for a pattern to use for a classic panther, including the crawling panther. It gives the impression that the panther is slithering across the wearer's skin.
20. Neo-tribal Blackwork Tattoo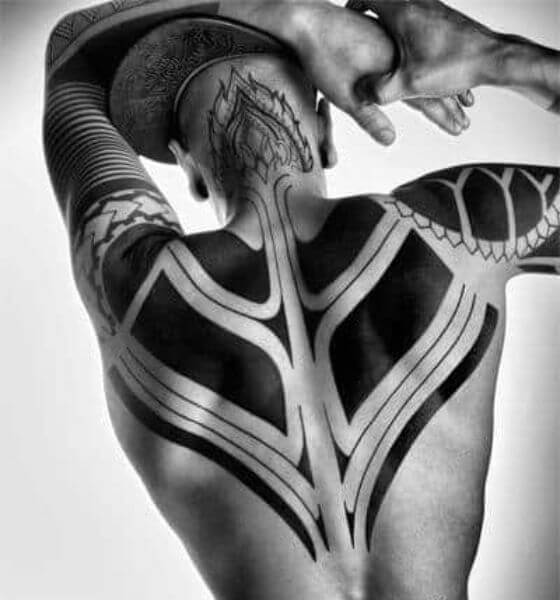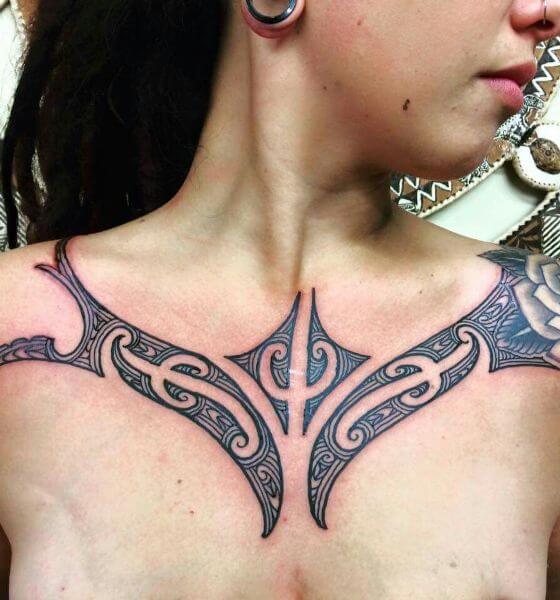 For a more morbid look, you can experiment with neo-tribal tattoos. Get this one etched on your forearm. A blackwork neo-tribal tattoo design looks great. A great number of them recount not just the wearer's accomplishments but also their family history.
They are also sometimes seen as a symbol of defense, power, or strength. So, if you want to showcase your association to a particular tribe, this is the design for you.
21. Blackwork Quote Tattoo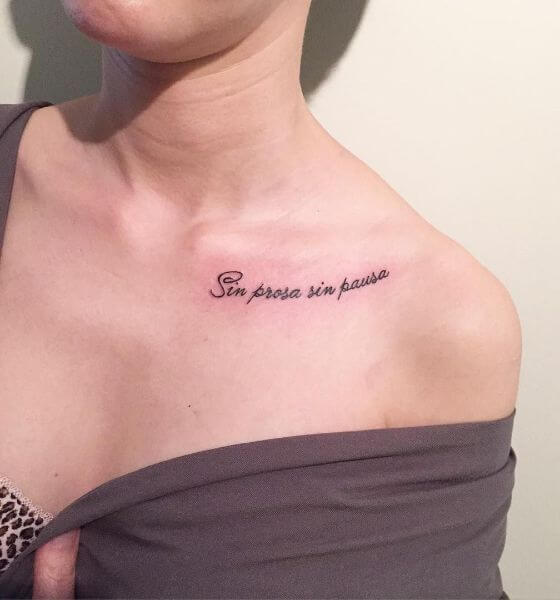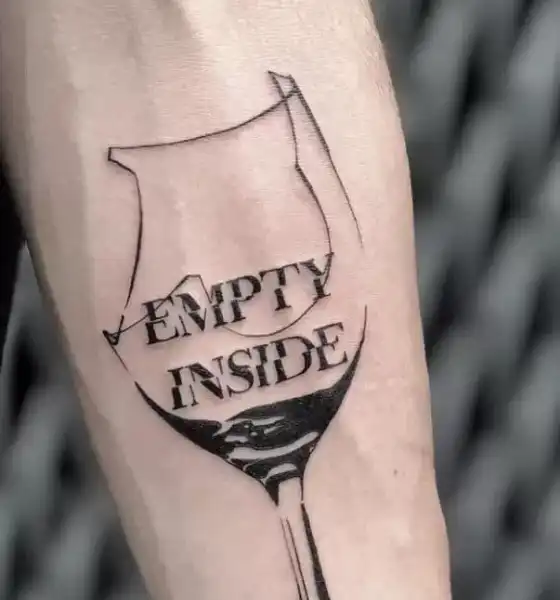 Although you may have a quotation tattoo in whatever color you like, blackwork quote tattoos tend to look the coolest. Simply choose your favorite saying or phrase and get it etched into your skin.
Although most people find that quotation tattoos look best on their arms, you can get them inked on any part of your body. Quotes in other languages also look great on people, but before getting one, you should be sure you understand what it says.
22. Solid Blackwork Tattoo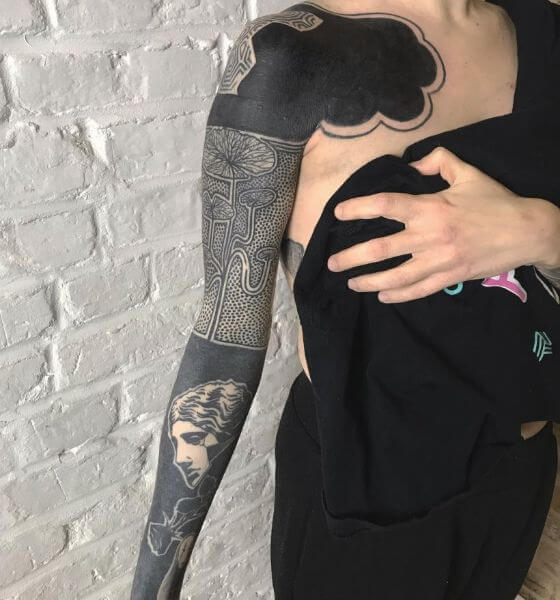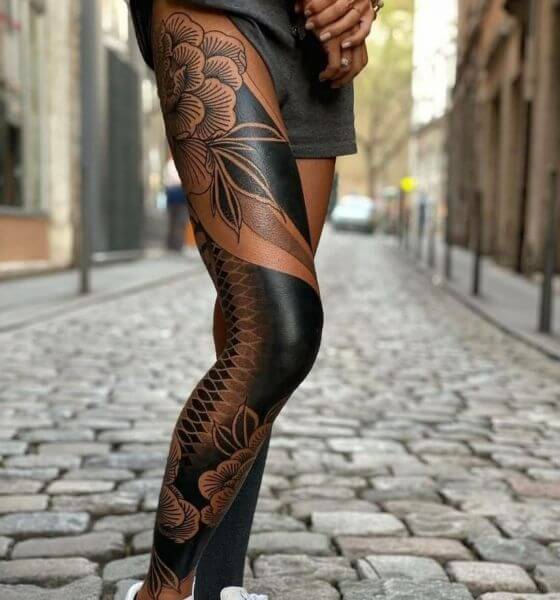 The blackwork tattoo style lets you have the freedom to incorporate a variety of diverse elements. You can have a geometric dog tattoo etched on your skin. The outlines of these tattoos can be made to be bold and solid. Such tattoos make for head-turner tattoo designs.
23. Blackwork Artistic Tattoo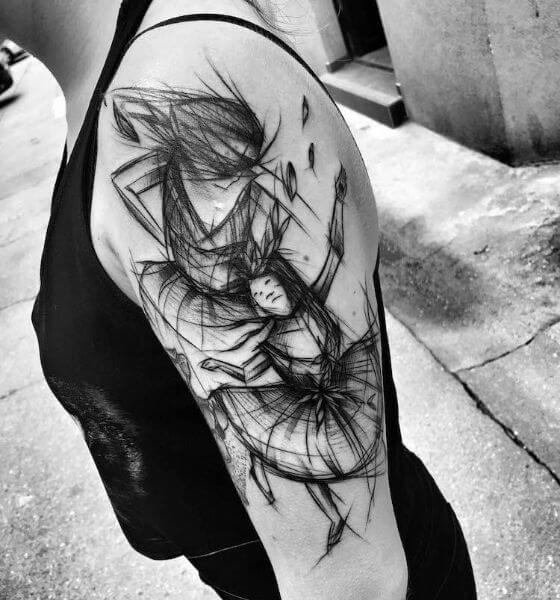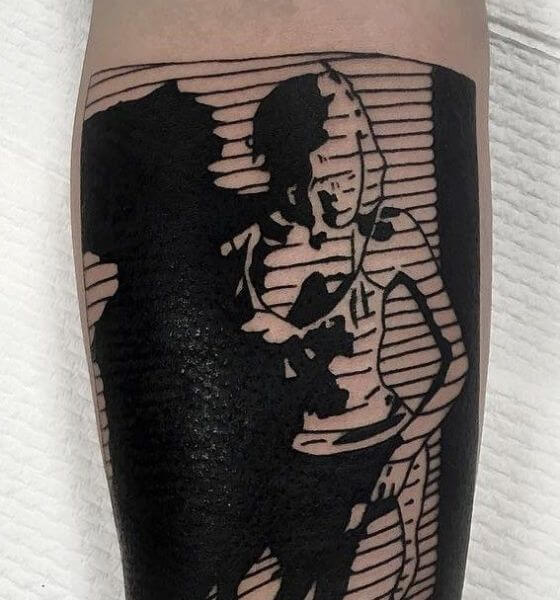 The blackwork tattoo style has the potential to seem like a work of art. You can have an artistic tattoo inked on your skin in black ink. When designing tattoos, the vast majority of blackwork tattoo artists normally only use black ink. However, you can always request some color for that extra intricacy. Depending on the size of the area, artistic tattoos can be done on any region of your body.
24. Blackwork Cross Tattoo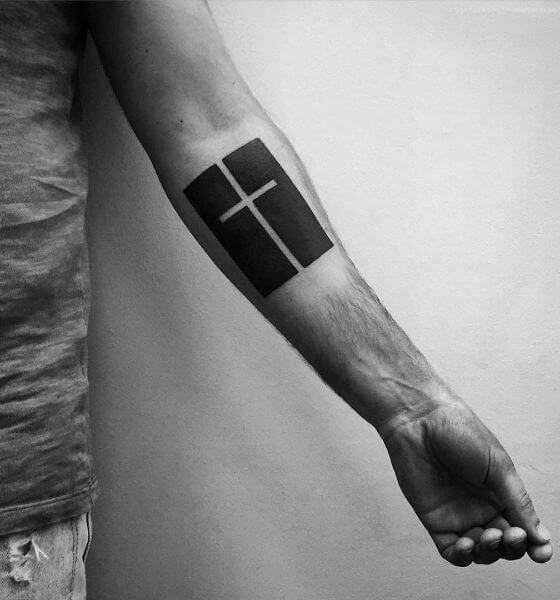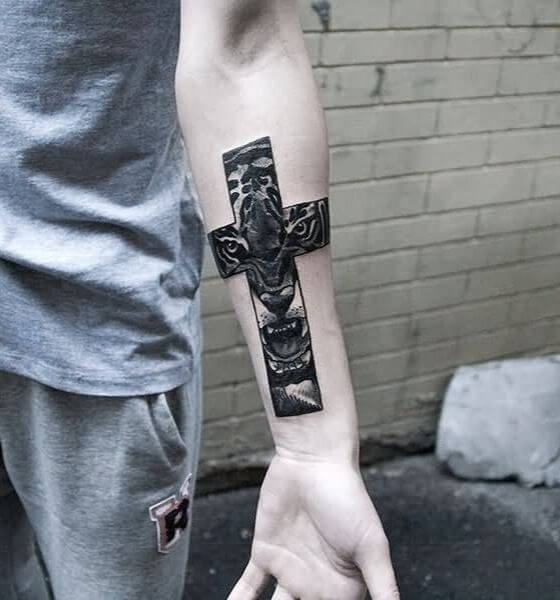 If you're unable to find a subtle tattoo design, then this one can be a great option for you. A person's devotion to their religion or beliefs might be symbolically represented through a cross tattoo.
The cross is a major symbol in Christianity since it is the place where Jesus was crucified in order to save humanity. A cross tattoo can also be interpreted to signify unrestricted love and self-sacrifice, just as Jesus felt and demonstrated toward the human species.
25. Blackwork Skull Tattoo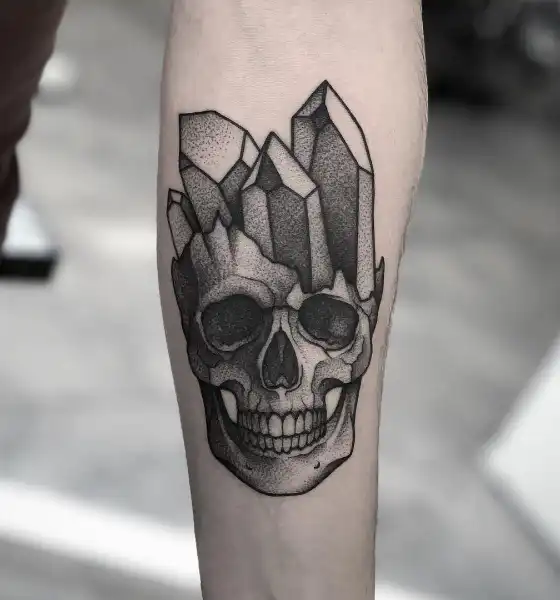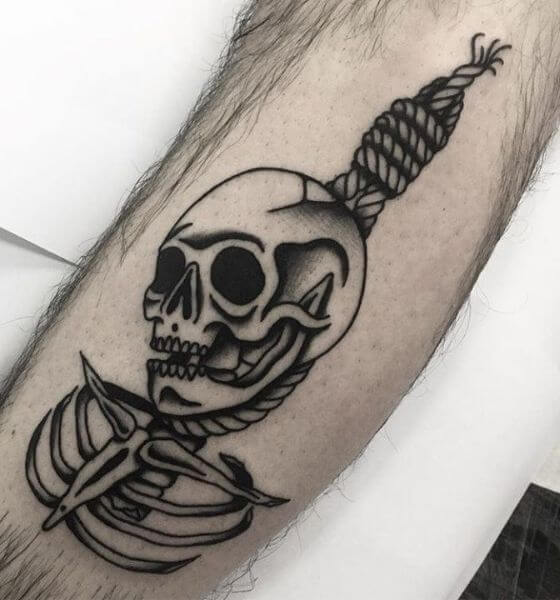 Last but not least, we have blackwork skull tattoos. Blackwork skull tattoos look awesome when etched in the right size and in the right place.
Skulls can be used to represent triumphing over treacherous obstacles and even coming out on top over death. In addition to providing protection, they can be worn as a symbol of one's strength and authority.
They can represent the end of an old life, the triumph over a difficult period in one's life, and the beginning of an improvement in one's circumstances. Also, they represent a new beginning.
Take Away
So, this is all about Blackwork tattoos' origins and styles. Hopefully, this article has been informative for you and helped you choose the best blackwork tattoo design.
Undeniably, blackwork tattoos look great! But if you think that anybody can do them, then you're mistaken. Blackwork tattooing is a specialized form of body artwork; hence, it is crucial to find a reputable tattoo artist. Only a skilled and experienced tattoo artist would be able to give you the piece for your life.
Blackwork tattoos well define the people from the sports and entertainment industry like footballers, cricketers, rappers, etc. Even though, if you are one not falling into this category but bold enough to carry the spotty and eye-catchy marks on your body, get ready for BLACK WORK TATTOOS!!
Happy Tattooing… ☺ ☺
Please follow and like us: