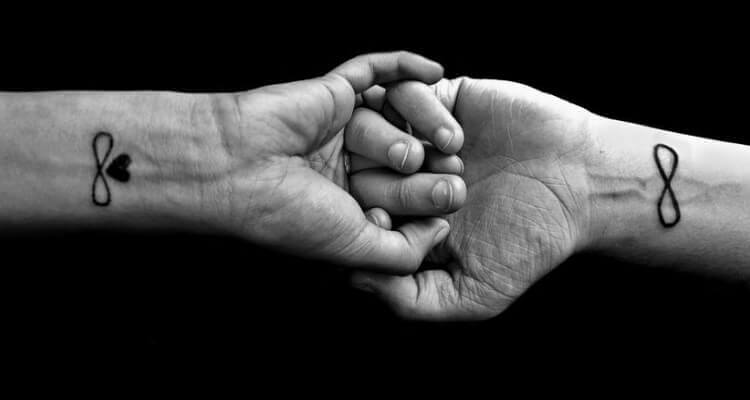 40 Best Infinity Tattoos Designs and Ideas
Posted on
The infinity symbol is actually a mathematical symbol that represents the concept of infinity. It is also called the lemniscate, and it symbolizes endlessness, infiniteness, limitlessness. The symbol makes for a trendy infinity tattoos designs. These tattoos look stunning, no matter engraved on which part of the body.
Infinity tattoo designs are very popular amongst girls. However, they make for a unisex tattoo design, which means both males and females can do them. The best thing is infinity tattoos can be embellished with other elements, like feather, heart, quotes, love, faith, birds, etc. Most people love to get an infinity tattoo etched because of its unique meaning. It can be done by anyone. If you want to flaunt your endless love for your partner or your family, then an infinity tattoo is apt for that. Whether you get infinity tattoos on the wrist or an infinity tattoo on the finger, it looks mesmerizing.
Here in this post, we are going to share everything about infinity tattoos. So, stay with us….. Here we go….
Infinity Tattoo Meaning
Infinity tattoos meaning is subtle and significant. The infinity symbol, as the name suggests, means whatever you are getting the tattoo for will hold an eternal value to you. For instance, you get a heart with an infinite symbol, it means you have endless love. Many people pick an infinity tattoo design to display the infiniteness, whether it is their feelings or their strength. Mostly infinity tattoos are dedicated to the dear ones who play a crucial role in the life of the wearer. It is a never-ending loop, which simply means always, forever, eternal, limitless, etc. Infinity tattoo designs are one of the most positive tattoos. And that is why the design is so famous amongst tattoo lovers.
Let's move to tattoo designs now; here we are going to share 40 infinity tattoo ideas with you. Get inspiration for your tattoo design.
Here we go…..
1. Infinity Symbol with an Anchor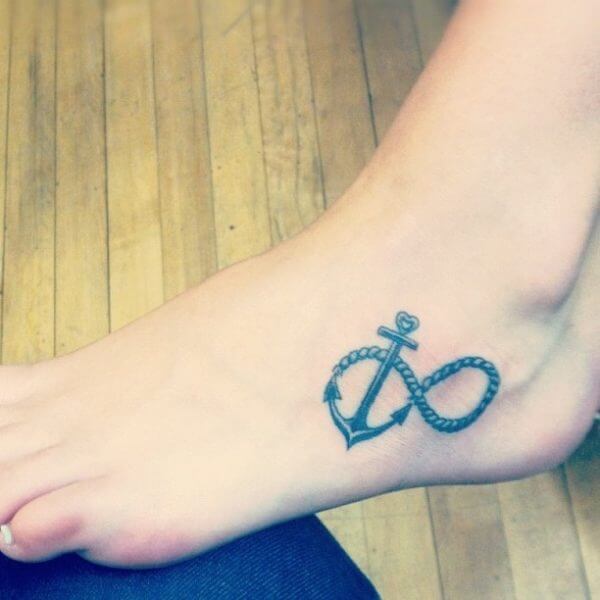 The infinity symbol with an anchor simply represents endless strength and stability. It means no matter what comes your way; you are ready to face it boldly and resolutely.
2. Infinity Tattoo with Cross and Love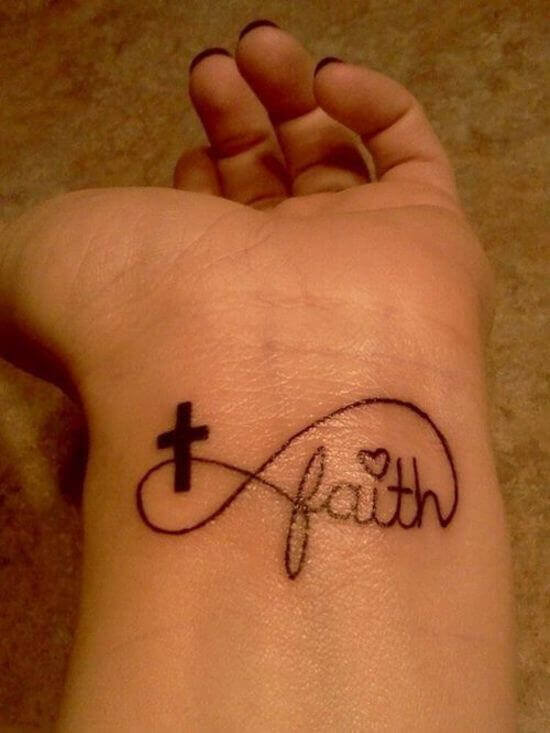 Infinity tattoo with cross and love is to represent your eternal love and faith in God. If you also believe in God and you believe that he is always there with you, then this is the design for you.
3. Infinity Tattoo on Finger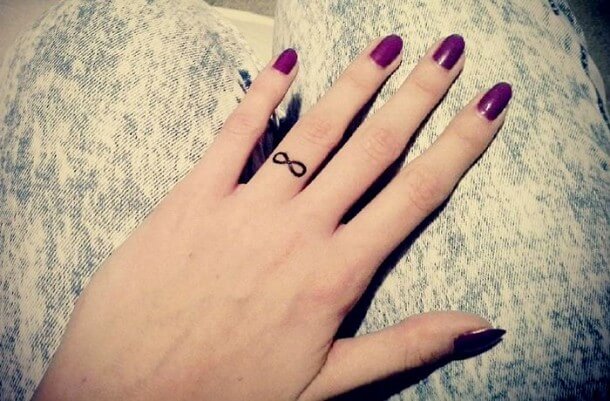 A small infinity tattoo etched on your finger will look stunning. If you are looking for a miniature, simple, and beautiful tattoo, then get an infinity tattoo on finger.
Related: Finger Tattoo Ideas
4. Infinity Tattoos with Initials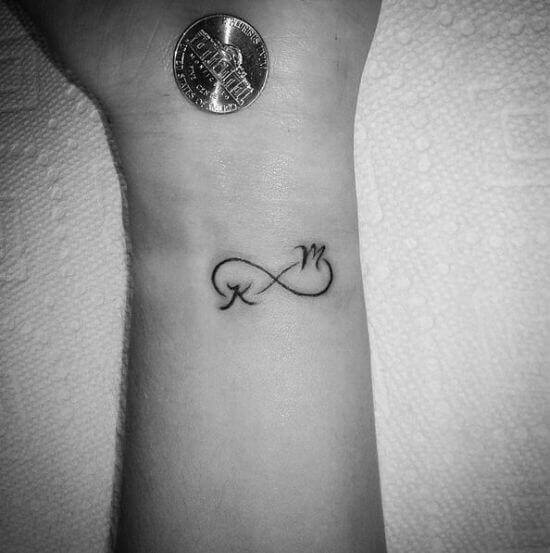 Get your name initial at one loop, and your partner's or loved one's initials on the other loop of the infinity—an amazing way to display your constant love and bond.
5. Infinity Tattoo with Dad Memorial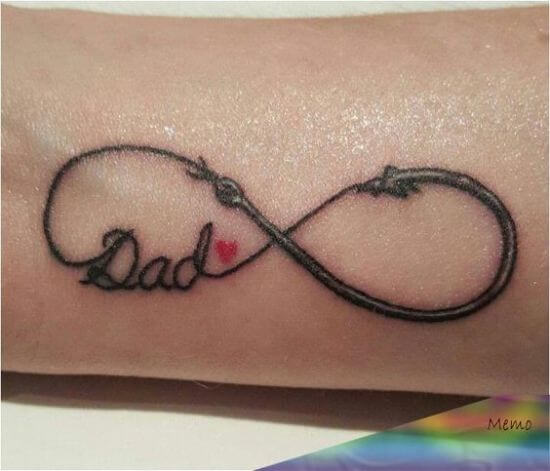 Dedicate a permanent artwork to your loving father. He is the one who protects you from all the odds all your life. Let him also know how much you feel for him.
6. Hope, and Birds Infinity Tattoo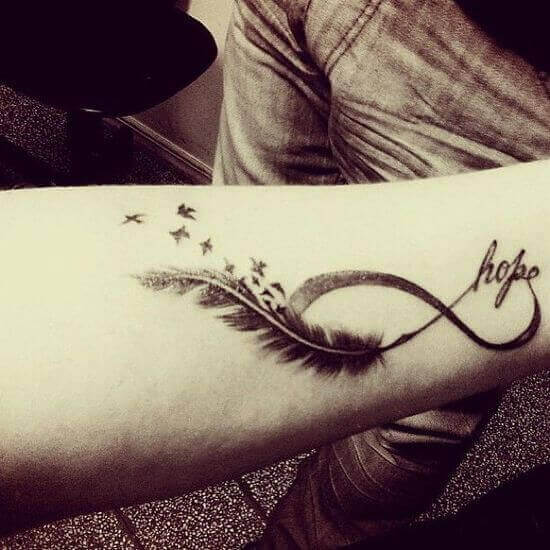 Hope is for those who are always hopeful that they will get over any situation in their lives. If you feel so, then get this one etched on your shoulder.
7. W

rist Infinity Tattoo Designs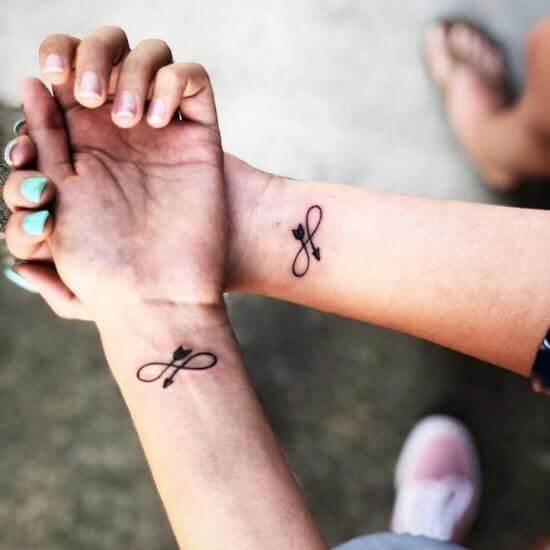 The wrist is a perfect place for an infinity tattoo. You can get it plain or along with an additional element, infinity tattoo on the wrist will look beautiful.
8. H

eart Infinity Tattoo Meaning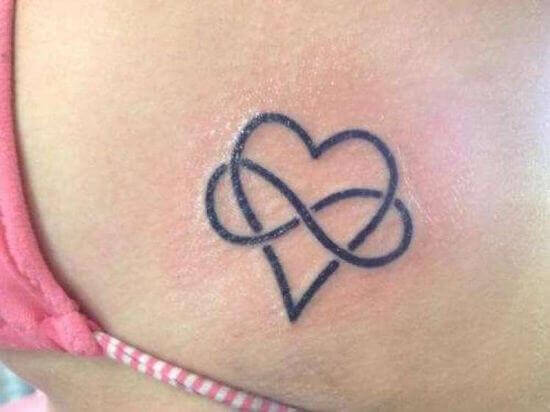 Get an infinity tattoo along with a heart etched either on your feet or wrist. It will make for an ideal tattoo design.
See More: Heart Tattoo Designs
9. Infinity Tattoo with Love and Kids Names
A beautiful tattoo design for the ones who are want to dedicate their tattoos to their kids. You can dedicate this piece of art to your loving kids. Get their names etched along with a heart and infinity on your arm.
10. Infinity Tattoo with Feather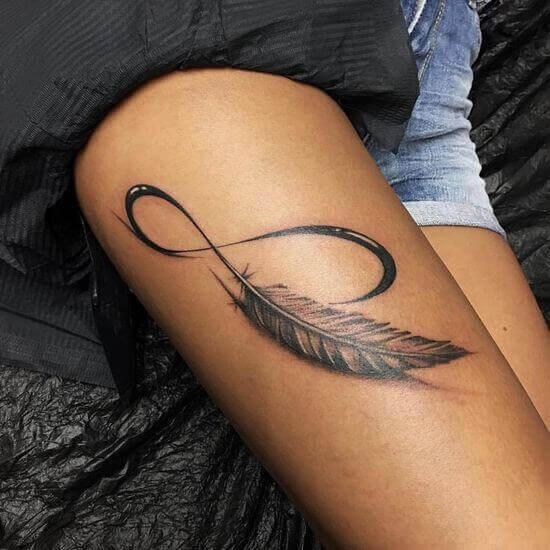 Feather is another decorative element to add to your infinity tattoo design. Feather with infinity tattoo looks eye-catching.
11. Infinity Tattoo with Love Quote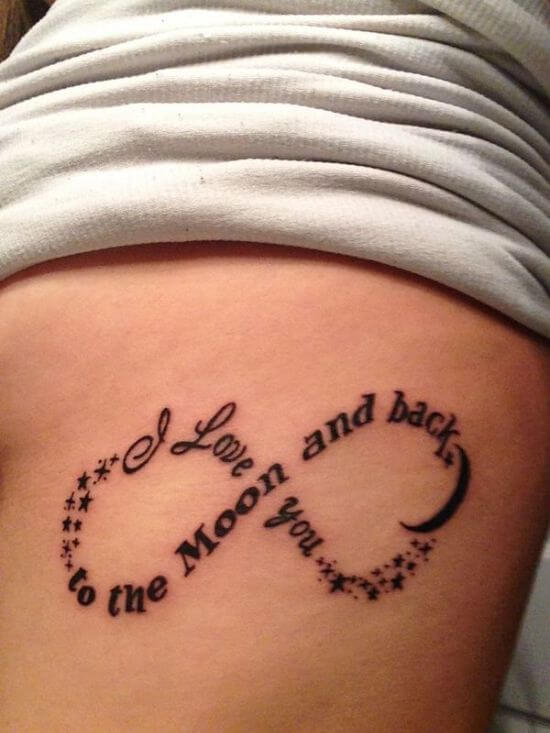 Quote tattoos make for beautiful tattoo designs. And when you add a love quote with your infinity tattoo, it becomes a symbol of your eternal love.
12. Infinity Bird Tattoo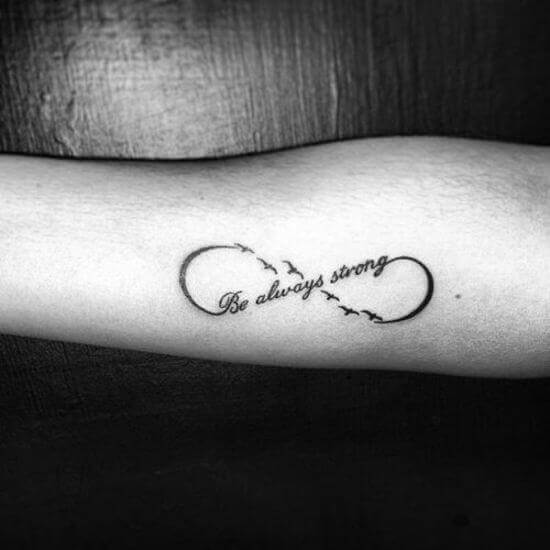 Get an infinity symbol etched on your wrist along with two to three birds in black ink. Birds are the symbol of freedom, and they go very-well with infinity tattoos.
13. Infinity Strength Tattoo
Get STRENGTH etched along with an infinity tattoo on your wrist or ankle. Infinity Strength Tattoo is for those who believe in themselves and are strong enough to face any situation.
14. Mother Daughter Infinity Tattoo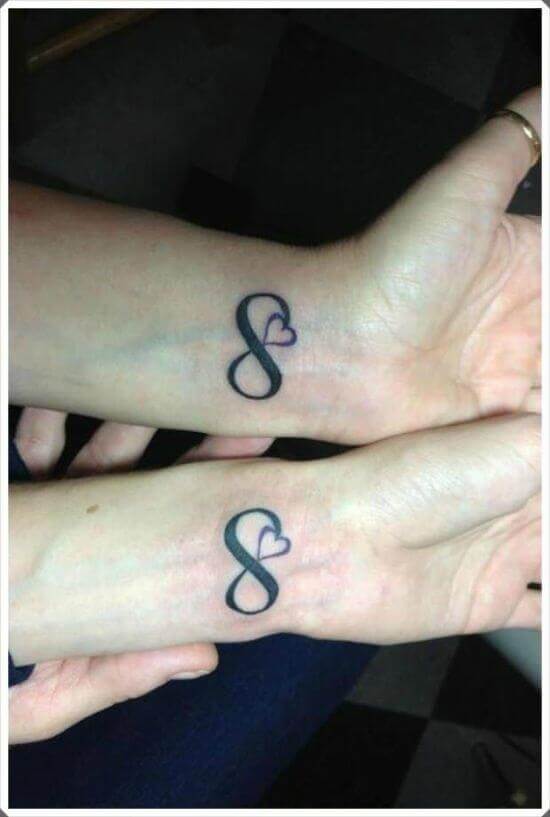 Get mother-daughter infinity tattoo etched on your nape; it will make for an eye-catching tattoo design.
Also See: Mother-Daughter Tattoos
15. Infinity Heart Best Friend Tattoo
Infinity Heart Best Friend Tattoo makes for a perfect matching tattoo design. If you are lucky to have that one friend who you call best, then get this one.
16. Airplane Infinity Tattoo
An airplane is a beautiful element to add along with your infinity tattoo. You can get it etched on one of the loops of the infinity symbol. It will look mesmerizing.
17. Faith Love Hope Infinity Tattoo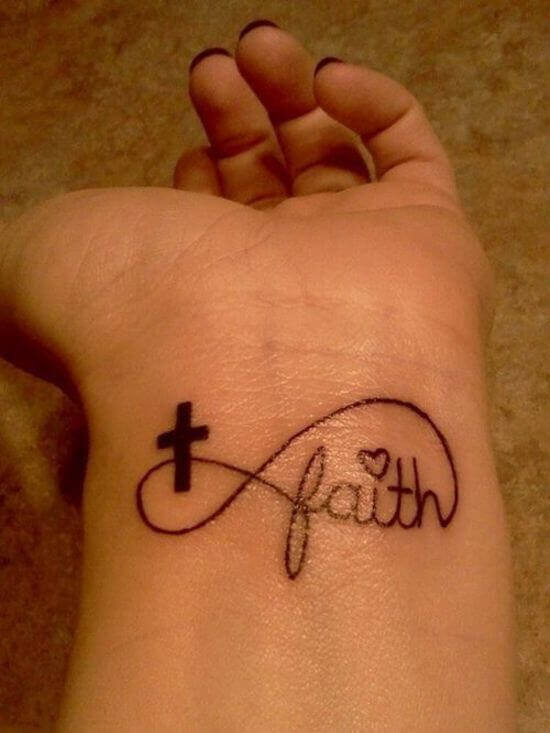 Get 'Faith,' 'Love,' and 'Hope' infinity tattoo etched on your foot. Tattoos on feet look simply fabulous.
18. Love and Feather Infinity Tattoo
Infinity etched along with heart and feather also make for a perfect tattoo design. Get it engraved on your arm or wrist.
19. 'Love' Infinity Tattoo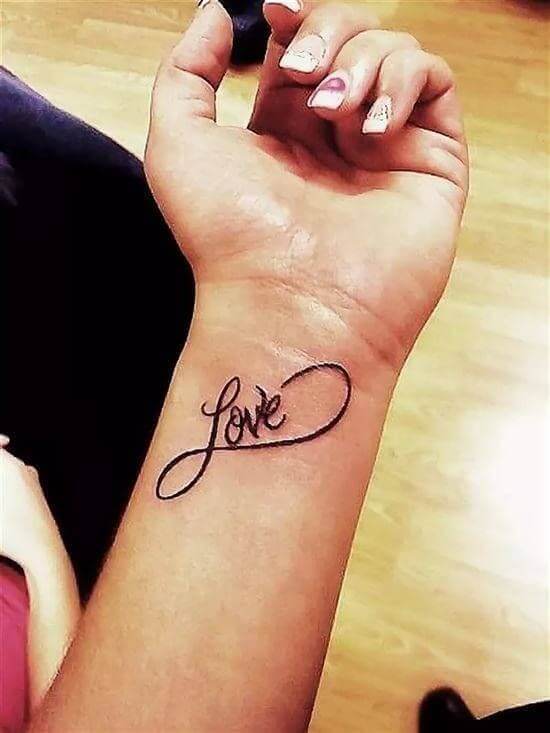 Word 'LOVE' etched along with an infinity symbol will look sweet and cute. If you have someone special and you want to dedicate your body artwork to him/her, then this is the design.
20. Infinity Tattoo with Live Strong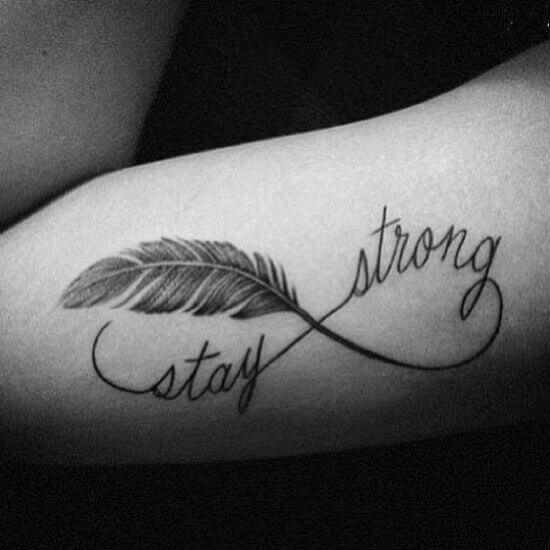 An infinity with live strong will make for a great tattoo design. You can get this one etched on your wrist if you believe you are strong and courageous.
21. Infinity Feather Family Tattoo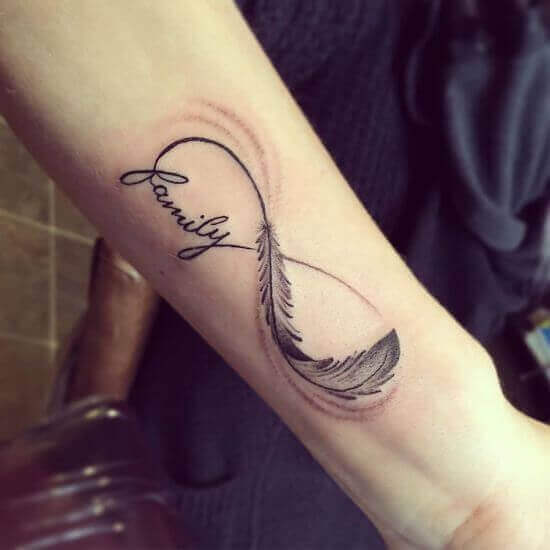 Feather and family infinity tattoo is for the ones who love their families immensely. If you are one of them, then dedicate your tattoo to your family.
Also See: Feather Tattoo Designs
22. Double Infinity Tattoo Designs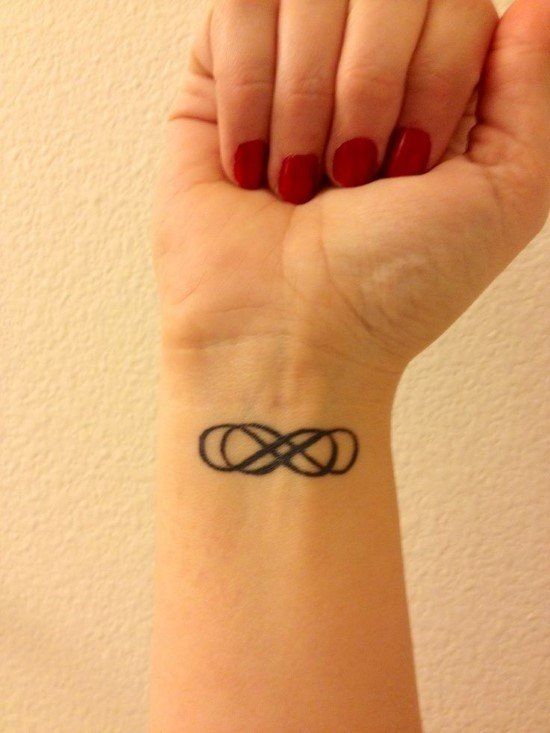 If an outside the box is what you are looking for, then this is the design for you. Get this one inked on your arm in black.
23. Paw Prints on Heart Infinity Tattoo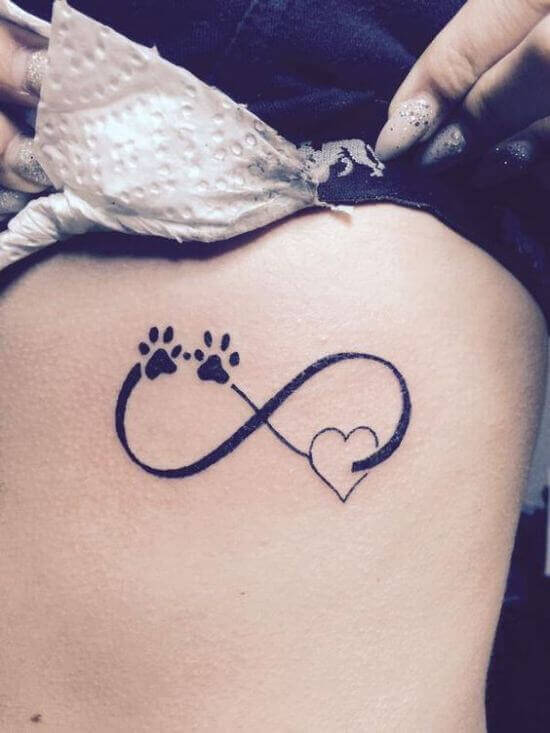 You can even dedicate an infinity tattoo to your cute dog. Get paw prints on heart etched along with your infinity tattoo.
24. Infinity Tattoo with a Bow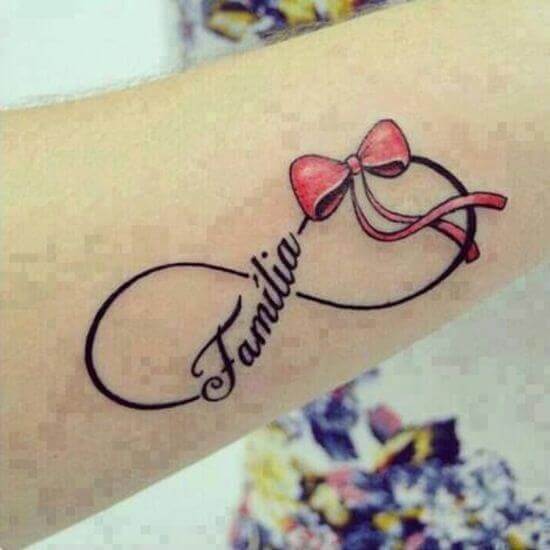 Bow also makes for cute tattoo designs, and when you add a bow along with an infinity symbol, it becomes an appealing tattoo design. You can get your bow and in red and the infinity in black. It will look stunning.
25. Couples Infiniti Tattoo
Get 'You' & 'Me' etched along with an infinity symbol on your wrist. This tattoo looks beautiful and is very popular amongst couples.
Also See: Couple Tattoo Ideas
26. Forever and Always Infinity Tattoo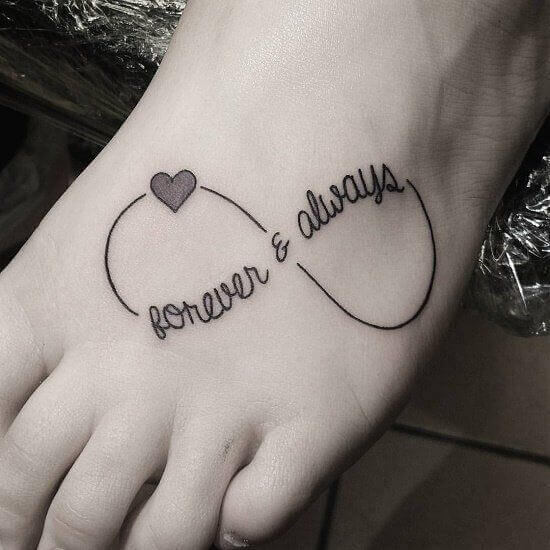 Another beautiful couple infiniti tattoo designs is this. Get Forever and Always etched on each loop of the infinity symbol. It looks perfect.
27. Lovely Heart and Feather Infinity Tattoo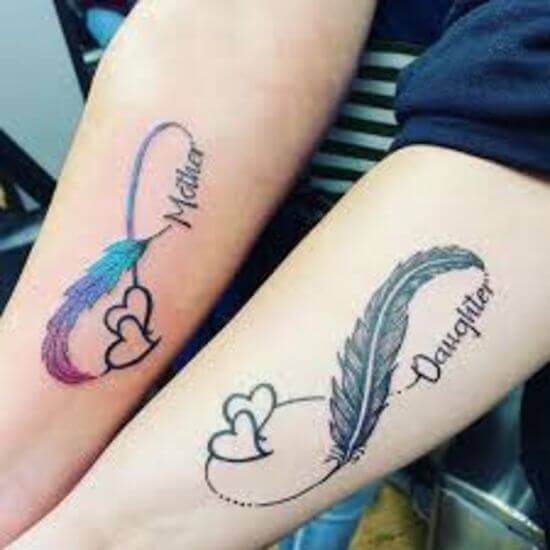 This one looks beautiful! You can get the feather etched in any color of your choice, like pink.
28. Infinity Sister Tattoo Design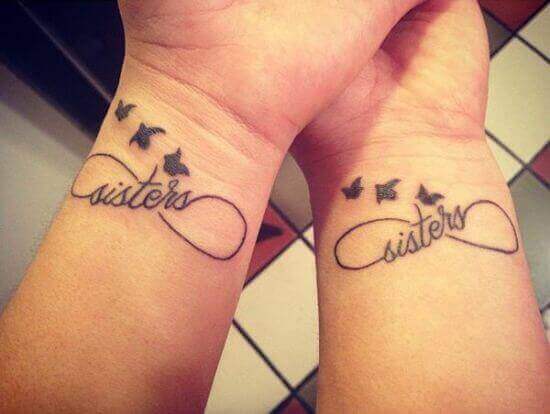 A perfect matching tattoo design for sisters who are looking for a unique tattoo This tattoo will have multiple elements in one, like, it will have sisters, heart, and an infinity symbol in it. Get this one on your wrist.
29. Infinity Tattoo on Collar Bone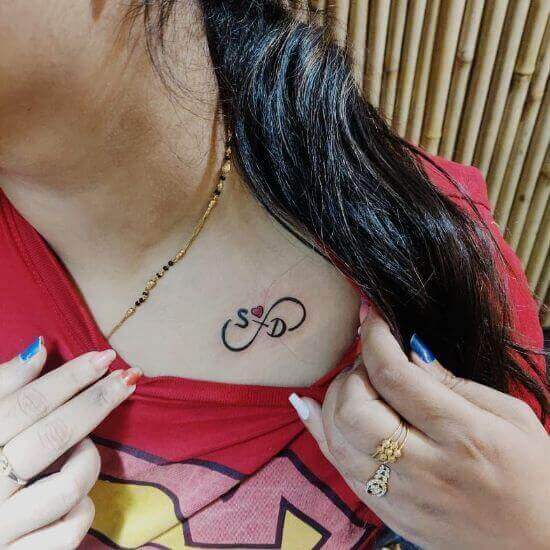 If you can tolerate the pain that comes with a tattoo on your collar bone, then this is going to be a perfect placement for your infinity tattoo design. Get an infinity tattoo on your collar bone, a fantastic placement for a fantastic tattoo design.
30. Flower and Infinity Tattoo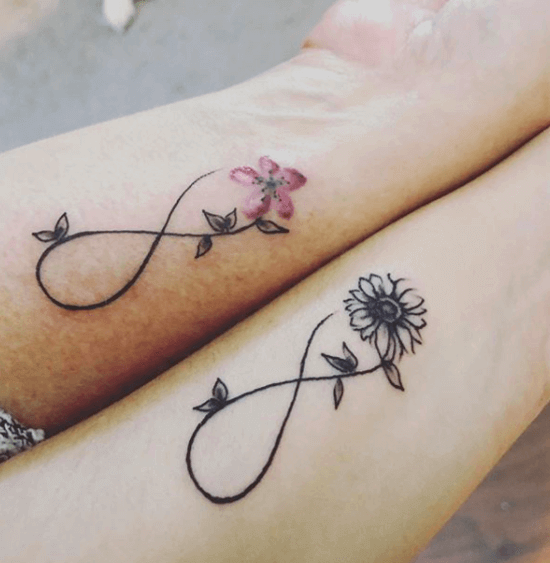 If you want a unique tattoo design, then trust this is the one! Get your infinity symbol etched in a floral pattern; it will look stunning.
Also See: Floral Tattoos
31. Pink Feather Infinity Tattoo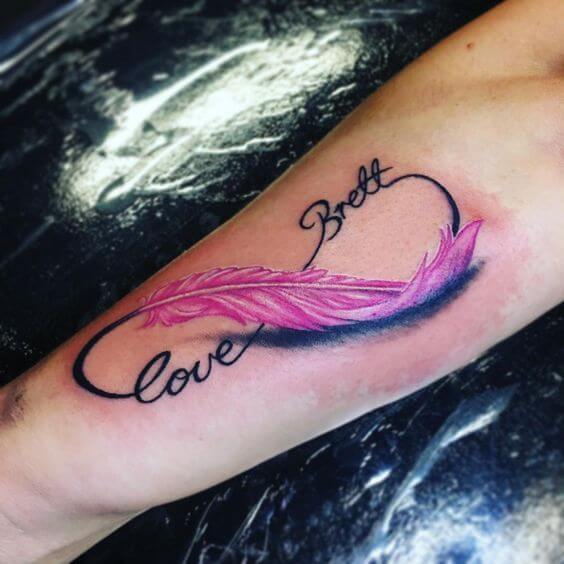 Pink feather infinity tattoo for girls. This tattoo not only looks cute but also it looks eye-catching. Get it placed on your arm. Be creative while you get your pink feather infinity tattoo.
32. Feather Infinity Family Tattoo
Get innovative a tad bit! Chuck the plain lines, and get a feather etched in an infinity shape along with family engraved on the other loop.
33. Love and Life Infinity Tattoo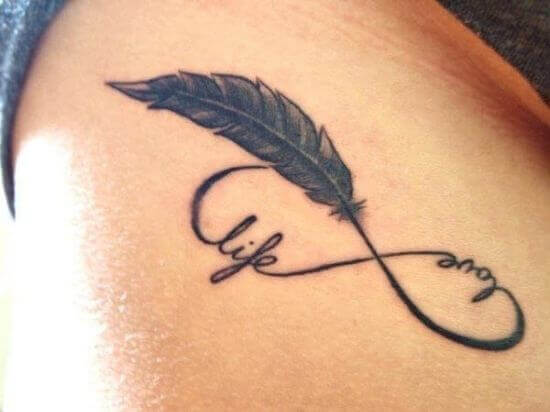 Simple yet elegant tattoo design for the ones who do not want to overdo their tattoo. This one has it all to display your connection and strong bond with your family.
34. Dream Infinity Tattoo with Birds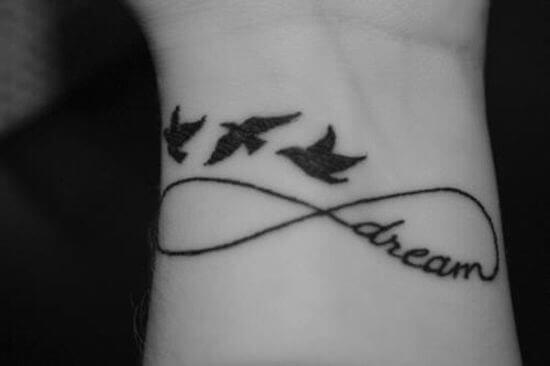 Birds and infinity symbols make for gorgeous tattoo designs. Get these two elements etched along with Dream with it.
35. Infinity Tattoo with Special Dates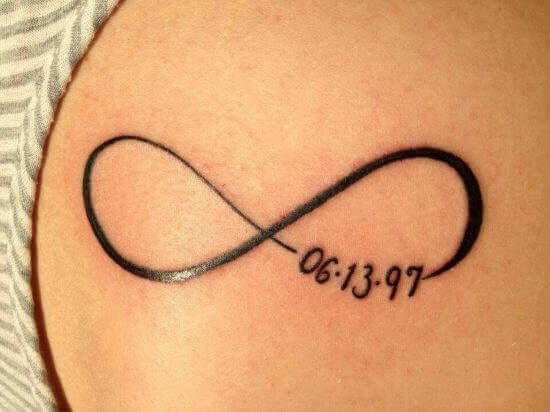 If you have some special dates that you want to cherish all your life, like your anniversary, parent's birthday etc., then get them etched along with an infinity sign, a beautiful piece to remind you of your special day always.
36. Forever with Infinity Tattoo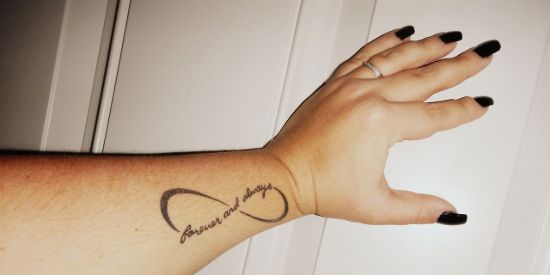 How about having a simple tattoo design that catches everybody's attention? This is the one such tattoo. Get this one engraved on your wrist.
37. Infinity Tattoo with an Arrow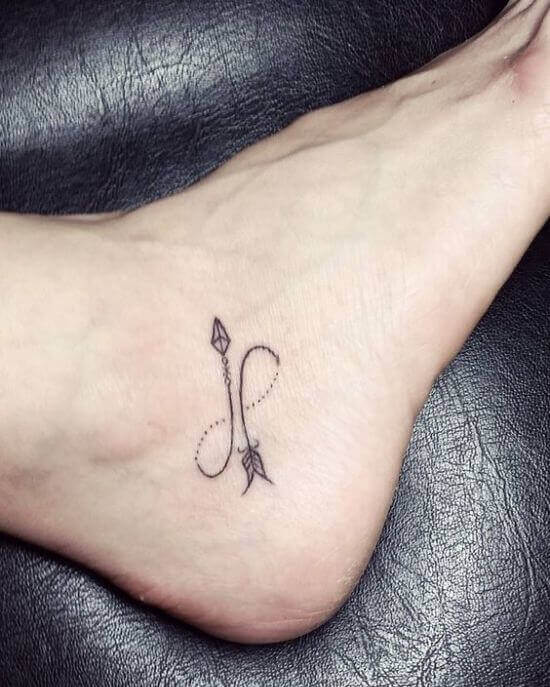 If you want some creative tattoo design, then get infinity sign etched on an arrow. You can get it inked either in small or large size on your arm.
38. Arrow, Birds, Strength, and Dream Catcher Infinity Tattoo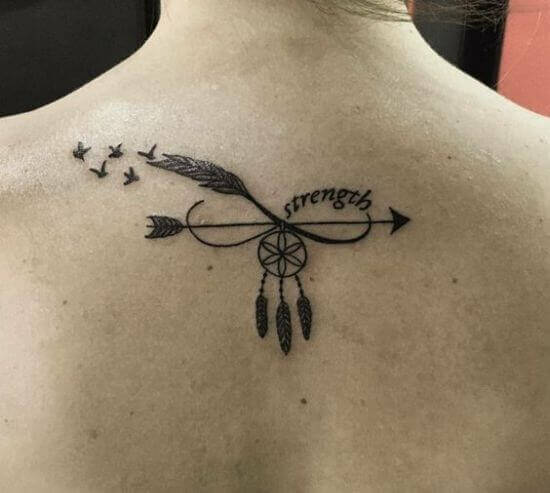 Get all your favorite elements in a single design. This design looks beautiful when done brilliantly. So make sure you find a renowned tattoo artist for this one.
39. Anchor and Love Infinity Tattoo
Get anchor and love etched with your infinity tattoo. You can get this beautiful tattoo design engraved on your shoulder or neck region.
40. Simple Infinity Tattoo on Collar Bone
This is an elegant tattoo design for those who want some simple and unique body artwork. This tattoo looks very fresh and sweet. It is an excellent tattoo design for young girls, as it will be visible only when they want to flaunt it.
Conclusion….
So, these are the forty Infinity Tattoo Designs for you. These Infinity Tattoo Ideas are for all, regardless of their age and gender. If this is your first tattoo, then an infinity symbol is the perfect tattoo design for you. It not only looks beautiful but also it looks gorgeous. The best thing is an infinity symbol can be etched anywhere on your body, from your arm to ankle, chest to the calf, shoulder to thigh. The placement and the size of an infinity depend on your choice. All you have to make sure is to find the best tattoo artist for getting an infinity tattoo etched on your body.
Happy Tattooing…. ☺ ☺
Please follow and like us: