Top 40 Finger Tattoos For Women
Posted on
If you think tattooed knuckles are only for punk rockers and biker dudes, definitely you haven't seen the latest ink trend. That's right, finger tattoos are becoming increasingly popular, and it appears that everyone, including women, is getting one.
Due to the freedom to have tattoos that can be kept hidden, finger tattoos for women are gaining popularity. They are, in fact, quite popular among those who do not want to show off a large piece of artwork. As a symbol of their love, many couples choose to have their partner's name etched on their ring finger as a mark of their love.
When it comes to teeny-tiny finger tattoos for women, there is no dearth of designs. You can get any tattoo design you want, from simple to extravagant. Everything from a thin line tattoo to a custom tiny finger tattoo design or a symbol that means something to you looks cool. Finger tattoo rings are the best alternative to traditional wedding rings because they are permanent. These tattoos are appropriate for couples who are uncomfortable wearing rings.
However, fingers are one of the most painful places to get tatted given the lack of muscle and fat between skin and bone and a high density of nerves in that area. In addition, finger tattoos require regular touch-ups as they tend to fade quickly due to the daily activities one performs. If you've decided to get a finger tattoo and put up with the pain, here are 40 amazing small finger tattoo ideas to get you started.
Have a look…
1. Butterfly Finger Tattoo for Women
In addition to representing transformation, freedom, and beauty, Butterflies make adorable finger tattoos for females. You can have a small colored, or black butterfly etched on your finger. Your butterfly design can be customized to fit your preferences.
2. Bumblebee Finger Tattoo for Female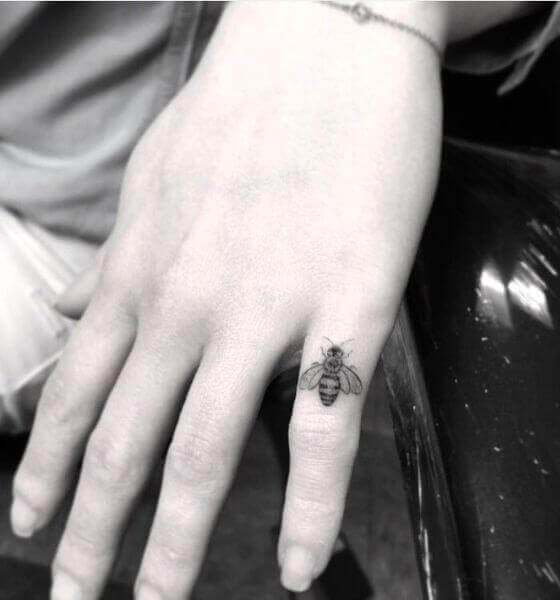 This adorable little creature would make an excellent finger tat. The English actress Emilia Clarke has a teensy bumblebee etched on her finger, which looks absolutely stunning. You can also give it a shot!
3. Ribbon Finger Tattoo
Ribbon finger tattoo is yet another popular finger tattoo for ladies. A small ribbon wrapped around the finger make for a delicate and minimal but not wishy-washy tattoo design. A splash of color will make it stand out even more.
4. Floral Finger Tattoo for Girl
A floral finger tattoo is a good choice for a hush-hush tattoo design. An inside finger tattoo with a tiny floral is easier to conceal. And if you want to go all out, have the design stretch across multiple fingers. Using a medium black outline will make it appear lighter in spite of its size.
5. Hello Kitty Finger Tattoo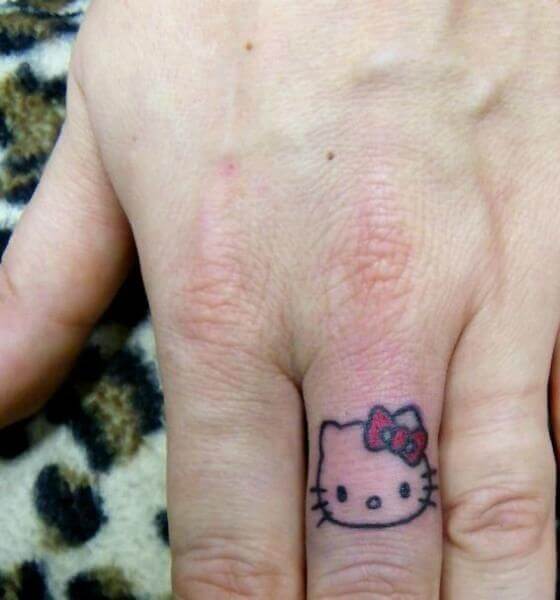 Hello Kitty is one of the cutest finger tattoo designs for girls. You, too, can have a Hello Kitty etched on your finger, just like Katy Perry, the celebrity singer, songwriter. Give it a shot!
6. Airplane Finger Tattoo
Those who choose to get airplane tattoos do so for their meanings as well as their cool looks. One of the most common meanings for airplane tattoos is an adventure, which implies that the wearer is adventurous.
Also Read : 20 Stunning Crossed Finger Tattoo Ideas From Latest Styles
7. "Shhh" Finger Tattoo for Female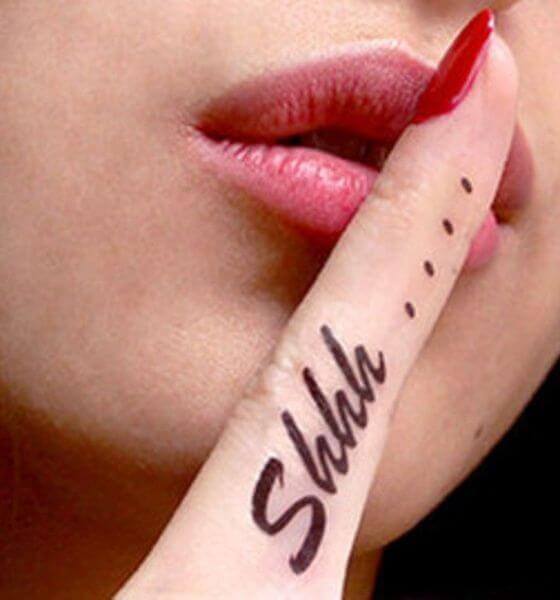 If you want an out-of-the-box tattoo design, go with "Shhh…" just like Rihanna's "Shhh…" tattoo. RiRi got "Shhh…" tattooed on her pointer finger in 2008. Inspired by RiRi's tat, even Lindsay Lohan and Lily Allen also got the same tat in 2009.
8. Black Rose Finger Tattoo
Since black is a color associated with death, people frequently get this tattoo in memory of a loved one who has died! Another meaning of the black rose tattoo is insurrection and strength. If you want a unique finger tattoo in the memory of your loved ones, or you have the qualities that a black rose represents, then this is the design.
9. Dot Work Finger Tattoo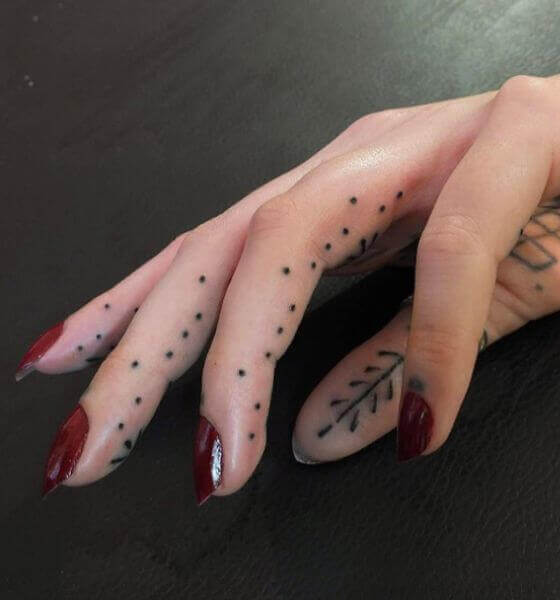 Dot work is a good option if you want to keep your finger tattoo design simplistic. Beyoncé, an American singer, songwriter, and actress, has three simple dots etched on her knuckles to represent her three children.
10. Feather Finger Tattoo
Feathers make for unique finger tattoos. They are pretty popular amongst women. These teensy finger tattoos represent liberty, courage, strength, and wisdom. If you possess all these characteristics, then indeed, this is the design for you.
11. Lightning Bolt Finger Tattoo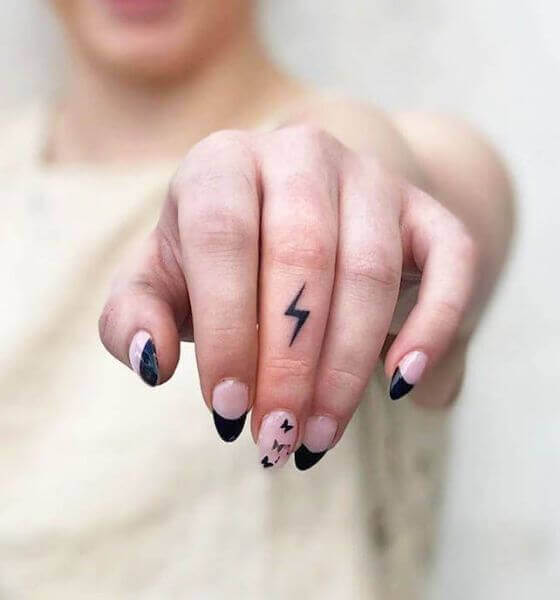 A lightning bolt tattoo, in general, represents power, strength, and intelligence. If you have all of these qualities and want a whimsical tattoo design, this is the one for you.
12. Circle Finger Tattoo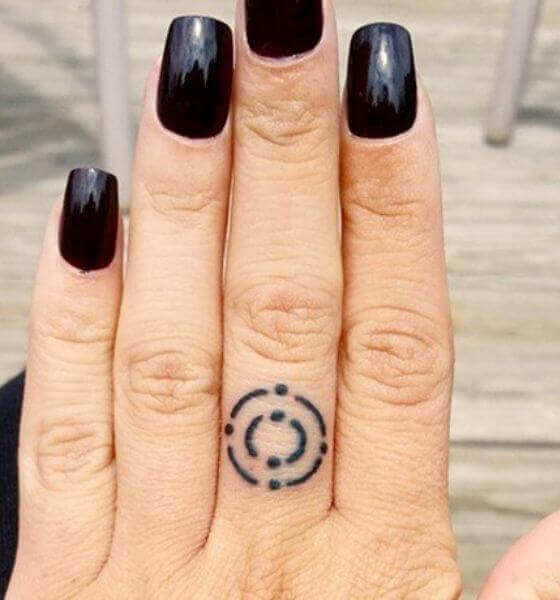 Are you looking for a subtle and fashionable finger tattoo design? If so, get a circle finger tattoo. A one-of-a-kind finger tattoo design for women of all ages.
13. Finger Bands
When it comes to finger tattoos, the most important thing to consider is to make them distinctive and personal to you. The effect of bold and thick lines wrapped around a finger is stunning. It represents consistency and symmetry in life. If you're able to maintain both, then get this tattoo.
14. Glittering Star Finger Tattoo
Star tattoos have a wide range of meanings, including ambition, hope, transformation, success, childbirth, and so on. Figure out which one goes well with you before getting a glittering star etched on your finger.
15. Numeral Finger Tattoo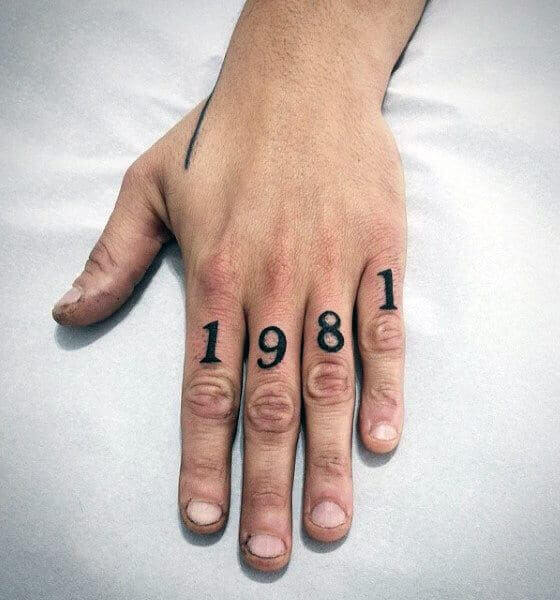 Numbers are a fantastic concept for finger tattoo designs because they can be inked in any size you want. The coolest thing is there is an almost infinite number of fonts to choose from to personalize the tattoo. Halsey has "17" etched on her finger as a tribute to her Tumblr days when she wrote and sang her own music under the username se7enteenblack on the website.
16. Roman Numeral Finger Tattoo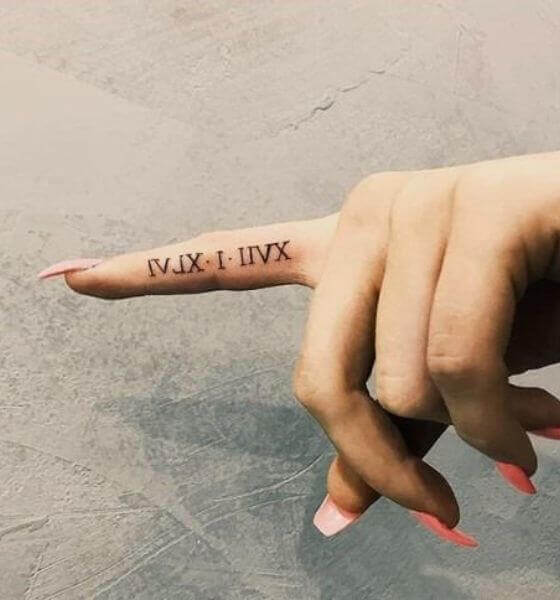 The Roman numerals are popular and meaningful tattoo designs. You can have a favorite date or number engraved in roman on your finger. Beyoncé, too, has "IV" engraved on her left ring finger. After marrying in 2008, she and Jay Z got matching tattoos to commemorate their wedding anniversary on April 4.
17. Mickey Finger Tattoo for Girl
If you want a Disney-inspired finger tattoo, have your favorite cartoon character inked on your finger. Disney characters make for the best finger tattoos for women. You don't need to go overboard; just the outline will suffice.
18. Crescent Moon Finger Tattoo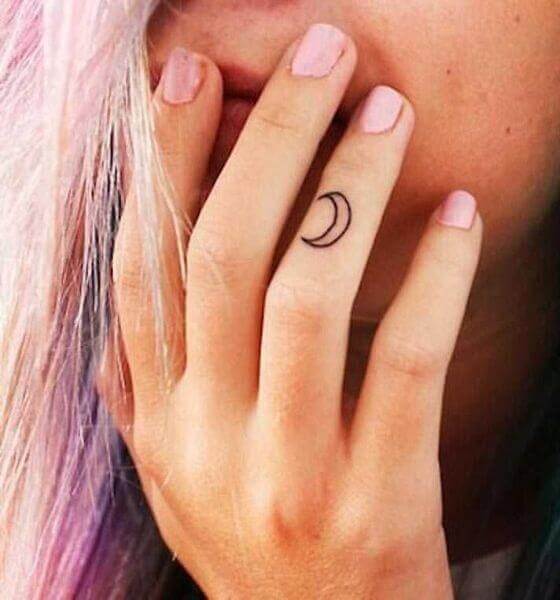 Moon tattoos have a lot of meaning and make an excellent finger tattoo design. Just outlining the moon will make it look cute and dainty, similar to Kesha's crescent moon over her left middle finger's knuckle.
19. Zodiac Finger Tattoo
Since zodiac symbols are usually small, they can be shrunk down to fit the finger without losing detail. To add a luxurious touch, have your or your partner's zodiac symbol etched in black on your finger. You can even combine the zodiac symbol with a letter or another element of your choice if you want.
20. Leaf Finger Tattoo for Women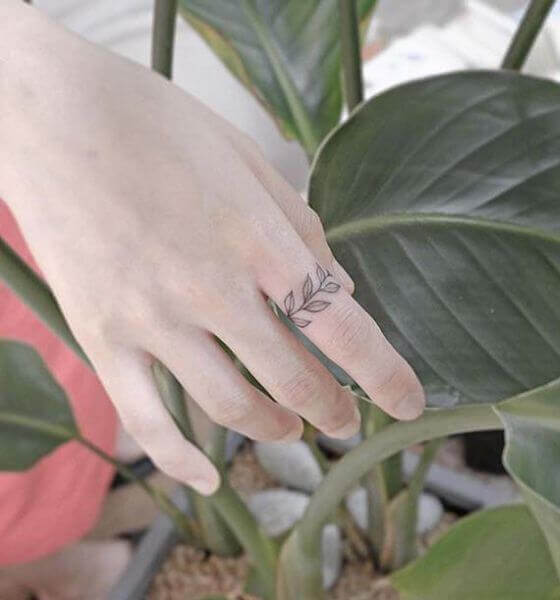 A single leaf is said to be an ancient armorial symbol for happiness. It, however, represents much more than happiness. As a symbol of life, the leaf can symbolize a variety of aspects of one's life. A leaf finger tattoo is ideal for a tiny finger tattoo.
21. Music Symbol Finger Tattoo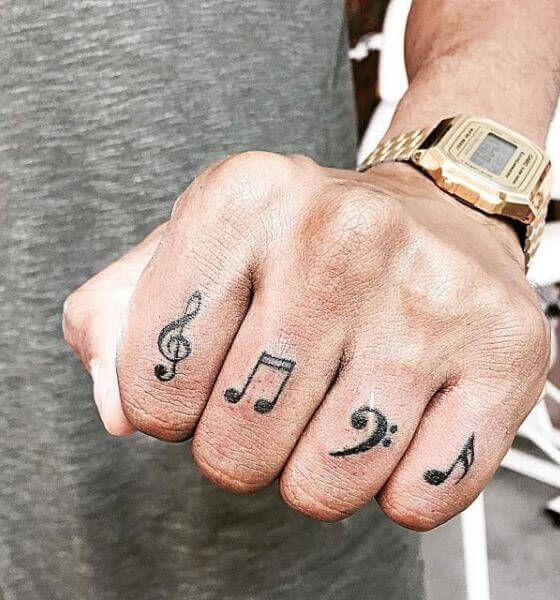 Music symbols are undeniably the cutest, making the best finger tattoos for women. They're so small that they're easy to fit on your fingers. Choose your favorite music symbol and get it etched on your finger.
22. Cherry Finger Tattoo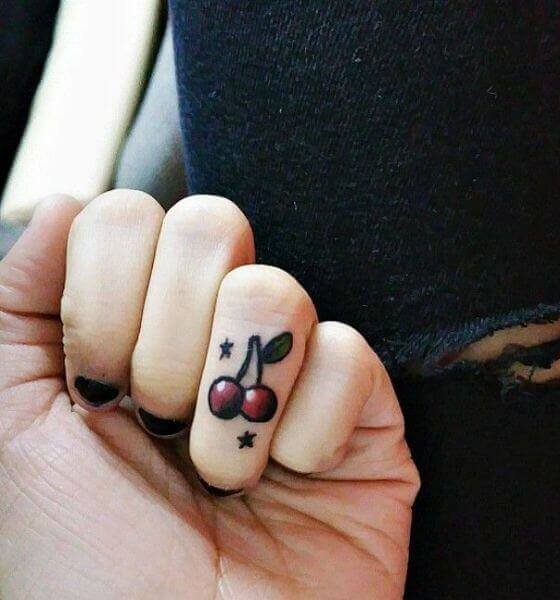 Cherry not only makes a delicious fruit, but it also makes a fantastic body artwork. Just imagine how lovely a teensy bright cherry will look inked on your finger. To make it more visually appealing, get a realistic cherry tattoo. It is kept hidden and intimate by being placed on the bottom of the inner finger.
23. Abstract Line Finger Tattoo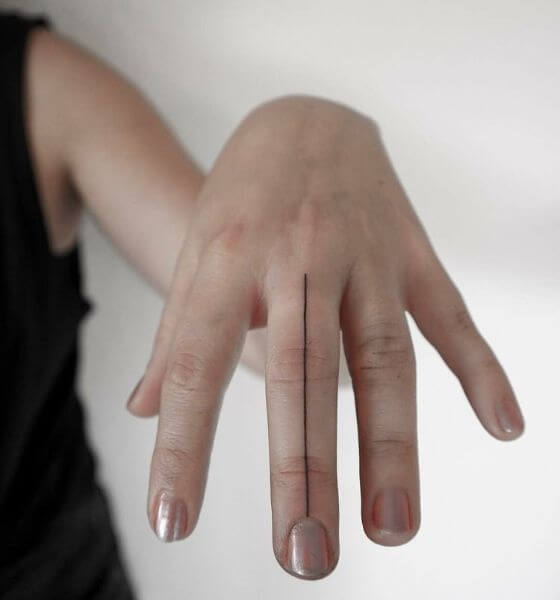 Abstract tattoos look awesome, and the best part is that you can incorporate many different elements to customize it to fit the space and your personal style. To make a dainty tattoo, keep the elements simple.
24. Letter Finger Tattoo
If you want to keep your finger tattoo as simple as possible, choose a single-letter tattoo. They are an excellent choice for the finger because they provide numerous placement and size options. You can also get the design inked in a variety of styles to make it more personalized.
25. Ring Finger Tattoo
As previously stated, many couples are opting for ring tattoos rather than wedding rings to express their love for their partner. If you are prone to misplacing things, a ring finger tattoo is ideal for you. Ring tattoos are permanent, so you won't have to worry about losing your ring anymore. Instead of wearing a wedding ring, get your significant other's initials engraved on your ring finger.
26. Name Initials Finger Tattoo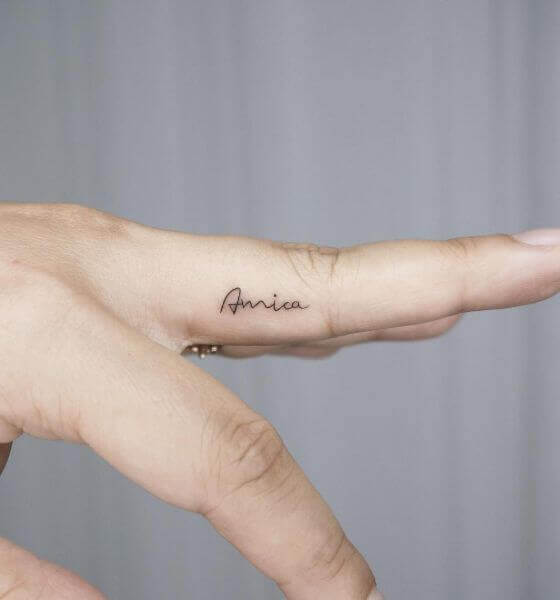 You don't have to go overboard with an elaborate tattoo; even your own or your significant other's name's initial tattoo is good to go with. Name initials make for simple tattoo designs that look great when etched on fingers.
27. Heart Finger Tattoo for Women
Because they can be etched in any size and still be recognized, hearts make excellent inside finger tattoos. Heart finger tattoos give a more intimate feel when worn on the underside of the finger.
28. Star Finger Tattoo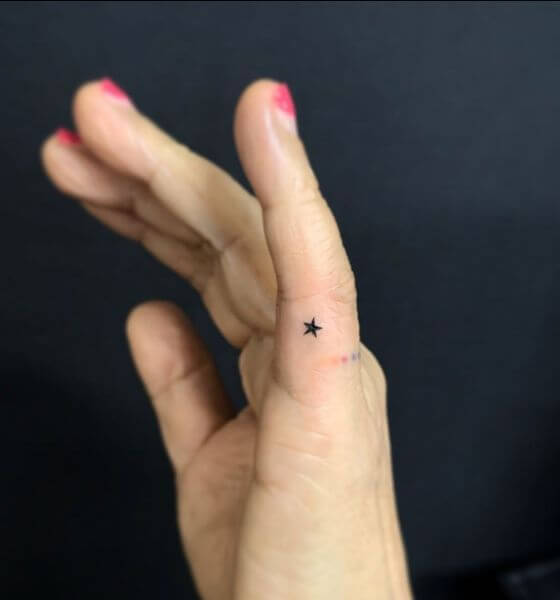 Stars make for the most popular finger tattoos for women. The star is an excellent choice for a minimalistic finger tattoo design. You can have a colored or just an outline of a star etched on your finger in black ink.
29. Laurel Wreath Finger Tattoo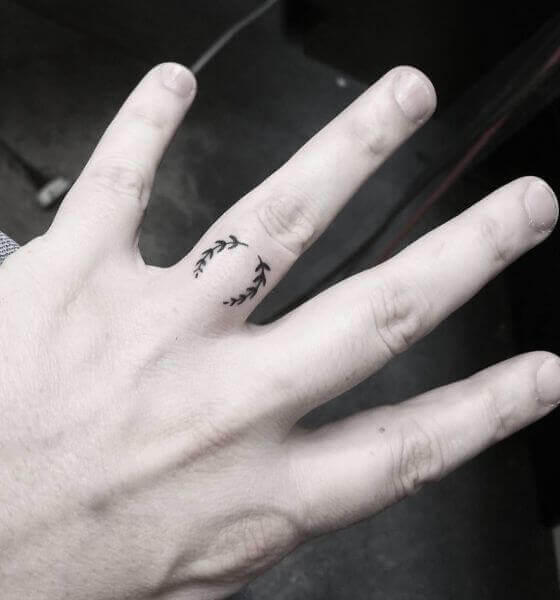 Laurel wreath tattoo designs are quite popular. They are a symbol of success and perfection. The leaves of the laurel tree have long been associated with nobility, triumph, and victory. The best part is that laurel wreaths can be customized to be inked on a finger.
30. Smiley Face Finger Tattoo for Female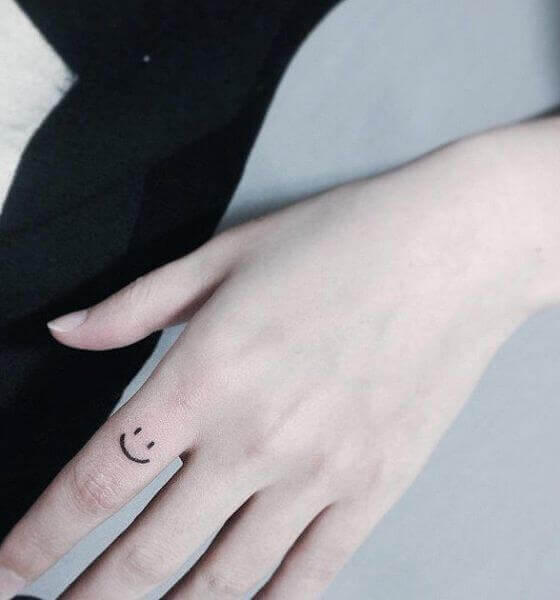 Are you looking for a cute finger tattoo? Go with a smiley face. The smiley face makes for very beautiful small finger tattoo ideas.
31. Skull Finger Tattoo
Skull tattoos are popular among men; however, a small-sized skull etched on your finger will make an ideal tattoo design that you will cherish for the rest of your life.
32. Lion Finger Tattoo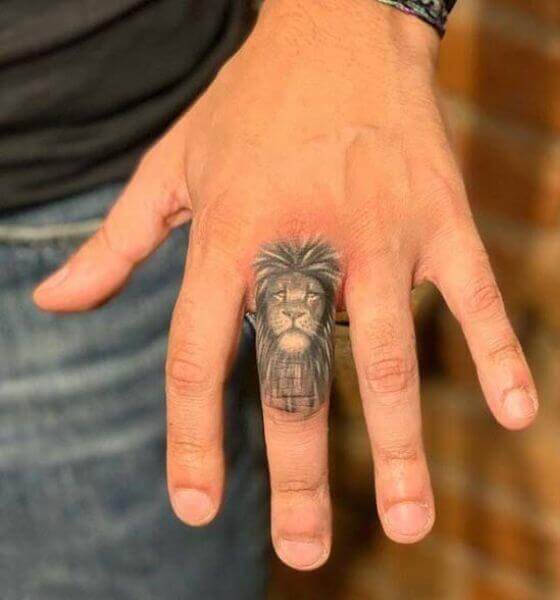 A lion face etched on your finger, like Cara Delevingne's lion tattoo on her index finger, will be captivating. Lion tattoos may appear ferocious, but they're significant. A lion tattoo, among other things, represents power, courage, loyalty, and authority. If you have any or all of these characteristics, a lion finger tattoo is perfect for you.
33. Coffee Mug Finger Tattoo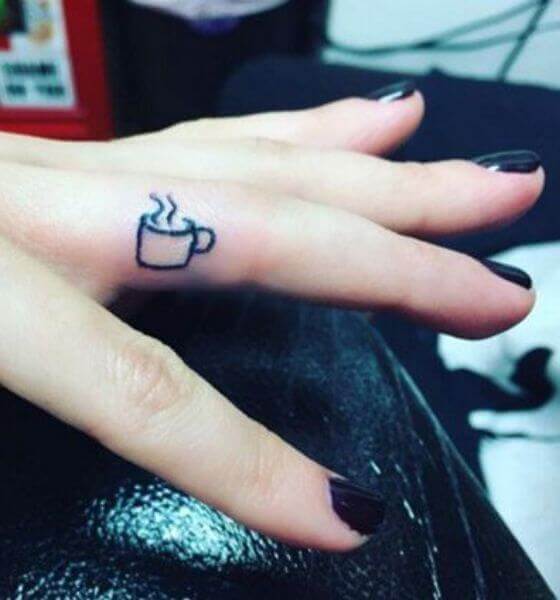 Believe it or not, coffee cups make excellent finger tattoos because they can be etched in any size. Even Scream Queens star Lea Michele got an itty-bitty cup of coffee to honor her late grandmother, who introduced her to the beverage.
34. Whiskers Finger Tattoo for Women
If you're looking for a one-of-a-kind finger tattoo, try the whiskers tattoo design, which Bella Thorne also has. The actress appears to prefer cats over dogs as she inked whiskers on her finger. If her tattoo inspires you, get one on your finger as well.
35. "Happiness" Finger Tattoo
They say, whatever you think, you start to manifest. In that case, each person should think positively only. And the word "Happiness" is a very positive word; having it permanently etched on your body will serve as a reminder that you are a happy person even when you are going through difficult times in life. Other words, such as happiness, peace, freedom, hope, and so on, make for sophisticated finger tattoos for women. Get any of your favorite words inked on your finger if you identify with any of these words.
36. Crown Finger Tattoo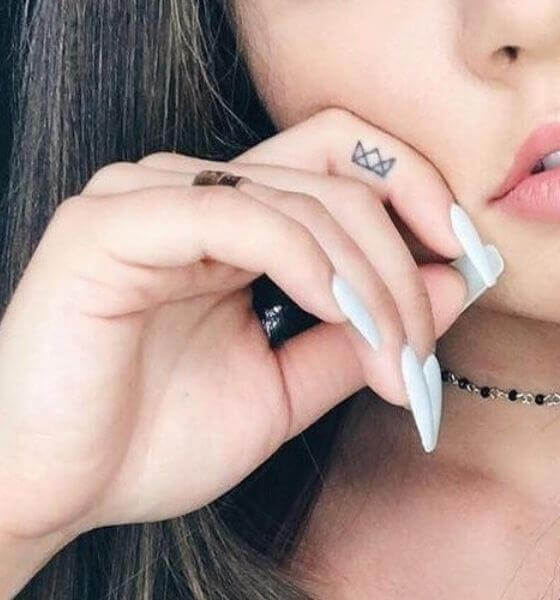 For an eye-catching tattoo design, have a crown etched on your knuckle. Crowns are lovely elements that can be etched with or without any other component. They look great in any case.
37. Phrase Finger Tattoo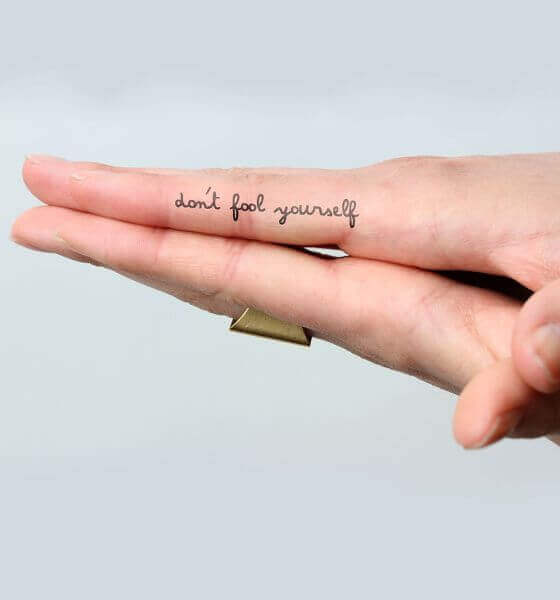 Any phrase or a quote can make for a brilliant finger tattoo for females. You can, for example, have the words "Baby Doll," "Daddy's Princess," and so on etched on your finger. Make sure the phrase you choose goes lekker with your personality.
Wrap up…
So there you have it: the top 40 finger tattoos for women. These small finger tattoo ideas should motivate you to get started. And if you have any additional ideas to share with us, please leave them in the comments section below. We would be delighted to include your suggestions in this post to provide inspiration to others.
Happy Tattooing… ☺ ☺
Stay Home, Stay Safe!!
Please follow and like us: