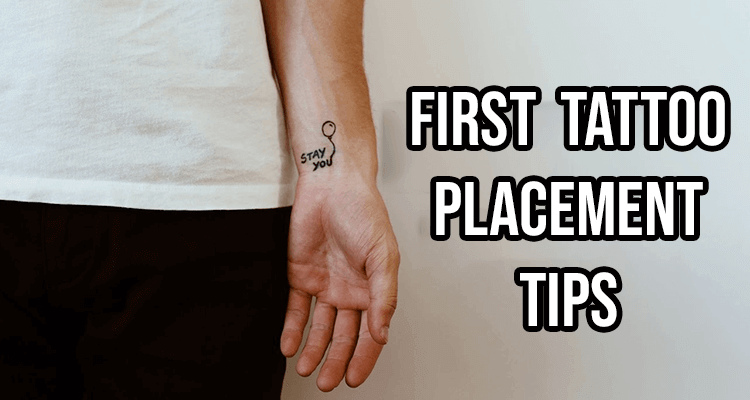 First Tattoo Placement Tips and Ideas
Posted on
Excited to get your first tattoo? Of course, it's a matter of great excitement for anybody. Undoubtedly, tattoos look good, but the right placement makes them look stunning. Believe it or not, the placement of a tattoo matters the most. So, if you are confused with your first tattoo placement, then read this post until the end. Here we are sharing with you wonderful tattoo tips and advices for beginners. Read the post and know how the placement of your tattoo can make the difference.
The placement of your tattoo will depend on several factors, like:
⇒ The Visibility
First things first, before you decide to get your first tattoo, you need to see how visible it should be. This means whether you want a tattoo that is easily visible to others, like a tattoo on the wrist. Or you want a tattoo that is hidden most of the time, like a tattoo on a rib. This will primarily depend on the kind of society you live in, your work culture, your job nature, and several other aspects. So, think over it before going to get your first tattoo. Remember that removing a permanent tattoo is not easy, so this choice should be made prior to the tattoo.
⇒ The Meaning
More often than not, tattoos have meanings. Usually people prefer to get tattoos which have some meaning or the ones which possess some personal importance. Remember that a tattoo is a lifetime commitment. So, it is important that you get something which is meaningful or relatable to your personality. Now, the placement of your tattoo will also depend on the meaning of your tattoo. For instance, you are very religious and you want to get a holy symbol etched as your first tattoo. It is obvious that you cannot get a holy sign etched on your lower body part, like leg, ankle, etc. Doing so can inflame unnecessary issues in your life.
⇒ The Appropriateness Of Tattoo Design
It matters! Of course, you can get any design anywhere, it is absolutely your choice. But the appropriateness of your tattoo design will matter. For instance, if you have chosen a coquettish tattoo design, it should be placed hidden. Especially when the nature of your job is such. Like if you are a University professor, then having such a tattoo will look inappropriate at the workplace. Of course, nobody will judge you but you have to be realistic while you choose a tattoo design and its placement. You cannot just get a tattoo because you want it. It is imperative to think about things that are workable for you and about the things which are not workable for you in the real world.
⇒ The Size
The size of your tattoo will also determine its placement. Small tattoo placement is easy, you can get a small tattoo on any part of your body, like, your fingers, thumb, wrist, arm, ankle, or anywhere. A large tattoo on the other hand should be placed on larger areas, like your back, rib, thighs, chest, shoulder, etc. So, before you choose your tattoos placement it is important you consider the size of it. Of course, an unappealing tattoo will be the last thing that anybody would ask for. This means you cannot think of getting a large mandala on your wrist.
⇒ The Cost
Yes, cost also plays an important role when it comes to the placement of your tattoo. A small tattoo can be placed anywhere and it won't cost you much. While, larger tattoos are done on specific areas depending on the size and they are expensive. This means if you have a budget constraint then going for a smaller size tattoo will be an ideal decision. And a small tattoo can be placed anywhere.
⇒ Your Personality
We all are born with different personality traits. Not everybody is the same in nature and behavior. Some people are bold, while some are shy in nature. Believe it or not, how you are as a person also matters. Many people give up on their dream of getting a tattoo, because they are shy in nature. Neither I am nudging nor am I saying that a shy person cannot get a tattoo. What I am trying to say is a shy person will always prefer to get a tattoo that is hidden most of the time.
⇒ Your Current Employment and Career Goals
You cannot simply ignore your career goals in order to get your tattoo in your favorite place. There are many jobs like, Defense and Government Jobs where employers follow strict rules. Besides these, there are some corporates who do not employ people with tattoos. As it is commonly believed that people with tattoos are less sincere towards their work. Of course, a tattoo is your personal choice, but it should not hinder your career anyways. There are some companies which don't mind hiring employees with tattoos. So, if you are planning to work in defense or any company that has strict rules when it comes to tattooing. Then it is better to get a tattoo that is kept hidden. While, if you are a celebrity, or involved in an industry like tattooing or sports, then you don't have to worry about the placement at all.
Related: Tattoo Policies and Rules For Job
⇒ The Intensity Of Pain
Lastly, the intensity of pain will also determine the placement of your first tattoo. You may be planning to get a tattoo for the first time, but I am sure you know that tattooing is painful. Yes, with tattoos comes pain, and sometimes it is huge. Like, if you are getting your tattoo on your thigh, it will be less painful because of the amount of flesh in that area. However, if you plan to get your first tattoo on your finger, then it is going to be tremendously painful.
The Best Places to Get Your First Tattoo
Here are some of the best places where you can get your first tattoo.
Ankle
Arm
Back
Bicep
Calf
Finger
Forearm
Hand
Nape
Neck
Shoulder
Thigh
Thumb
Wrist
Ankle Tattoos
When it comes to first tattoo ideas for females, ankle tattoos tops the list. Ankles make for the best tattoo placement, especially when the design is small. The best thing is that ankle tattoos aren't visible that easily. It is visible only when you want to flaunt it. For instance, if you are one vacation, then you can flaunt your tattoo to the world. And when you are at your work, it will be kept hidden. Even when a corporate where you are planning to join is strict about tattoos, you don't have to give up on your desire to have a tattoo. An ankle tattoo will never be visible to others until you want it to.
→ Arm Tattoos
When it comes to the first tattoo ideas for guys, arm tattoos are very popular. Most men love to have their tattoos on their arms, especially the ones in the tattooing industry. Men like to have arm tattoos as they love flaunting body art.
→ Back Tattoos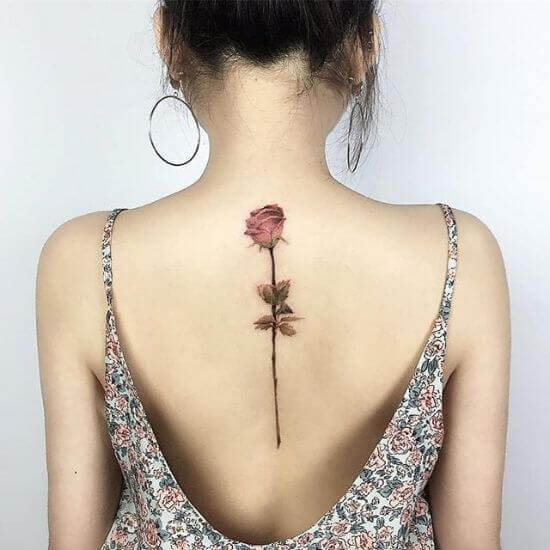 Your back is a perfect location for placing a larger size tattoo. Back provides tattoo artists with a greater area that helps them create any kind of tattoo design. You can have as big a tattoo as you want. Back tattoos look awesome, especially when you take off your shirt. Back tattoos are perfect for those who want to have a body art but do not want to see it themselves. Most people get bored of seeing their body arts so they try to get it in areas where they are not visible to them. If you also think the same, then get your tattoo placed on your back.
→ Bicep Tattoos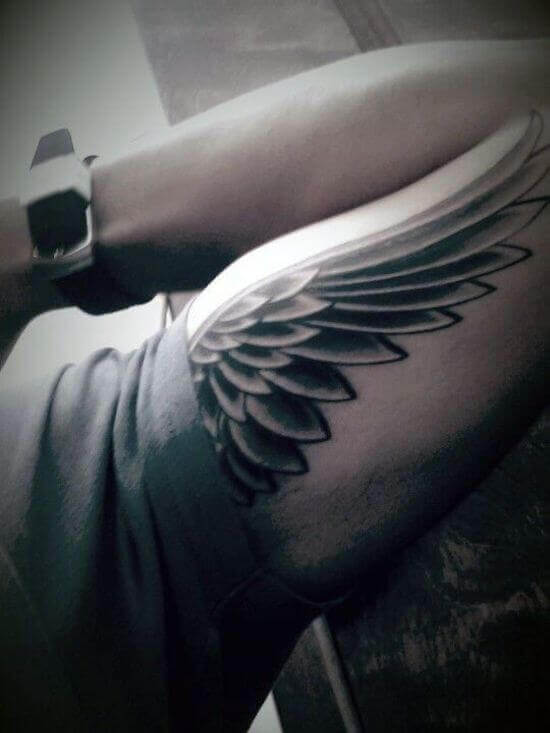 The bicep is another wonderful place for a first tattoo. Bicep tattoos look cool and stylish. Besides, the bicep is fairly muscular which won't make the tattooing procedure painful for you. In addition to this, this area allows you to have small to medium size tattoos.
→ Calf Tattoos
Calf is another impactful place to get your first tattoo. They make for a wonderful placement that you are going to love for sure. The best thing is calf tattoos are less painful because the calf area has a good amount of flesh. Like your back, your calf also offers a great canvas for a first time tattoo. Your calf is the best place for subtle artwork.
→ Finger Tattoos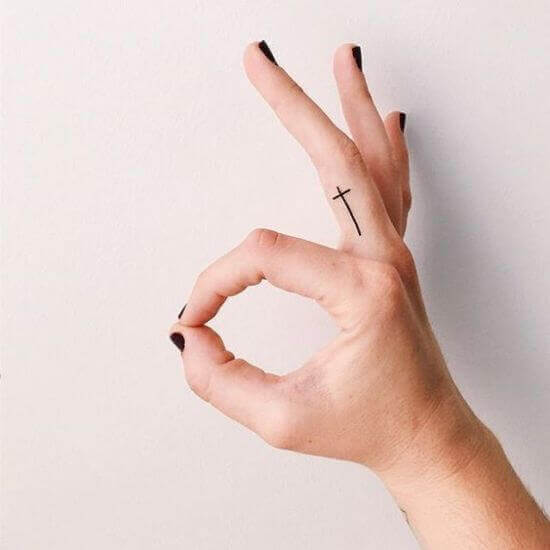 Finger tattoos make for the eye-cathing tattoos, very painful though. Finger tattoos look awesome no matter what. It is a good location for people who are looking for really small sized tattoo designs. You can get any tattoo from a food tattoo to a floral tattoo on your finger. Even a thin line encircling your finger will make for an eye-catching tattoo design. You are going to love this one without any doubt!
→ Forearm Tattoos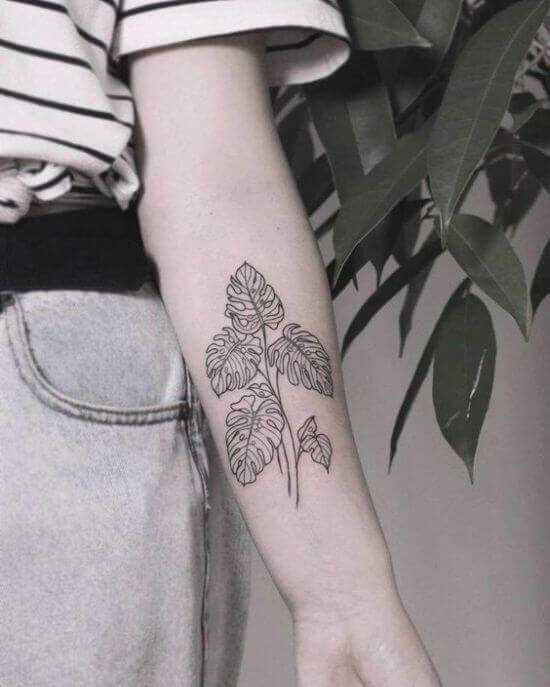 The forearm, like your calf, is a fleshy and soft area that is perfect for a first tattoo. Getting a tattoo on your forearm will be a breeze as it is less painful and less stressful. So, if you are not sure where to get your first tattoo, then consider a forearm tattoo.
→ Nape Tattoos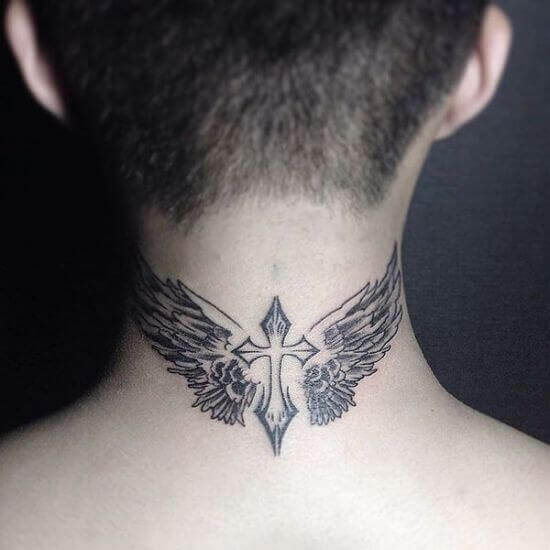 Believe it or not, nape is a perfect location for your first tattoo. Nape tattoos look cool, and simply gorgeous. It is going to be a bit painful though, as the area is boney. You can get a small to medium size tattoo on your nape, like your favorite symbol, name initials, or any other design of your choice.
→ Neck Tattoos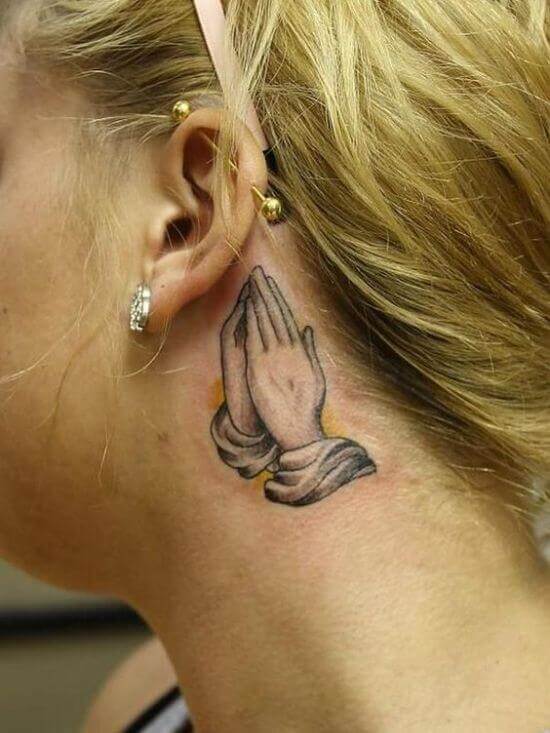 Make sure it won't limit your career goals. If you run your own business or if you are an actor/actress or a freelance writer or SEO consultant, then you can have a neck tattoo. Neck is a perfect location for your first tattoo. Neck tattoos look simply gorgeous and quite seductive as well.
→ Shoulder Tattoo
Another most popular tattoo placement is the shoulder. Your shoulder muscles provide you enough cushioning to tackle the piercing of needles. Shoulder can be a perfect location for your first tattoo, especially if you are involved in industry like sports, music, etc. Also, shoulders are not just men's thing now, even women are getting larger tattoos on their shoulders. So, if you think you love going shirtless sometimes, and the girls who love to wear off shoulder dresses can prefer shoulder tattoos. Most male celebrities have shoulder tattoos.
→ Thigh Tattoos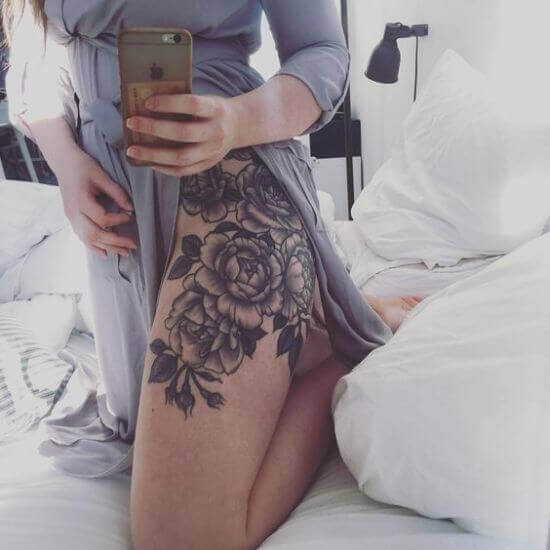 One of the best places to get a tattoo. Thigh tattoos look cool. This is a perfect place for girls, especially young girls who have their own way and style. Also, it is going to be a less painful tattoo for you as your thigh area is soft and fleshy. So there is no chance that the tattoo needle will even touch your bones. Easy to get a tattoo as all you have to do is simply lie down and let the tattoo artists do his/her work. If you love wearing shorts, then it is good to go with. Also, in none of your jobs you will need to wear too short dresses. So, this is a perfect tattoo placement for you.
→ Thumb Tattoos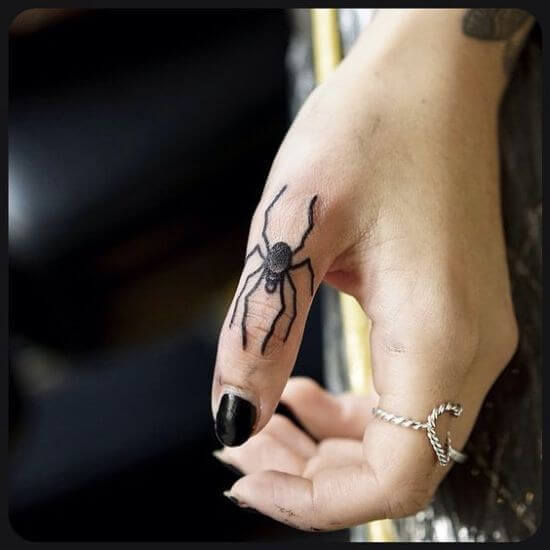 Thumb tattoo, like finger tattoo, is going to be a bit painful as the area is boney that makes it painful. However, the thumb tattoo looks stunning. Thumb is a perfect place for a miniature or a tiny tattoo. It is perfect for the ones who do not want to overdo their tattoos.
→ Wrist Tattoos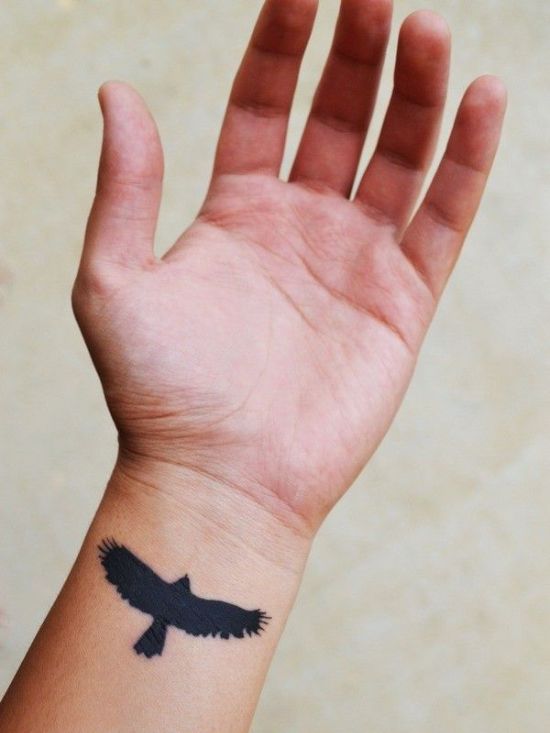 Wrist tattoos are very common amongst men and women. And when it comes to your first tattoo, your wrist could be the best place for it. However, you will have to consider your career goal before getting a wrist tattoo. As your wrist tattoo will be visible all the time. So, make sure you consider all the aspects before you finalize your wrist for your first tattoo. Also, it is going to hurt more because this area is less fleshy.
Tattoo Tips for Beginners
Since it is your first tattoo, make sure you go prepared for it. There is no point going directly to your tattoo artist and simply getting one. Doing so can be regretful later. So, here are tattoo tips for beginners, do follow them while you go for your first tattoo.
1. Finalize your design before you step into the tattoo studio. Do enough research and finalize your tattoo design before stepping in the tattoo studio. You can even speak to your tattoo artist about the type of design you are looking for. Maybe your tattoo artist could help you. Most of the time they help their clients to choose their design. However, it is important to do some ground work.
2. Decide the location where you want your first tattoo to be. Once you have finalized your tattoo, you should know where exactly you want your tattoo to be inked on your body.
3. Get your tattoo from a renowned and experienced tattoo artist. Do enough research and go to a renowned and experienced tattoo artist only. Don't get enticed by low pricing, quality and hygiene are equally important. You can even ask for recommendations from your friends and others who already have got a tattoo.
4. See tattoo studio maintains proper hygiene. Another important point is to look into the hygiene and other aspects of tattoo studios, like your tattoo parlor uses sterilized needles only. Know about the parlor practices well in advance before you finally step in there. Because later it will be very difficult to remove an unappealing tattoo.
5. Choose a tattoo studio where you find yourself comfortable. Finding a place where you are comfortable can have a dramatically profound impact on your tattoo and how well the process goes for you.
6. Read reviews and feedback of tattoo studios before finalizing your tattoo artist. Before you finalize your tattoo artist, make sure that you read online reviews and feedback about his work. If you find more negative reviews then it is better to find another.
7. Be mentally prepared that it is going to be painful. You have to be prepared mentally, the tattooing process is painful. However, pain will depend on the size and location of your tattoo design.
Final Verdict…..
Placement of your tattoo is absolutely your call; however, we would advise you to consider all the important factors before deciding your first tattoo placement. Besides, do not miss to follow tattoo tips for beginners, as they will help you immensely. Hope these tips help you prepare for your first tattoos!!
Thanks for reading!
Happy Tattooing…. ☺ ☺
Please follow and like us: