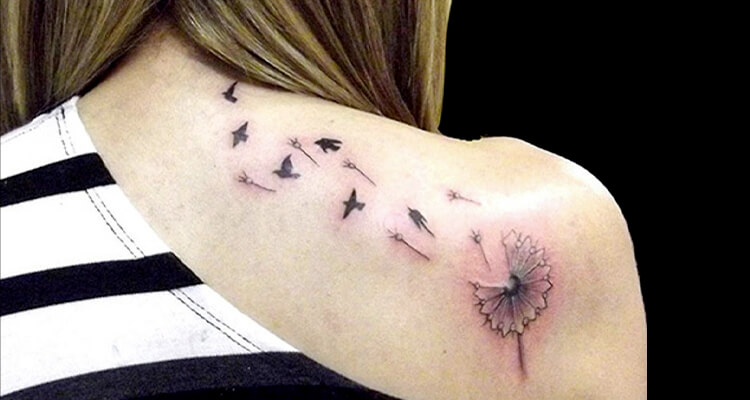 25 Symbolic Freedom Tattoo Ideas That Represent Strength
Posted on
Tattoos are permanent marks that leave an emotional impact on the person who wears them. A lot may be learned about a person's character simply by looking at the tattoos they choose to have. Since a tattoo becomes a permanent part of your body, the design you choose for it should be given careful consideration. After all, you want it to convey something meaningful about who you are. Tattoos that mean freedom and strength are one of the best tattoo designs that most people opt for.
And why not…
After all, every one of us, at some point in our life, yearns for freedom from at least one constraint. Whether as a result of a painful incident or as a mark of triumph over a challenging moment in our lives, Freedom tattoos do an excellent job of conveying these emotions.
The best thing about freedom tattoos is that they can be personalized. So, if you're someone living life according to your own rules and have a spirit that can't be restrained by anybody else, then this article is for you.
We are sharing some of the wonderful freedom tattoo ideas for you to get some inspiration. So, keep reading this post until the end.
Here we go…
Freedom Tattoo Meaning
Freedom tattoos are meaningful to the wearer, regardless of the design chosen for the tattoo since each person has their own interpretation of what freedom means to them. There is a wide variety of possible tattoo designs that can be used to represent liberty.
One of the best ways to demonstrate to the rest of the world that you have moved on from your past is to get a tattoo that depicts freedom.
Young individuals are increasingly likely to have freedom tattoos. These tattoos often denote a period of personal change or serve as a symbol of defiance. An intrinsic Freedom Tattoo signifies that you have overcome obstacles in your life and are now able to take pleasure in living. These tattoos are quite meaningful for the wearer; that's the reason they've become more widespread.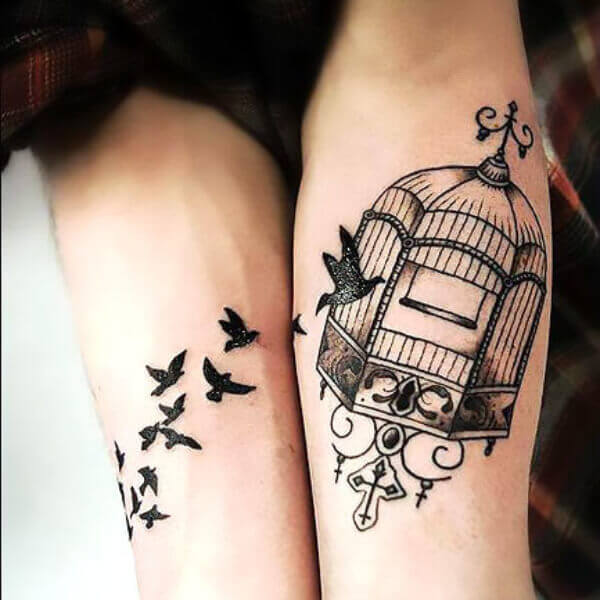 Selecting the right freedom tattoo design is of utmost significance both for the tattoo artist and for the wearer. Additionally, the artist and the ink both play a significant part in conveying the wearer's sense of style.
Let's now take a look at the best freedom tattoo ideas so that you can choose the right one.
Best 25 Freedom Tattoo Designs
1. "Freedom" Word Tattoo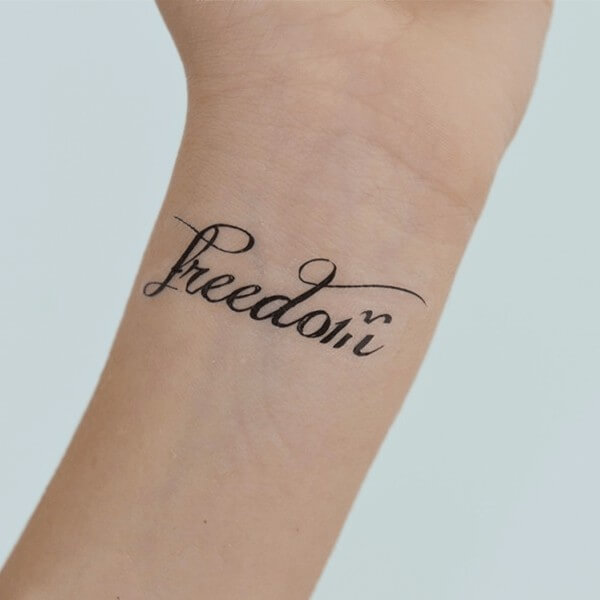 A tattoo that says "freedom" on your body can be the quickest and easiest way to get your point across. When it comes to getting a tattoo of this particular style, the typeface is the most important consideration to make.
Clarity is one of the most important qualities of a good typeface, but its aesthetic appeal also matters. A whole artwork that represents freedom can be created either along or by combining other elements, such as feathers. Writing tattoos look awesome. You can get this amazing and simple tat on your arm, wrist, or neck. Remember, the placement of your tattoo matters, so choose wisely!
2. A Bald Eagle Freedom Tattoo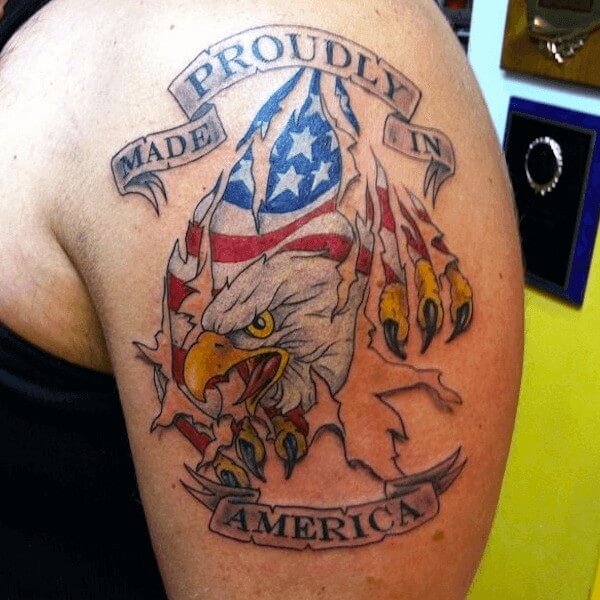 A design featuring an American bald eagle is a common choice for those looking for a patriotic tattoo. The Bald Eagle is the national bird of the United States and is commonly associated with ideas of liberty and freedom.
It is a common choice for a solo tattoo since it mimics the stern and authoritative demeanor of the animal. However, you can even have it alongside the stars and stripes for a more traditional take on the Americana aesthetic. Get this one etched on your back for an appealing placement.
3. Tattoo of Wings Representing Freedom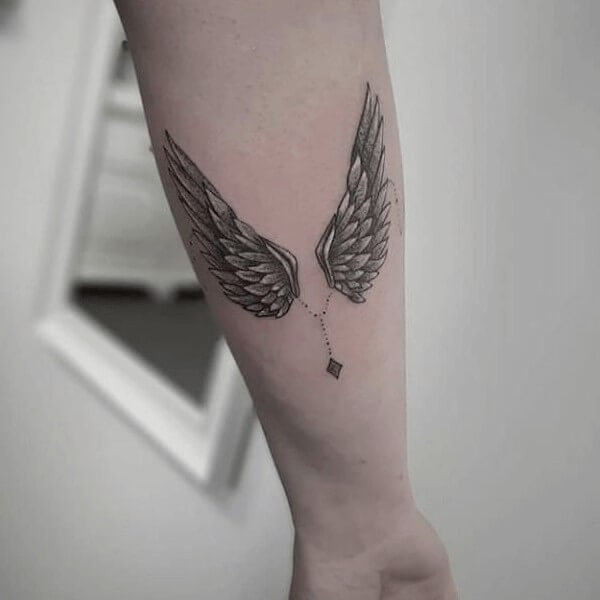 Freedom Tattoos can have any type of wing, whether it be angel wings, animal wings, or steampunk wings. Wing tattoos represent a sense of liberation. A great way to demonstrate your sense of freedom. You might be able to break free of whatever is shackling or limiting you with the assistance of a pair of wings.
When choosing your wing tattoo, keep in mind that each animal has its own meaning. This will add a new layer of symbolism to your tattoo that is inspired by the concept of freedom.
Hence, choose the wings carefully. Also, it is essential to choose the right placement for your wings tattoo representing freedom.
4. A Minimalist "Freedom" Tattoo on the Wrist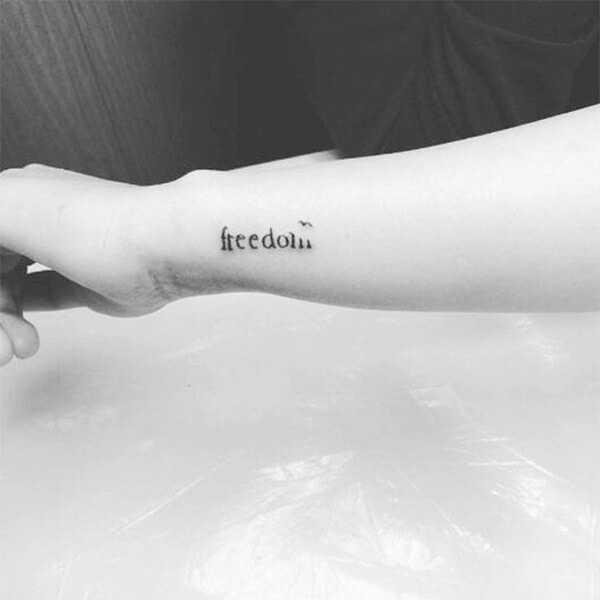 There are times when a single word or phrase may convey a wide range of feelings, and the letter tattoo design for the word "freedom" is an excellent choice. When it comes to getting a basic word tattoo, choosing the right font is imperative. The right font contributes to the overall aesthetic appeal of the tattoo. Get the word freedom etched in running writing or cursive script for the engraving of the word.
A minimalistic freedom tattoo is ideal for you if you want a simple design for your tattoo. The best thing about a minimalistic tattoo design is that it fits the bill well. In addition to that, the utilization of fine lines contributes to its overall beauty of it.
Minimalistic freedom tattoos look dainty and sweet. Also, they are easy to hide. You can have them anywhere on your body.
5. "Statue of Liberty" Freedom Tattoo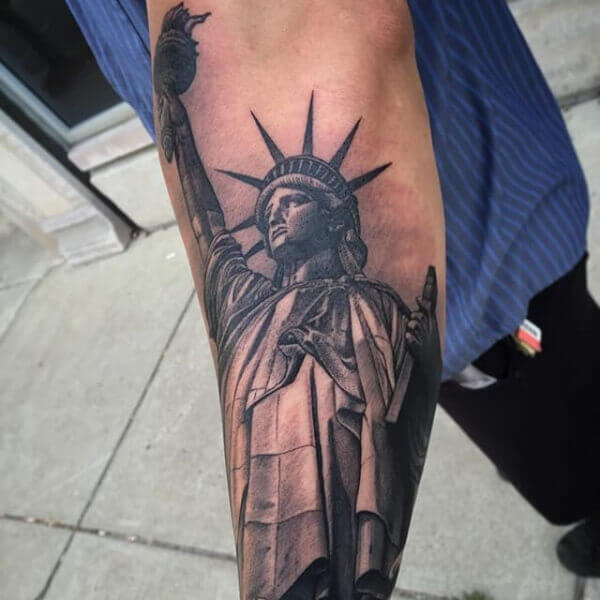 The well-known Statue of Liberty is an incarnation of the Roman goddess Libertas, who was associated with freedom. It's one of the most famous statues in the world. The statue represents freedom, democracy, and people's rights all across the place.
Related: History of Chicano Tattoos 
In the United States, it is a symbol of liberty. The design of the Statue of Liberty tattoo is versatile and goes well with many different types of tattoos. So, if you're looking for a unique tattoo design that represents freedom, this is the one. Get it etched on your back, shoulder, or arm.
6. Freedom Tattoo on the Arm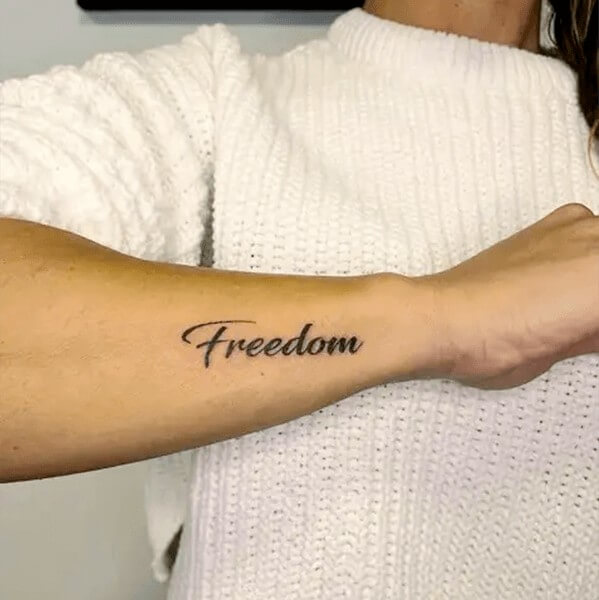 Arm tattoos are for those who love to flaunt their body artwork without any constraint or restriction. You can have the phrase "freedom" etched in thick lines. This is a meaningful tattoo design that represents rejecting all preconceived notions and setting oneself free. However, the meaning of even the simplest term shifts depending on the perspective of the person wearing it.
Even though the tattoo looks its best when done in black ink, you might experiment with using other colors to give it a more varied and distinctive appearance. This style of tattoo is typically more popular among men; however, females can also try this design using different variations.
7. Freedom Tattoo on Neck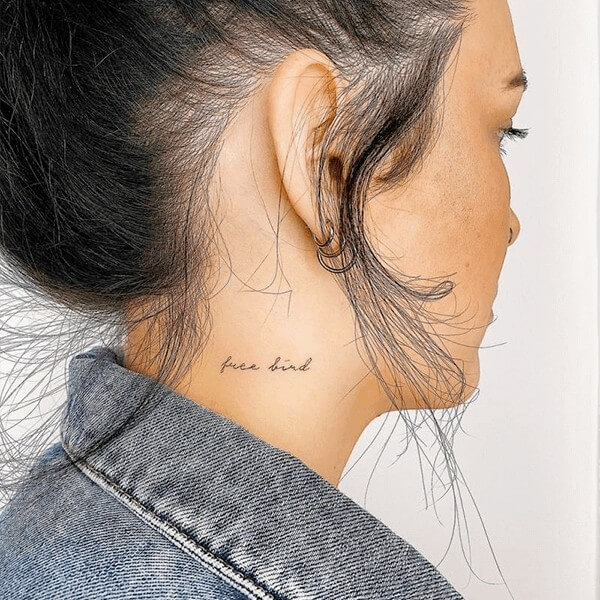 Your neck is yet another great place for a stunning freedom tattoo. You can have the simple word "Freedom" etched on your neck or can have a symbol of freedom engraved there. Whatever the case, a freedom tattoo on the neck looks gorgeous.
The best thing about neck tattoos is that they can be kept hidden as and when you want. So, if tattoos are not allowed in your job, you can easily have a freedom tattoo on your neck.
8. Broken Chain Freedom Tattoo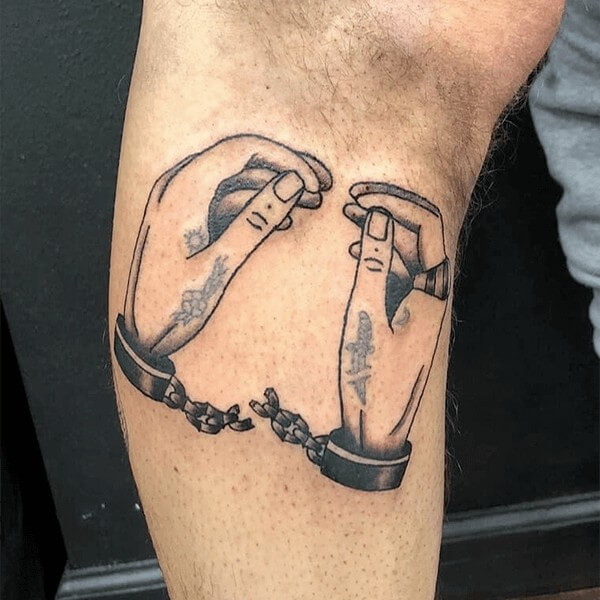 The image of a chain that has been broken is symbolic of release and freedom. Chains have connotations of shackling, servitude, and other forms of confinement. This motif may have its origins in the French Revolution, during which time insurgents physically freed captives and enslaved people by breaking their shackles.
There are numerous ways you can have a broken chain tattoo, such as shackled hands emancipated, a ball and chain tattoo, or a tattoo of blood-stained chains. All of these are great symbols of freedom.
9. Freedom Bird Tattoo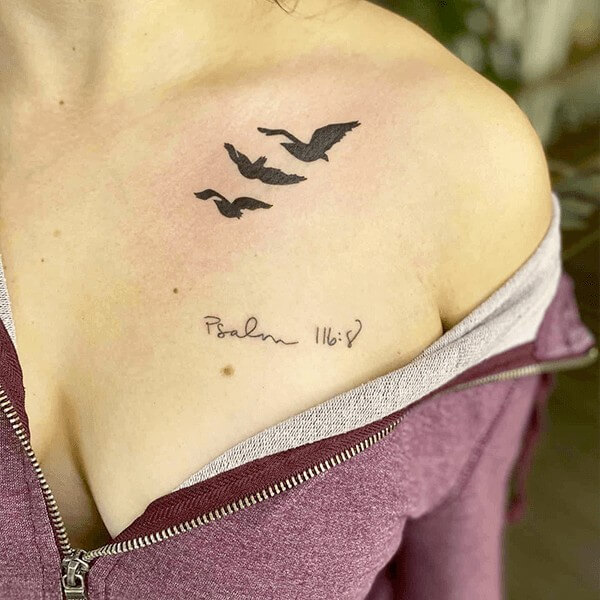 Birds and freedom have always been associated with each other. Birds are one-of-a-kind creatures that are capable of walking, swimming, and flying. All of these traits make birds a great symbol of freedom.
Birds are also considered to be divine messengers since they are recognized as symbols of peace, salvation, liberty, and spirituality.
Whenever it comes to tattoos representing freedom, birds in flight are almost often depicted. Birds, with their wings flapping in the breeze, are frequently depicted in tattoos to represent concepts such as originality and motivation.
If you also feel the same level of freedom in your life, then definitely freedom bird tattoo is for you. Get it placed on your nape or shoulder for a stunning placement.
10. Butterflies Freedom Tattoo
The butterfly, which begins life as a caterpillar and eventually transforms into a beautiful, multicolored creature, is often used as a symbol of transformation and progress. In some cultures, the butterfly is seen as a representation of the soul and as a sign that a traveler has arrived from the afterlife.
Transformation, in its many forms, is the surest sign that one is free. The butterfly represents the transformation of one's life and the ability to start over. Also, it signifies major changes in one's life, such as becoming spiritual. So, if you believe your journey to spirituality has started and you want to showcase the same, a butterfly freedom tattoo is the best choice for you.
Get your butterfly freedom tattoo on your arm or shoulder.
11. Feather Freedom Tattoos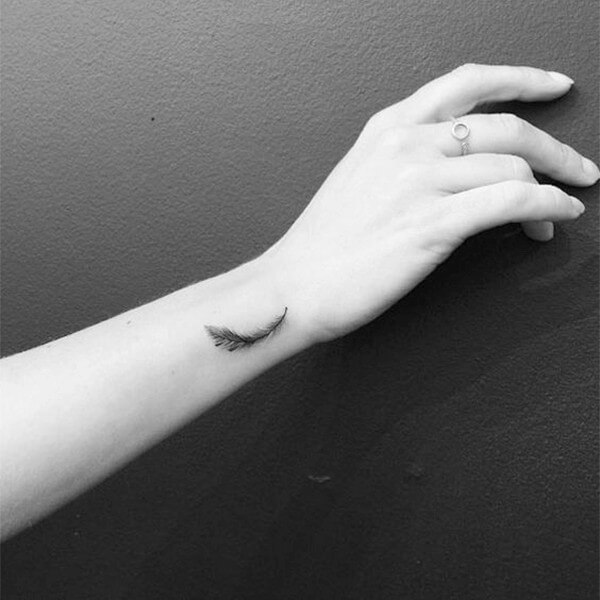 When it comes to freedom tattoos for females, a feather tattoo that represents freedom tops the list. The concept of the word "freedom" can be beautifully represented in a variety of ways using a beautiful feather.
Birds have the ability to fly freely; hence their feathers are a symbol of freedom. Feathers are often connected with birds. The Egyptian civilization and Native American culture both attach significant cultural meaning to feathers.
People who have a strong desire to have a symbol of freedom on their body can consider getting an exquisite feather design tattoo. The best thing is that it is a great option for people of any age, from young to old. Even males can try this design to showcase freedom in their own way. The best place for a feather freedom tattoo is your arm, wrist, finger, neck, and shoulder.
12. Open Birdcage Freedom Tattoo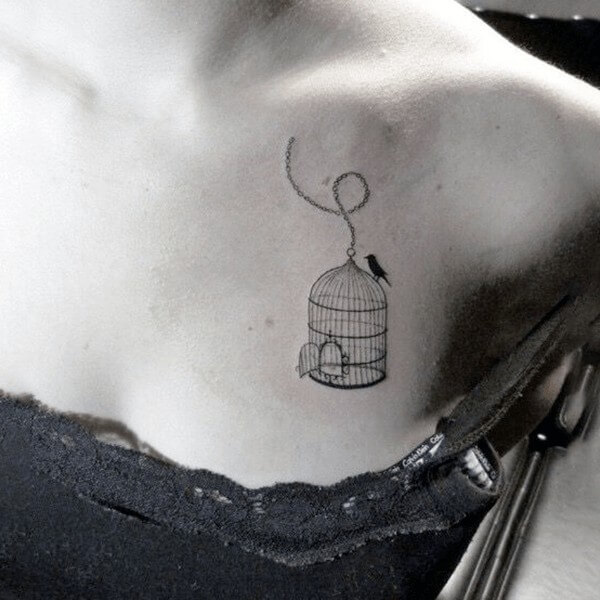 If you want to invest in a more meaningful freedom tattoo design, then get an open birdcage freedom tattoo. An empty cage is a symbol of freedom from any form of servitude, whether it be physical, psychological, or emotional.
The birdcage tattoo that features a door that may be opened symbolizes the freedom to be oneself. The fact that one of the birds has the keys to the cage indicates that freedom can be won.
Often these tattoos are made in large sizes, so get them etched on your back. If you want an open birdcage tattoo in a small size, then you can consider getting it on your ankle as well.
13. "Beyond Fear Lies Freedom" Quote Freedom Tattoo
There are times when the life you want is just around the corner, and all you have to do to get it is muster up the courage to go after it. It is a great way to showcase your courage and how it helps you lead a free life. The best thing is that there are no specific physical requirements; getting this tattoo is a fantastic choice for anybody. Get it etched on your arm for a stunning placement.
14. Freedom Tattoo Design Inspired by Flower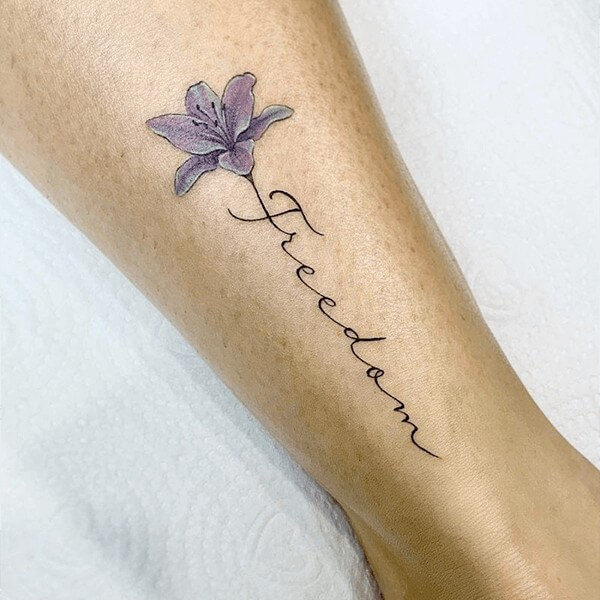 Flowers are an integral component of the world of tattoos. They symbolize love, particularly a red rose. You can get a red rose with the word "Freedom" etched in cursive font on your arm.
The use of vibrant colors in the freedom flower tattoo makes it look realistic and eye-catching. When it comes to freedom tattoos for women, this is a great tattoo design. However, males can also have a freedom flower tattoo. Instead of a red rose, they can opt for a wildflower to showcase their macho side.
15. A Captivating Freedom Tattoo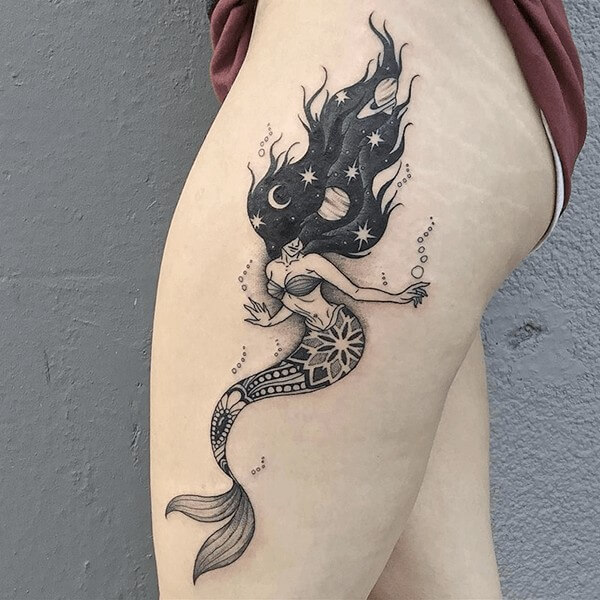 Wings of freedom tattoos, whether they belong to a bird or another animal, are a symbol of freedom. This is the reason why it is appropriate for everybody, regardless of their gender. This tattoo of freedom, which features a lovely little bird, will free you from whatever it is that is holding you back or limiting you.
Have the "Freedom" written in a bold typeface in black ink to make it look really attractive! This tattoo can be considered gender-neutral. However, when it comes to freedom tattoos for guys, this is one of the best freedom tattoo designs for them.
16. "Freedom is a state of mind" Quote Tattoo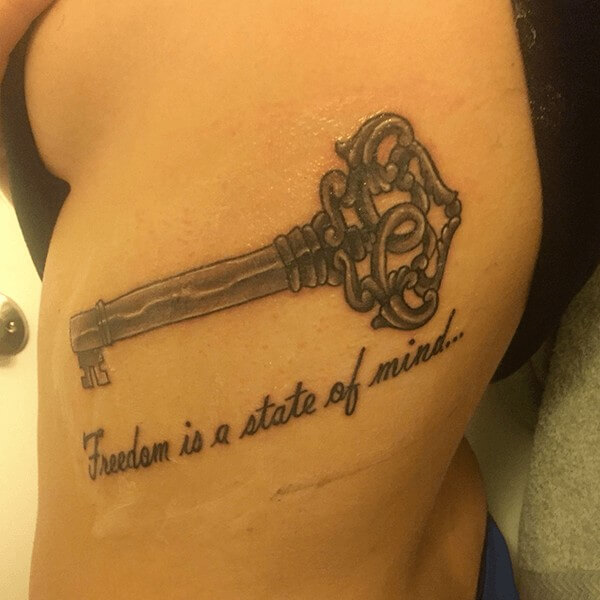 If you are fond of quote tattoos, and looking for a quote that speaks of freedom, then this is the one. Quote tattoos make for very simple and meaningful tattoo designs. You can have this quote etched on your arm or neck.
"Freedom is a state of mind" simply indicates that one's freedom is contingent upon the condition of their mind. The tattoo achieves a more sophisticated and alluring appearance by utilizing a limited colour palette. Aside from your arm or neck, you can also consider getting it on your calf.
17. Small Freedom Tattoo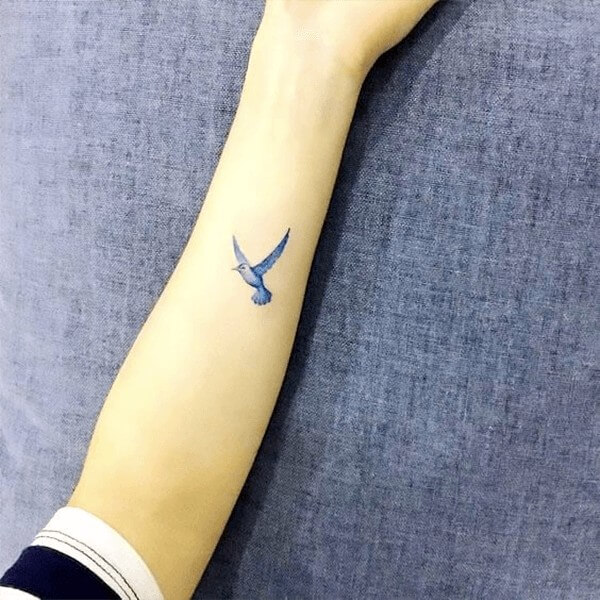 If you don't want to overdo your freedom tattoo design, then get a small freedom tattoo. Get the letters of the word etched in a very simple font without any additional embellishments being added to the design.
If you don't want to use black ink, you also have the option of choosing a different color to print with. If you want, you can have a small feather added to your tattoo design for that extra appeal. Adding a small feather will make your tattoo even more meaningful as a feather stand for liberation from anything.
18. Feather with Birds Freedom Tattoo
When it comes to freedom tattoo designs, feather tattoos top the list. Feathers represent freedom and liberation from bondage. You can have a beautiful feather along with the word freedom and too many small birdies flying etched on your body.
The freedom of the wearer is highlighted even more by the inclusion of several adorable birdies at the top. This tattoo design is appropriate for both men and women of any age or orientation. All you have to make sure of is to get it etched in the right place. And the right place very much depends on the size of your tattoo design. This implies that a large freedom tattoo should be etched on areas such as the back, tummy, and thighs, whereas a small freedom tattoo looks stunning on the wrist, nape, fingers, and so on.
19. Flying Bird Freedom Tattoos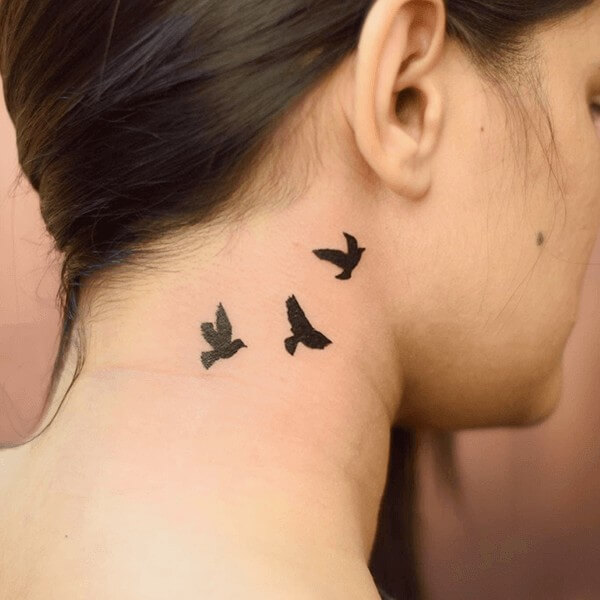 A flying bird tattoo design is a great way to showcase your freedom. Flying birds make for one-of-a-kind tattoo designs that stand out. Birds are considered to be divine messengers since they are recognized as symbols of harmony, redemption, emancipation, and mysticism. Whenever it comes to tattoos representing freedom, flying birds are often the first choice of the wearer. You can have a bird tattoo with its wings flapping in the breeze to make your tattoo look realistic and eye-catching.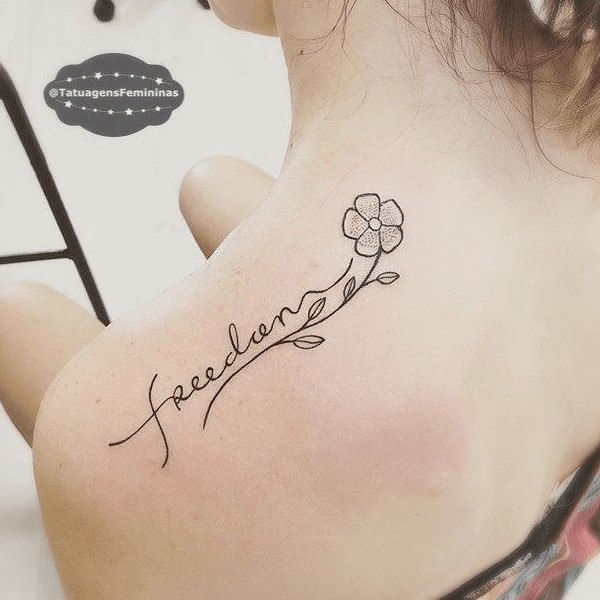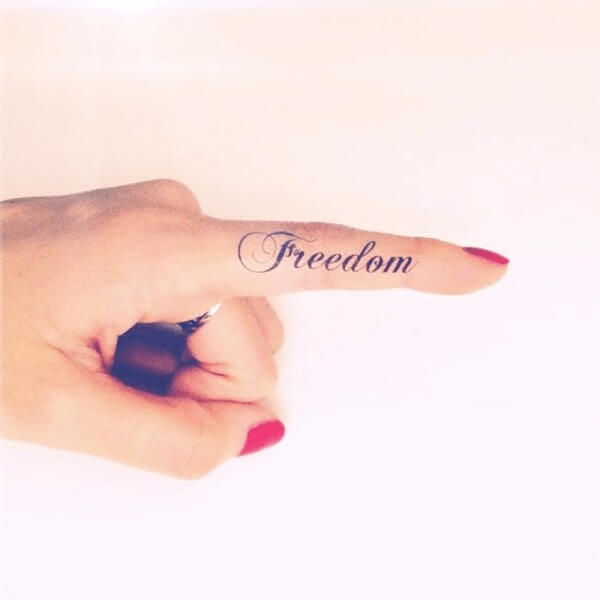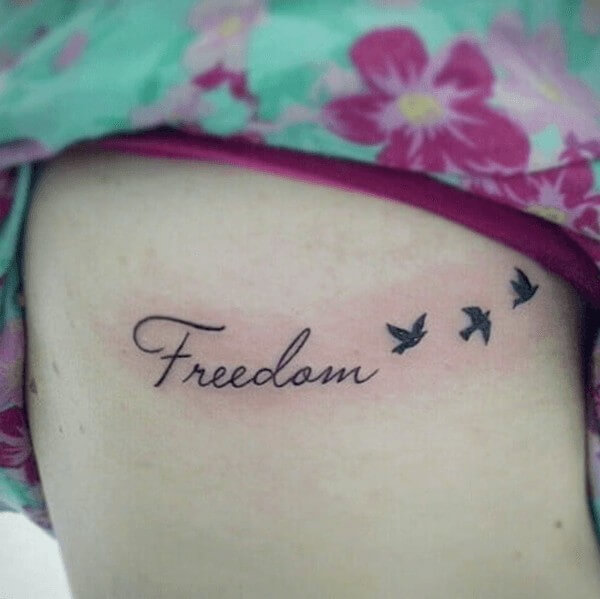 You Might Like: 
Wrapping it up…
So, this is all about the freedom tattoo ideas. Let us know whether or not you found this article to be informative.
All of the designs mentioned above are carefully picked to help you get some inspiration for your freedom tattoo design. The best thing about the freedom tattoo designs is that you can customize these tattoos as per your liking.
Remember, tattoos are a permanent job; they're often used as a medium for self-expression. Hence, it is imperative to choose the right tattoo artist for your freedom tattoo. Only a reputable tattoo artist with immense experience can help you have the tattoo of your dream.
Also, it is crucial that you take very good care of your freedom tattoo design. Taking good aftercare of your tattoo design will let you have it for a very long time.
Please follow and like us: