25 Stunning Galaxy Tattoo Ideas with Meaning
Posted on
Body artwork has gained immense popularity over a few decades. People across the world love to flaunt body artwork. There are many incredible tattoo artists out there who genuinely create outstanding body art on people's bodies.
The majority of the tattoo designs reveal more profound meanings, including galaxy tattoo designs. This article will discuss everything about Galaxy tattoos, including galaxy tattoo meanings.
So, if you're planning to get a Galaxy tattoo, this post is for you. Here we have gathered the top 15 galaxy tattoo designs for you to get some inspiration.
So, let's get started…
What does a galaxy tattoo represent?
First and foremost, it is worth noting that your tattoo should be meaningful as it reflects who you are as an individual. And galaxy tattoos are significant tattoo designs besides being amazingly stunning. A galaxy tattoo offers a different meaning for different people.
For example, the galaxy is the symbol of life and goals for some people. You must have noticed people looking up the stars whenever they wish to obtain something in their lives or accomplish their goals. When people ponder something profound or dream, they tend to look up to the night sky.
Aside from that, a galaxy tattoo also represents optimism. People who have galaxy tattoos simply show that they are optimistic and are not deterred by life's difficulties.
A galaxy tattoo design also represents admiration and dedication. Getting a galaxy or cosmic tattoo indicates that your love for someone is as vast as the universe.
Another meaning that a galaxy tattoo signifies is the fact that you are only a tiny part of the universe and should never forget that. It is due to the fact that our universe is infinite. There are approximately two trillion galaxies in the universe, and we are just a tiny part of the colossal universe. It could also imply that each of us has a unique place in the universe and a specific role to play.
So, choose your galaxy tattoo design very carefully, keeping the significance of this unique tattoo in mind. This tattoo can demonstrate your willingness to go after what you want. Some people even associate the galaxy with the mental state.
Where should I get my galaxy tattoo on my body?
Galaxy tattoos look awesome no matter etched where on the body. However, a galaxy tattoo sleeve tops the list when it comes to the placement of galaxy tattoo designs. It makes for the most stunning pieces of body art anyone could think of. A beautifully etched tattoo on your arm will look stunning. Aside from that, you can get a small galaxy tattoo on your neck, nape, wrist, ankle, shoulder, chest, etc.
While for a larger piece, you can consider getting a galaxy on your back, thigh, forearm, and tummy region. A forearm, neck, and wrist make for a perfect placement for a discreet tattoo design that stands out. Make sure you consider everything in advance before getting a forearm or arm tattoo, as later arm tattoos can be a problem in your job.
Is it essential to get a colored galaxy tattoo?
No, not at all! Of course, galaxy tattoos are stunning in color ink. However, this does not imply that galaxy tattoo black and white do not look good. Some galaxy tattoos, in fact, look fantastic in black and white ink. Also, the color of your tattoo should be your choice and should not be influenced by the internet or others.
Top 12 Galaxy Tattoo Designs
1. Tiny Galaxy Tattoo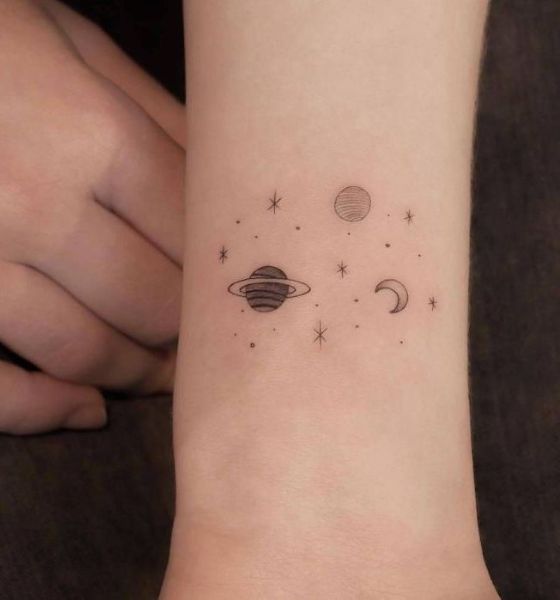 A galaxy tattoo small is an excellent choice for those looking for a cute and subtle tattoo design. You can get it etched on your wrist, chest, nape, or ankle. Small tattoo designs look beautiful in these locations.
Also, a small galaxy tattoo is a perfect reminder that we are just a tiny part of this whole system, and we should never forget this.
2. Universe Tattoo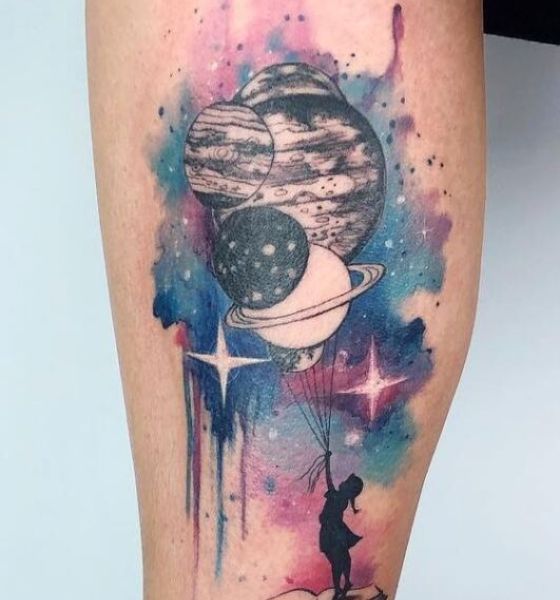 A colorful universe tattoo etched on your body will look stunning. You can get a universe tattoo inked on the back or the side of the body. Usually, people prefer to get universe tattoos in large sizes. The best thing is you can experiment with beautiful colors when getting a universe tattoo.
3. Galaxy Sleeve Tattoo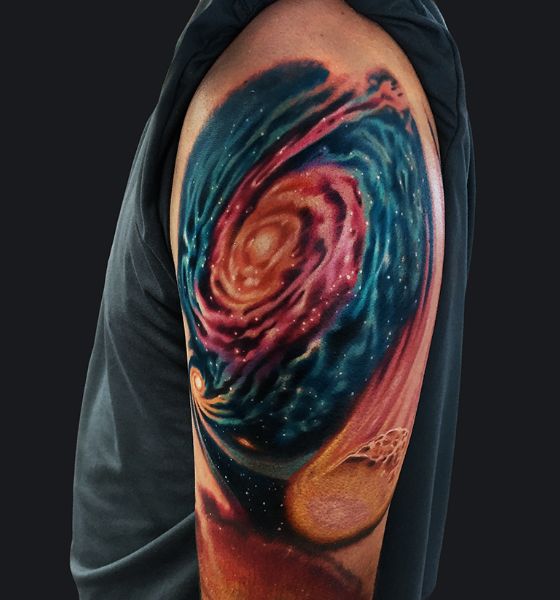 As said earlier, your sleeve is the best location for a galaxy tattoo design. You can have a galaxy tattoo sleeve for a more dramatic effect. These tattoos create a stunning representation of the galaxy, especially when etched in bright and bold colors. There are numerous galaxy tattoo designs to choose from for your sleeves.
4. Simple Galaxy Tattoo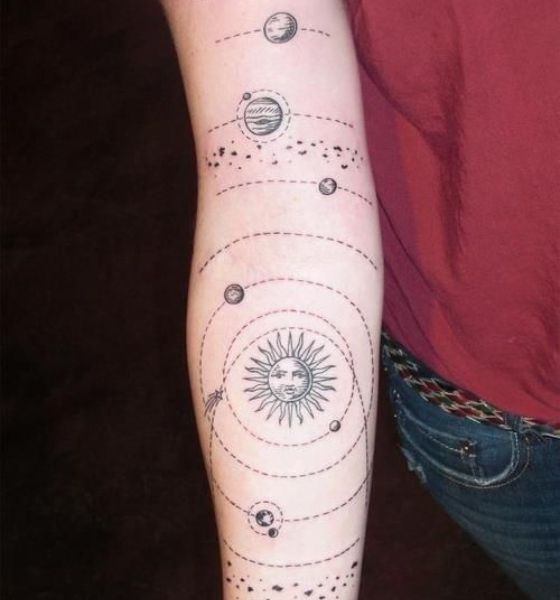 A simple galaxy tattoo is for those who do not want to overdo their tattoo designs. A simple galaxy tattoo design need not be boring at all. You can use bold colors to make your galaxy tattoo look stunning.
5. Space Tattoo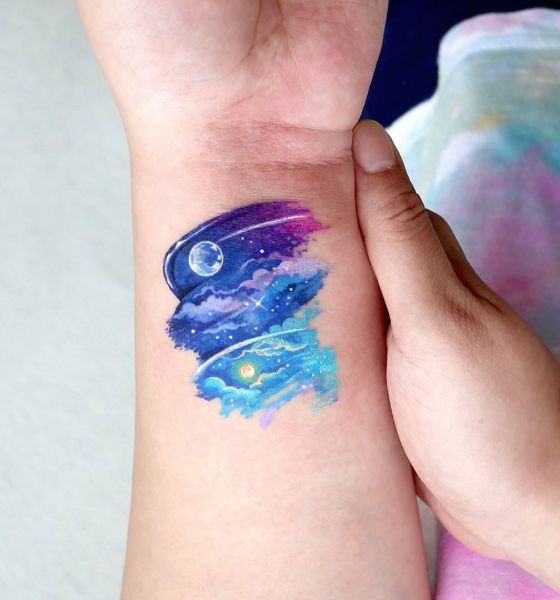 Have the sun and comets added to your galaxy tattoo design for that dramatic effect! Your space tattoo will have all the details in it. You can get a space tattoo in color or black and white. The perfect place for a space tattoo is your shoulder, as it provides enough space for your tattooist to create a unique tattoo design.
6. Galaxy Tattoo on the Chest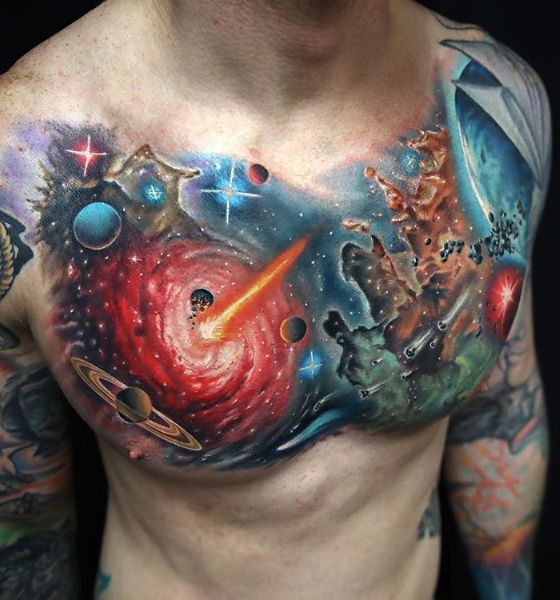 If showcasing your tattoo will be a problem for you, your chest is a perfect location for your galaxy tattoo design. Choose a stunning galaxy tattoo design for your chest. You can get your chest galaxy tattoo in dark tones and etched across your chest. Make sure you choose a reputable tattoo artist for your chest galaxy tattoo design.
7. Tattoo of the Galaxy Chart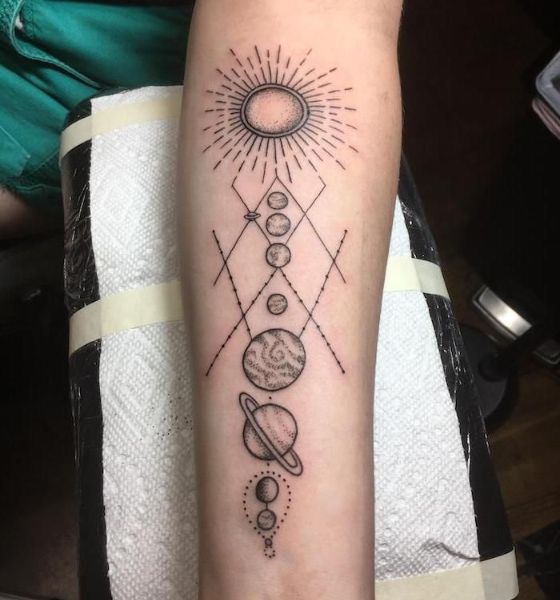 Galaxy chart tattoo is yet another excellent tattoo design that looks cool. This design depicts the planets along with the lines that connect them. You can get this in black and white ink or in colored; it will look beautiful and elegant. Get this one on your arm. And if you cannot have it there, then your shoulder is perfect for this design.
8. Galaxy Tattoo on the Hand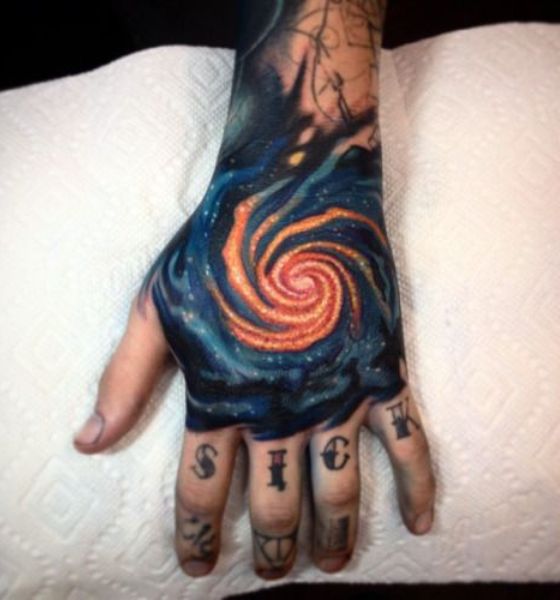 Hand tattoos make for striking tattoo designs – a galaxy tattoo would look great on your hand. You can get this tattoo in a blue and yellow color scheme.
9. Galaxy Tattoo in Star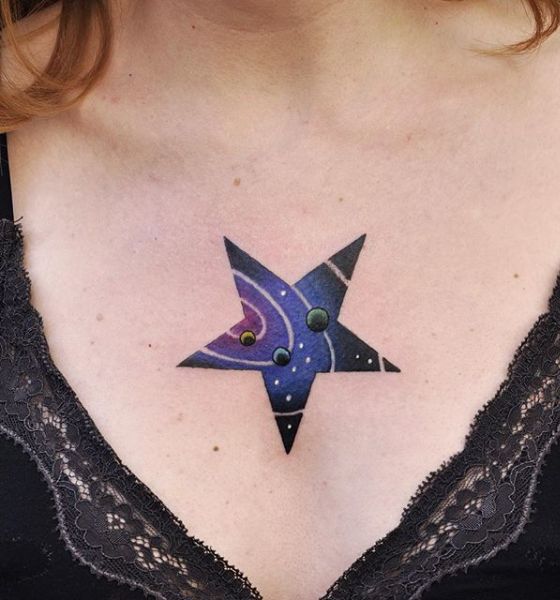 If you want a unique galaxy tattoo, then get a galaxy tattoo in star. There is no doubt that galaxy tattoos look good in standalone. This is also one of those tattoo designs. You can get a galaxy image etched inside a star, making it eye-catching. Star galaxy tattoo makes for a brilliant tiny tattoo design. Get this tattoo etched in blue color on your wrist or neck.
10. 3D Galaxy Tattoo
3D tattoo designs look great. If you love this form of body artwork, then get your galaxy tattoo etched in 3D. You are going to love this intricate tattoo design. Make sure you get it in bold and bright colors. Your arm is a perfect place for a 3D galaxy tattoo design.
11. Telescope Galaxy Tattoo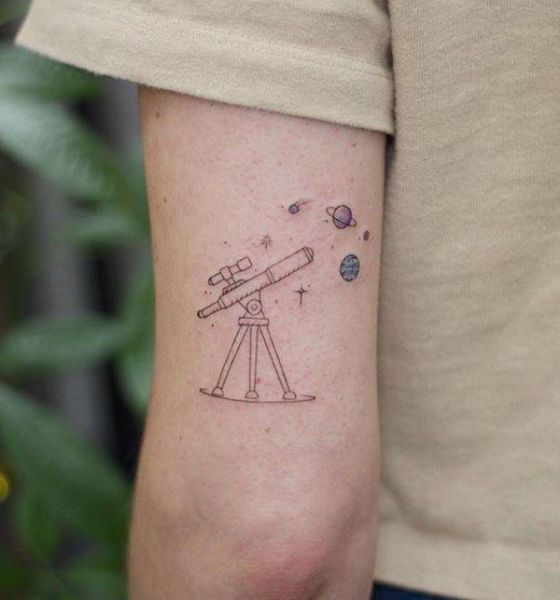 A telescope is a useful tool for viewing the galaxy at night. So, if you enjoy stargazing at night, get a galaxy tattoo along with a telescope for a one-of-a-kind tattoo design.
12. Geometric Galaxy Tattoo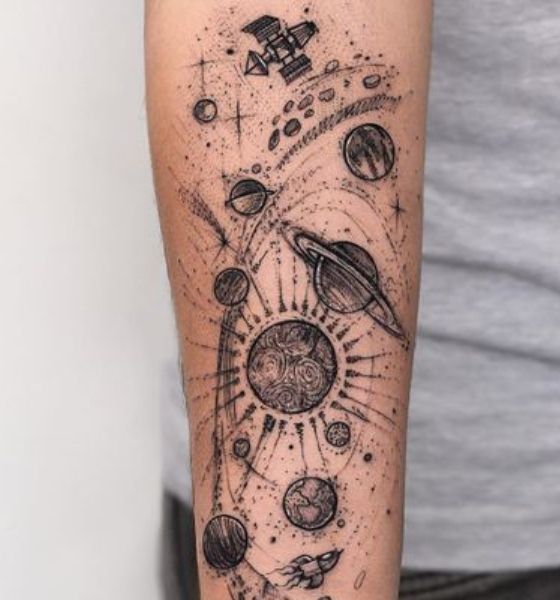 Geometric tattoo designs are stunning! You can have any object etched in geometrical shapes for one-of-a-kind tattoo designs. A galaxy tattoo, for example, can be etched in geometric form. For a stunning effect, get this tattoo design in black ink.
Stunning Tattoo Designs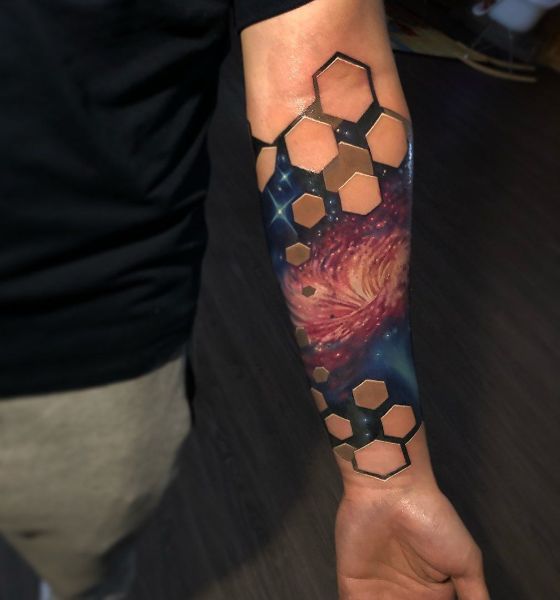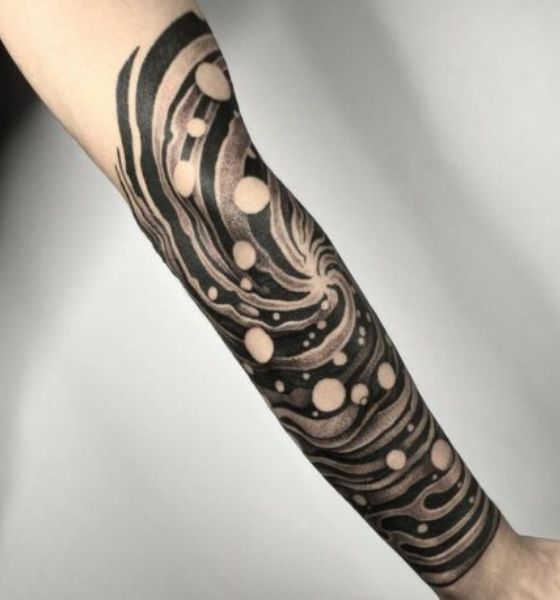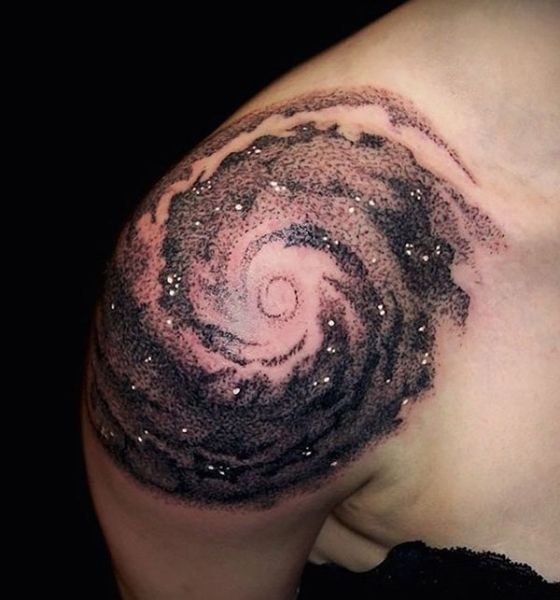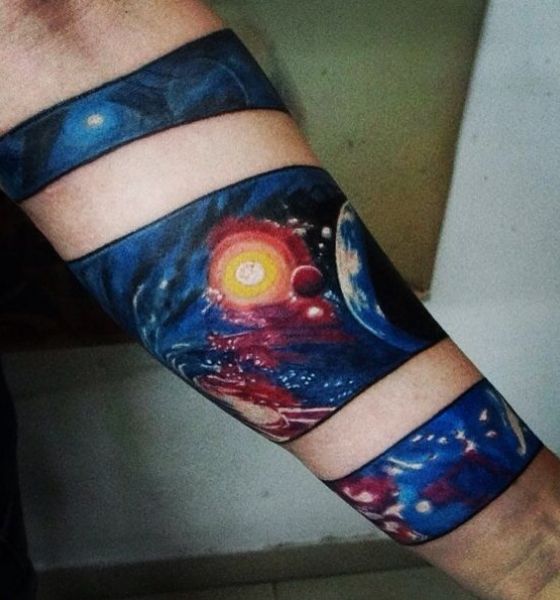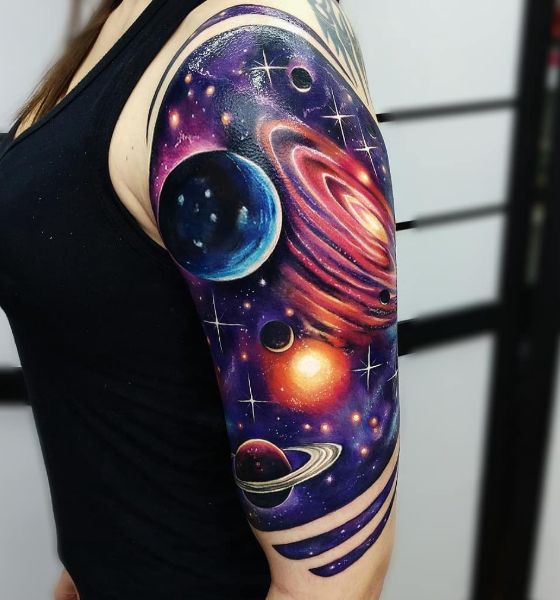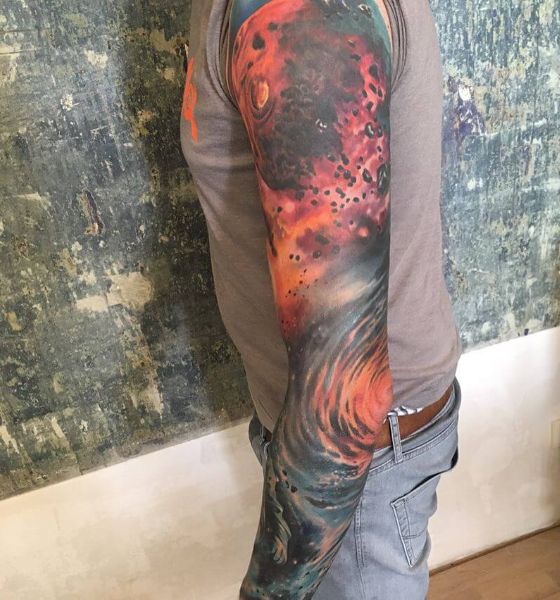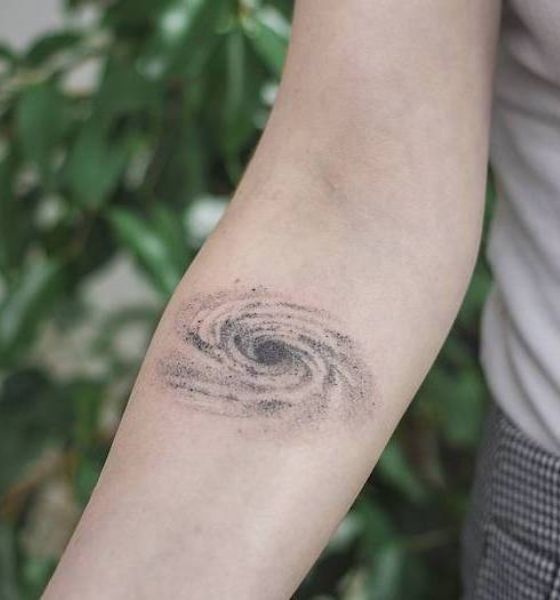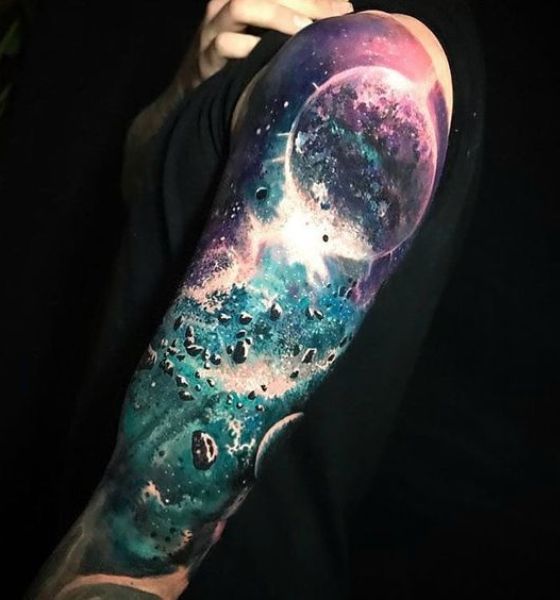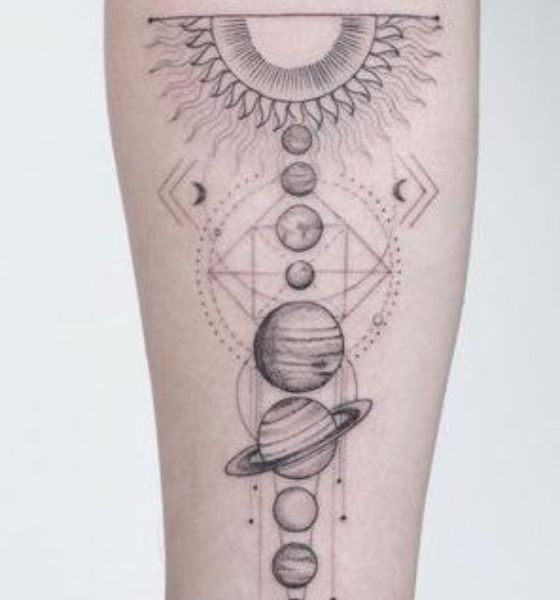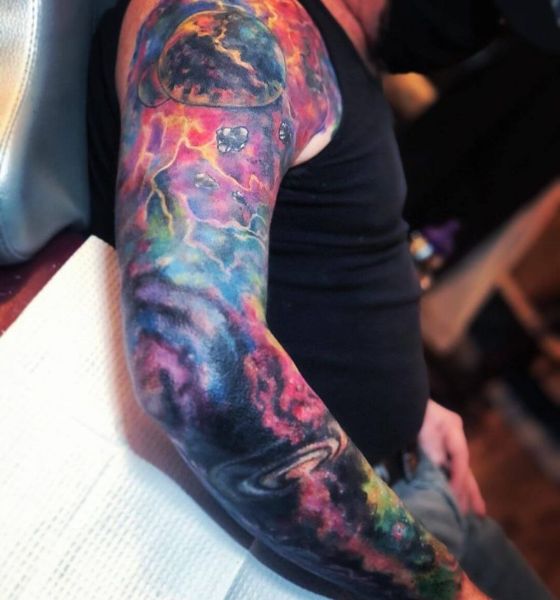 Wrapping it up…
So, these are the top 25 galaxy tattoo designs that you can consider opting for yourself. Aside from these designs, there are several other tattoo ideas from which you can get some inspiration. The idea is to get a tattoo that stands out and is meaningful to you.
Undoubtedly, Galaxy tattoos make for standalone tattoo designs. However, if you want to add additional elements to your tattoo, you can do that. A quote etched along with your galaxy tattoo will look great. You can even have the planet, the sun, and other space elements added to your galaxy tattoo design.
The only thing that you have to make sure is to choose a reputable tattoo artist for your design. Galaxy tattoo designs should be etched by professional artists only as these tattoos involve intricate details that only experts can demonstrate.
Happy Tattooing… ☺ ☺
Please follow and like us: