40+ Best Monkey Tattoo Ideas and Designs with Meaning (2023)
Posted on
Tattoos have gained immense traction in the past few decades. People from all walks of life are now enticed to get body artwork. And why not?
The body artwork looks stunning. No matter which designs you get, a flower or a monkey king tattoo, they look good. Yes, people do get monkey tattoos as well. You will be surprised to know that many people love to adorn monkey tattoos on their bodies.
Monkeys are said to be our ancestors. For millennia, people have been depicting monkeys in art and literature, and the meanings behind these depictions have varied greatly.
So, if you are planning to get a monkey tattoo design, then you're reading the right post.
In this post, we'll discuss some of the most important things about monkey tattoos, including monkey tattoo meanings and various monkey tattoo designs. We are sure you will love reading this piece, so let's get started…
Monkey Tattoo Meaning
Monkeys are pretty popular for expressing some humanistic behaviors. A monkey tattoo can be interpreted as a straightforward expression of a person's love for or curiosity about other intelligent primates. A significant number of individuals choose to get monkey tattoos for deeper symbolic reasons, such as joy and a spirit of playfulness. Monkey tattoos have become pretty popular among people these days. For people who love to flaunt their carefree and mischievous character, a monkey tattoo is apt for them. Because of their reputation for wit, mischief, and inquisitiveness, monkeys are perfect mascots for people who place a premium on these qualities in themselves and their daily interactions with others.
A monkey tattoo also symbolizes humour. If you value humour or are humorous person, then a monkey tattoo is apt for you. A monkey tattoo serves as a continual reminder of an open and nonchalant attitude. Monkey tattoos represent a playful and naughty attitude. This is one of the significant reasons people love to get monkey tattoo designs. If you are a playful person, love to live in the present, and resist becoming weighed down by the pressures of day-to-day living, a monkey tattoo is apt for you.
A monkey tattoo can be seen as a symbol of mental agility and sharpness. For people who place a high value on intelligence, monkey tattoos are ideal for them. Monkeys also signify personal growth and learning.
In Hinduism, monkeys are regarded as the incarnated forms of Lord Hanuman. Lord Hanuman is admired for his bravery, dedication, and loyalty. Getting a tattoo of a monkey is one way to show respect for the potent deity Hanuman, whom many Hindus revere as a representation of the qualities of bravery and faith.
The significance of a monkey tattoo can vary based on various factors, such as its cultural origins. Monkeys are often regarded as symbols of intelligence and wisdom in certain cultures. A monkey tattoo can serve as a reminder to stay connected with loved ones and lean on each other through life's challenges; a monkey tattoo can serve as a constant reminder to stay true to your values and prioritize the ties with those you care about, even when things seem tough or unclear.
Why Choose Monkey Tattoos?
In general, monkey tattoos are highly adaptable patterns. They can be executed in a wide variety of styles, sizes, and colour schemes. These tattoos can be styled with several other elements, including bananas, trees, or anything else that is associated with the jungle. Monkey tattoos can look great whether you choose to have them as standalone pieces or incorporate them with other elements.
Monkey Tattoo Placement
Monkey tattoos can be placed in a variety of areas, including the back, arm, leg, or shoulders. Usually, the placement of a tattoo depends on its size. Large-size tattoos are etched in parts such as the back, tummy, thighs, etc. Whereas, for a small-size monkey tattoo, design your arms, shoulders, wrist, fingers, nape, and so on. It is essential to choose the placement of your tattoo wisely.
10 Best Monkey Tattoo Ideas
Here is our rundown of the top 10 monkey tattoo design ideas for you; Take a look…
1. Japanese Monkey Tattoo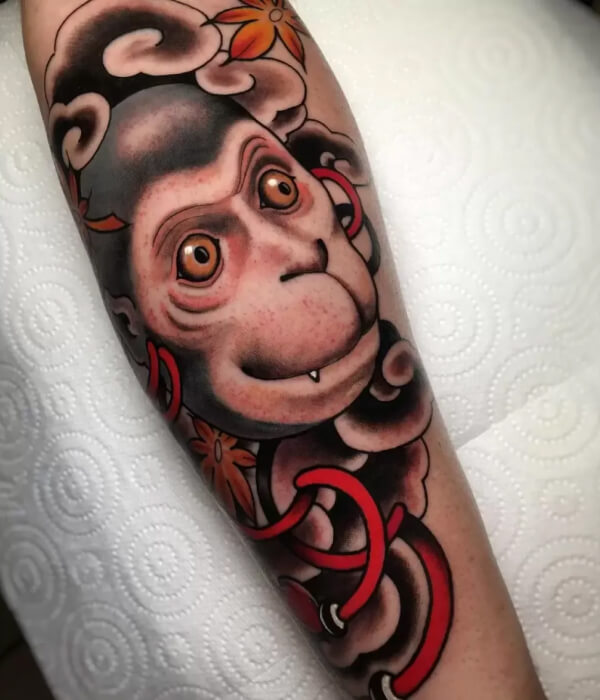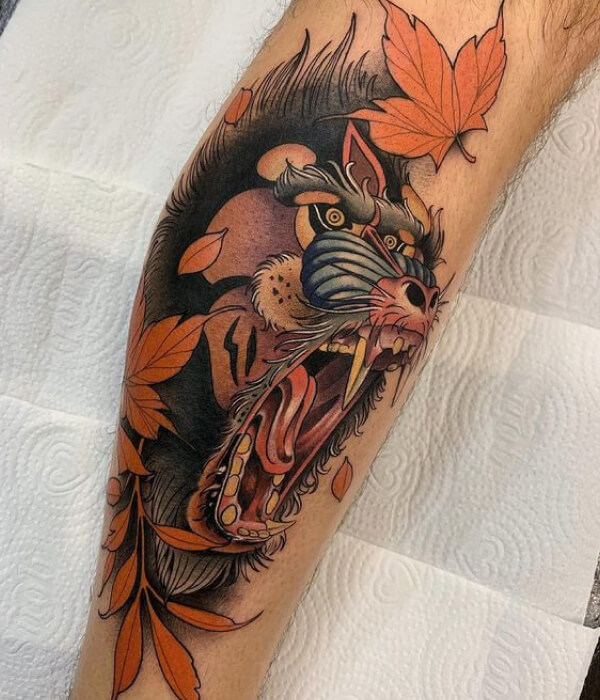 Japanese monkey tattoo design is very popular among monkey tattoo lovers. There is a well-known tale about a monkey named Momotaro that is found in Japanese folklore. And the story goes like this: Momotaro embarks on a quest to vanquish wicked demons with the assistance of other animal companions. Japanese monkey body artwork represents valour, intelligence, and resourcefulness. If you possess all these qualities and are fond of monkey tattoos, then get this one.
2. Monkey King Tattoo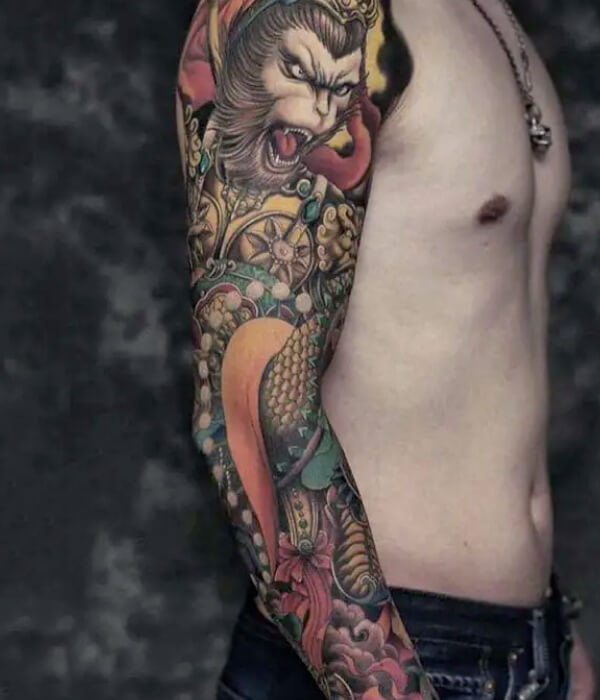 The Monkey King is yet another very popular tattoo design among tattoo lovers. The monkey king is a character from the Chinese epic novel "Journey to the West." This fabled monkey is said to possess supernatural abilities and is a sign of strength, courage, and tenacity due to its reputation. So, if you are looking for a one-of-a-kind monkey tattoo, then this is the one to opt for.
3. Curious George Tattoo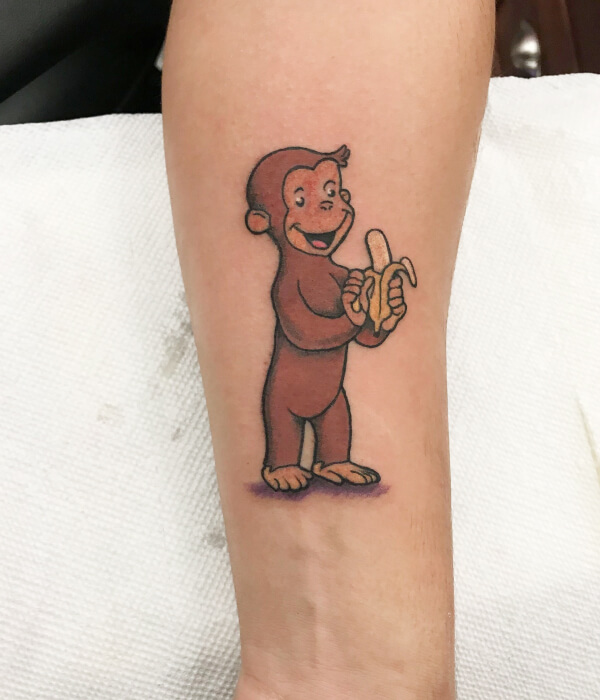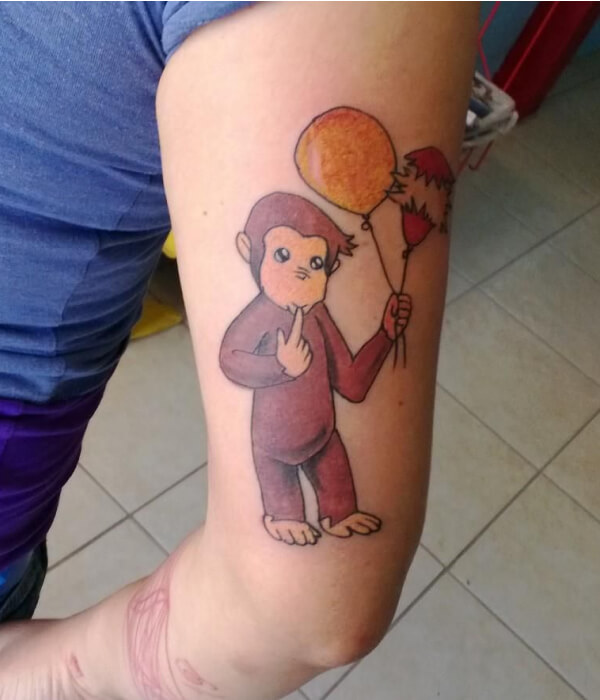 You must have heard of Curious George, a charming character from children's books that H.A. and Margret Rey created. Curious George makes for an excellent monkey tattoo design. This tattoo design is pretty popular among tattoo lovers because of its playful look. So, if you are looking for an exuberant tattoo design, then this is the one for you.
4. Realistic Monkey Tattoo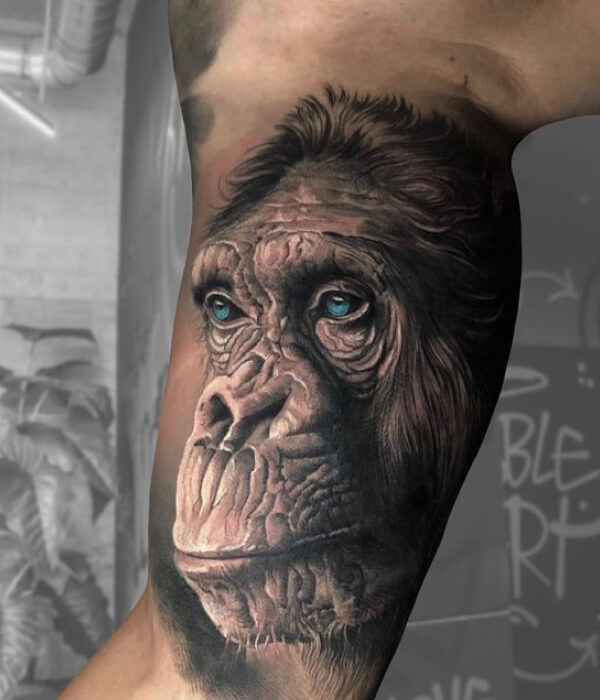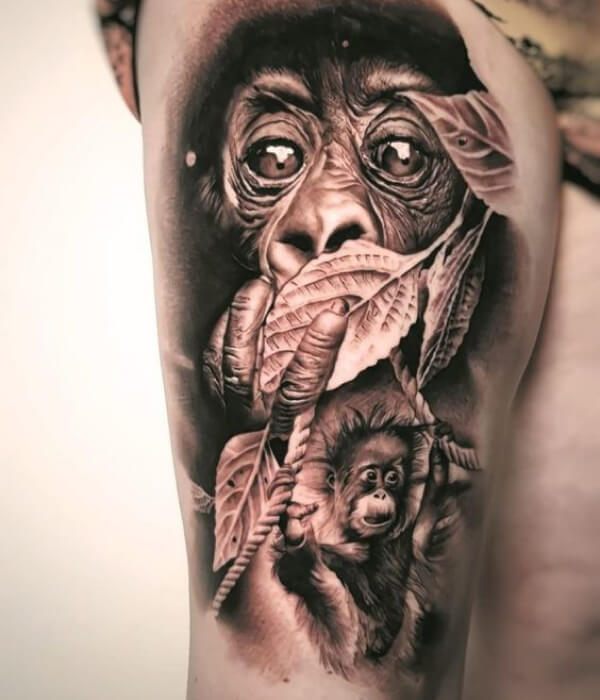 Consider getting a realistic monkey tattoo if you want a picture that looks just like your favourite mammal. A realistic monkey tattoo is a great way to display the finest details of a monkey. These features include face, body, fur, and so on. This tattoo features an excellent design that is perfect for individuals who are passionate about animal tattoo designs.
5. Animated Monkey Tattoo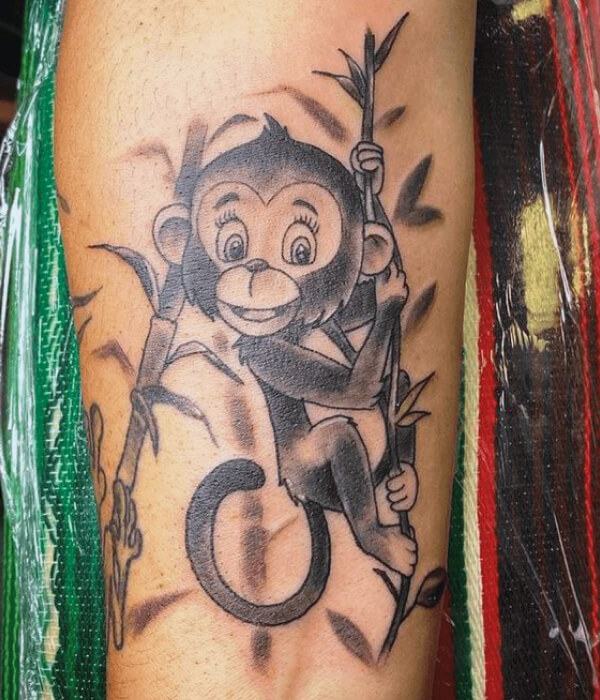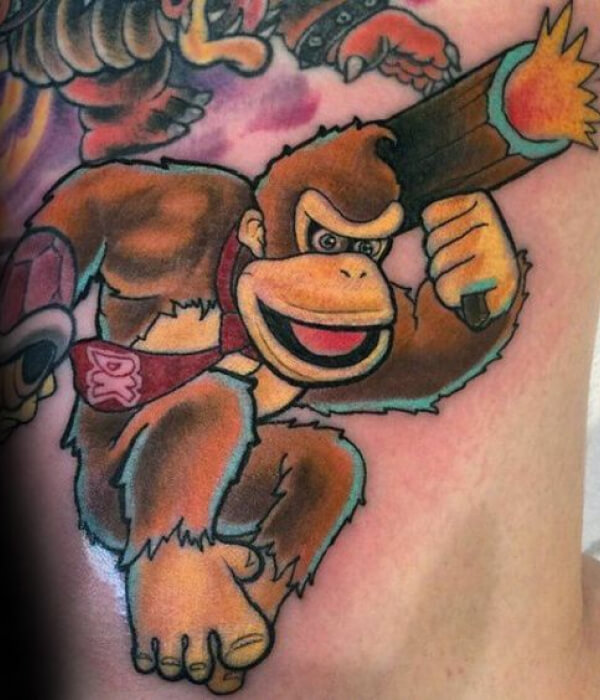 A cartoon or animated monkey tattoo makes for an excellent tattoo design. If you are looking for a cool and cute tattoo design, then this is the one for you. This tattoo design features humorous emotions of a monkey. Get it etched in a small size on your wrist.
6. Monkey Face Tattoo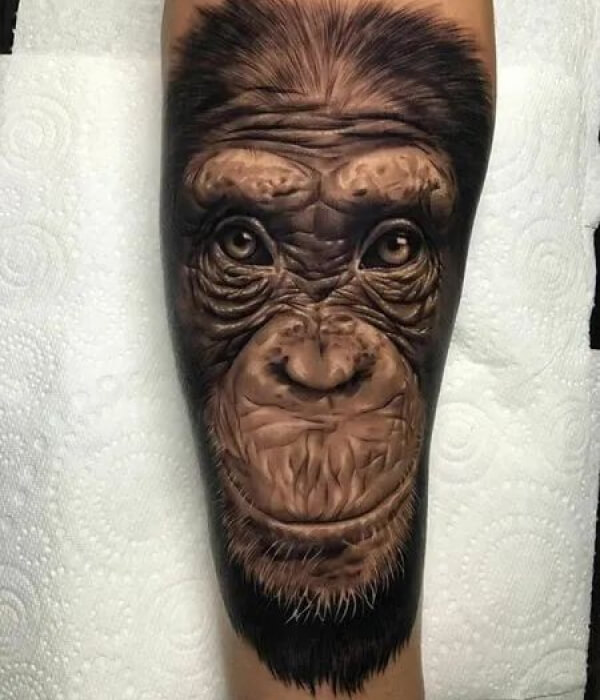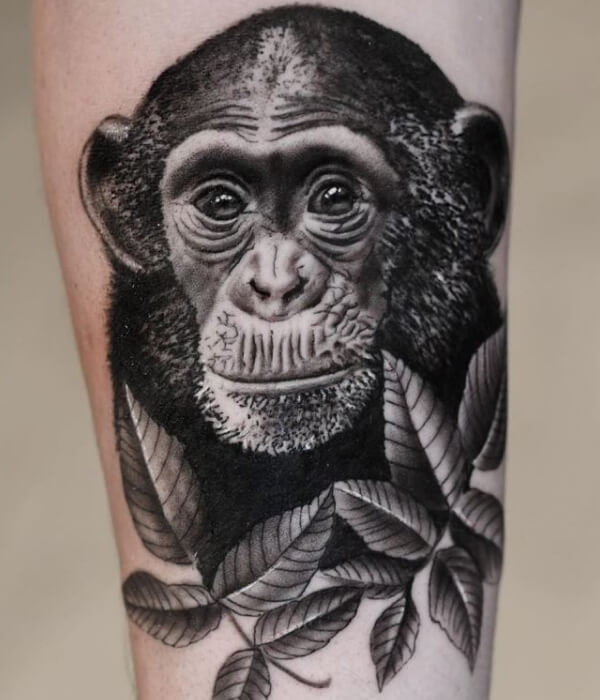 Demonstrate your admiration with a monkey face tattoo design. You will love the overall outcome for sure. Get it etched on your chest or back. Monkey face tattoos look mesmerizing. You can choose to get it in a realistic tattoo design or get an animated one for a playful tattoo design.
7. Monkey Tattoo with Bananas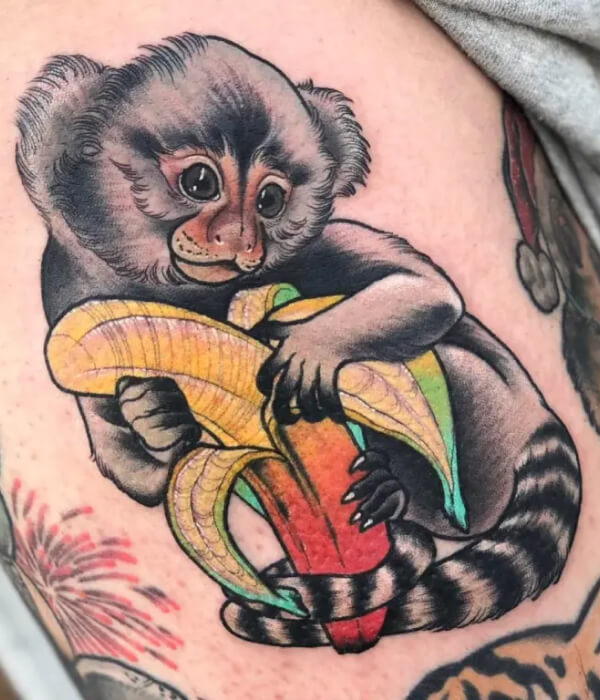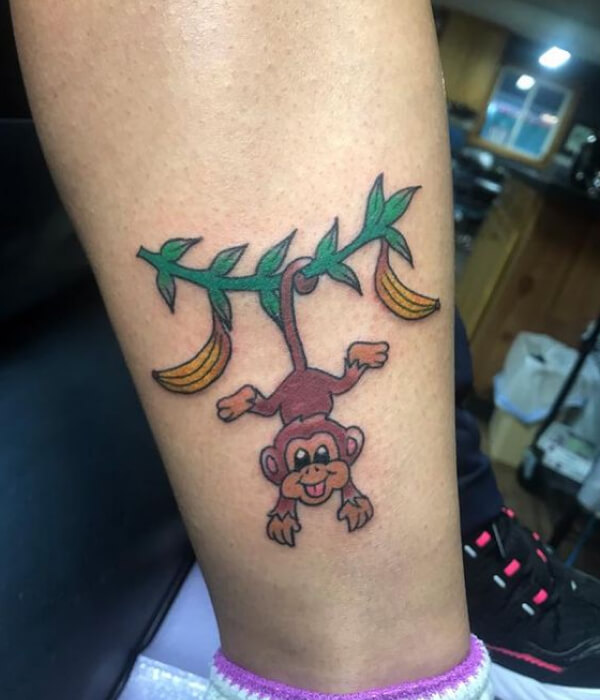 Bananas are monkeys' favourite fruit. You can incorporate bananas with your monkey tattoo design to make it look awesome. This combination represents the mischievous attitude of the monkey as well as its love of food. Alternatively, a monkey tattoo with bananas is a great way to flaunt the fun-loving part of your personality.
8. Tribal Monkey Tattoo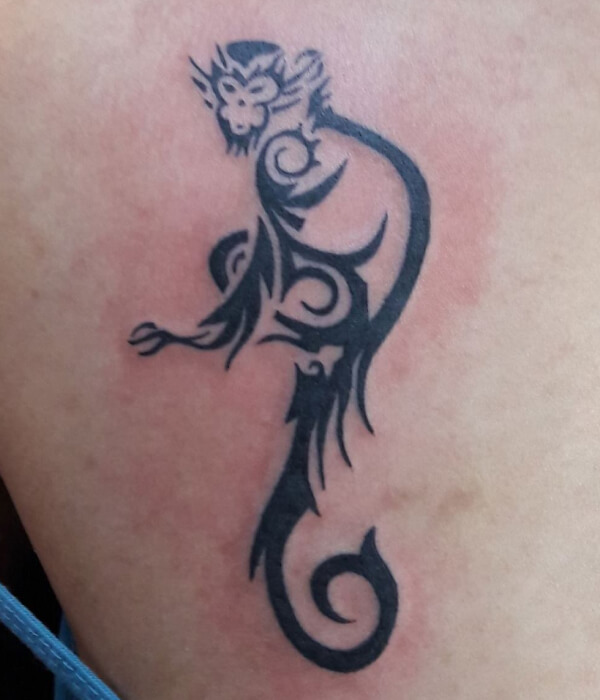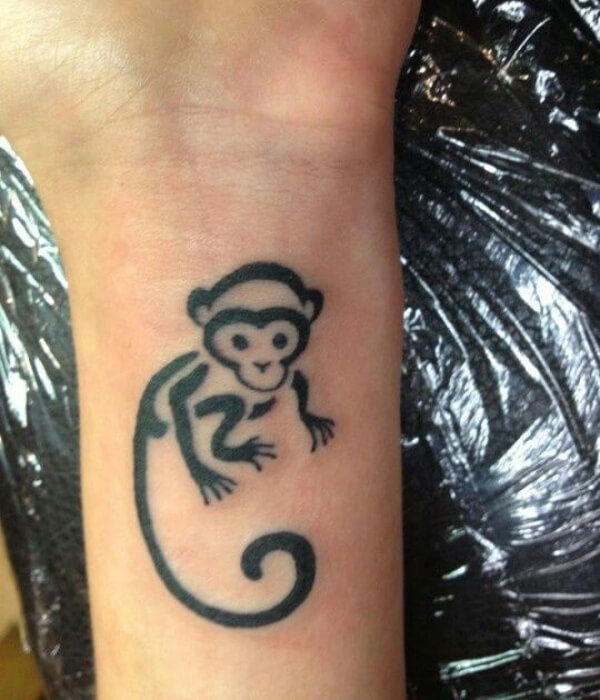 Tattoos done in a tribal style have been popular for many years throughout a wide variety of countries, and monkey patterns can also work well when done in this way. A striking, eye-catching, and abstract image can be created with the help of a tribal monkey tattoo by incorporating strong lines and geometric shapes.
9. Monkey Tattoo with Helmet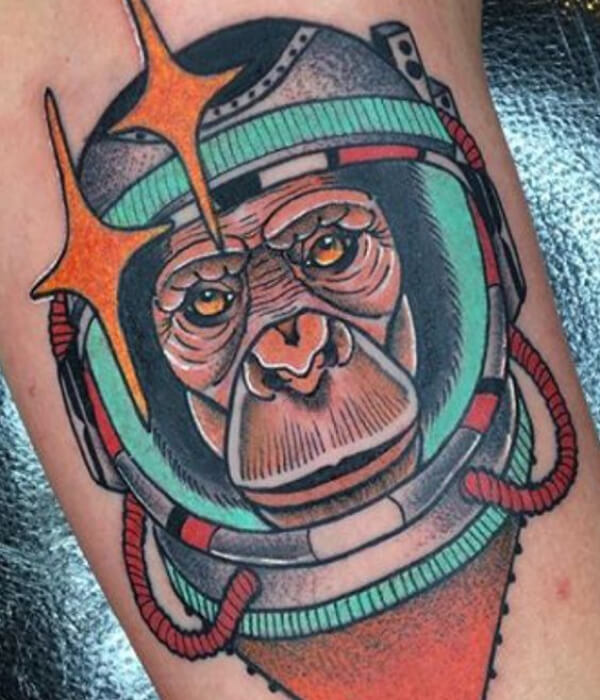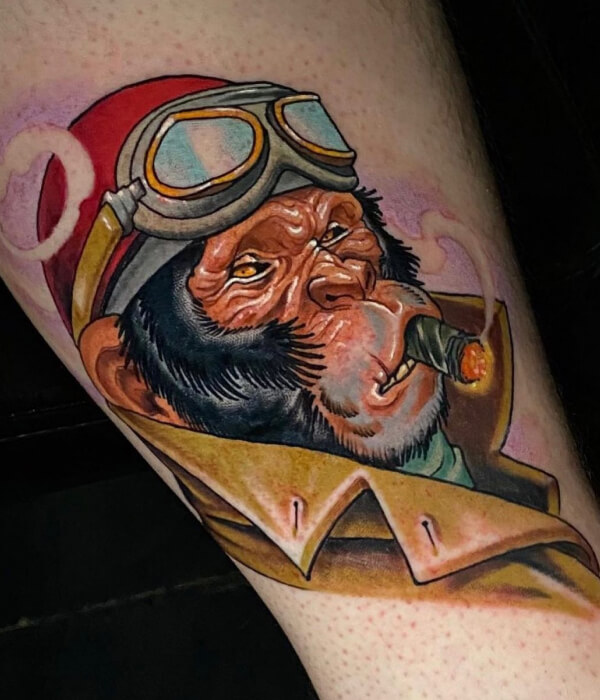 Looking for a quirky tattoo design? If yes, then a monkey tattoo with the helmet is your best option. Monkey tattoo with helmet looks cute and beautiful. You can get it etched in black ink with grey shading on your arm or back. It also appears visually appealing when colours are incorporated.
10. Gorilla Monkey Tattoo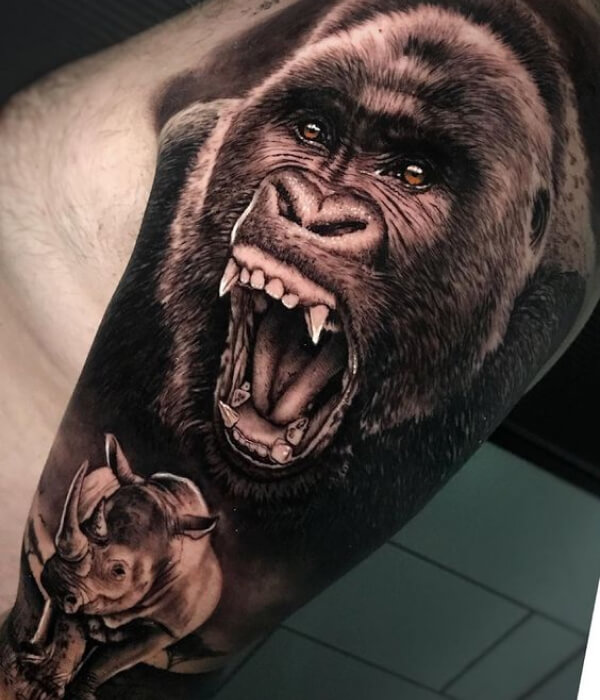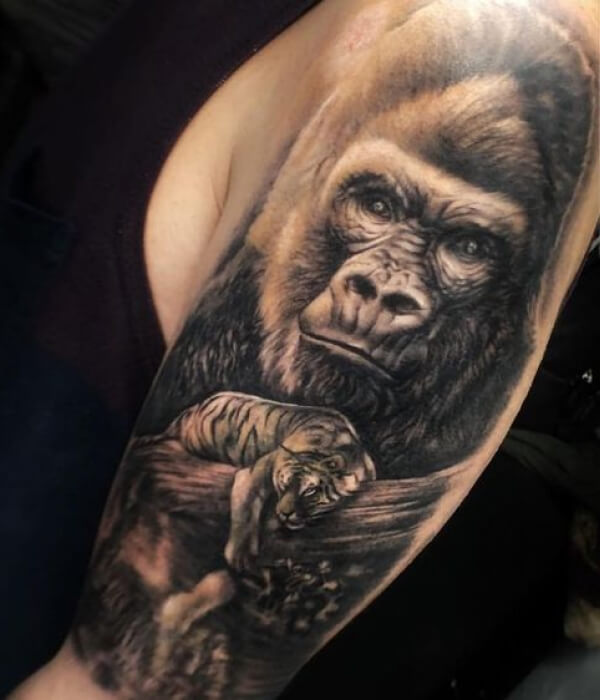 Gorilla monkeys are very popular characters in some of the famous Hollywood movies. If you like them and are pretty inspired by them, then a gorilla monkey tattoo can be a perfect choice for you. You can get a big-sized gorilla monkey tattoo on your back or a small size on your arm. The choice is yours, absolutely.
See More Images :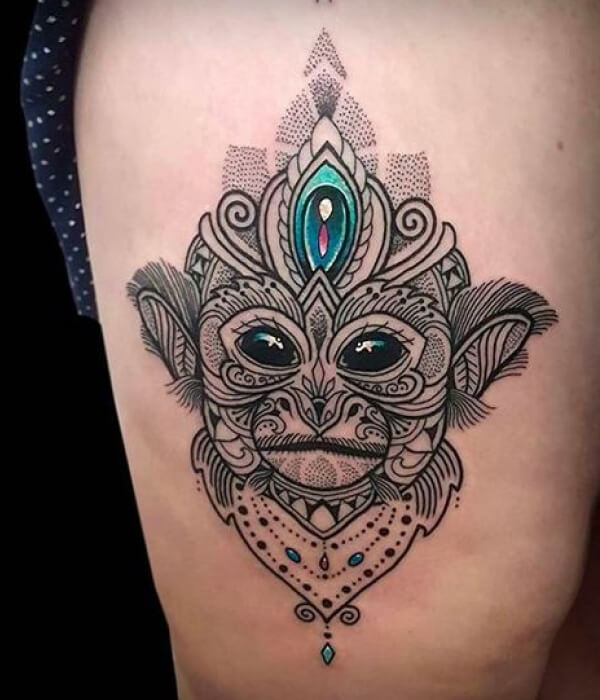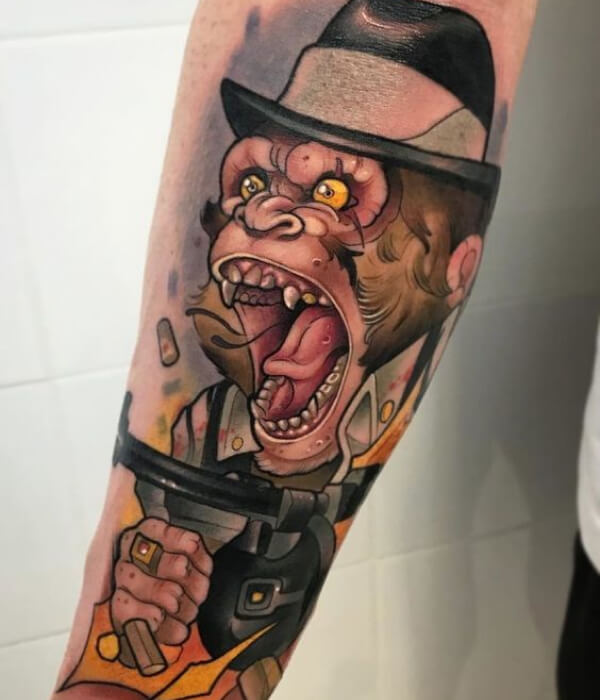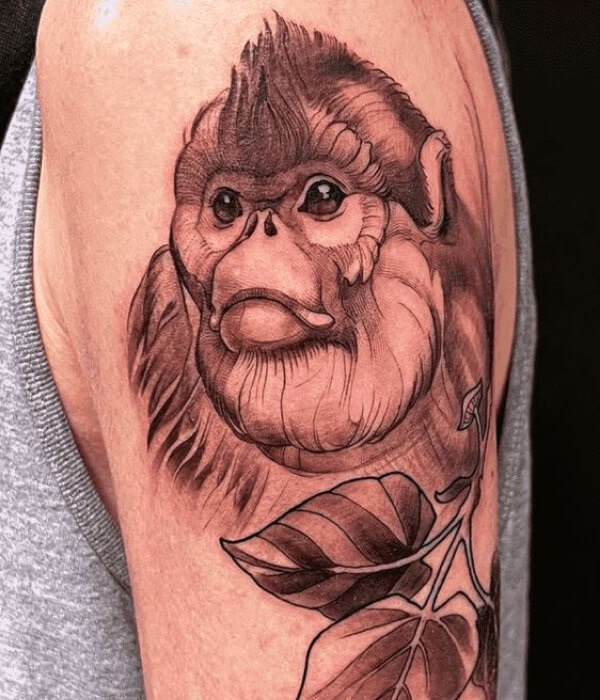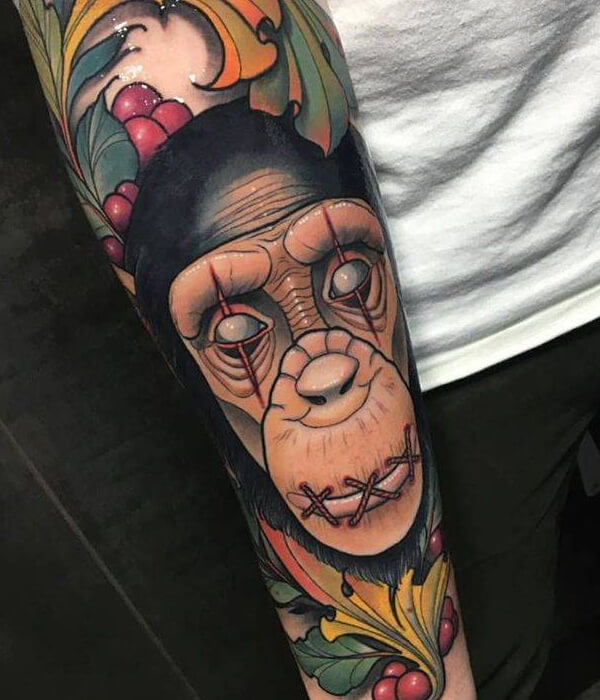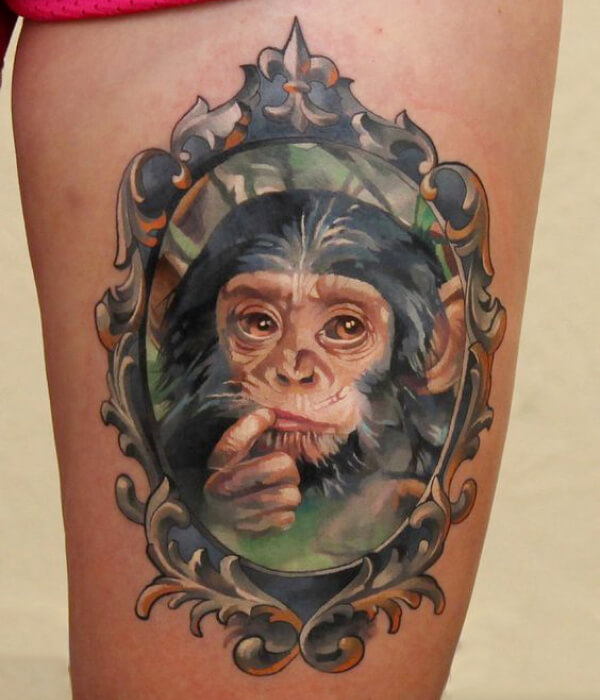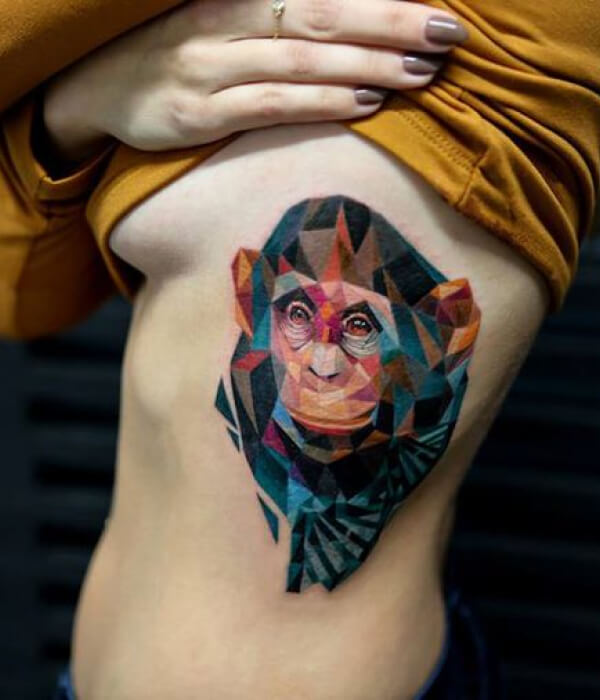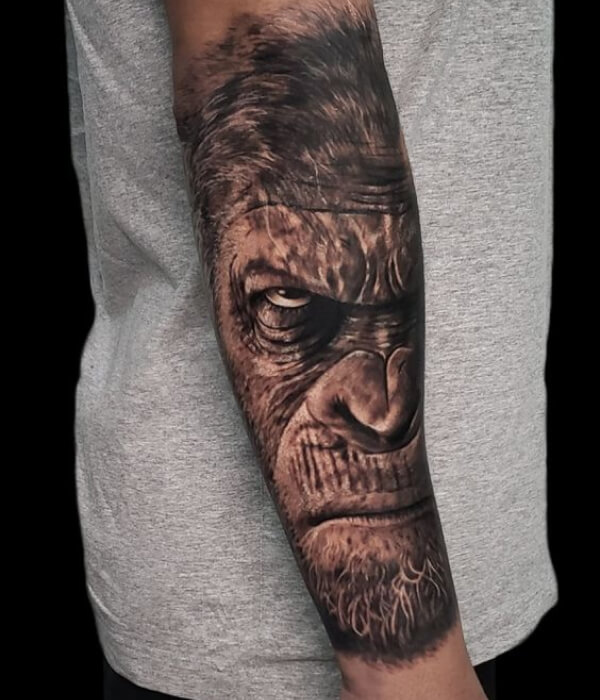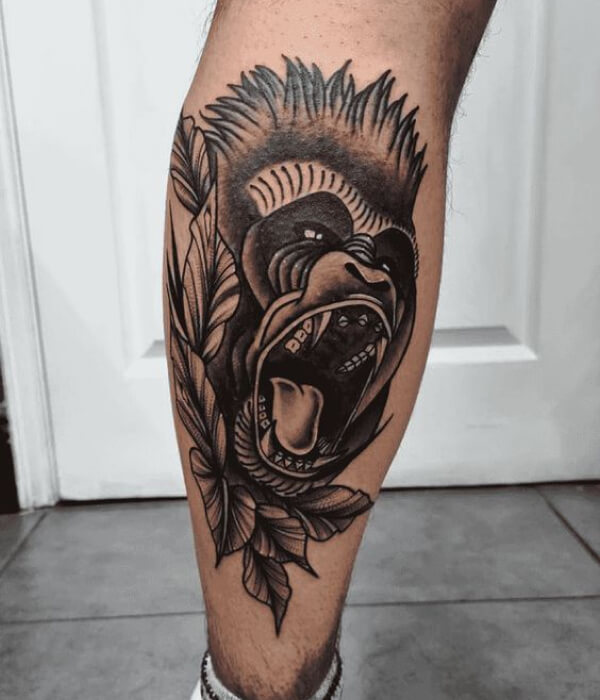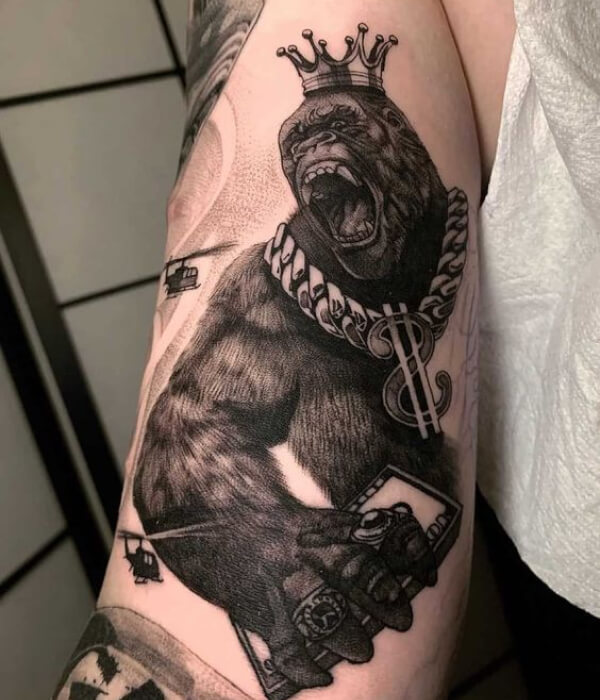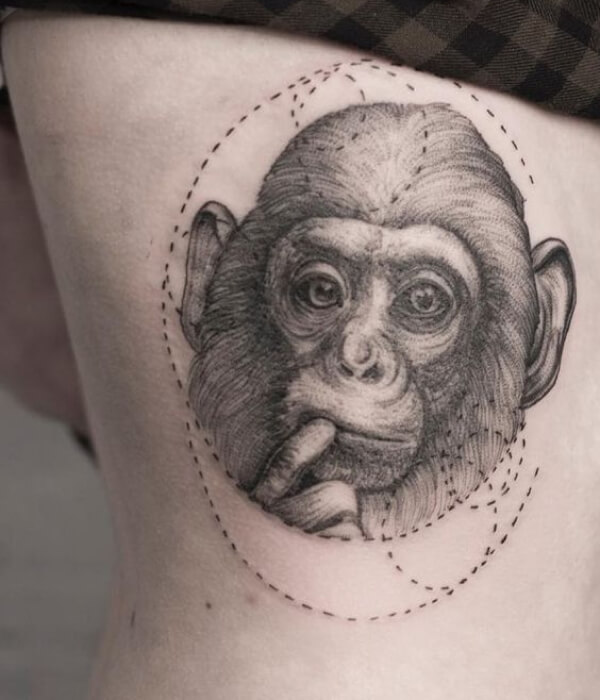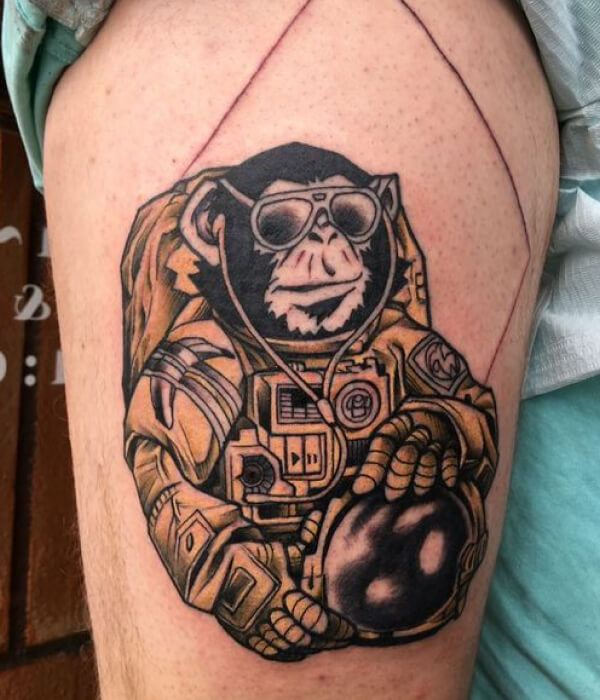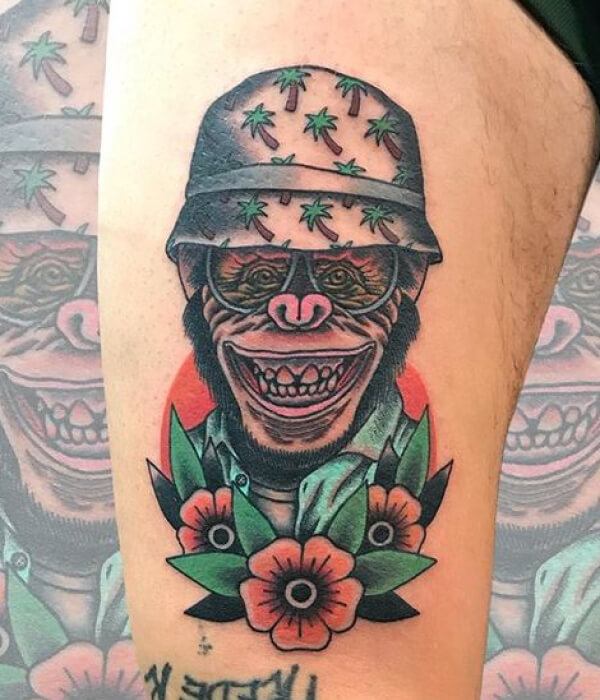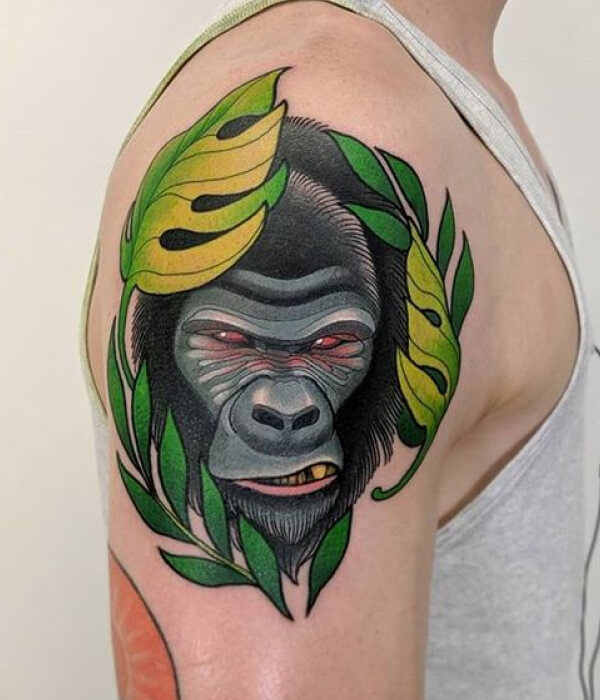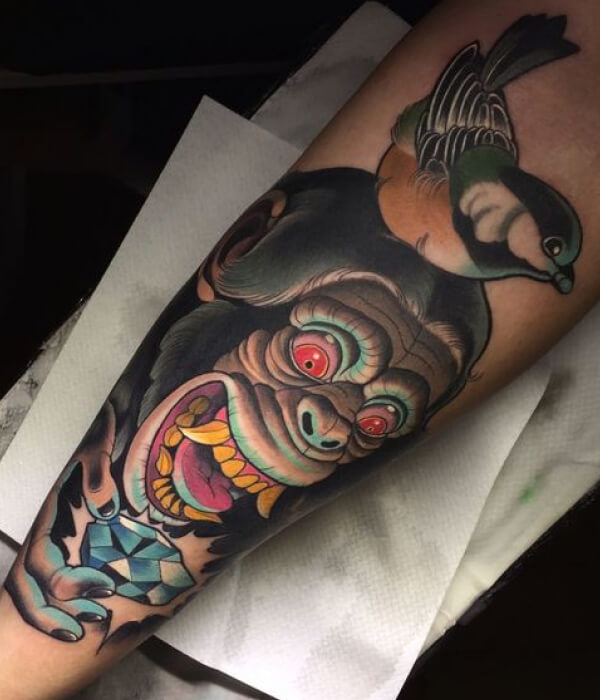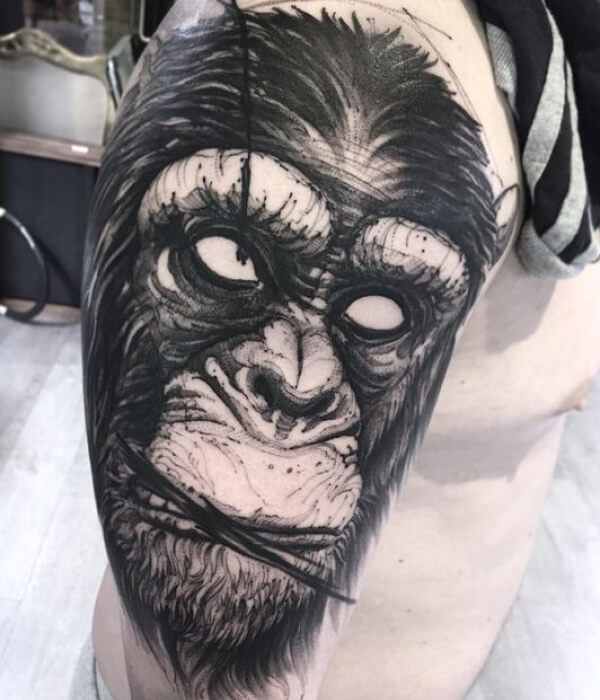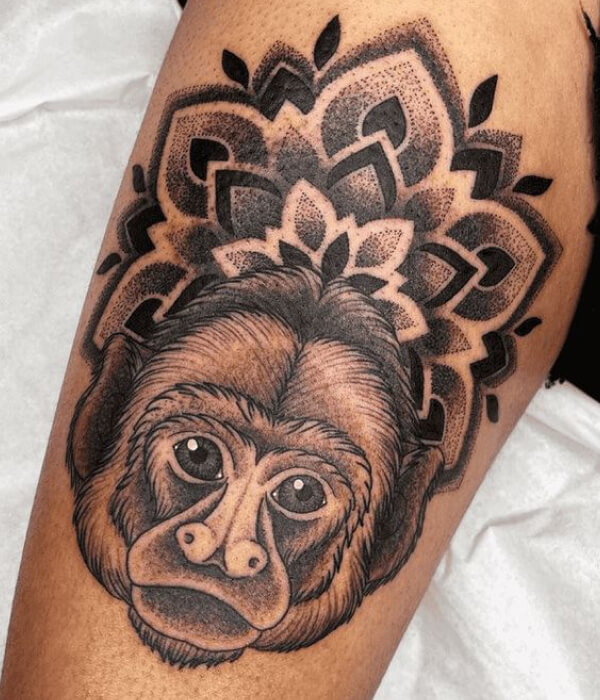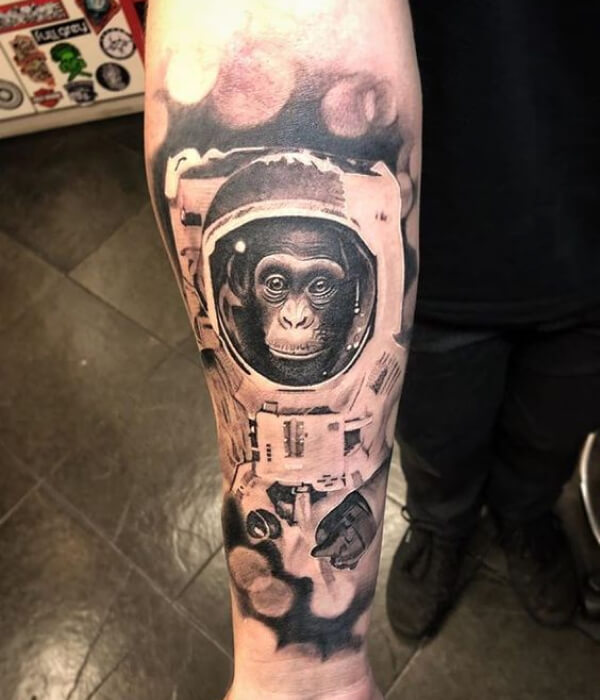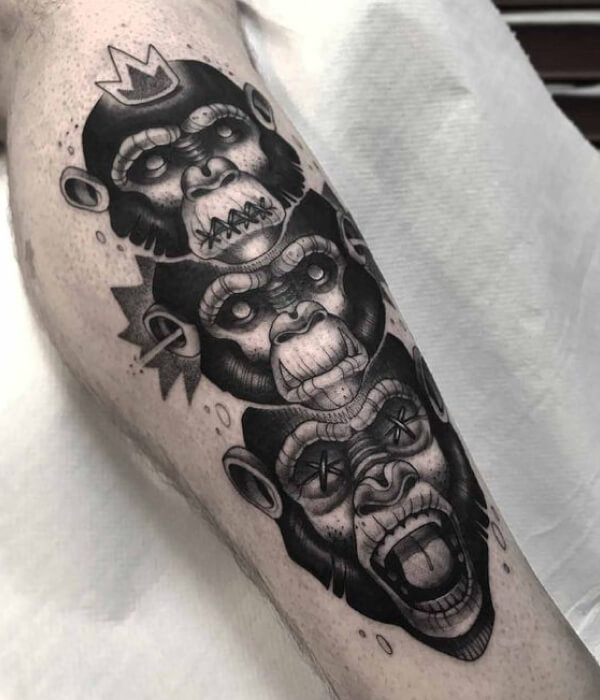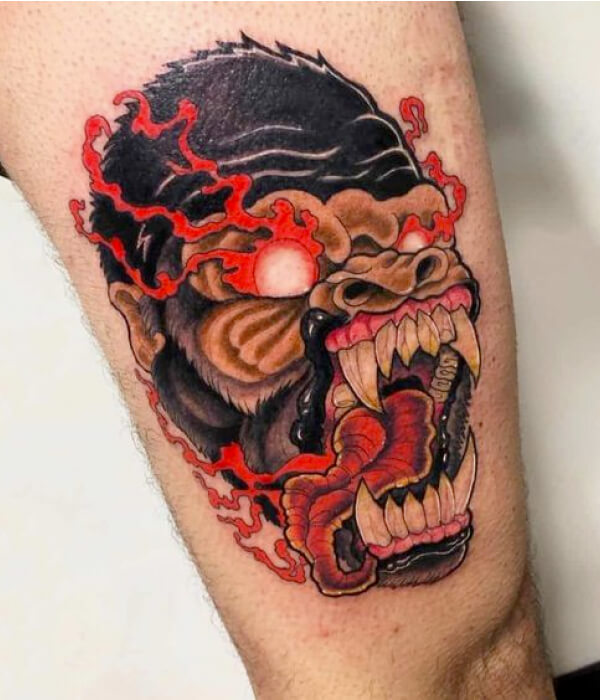 Here are some frequently asked questions related to monkey tattoo designs. Take a look…
FAQs
1. What does a monkey with a banana tattoo represent?
A monkey with a banana tattoo simply represents a monkey's love for food and its carefree temperament.
2. What are the other elements that can be added to a monkey tattoo design?
You can add any of the monkey's favourite elements, such as bananas, trees, leaves, etc., to your monkey tattoo design. Monkey tattoo designs make for amusing body artworks. To make your monkey tattoo more interesting, you can include whatever detail you like.
3. Is there any social constraint associated with getting a tattoo of a monkey?
Well, there is no constraint associated with getting a monkey tattoo as such. However, it is advised to conduct a thorough research before getting one. Select a style that you will feel confident donning for all your life.
4. Which is the best placement for a monkey tattoo?
It all depends on you and the size of the tattoo design. Small-size tattoo designs look good etched on arms, wrists, ankles, and so on. However, you'll need to get a giant monkey tattoo on your back, thighs, and tummy, as these areas offer plenty of room to ink massive pieces. Make sure to keep your design, its size, and details in mind when selecting your monkey tattoo placement.
5. How much does it cost to have a monkey tattoo?
The price of getting a tattoo of a monkey will differ from person to person based on a number of factors, including the size of the tattoo, the reputation of the tattoo artist, the experience of the tattoo artist, and the location where you choose to get your tattoo. For a tiny to medium-sized tattoo, you may expect to pay somewhere between $100 to $500 as the usual cost of the procedure.
6. Is there any special consideration to keep in mind when getting a monkey tattoo?
Yes, look for a professional and skilled tattoo artist to get your monkey tattoo. Look for someone who specializes in the aesthetic that you are looking for. A highly experienced professional tattoo artist can bring your dream design to life with precision and skill. Additionally, it is important to carefully consider and choose both the design and placement of your tattoo beforehand to avoid any last-minute alterations or potential dissatisfaction.
When selecting a monkey tattoo design, think about the meaning behind the design and whether or not it resonates with your own value system. It is advised to conduct a thorough research before selecting your tattoo design and tattoo artist.
The Bottom Line…
That's all for now! Hope you loved reading this post. Know that a monkey tattoo can be a profound expression of your personality and ideals. Whether you are drawn to monkeys because of their playful nature, their intelligence, or the spiritual significance that they represent, a monkey tattoo looks awesome.
The coolest thing about monkey tattoo designs is that they can be done in a variety of ways, such as realistic, abstract, and so on. Do your research in advance, pick a design that resonates well with you, and collaborate with a talented artist who can ink a unique tattoo design that you will be pleased to show off for many years to come.
Happy Tattooing… 😊 😊
Please follow and like us: