25+ Fantastic Queen Of Hearts Tattoos Ideas and Designs
Posted on
You can get a lot of variety in Queen of Hearts tattoos, as playing card tattoos are the new craze among tattoo lovers. The tattoo represents many things, like a fondness for gambling, romantic gestures, or even a broken heart. Queen of Hearts tattoos come in many retro, classic, modern, and ultra-abstract styles. This blog will look at some fantastic ideas for Queen of hearts tattoos.
1.Classic Queen Of Hearts Card
One of the best tattoo ideas for this concept is a heart design surrounded by flowers that you can associate with the Queen. The design looks great, with red roses surrounding the heart.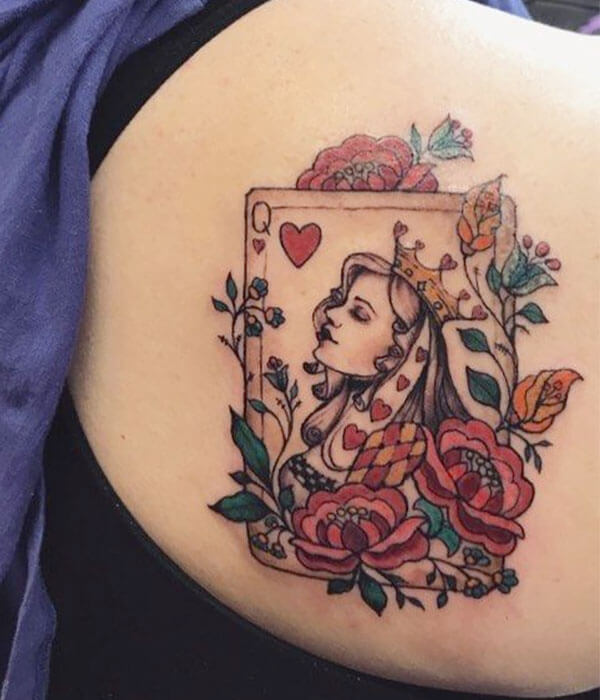 2. Realistic Queen Of Hearts Portrait
If you want a tattoo that stands out, this could be the ideal choice, featuring a realistic portrait that can never go wrong. In addition, the design is detailed to perfection.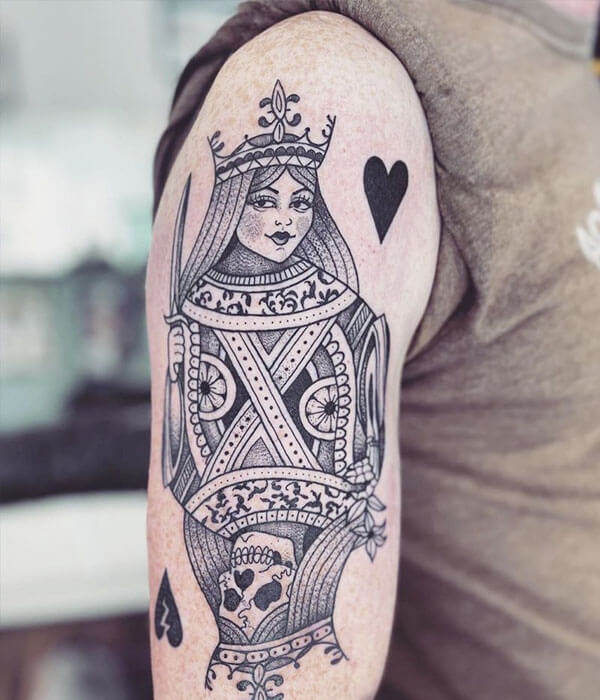 3. Semi-Realistic And Card Combo
This tattoo is excellent for you if you like the Queen with the card. This semi-realistic tattoo of a Queen's heart bordered within a card is available for you.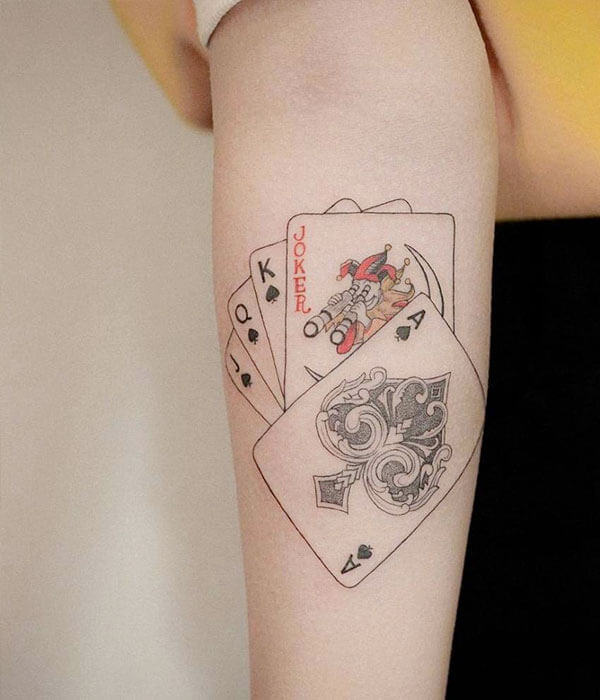 4. 3D Water Details
Every Queen has her battles, and you can see the scars, tears, and sweat she must have shed in the highlights of this Queen of Hearts tattoo.
5. Two Sides Of A Coin
Make the Queen of Hearts tattoo more artistic by giving her two different looks to mix the life and death concept in this way.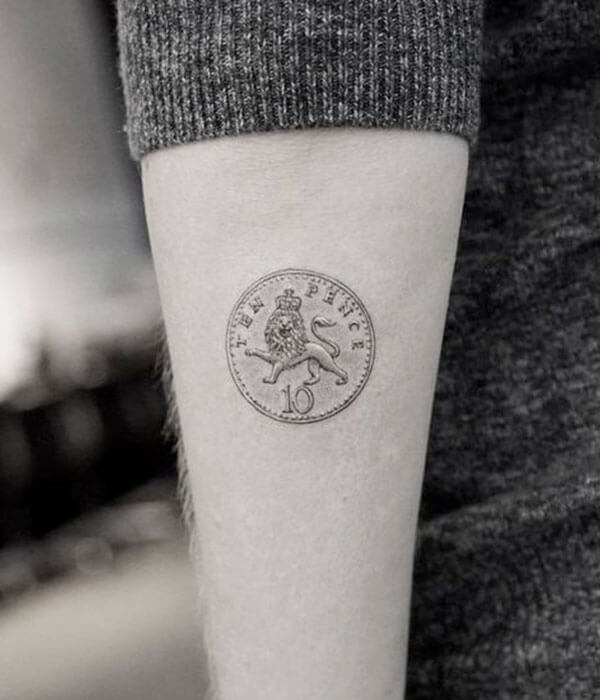 6. Cute Queen Of Hearts Tattoo
you can consider this tattoo if you like dolls the baby face and big eyes; you will love this tattoo where the Queen of Hearts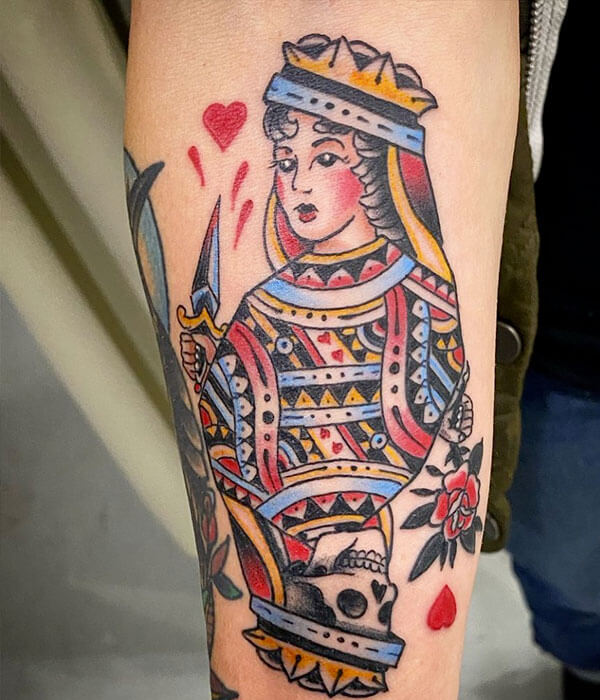 7. The Rise and Fall Of Queen Of Hearts
Every Queen will meet her demise at the hands of death. With graphic designs for playing cards that feature two perfectly mirrored sides, naturally, one side will feature life, and the other will feature death.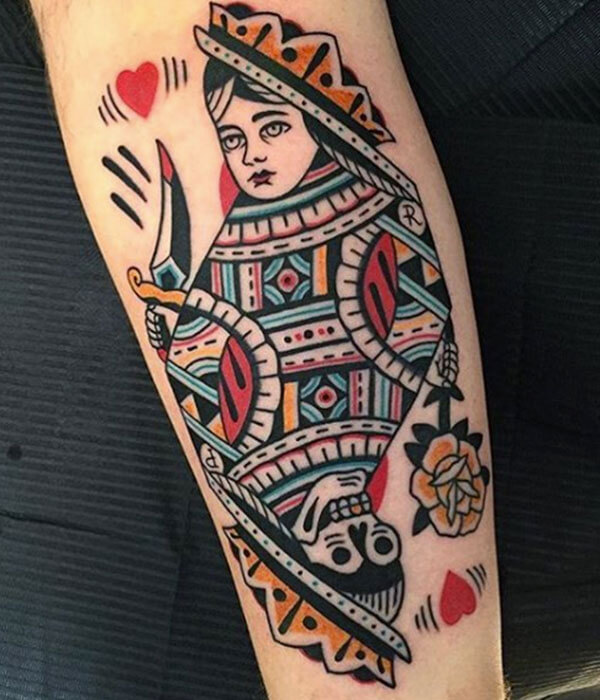 8. Traditional Queen Of Hearts Card Tattoo
Get back to basics with what anyone can recognize as the Queen of Hearts card. Nobody can ever mistake it unless they have been living in the woods.
9. Almost Cartoon-Like Tattoo
Give your Queen of Hearts tattoo a cartoon look by adding vibrant colors. The most simple thing you can do to make a tattoo attractive is to add some bright colors to the design.
10. Vintage Style Queen Of Hearts Tattoo
This one is perfect if you want a vintage western art style with a thick outline. Its fixed colors and gray toning make it a treat for the eyes. Most of the vintage artwork has a lot of colors, but the shading technique will make the art look normal.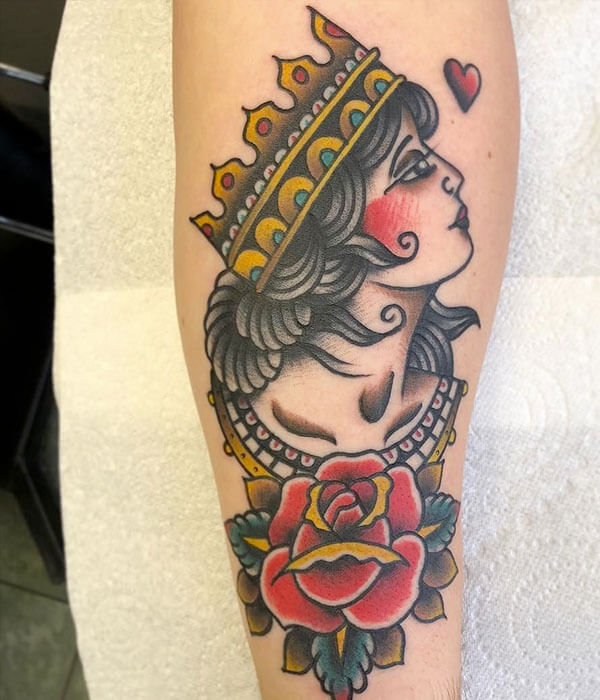 11. The Gypsy Queen
This Queen of heart tattoo design is outstanding on the side of the body or the upper arm. The tattoo symbolizes free-spirited with gypsy charm, and the spider's web adds an element of mystery.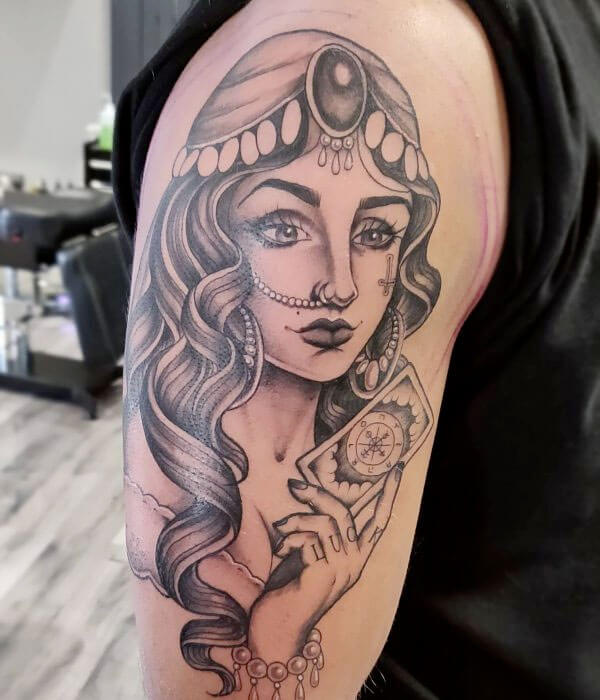 12. Gamble Of Love
This tattoo is ideal for someone looking to display the gambler in them. It reflects a love for gambling, and the funny lines give it a unique look.
13. Evil Queen
This tattoo is not for someone looking for goody tattoos. It best suits someone who wants to show their dark side. The Evil Queen in the mirror beckons everyone with her poisonous apple. This is a different kind of Queen of Hearts tattoo.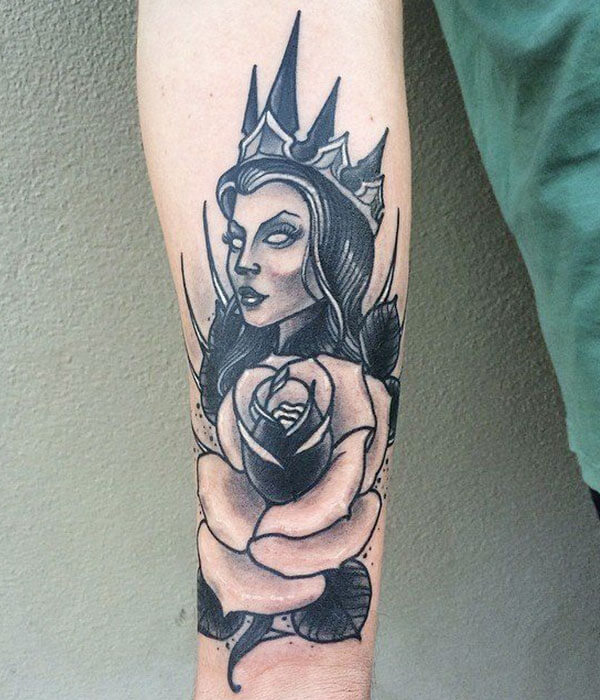 14. She Holds All The Cards
This Queen of Heart is tattooed as the Queen staring out into the vast beyond; she holds the card that can make your dreams come true. This realistic tattoo is perfect for anyone who wants the world to know about the particular person in their life.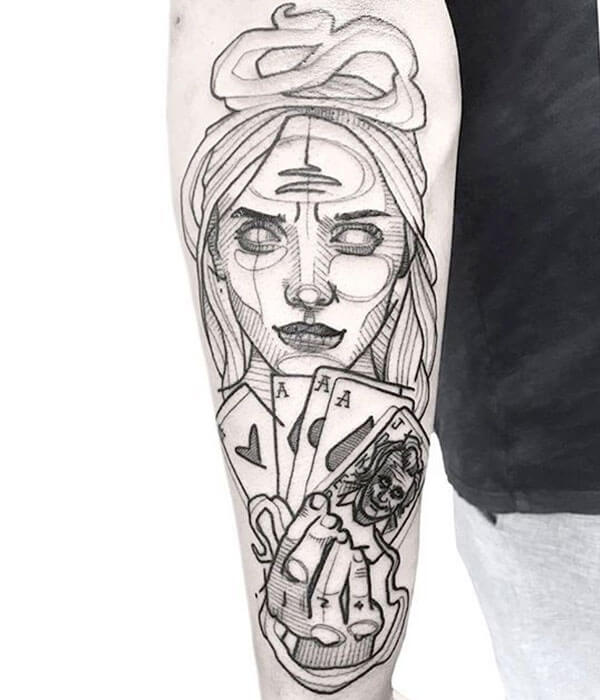 15. The Caged Heart
This Queen of Hearts tattoo is inspired by Gothic because it is a dark theme. The bleeding heart in the hand of the Queen speaks more than words about the pain of the love she has lost.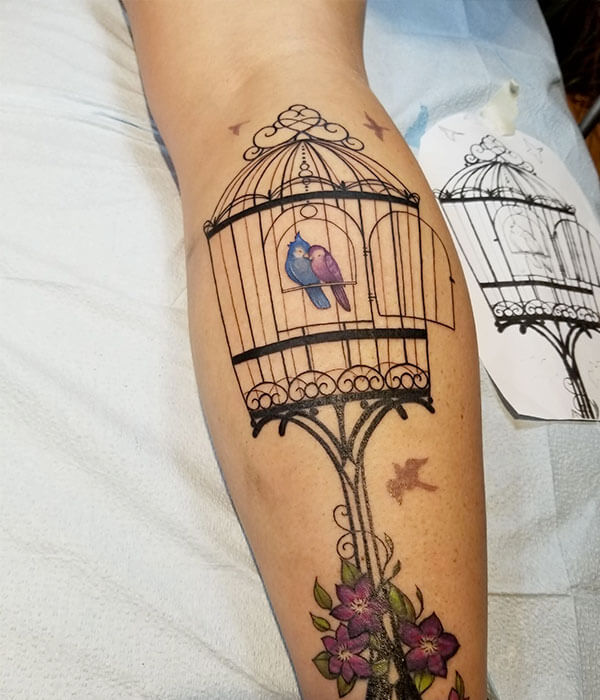 16. Two Faced Queen of Hearts
this two-faced Queen of hearts tattoo symbolizes the inner depth of someone who does not reveal the internal depth to the world and keeps the other side a secret.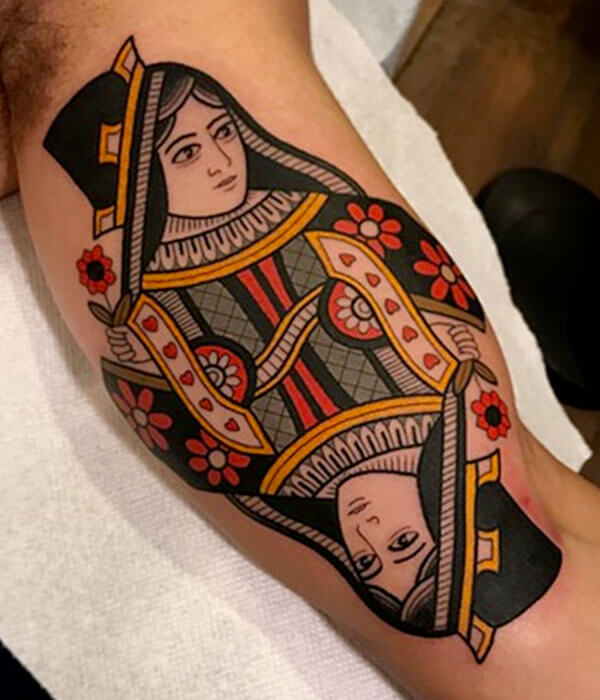 17. Lucky Number 7
This tattoo is for someone fond of gambling, a fondness of a particular number, or maybe it's just a symbol. You will also like this classy and mysterious Queen of Hearts tattoo design.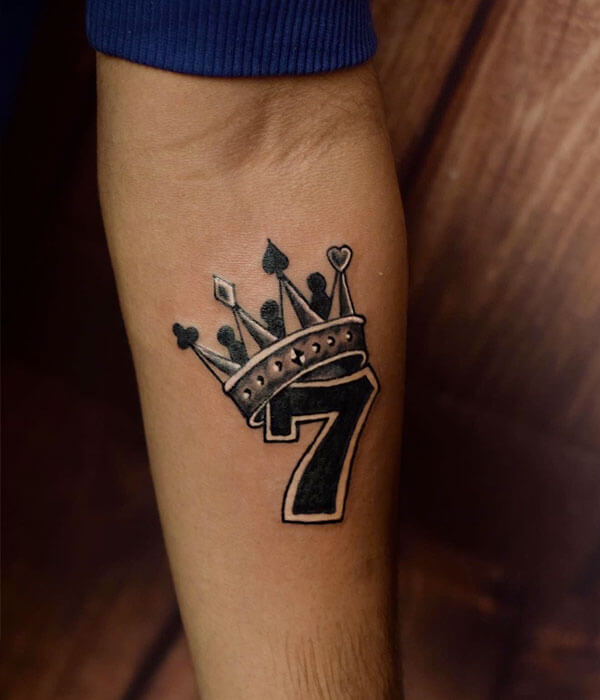 18. Two Sides Of A Coin
This tattoo is for those who want to display that they can deal with any situation in life and have all the cards. They can reveal their good and bad side according to the problem. The Queen of Hearts tattoo is a great way to demonstrate your personality.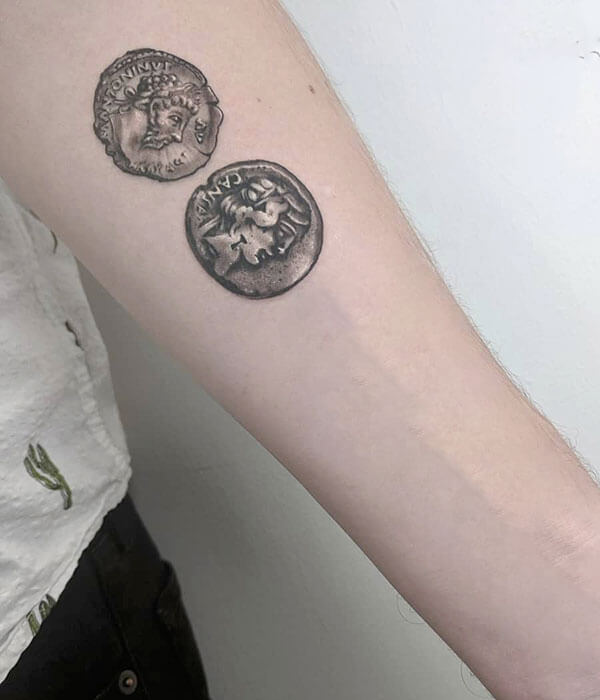 19. Two Of A Kind
This Queen of Hearts tattoo design is best for both males and females who want to flaunt their love excellently.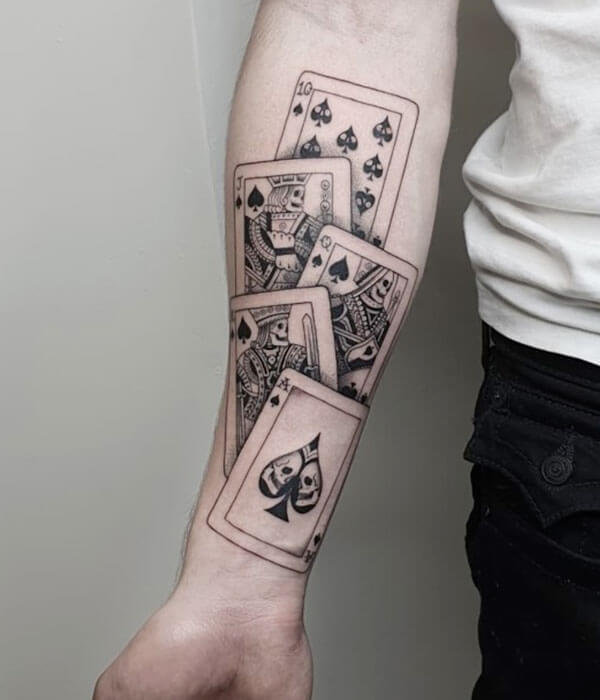 20. Three Hearts And A Crown
This uniquely placed tattoo is eye-catching because of the great use of shading in the crown with a red heart and red gems as a highlight. This Queen of Hearts tattoo is a simple yet appealing tattoo.
21. Duality Queen Of Hearts Tattoo 
This is a significant and bold queen of hearts tattoo that symbolizes two sides of a personality. One side is positive and hopeful, and the other seems crushed by pain, sometimes caused by love.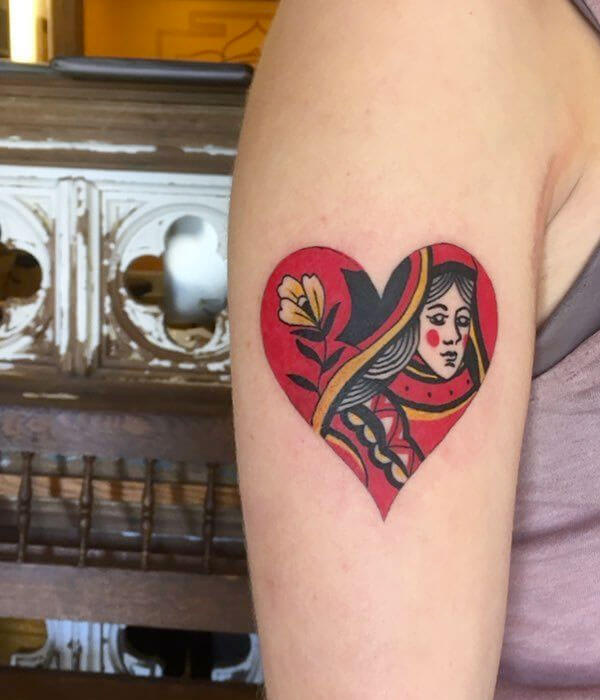 Also See: 120 Best Heart Tattoo Designs With Meanings For Men And Women
22. All Heart
This Queen of hearts tattoo is based on a cabaret theme. The girl's eyes look to be waiting for someone; although she has many lovers, she is waiting for someone who truly loves her.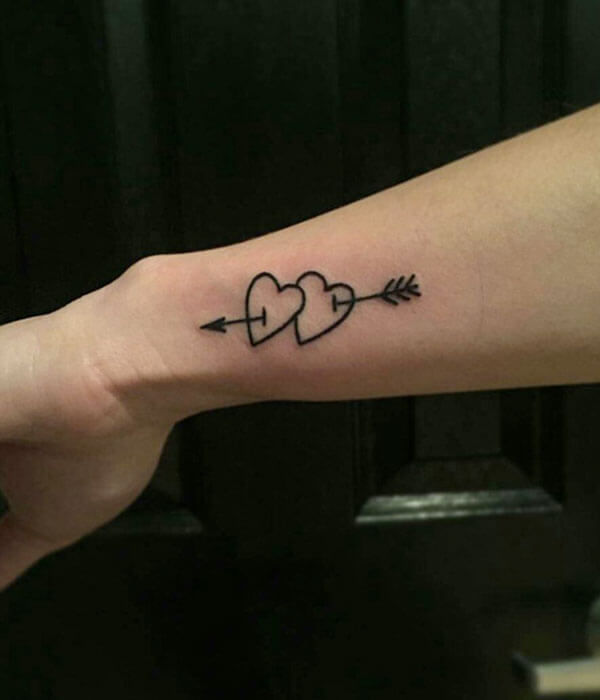 23. A Tribal Heart
This Queen of heart tattoo is for someone bold at heart. If you want a colorful tattoo with a Gothic appeal, this one is the best for you. The skull in the tattoo looks cool.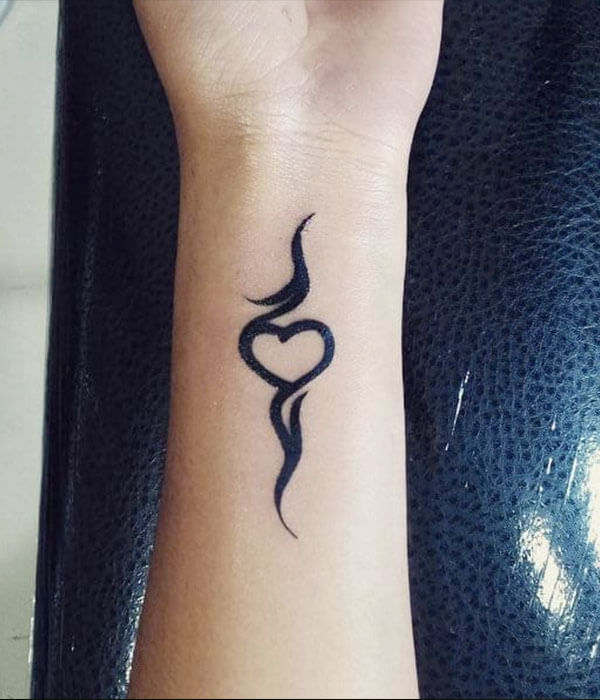 24. Get Sketchy
The Queen of heart tattoo has a dreamy quality to it. It is abstract and modern and can display thoughts that come to your mind.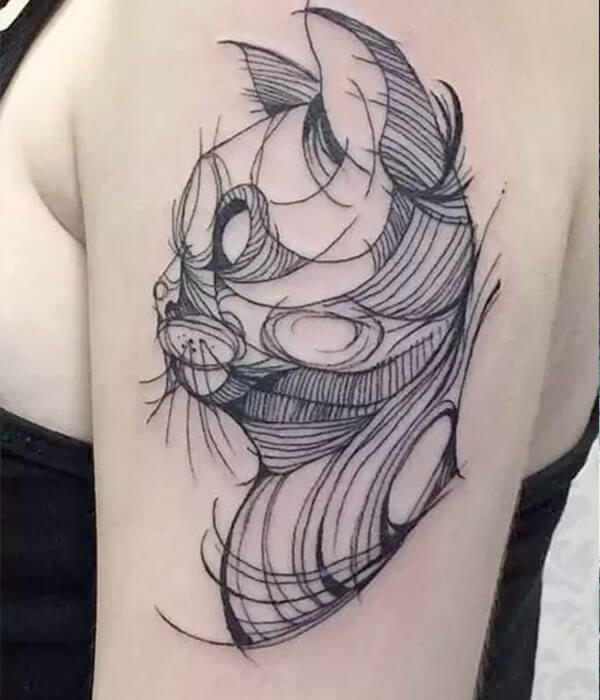 25. Cute Queen Of Hearts tattoo Design Behind The Ear
The tattoo looks adorable; the individual has just chosen the letter Q and the symbol of the heart, which means "Queen OF Hearts' from the playing cards. The Queen of Hearts tattoo is perfect if you like Alice in Wonderland. The Queen of Hearts is a symbol of feminity and power.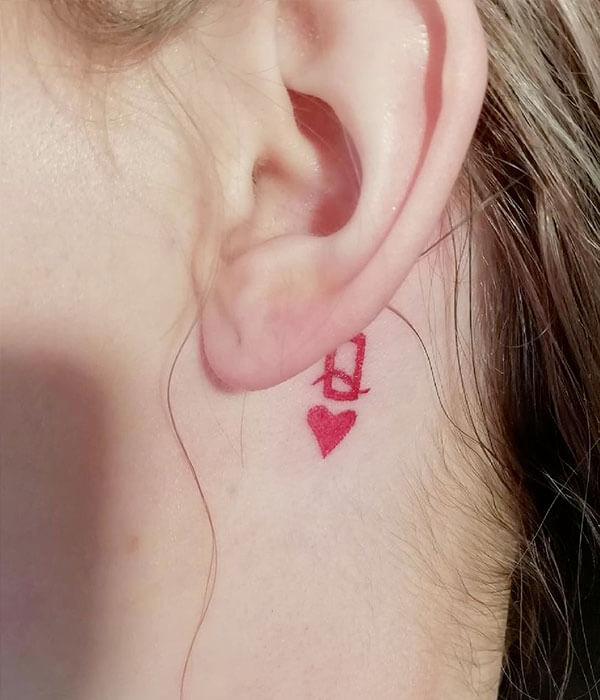 26. Black Queen of Heart Tattoo
If black color is your favorite, you can get inked with a black Queen of Heart tattoo. This design is simple, with 'Q' written between a crown and a heart shape on the hand. This is the best choice if you are looking for a minimalistic design.
27. Queen Of Hearts Tattoo On Finger
The tattoo is a small design for a finger with just the letter 'Q' and the symbol of the heart in red color.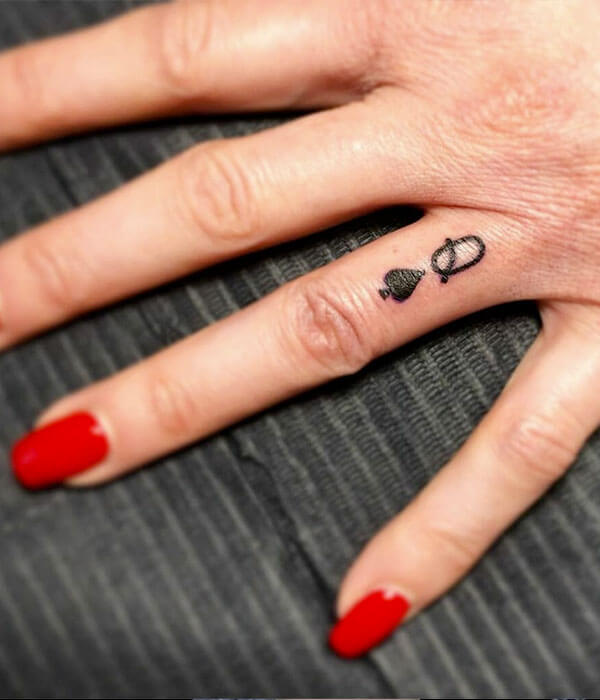 28. A tiny Queen of Hearts tattoo on the leg
The tattoo is simple but looks great with just Letter'Q' and a small heart shape under it. The letter 'Q' and heart shape are in black and ideal for someone looking for tiny tattoos.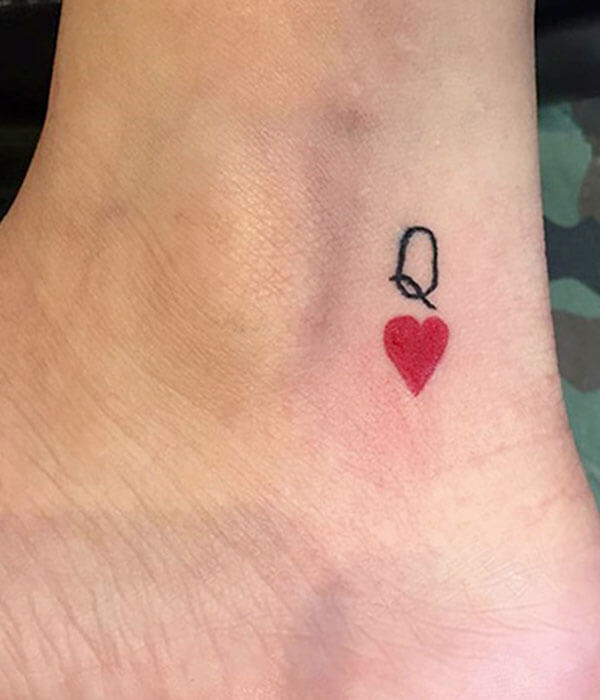 29. Upper Arm Queen Of Hearts Tatto
The design of this tattoo has a Queen of heart playing card inked on the upper arm in black color, which symbolizes your love for gambling or even your Queen-sized lifestyle.
Also See: Top Twenty Pete Davidson's Tattoo Designs
FAQs
1. Why is the Queen of heart tattoo so famous?
Playing card tattoos are a craze these days, and the Queen of heart tattoo is at the top of the list because the Queen is a potent symbol of feminity and power. Even the fans of Elice in wonderland like to have the tattoo because the character is famously known as the Queen of hearts.
Another reason is that the idea can be used as half matching tattoo, where another individual gets inked with a King of Hearts tattoo. This is another form of love tattoo and more meaningful since two individuals are getting them, and you are not doing anything special, but the meaning is clear.
2. What s unique about the Queen of hearts tattoos?
The Queen of Hearts is an imaginary character and the main adversary in the book Alice's Adventures in Wonderland by Lewis Carroll. She is a babyish, foul-tempered ruler who is quick to give a death sentence for minor crimes.
3. What do the King and Queen of Hearts Tattoo represent?
The most favorite choice is the King and Queen of Hearts, symbols of passion and love. The design can be popular if you are a fan of poker, blackjack, or any other card game, even if you are a casino fan or have memories of your visit to Vegas.
CONCLUSION
The Queen of Hearts tattoo is an excellent idea if you are looking for a small or big tattoo, and it is not only for females but a good tattoo idea for males as well. In addition, the Queen of Hearts tattoo has a great variety to choose from, as mentioned above.
It has many meanings, like it shows your liking for gambling or you want to display feminism and strength. We hope this article on fantastic ideas for Queen of Hearts tattoos is useful for the readers, so go ahead with your dream tattoo.
Please follow and like us: