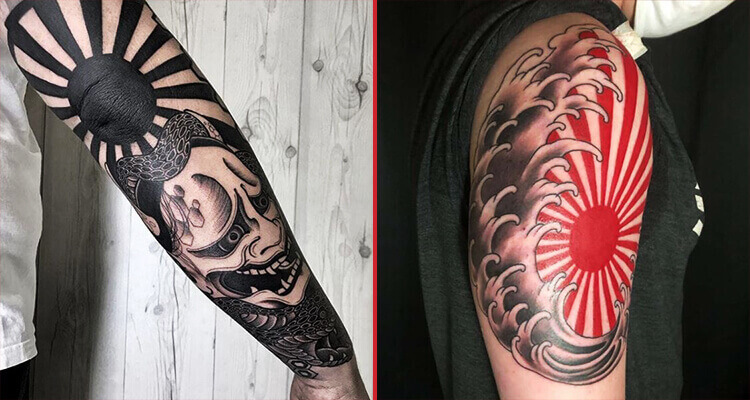 30+ Rising Sun Tattoo Designs and Their Meaning
Posted on
Rising Sun tattoo designs are quite popular among tattoo lovers. The symbol or rising tattoo is often associated with Japan as it is popularly known as "The Land of the Rising Sun." This symbol appears on Japanese flags and in Japanese motorsports and martial arts.
Not only does the rising sun make the place look beautiful, but also the rising sun makes a great tattoo design.
So, if you want to learn more about the Rising Sun tattoo designs, keep reading this post.
This post will cover everything there is to know about Rising Sun tattoos, including Rising Sun tattoo meanings and Rising Sun tattoo ideas.
So, let's get started…
Rising Sun Tattoo Meaning
The rising of the sun signifies a lot of things. The rising sun represents the beginning of new life, divinity, vitality, knowledge, courage, and energy. As said earlier, Rising Sun tattoos have a Japanese influence as the sun rises first there in Japan. Besides, these tattoos are associated with people of Japanese ancestry.
Due to the rising sun on the flag, the Japanese flag is widely regarded as one of the most exquisitely designed national flags of all time. So, if you want to show off your heritage, rising sun tattoos can be the best bet.
The rising sun also represents rebirth, courage, and strength, all of which are required to give birth. That is why this tattoo is considered the best option for women. It is an excellent way for women to commemorate the birth of a child. This can be inked in a smaller size if desired.
Top 30 Rising Tattoo Design Ideas
Here are the top 10 rising tattoo designs for you to get some inspiration from. Take a look…
1. Rising Sun Shoulder Tattoo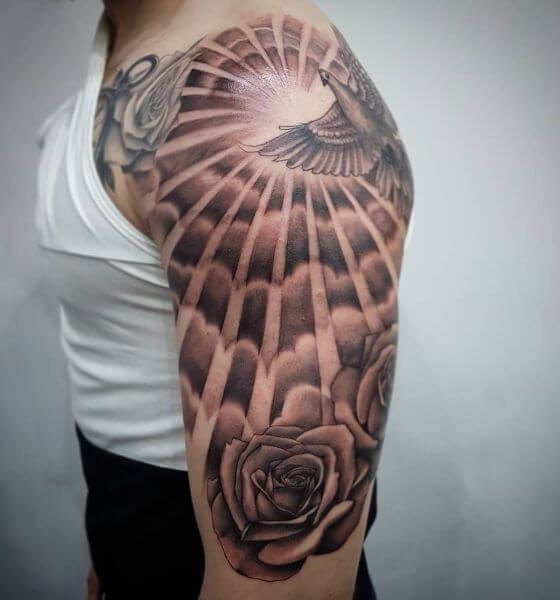 Get a beautiful Rising sun tattoo etched on your shoulder in red color. This tattoo will look mesmerizing on your shoulder area. Make sure you get it etched by a professional for the best results.
2. Forearm Rising Sun Tattoo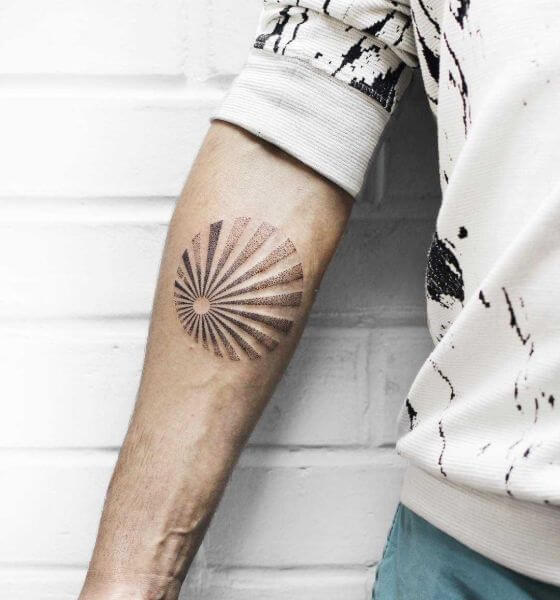 If you're looking for a stunning design for your arm, then the rising sun tattoo is the best option. You can even incorporate other elements such as flowers, leaves, waves, etc., into your rising sun tattoo to make it look amazing.
3. Realistic Rising Sun Tattoo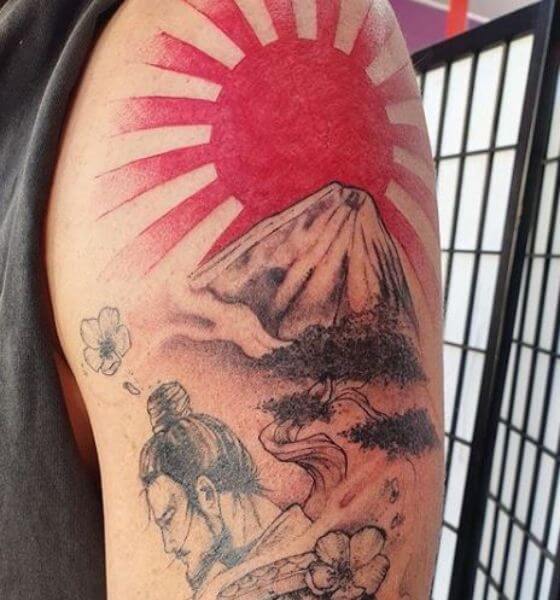 Get a realistic red sun tattoo etched on your chest. A colorful tattoo etched on your chest will make for an excellent placement. Try it out!
4. Black Rising Sun Tattoo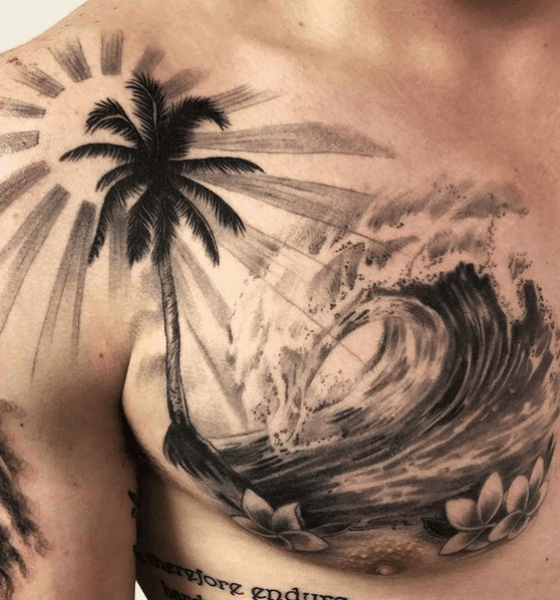 If you don't want to overdo your tattoo design, then get the rising sun tattoo in black ink. A simple and subtle way to express your connection with the Land of the rising sun.
5. Rising Sun Bicep Tattoo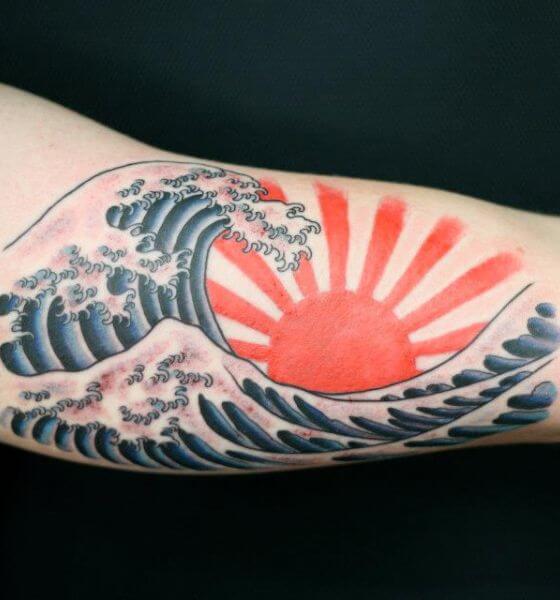 If you have toned biceps and you want to flaunt a bicep tattoo, then the rising sun tattoo is the best option to go with.
6. Rising Sun Flower Tattoo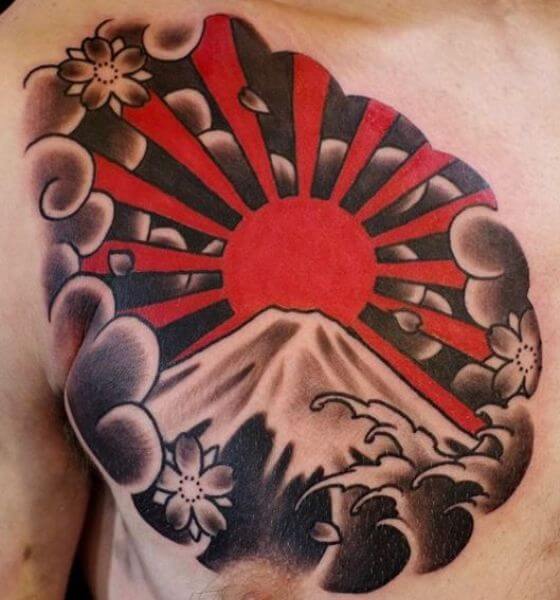 Get your rising sun tattoo in style by having it with beautiful flowers of your choice. Adding flowers to your rising sun tattoo will simply make it look stunning.
7. Rising Sun With Waves Tattoo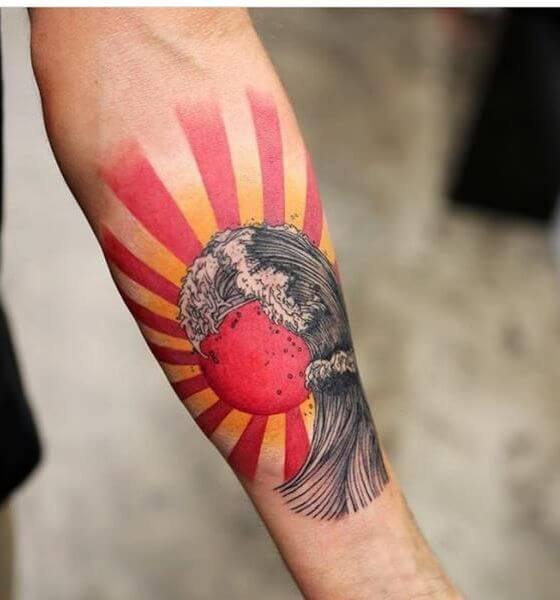 Another wonderful way to make your rising sun tattoo more creative is to add waves to your tattoo. It is going to be a conversation starter for sure.
8. Rising Sun Mandala Tattoo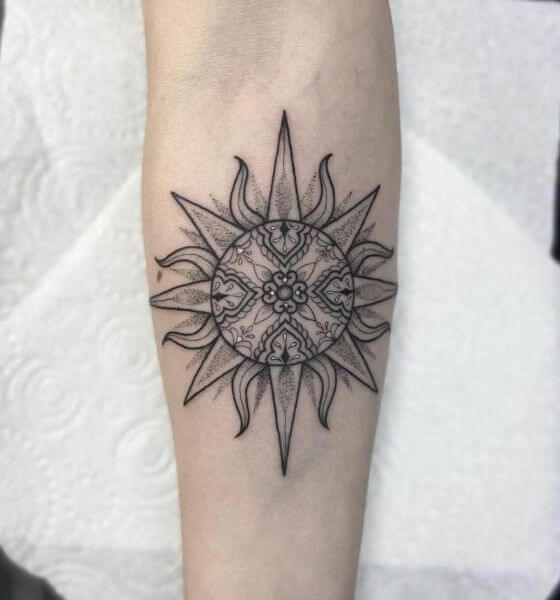 The best thing about a rising sun tattoo is that you can be very creative with the design. Just imagine a rising sun mandala etched on your body. It will look simply wow!
A mandala tattoo with the rising sun is a great option for women to commemorate childbirth and flaunt their style with a beautiful design.
9. Rising Sun Full Sleeves Tattoo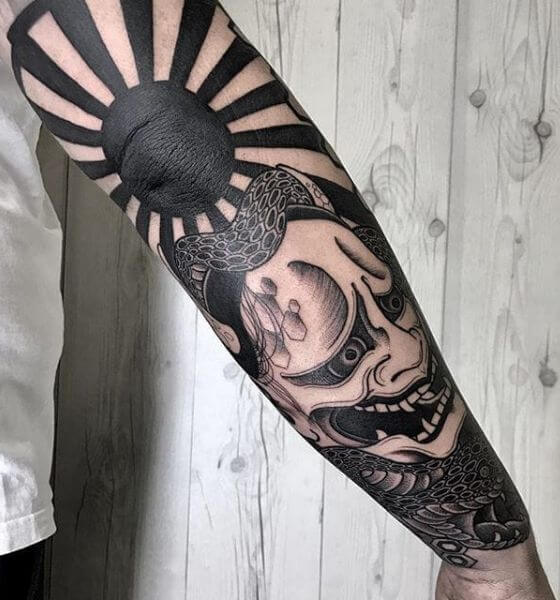 Sleeve tattoos look great; however, they are time-consuming body artwork as it takes time to complete the piece. So, if you have both time and patience, then go for a full sleeve rising tattoo; nothing can beat it, trust me!
10. Rising Sun Tattoo With Tree And Birds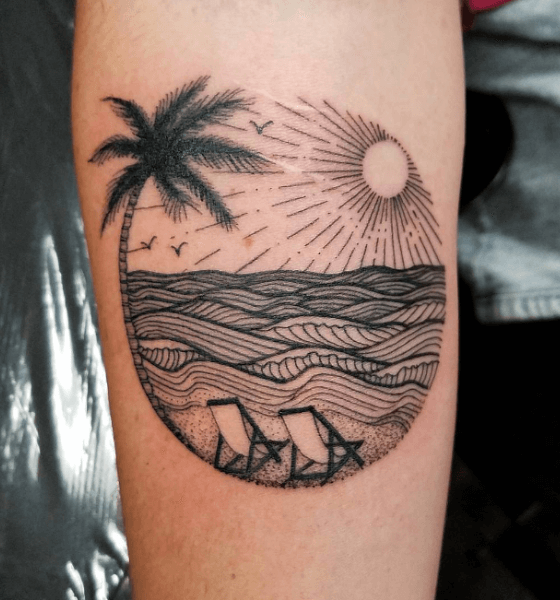 If you really want to have a one-of-a-kind tat etched on your body, then get this one. A beautiful blend of red and black will make for a mesmerizing tattoo design. Have the rising sun etched in red while getting the tree and birds etched in black color. It will appear as if a silhouette.
Having this etched on your chest will make for a head-turning tattoo design. Go for it!!
Placement for a Rising Tattoo Designs
The best places for a rising sun tattoo idea could be your chest, upper back, lower back, sleeves, forearms, waist, and around your navel. This tattoo looks fantastic and eye-catching, so make sure you get it placed in the right location.
Best Color for a Rising Tattoo
These tattoos are typically inked in traditional red and white with a circle in the center. Create eight or sixteen rays radiating from the circle's center to the outside edge. Rising sun tattoos are common on the entire back or perineum.
You can use good color combinations to create a beautiful rising sun tattoo. Color combinations like reds and greys, red and black, red, blue, black are good for adding warmth and subtlety to your tattoo design.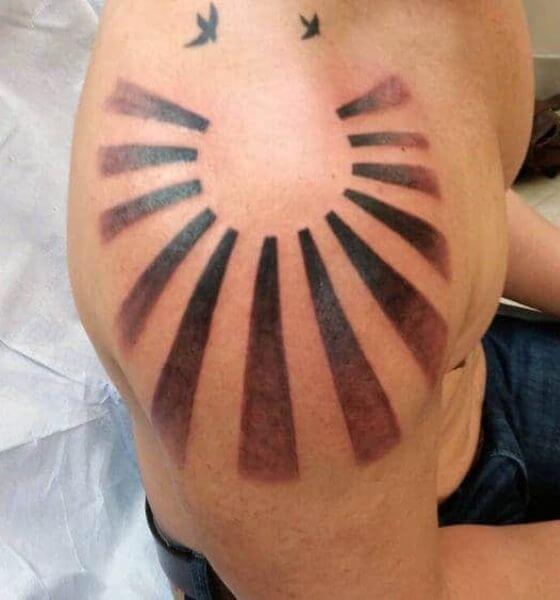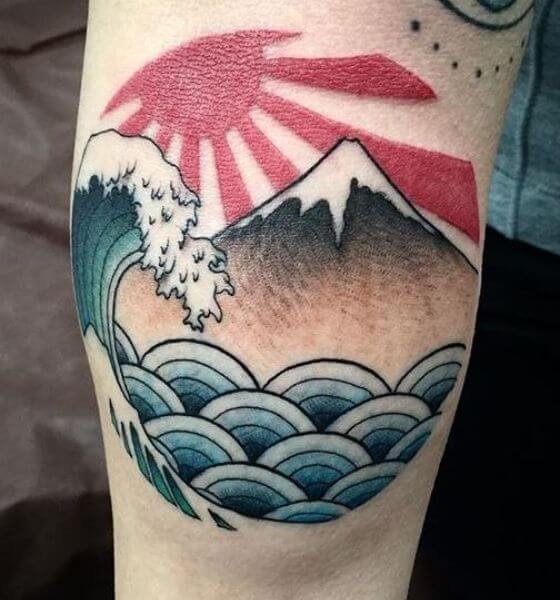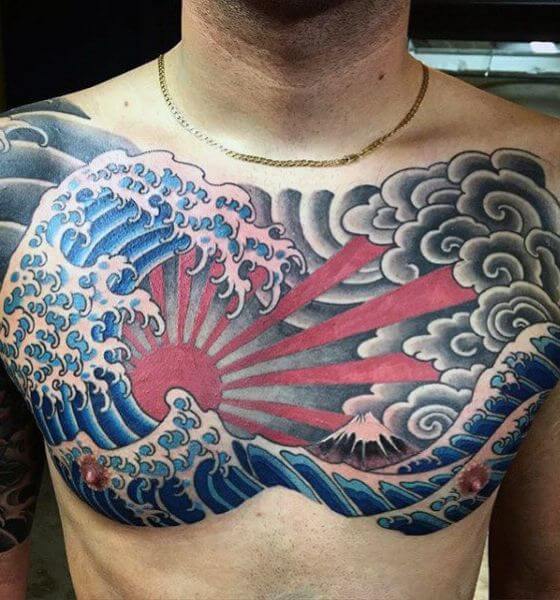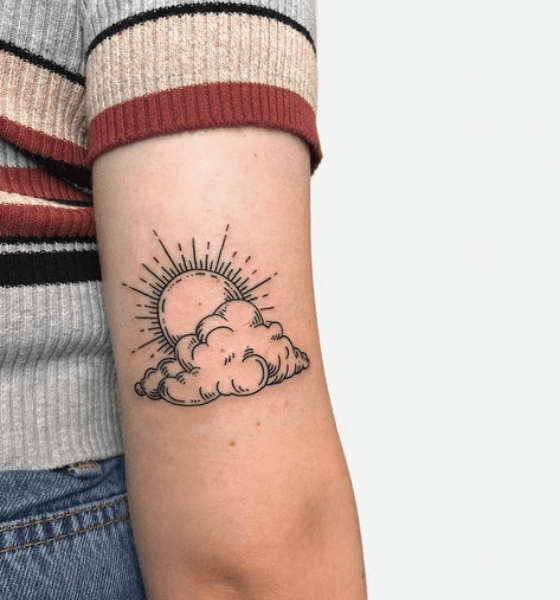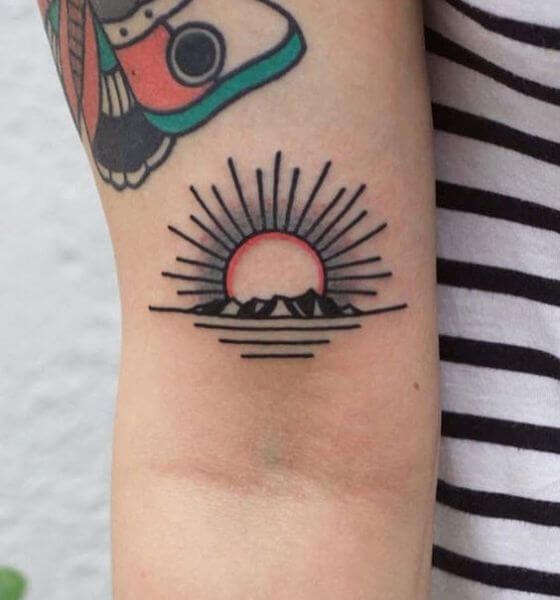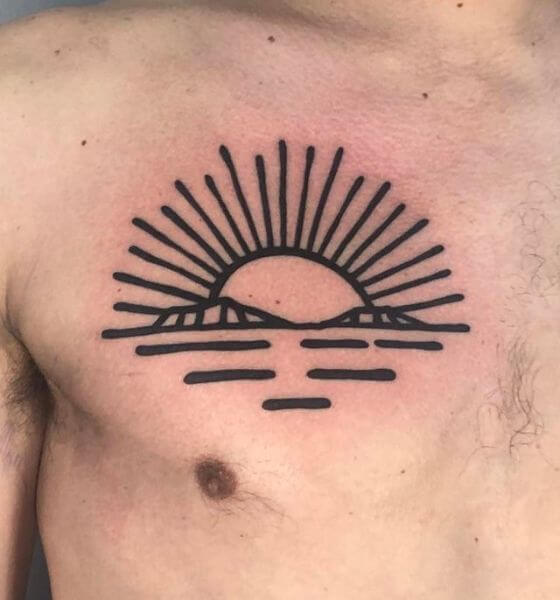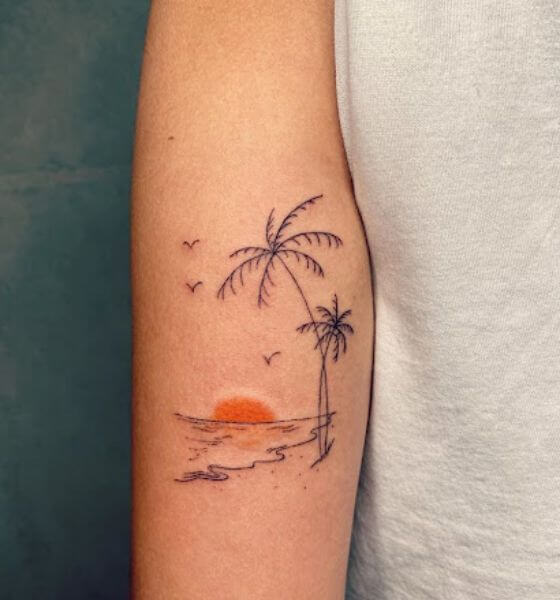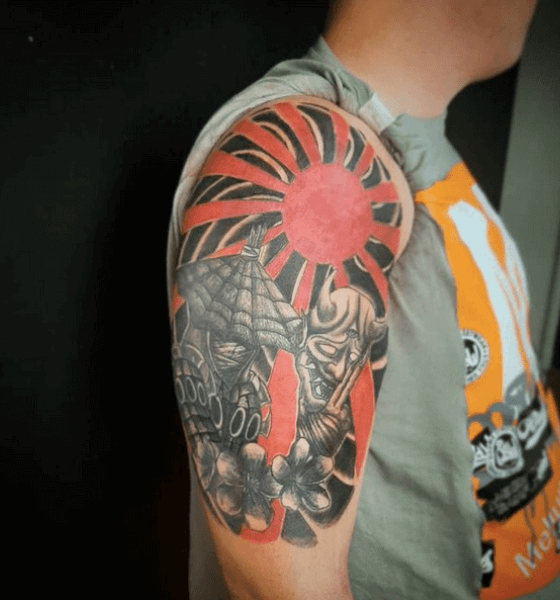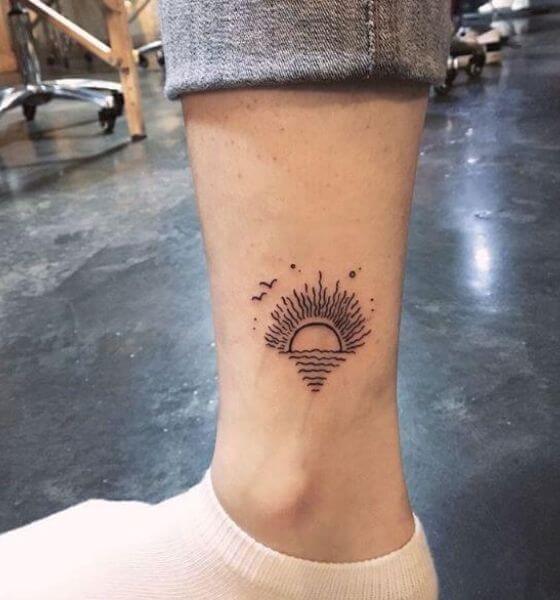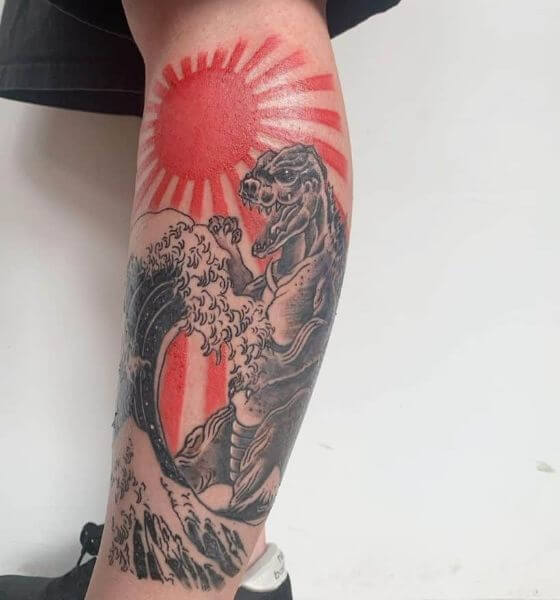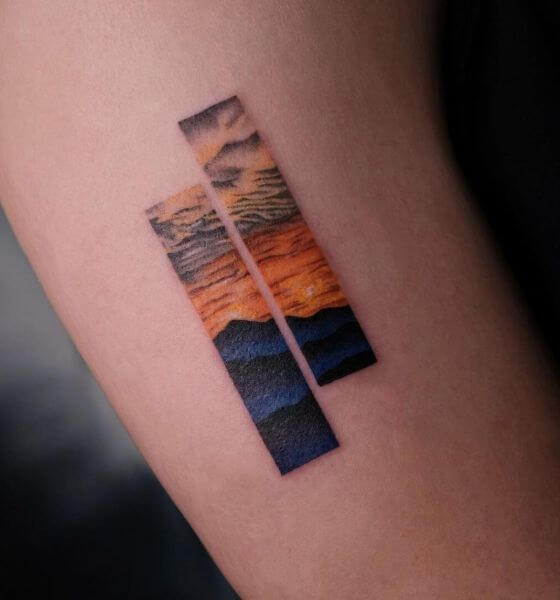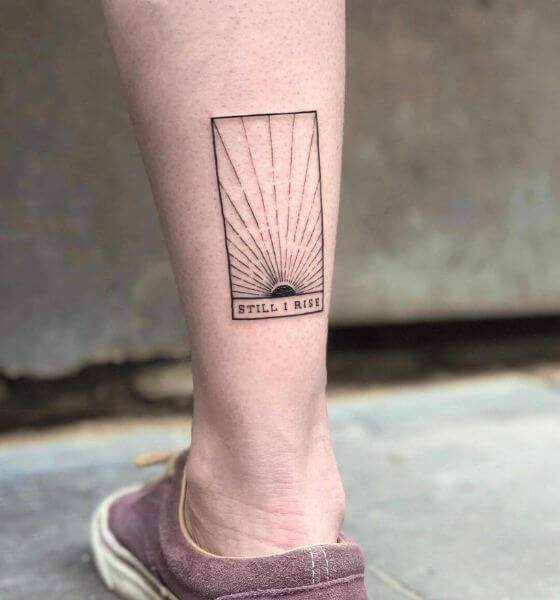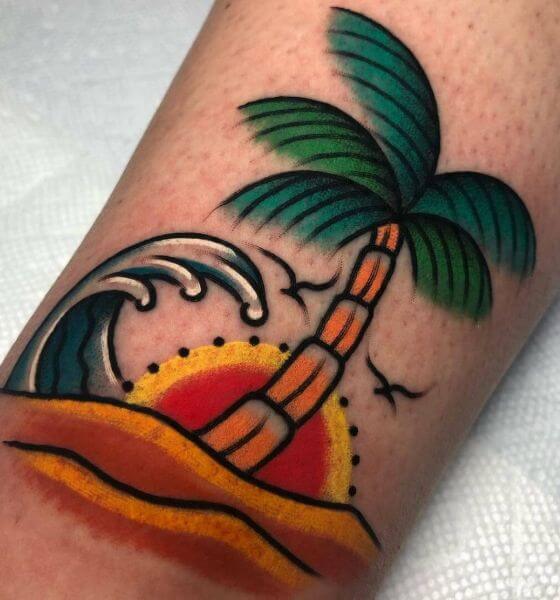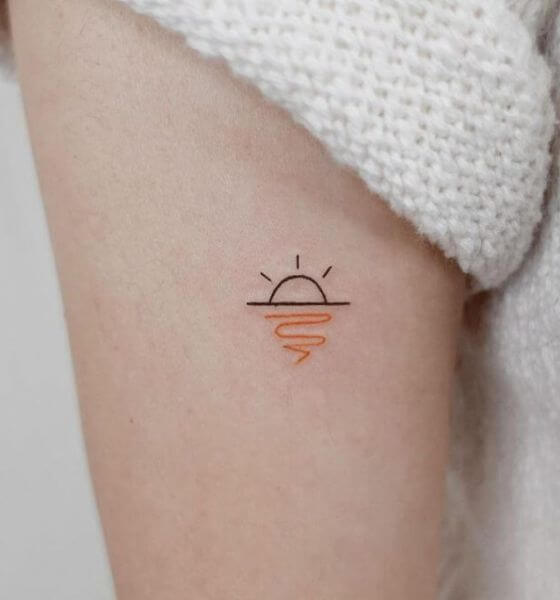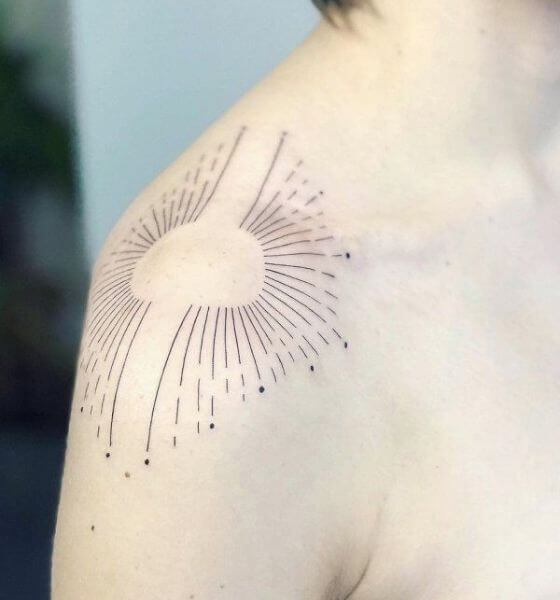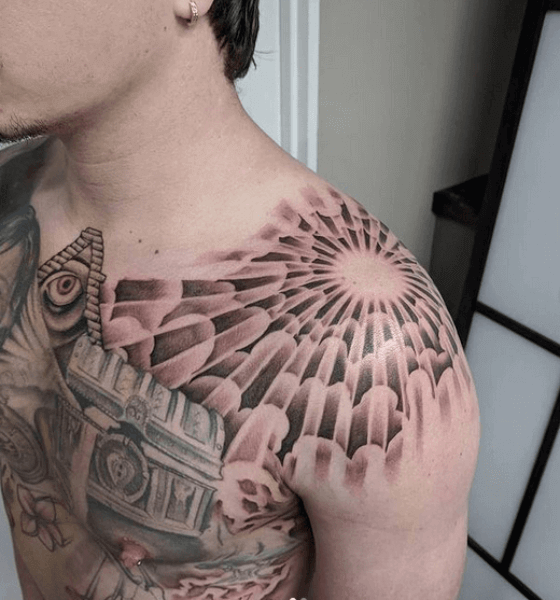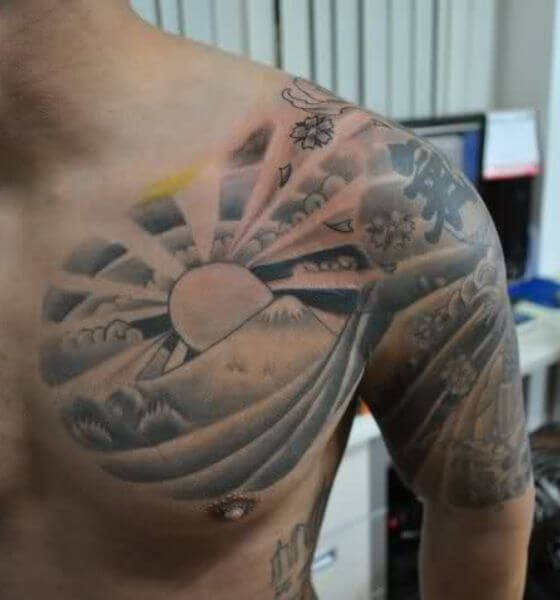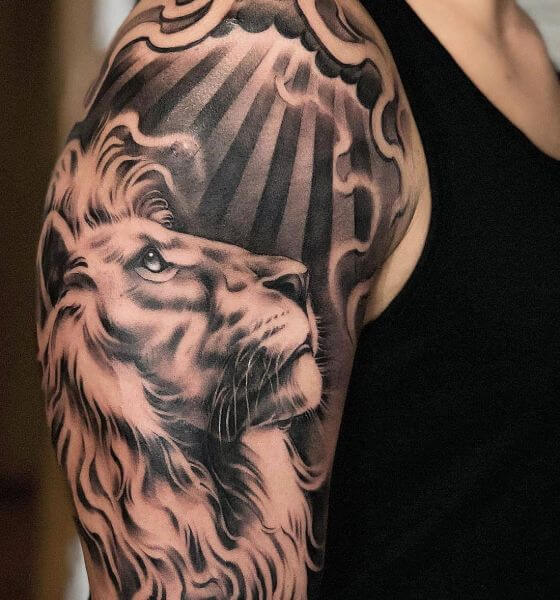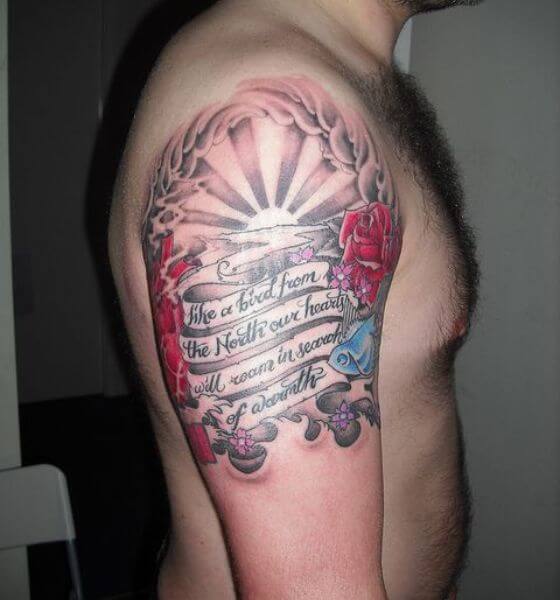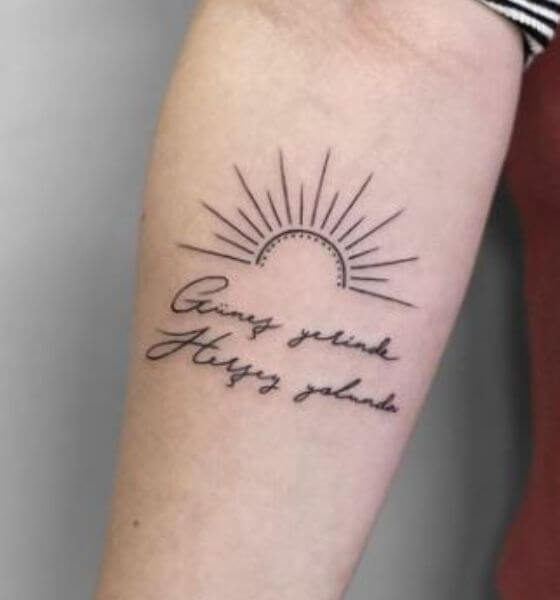 Also see: 
Wrapping it up…
So, this is all about the rising sun tattoo designs. Hopefully, this article has been informative for you and will help you get some inspiration for your next tat.
Rising sun tattoos have a divine feel to them, similar to the rising sun in the morning. Make sure you get it inked by a professional as a professional tattoo artist will capture the emotion you felt during this experience.
Happy Tattooing… ☺ ☺
Please follow and like us: