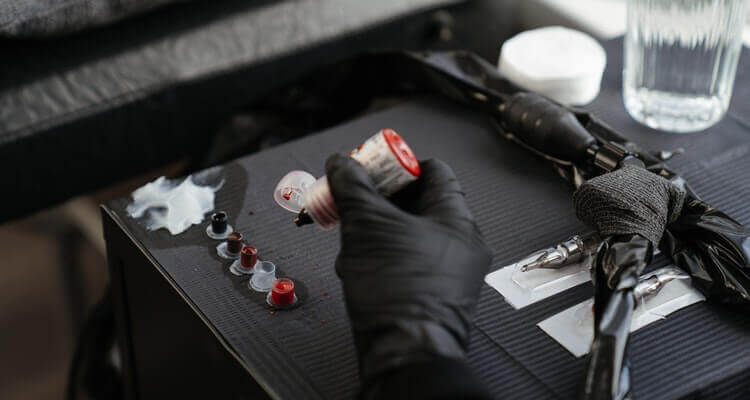 Tattoo Equipment List
Posted on
Finding first tattoo equipment can be confusing for beginners, as there are plenty of things to look out for before finally purchase tattoo equipment. It is imperative to research what items you need for your first tattoo kit, which equipment to use and how to maintain them for a longer period. Whether you are a beginner or professional tattoo artist, you need to have tattoo equipment if you plan to open up your own tattoo studio. Here in this post, we share a tattoo equipment list that you can consider while purchasing your first equipment.
Here we go…..
» The Tattoo Machine (Gun)
The market is swamped with unlimited options when it comes to buying a tattoo machine gun. Get informed about all the brands and then choose the one that best suits your needs. Carefully look at the brands and models; there are two most common options, a coil and a rotary machine. Both of them are a nice piece of equipment one can have. Understand their pros and cons to make an informed decision.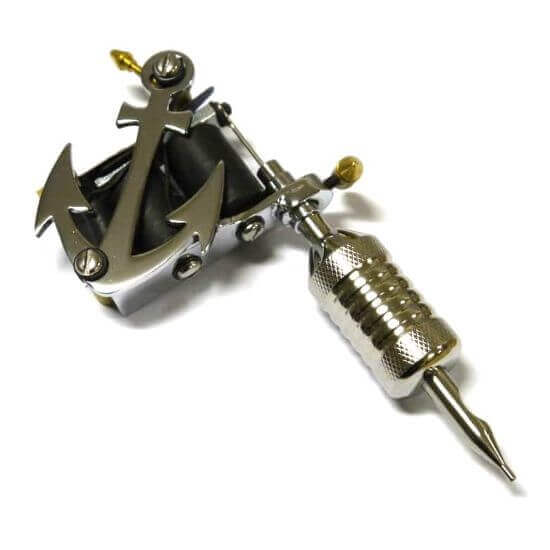 A coil machine is good for tattoo shading and much smoother lines; it works great with large needles. It's easier to have a greater level of controls with coil machines; also, they are easy to modify. On the other hand, the rotary machine is tranquil, much gentle, and less damaging to the skin. Even beginners can use it easily. The rotary machines provide a sufficient filling and smooth, consistent needle movement. However, achieving a greater amount of shading and lines can be a problem with the rotary machine. A coil machine is perfect for an advanced level of artists; beginners find it difficult using a coil machine.
To buy a tattoo machine gun, you will need to understand your skill levels. If you are a trained artist willing to start up your own studio, then a coil will do for you. However, if you are a beginner, then a rotary machine is an excellent option to go with.
» Tips and grips
Other equipment that you need are tips and grips that work well with the machine. These little attachments are the essential pieces of tattoo equipment. Go for the ones made up of stainless steel, easy to clean, and help your design a tattoo perfectly.
» Autoclaves & Ultrasonics
Then there are autoclaves, ultrasonics, and special cleaning equipment that are important parts of the tattoo kit. Know that it is important to keep your instruments sterile; otherwise, you may have to bear the consequences. Your license may get confiscated for not keeping your tattoo instruments sterile.
»

Tattoo Inks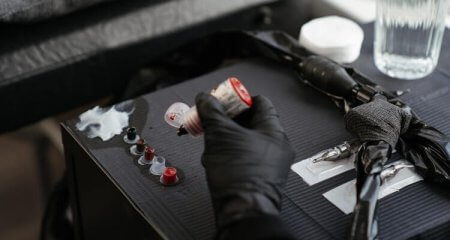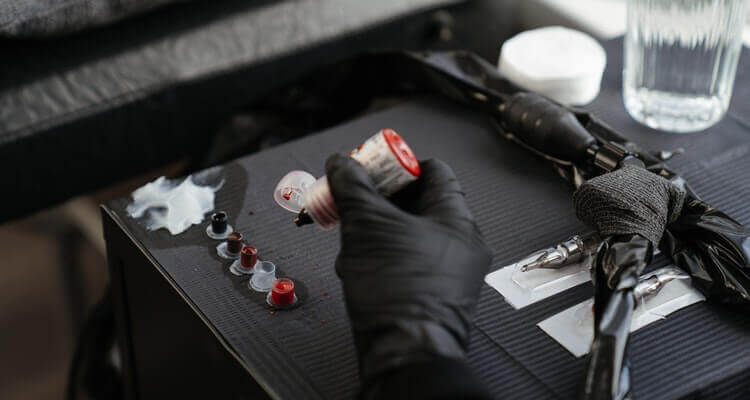 Tattoo inks are the most important part of tattooing process. These inks are required to give tattoo a colorful and vibrant look. You will need to have almost all the common inks.
»

Fake Skins
As the name says it all, you will need fake skins to practice the tattooing process.
»

Needles and attachments
You will need to buy different sized needles and attachments, as needles are required for creating a tattoo that the client wants.
»

The Chair
Another most important piece of equipment that you will necessarily need in your tattoo studio is a chair. You will need to spend in a good chair. A good chair is a must-have for your tattoo studio; your clients will want to have comfort when paying for your services. Opt for a new generation chair; it has it all that is needed in a tattoo studio. Modern chairs have memory foam, come covered with beautiful silky leather that feels good, and is very easy to clean and disinfect. These new generation chairs are all orthopedic, compact, and not at all intrusive. They come with fit in motors, with which you can easily regulate the height and recline the chair as per the client's convenience. The movements are also swift and stable.
Also See: 20 Biggest Tattoo Shops In The World
These modern chairs are made to keep your clients' comfort in mind. Besides, these modern chairs come with a large soft hole for the face that gives comfort to the clients getting back tattoos. So, it's good to invest in a good chair to not waste your money again and again.
»

Hydraulic chair
The hydraulic chair is for tattoo artists. These chairs are more comfortable and very much needed in a tattoo studio, as artists work long hours. Again, invest in a good chair as it is about your comfort and health. Go with the one with the proper back support, comfortable, and the one that allows you to move and adjust the height easily.
»

Organization trolley
Organization trolley is must-have equipment at your studio as there will be many instruments, ink bottles, and sterilizing substances that you will need to put in a specific place. Invest in a good trolley so that you can properly organize your work and keep things handy. Otherwise, things get topsy turvy; it will also leave a bad impact on your clients if they will see you running to get instruments.
»

Magnifying lamp with lights
Another must-have equipment is – Magnifying lamp with lights. Magnifying lamp with lights provides great magnification for efficient work.
List of basic equipment
Sterilization equipment, first aid, and medical supplies list:
Autoclave Tattoo Sterilizer
Autoclave trays and cassettes for the tattoo instruments
Sterile ointment
A disinfecting liquid for surface sterilization
Trays to hold and store needles
Tubes and tips cleaning set
Cover sheets for the chair
Headrest
Cover for the machine
A special container for waste disposal
Vaseline
Latex gloves
Other instruments that you may need:
Disposable razors
Tongue depressors
Very sharp medical scissors
Tweezers
Needles and all the accompanying supplies
Bandages
Hospital Tape
Numbing Creams
Other than these, you will need to buy effective cleaning solutions, necessary soaps, and alcohol for clean and preparation.
Tips for buying tattoo equipment
Do enough research about the brands, models, features when you plan to buy tattoo equipment!
Read about the best machines and read up on reviews from people who have used the particular machine.
Spend some time shopping for a good tattoo machine.
Invest in high-quality tattoo equipment, especially the tattoo machine. Ensure the equipment you purchase is made up of durable material and is recommended by other users.
Summing it up….
I hope this tattoo equipment list helps you make an informed decision while you go out for buying tattoo equipment.
Happy Tattooing…. ☺ ☺
Please follow and like us: