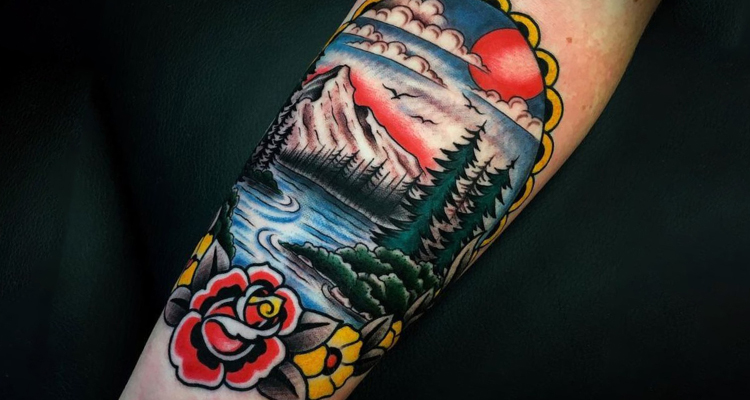 Nature Tattoo Ideas for Nature Lovers
Posted on
Tattooing is an art. People love to get a tattoo because of various reasons. Some get tattoos for displaying their love for someone, for some tattoos are just for fashion and style, whereas, many get it to show their support to a group or community. Each one of us is connected to nature in some or other ways. In fact, we share a deep bond with the Mother Nature. And there is nothing more peaceful than the nature itself. One can spend hours in nature. When it is about a tattoo, for those who love nature, a nature-inspired tattoo is a great fit for them.
Well, whatever the reason be, tattoo is the way to unveil your true personality to the world. Any tattoo you get should match with your personality, should have relevance with who you are.
Though there are myriads of tattoo designs available, which one can have. But everybody has some specific liking for something, say for motivational quotes, or for pets, or for butterflies, or for nature or for….. And the list goes on!
In this post we will talk about nature-inspired tattoos. Nature has something mesmerizing about it, and a nature lover knows it well.
Effects of Nature in Our Lives
Nature is soothing and calming and so are its effects on our body and mind. A simple walk in nature daily can help reduce stress, improve our physical and mental health, and can even improve overall performance in day-to-day life. Having a nature-inspired tattoo will simply show our love for nature.
Nature can affect our emotion positively. For instance, if you are feeling low just take a walk in nature and in just a few minutes your mood will change. You will feel lively and cheerful, you may not know why but nature is powerful. It affects our mind, which helps in creating happy hormones in our body. Nature has positive connection to our emotions, when nature gives us so much, it makes sense to have a nature-inspired tattoo. Not only are nature-inspired tattoos appealing, but also they are able to invoke feelings of tranquility and happiness in one.
Type of Nature Tattoo
There is no specific type or pattern for nature tattoos. Tattoos of nature are wide-ranging, one can get anything from a tree to a stunning landscape, a bird to a beautiful moon etc.
There are plenty of options available for nature lovers. Moreover, one can get a nature tattoo in any size, as they can be as small and subtle or as large and detailed as he'd like. Nature tattoos look super cool on any part of the body.
Also, nature tattoos can be colorful and black and white, however you want. Nature is not just gorgeous, but also it is fulfilling. The best part is these tattoos look great in any part of the body.
Most commonly these tattoos are done on the wrist, ankle, bicep, forearm, collarbone, shoulder, neck, and foot.
However, many prefer to get them on their hands and fingers as well.
If you are also amongst nature lovers and looking for some different and unique tattoo, then the list is here to help you out with your favorite tattoo design.
Here we go…..
1.

A beautiful white butterfly on your shoulder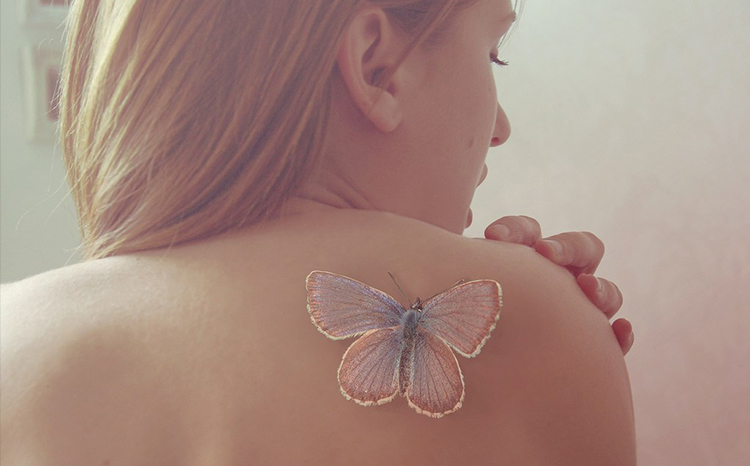 Butterflies are cute, I think cutest. And when they are tattooed they look mesmerizing. White tattoos are rarely seen, for, many people go for the darker shades. Yet, white butterfly tattoo looks pretty on the shoulder especially when it is well-made. If you will notice, you will find the delicate white wings of the butterfly are made to highlight its fragility. White butterfly tattoos are very much feminine, nature-inspired and look striking on dark skin tone.
2.

Trees and mountains landscape tattoo
You must have drawn a landscape many a time on your drawing books, but have you ever imagined to have it on your body as an art. Now is the time to have a beautiful trees and mountains landscape tattoo on your shoulder. Or if it is of small size then wrist is the perfect place to get this one. The tattoo is in black, but if you want you can get it in color.
3.

Bear with tree and bird images make for a great tattoo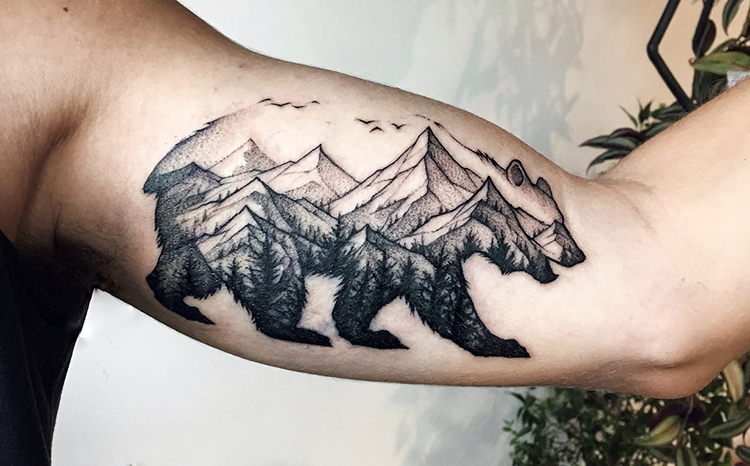 Now this one is for nature and pet lovers, if you love a bear then having some trees and bird images with that will make for a great tattoo. You can have this tattoo on your shoulder. The bear will appear as if walking with the whole nature within.
4.

Trees and mountains on your foot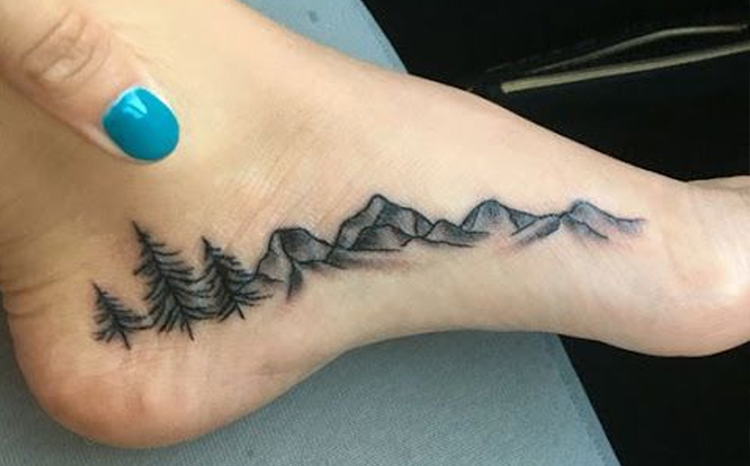 This one makes for a small sized tattoo on your foot. The tattoo has elements from nature, which includes trees and mountains, but the landscape is small in size that will look stunning on your foot. You can get it in color or black and white. However, Black with some shades of grey looks best.
5.

Rose combined with butterflies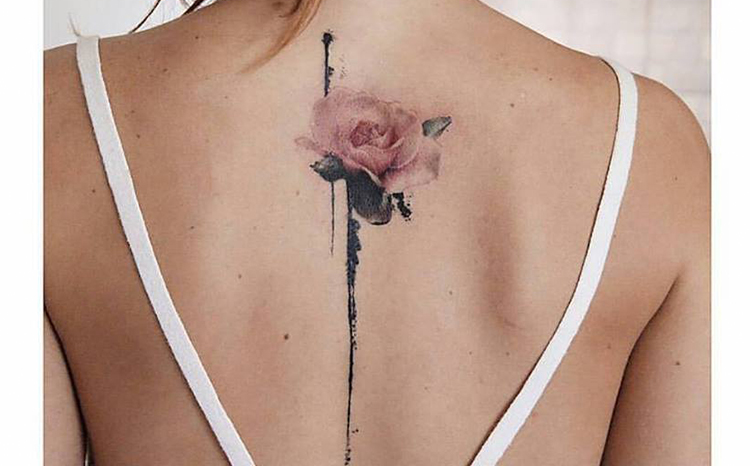 A big red rose with buds and leaves in it along with butterflies on your spine, will depict a perfect flower painting on your back. This tattoo will have details, the size of the rose will relatively be bigger and the colors used will be more lucid and clear, making it realistic.
6.

Just mountains on your foot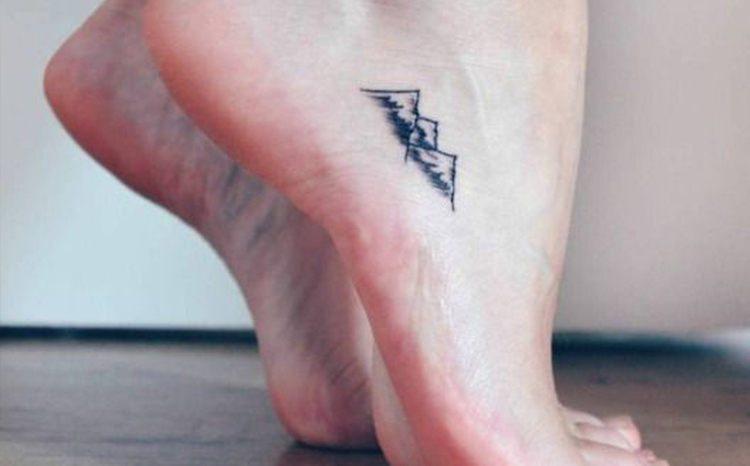 This one will flaunt your adventurous side. Yeah, this is for those who are hard core adventurous and love to explore nature more and more. Simply mountains in black drawn on your foot will look cool. This tattoo will be small in size and looks good in black ink.
[ See more: Foot Tattoo Designs ]
7.

Pine tree on the back of the shoulder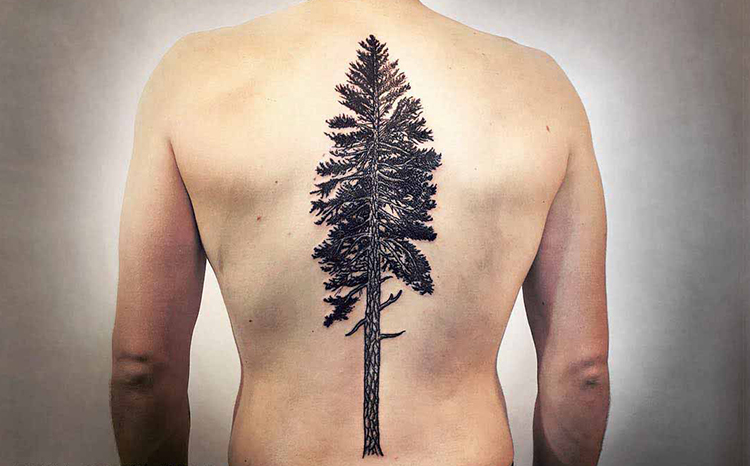 I am sure you must have seen a pine tree, and definitely would have fallen for it. Pine trees look really beautiful, naturally found in the northern hemisphere. These trees makes for a beautiful nature-inspired tattoo. This can be done in just black ink or you can get the tree inked in its natural color on your shoulder.
8.

Flower tattoo with a landscape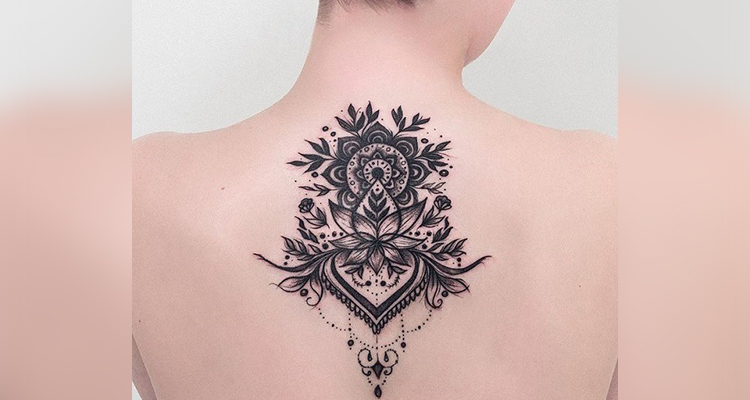 Any scene is incomplete without flowers. If you love both flowers and landscape together, then this one's for you. Simply get flowers with an added landscape inked on your back. This one will look more of a mandala design. But it looks pretty.
9.

Pine tree with compass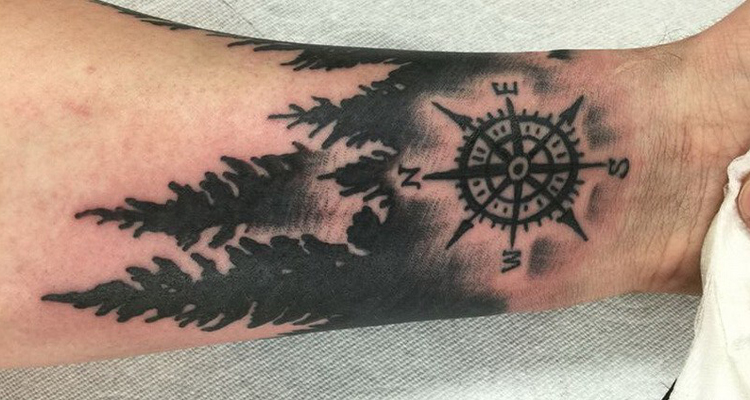 You can make a pine tree more beautiful by just adding directions on it. Pine tree with compass or directions will look beautiful on your shoulder, wrist, and the foot. The tattoo can be done in black or if you want to get it in color.
10.

A colorful lakeside landscape in a circle on your hand
This one is colorful tattoo, which has a lake, mountains, trees, sparkling water, and a beautiful moonlight. Actually a painting but tattooed on your hand. This tattoo looks beautiful, it is done inside the circle but if you want, you can get it without an outline too. A very beautiful and colorful tattoo to go for.
11.

A landscape on the inner bicep
Get trees and mountains etched on your inner bicep. The landscape will look amazing. This one is done in black ink and make for perfect tattoo. And yeah, add a flying bird with trees and mountains, your tattoo will become extraordinary.
12.

Just leaves on a collarbone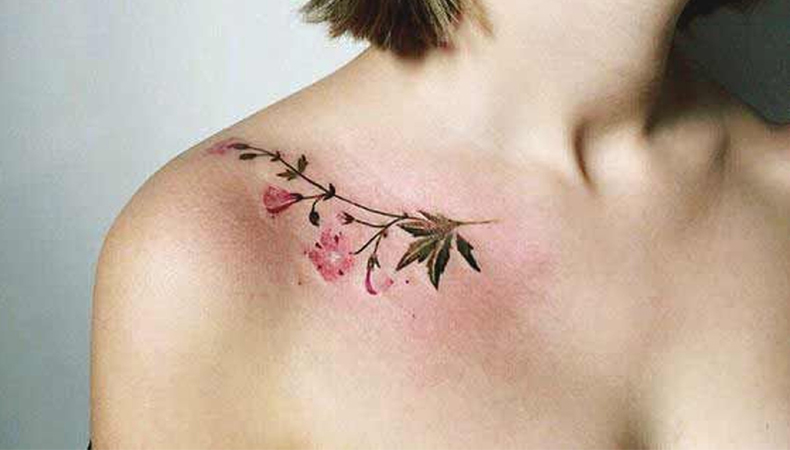 Though tattoo on a collarbone will be a little painful, but trust the results will be amazing. Leaves tattoo on your collarbone will make for a simple, yet beautiful tattoo. This one is going to be a head turner, especially when you will flaunt it with your off shoulder dress.
13.

Autumn leaf on your hand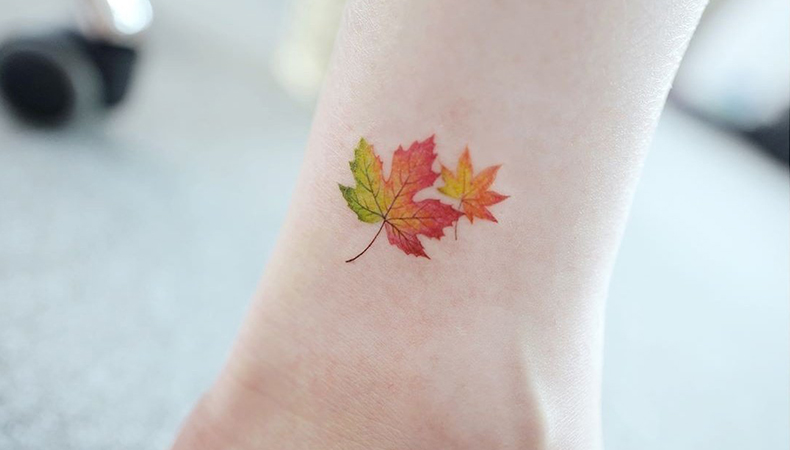 A subtle autumn leaf drawn on your hand will make for an eye-catching tattoo. This one will be in color and looks amazing on your hand. This is for those who do not want to go for big tattoo designs and just want to have something simple from nature. Get this in color, it will look original.
14.

Butterfly on the tree on your back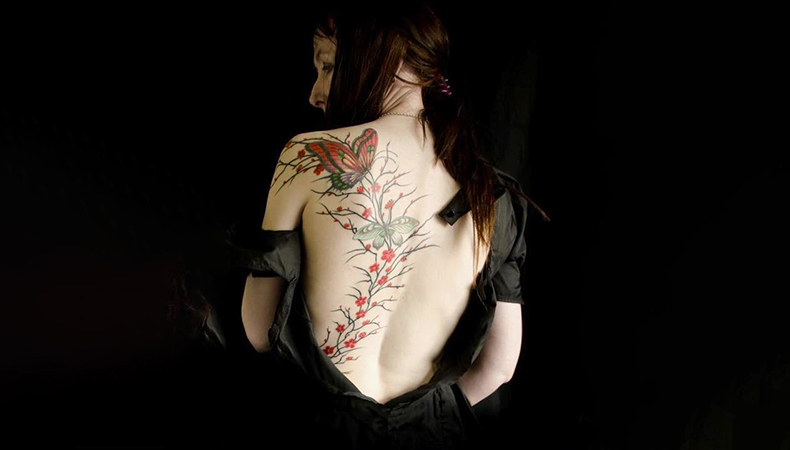 Just imagine a tree with many butterflies, and same will be your tattoo on your back. This one is going to be very colorful as butterflies already come in many colors and your colorful tree will just add to your tattoo. This is a big tattoo design. Beautiful colored butterflies on the branches of trees will cover maximum of your back from down towards shoulder.
[ See more: Back Tattoo Designs ]
15.

Smaller tree on your bicep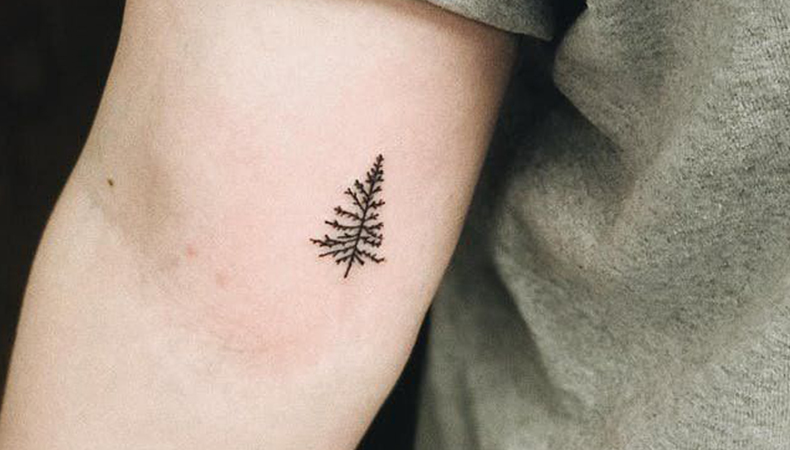 You can get any of your favorite tree etched on your bicep. The tattoo will be small in size and looks good in black ink. It is going to be very subtle and simple tattoo design. Good for people who do not want to go for bigger tattoo designs.
16.

Flowers and plants on the inner forearm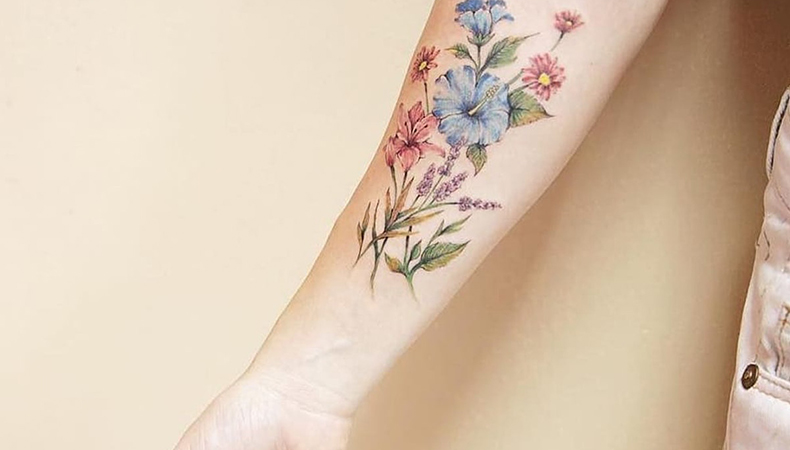 It will appear like a mehndi design on your inner forearm. The design looks beautiful. Upon having this design on your forearm, you will never need to get a mehndi work on your hand, this tattoo will take care of that part too. ☺ ☺
17.

Mountains, ocean wave, and sun on your back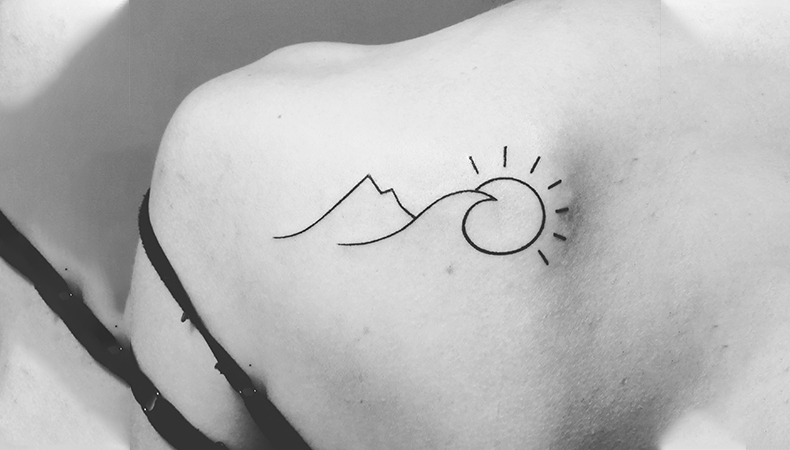 Trust me you will love this design. This is very simple but very, really very beautiful tattoo design. If you are a person who admire simplicity, this tattoo is for you. It has mountains, ocean wave and a sun but all drawn in a line… Moreover, it is going to be a painless tattoo, because it doesn't require too much work.
18.

Flower with plants on the outer forearm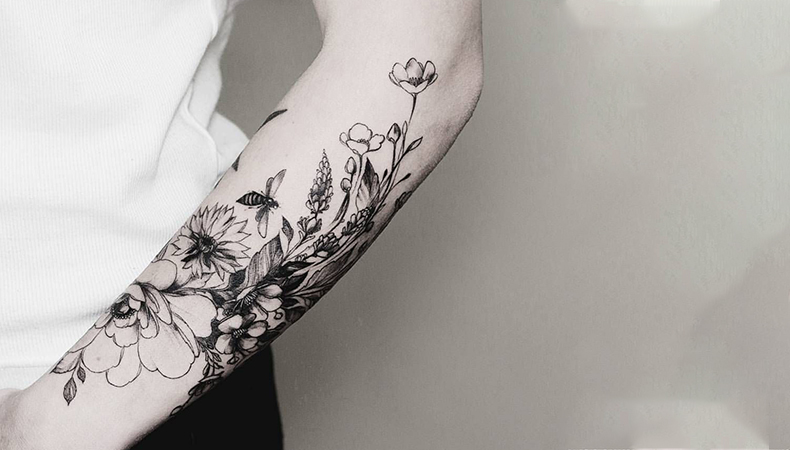 For all the flower lovers, this is the tattoo. You will have everything in this tattoo. A plant, a lot of flowers of various sizes. This is going to be a black and white flower painting on your forearm. And believe you me, it looks beautiful.
19.

A cute bumblebee on your hand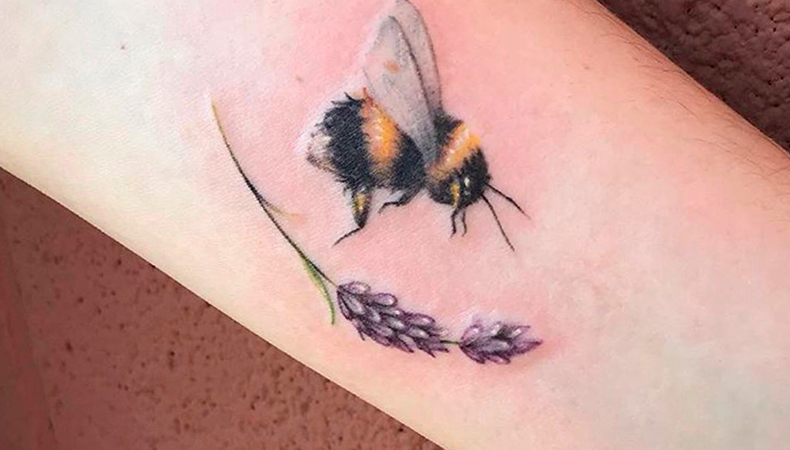 Bumblebees look cute when tattooed ☺ A bumblebee tattoo on your hand or on your wrist in black ink will look stunning. Tattoo makes for a perfect small tattoo design for those who do not want to flaunt big art works on their body.
20.

Tree, leaves, and moon tattoo on your hand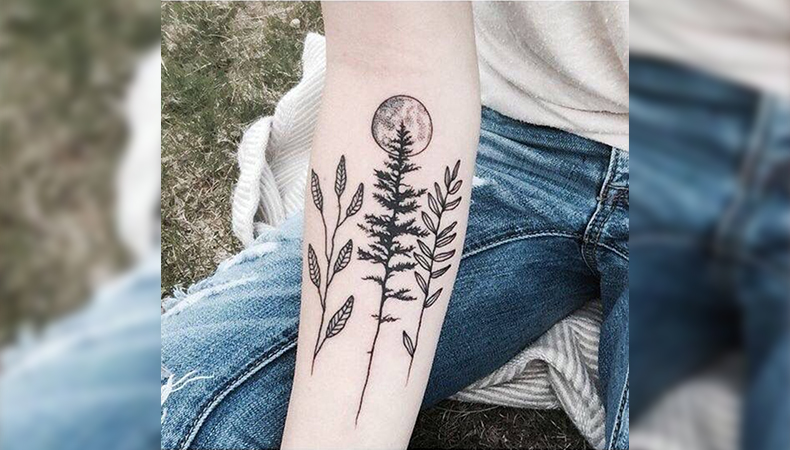 When we talk about nature, moon is the most beautiful element of nature. Adding a moon in your tattoo design will take your design to the next level. Just have few trees (of different types) on your hand and above them a beautiful moon. The design will be in black, but will look cool.
21.

Just a moon on your hand
For all the moon lovers, simple moon will do the needful. Get a beautiful moon inked on your hand and see how people will react on it. You will love the compliments, as they are also going to be as beautiful as your tattoo design.
22. Crescent moon encompassing trees on your hand
Another design with moon is this. In this design you will have a crescent moon which will be encompassing trees. You can get this one on your hand or wrist or maybe on your shoulder. The design looks very pretty and enchanting. Get it in black.
23.

A rose on your wrist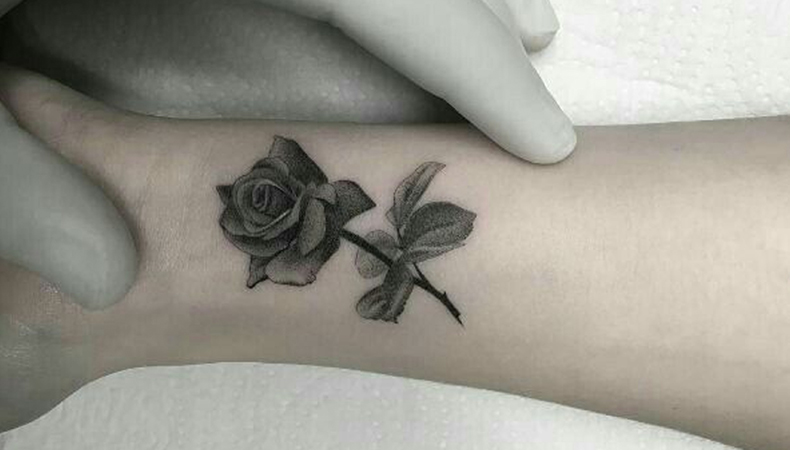 It is for those who do not want to flaunt big artwork on their body. Just have any colored rose on your wrist or hand with leaves on it. This one makes for a perfect girly tattoo. Most girls like it, because this design looks simple and beautiful.
24.

Symmetrical moths with a personalized text on your legs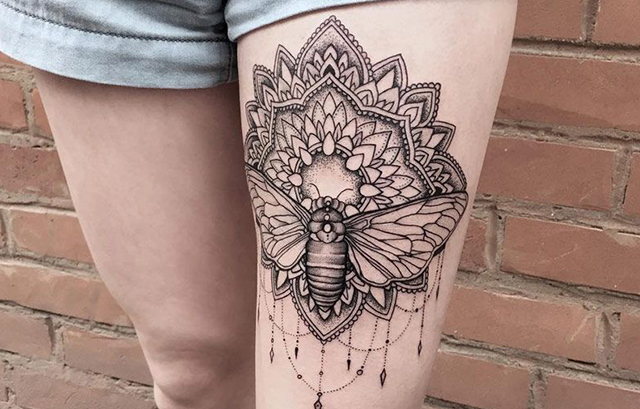 Let's take nature-inspired tattoo to another level. Have a moth with personalized text on it done symmetrically. Light colors are used in such tattoos and prominent is the text with the butterflies which makes the difference. The shape of the butterflies on both legs will match. Text you can choose of your choice… just make sure that it is not too long as it won't synchronize with butterflies then.
25.

Tree on your spine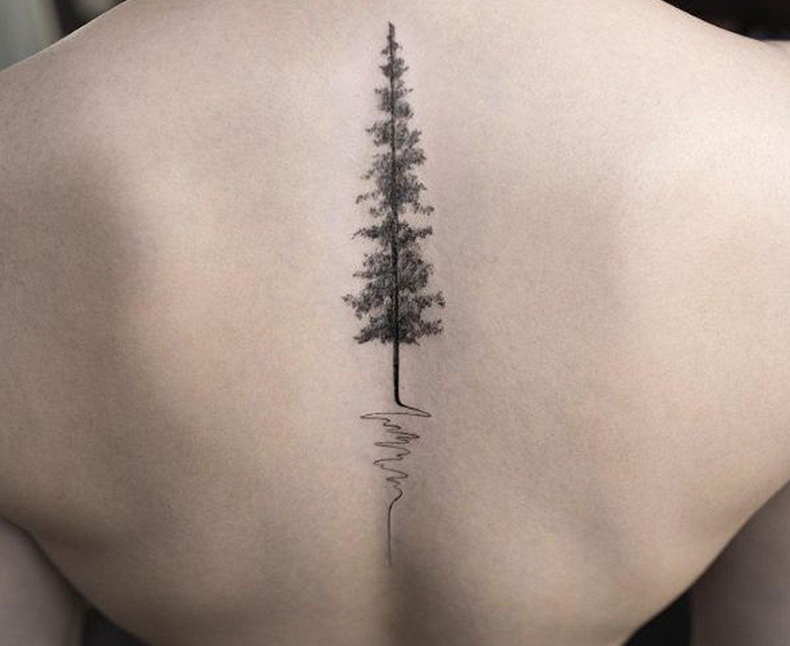 Spine tattoos are relatively painful, but make for the best tattoos. This one is for those who are in shape, of course your body shape matters. Get a simple pine tree etched on your spine, it will make for an eye-catching tattoo design. People will admire you for your tattoo.
26.

A Giraffe with elements from nature on your back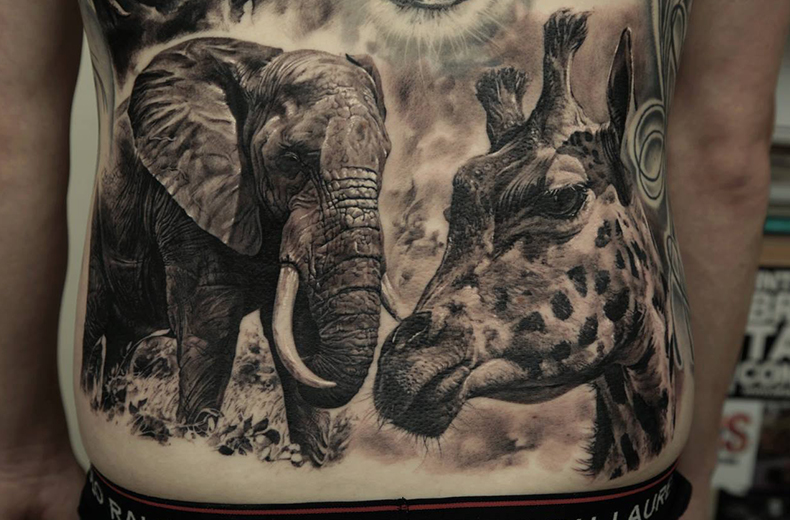 Another tattoo for your back is this. A Giraffe with elements from nature will really look cool on your back. It will cover the entire spine along with your lower back. This is the perfect design for those who are in love with animals and nature.
27.

Flowers and Leaves on your side trunk
A girlie tattoo indeed. To represent your femininity this is the best tattoo design to go with. Just beautiful flowers along with the leaves adorning your spine or side trunk, or forearm. If you want you can have it in any color of your choice and any flower of your choice.
See more: Trunk Tattoo Ideas
28.

Camping nighttime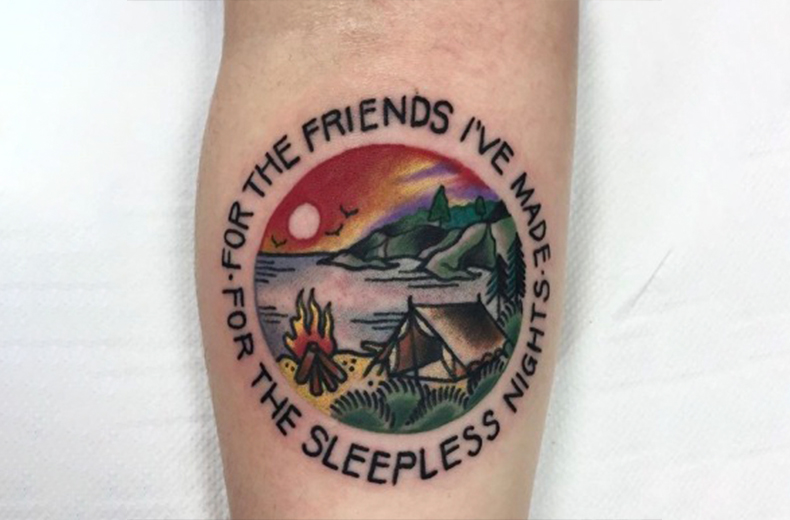 For all the wanderers this is the design. The design will have a night time camping scene, you can also add a small quote of your choice to it, which will reflect your love for adventure and travel. This tattoo makes for a perfect design for the adventure freaks.
29.

Tropical sunset tattoo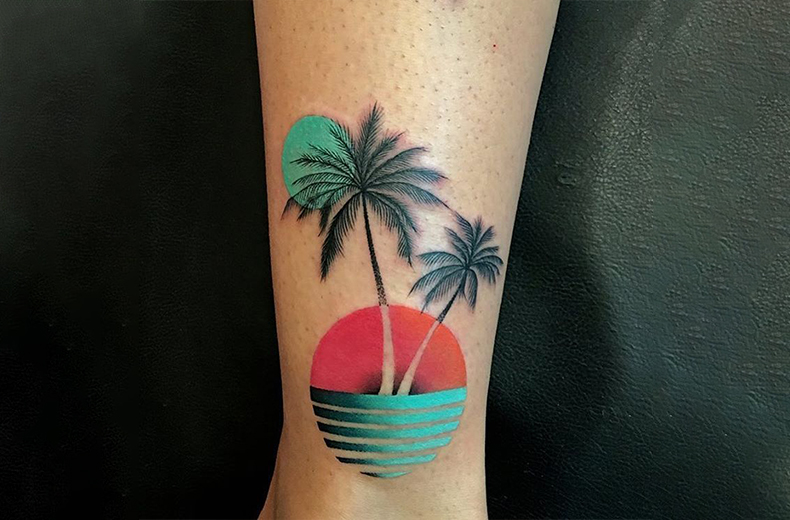 Just imagine a tropical tattoo, you will be lost for some time. The design on your wrist will look beautiful. It will have all the elements to create a tropical scene, like a palm tree, boat, water, and the sun is setting. This will look like a pencil sketch. Get it done in black with shades.
30.

A palm tree on your foot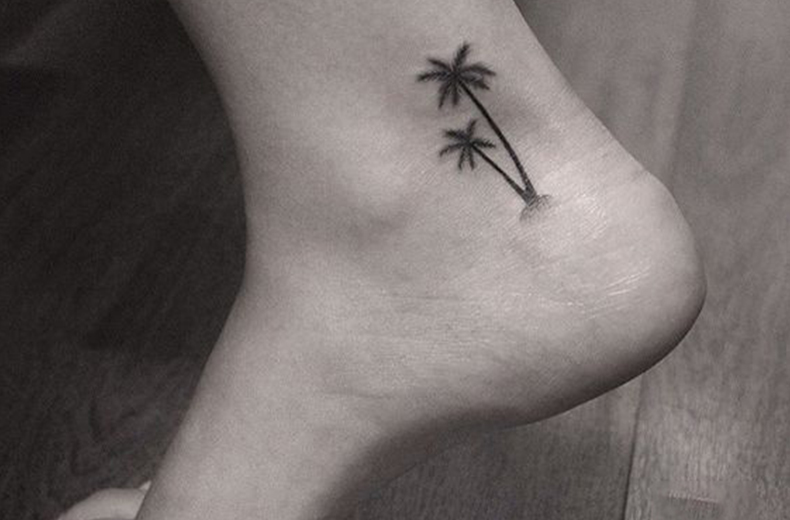 Palm tree really looks cool and beautiful. If you want to have a tattoo but do not want to show off, you can have this one. This will be done on your foot, though you can have it on your hand or wrist also, but on foot it will be visible only when you want it to. This tattoo will be in black with shades, it will look like an original tree on your foot.
31.

Flowers, leaves and bumblebees on shoulder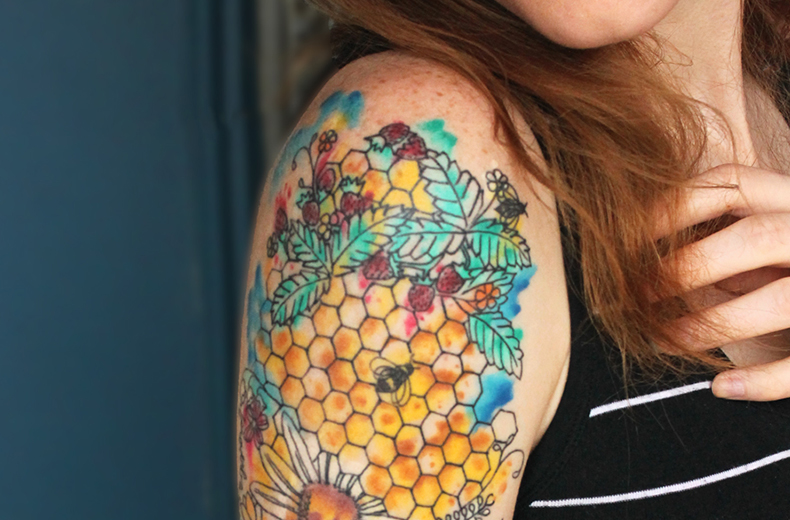 The design looks delicate and beautiful on shoulder. If you want it in bigger size then you can get it done on your back also. The tattoo looks very colorful and enchanting as it has beautiful bumblebees and flowers in it. The size of the tattoo and the number of bumblebees may differ according to the requirement of your design.
[ See more: Shoulder Tattoo Designs ]
32.

Paw prints on wrist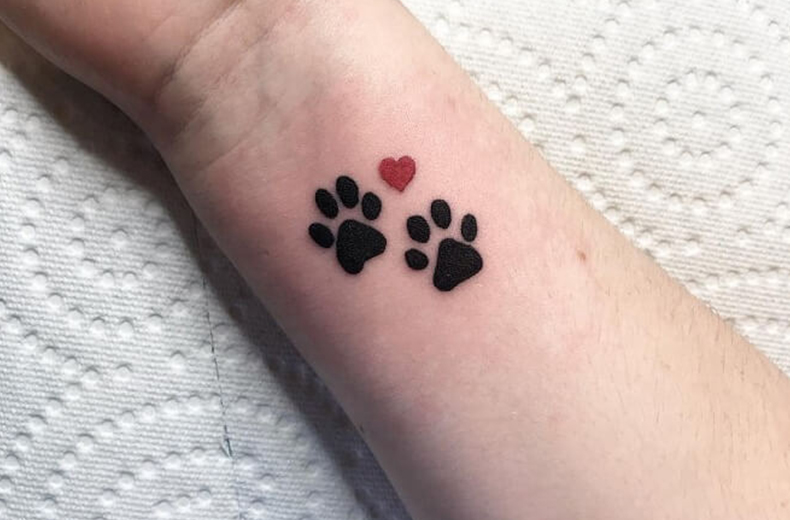 Paw prints tattoo on your wrist will look stunning. This makes for a simple tattoo design, but looks really very, very cool on your wrist. It will have only few paw prints in black and the tattoo still looks enchanting and captivating. If you don't want anything bigger, then go for it. This tattoo design looks amazingly stunning, especially on teenagers.
Final thoughts……
Nature-inspired tattoo designs looks super cool. If you think you are ready to get a tattoo, then go for the design which suits you the best and represents your personality. Apart from these thirty two tattoo designs in the list above, you can even get many other designs for yourself.
If you want, you can even add more elements to these tattoo designs and come with something new for yourself. You can even add quotes of your choice, flowers, intricate tribal designs with trees and flowers, mandala designs with different flowers, geometrical patterns and landscapes, stars and galaxies, animals like tigers, lions, etc.
How you want your design to be, should be your choice. You can even get creative and come with your own design using all or a few of your favorite elements from the nature. The best part of having a nature-inspired tattoo is there is no fixed pattern or design to follow. You can have a design or pattern of your choice and get it inked.
Also, how your tattoo finally looks also depends on how smart your tattoo designer is, as he is the one who will give you exactly what you have envisioned. So, look for a nice tattoo artist!! Nature-inspired tattoos make for eye-catching and great head turner designs.
Happy Tattooing…. ☺ ☺
Please follow and like us: