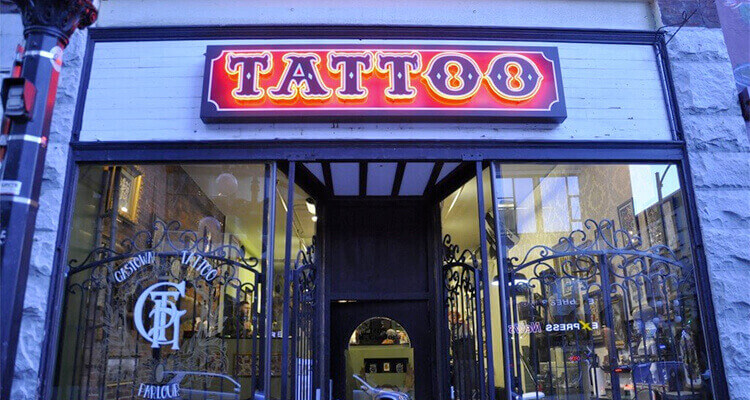 11 Best Tattoo Shops and Artists in Miami
Posted on
If you're one of those who isn't satisfied with simply walking into a tattoo parlour and getting tattooed from someone randomly, then you're in the right place. Here in this post, we shall discuss the best tattoo shops in ct of Miami.
Apart from being one of the best tourist destinations, Miami has the best tattoo studios. When it comes to selecting the best tattoo shops in Miami, there is no dearth of it. There are numerous great studios and artists to choose from for that one-of-a-kind piece, so here are our 11 top picks for you:
Take a look…
1. DIVERGENT  INK
Divergent Ink is one of the best tattoo shops in Miami. The studio is well-known for its incredible tattoo designs and body artwork. Divergent Ink simply transports you to the 1920s because of its quaint ambiance. Guille Chaviano, a renowned tattoo artist known to do almost any type of tattoo, from colorful, vibrant tattoos to simple silhouettes and beyond, owns this luxurious studio where some of the brightest talents ink. If you're looking for a unique and exquisite tattoo design, then head over to Divergent Ink.
Address: 5582 NE 4th Ct #6c, Miami, FL 33137, United States.
Website: For more details, https://www.divergent.ink
2. FAME TATTOOS & PIERCINGS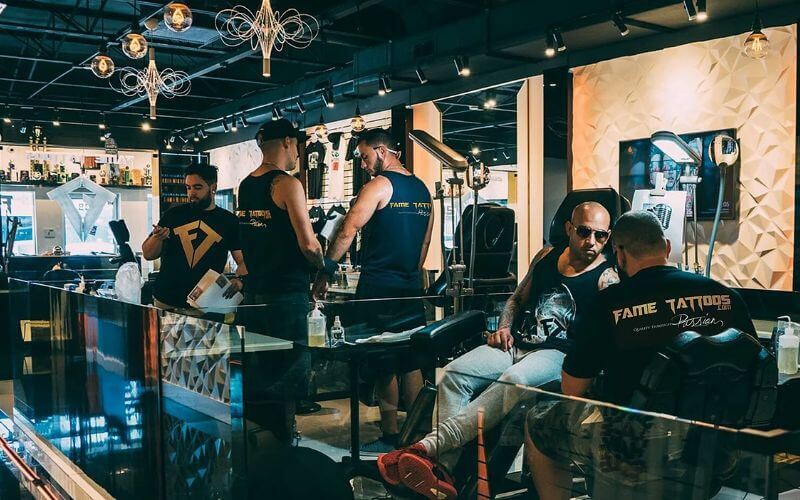 Fame Tattoos is a well-known name in Miami for Portraits and Traditional Tattoos. And the entire credit goes to its award-winning artists and exceptional customer service. To date, Fame Tattoos has received over 100 convention awards. Each artist understands that their client's tattoo is a reflection of their journey, story, or passion, and they work with each client to bring this story to life through art best. The shop itself is intended to be calm, relaxed, clean, and inviting. If you want a one-of-a-kind tattoo design Fame tattoos is the place to head to.
Address: 1409 West 49th Street Hialeah, FL 33012.
Website: For more information, click on the link https://www.fametattoos.com
3. BALINESE TATTOO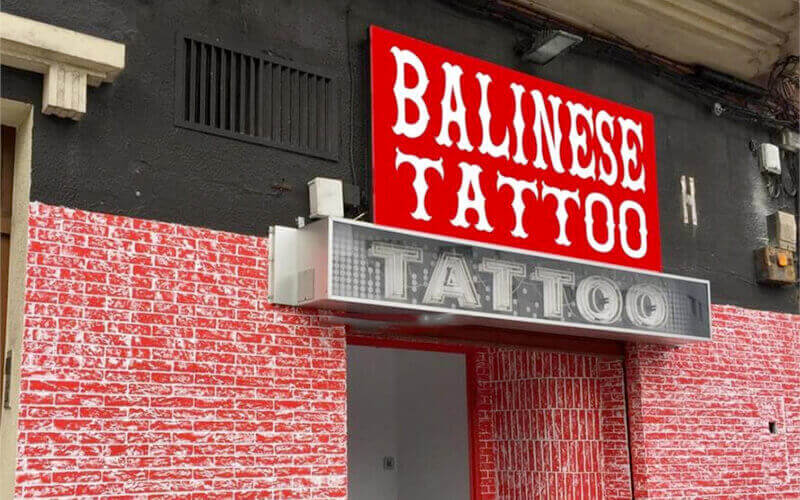 If traditional tattoo designs inspire you, the Balinese Tattoo is the place to go. Balinese Tattoo Miami has become one of the reputable tattoo studios in Miami since Emilia Laurel's first giant dragon tattoo for Alfonso Sanchez in 1992. The Miami-based duo specializes in myriads of tattoo styles, including freehand tattoo designs, geometric styles, colorful and black and white tattoos. Besides, they have experience with tattoo cover ups and can rejuvenate older pieces of skin art. So, whether you want a new piece or want to get a coverup, consider Balinese Tattoo in Miami.
Address: 7856 Northwest 71st Street, Miami, FL 33166
Website: www.balinesetattoomiami.com
4. ORIANA TATTOO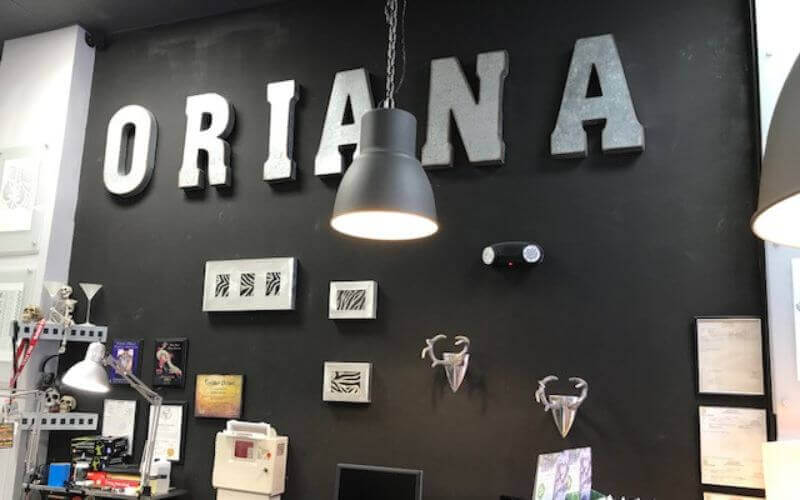 Oriana Tattoo is a well-known skin art and body piercing studio in Miami, known for its realistic tattoo art. The artists here have extensive experience in a wide range of tattoo styles, including old school and dot work. The best thing is that they are always open to customer design suggestions. Among the popular images they offer are religious articles, zodiac signs, celebrity portraits, and calligraphed words of wisdom. Oriana Tattoo also operates a training facility for aspiring professionals. You can book your appointment by phone or online.
Address: 219 71st Street, Miami Beach FL 33141
Website: www.orianatattoo.com
5. IRIS TATTOO STUDIO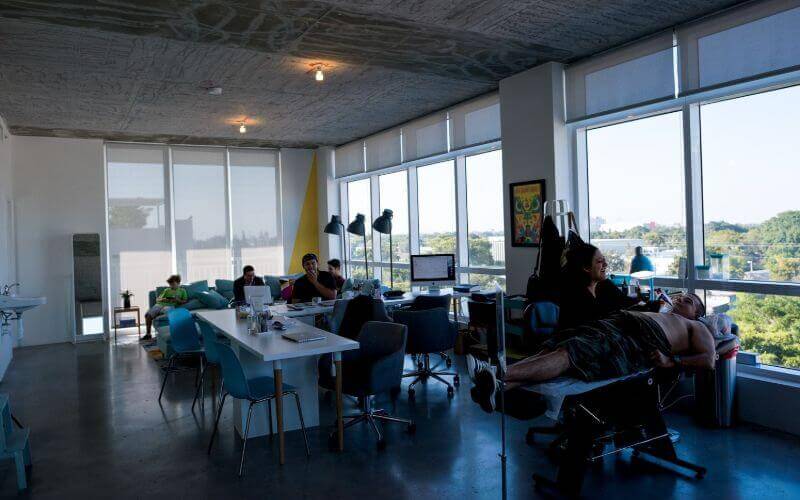 Iris is one of the most reputable tattoo shops in Miami. The studio is well-known for the work it is doing to change the traditional American tattoo aesthetic, along with watercolor and geometric designs truly capturing the Miami vibe. Nahuel Hilal opened the shop in Argentina four years ago after having a bad experience at a tattoo parlor in Buenos Aires. The artists at Iris Tattoo are all graphic designers, and the shop's mission is to make tattooing more affable and pleasurable by incorporating design sensibilities into the inking process. The artists at Iris are very friendly and creative, which is reflected in their clientele. Iris is the best place to get your very first and one-of-a-kind tattoo design that stands out.
Address: 2700 N. Miami Ave., Suite 508, Miami.
Website: www.iristattoomia.com
6. 7INK MIAMI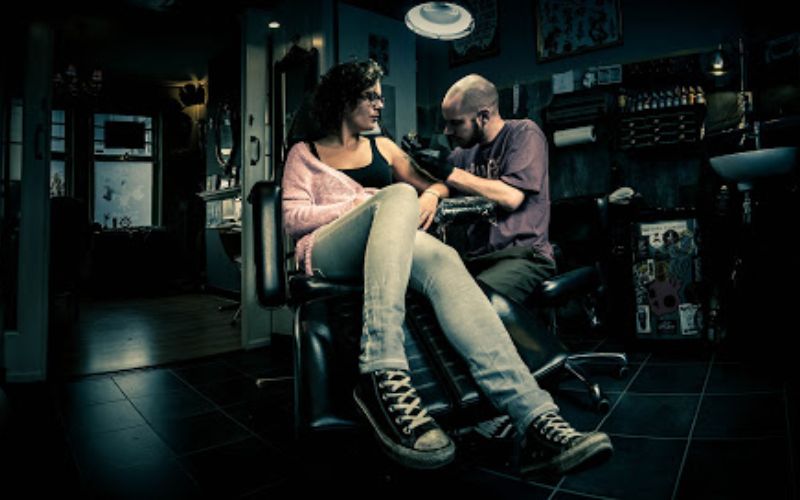 7ink Miami, the home of tattoo artist David Gonzalez, specializes in professional tattoo services throughout the Miami area. David has been in the tattoo industry for a long time, amassing a portfolio of tattoo art completed all over the world. His portfolio consists primarily of colored portraits and realistic tattoo art. David has extensive tattooing experience, as well as a background in fine arts, which inspired him to open his own studio. David and his partner decided to open 7ink Miami in order to make every client look good. 7Ink Miami is the place to go if you want a new tattoo based on a custom drawing.
Address: 12460 Southwest 8th Street, Miami, FL 33184
Website: http://7inkmiami.com
7. TATTOOS BY LOU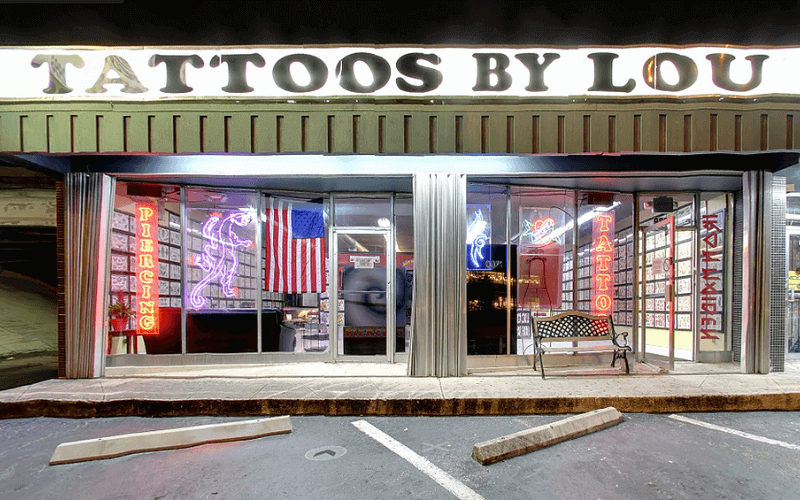 Tattoos by Lou's Dadeland location had become a popular name in the tattoo industry since 1986. It was founded by Lou Sciberra, a Maltese immigrant who began tattooing in Queens when inking people was still illegal in New York. Tattoos by Lou is now a successful three-shop franchise run by Lou's daughter Michelle, with satellite locations in North Miami and South Beach. Ken Cameron, Michelle's husband and Tattoos by Lou's co-owner, is also a tattoo legend who handcrafts some of the world's finest tattoo machines. Though Tattoos by Lou's aesthetic leans toward traditional American and Japanese tattooing, the shop's prowess, cleanliness, and quality are unshakable.
Address: 9820 S. Dixie Hwy, Miami.
Website: www.tattoosbylou.com
8. INKAHOLIK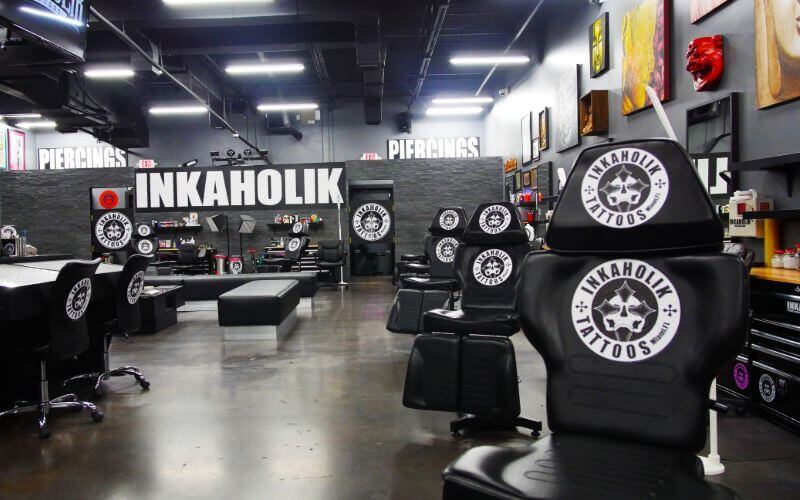 Inkaholik, owned by the enigmatic Mr. Columbia, is a well-known tattoo studio in Miami with two locations in Southwest Miami-Dade County. The shops, which first opened their doors in 2007, are well-known for their mastery of various tattoo styles as well as their innovative business model. Inkaholik employs over 22 artists and frequently advertises tattoo "flash sales" and price specials. Artists in Inkaholik work in a variety of styles and designs, including cover ups, matching, tribal, lettering, watercolor, and hyperrealism. Artists in the shop are state-certified, and a third-party laboratory tests all equipment to ensure that each piercing is both safe and worthwhile to clients. The best part is that Inkaholik Tattoos and Piercing provides consultations tailored to the needs of their clients. Inkaholik is a one-stop-shop for stunning body art.
Address: 8367 Bird Rd, Miami.
Website: www.inkaholiktattoos.com
9. GROVE INK TATTOO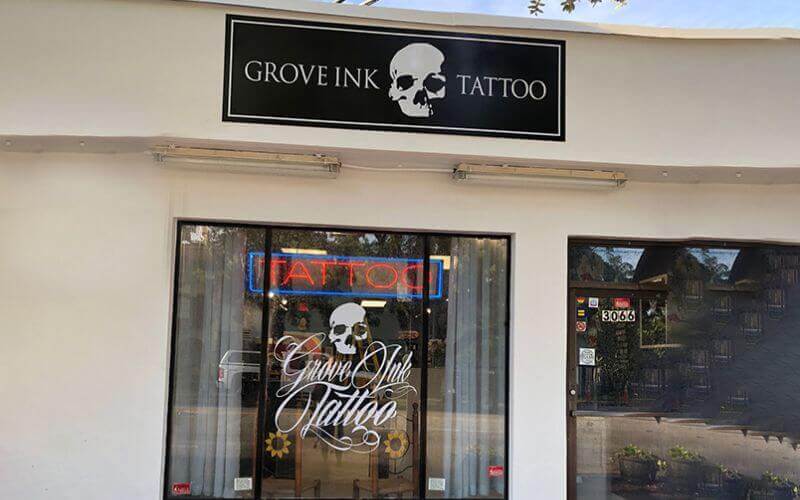 Grove Ink Tattoo is a renowned tattoo parlor in Miami. Its artists are known to create body tattoos in black and grey, single-color, and full-color designs on both small and large scales. Grove Ink tattoo displays a portfolio of its past works on online platforms such as Facebook, Instagram, and its own website. Whether you want a tribal pattern, or tropical beaches, or floral pattern, or anything unique like the Russian matryoshka dolls, Grove Ink is the place to head to. Grove Ink's artists welcome design suggestions from their clients. They're available to discuss custom designs and the number of sessions they want.
Address: 3066 Grand Ave, Coconut Grove, FL 33133, USA
Website: www.groveink.com
10. MIAMI TATTOO CO
Miami Tattoo Co. is one of the best tattoo shops in Miami offering services to the residents of Miami. Steve Pinzon, the studio's owner and tattoo artist, specialises in realism, black and grey, and coloured tattoos, making him one of the most in-demand artists. Steve has been in the tattoo industry since 2011, and he leads a team of local and international artists who provide tattoo services to clients. In addition to tattooing, Miami Tattoo Co. also provides piercing services and is a member of the Association of Professional Piercers.
Address: 1218 Washington Avenue, Miami Beach, FL 33139
Website: www.miamitattooco.com
11. OCHO PLACAS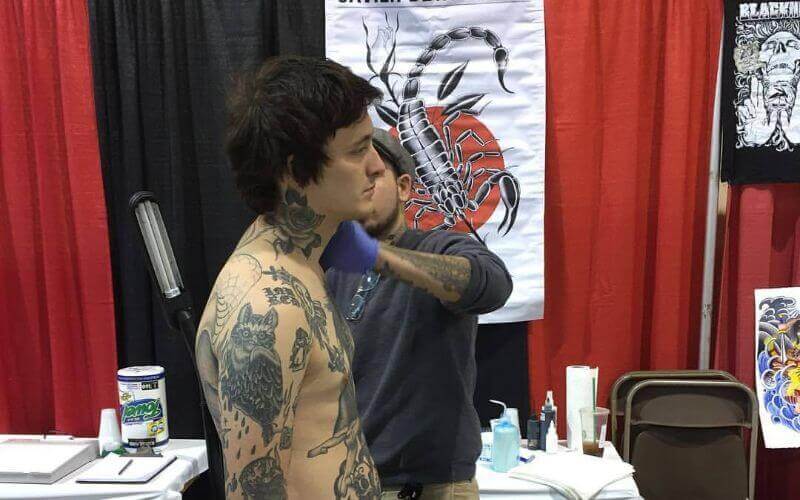 We couldn't compile this list without mentioning one of Miami's most well-known and well-loved tattoo parlors: Ocho Placas. Ocho is famous for its traditional and neo-traditional tattoos. This is the place for immaculately precise outlines, eye-catching solid blacks, and stunning old-school designs that will leave you speechless. After the mistimed death of its founder, Jose Luis Carrera, who opened Ocho Placas in 2001, veteran tattooers Javier Betancourt and John Vale took over in 2009. These artists are known for producing some of the most vibrant tattoo art.
Address: 305. 6240 SW Eighth St., Miami.
Website: www.ochoplacastattoo.com
Wrapping it up…
So, these are the 11 best tattoo shops in Miami. All of these above-mentioned tattoo shops are ideal for any kind of tattoo design. All of these studios not only employ skilled and experienced tattoo artists, but they also adhere to general cleanliness, proper treatment of the equipment, and sterilization.
Remember that finding the best tattoo shops in Miami takes only a few minutes and a phone call or two. However, getting a tattoo is permanent; we recommend doing your research. Make sure you take enough time to research and analyze the tattoo design that you want. Going prepared to your tattoo artist can help your Miami tattoo artist to give you a unique body artwork.
Happy Tattooing… ☺ ☺
Please follow and like us: