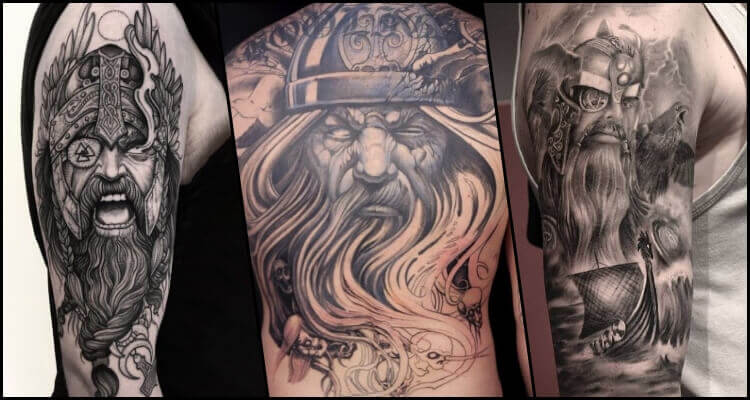 40+ Best Viking Tattoo Ideas and Designs for Men and Women
Posted on
Vikings are not just barbarians and plunderers. They were complicated individuals, farmers, and capable sailors and firmly believed in the balance of nature and destiny. Their way of living motivates tattoos, films, and literature. 
There is some evidence of their love for tattoos, but many still believe that Vikings were extensively tattooed. Their infamous reputation is always associated with bravery, courage, and strength, so their symbols are expressive and attractive, making them a fantastic tattoo idea.
The tattoo ideas are motivated by mythology, fate, and spirituality. This article goes through the best Viking tattoo ideas of 2023.
1. Viking Compass Tattoo
Viking compass tattoos are a great choice for someone looking for a tattoo associated with purpose and direction. Anyone who wants to remind themself about staying on the correct way in life or needs assistance finding an approach toward peace.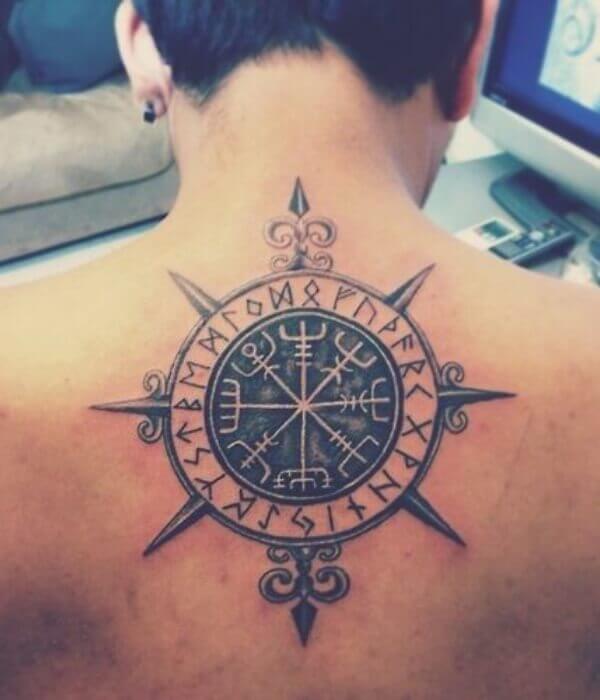 2. Skull Viking Tattoo
A skull tattoo is known as the symbol of death, but this style fascinates many tattoo lovers. The Skull Viking tattoo looks cool and reminds you that you should live your life well, as death is inevitable. You can include symbols, runes, or ravens in the tattoo. The final result is unique and significant.
Also See: 215 Dashing Skull Tattoo Designs For Men And Women
3. Warrior Viking Tattoo
Vikings are known for their bravery and fearless nature; they are celebrated for their agility and courage. A warrior Viking tattoo can honor them and show the world you are powerful and persistent. One of the best choices for this tattoo is highly realistic ink. 
The detailing is impressive and also makes the tattoo more daunting.
4. Viking Tattoo Forearm
The forearm is the most popular part of the body to get inked, and the main reason is it is less painful to get inked than other parts of the body. Forearm tattoos are the best spot for any tattoo, whether large or small, delicate and detailed. The forearm is the best place for narrow and long designs.
An axe and a dagger are good Viking tattoo forearm ideas to show your muscular side to the world.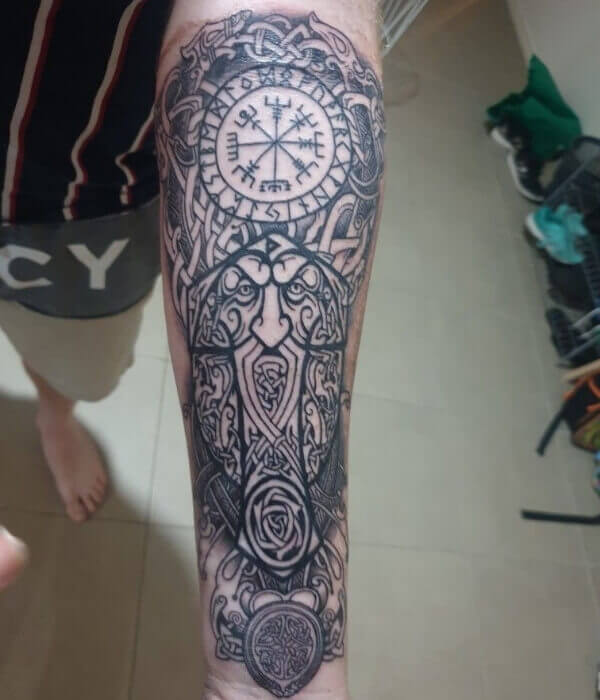 5. Viking Head Tattoo
Viking Head Tattoos were most prevalent in Viking times, but you must be brave to go for them nowadays. The thin skin on the head makes the process painful, but the tattoo looks cool and bold.
The main drawback is that you can't hide the Viking head tattoo.
6. Viking Tattoo Sleeve
The Viking tattoo sleeve is the coolest of all, as there is a lot of variety to choose from. A black ink sleeve tattoo is an exciting idea that continues on the shoulder and chest. The tattoo looks excellent when completed and compliments your personality; please let your artist know what you have in your mind to get your dream tattoo.
7. The Helm of Awe Viking Tattoo
The design includes eight armed barbs that point out from the middle. The emblem illustrates superiority and security.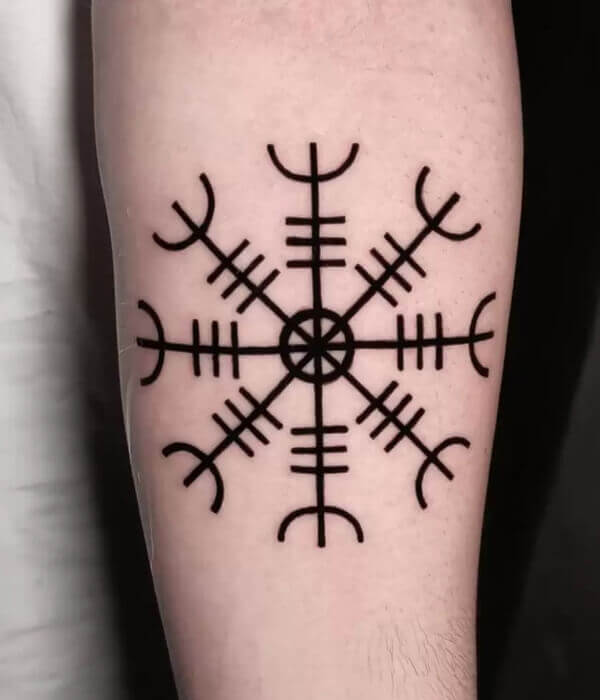 This Viking tattoo meaning is that Vikings wore the design before joining wars as it symbolizes bravery and safety. 
8. Wolf Viking Tattoo
The Vikings respected the wolves of the forest, as the wolves are cited in a lot of their stories. Wolf Viking tattoo design can be inked to show your courageous side. There are a bunch of designs you can pick as per your personality.
9. Viking Ship Tattoo
Viking ship tattoo meaning is that the soft ocean will never be a wonderful mariner. Viking ship tattoo represents exploration and bravery; it is good on the arm as you would like to flaunt it wherever you go.
There are many unique Viking tattoo symbols you can choose to get inked.
Also See: 40+ Top Eye-Catching Ship Tattoo Designs And Ideas
10. Raven Viking Tattoo
Raven Viking tattoo symbols are an excellent motivational source for a lot of people these days. They are made up of many noteworthy symbols that have motivated many generations. However, one of the most essential and holy symbols is the Raven.
Raven tattoos have become an ever-increasing trend nowadays. There are many tattoo ideas you can get inked on your arm, chest, back, head, etc. The most popular designs are Viking raven tattoo and Valknut, Viking raven tattoo with Mjolnir hammer, Viking raven tattoo wand Odin, etc. 
11. Tribal Viking Tattoo
Viking tattoos are gaining popularity daily, and tribal Viking tattoos are among the best ideas. They are ideal for arm or shoulder tattoos. The tribal design is detailed perfectly on the arm with black ink.
12. Traditional Viking Tattoos
Many people get attracted to get traditional Viking tattoos as they want to honor the infamous pirates and fighters of the Medieval world. If you go for a traditional one, you will most likely get a detailed and large tattoo. 
The Vikings were known to cover their body with large tattoos, and you can get them inked, ideally on your chest or arm, as they need a large area for details.
13. Viking Thor Hammer Tattoo
Thor's hammer is related to lightning, thunder, and power. Thor used the hammer to defeat the giants, representing fearlessness, power, and bravery. Getting inked with this design will show the world your fearless side, and you will protect all your near and dears.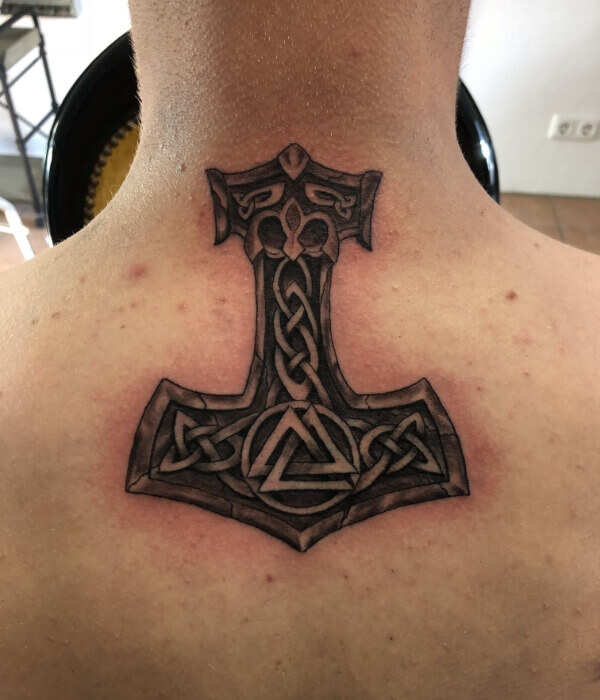 14. Viking Axe Tattoo
Axe was one of the commonly used weapons by the Vikings; getting inked with an axe symbolizes strength, courage, fearlessness, and security. You can get axe tattoos in many shapes and sizes, making them extraordinary.
Select a large part of your body to get a detailed design; arms, legs, and back can be ideal spots for an elaborate tattoo. You can choose many excellent and unique designs to get inked with a Viking axe tattoo.
15. Viking Sword Tattoo
The Vikings were known as aggressive warriors, and their weapons could be used in tattoo designs as symbols of bravery; their favorite weapon was the hammer, but they also used swords.
Swords can be inked on many places of your body, but arms and shoulders will be the ideal place to get inked with a sword.
16. Simple Viking Tattoo
Most of the Viking tattoos have complicated designs, which are time-consuming as well as costly. Therefore, the best option for individuals who are looking for minimalistic designs can opt for a simple Viking tattoo.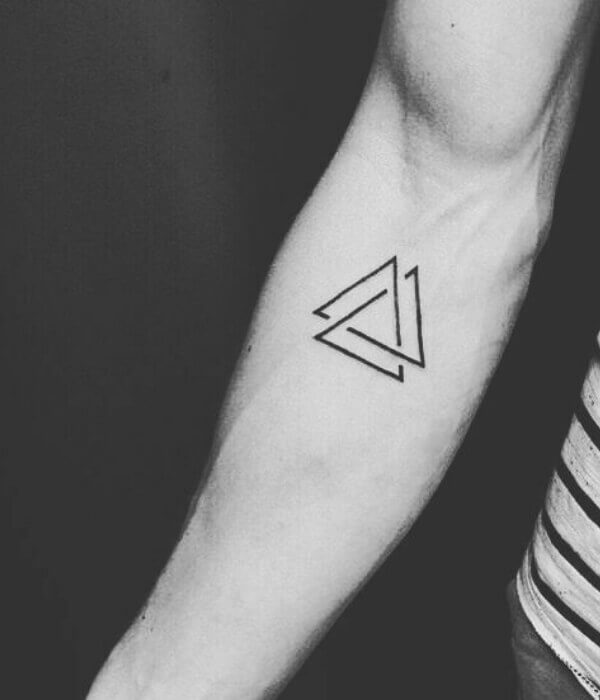 The best part is they need lesser time to get inked, as you need only a few lines and a bit of shading.
There is a lot of variety in simple tattoos, as place and size will not bother you. You can get inked wherever you want.
17. Viking Arm Tattoo
Tattoos can be an excellent way of representing yourself, showing your personality and what counts to you; the arm is the best part to show your tattoo.
It's the best place for simple and tiny tattoos or even big designs. The arm is considered a lesser painful area to get inked. There are various Viking arm tattoos to choose the best one for you.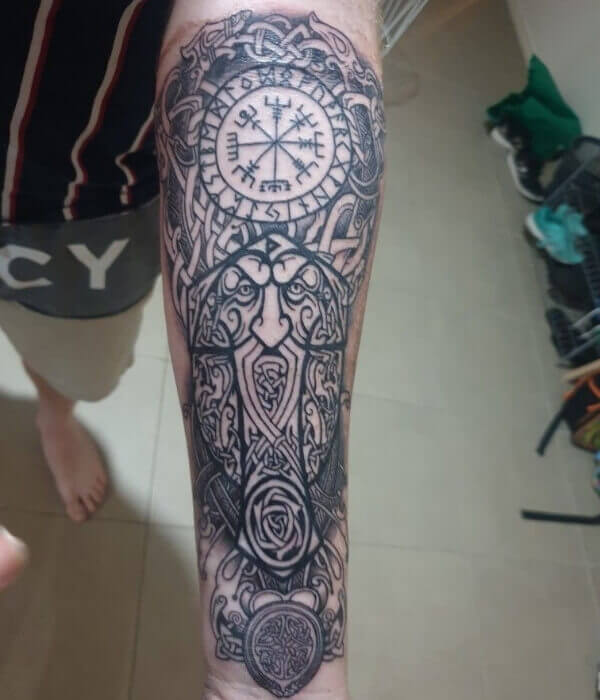 Also See: 340+ Cool And Simple Arm Tattoo Designs
18. Viking Chest Tattoo
The chest is the best place for a large tattoo and gets inked for something close to your heart. The chest is a multipurpose area for traditional designs, realistic, modern, black ink, or bold tattoo. Pick from a vast spectrum of designs obtainable.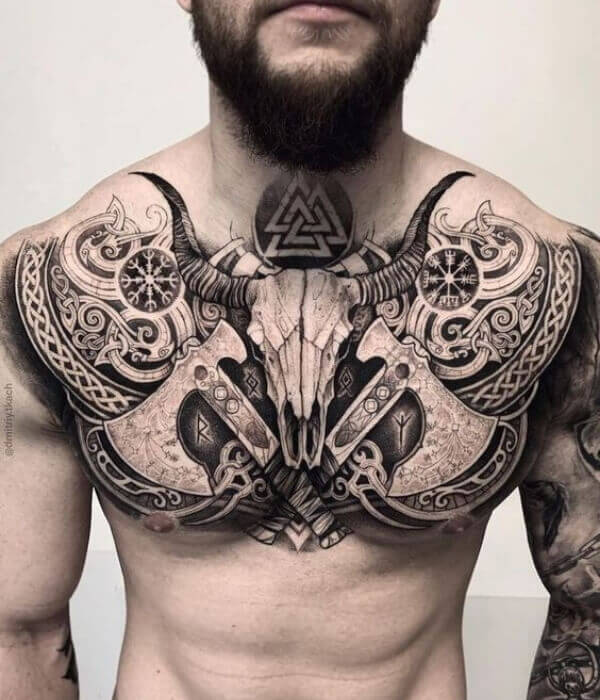 19. Viking Back Tattoo
Back is an extensive, flat area that allows big designs, and you can hide or show them to the people around you.
Viking back tattoos are unique and impressive; the designs are large and mesmerizing. 
20. Viking Valknut Tattoo
Most Viking tattoos have complicated designs, but if you want a simple idea, you should go with the Valknut tattoo. And even if you are peeking for a minimal tattoo, the concept is most suitable.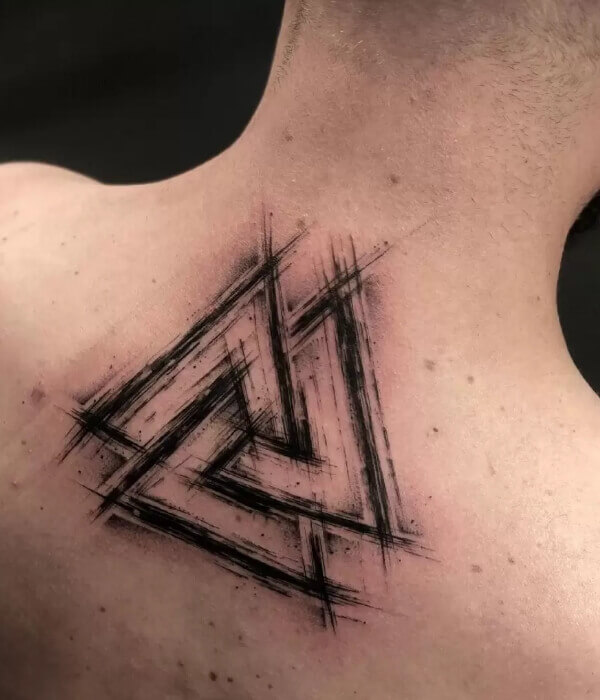 FAQs
Who are the Vikings?
Vikings are known as brave and fierce fighters whose courage on the battleground has gained them respect.
They are associated with power and energy; they have origins in the Scandinavian countries, now called Sweden, Denmark, Norway, and Iceland. 
Did Vikings have tattoos on their bodies?
Very slight proof supports the statement, but many believe they have tattoos. They were tattoed to scare their enemies and protect them from all the dangers.
What does the Viking tattoo represent?
Viking tattoos representate mystique, solidity, and strength, but this mainly depends on the designs you choose. Vikings are fearless and esteemed warriors, and getting inked with a Viking tattoo would be affiliated with these attributes.
What are Viking tattoos named?
There are many distinct names for Viking tattoos, depending on the symbol or design you want to get inked. Some of the most known options are the image of an axe and the image of a sword, which are the weapons of the Vikings.
There are several other symbols that have great importance to these people. They include the Viking Compass, the Valknut, Helm of Awe, Vggrisall, and Vegvisir.
What is the importance of three Viking tringles?
The Valknut is created out of three interconnected triangles with nine points. It is worn to protect against harmful powers as it portrays the afterlife.
Are Vikings still around in 2023?
The age of Vikings is over, and there is no sign of their presence, but there is a small village in Norway where some people live as Vikings and understand their customs.
Conclusion
Viking tattoos look great and can be inked on any body part. The ink looks great on both men and women. You can get it done in a minimalistic or a big design; the tattoo represents the courage and fearless nature of the Vikings and looks outstanding when inked by a professional tattoo artist. We hope this article on the best Viking tattoo ideas of 2023 is useful for readers.
Please follow and like us: