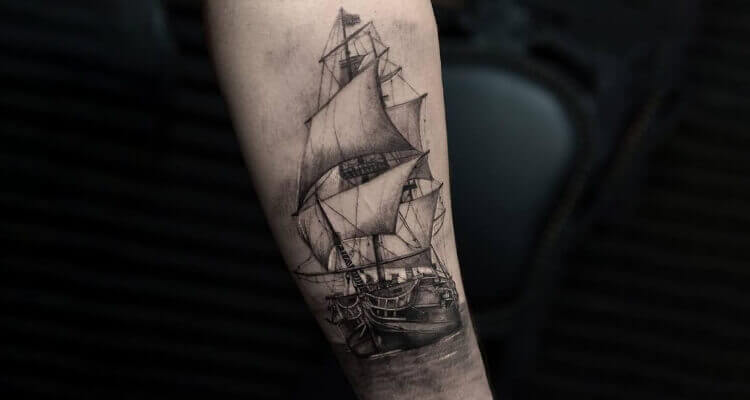 40+ Top Eye-Catching Ship Tattoo Designs and Ideas
Posted on
The ship tattoo is the most common and widely regarded kind of nautical body art. A lot of sailors prefer ship tattoo designs ideas etched on their bodies. They use ship tattoo ideas to express their experience on the sea. Most sailors, naval officers, and fishermen choose this tattoo design over other types of tattoos.
Since these sailors spend most of their lifetime on the sea, it's a great way of expressing one's passion or area of interest. Most of these sailors get these designs etched on their bodies as a reminder of their loved ones. A ship tattoo can be expressed on your skin in many different ways. Ship tattoo designs are quite popular among pirates and navy personnel.
So, if you're also looking for a unique tattoo design, read this post.
We have rounded up a list of the top 15 ship tattoo designs for you. You can get inspiration from these tattoo ideas. 
Let's begin with the meaning of a ship tattoo. 
Here we go…
What Does A Ship Tattoo Mean?
A ship tattoo symbolizes wealth and safety for sailors. You may decide to get a ship tattoo etched in different ways on your skin. A ship tattoo somehow speaks of an individual who's traveling on a ship and is surrounded by an ocean. This ocean symbolizes a force that holds an individual back. 
A ship tattoo also signifies freedom from life or a means of escape. A ship carries the air of an adventure. The beautiful thing about this tattoo is that even ladies can get this tattoo. For ladies, it's a means to remember their husbands or lovers.
Brief History Of A Ship Tattoo
When looking at the history of tattoos, one can see that they have been practiced for more than 240 years. During the 19th century, nearly all of the sailors serving in the navy had tattoos permanently etched into their skin. As time passed, the government of the United States eventually decided to outlaw tattoos. A lot of European cultures have a long history of tattoo art due to its uniqueness. This traditional tattoo was later traced back to the 1700s when the South Pacific was visited by Captain James Cook.
Since the restriction on permanently marking one's body with tattoos was repealed, every sailor has expressed a desire to get a design permanently etched into their skin. The majority of sailors choose to have a design of a ship permanently tattooed onto their skin to give them something to focus on while they are at sea.
Best Placement For A Ship Tattoo Designs 
Just as every individual is different, so are the choices you make. When it comes to inking a tattoo on your skin, your choice of placement might be different from another. Sometimes, you might not be sure of where you want this tattoo to be on your skin.
The good news is we've got you covered on this, as you will find out possible places to ink your tattoo. The placement of tattoos has its symbolism. The first thing that comes to mind when you want a tattoo inked on your skin is the size. How large or small you want it to be will determine the tattoo's placement.
The most common ship tattoo designs are either large or medium, which makes the tattoo look attractive. Although, there are still beautiful small ship tattoo designs that fit the forearms or your chest.
If you want to get the best of a ship tattoo, you should get it done in a large size. The common places where you can get your ship tattoo etched include the shoulders, forearms, leg, calf, chest, thigh, and sleeves. 
Also See: Where To Get A Tattoo On Your Body? Tattoo Placement Areas
The idea is to place your ship tattoo where your artist can get enough place to engrave the design. 
Top 20 Ship Tattoo Designs Ideas
There are lots of ship tattoo ideas available for you to choose from. Each design has its uniqueness and symbolism. Here is a list of the top 20 ship tattoo ideas for you. Take a look…
1. Ship Wheel Elbow Tattoo
This particular tattoo design remains popular as ever amongst maritime tattoo designs. Over the years, it has gained a lot of notoriety among mariners and fishermen alike. 
This tattoo concept can also have several connotations depending on the person who chooses to get it permanently etched on their skin. 
If you have been considering getting a tattoo on your skin depicting a ship, then you can choose to have this instead.
2. Bright Pirate Ship Tattoo 
If getting colored tattoos is something you enjoy, then this is, without a doubt, the most suitable design for you to consider. 
Freedom, adventure, and wealth are all connoted by a pirate tattoo. 
Keep in mind that getting this tattoo completely done could take you up to eight hours. It will take that long for the ink to penetrate your skin completely. This pattern also represents living outside the confines of society.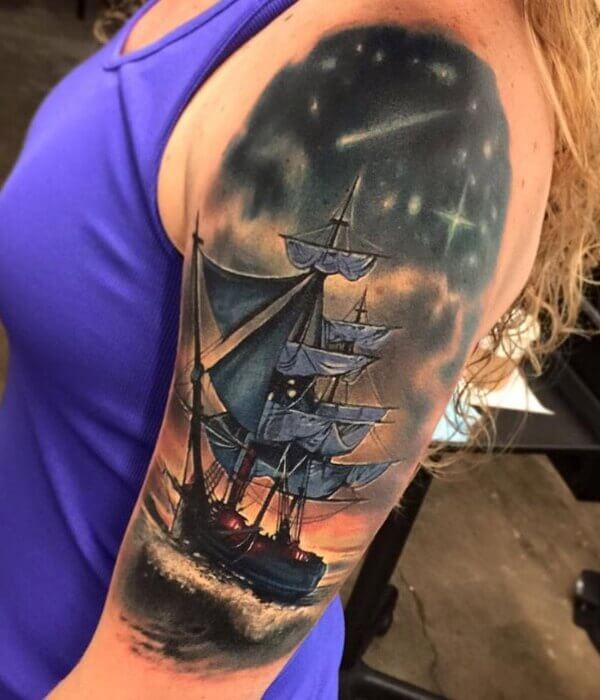 3. Black Ink Ship Tattoo
If you are looking for a design that will make your shoulders look attractive, then the black ink Ship tattoo is the design for you. This tattoo seems more like a classic one, and it looks fantastic on your shoulders. 
A ship tattoo done in black ink is the ideal choice for those who want a more intricate design.
4. Flagship Tattoo
A flagship tattoo is yet another amazing tattoo design that you can try on your skin. If you're a sailor who spends a lot of time on the water, getting this tattoo is an excellent idea for you. For a more appealing placement, consider having this one inscribed on your shoulder or forearm instead.
5. Cruise Ship Tattoo
You might love this tattoo if you're a sailor who works on a cruise ship and is regularly on shore. If you work with a cruise ship company, then you should get the tattoo inked on your back. The reason for this is that some companies don't permit this, but you can get one. A cruise tattoo etched on the shoulder looks beautiful. And if there are no constraints, you can even have it etched on your forearm.
6. Sunken Ship Tattoo
Sunken ship tattoo is yet another wonderful tattoo design for passionate sailors. It is one of those tattoos that serve as a reminder of the dangers of the sea. This is a classic and unique tattoo design that looks perfect on the forearms. 
7. Ship Anchor Tattoo
Choosing an anchor tattoo is an excellent idea as this will constantly remind you of what keeps the ship sailing. The ship's anchor is what allows it to maintain its stability through rough seas and other adverse conditions. 
If you get this tattoo design on your skin, it will serve as a constant reminder to maintain your composure in all aspects of life, including your career as a sailor.
8. Forearm Ship Tattoo
Getting a forearm ship tattoo is an excellent way to show how great your love for the sea is. Know that forearm tattoo designs are difficult to hide. So, if there are no constraints, you can choose to have a forearm ship tattoo. These tattoos make for appealing tattoo designs. It is important that you give this tattoo design some thought before getting it done.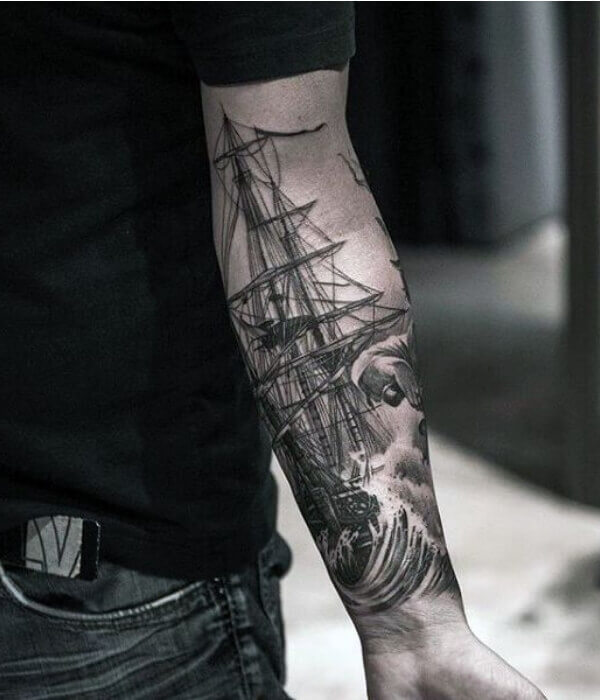 9. Viking Ship Tattoo
Are you looking for a one-of-a-kind tattoo design? If yes, then the Viking ship tattoo is for you. These tattoos make for classic tattoo designs. Viking ship tattoos symbolize reckless and demanding bravery. More often than not, the Viking ships refer to fear, as these ships often represent battles and raids. 
You may decide to get this design done using color ink just to make it look more attractive. However, if you love simple black lines and larger-size tattoos, then go with a black ink Viking ship tattoo. The coolest thing about this ship tattoo design is that it looks good both ways, colored or black.
10. Ghost Ship Tattoo
Ghost ship tattoos are linked with pirates and seafaring individuals. If you are looking for a unique tattoo design, then this is the one for you. A ghost ship tattoo is an intricate tattoo design. It needs to be done by a professional only. Hence, it is crucial to choose a reputable tattoo artist with immense experience in etching intricate tattoo designs.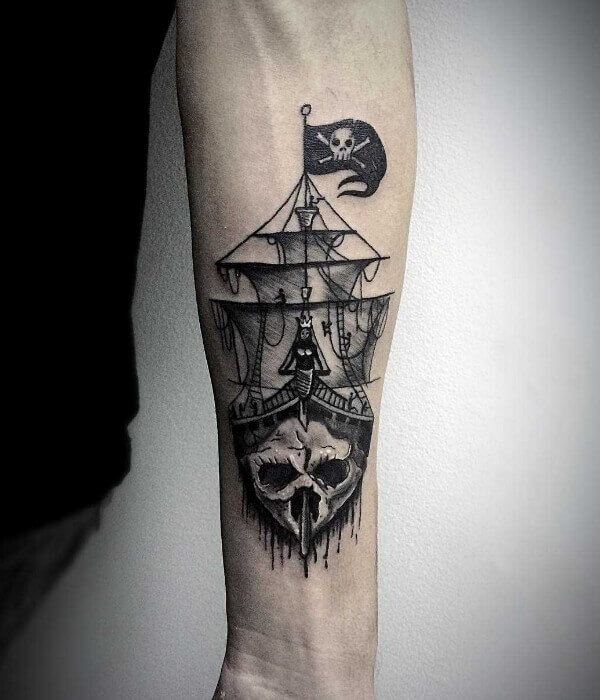 Related Post: 30+ Best Ghost Tattoo Design Ideas With Meaning
11. Chest Ship Tattoo
Chest is a wonderful location for you to get your ship tattoo design etched on. It is a perfect way of constantly reminding yourself of who you are. Also, this tattoo design symbolizes confidence. Each time you are sailing, it will remind you of who you are. You can try this on your skin.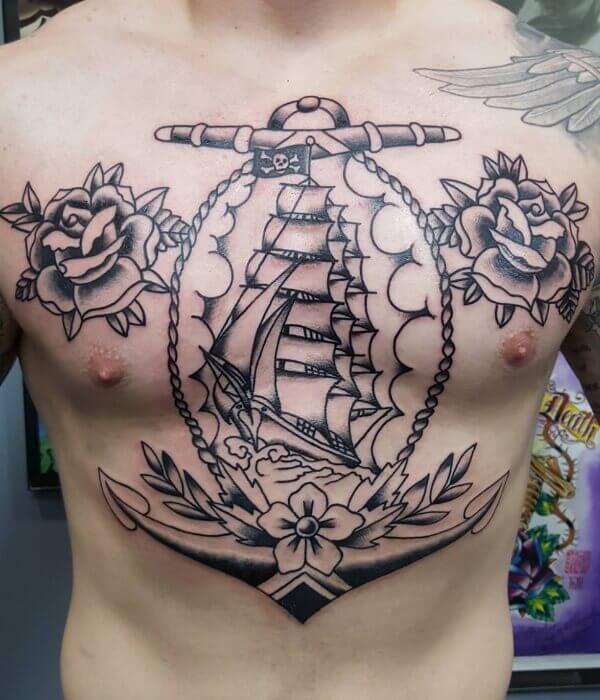 See More: 280+ Trendy Chest Tattoo Designs: Best Chest Tattoos
12. Ship Compass Tattoo
Over the years, the compass has been in use by sailors as a means of navigation. This has prevented them from getting into difficulties while they were sailing on the water on numerous occasions. It serves as a constant reminder, which is why it's very popular among seafarers. 
This tattoo design is one you can have for yourself if you want to boost your confidence as you travel through life. It's a great way to demonstrate how much you appreciate your family and the outdoors.
13. Giant Ship Tattoo
If you have a passion for the sea, or if you're a surfer or sailor, then it is almost likely that you will adore this tattoo. This ship tattoo design can be a wonderful addition to your shoulder. You can never go wrong with the right tattoo design – and a giant ship tattoo is one for that matter!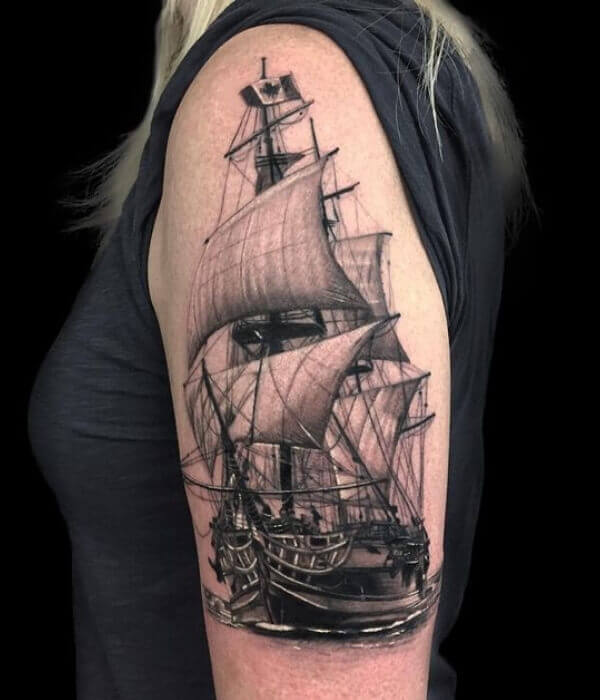 14. Small Ship Tattoo
People who don't want to go overboard with their tattoo designs will find that small tattoo designs perfect for themselves. Small ship tattoos typically include straightforward patterns with just a hint of ornamentation on the sailing vessel itself. 
The fact that small ship tattoos are so simple to incorporate into a person's skin is the primary advantage of getting one of these designs. 
You have the option of getting a small ship tattoo engraved onto any part of your body, including your fingers, wrist, ankle, and so on. 
15. Black And White Sea Tattoo Sailboat
It's one of the best ship tattoo ideas for those with a toned body. If you're the one, then don't wait! Get this tattoo etched on your skin. The best thing about this tattoo design is that it perfectly fits the shoulders. However, if you're looking for a larger-size tattoo design, then get it etched on your back. Be ready to spend 6 – 7 hours as this tattoo design takes a lot of time to complete. 
16. Clipper Ship Tattoo
The design of a clipper ship tattoo can be executed in a variety of ways. This design typically incorporates the image of an ancient sailing ship. You can even have a ship flying a furl for an appealing tattoo design. You can get this tattoo etched either on your shoulders or the forearms.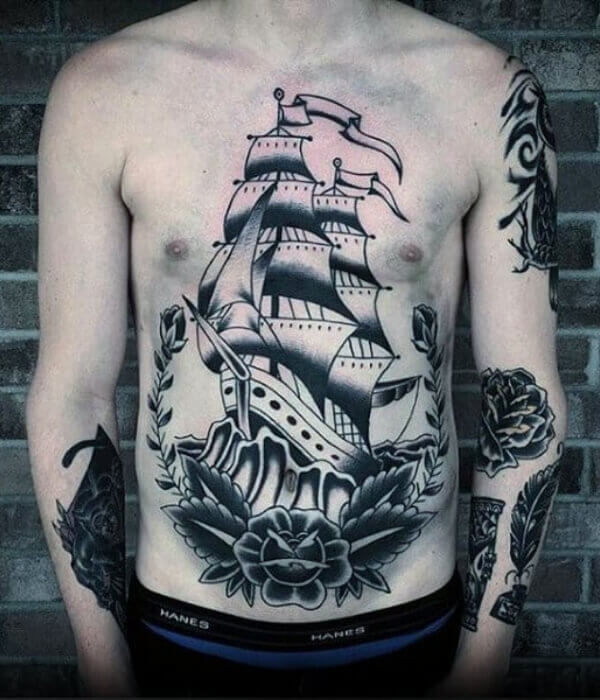 17. Rocket Ship Tattoo
Rocket ship tattoos are ideal for those who love to showcase their dream of traveling in space. This design can be done in different styles and also colors. You can have stars or planets etched along with the ship to make it look appealing.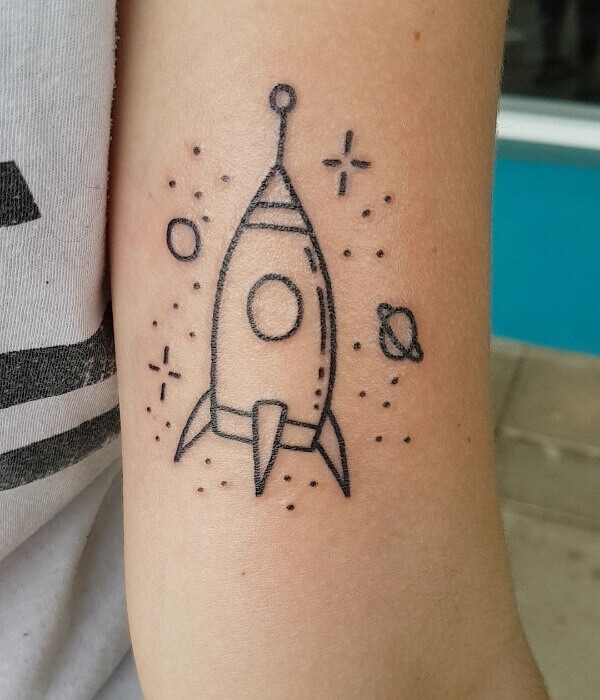 18. Paper Boat Ship
Paper boat ships are a great way to relive your childhood. So, if you used to enjoy making paper boats during the rainy season, then get this tattoo etched on your skin. It serves as a reminder of your childhood days that you used to enjoy with your friends. You can even have this tattoo design in the memory of your friend or loved one who is no more in the world. Paper boat ship tattoo can be etched either in small size or large size. 
This is a perfect tattoo design for those who don't want to go overboard with their tattoos. Get it etched on your forearm or calf.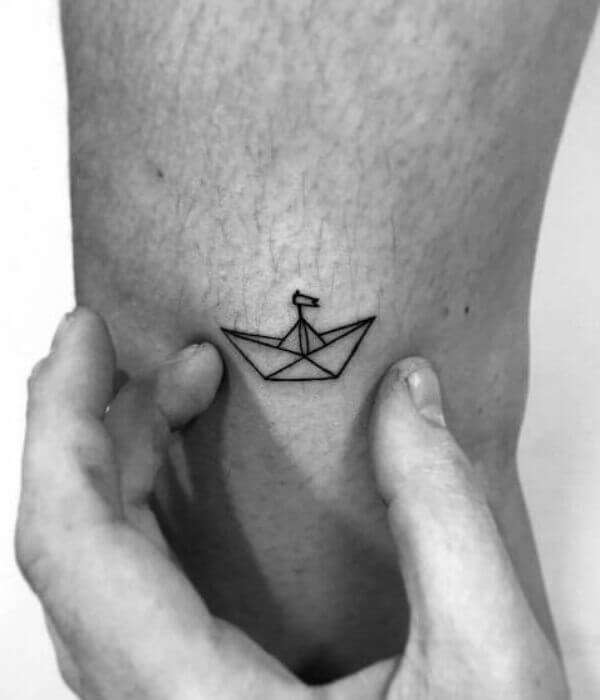 19. Ship In A Circle Tattoo
Ship in a circle is yet another very popular tattoo design among tattoo lovers. It looks mesmerizing when etched on the forearm. If you're looking for a unique ship tattoo design, then get this one! You can't go wrong with this one! 
20. Heart Lock Ship Tattoo
Lastly, in the list, we have a heart lock ship tattoo. This design is ideal for those who are in love with sailing. This design contains a ship along with a heart lock pattern, making it look more appealing.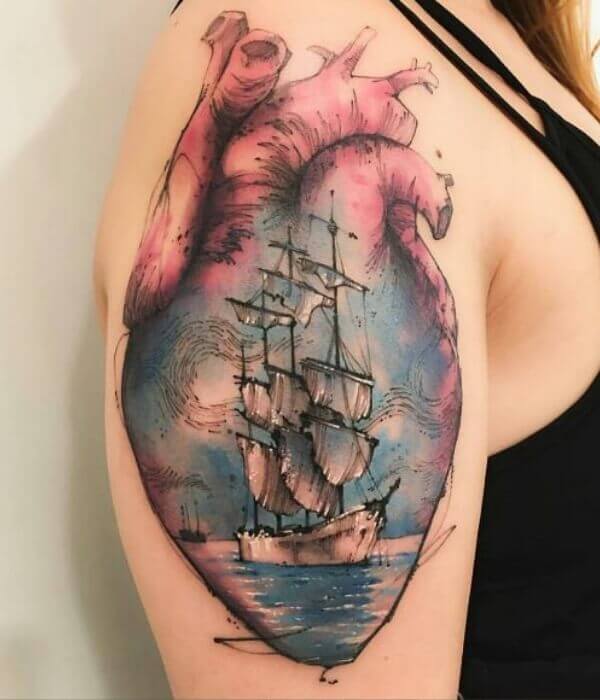 Also See: 120 Best Heart Tattoo Designs With Meanings For Men And Women
Wrapping it up…
Now we conclude our list of top 20 ship tattoo designs. Hopefully, this article has been informative for you and will help you choose the best ship tattoo.
Tattoos generally are unique ways people choose to design their skin. What you should consider is the type of tattoo design you want. Having a reason will boost your confidence in how you flaunt it. Not everyone is bold enough to flaunt their tattoos. You might consider getting a ship tattoo if you or members of your family have a history of seafaring. Doing so will constantly remind you of them as you always pray for their safety.
With a ship tattoo, you can navigate the different turmoil you face on shore as a sailor. You can place this tattoo anywhere on your body as a constant reminder. Every sailor has a history – opt for the best one to tell your story to the world. Ship tattoos are amazing!
Frequently Asked Questions
What Does A Ship Tattoo Mean? 
A ship tattoo is commonly interpreted as a symbol of freedom. For people who enjoy going to new places or discovering new things, it can also stand for excitement, travel, or exploration. However, depending on the circumstances, it might represent the passing of a loved one or the end of a voyage at sea.
You can get one to commemorate anyone you know who travels on the sea. Either it's your dad, boyfriend, husband, or lover. Remember, the image of a ship has different meanings to different people or cultures. So, choose the one that perfectly suits your needs.
Where Shall I Get My Ship Tattoo Etched?
Well, the placement of a ship tattoo very much depends on its size. Larger-size ship tattoos look best on the chest, back, tummy, thigh, shoulder, and calf. However, if you want to get a small-size ship tattoo, then get it etched on your wrist, finger, ankle, nape, and so on.
Can You Get A Design Of A Sinking Ship Tattoo?
Yes! You can get any ship tattoo design on your skin, depending on your choice and the meaning it represents. 
Happy Tattooing… ☺ ☺ 
Please follow and like us: