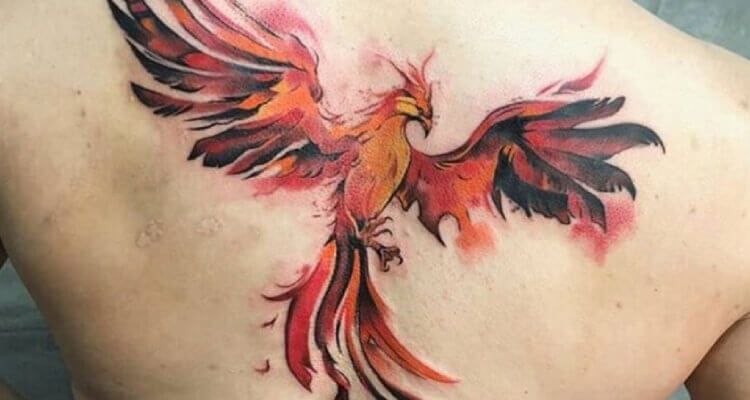 What Tattoo Symbolizes Strength?
Posted on
Strength is something that we all need, deserve, and should have. It is one such human quality that everyone can relate to. It is something that most people keep in mind while they brainstorm their tattoo designs. More often than not, people want to portray strength through their tattoo design. Each person has a different outlook when it's strength. For some people, it is their physical strength that they admire the most. Others endure their mental strength. At the same time, some people prefer to express emotional strength.
Whatever be the reason, strength is a unique quality that everybody wants to have. If you are also planning to get a tattoo that depicts strength, you are on the right page. Here in this post, we will discuss what tattoo symbolizes strength.
Here we go……
Tattoos That Symbolizes Strength
Tattoos that represent strength are divided into two: Animal Symbols and Mythical Creatures. Animal symbols depicting strength include Lion, Tiger, Bear, Eagle, Bull, Horse, Stag, Wolf. At the same time, mythical creatures representing strength include Dragon, Centaur, Phoenix, Griffin, Pegasus, Unicorn, etc. Here we will explain them one by one to make it easy for you to decide the right tattoo design for yourself.
1. Lion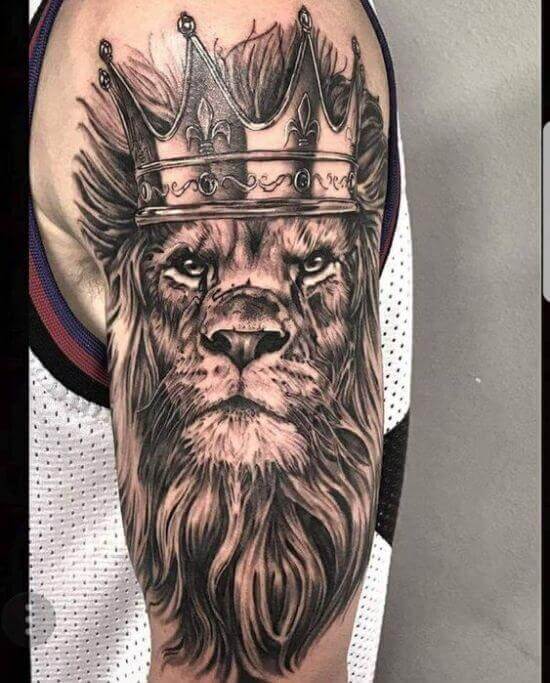 Lion, "The King of Jungle," is considered the most potent animal representing both strength and courage. The lion also represents one of the zodaic signs that is Leo. Leo is the fifth sign of the zodiac. Most people get tattoos inspired by their zodiac sign, and Leo is one such sign. Many celebrities have got Lion etched on their body; these celebrities include singer Ed Sheeran, Justin Bieber, and Demi Lovato. Ed has a colorful lion tattoo etched on his chest, while Demi Lovato has got a lion's face inked on her right hand. Justin Bieber has got a crowned head of the lion on his body.
2. Tiger
Another prevalent animal that symbolizes strength is – Tiger. The beautiful markings and coloring make tiger tattoos look stunning. Tigers are considered Talisman in Japanese culture. People in Japan believe that the tiger wards off bad luck, representing strength, courage, and longevity. More often than not, tigers are used in different Japanese tattoo designs. Many celebs, including Kesha Rose, Melanie Martinez, Ariel Winter, Awkwafina, Kali Uchis, Jemima Kirke, and many more, have got tiger tattoos etched on their body. All of them seem to be very inspired by the tiger and the qualities that it represents.
3. Bear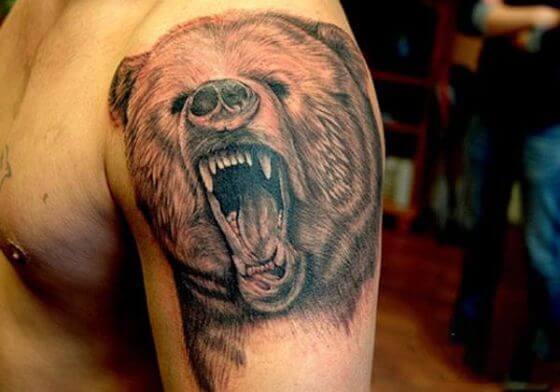 When we think of a bear, the first design that comes to mind is the teddy bear. However, bear not only look cute but also represent strength and power. In America, bears represent Native American culture and traditions. The bear was considered to be a noble warrior possessing great strength, power, and bravery. Singer Justin Bieber has got a bear tattoo etched. He has the head of a snarling bear inked on the right side of his chest. The Canadian star got a bear face carved on his chest in the year 2017. Bieber has got many striking tattoos etched on his body, and each tattoo has its significance.
4. Eagle
The eagle, commonly known as the bird of prey, carries a different meaning for different people, strength is one amongst them. In Ancient Greece, the eagle depicted masculine strength and virility, Greeks associated eagles with the god of sky and thunder, Zeus. Native Americans also considered the eagle a symbol of lightning and thunderbolts representing spiritual strength and power. Eagle tattoos are very common amongst youth and sports personalities. People prefer to get eagle tattoos with wings spread in full flight on their backs more often than not.
As said earlier, Justin Bieber has got many tattoos; an eagle tattoo is one of them. Eagle in full flight is tattooed across Bieber's abdomen. It seems that the singer is too obsessed with strength as he has got may tattoo representing strength.
5. Horse
Another animal that represents Strength is Horse. Besides strength, the horse also symbolizes freedom. Of course, the greatest qualities of all time that each person would want to possess. There are myriads of variations when it comes to horse tattoos. You can get anything from a portrait design to sports horse to a wild mustang, or a warhorse etched on your body.
Singer Iggy Azalea has got a tattoo of a blindfolded horse on her right forearm; she got it etched in July 2016. 2015 was a hard year for Iggy's career, and riding helped take her mind off things. She once tweeted, "Horses saved my life, and now I have two, and it's all good. Now I have discovered another passion." Another celeb who has a beautiful horse tattoo is Christel Khalil. She has a large feather tattooed on her right hip, which also includes a small silhouette of a horse along with a flock of birds. Other celebs who have horse tattoos etched on their body include, Raelynn, India Westbrooks, Jacqui Sandell, and Melanie Martinez.
6. Bull
The bull is another animal representing strength and is perfect for those who want a horned animal tattoo design. This horned animal represents the sign of Taurus. So if you are born under this sign, a bull tattoo is perfect for you as it represents strength and power as well. Bull tattoos come in various designs, from tribal motifs to the skull with horns, a whole animal with bulging muscles to the head only. Dwayne "The Rock" Johnson has got a bull tattoo etched on his right arm. He got his iconic bull tattoo, based on his old nickname of "the Brahma Bull," transformed into a more extreme version.
7. Stag
One of the most popular tattoo designs that represent Strength is Stag. A horned stag is a potent symbol of strength and is a popular tattoo design among youth. You can get a realistic stag tattoo or get it etched along with a tribal tattoo design. Stag tattoos look perfect. Stags are linked to Pagan cultures in Europe and Scandinavia. They attributed the changing seasons to the Horned Celtic God of the forest called Cernunnos and the Mother Goddess. Paris Jackson has a stag's head tattooed on the back of her right forearm. Also, there is an arrow piercing a heart in between the deer's antlers. She got this art done in May 2016 by Connor Garrity.
Besides Jackson, Sherri DuPree-Bemis has also got a stag tattoo etched on her body. She designed her tattoo; it is an intricate drawing that represents her love for her home. Her tattoo includes a moon, rabbit, deer, raspberry, butterflies, strawberries, pine cone, pine trees, and flowers.
8. Wolf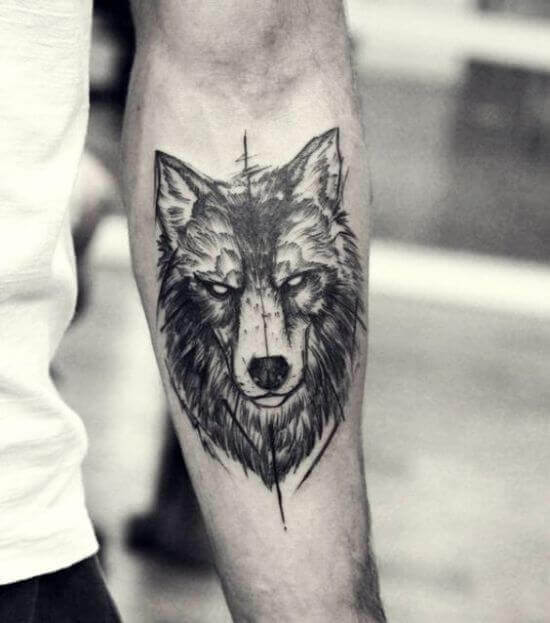 Wolves also make for popular tattoo designs. Like tiger and lions, wolves also represent strength. They are quite common in Native American, Asian, European, Japanese, and Siberian cultures. Besides strength, wolves also symbolize protection. In many cultures like, Siberian and Japanese, they were considered as the symbol of protection. Wolves were considered heroes in Siberian culture, as it was believed that they protect children from harm.
Wolf tattoos come in a wide variety, from a snarling wolf to a full wolf. NikkieTutorials has a wolf tattoo etched on her left arm and other animals such as an owl, a panda, and a penguin. Besides Nikkie, Angel Haze, Sophie Turner, Melissa Benoist, Paris Jackson, and Skylar Grey have also got a wolf tattoo etched. Wolf tattoos look stunning; you can get them in small size or large size. They look perfect on arms, neck, ribs, etc.
9. Centaur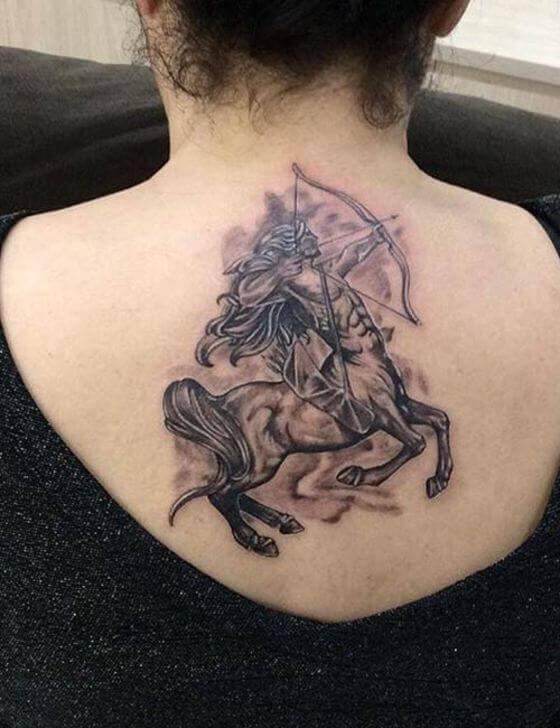 This half man and half horse creature make for an unusual tattoo design. Centaur has the head and upper body of a human and has its lower body and legs of a horse. It symbolizes the zodiac sign Sagittarius. The centaur represents strength and power. It is believed that this unusual creature channelizes the power and strength of a horse and the masculine strength of the human archer. It also represents the struggle between universal forces such as light and dark, strength and weakness, and good and evil. There is a wide range to select from when it comes to centaur tattoo. You can get anything from a simple Centaur with an archer to a Centaur with a released Bow.
10. Dragon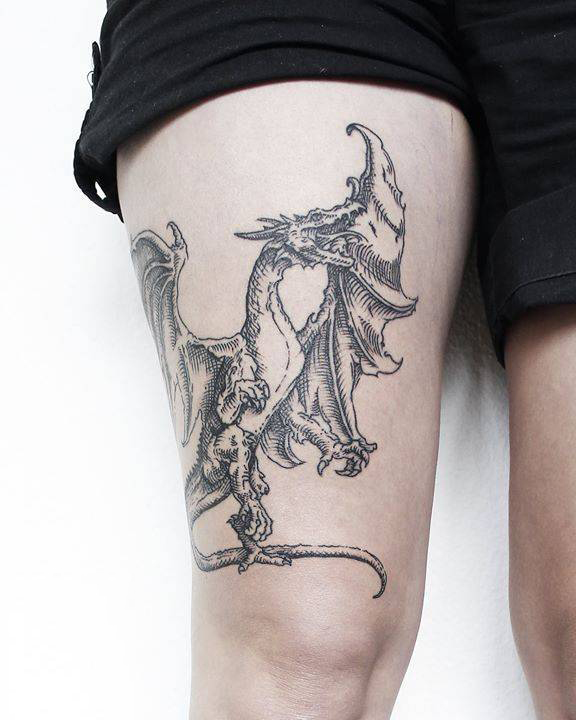 When we talk about mythical creatures that represent Strength – Dragon tattoos top the list. Dragon tattoos are very popular amongst the youth. You can get a dragon tattoo etched anywhere on your body from your arms to back. They look great. Tammy Hembrow has a dragon tattoo on her left hip that looks amazing. Other celebs with dragon tattoo are Franka Potente, Asian Doll, Bishop Briggs, Nikita Dragun, Federica Pellegrini, Debra Wilson, and LIGHTS Poxleitner.
11. Phoenix
Phoenix is another symbol that represents strength. More often than not, the phoenix is associated with rebirth. The phoenix bird is used as a metaphor for rising out of the ashes. The bird represents overcoming the toughest obstacles, emerging victorious, and becoming stronger. In Chinese tradition, the phoenix and the dragon symbolize the balance of yin and yang. Phoenix makes for a powerful tattoo design that is very popular amongst people worldwide. Many celebs have got phoenix tattoo, including Actor Ben Affleck.
Ben Affleck has got a giant Phoenix tattoo inked on his back. He loves his tattoo, and once in an interview, he said, "It's meaningful to me." Besides Ben, Maggie Q, Federica Pellegrini, Former Spice Girl Melanie Brown, and Margaret Cho also have phoenix tattoo etched on their body.
12. Griffin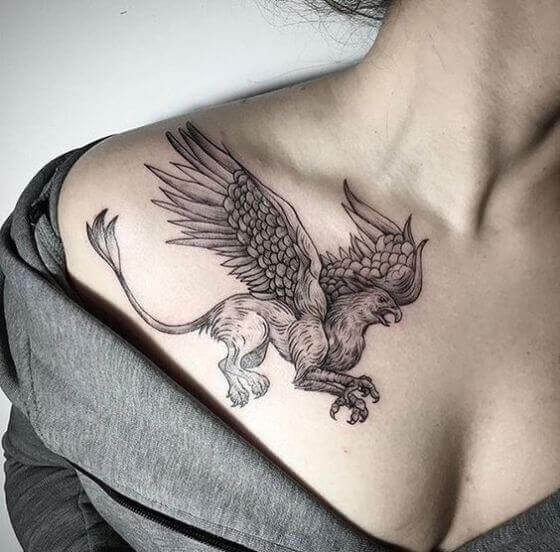 This winged hybrid beast also represents strength. It is believed that Griffin possesses the strength of a lion in its body and the power of an eagle in its head. Ancient Greeks considered the griffin a messenger from the gods. A griffin makes for a striking tattoo design. Actor LIGHTS Poxleitner has a griffin tattoo etched along with other elements.
13. Unicorn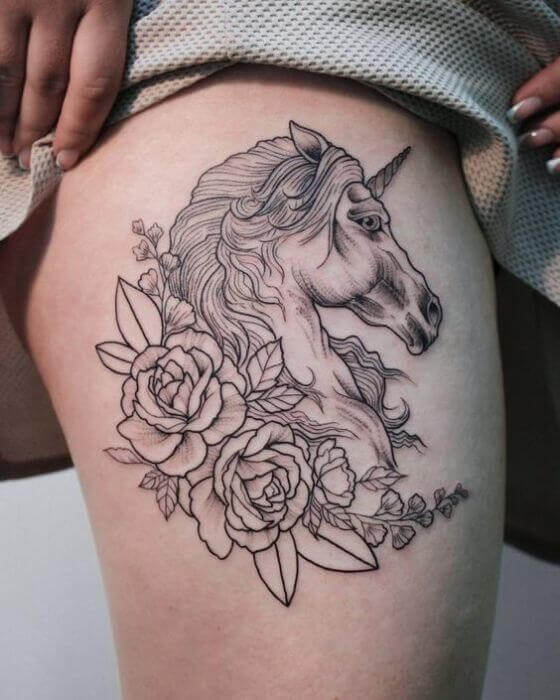 Another mythical creature that represents Strength is Unicorn. Unicorn Tattoo signifies both strength and power. This tattoo design is popular amongst men and women and is considered one of the most potent symbols. Lady Gaga – The super hit singer has a large tattoo of a unicorn up her thigh, which she says she got to represent her obsession with the mythological creature. Besides, Ruby Rose, Beth Lucas, Taryn Manning, and Tulisa Contostavlos has got unicorn tattoos etched on their body.
14. Pegasus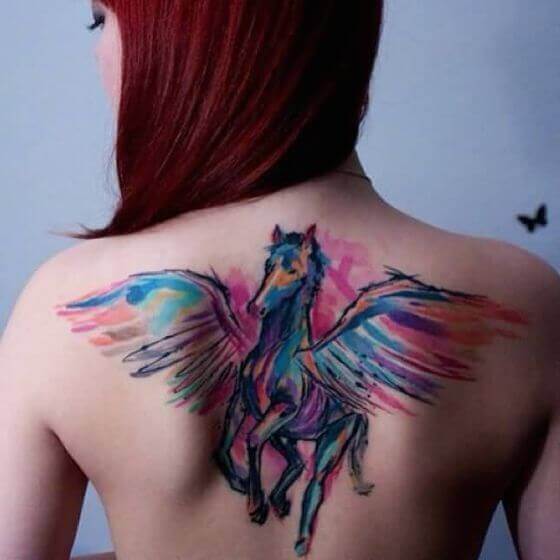 Pegasus is a mythical winged divine horse and one of the most recognized creatures in Greek mythology. Usually depicted as pure white, this winged horse is believed to be the Olympian god Poseidon's offspring. This hoofed master of the ground and winged master of the air represents strength, speed, and artistic inspiration. Pegasus makes for a mesmerizing tattoo design. The motif of a winged horse is very popular amongst men and women. It looks great in black ink and white ink.
I hope this list helps you decide your tattoo design as now you know what tattoo symbolizes strength. These tattoos look stunning. You can get them in color or black ink. I believe half of your job is done, as you don't need to research for tattoos representing strength. Just find a reputable tattoo artist and get your tattoo representing strength done!
Happy Tattooing…. ☺ ☺
Please follow and like us: