Why Should You Get A Sanskrit Tattoo?
Posted on
Do you like getting different tattoos? How about Sanskrit tattoo designs?
If you're thinking about getting a Sanskrit tattoo, you've come to the right place. In this article, we will discuss why you should get a Sanskrit tattoo.
They are suitable for both men and women, so consider our reasons for Sanskrit Tattoos.
Let's get started…
Table of Contents
Top Reasons to Have Sanskrit Tattoos
Sanskrit Tattoos Have a Profound Meaning.
Sanskrit Tattoos Are Beautiful
Sanskrit Tattoos Are Popular
Sanskrit Tattoos Are Stylish
Sanskrit Tattoos Are Simple and Elegant
The Best Placement for Sanskrit Tattoos
Top 5 Sanskrit Tattoo Designs
Om Symbol
Sanskrit Verse or Mantras
Sanskrit Phrases
Name in the Sanskrit Language
Sanskrit Word Tattoos
Conclusion
Sanskrit is an extremely old and very sacred language of Hinduism. It originated in India and spread throughout the world, becoming the basis for a number of modern languages. It is a standardized dialect of Old Indo-Aryan that originated as Vedic Sanskrit between 1700 and 1200 BCE. Today, Sanskrit is used only in Hindu religious texts in India.
If you like Sanskrit verses and phrases, then a Sanskrit tattoo is the best pick for your next tattoo design.
Top Reasons to Have Sanskrit Tattoos
Here are the five best reasons why you should get Sanskrit tattoos:
1. Sanskrit Tattoos Have a Profound Meaning
Sanskrit is a very deep language with profound meaning. Every word in Sanskrit depicts a unique meaning. For instance, the word Om. This simple-looking word is considered the most important in the Sanskrit Language. It is said to be the sound uttered by the Hindu God of Creation, Brahma, to create the world.
By meditating or enchanting on the 'Om' sound, you can delve deep within. It is a binding term that channels an individual's positive energy.
So, if you're interested in spirituality and want to get a tattoo that reflects your spiritual side, this could be a good ink to use.
2. Sanskrit Tattoos Are Beautiful
Sanskrit tattoo designs are elegant and beautiful. The language has a wealth of symbols that can inspire many beautiful tattoos.
The stylish contours of the Sanskrit alphabet, including how the linear bar on top of each phonetic symbol connects, create awe-inspiring tattoo designs.
3. Sanskrit Tattoos Are Popular
Nothing could be more popular than Sanskrit Tattoos due to their unique meanings and eye-catching appearance. Many Hollywood celebrities have Sanskrit Tattoos, including Rihanna, Vanessa Hudgens, Russell Brand, Katy Perry, and Miley Cyrus, to name a few.
4. Sanskrit Tattoos Are Stylish
Sanskrit tattoos are ideal for those who enjoy fashionable tattoos. Sanskrit tattoos are fashionable due to their distinctive symbols and alphabets. Even the "OM" symbol can be used to create an awe-inspiring tattoo design.
You can even have your or a loved one's name etched in Sanskrit, creating a one-of-a-kind tattoo design. So, if you want a trendy tattoo design, go with a Sanskrit tattoo.
5. Sanskrit Tattoos Are Simple and Elegant
The best part about getting a Sanskrit tattoo is that it looks both simple and elegant. They are intended for people looking for simple yet meaningful tattoo designs. Sanskrit tattoos meet that requirement admirably.
The Best Placement for Sanskrit Tattoos
Since Sanskrit is a sacred language, it is essential to have Sanskrit Tattoos etched in appropriate places. Make sure you only get a Sanskrit tattoo on your upper body. You can get Sanskrit tattoos in a variety of places, including:
Chest
Shoulder
Wrist
Hand
Back of Palm
Neck
Near the Ear
Tummy
Shoulder Blade
Top 5 Sanskrit Tattoo Designs
There are numerous Sanskrit Tattoo designs to choose from, such as
1. Om Symbol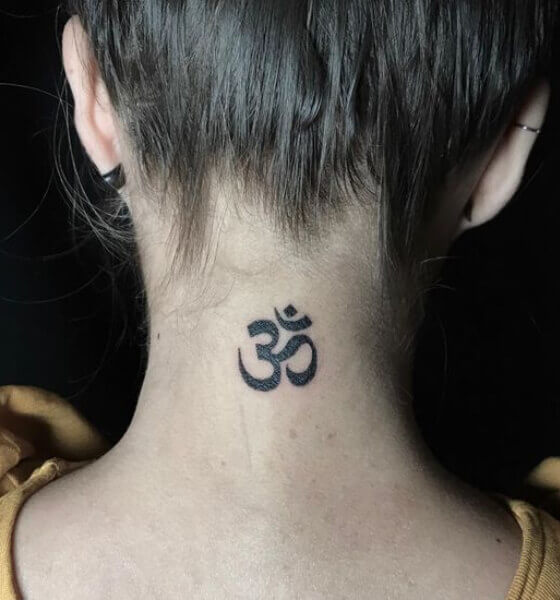 OM sound or mantra is the primordial sound; it is also known as the Shabda-Brahman (Brahman as sound). In Hinduism, 'Om' is the most revered syllable symbol and sacred mantra of Brahma, the Almighty God. It is a common symbol found in Hinduism's earliest texts. It signifies Invention, Preservation, and Devastation.
The nasalized consonant in the mantra, also known as the silent syllable, represents "beyond creation." Om is also considered a "meditation means," in addition to being a syllable for the essence of life, Brahman, consciousness, Atman, Self-knowledge, and the ultimate truth. Many celebrities, including Miley Cyrus, flaunt 'OM' tattoos on their body. You can also get one.
2. Sanskrit Verse or Mantras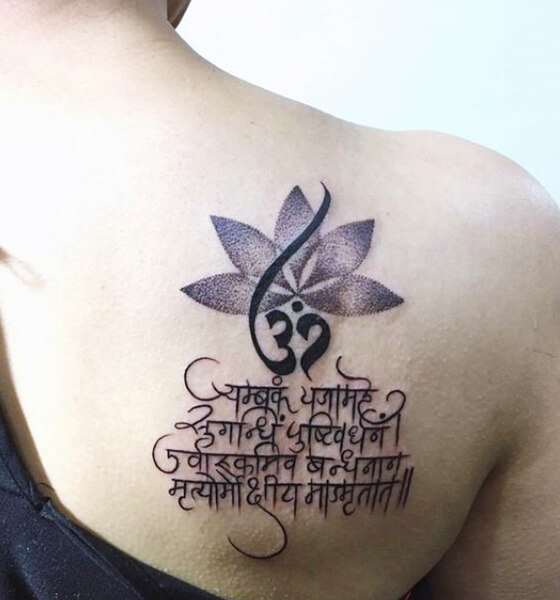 There are myriads of Sanskrit verses and mantras that you can get etched on your body. Just like Theo Walcott, a footballer who has the phrase "Om Namah Shivay" tattooed down his spine. He is the only international celebrity with a tattoo honoring a Hindu god.
He also had four Sanskrit words tattooed on his right wrist: Strong, Beautiful, Blessed, and Intelligent, which he dedicated to his father, sister, himself, and his brother. So, if you also have something like this in mind, get it etched!
3. Sanskrit Phrases
Sanskrit phrases, like Sanskrit verses, have distinct meanings. "Lokah samastah sukhino bhavantu" is one of the most well-known phrases.
It's basically a prayer that most people chant for the good of humankind. Kimberly Wyatt, one of Pussycat Dolls' singers, has this Sanskrit phrase tattooed on the back of her neck. It translates as "May all beings everywhere be happy and free, and may my own thoughts, words, and actions contribute in some way to that happiness and freedom for all."
Related: Inspirational Quotes Tattoo Ideas For Women
4. Name in the Sanskrit Language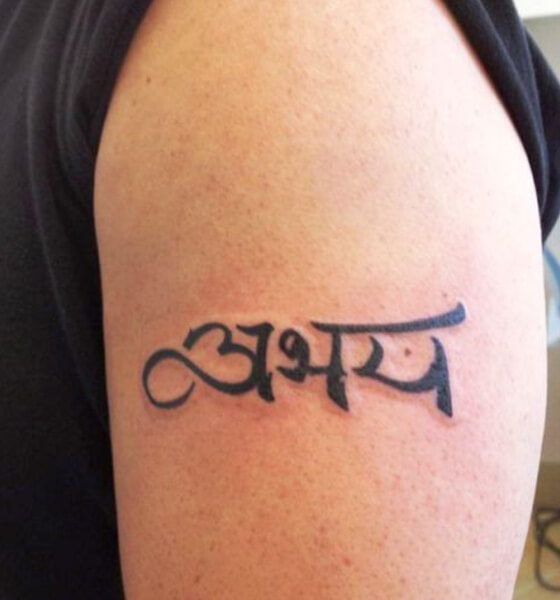 Another great way to show off a Sanskrit Tattoo design is to have one's name etched in Sanskrit. If you want an out-of-the-box name tattoo design, consider having it etched in Sanskrit. Sanskrit name tattoos are absolutely stunning.
5. Sanskrit Word Tattoos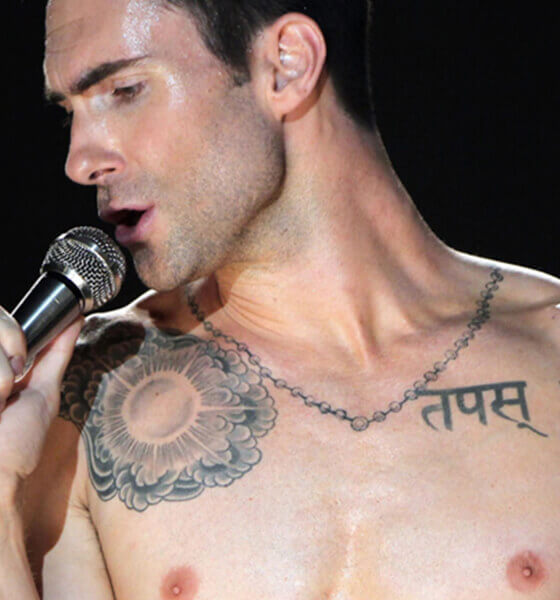 There are many popular Sanskrit words that can be tattooed. The Sanskrit word "TAPAS" is etched on the chest of popular American singer Adam Levine. Tapas, etched on the left side of Levine's chest, is one of many tattoos on his body. According to the singer, it means "inner fire" or "a strong feeling for something like Yoga."
Wrapping up…
So, this is all about why you should get a Sanskrit Tattoo. All in all, Sanskrit tattoo designs are beautiful and unique, depict distinctive meanings. Sanskrit tattoos can be an excellent addition to your tattoo collection. Also, they can be the best pick if you only want one discreet tattoo design. So, choose the one that best fits your needs. Cheers!
Happy Tattooing… ☺ ☺
Please follow and like us: