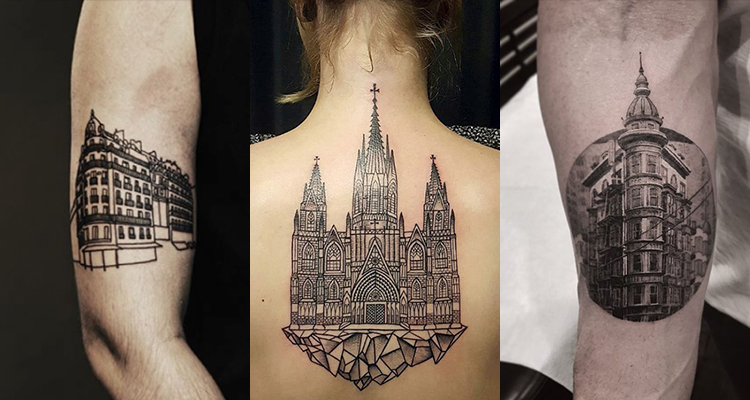 Architecture Tattoo Ideas for Who Adore the History
Posted on
Believe it or not, but even the most famous architecture landmarks of the world can make for a perfect tattoo design for you. There is no room for mistakes in an architect's design, you can get anything from bridges and tall skyscrapers to old cathedrals, historic monuments to ancient pyramids on your body.
Yeah, you don't need to be an architect to appreciate the beauty of architecturally inspired body art. All it needs is to have passion and adoration for the history inspired tattoo designs. If you're amongst those who adore historical constructions and architectural landmarks, then these tattoo ideas might make you want to get inked.
Check out the list of architectural inspired tattoos…….
Placement of Architectural tattoos
More often than not, architectural tattoos are bigger in size and hence these tattoos are placed on back, and tummy area. But, if you want to get some geometrical architectural tattoo design then that can be done on shoulder, thigh, calf etc.
Wherever you want to get an architectural tattoo, it is up to you, the bottom line is architectural tattoo looks great when done. And yeah, these type of tattoo designs have nothing to do with the person's age and gender. Anybody can get it, be it a girl aged 18 or a man in his thirties.
Architectural tattoos look amazing irrespective of your age, gender, and skin tone. Also, you can personalize your architectural tattoo, all you need is a bit of creativity and clarity what exactly you are looking for, along with the passion for history!
Here are some of the best Architectural tattoo designs……
1. Gothic architecture style tattoo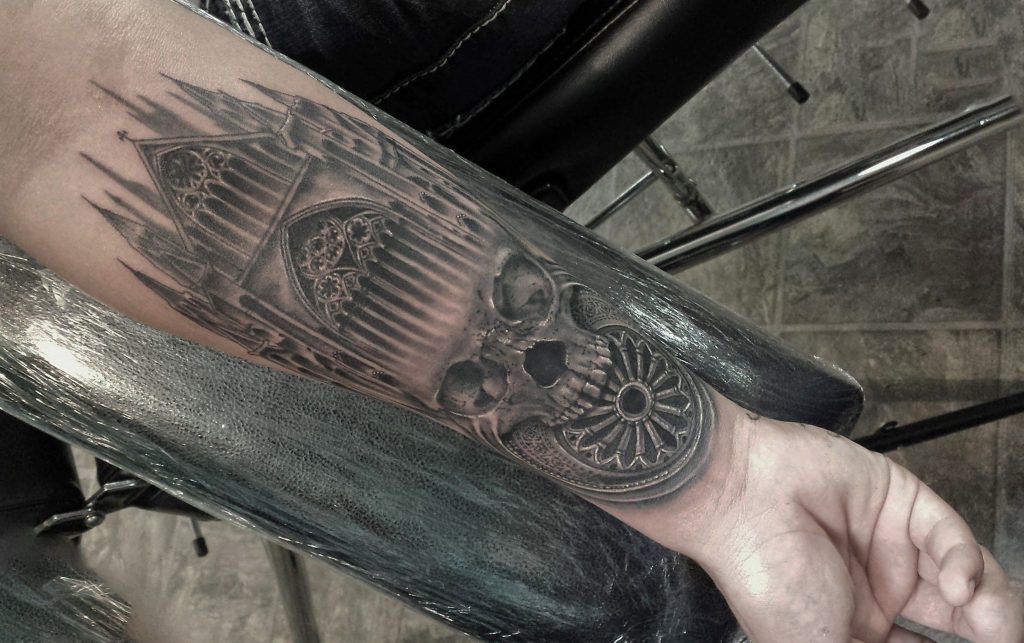 Gothic architecture flourished in Europe during the High and Late Middle Ages. It basically evolved from Romanesque architecture and was succeeded by Renaissance architecture. The design is for those who are fond of cathedrals and churches, you can get this tattoo design. It will be an amazing tattoo!
2. The Staatliches Bauhaus Style Tattoo
Commonly known as the Bauhaus, was a German art school that was operational from 1919 to 1933, which combined crafts and the fine arts, make for a perfect architectural tattoo design. You can get this one in any size big or small. The design looks really beautiful.
3. Brutalist Architecture Style Tattoo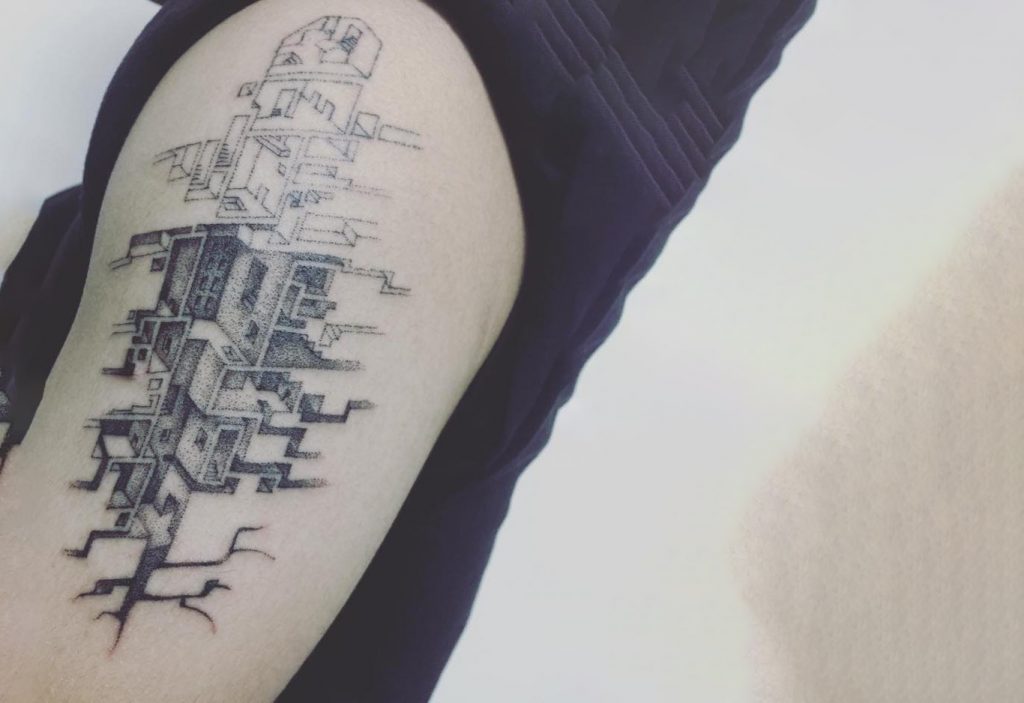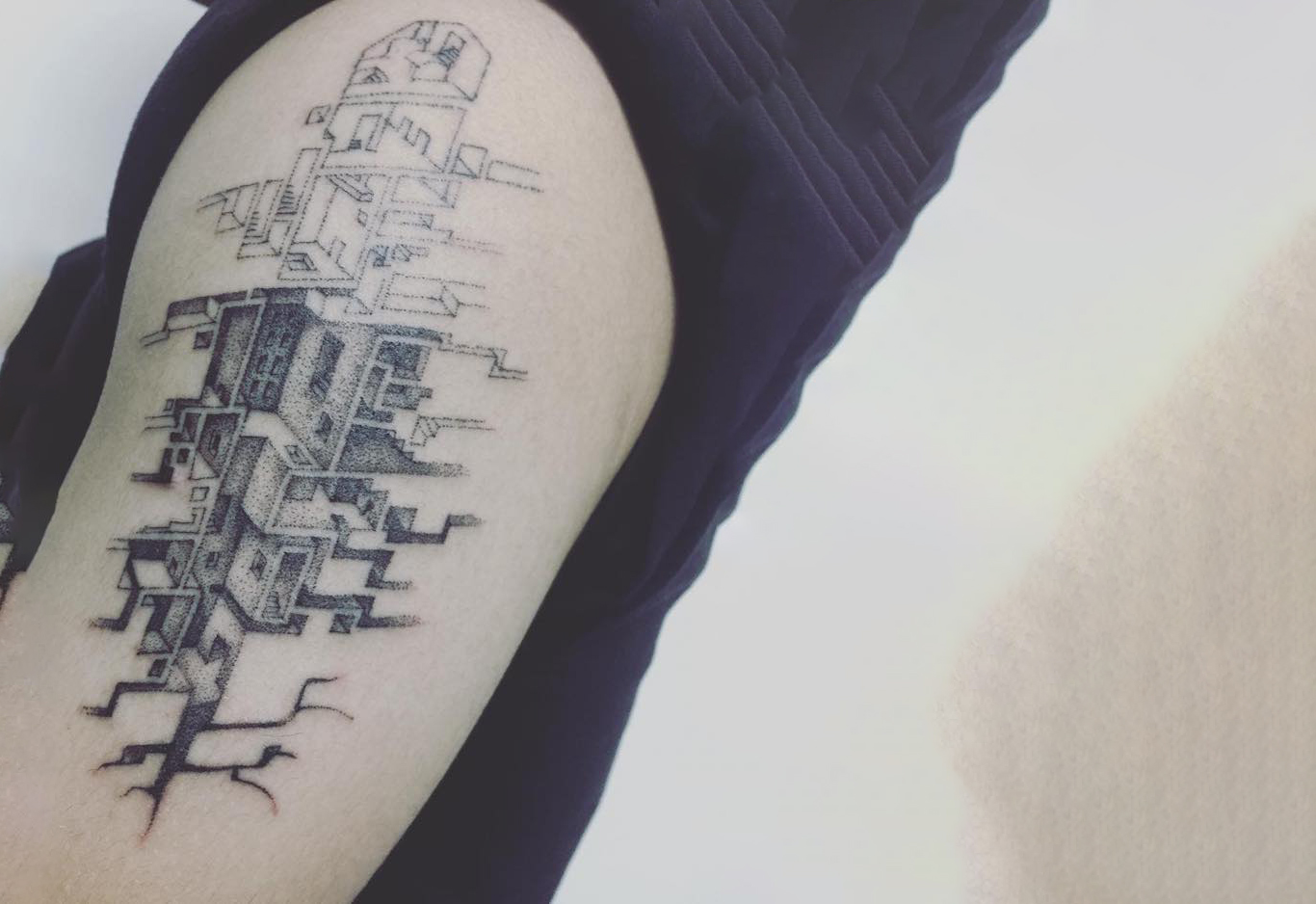 Brutalist architecture is another architectural tattoo design that looks amazing. Brutalist architecture, also known as Brutalism, it emerged in the mid-20th century and gained popularity in the late 1950s and 1960s. If you like this style of architecture designs, then believe you me you will never be disappointed with the kind of tattoo that will come out!!
Also See: 60 Tattoo Trend Ideas And Designs In 2021
4. Baroque Architecture Style Tattoo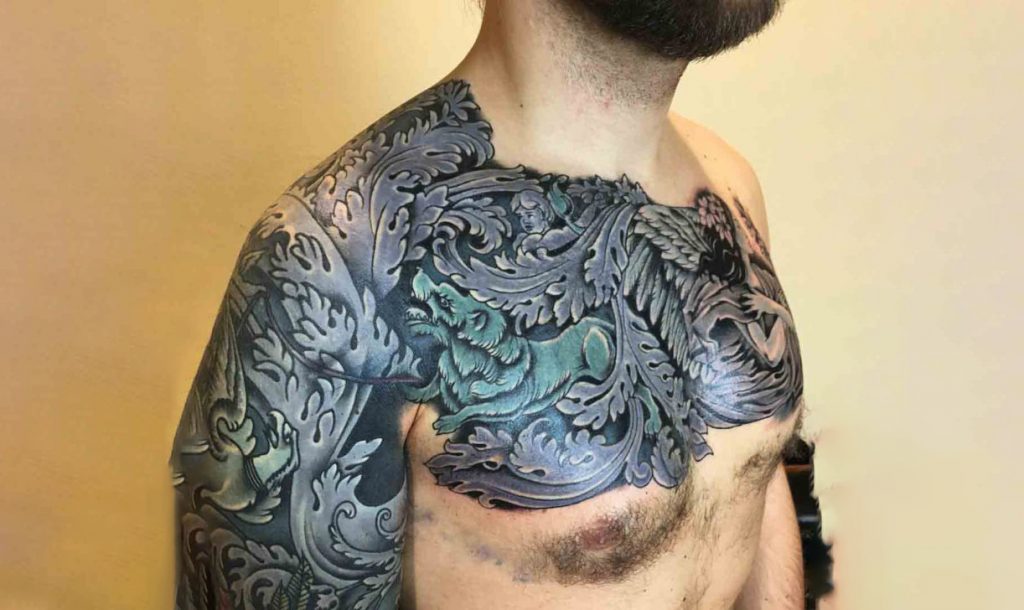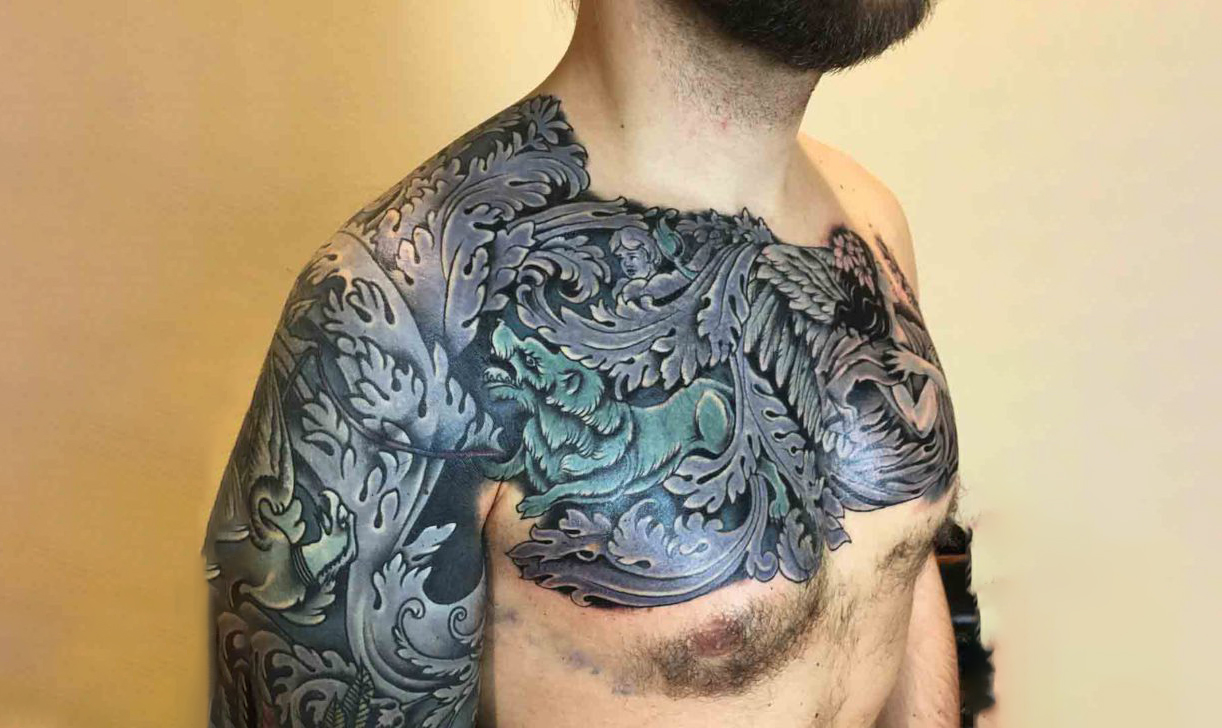 If you are looking for some intricate architectural tattoos on your body then Baroque architecture is the style to go for. Baroque architecture historically appeared in Italy in the early 17th century and is a highly decorative and theatrical style. If you want a beautiful architectural tattoo design then Baroque architecture tattoos will look amazing.
5. Art Deco Architecture Style Tattoo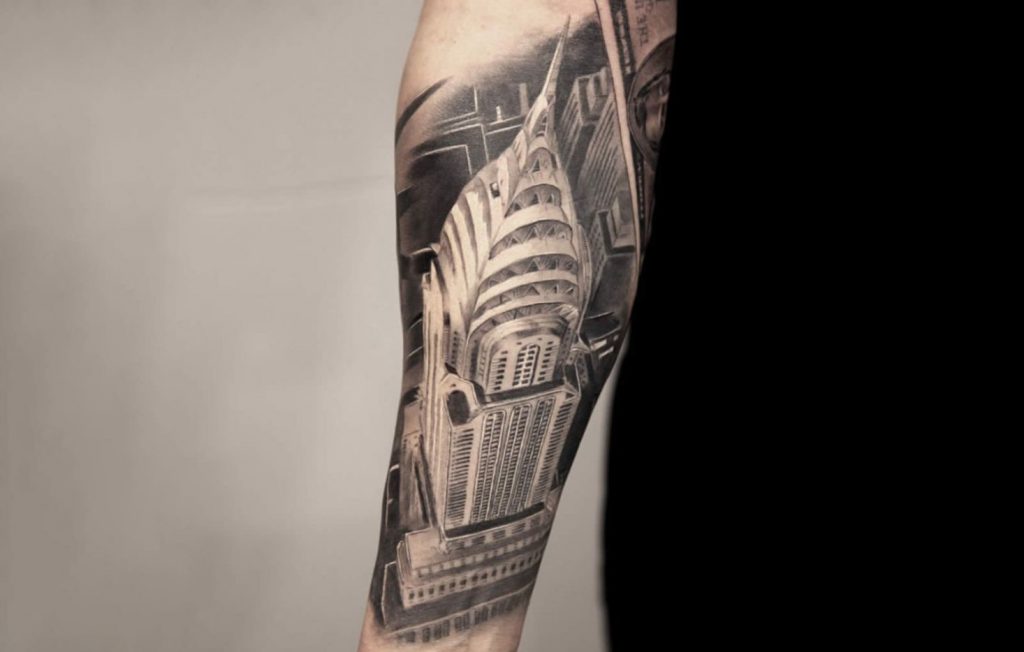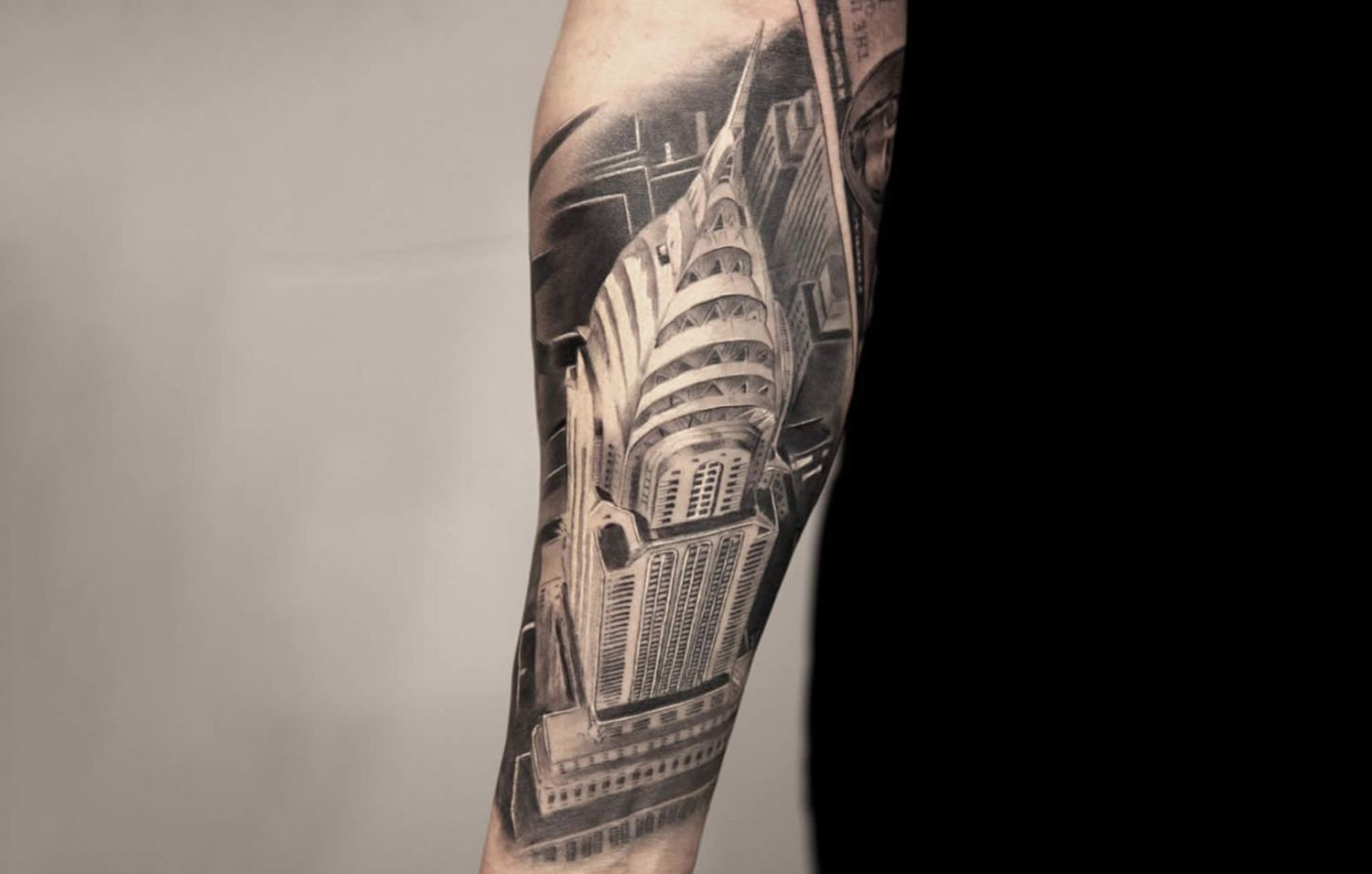 Most commonly referred to as Deco, is a very common style of visual arts, architecture and design that first appeared in France just before World War I. Art Deco influenced the design of buildings, furniture, jewelry, movie theatres, fashion, cars, ocean liners, trains, and everyday objects such as vacuum cleaners, and so on so forth. It got its name Art Deco (short for Arts Décoratifs), from the Exposition international des arts décoratifs et industriels modernes (International Exhibition of Modern Decorative and Industrial Arts) held in Paris in 1925.
Art Deco combines modern styles with fine craftsmanship and rich materials. If you are also looking for some artistic architectural tattoo design, then this is the style for you!! Based on design and size of your tattoo you can decide on its placement.
6. Art Nouveau Architecture Style Tattoo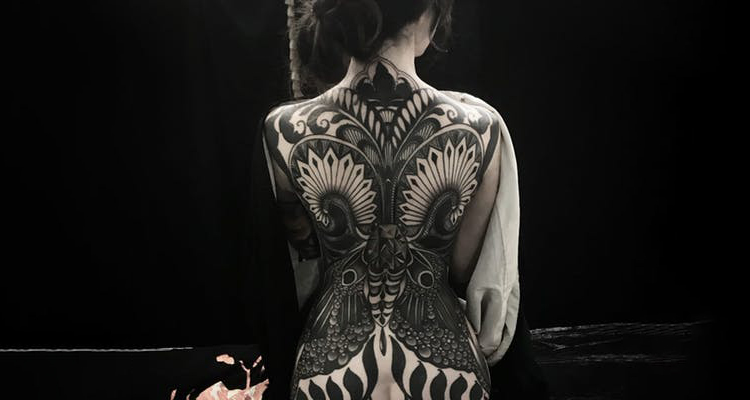 Art Nouveau is another international style of art, architecture and applied art. Art Nouveau tattoos look like decorative piece of art. This style is known by different names in different languages. For instance, in German it is called Jugendstil, Italian call it Stile Liberty, Catalan know it as Modernisme, etc. In English however it is also called as the Modern Style. So, if you are looking for some modern styled architectural tattoos on your body, then this is for you.
7. Deconstructivism Architecture Style Tattoo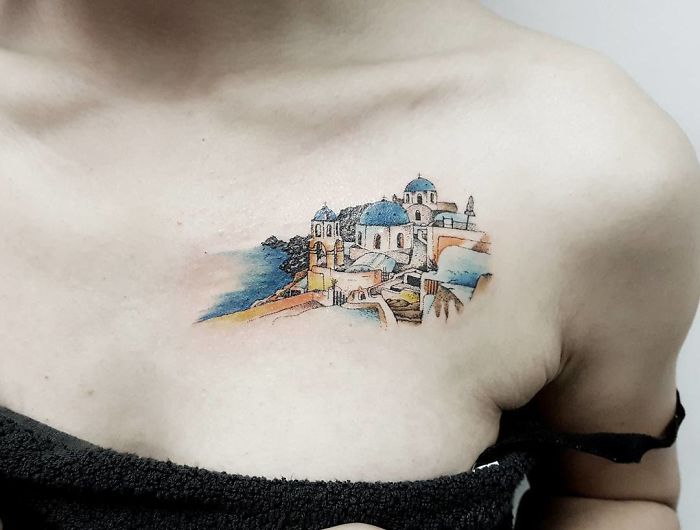 Deconstructivism, as the name says is a movement of postmodern architecture which appeared in the 1980s. It typically gives the impression of the fragmentation of the constructed buildings. This style of tattoo designs are characterized by an absence of harmony, continuity, or symmetry. But, the tattoo looks really beautiful and colorful. These tattoos can be done in an even smaller size.
8. Classical Architecture Style Tattoo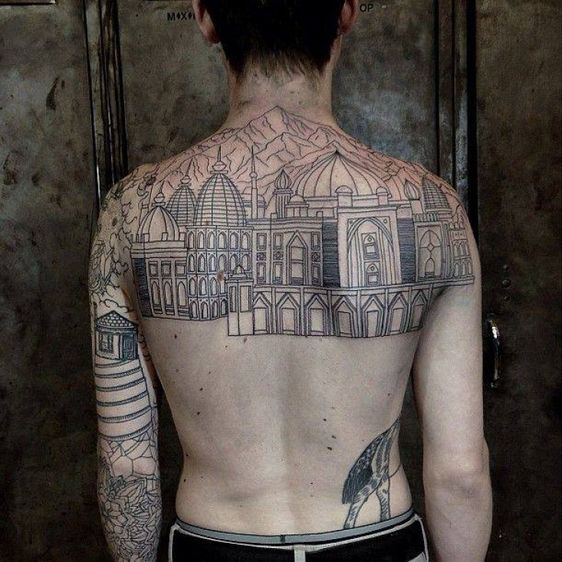 Most commonly used architectural tattoo design is classical architecture. More often than not, this style denotes architecture that is more or less deliberately derived from the principles of Greek and Roman architecture of classical antiquity. The classical architectural tattoos make for a perfect architectural tattoo designs. Usually they are bigger in size hence placed on back or tummy area. If you also adore the classical style of architecture then this style is for you.
9. Neoclassical Architecture Style Tattoo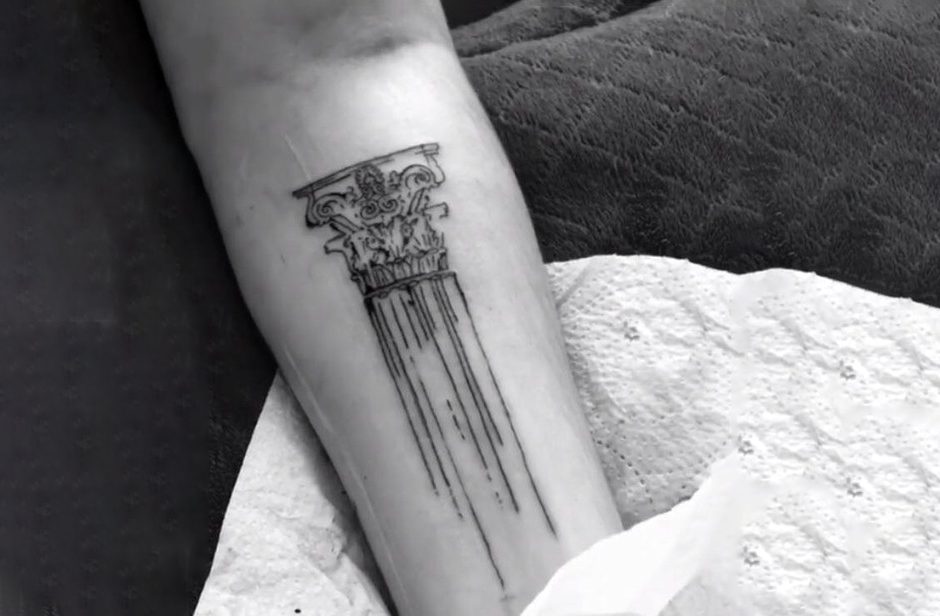 An architectural style produced in the mid-18th century by the neoclassical movement, make for an amazing tattoo design for the ones who adore the history. It is a style basically derived from the architecture of classical antiquity, the Vitruvian principles, and the work of the Italian architect Andrea Palladio. You will love your neoclassical architectural tattoo. Try it out!!
Also See: Egyptian Tattoo Designs
10. Tudor Architecture Style Tattoo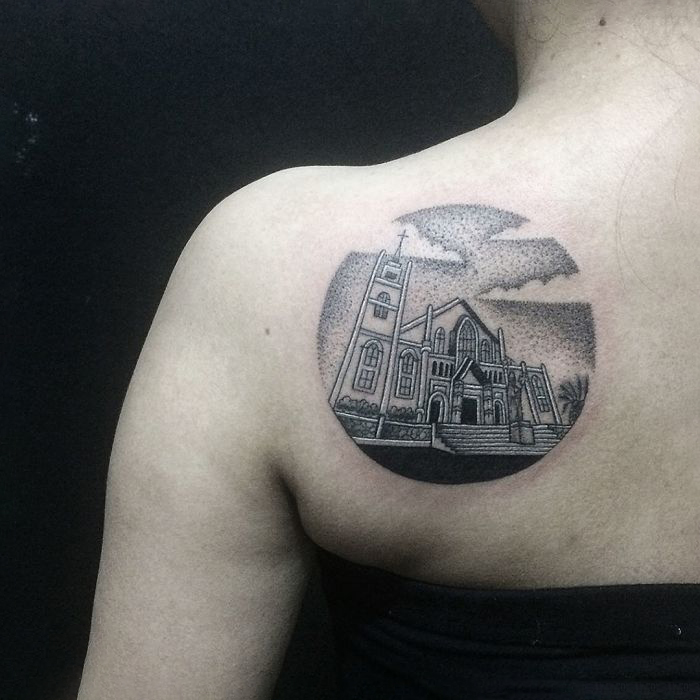 Another very beautiful architectural tattoo designs for those who adore history to the fullest. The Tudor architectural style is the final development of medieval architecture in England. The tattoo will look amazingly stunning. This one will also be a big size tattoo.
11. Victorian Architecture Style Tattoo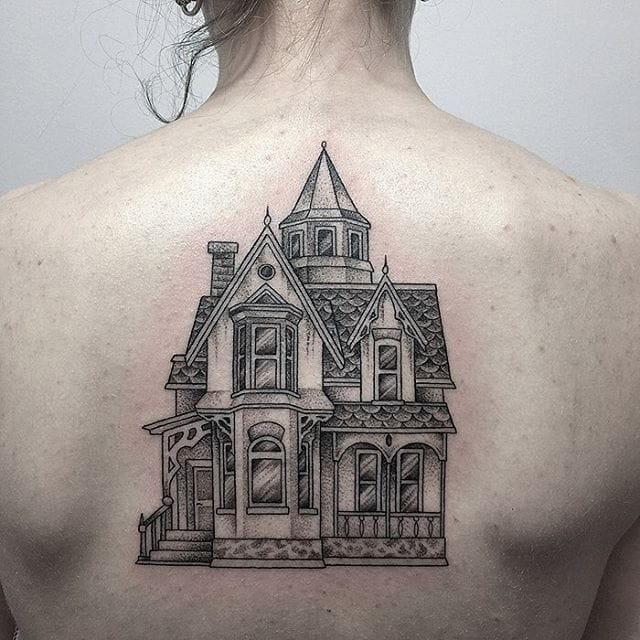 You must have seen Victorian themed sleeves tattoos and must have wondered how on earth this stunning design came. Well, Victorian architecture makes for an amazing tattoo design. It is a series of architectural revival styles in the mid-to-late 19th century. Victorian basically refers to the reign of Queen Victoria, which is also called the Victorian era. During this era the styles known as Victorian were used in construction. Victorian styled tattoos look great. Mostly people go for Victorian themed sleeve tattoos. If you are also fond of Victorian era or want to show off your liking for Queen Victoria then this design is for you.
12. Byzantine Architecture Style Tattoo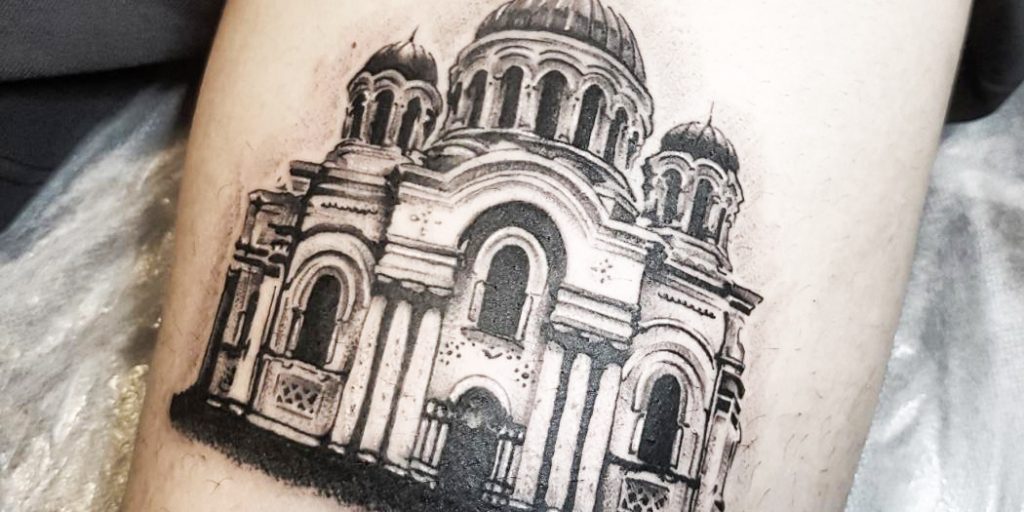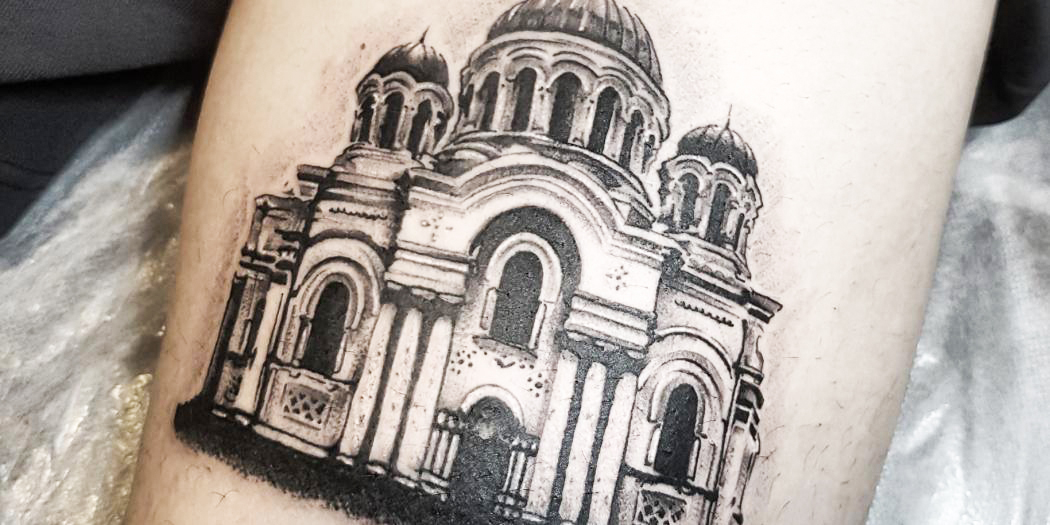 The architecture of the Byzantine Empire, or Eastern Roman Empire is called Byzantine architecture. The Byzantine era is mostly dated from 330 CE. The architecture of Byzantine era is simply gorgeous. If you also love some building from Byzantine era then get the same etched on your body. Your will be a head turner tattoo design. Trust me!
13. Romanesque Architecture Style Tattoo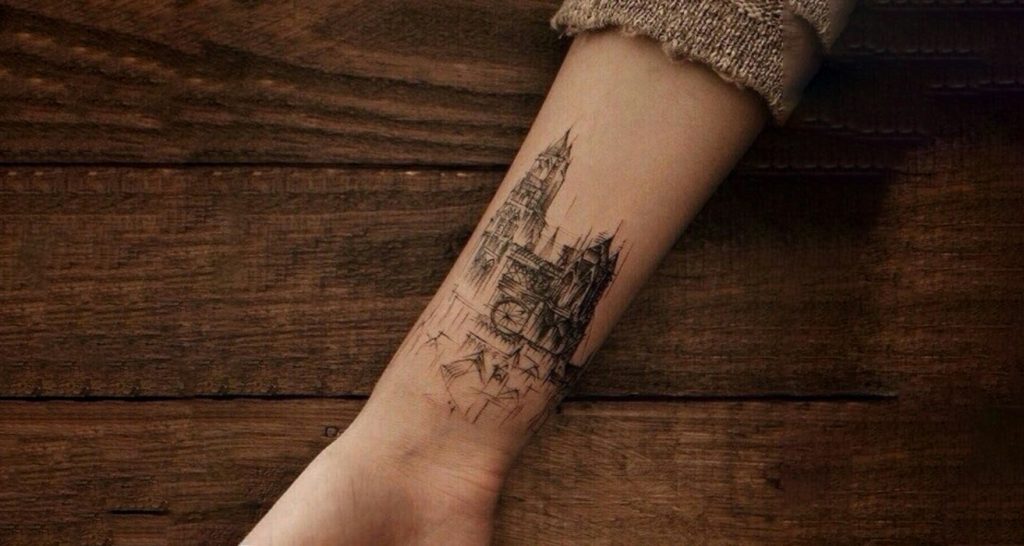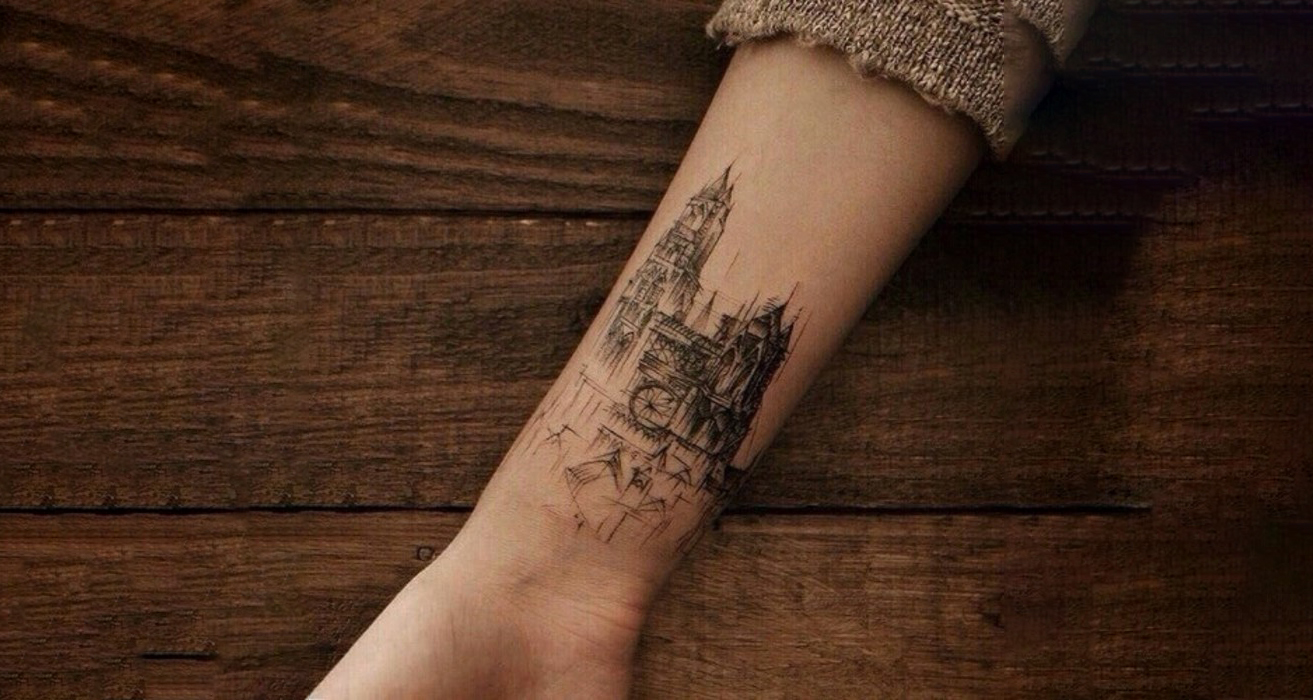 Romanesque architecture is primarily characterized by semi-circular arches. It is an architectural style of medieval Europe. The tattoo from Romanesque architectural tattoos allows one display classical roman architecture. These tattoos look wonderful and make for an eye-catching design.
14. Egyptian Architecture Style
Egyptian art and architecture has always been famous for its excellent buildings and monuments. You can choose any design for your architectural tattoo from this style of architecture. And not to mention the Pyramids. You can get a beautiful pyramid etched anywhere on your body.
15. Constructivist Architecture Style Tattoo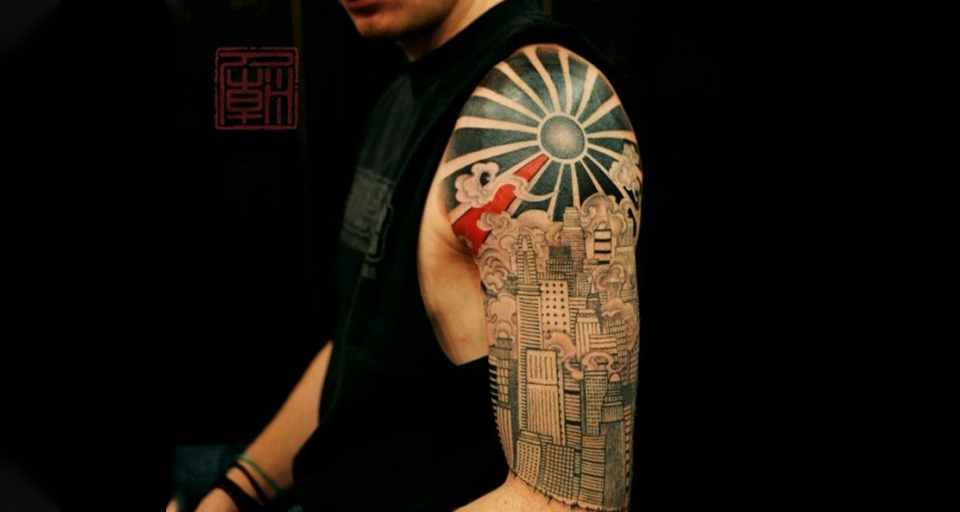 Modern architecture that flourished in the Soviet Union in the 1920s and early 1930s, which combined advanced technology and engineering with an openly Communist social purpose is called Constructivist architecture. And the tattoos from this form of architecture make for a perfect designs.
Also See: Top 10 Ways To Hide Tattoos At Work
16. Greek Revival Architecture Style Tattoo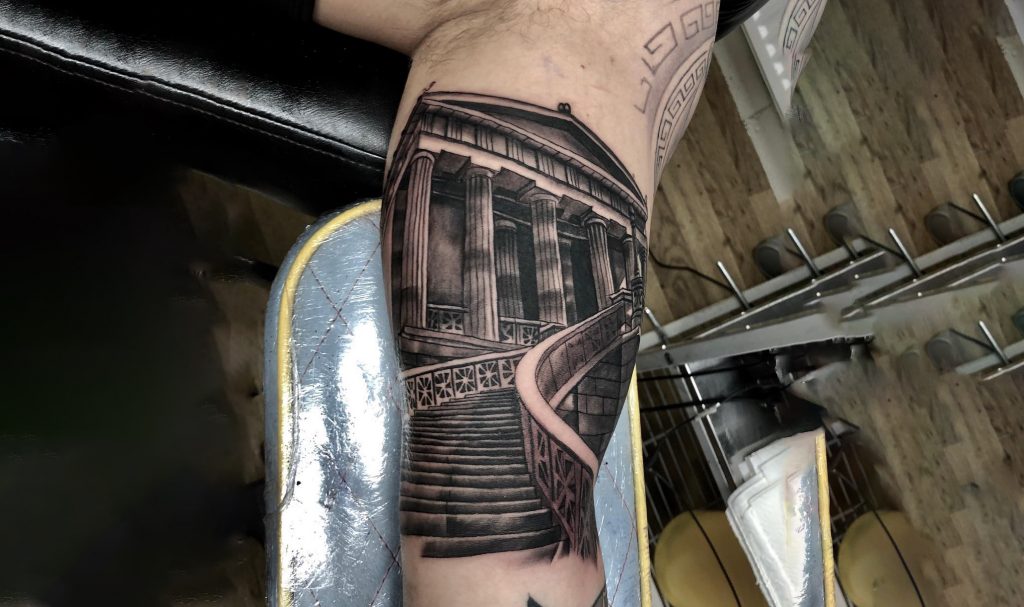 An architectural movement of the late 18th and early 19th centuries, predominantly took place in Northern Europe and the United States. The tattoos with this style of architecture will be inspired by the style of ancient Greek architecture, particularly the Greek temple. The tattoo with Greek revival architecture will have varying degrees of thoroughness and consistency. If you admire the Greek architecture then this designs can be yours!
17. Postmodern Architecture Style Tattoo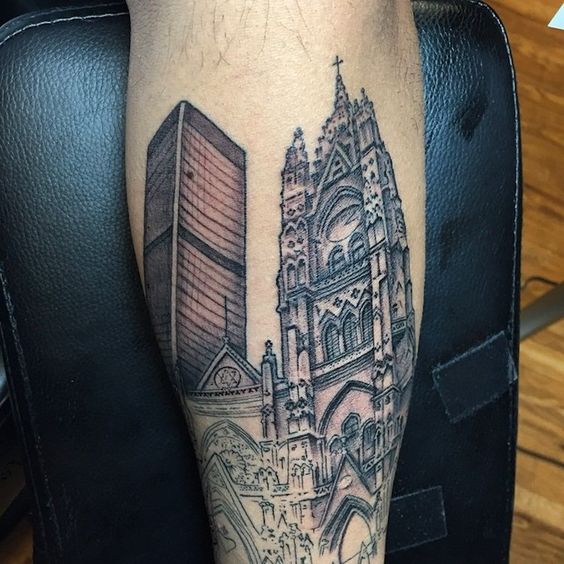 Postmodern architecture is a style of the movement that emerged in the 1960s as a reaction against the austerity, formality, and lack of variety of modern architecture. If you believe you love this style of architectural tattoos then try this one!!
18. Mid-Century Modern Architecture Style Tattoo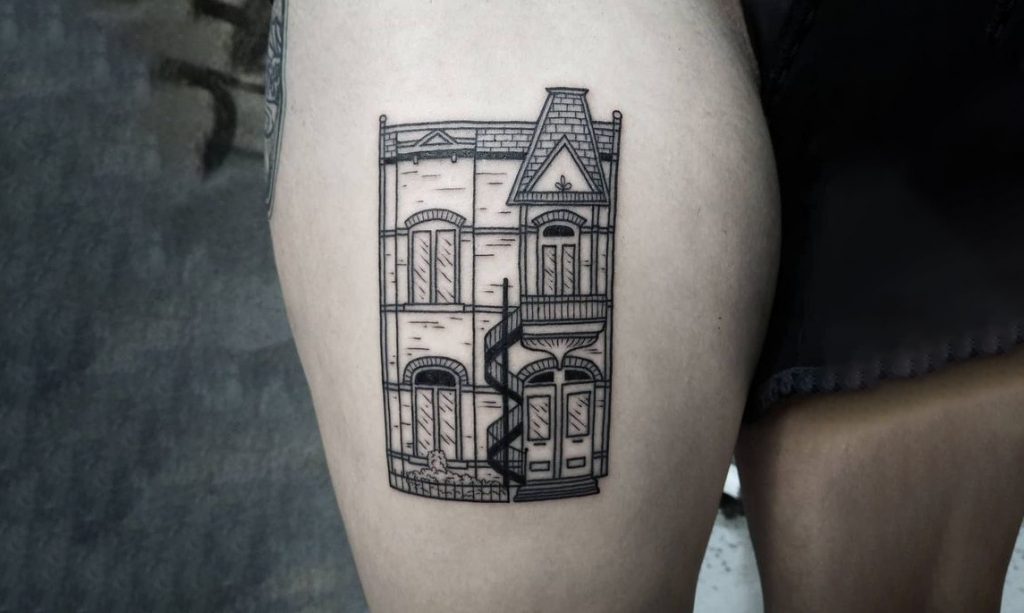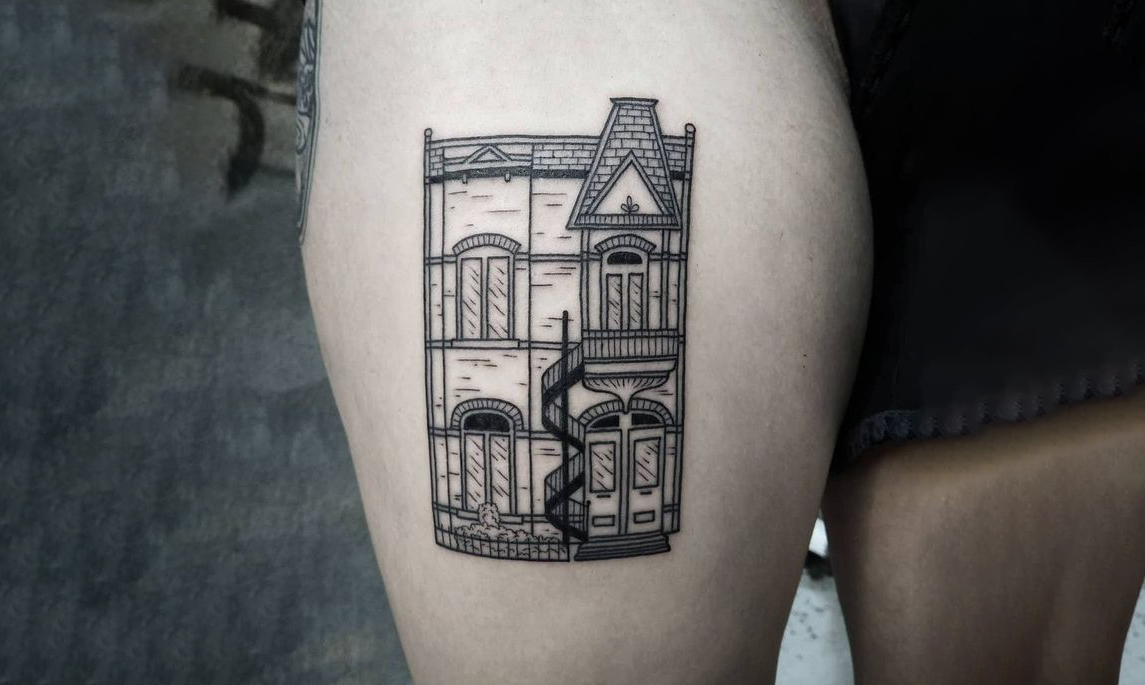 This architecture involves the design movement in interior, architecture, product, graphic design, and urban development happened from 1933 to 1965. These tattoos are usually more colorful and look stunning. You can also get them in black.
19. Cape Cod Architecture Style Tattoo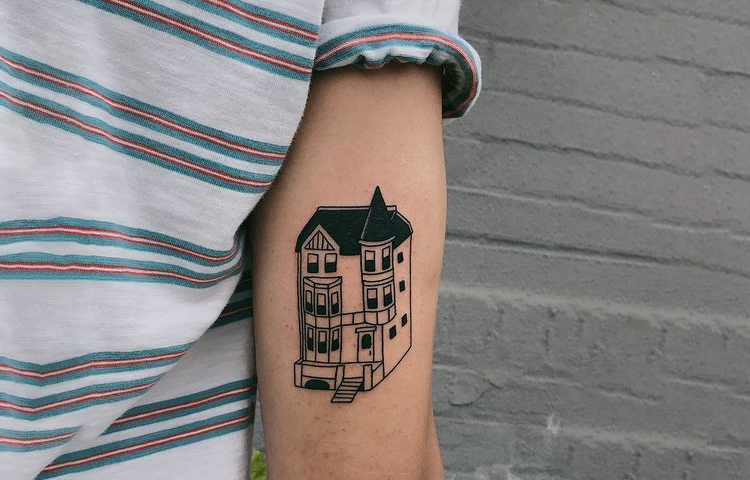 Cape Cod is a popular summertime destination. It is a hook-shaped peninsula of the U.S. state of Massachusetts. Basically, it is the site of quaint villages, seafood shacks, lighthouses, ponds and bay and ocean beaches. But, you will be surprised that it makes for a perfect architectural tattoo designs a well. The John F. Kennedy Museum can be your tattoo design to showcase Kennedy Legacy Trail.
20. Gothic Revival architecture Tattoo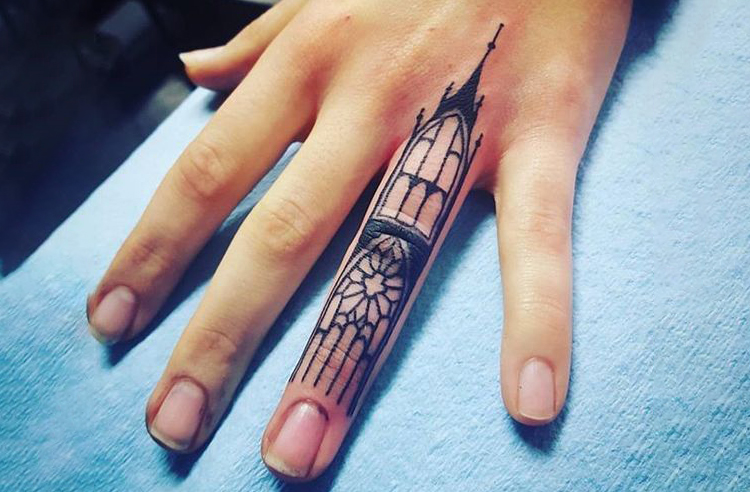 Gothic Revival is an architectural movement which is popular in the Western world. The movement began in the late 1740s in England. But believe you me, this form of architecture, makes for the loveliest architectural tattoo designs. If you don't trust me, just Google it and you will see how beautiful these tattoos look. The best part is you can get these tattoos on your finger as well.
21. Islamic Architecture Style Tattoo
Islamic architecture contains the architectural styles of buildings associated with Islam. More often than not, this style covers both secular and religious styles from the early history of Islam to the present day. You will love these designs as they have amazing artistry. These tattoos look great when done on chest or back area. Also, you can get some Islamic quote from history etched on your body if you are looking for some minimal design from history.
22. Stalinist Architecture Style Design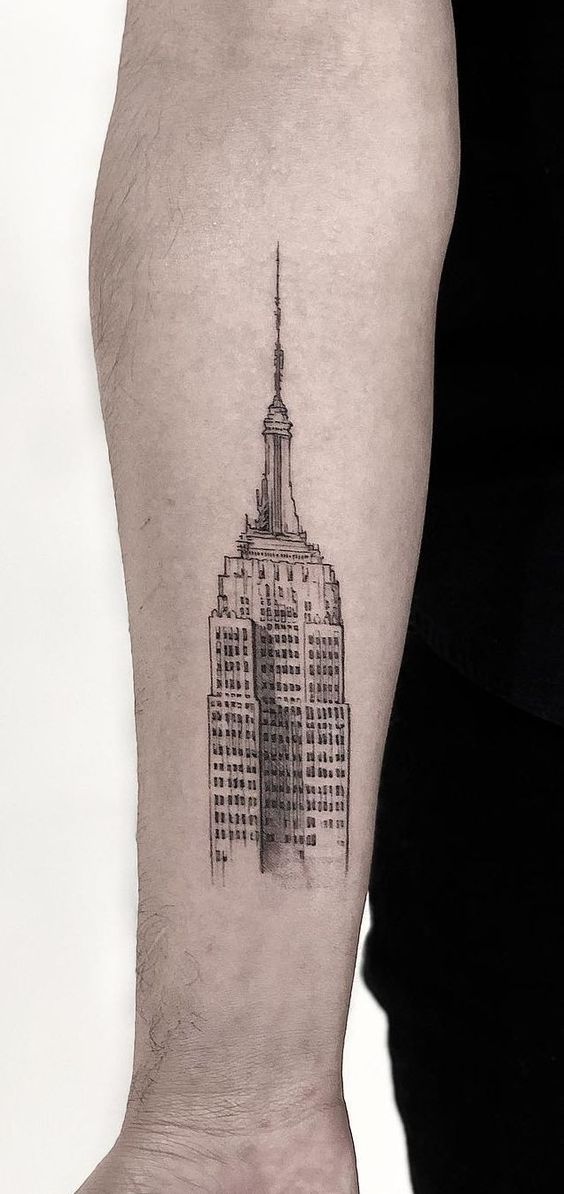 Stalinist architecture, most commonly known in the former Eastern Bloc as Stalinist Empire style or Socialist Classicism. This style is derived from Soviet Union under the leadership of Joseph Stalin, between 1933. One can get Lenin Stelin tattoo or maybe Russian prison tattoos on your body. If you are a great admirer of Russian architecture, then you can try tattoos from Stalinist era.
23. Mughal Architecture Style Tattoo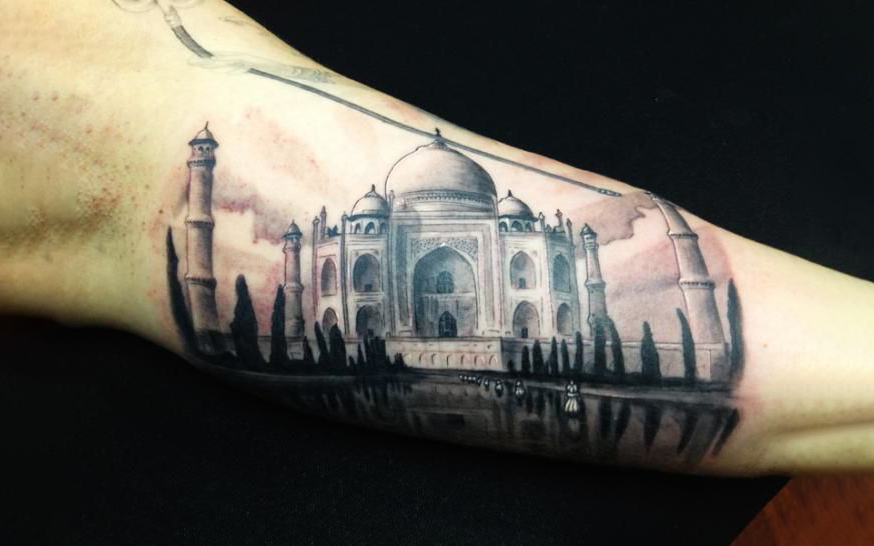 Mughal architecture is a symmetrical and decorative amalgamation of Persian, Turkish, and Indian architecture. Mughal architecture initially flourished and developed during the reign of Akbar the Great (1556–1605). If you are inspired by Mughal architecture, then it has a lot to offer you when it comes to architectural tattoo designs. Your Mughal inspired tattoo will be a head turner. Trust Me!
24. Indian Architecture Style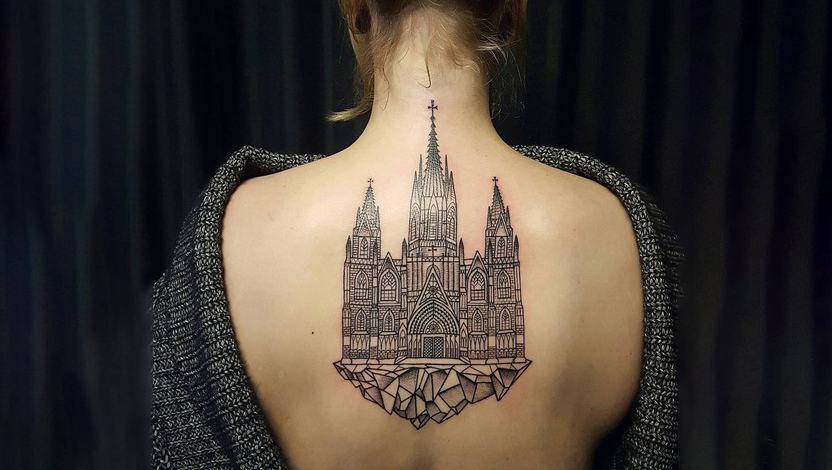 Indian architecture is rooted in its history, culture and religion. It progressed with time! If you are fond of beautiful temples and want to get one on your body, then Indian architecture is ideal for you.
25. Italian Architecture Style Tattoo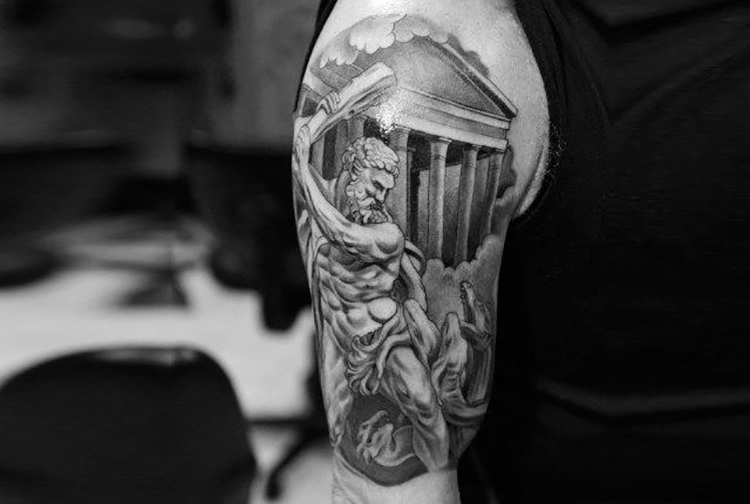 Italian architecture almost spans 3,000 years, and is renowned for varied styles, from Etruscan and ancient Roman style buildings to Romanesque, Gothic to Renaissance, Baroque to Rococo, Neoclassical to Empire style, Art Nouveau to Fascism and modern architecture.
Size of an Architectural tattoo
Architectural tattoos are comparatively bigger in size. They make for an eye-catching tattoo designs.
However, you can get them in small sizes also. For instance, if you just want to showcase your love for the Taj Mahal, you can get only the outline etched on your wrist area or shoulder area. Or if you want some sleek and elegant artwork on your body then getting a pillar from your favorite historical building or monument on your finger will be a great tattoo design.
So, size is also up to an individual and his choice! All in all architectural tattoos look wonderful artwork if done on body. They make for a perfect head turner tattoo design.
AND FINALLY……
Architectural Tattoo Designs undoubtedly look stunning and gorgeous. More often than not, they are drawn out in black ink, thereby forcing others to appreciate the art and architecture of the history. With the evolution of tattoo techniques these days, getting any kind and type of tattoo has become easy for one and all. Whether you want a simple outline of your favorite monument etched on your body or looking for a giant monument etched on your body, tattoo techniques have made it possible to get.
The possibilities of architectural tattoo designs are endless, all you need is a bit of creativity and passion for history, before you choose to get and architectural tattoo etched on your body. I am sure
the list help you choose your favorite architectural tattoo design!!
Happy Tattooing….. Enjoy Tattooing… Embrace History!!
Please follow and like us: