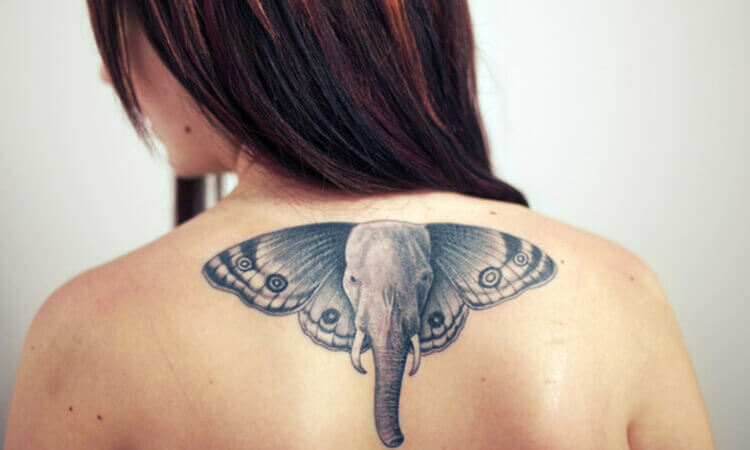 40 Most Beautiful and Meaningful Elephant Tattoo Ideas
Posted on
Are you looking for a unique tattoo design?
If yes, then scroll down to read this post.
Here, in this post, we are sharing some of the most beautiful Elephant Tattoo ideas for you. Aside from that, we will also tell you what Elephant Tattoo stands for.
So, without any further ado, let's get started…
Table of Contents
Meaning of Elephant Tattoo
Elephant Tattoo Placement
Elephant Tattoo Design Ideas
Simple Elephant Tattoo
Baby Elephant Tattoo
Family Elephant Tattoo
Elephant and Sunflower Tattoo
Elephant with Trunk Up Tattoo
Small Elephant Tattoo
Elephant Head Tattoo
Elephant Tattoo on Hand
Polynesian Elephant Tattoo
Mommy with Baby Elephant Tattoo
Two Elephant Making Heart with Their Trunk Up
Geometric Elephant Tattoo
Tribal Elephant Tattoo
Minimalist Elephant Tattoo
Outline Elephant Tattoo on Chest
Black Elephant Tattoo
Mandala Elephant Tattoo
Elephant Tattoo with Flowers
Asian Elephant Tattoo
African Elephant Tattoo
Realistic Elephant Tattoo
Let's begin with Elephant Tattoo Meaning; here is what Elephant Tattoo stands for.
Meaning of Elephant Tattoo
An elephant tattoo can represent and indicate a variety of things. In general, an elephant tattoo represents prosperity and good fortune. Aside from that, it also represents power, strength, dignity, and longevity.
Elephants also symbolize patience, honor, wisdom, and spirituality, in addition to the traits described. Elephant tattoos became more popular due to all of these meanings, as they depicted family relationships and ancestral lines. If you believe you possess some or any of these meanings, then indeed Elephant Tattoo is for you.
Elephant Tattoo Placement
Elephant tattoos are versatile, so they can be etched in a variety of sizes, from little to enormous. Whether you are looking for a small-sized tattoo design or a large-sized tattoo, an elephant tattoo design is perfect for you. Depending on the size of your Elephant Tattoo, you can choose its placement. For example, if you want your tattoo to be large in size, your back, chest, shoulder, thighs, etc., are great places. However, if you want a small Elephant Tattoo design, the best places to ink your elephant tattoo are your wrist, arm, ankle, and nape.
Various places where you can ink your Elephant Tattoo include:
Ankle
Arm
Back
Calf
Chest
Forearm
Foot
Hand
Hip
Nape
Ribs
Shoulder
Spine
Thigh
Wrist
So, these are the places where you can get your elephant tattoo etched. Remember that the placement of any tattoo depends on several factors, such as your work conditions. You may be planning to join some job where tattoos are not allowed, or maybe you belong to a family where tattoos are stigmatized. In such conditions, it's crucial to choose the placement taking all these points into account.
Elephant Tattoo Design Ideas
1. Simple Cute Elephant Tattoo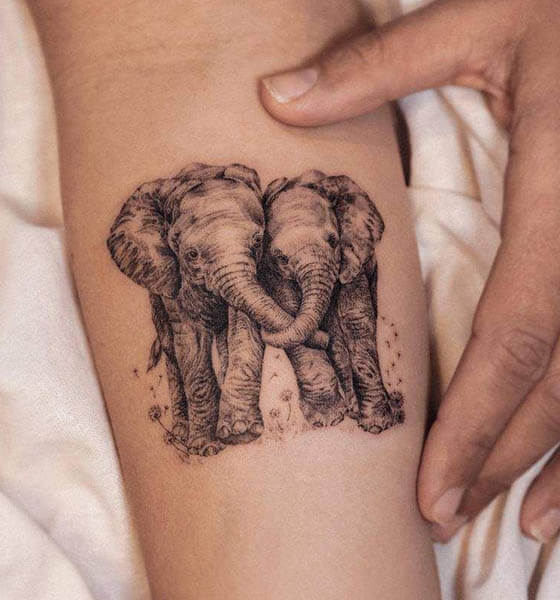 A simple elephant tattoo is for those who do not want to overdo their tattoo designs. You can have a simple outline elephant tattoo etched on your wrist or nape in a small size. It will make for an excellent simple elephant tattoo design.
2. Baby Elephant Tattoo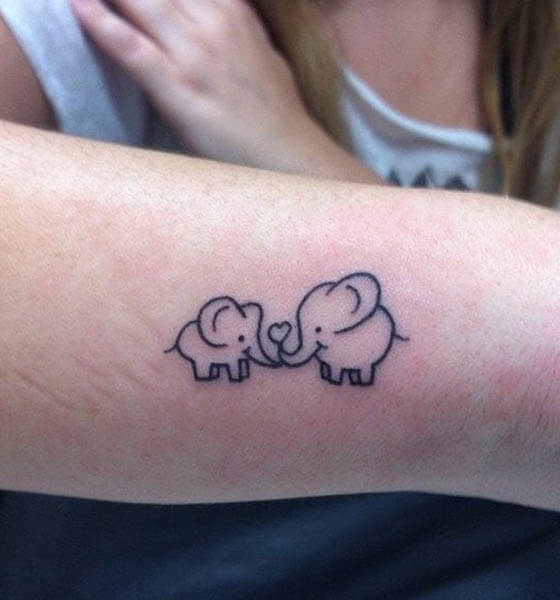 Undeniably, baby elephants look cute. You'll be surprised to know that they make adorable tattoo designs as well. A baby elephant etched in a small size will look cool. But, if you want it to be a bigger size, you can get it in a big size as well. The aim is to pick a size that takes into account all of the important factors, such as location, work limits, and so on.
3. Family Elephant Tattoo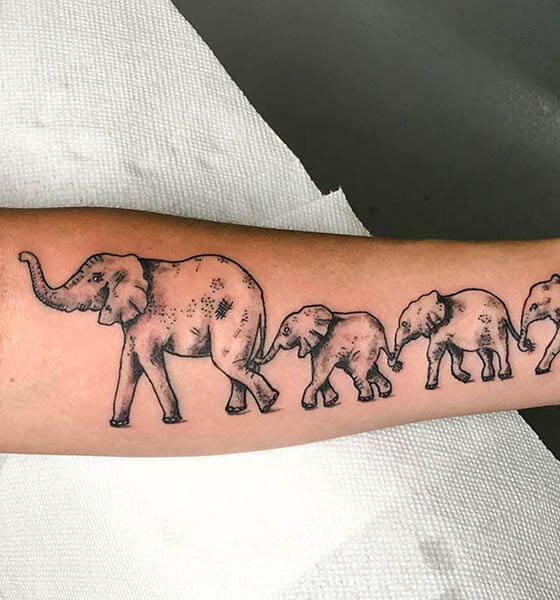 Elephants are family-oriented creatures in addition to being wise. So, if you want a tattoo design that symbolizes family, bond, connection, and unity, among other things, an elephant tattoo design is the ideal option.
4. Elephant and Sunflower Tattoo
Elephants are simple looking creatures; the only thing that would enhance your elephant tattoo is if it had some color. For that, you can add a beautiful sunflower to your elephant tattoo design. This is the perfect combination of the two tattoos.
Also See: Sunflower Tattoo Designs
5. Elephant with Trunk Up Tattoo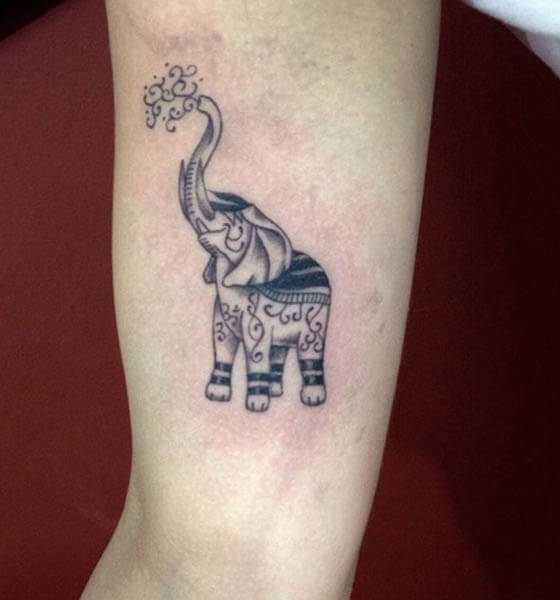 This elephant tattoo symbolizes good fortune. A gorgeous tattoo design that you might want to think about getting.
6. Small Elephant Tattoo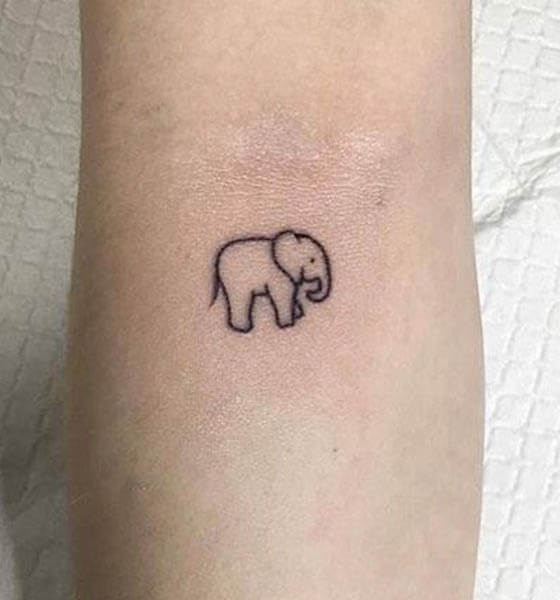 Small tattoos are a good option for a variety of reasons. They can be kept hidden. Besides, it takes very little time to etch a small tattoo design. If yours are the same concerns, then get a small elephant tattoo.
7. Elephant Head Tattoo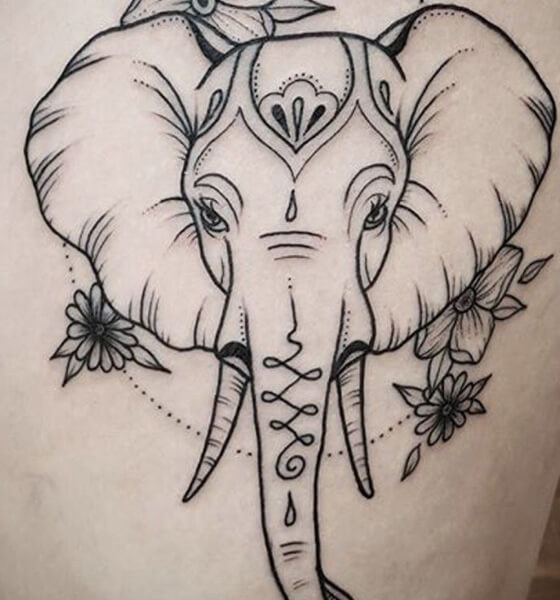 The elephant head is revered in the Hindu religion. Ganesha, the Hindu god of success, is depicted with an elephant's head in Hindu mythology. Elephant head simply represents success, which could be one reason to get an elephant head tattoo etched on your body. It's an ideal tattoo design for all!
8. Elephant Tattoo on Hand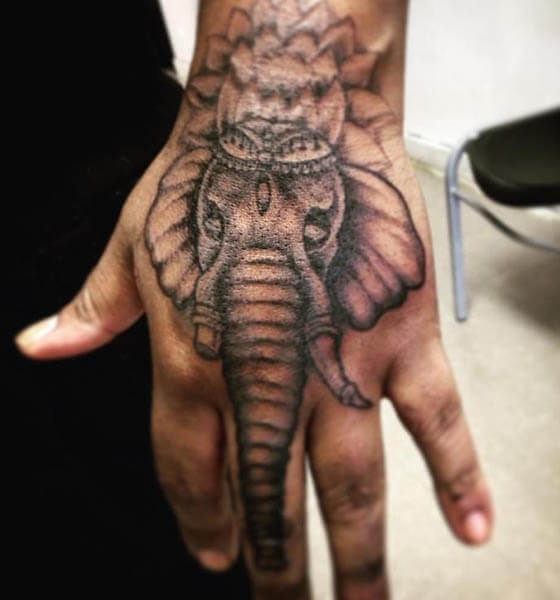 Your hand is an ideal location for an elephant tattoo design. The nicest part about getting an elephant tattoo on your hand is that it can be any size, from miniature to enormous.
9. Polynesian Elephant Tattoo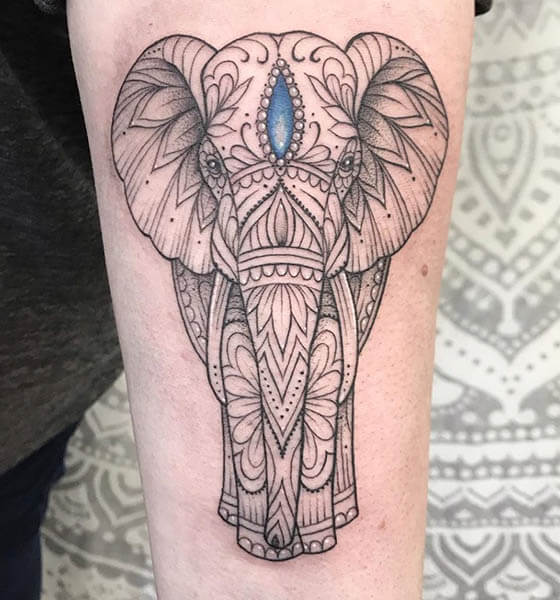 Polynesian elephant tattoos are primarily associated with nature. This design is ideal if you love nature from the core and somehow wish to stay connected to it.
10. Mommy with Baby Elephant Tattoo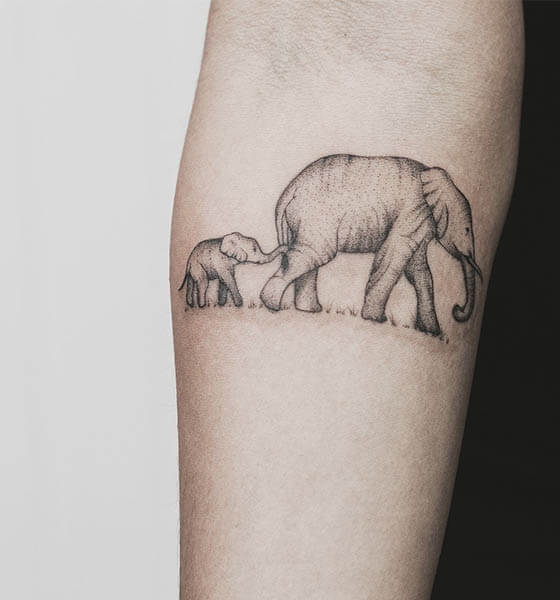 Mommy with baby elephant tattoo design is excellent for those looking for a tattoo to dedicate to their lovely mommy. Get it etched on your shoulder or chest—a beautiful place to ink your elephant tattoo design.
Related: Polynesian Tattoo Designs With Meanings And History
11. Two Elephant Making Heart with Their Trunk Up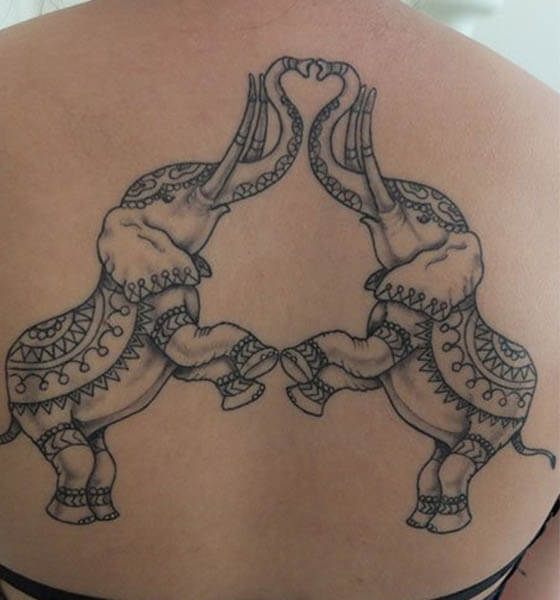 It's an amazing tattoo design for girls. Get it etched on your back, for it is going to be a medium-sized tattoo design.
12. Geometric Elephant Tattoo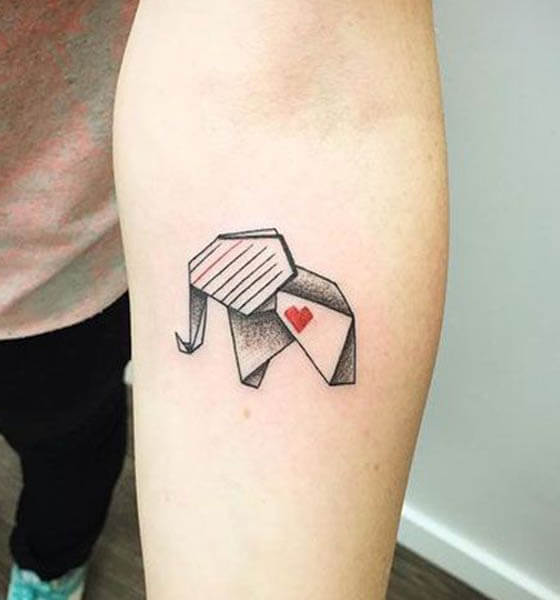 Perfect for those looking for a unique elephant tattoo design. A geometric tattoo design incorporates all the geometric elements, such as triangles, squares, etc., to create a stunning tattoo design. A geometric elephant tattoo etched on your arm will look fabulous.
Also Read: 320+ Fabulous Geometric Tattoo Designs
13. Tribal Elephant Tattoo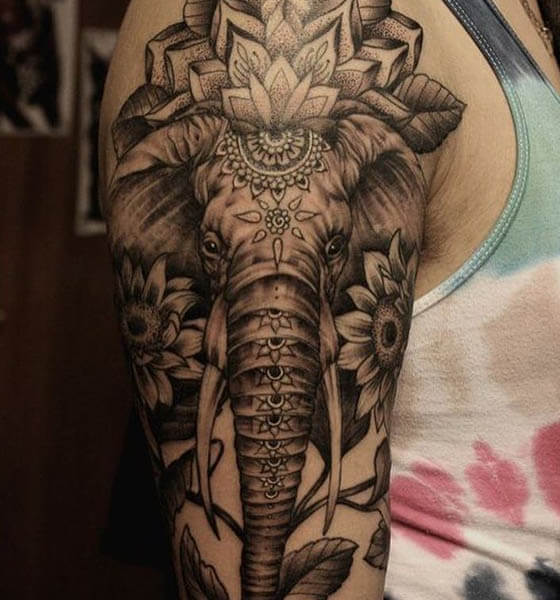 Tribal designs are derived from Native American, Polynesian, and Haida cultures. Tribal elephants are intricate and beautiful. If you're looking for a nature-inspired tattoo design, then this is the one for you, they simply represent a connection to nature.
14. Minimalist Elephant Tattoo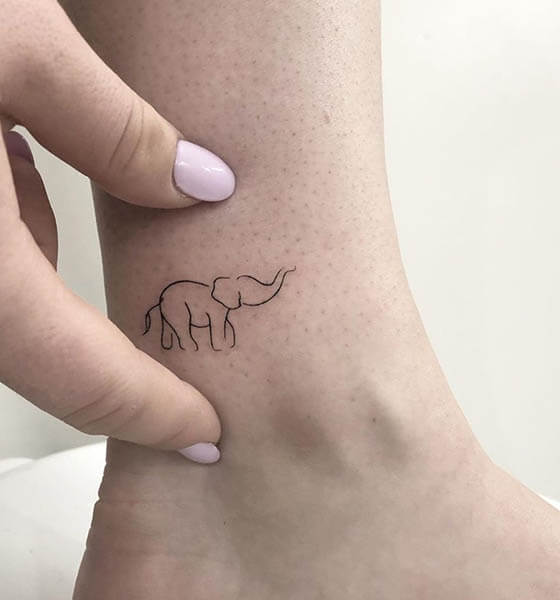 Elephant tattoos can be as intricate or as simple as you want them to be. An elephant tattoo is a terrific choice if your style is more minimalist or you enjoy black-ink tattoos. For a simplified elephant inking, you can consider a line drawing, silhouette, or cartoon elephant.
15. Outline Elephant Tattoo on Chest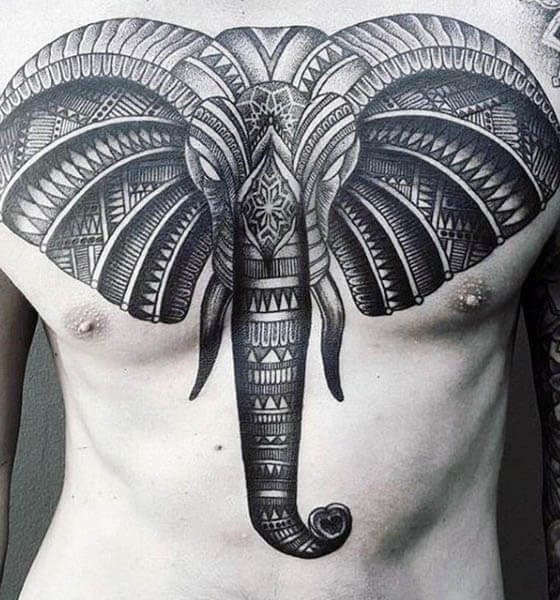 An outline of an elephant is another lovely elephant tattoo design for your chest—a simple yet adorable tattoo design for both males and females.
Related: 280+ Best Chest Tattoo Designs
16. Black Elephant Tattoo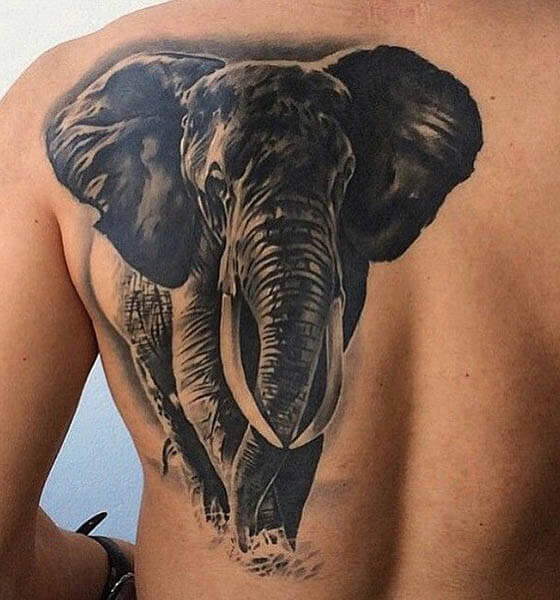 You can have a small black elephant etched on your foot. This is a lovely elephant tattoo idea for both males and females.
17. Mandala Elephant Tattoo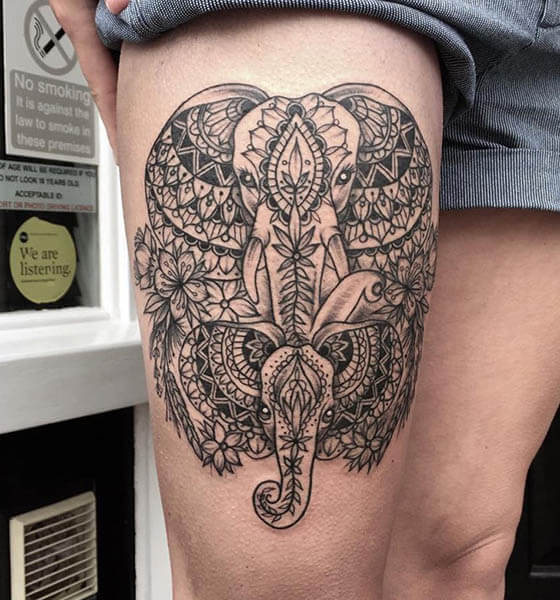 Both elephants and mandalas have spiritual importance. As said earlier, Ganesha is a Hindu god represented with an elephant's head and is connected with new beginnings, success, wisdom, and the removal of obstacles. Meanwhile, mandalas are employed to focus the mind and depict the universe. As a result, a mandala elephant tattoo is an excellent choice for someone who is spiritual and mindful.
18. Elephant Tattoo with Flowers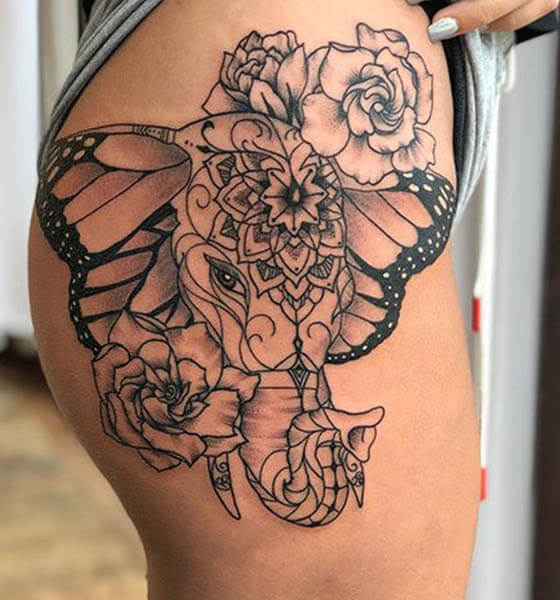 Floral tattoos are quite popular among females. Flowers not only look great as tattoos – and look as well in black or color ink – but they also signify life, death, and love. You can couple your elephant tattoo with your favorite bloom like a rose representing beauty, lotus that denotes spirituality, or an almond flower that symbolizes new beginnings to give it a more profound significance.
19. Asian Elephant Tattoo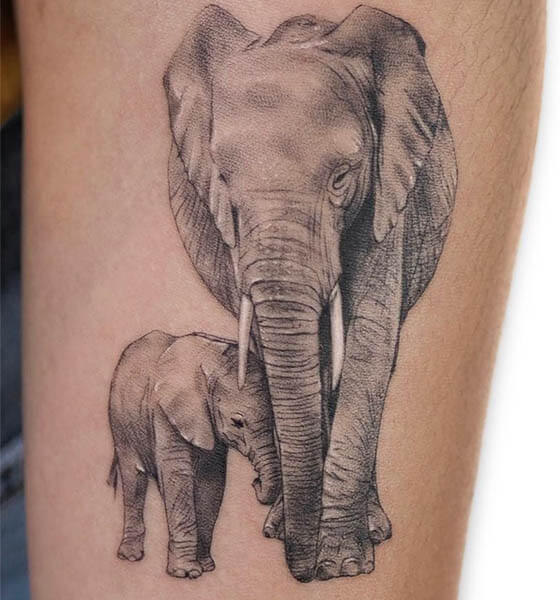 In Indian culture, elephants are revered, and the country is home to thousands of Asian elephants. Ancient kings used to ride elephants that were brilliantly painted and adorned with colorful fabric and jewels. You can also get an Asian Elephant Tattoo etched on your body in medium size.
20. African Elephant Tattoo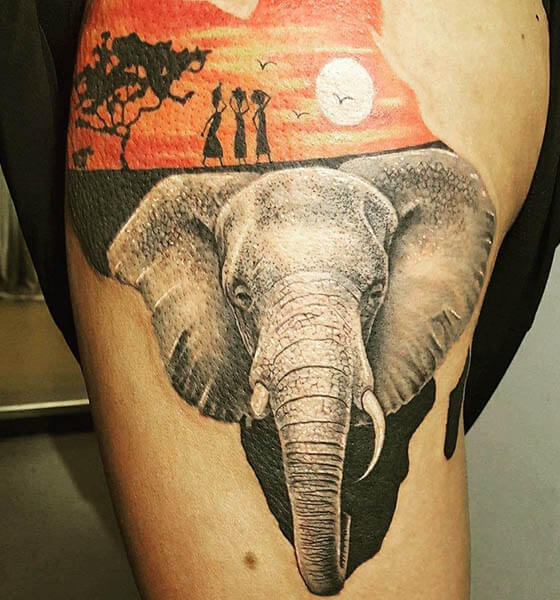 Africa is home to most of the world's elephants; combining African features with your elephant tattoo is a terrific tattoo option. You can have your elephant tattoo along with a savannah background with trees, grass, and a dawn to make it look stunning.
21. Realistic Elephant Tattoo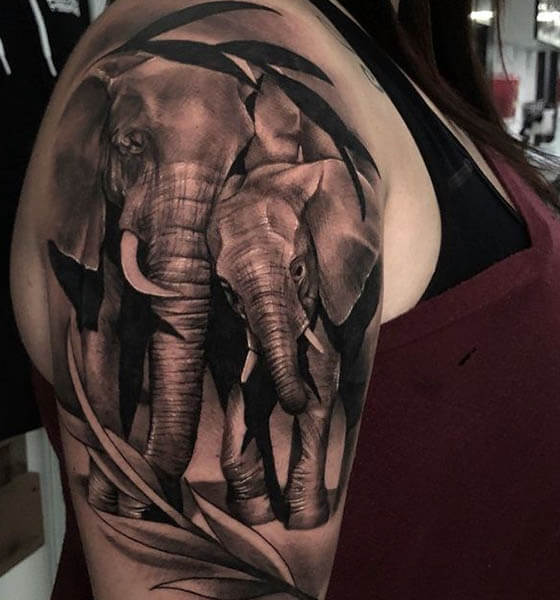 Lastly, a realistic elephant tattoo for you! Realism tattoos have gained immense popularity. It's the finest option for individuals who want an elephant tattoo that looks as authentic as possible. On the other hand, realistic tattoos are more difficult and technical to make than other types of tattoo designs, so it's recommended to choose an experienced artist if you want more extensive work.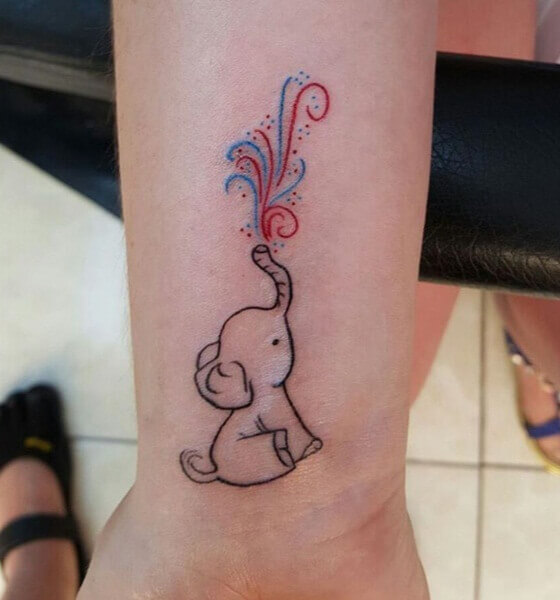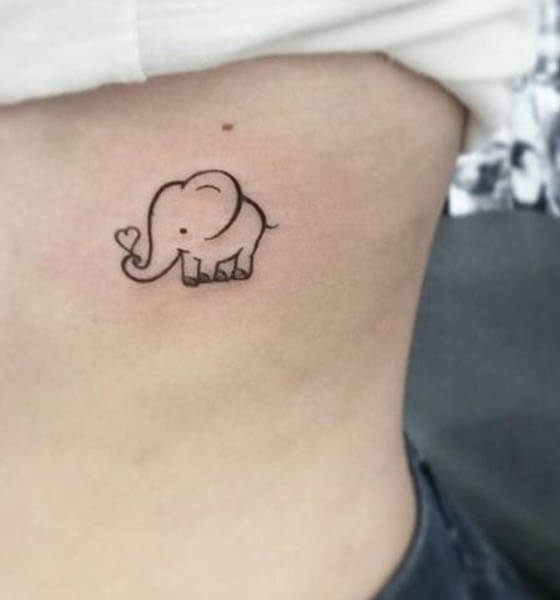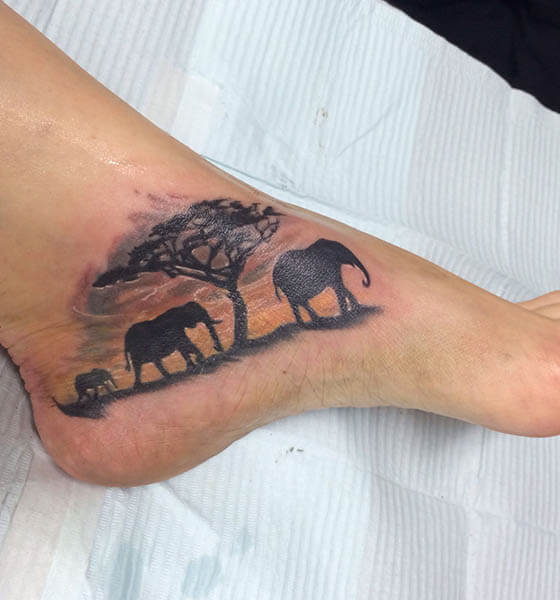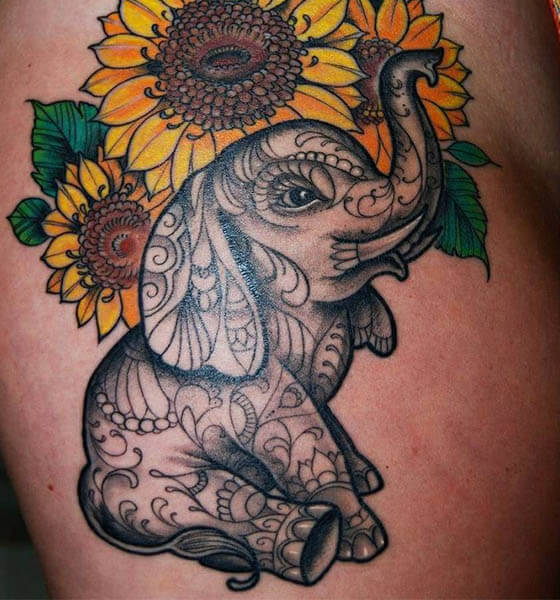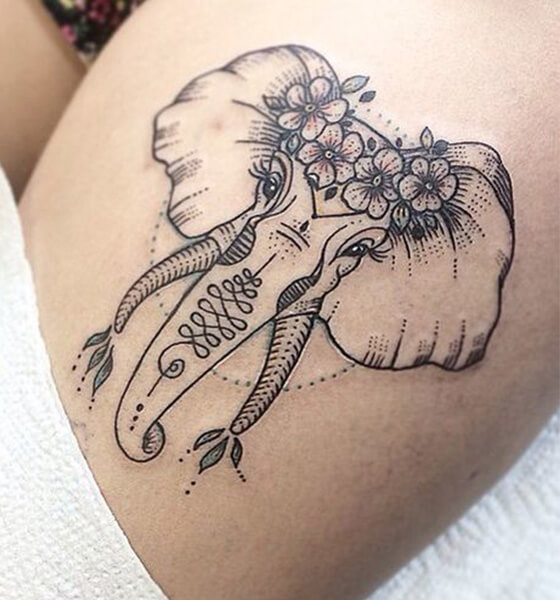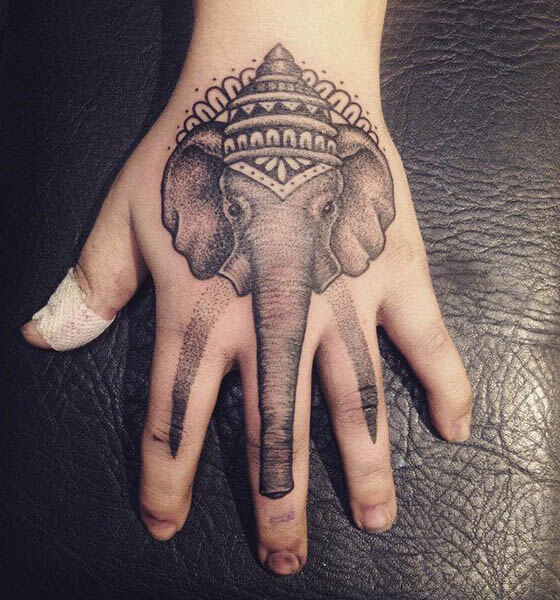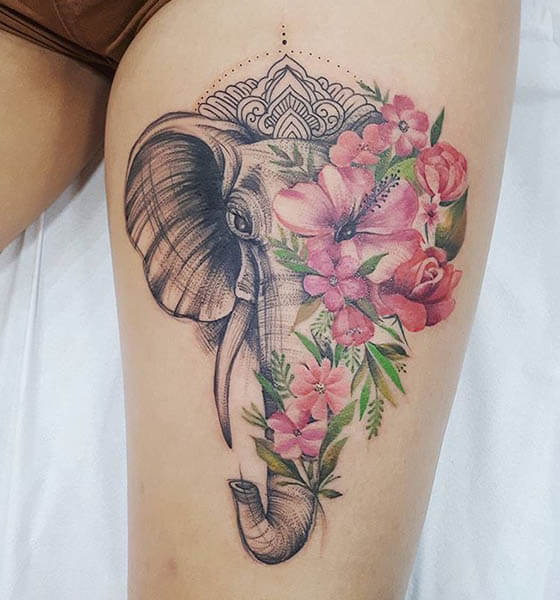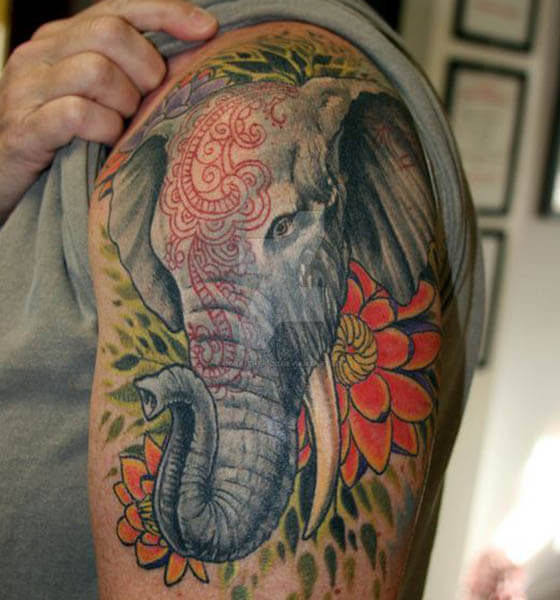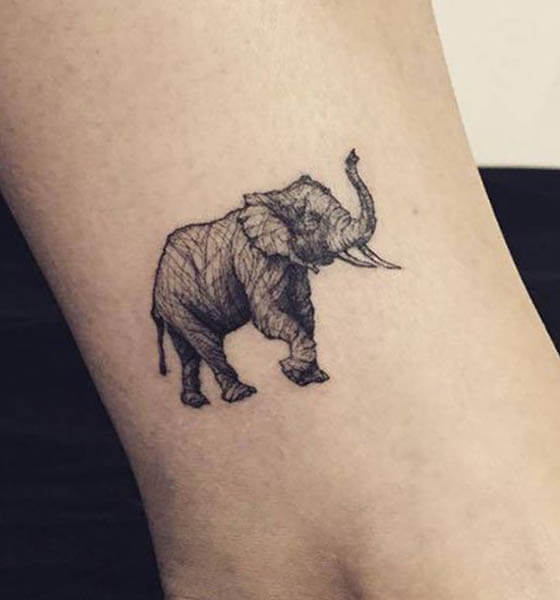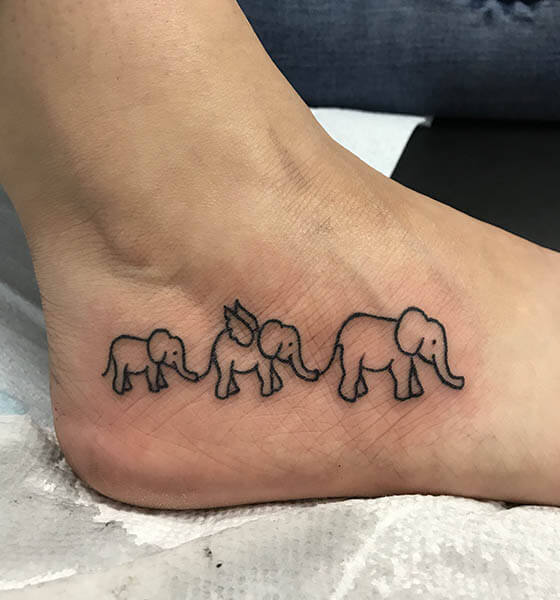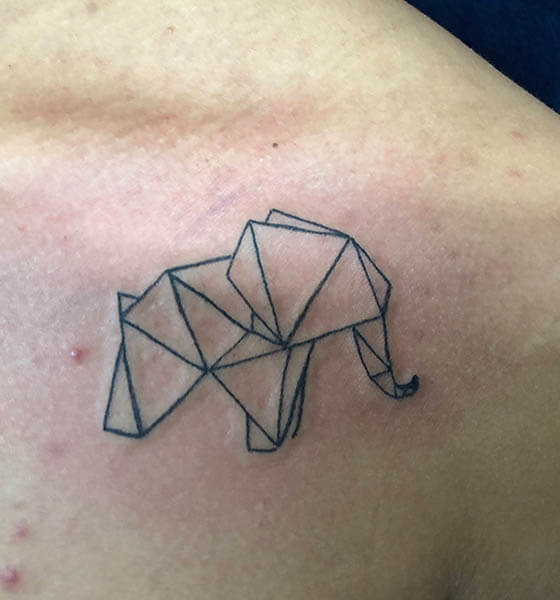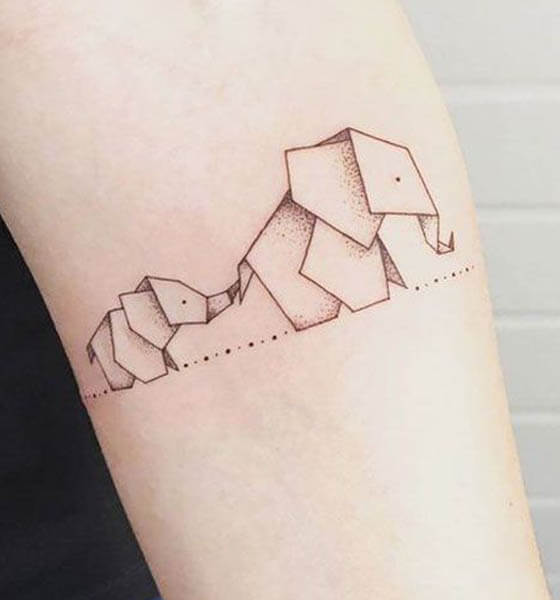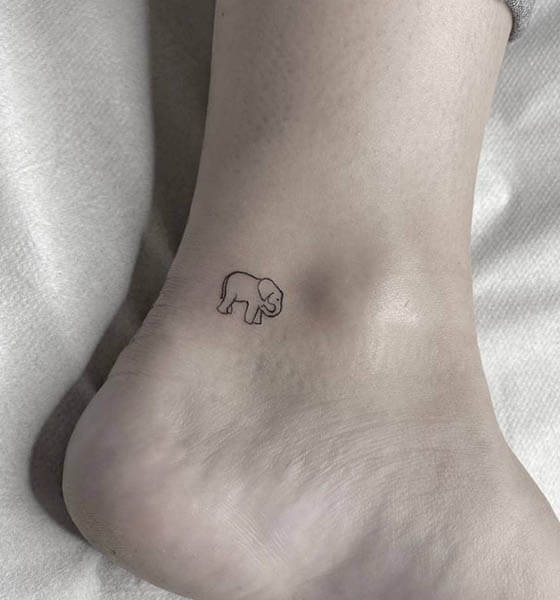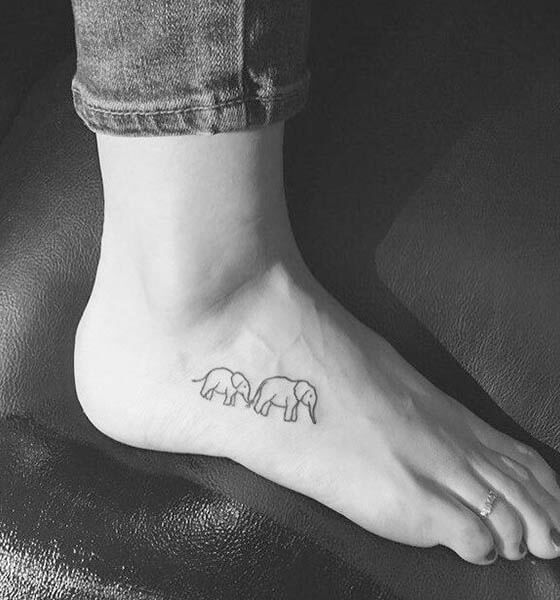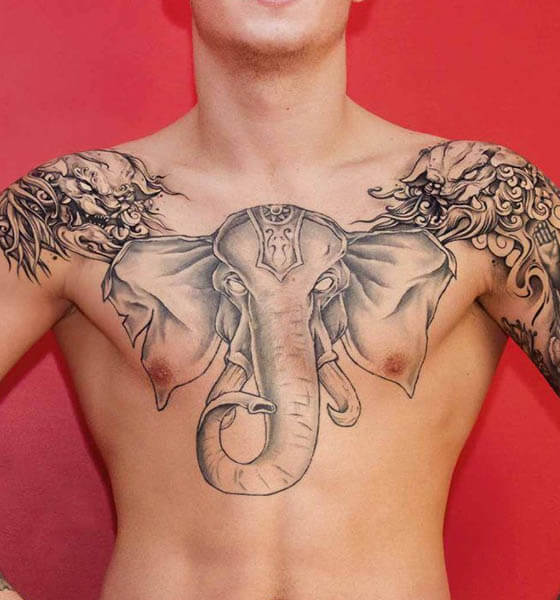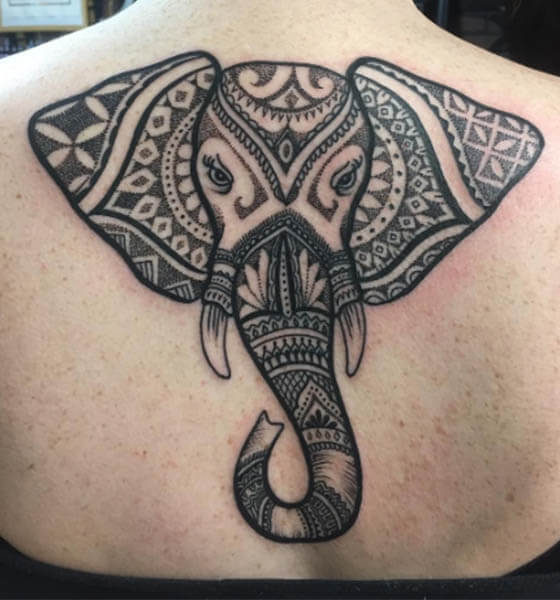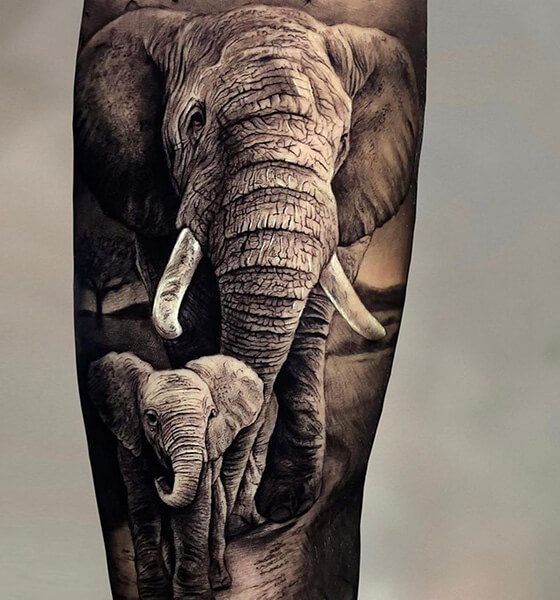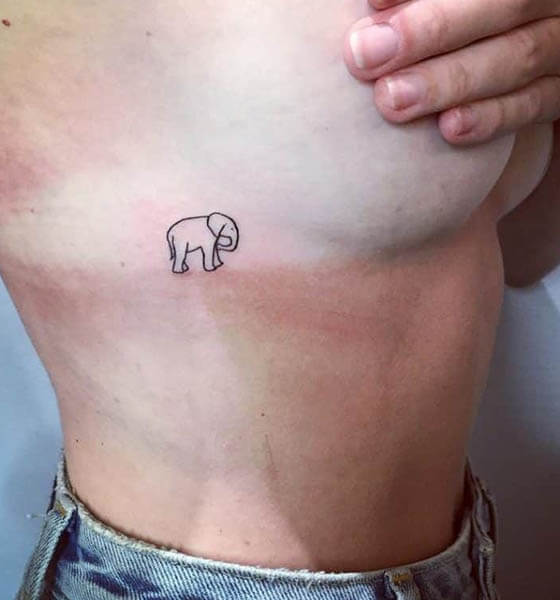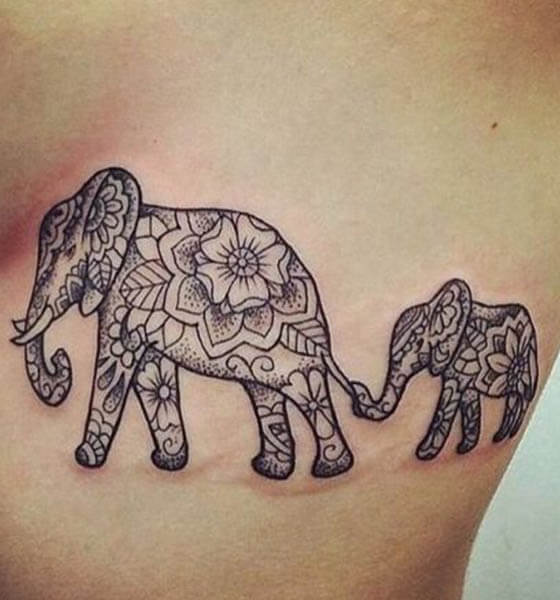 Wrapping it up…
So these are the 40 best Elephant Tattoo ideas for you to get started. Besides these also, there are numerous other elephant tattoo designs that you can try on your skin. All you have to make sure of is to find an experienced tattoo artist for your Elephant Tattoo. An experienced and skilled tattoo artist would be able to give you the design that you have dreamt of.
Think wisely while you choose an elephant tattoo design. Get the one that perfectly suits your needs!!
Happy Tattooing… ☺ ☺
Please follow and like us: