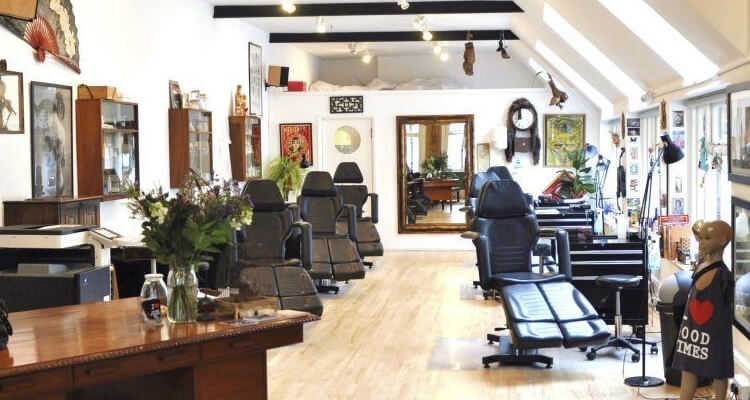 Best Tattoo Studios in London: Where to Get Your Next Tattoo
Posted on
Getting a tattoo is an exciting idea, but it's indispensable to take your time and research the best tattoo studios in your area before you get one. However, if you're wondering where I can get a tattoo in London, then this post is for you.
Here, we have compiled a list of the top 10 tattoo studios in London where you can get your favorite body artwork from.
So, let's get started…
Table of Contents
10 Best Tattoo Studios in London
Vagabond Tattoo
NR Studio
Cloak and Dagger Tattoo London
New Wave Tattoo
Hell to Pay
Good Times Tattoo Studio
Rock'n'Roll Tattoo & Piercing London
The Family Business Tattoo Studio
Frith Street Tattoo Studio
Flamin' Eight Tattoo Studio
Conclusion
10 Best Tattoo Studios in London
1. Vagabond Tattoo
Vagabond provides an open and breezy environment for its clients, which is what makes it so appealing. The studio is located at Hackney Road. Designed by co-owners Paul and graphic designer Rebecca, both of them wanted to have a bright, gallery-style feel. The Vagabond Tattoo team specializes in a variety of design methods, from black work to color Japanese tattoos, fine-line, and neo-oriental themes.
Each resident artist in Vagabond works in a specific genre, such as classic, illustrative, or geometric, and sells their own work.
Address: 471 Hackney Rd, London E2 9ED, United Kingdom
Call @: +44 7966 516868
Email: studio@iamvagabond.co.uk
Website: vagabond.co
2. NR Studio
NR Studio London is a bespoke tattoo shop that is part of a larger chain of high-end studios. Award-winning artists such as Ryan Smith, Denis Torikashvili, and Alex Sanek do breathtaking body artwork here.
Artists here can create a high-quality tattoo in nearly any style. If you need some financial assistance, it's worth noting that they are presently the only tattoo studio in the UK that can offer tattoo financing!
Address: 6 Minerva St, London, E2 9EH, United Kingdom
Call @: +44 20 7175 5898
Email: london@nrstudios.co.uk
Website: nrstudios.co
3. Cloak and Dagger Tattoo London
Cloak and Dagger tattoo studio was founded in 2013 and has only grown stronger since then. If you're looking for oriental or Japanese-style tattoos, this is possibly the best studio on the list. However, like with all great studios, that's not all they do, and they indeed have excellent neo-traditional and black and grey realism artists. Cloak and Dagger tattoo studio is home to many famous tattoo artists, including Hugh Sheldon, Luke Jinks, Al Boy, and so on.
Address: 34 Cheshire Street, E2 6EH, London, United Kingdom
Call @: +44 20 7175 0133
Email: enquiries@cloakanddaggerlondon.co.uk
Website: cloakanddaggerlondon.co
4. New Wave Tattoo
New Wave Tattoo is a London institution in the suburb of Muswell Hill. Inked everyone from celebrity footballers and music singers to punks and mods since its inception, the New Wave tattoo studio is one of the best places to get body artwork. It was created in the late 1970s by tattooing heavyweight Lal Hardy. This studio features six outstanding tattoo artists that are skilled in a variety of styles. New Wave Tattoo may appear unassuming from the outside, yet it has quickly established itself as one of the city's most trusted tattoo shops.
Address: 157 Sydney Rd, London N10 2NL, United Kingdom
Call @: +44 20 8444 8779
Email: Not available on the internet.
Website: newwavetattoo.co
5. Hell to Pay
Hell to Pay is yet another wonderful tattoo studio on the list. Reka, a Hungarian woman with a passion for tattoos and piercings, founded Hell to Pay in 2010. She chose to pursue a new enterprise in the South of France after 8 years of establishing Hell to Pay into a well-respected tattoo studio, giving the reins over to Nova, then-shop manager.
With its dark wood flooring and tiling, it fits right in with Camden Town's oddball atmosphere. People come here for high-quality bespoke tattoos, with a concentration on traditional sailor-style themes as well as modern and neo-traditional alternatives. Hell to Pay also provides customized service and a selection of piercings and high-quality jewelry.
Address: 188 Camden High Street, London, UK, NW1 8QP
Call @: +44 7707 085 195
Email: hell2paycamden@gmail.com
Website: helltopaystudio.com
6. Good Times Tattoo Studio
Nikole Lowe's Good Times Tattoo studio, which was opened in 2009, is unlike others in the city because it is a light and pleasant place to be. This tattoo studio in East London is known to have some of the city's best tattoo artists, including Nikole Lowe of London Ink. Good Times Tattoo studio offers a serene atmosphere to its clients. The moment you enter the parlor, you'll notice Buddhas on the walls and large windows that let in a lot of light, all of which contribute to a relaxing ambiance before getting inked. However, you'll need to be patient because the wait times can be lengthy.
Address: 147 Curtain Road, London EC2A 3QE, United Kingdom
Call @: +44 20 7739 2438
Email: hello@goodtimestattoo.co.uk
Website: goodtimestattoo.co
7. Rock'n'Roll Tattoo & Piercing London
Rock'n'Roll Tattoo & Piercing London is one of the numerous studios in the UK belonging to possibly the largest franchise of studios in the UK. In 2006, Rock'n'Roll Tattoo and Piercing made its debut in Edinburgh, Scotland's capital. It is now a well-established company with six studios in the United Kingdom (Edinburgh, Glasgow, Dundee, Newcastle, London, Musselburgh, and Southampton) and another six studios in Poland.
They have artists who specialize in various styles, including realistic, Japanese, Neo-traditional, Traditional, Dotwork, and Illustrative tattooing, to mention a few. Each month, they bring in a variety of outstanding Guest Artists to work in each of their studios, allowing their clients to get tattooed by the top artists in their respective styles.
Address: 203 Lea Bridge Rd, Walthamstow, London, E10 7PN, United Kingdom
Call @: +44 333 303 4799
Email: london@rocknroll-tattoos.com
Website: rocknroll-tattoos.com
8. The Family Business Tattoo Studio
The Family Business Tattoo studio was opened in 2003 in the heart of London to create a fresh environment for tattoo fans, a business with a different approach, and a unique atmosphere. Since then, the Family Business has grown to become one of the top studios in the city, as well as a prominent presence in the worldwide arena. The studio was founded with the goal of maintaining and improving strong creative standards. Every piece in the Family Business tattoo studio is custom-made to order. So don't hesitate to take in any design or idea for reference.
Address: 58 Exmouth Market, EC1R 4QE, London, United Kingdom
Call @: +44 207 278 9526
Email: info@thefamilybusinesstattoo.com
Website: thefamilybusinesstattoo.com
9. Frith Street Tattoo Studio
This tattoo parlor in Soho first opened its doors in 2004 and has been a huge success ever since. The studio is home to great resident tattooists, such as Stefano, Jordan, Oliver, Miles, Bradley, Dan, and Ash, and legendary artists like Frank Carter frequently visit the studio as guest artists. Undoubtedly, you're going to leave the studio with a gorgeous piece of custom artwork. Their creations range in size from a hand tat to a Japanese bodysuit. They don't book appointments on the phone or via email. To get your tattoo session booked, you'll need to visit the studio personally.
Address: 18 Frith Street (basement), Soho, London W1D 4RQ, United Kingdom
Call @: +44 2077348180
Email: frithstreettattoo.london@gmail.com
Website: frithstreettattoo.co
10. Flamin' Eight Tattoo Studio
Lastly, on the list, we have Flamin' Eight Tattoo Studio. This popular London hotspot, which opened in 1998, features world-renowned artists as well as local talent, giving you the best selection of quality tattooing in town. Their artists are proficient in a variety of techniques, with a focus on traditional, modern, Japanese, and realistic. Flamin' Eight Tattoo Studio is a clean, creative atmosphere filled with art and inspiration that will transport you to a bygone era of tattooing while still providing all of the modern conveniences that will put you at rest. Here, you'll have a pleasant and memorable time.
Also Read: Top 5 Tattoo Removal Places In London
It's an appointment-based tattoo studio, which means you need to take an appointment prior to getting one. Their fee is determined by the piece you like, and they guarantee that you will receive the greatest service at a reasonable price. You can visit their shop or write them an email to schedule an appointment. All scheduled appointments require a deposit as well.
Address: 2 Castle Rd, Kentish Town, London NW1, United Kingdom
Call @: +44 20 7267 7888
Email: flamineight@hotmail.com
Website: flamineight.co
Wrapping it up…
So there you have it: the top ten tattoo studios in London where you can get a tattoo. All of these are well-known tattoo studios recognized for their one-of-a-kind body artwork. The best part is that these studios are home to highly competent and experienced tattoo artists famous in their field.
Besides these, there are numerous other studios where you can get your tattoo done. But make sure to do thorough research before you book an appointment for your tattoo.
Happy Tattooing… ☺ ☺
Please follow and like us: