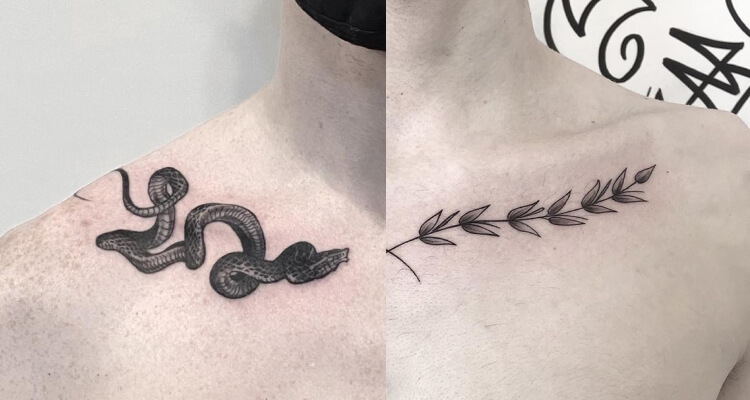 Top 15 Statement Collarbone Tattoos for Men
Posted on
Tattooing has become a great way for men to define their personality and nature. Collarbone tattoos are one of the hottest trends in body art today, offering bold visuals that draw attention to your neckline. Tattoos on the collarbone can be subtle or dramatic depending on what you're looking for, creating an eye-catching accent that adds pizzazz to any formal look.
From traditional black ink designs with meaningful symbols or words to vibrant pops of color featuring intricate patterns – no matter who you are, there is a perfect design out there just waiting for you! Your new tattoo will serve as a personal statement and fashion accessory all year round, ensuring it turns heads wherever life takes you next! In this blog, we go through collar bone tattoo for men.
Here are a few of the finest collarbone tattoo ideas for men
1. Abstract Collarbone tattoo
As men become more fashion-conscious, abstract collar bone tattoos men have increased in popularity as a way to express personal style. But the real challenge comes when professional styles must be considered while making this statement. For such individuals, abstract collarbone tattoo designs serve as great solutions, offering an eye-catching look with subtlety and professionalism for any environment – from corporate events or meetings to casual settings like outdoor picnics or beach days.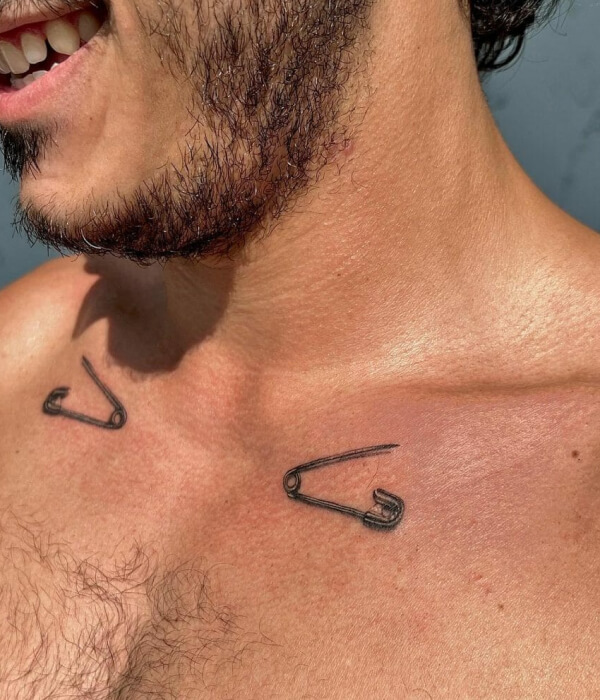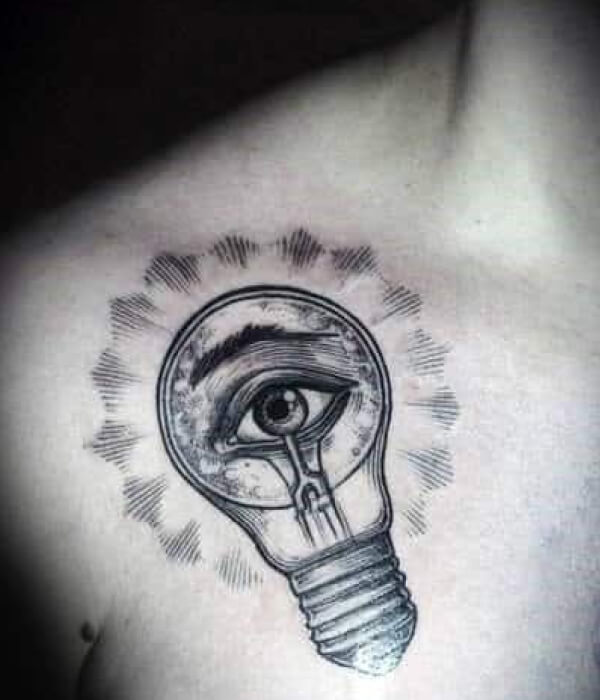 Abstract designs are visually appealing and come in all sizes, too, so they can still make a bold statement without being overbearing! With both stylishness and sophistication considered, there's no doubt that these ink art pieces will prove their timeless worth with staying power even into the future of men's fashion trends.
2. Mandala Collarbone tattoo
The mandala tattoo is an increasingly popular choice for men collarbone tattoo to make a statement of power and inner strength. Not only does the circular design symbolize protection, balance, and unity – but it also looks incredibly stylish when inked onto one's collarbone area.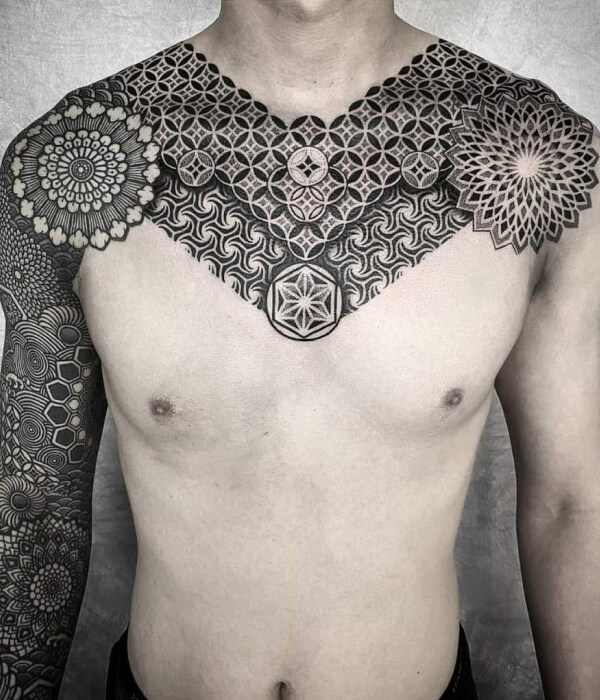 Whether you choose unique colors or black stippling work – this type of body art can create a stunning accent piece that will draw attention wherever you go! With so many options available today, there's sure to be something perfect waiting just around the corner for any man who wants to add even more pizzazz to their style!
3. Collarbone Wing Tattoo
A collarbone wing is now becoming popular among men. It has a subtle yet attractive impact and adds an air of confidence to its wearer. A faint outline can be interpreted as strength, protection, or faith, making it ideal for men who want their body art to reflect their values without being too overwhelming.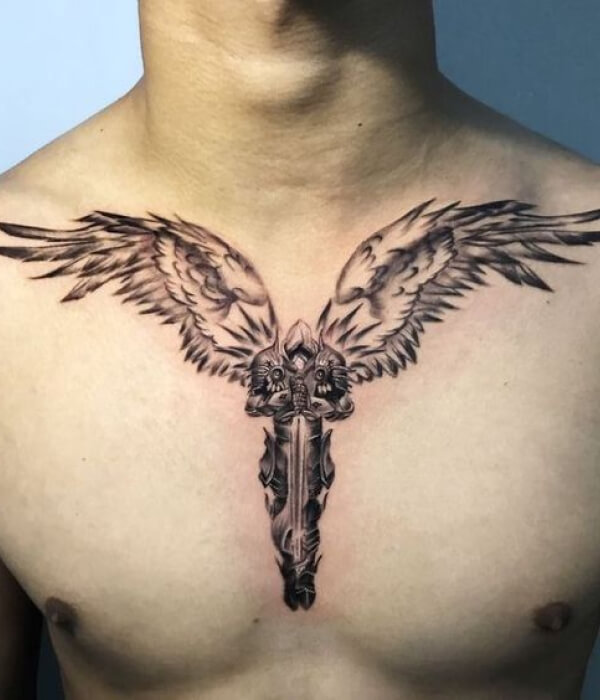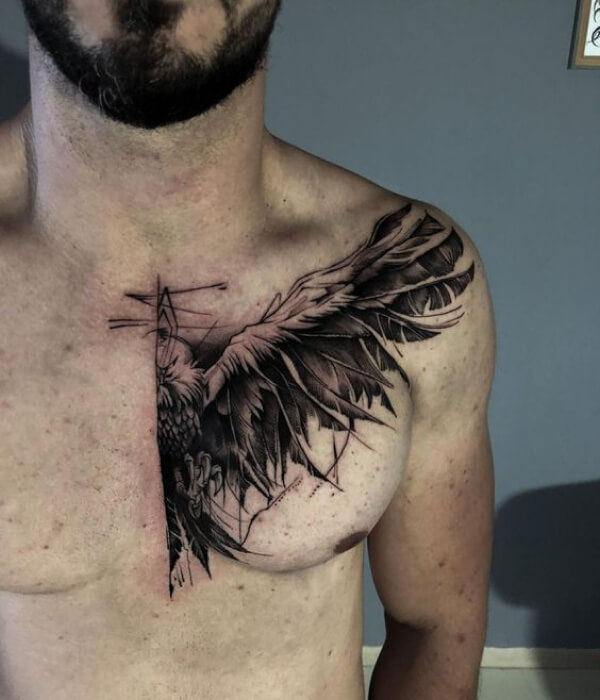 The shape and size of this type of tattoo also make it highly appealing, giving it a sense of minimalism that can fit any fashion style while maintaining its visual complexity. With this modern twist on traditional ink patterns, you will stand out with your unique expression! It's a unique collarbone tattoo for men.
Also See: Discover 25 Best Wings Tattoo Ideas for Men and Women
4. Minimalist Collarbone Tattoo
For men looking to make a professional statement without going overboard with ink, minimalist collarbone tattoos may be a perfect choice. With barely-there designs that are both stylish and subtle, these simple body art pieces can easily express personality without sacrificing an aura of classiness.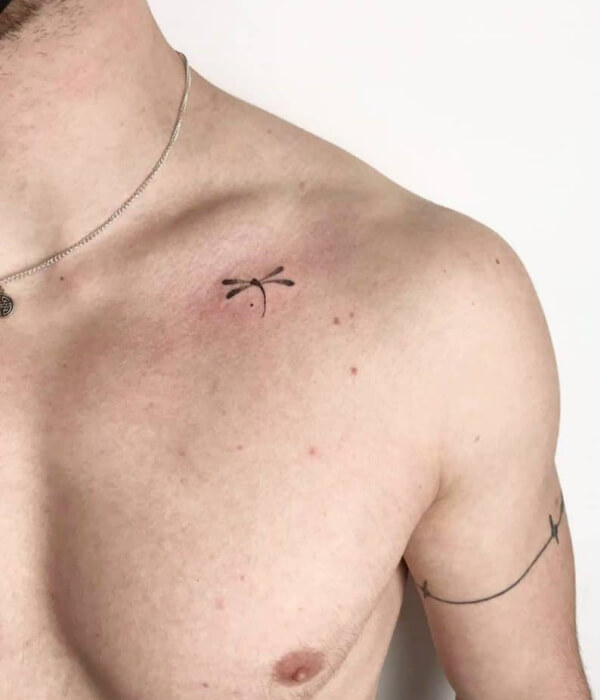 Whether it's a written phrase or a hidden geometric design beneath your clothing – minimalistic tattooing is an ideal way for modern professionals to show off their true colors while staying corporate-appropriate! It's one of the best mens collarbone tattoos
5. Tribal Collarbone Tattoo
Tribal collar bone tattoos men are becoming increasingly popular in today's society. Providing a unique twist on traditional ink designs, these tattoos offer the wearer an expression of personal style and identity that closely follows his tribal roots.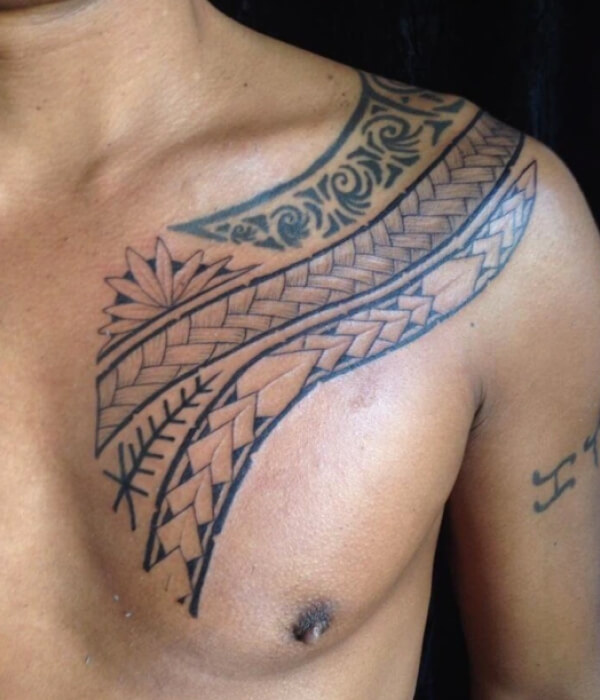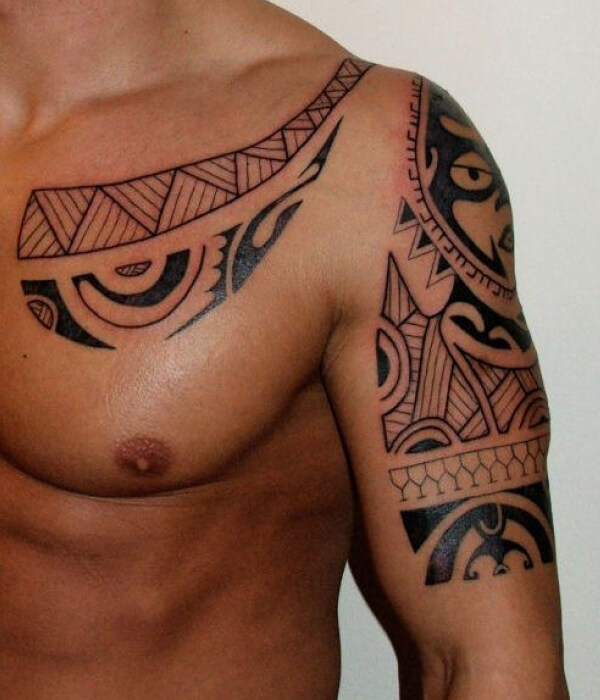 Choosing smaller-size tattoos with a minimum color palette is important to give you a more professional look when going to work or attending special occasions. This will help ensure your tattoo does not dominate your appearance while allowing you to express yourself without compromising job opportunities or other obligations outside of body art appreciation and enjoyment!
6. American Tradition Collarbone Tattoo
For centuries, American men have adorned their skin with tattoos. But one particularly unique and thought-provoking style is that of men collarbone tattoo. This type of body art traditionally encompasses the area from just below the neckline to just above the shoulder line – providing an exciting touch and accentuating natural curves in this part of the body.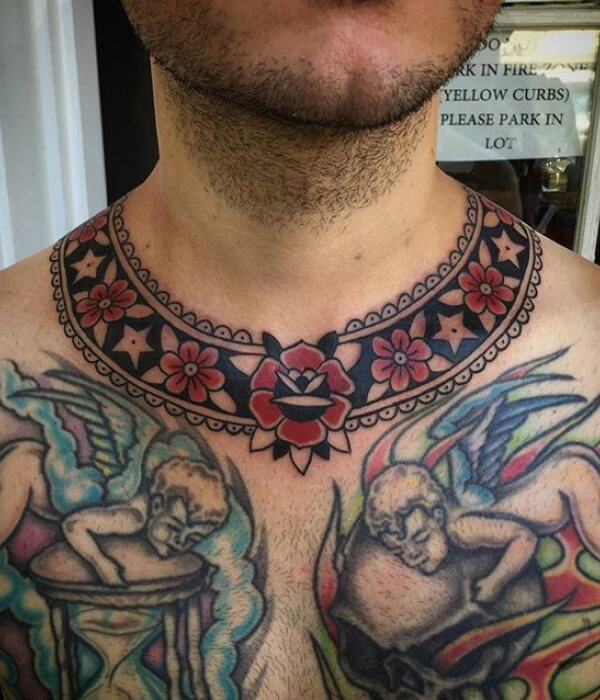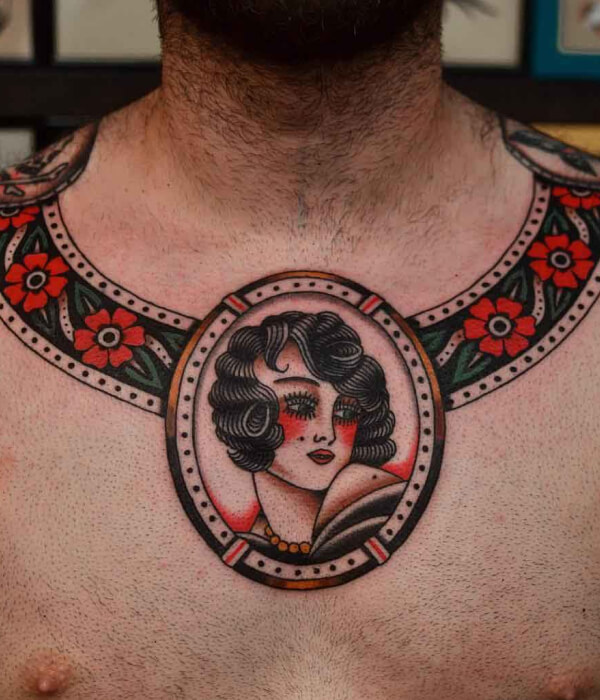 While some prefer traditional designs such as roses or anchors for these types of tattoos, others choose more modern motifs like geometric shapes – each conveying something meaningful about themselves. With plenty of options, creating your personalized statement can be easily achieved through a well-designed collarbone tattoo!
7. Bird Collarbone Tattoo
Getting a bird collar bone tattoo male is an excellent way for men to make a daring statement without going over the top. It's subtle and incredibly stylish, yet still unique enough to stand out in any situation. With vibrant colors that can be tailored specifically for each individual's taste, it's easy to create the perfect look that will draw attention wherever you go.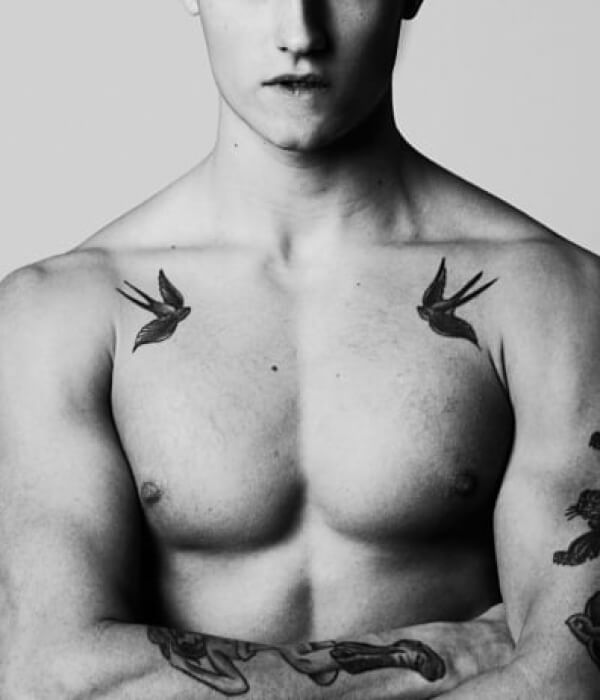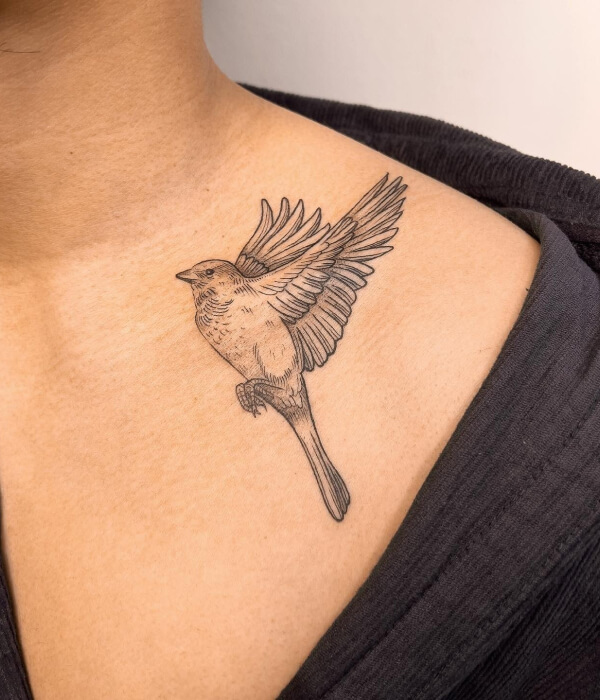 A professional expert with years of knowledge can help ensure your design turns out exactly as expected – ensuring your new collarbone tattoo looks its best!
Also See: Top 30 Gorgeous Phantom Troupe Tattoo Designs And Ideas
8. Leaves and Flowers Collarbone Tattoo
Leaves and flower tattoos have become famous for men collarbone tattoo in recent years. Collarbone tattoos combined with these natural symbols can create an elegant, sophisticated look while appearing professional in the workplace. From delicate dandelions to striking roses or vigorous vines – there's something special about having a piece of nature permanently etched into your skin that expresses who you are as an individual.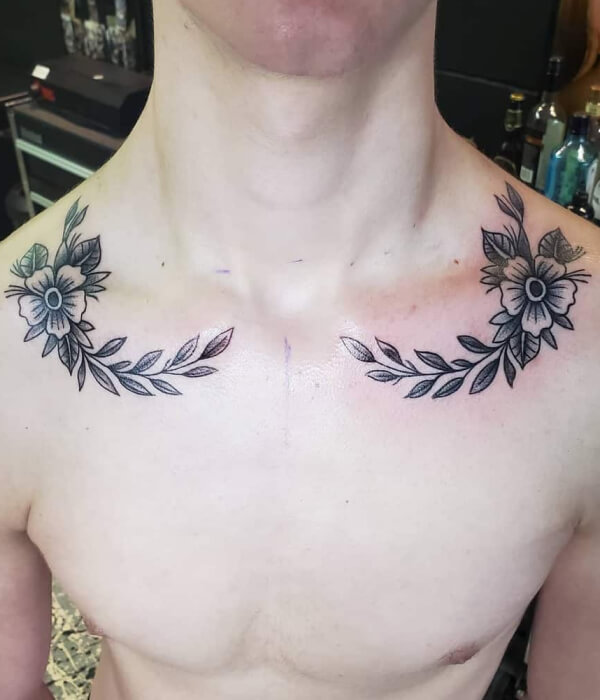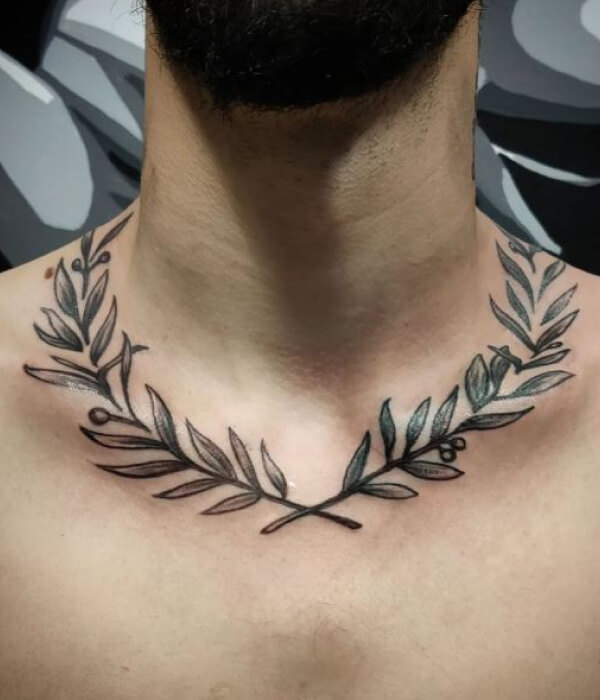 Plus, collarbone tattoo designs take advantage of being easily covered up, if necessary, by clothing without unnecessarily obscuring other parts of the body! Whatever design you choose will make a statement and turn heads wherever it goes. It's the best collarbone tattoo for men.
9. Feather Collarbone Tattoo
Feather mens collarbone tattoos are popular for men looking to add something unique and attractive to their body art. These delicate yet bold designs often feature intricate details, from shading to lines created with such precision that it looks like the feathers have been plucked right off of a bird's wings!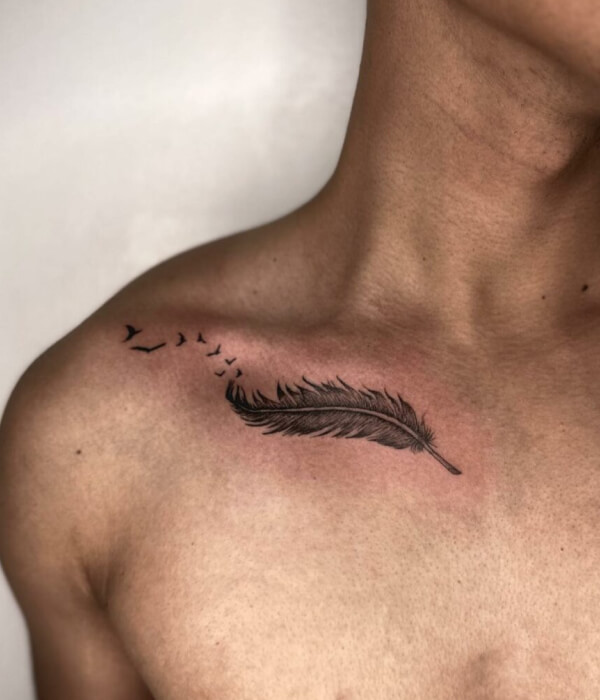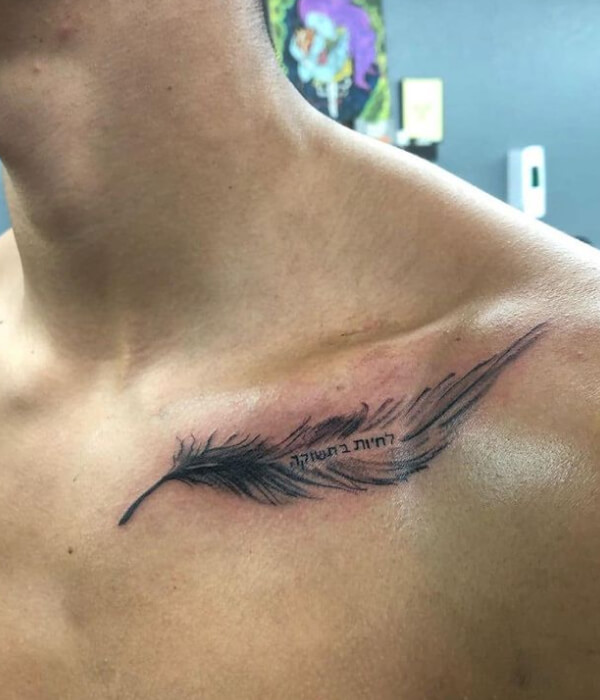 Not only do they look stunning, but they can also signify different meanings, depending on the wearer's interpretation. With its ability to be professional-looking while still having an edge, feather tattoos offer unparalleled versatility – allowing you to express yourself like any other tattoo style today!
10. Rose Collarbone Tattoo
Rose collar bone tattoos men are becoming famous among men. Such a tattoo can help exhibit an individual's boldness and confidence while demonstrating their non-traditional approach to life. Plus, rose tattoos represent strength and longevity despite being dainty at first glance; you don't have to opt for the overtly masculine eagle or dragon designs that could make your office peers uncomfortable!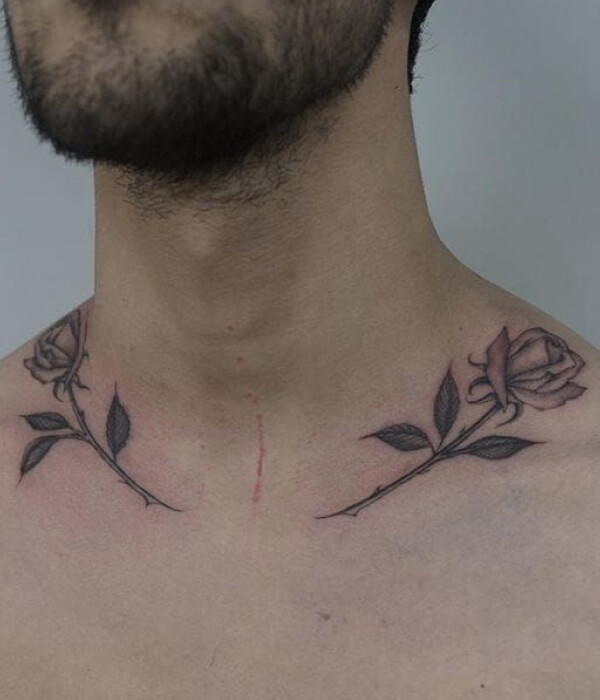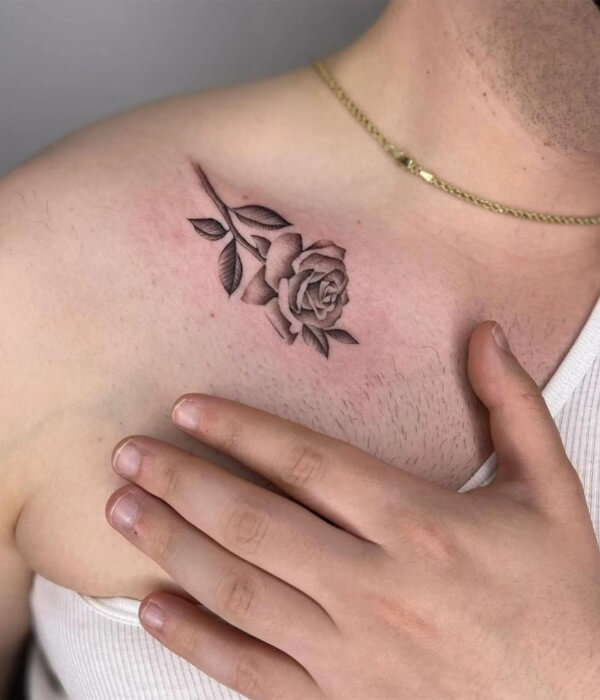 A carefully chosen rose design looks stylish yet subtle enough not to draw too much attention away from your performance – perfect when dancing on the thin line between expressing individuality without overstepping the mark of professionalism!
11. Collarbone Script Tattoos
Collarbone script tattoos for men are an increasingly popular way to express personality and style. This type of tattoo typically features stylish writing with various fonts and sizes, making it a standout choice amongst professionals who want something unique yet classic.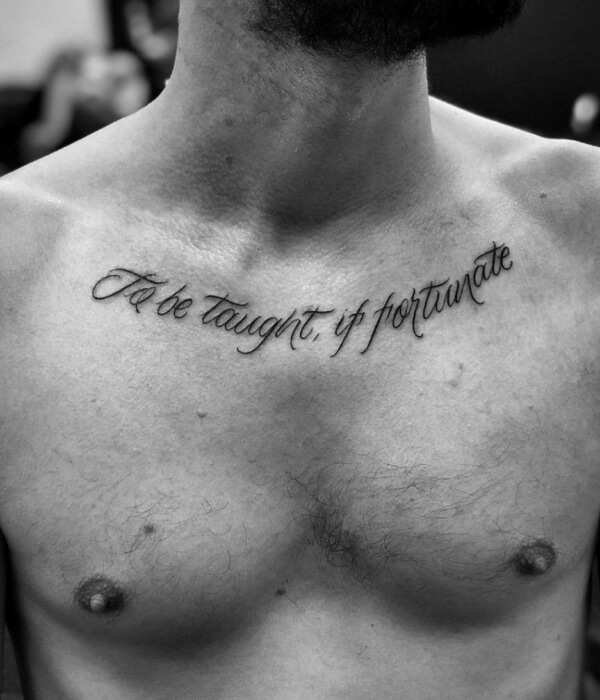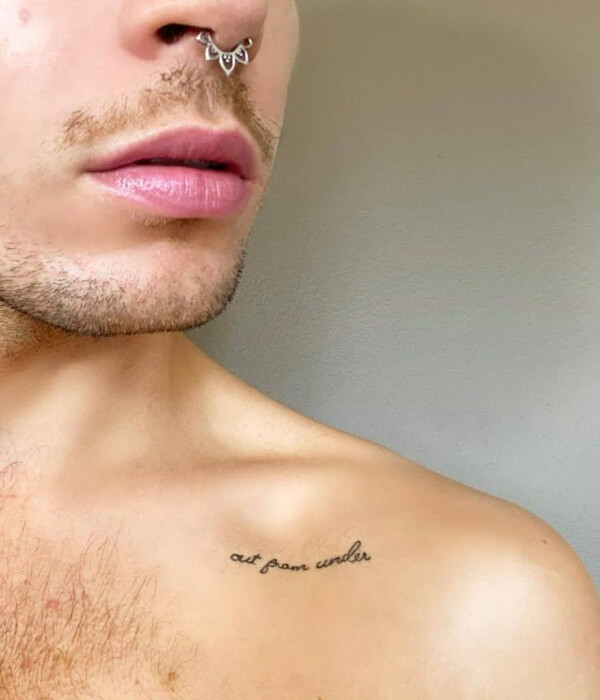 o crowded together. With so many designs available now that fit any man's sense of style perfectly – from elegantly written quotes to ornate symbols – this kind of body art is sure to remain a trend both at work and off duty! It's the best idea for mens collarbone tattoo.
12. Animal Collarbone Tattoo
Animal collarbone tattoo is a modern trend for men who want to express themselves excitingly and uniquely. It's the perfect location for professional tattoos that only need a little space but still have enough room to showcase your creativity. Animal-themed designs are increasingly popular because they bring out more personality than other designs – showing off strength, agility, and intelligence all at once!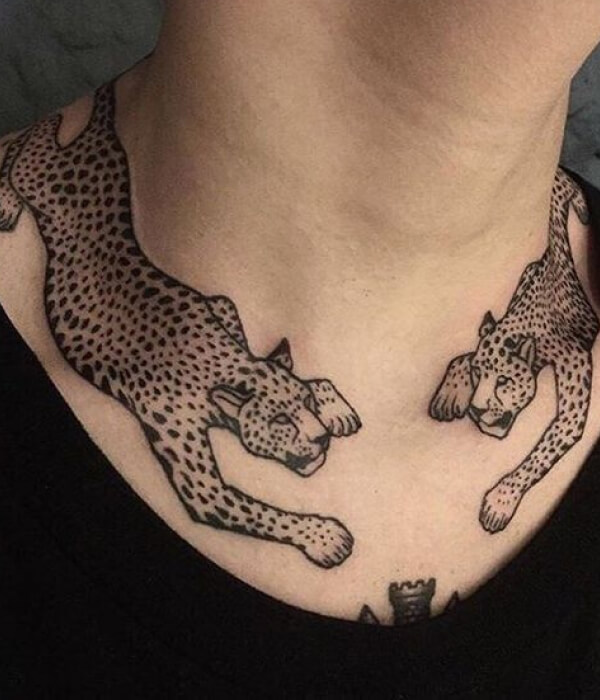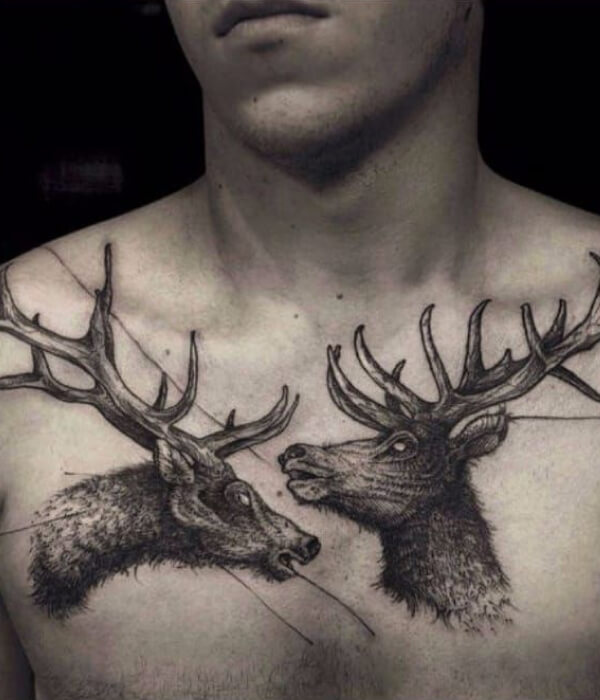 From traditional tribal symbols of power or animals like lions or animals associated with protection, these carefully crafted works of art can be significant pieces if designed well. Collarbone animal tattoos allow you to stand out from others without being too bold compared to large body pieces–giving you a subtle yet impactful look sure to turn heads everywhere! It's the best men collarbone tattoo.
13. Chicano Script Collarbone Tattoo
The Chicano Script Collarbone Tattoo has become increasingly popular among men in professional industries. This clean and stylish tattoo is a great way to make an impression without being too obvious. The Chicano Script can add personality to any wearer's style, whether for its classic look or subtle messaging.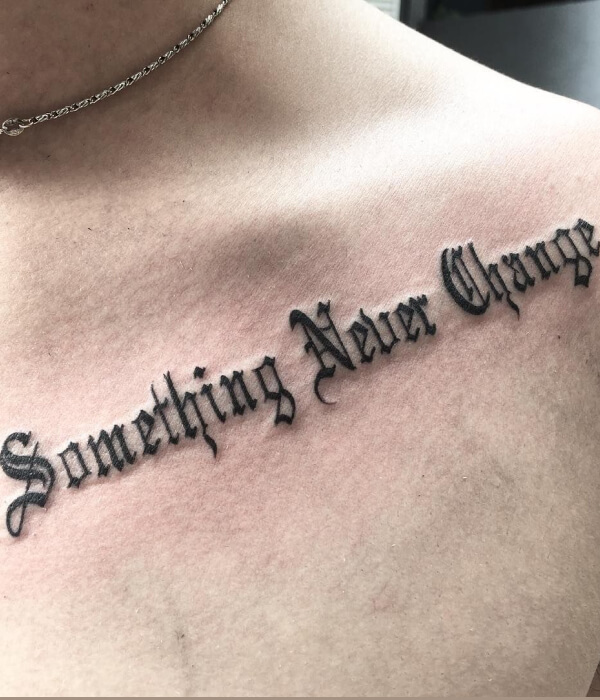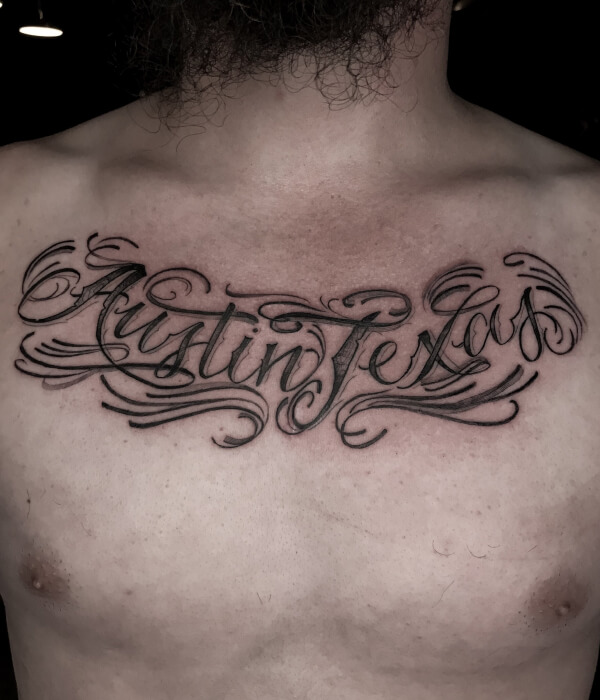 It also offers flexibility regarding placement as the collarbone region gives plenty of room to write out several words or phrases without having them to
Perfectly placed on the collarbone, this timeless design never fails to be noticed yet blends seamlessly into everyday life – it's one of those tattoos you won't regret! It doesn't scream attention but instead brings out your inner edge like nothing else can; perfect for anyone who wants something fresh and unique that still looks professional! It's the best collarbone tattoo male.
14. Butterfly Collarbone Tattoo
A butterfly collar bone tattoo for men is an excellent choice for professional men looking to express their style in the workplace. It's subtle enough that it won't draw too much attention, yet it still makes an impactful statement and serves as a unique aesthetic accent.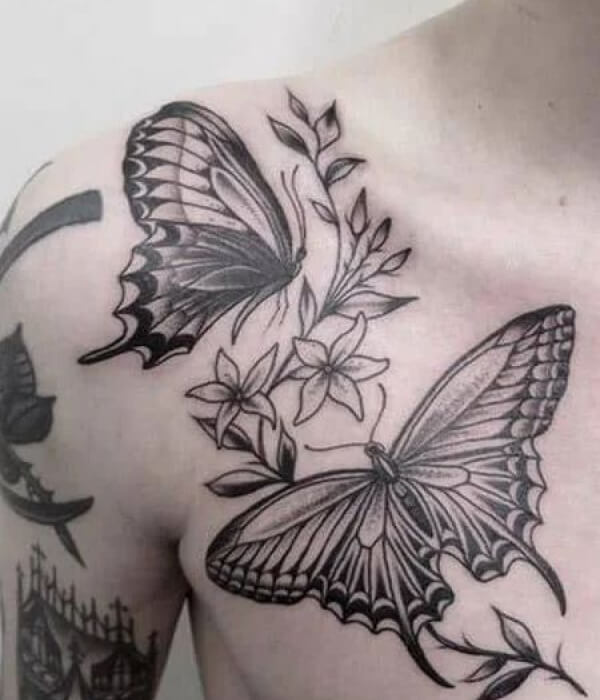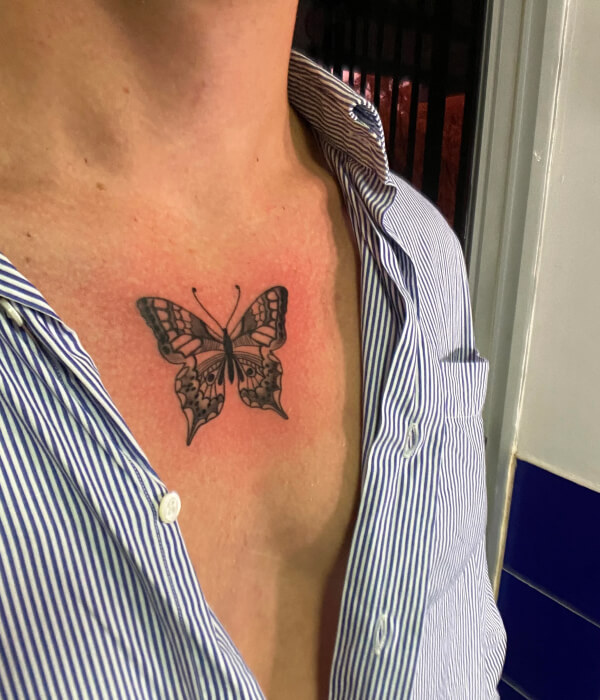 Many creative designs are available when selecting a butterfly collarbone tattoo design – from traditional black ink patterns to vibrant colors or intricate details like metallic elements – creating countless possibilities for expressing yourself through art on your body! Whatever you choose, this type of ink will ensure you stand out without compromising professionalism.
15. Boat Collarbone Tattoo
Tattoos have become famous among males in current years. Boat collar bone tattoo for men is one of the hottest trends for guys who want to stand out and make a statement. With its cool, stylish appearance, it's no surprise that this type of tattoo has rapidly grown in popularity among modern professionals and trendsetters.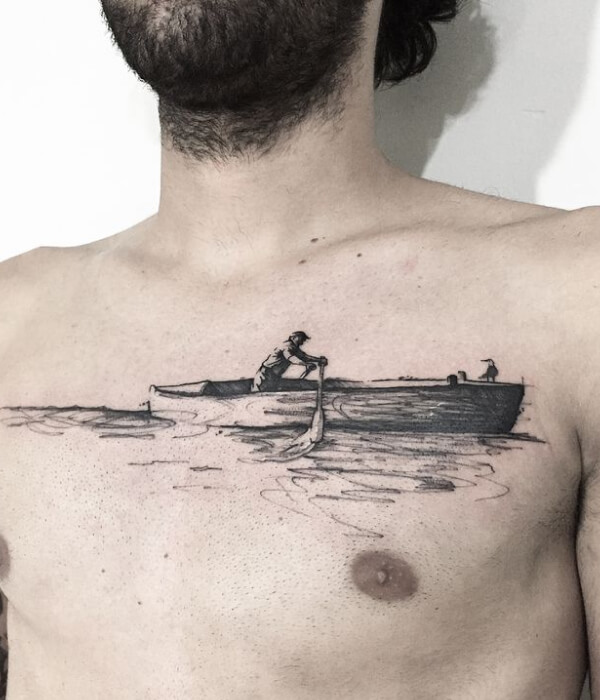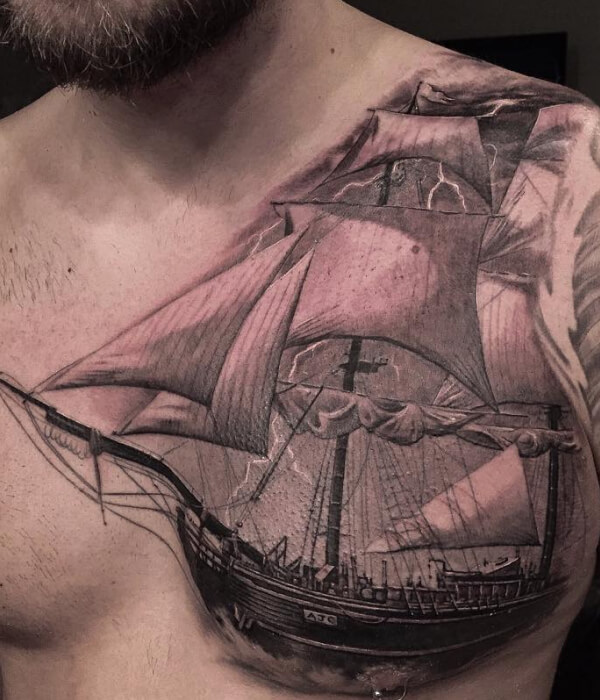 Whether you're looking for something subtle or a bold design that screams confidence – boat collarbone tattoos offer many options while providing unique flair to any look! If you want to take your fashion game up, consider getting yourself some ink.
16. Snake Collarbone Tattoo
Snake collarbone tattoos have become famous among males in current years. This unique tattoo is a great way to make a style statement while still having an appropriate and professional appearance.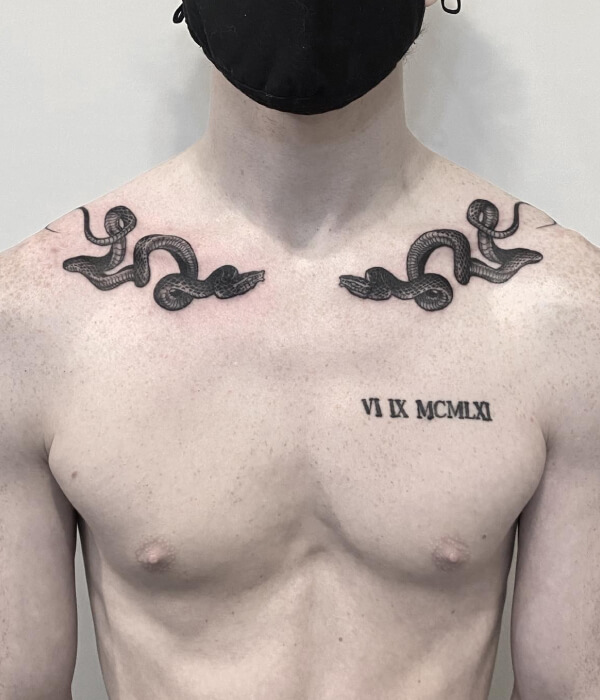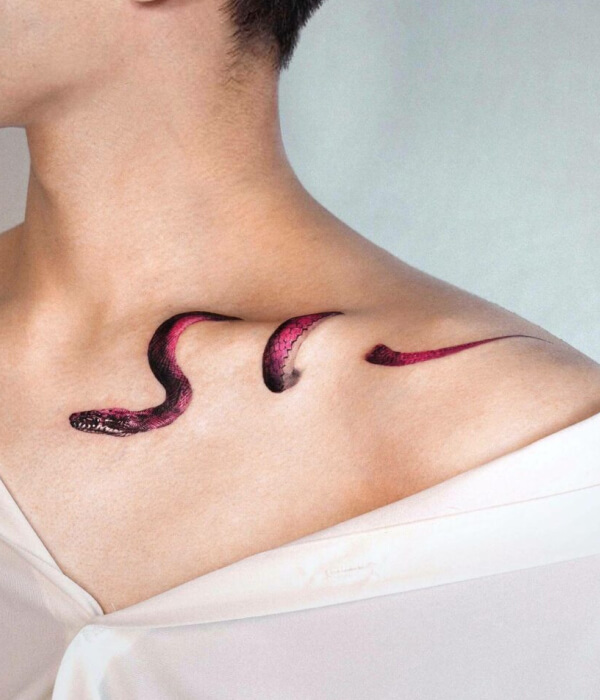 Snake collarbone tattoo designs come in various styles, from abstract patterns and shapes to more realistic snake depictions – sure to add flair to your outfit! The best part about choosing this type of tattoo is that it's not too visible but also catches the eye when you want it to. With so many unique possibilities for creating impressive artwork on your body, why not get inspired with a beautiful snake design today?
17. Moon Collar bone Tattoos Men
Moon collarbone tattoos have become increasingly popular among professional men in recent years, lending a bold yet stylish statement to any outfit. With its sleek design and minimalistic look, this type of tattoo takes the classic style up a notch – perfect for standing out from the crowd at work or making an unforgettable impression on that first date!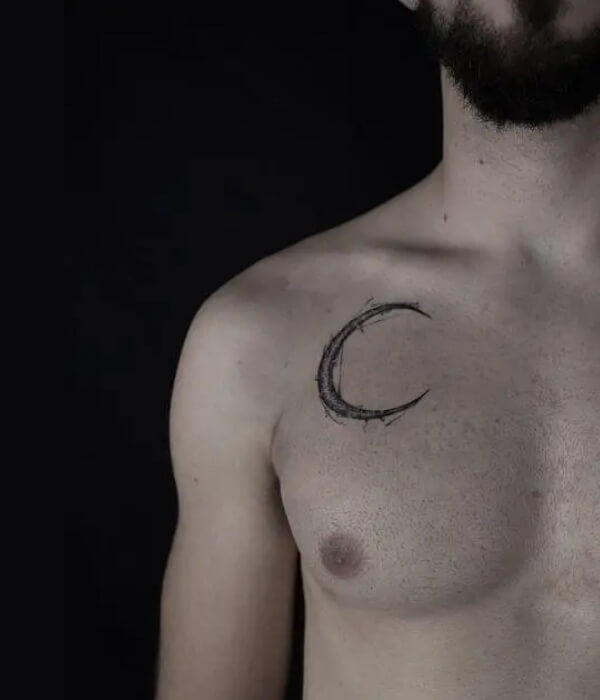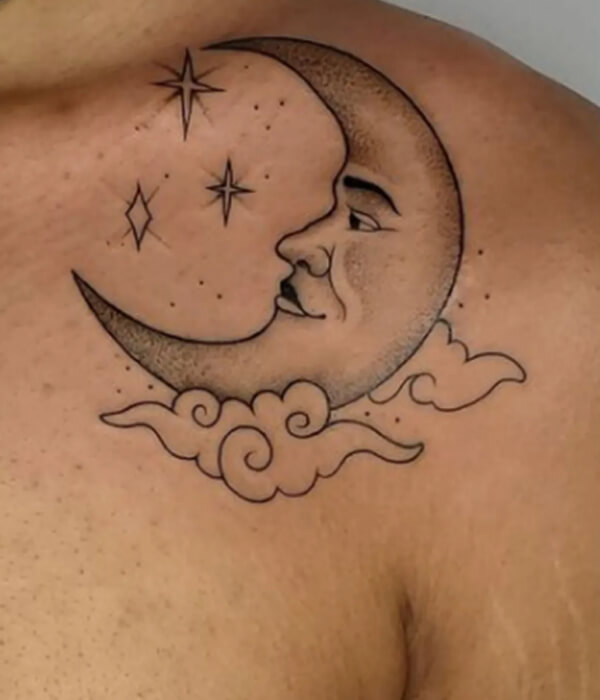 The concept is simple: Have your favorite astrological sign etched onto your collarbones with intricate curves and intertwined lines. Whether you opt for something understated like Scorpio or go all-out with Sagittarius – let these moon neck tatts be your source of inspiration as you flaunt them proudly wherever life takes you! It's one of the best collar bone tattoos men.
18. Sun Collarbone Tattoo
Sun collarbone tattoos for men are an increasingly popular way to express individuality. With a bold yet professional aesthetic, sun tattoo designs often feature intricate patterns or meaningful symbols reflecting the wearer's story.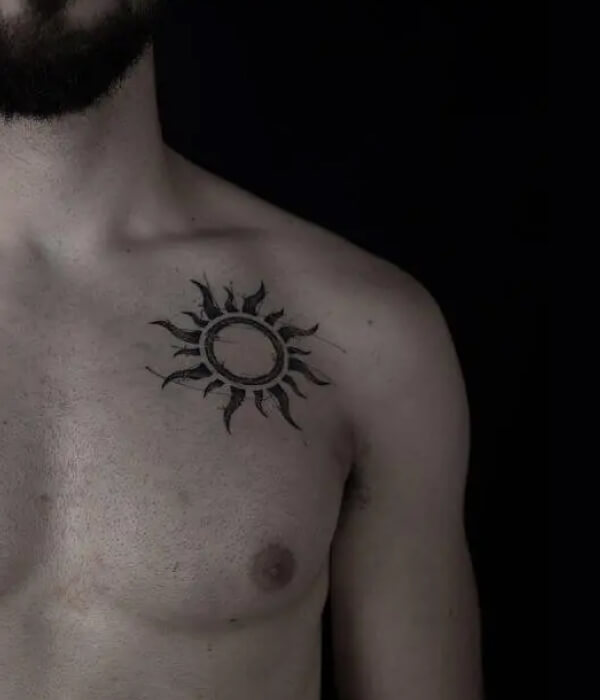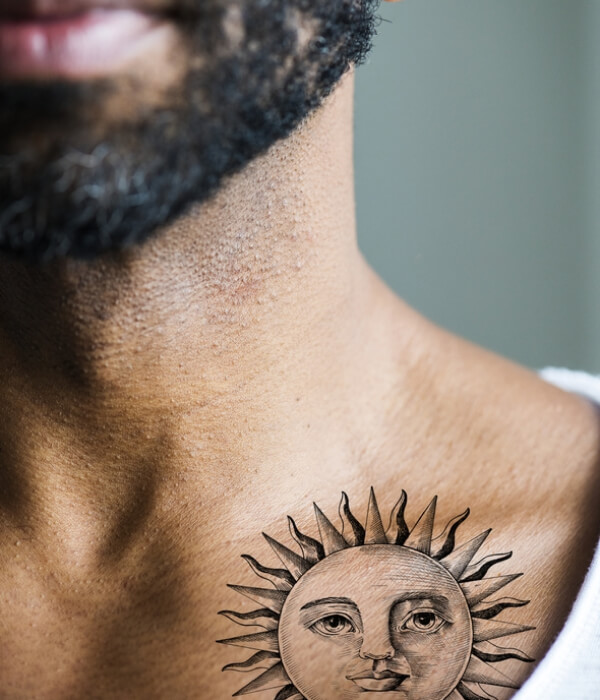 Whether done in black and white ink, vibrant colors, traditional tribal styles, or something more abstract – this type of body art has become a trend among stylish professionals who want to add some flair without sacrificing professionalism. Sun tattoos on the collarbone provide a unique vantage point from which your design can be seen by everyone you meet!
19. Roman Numerals Collarbone Tattoo
Roman numerals have been used for centuries to represent dates or significant numbers in a timeless style. A collarbone tattoo featuring Roman numerals is the perfect way for men to express themselves without compromising professionalism.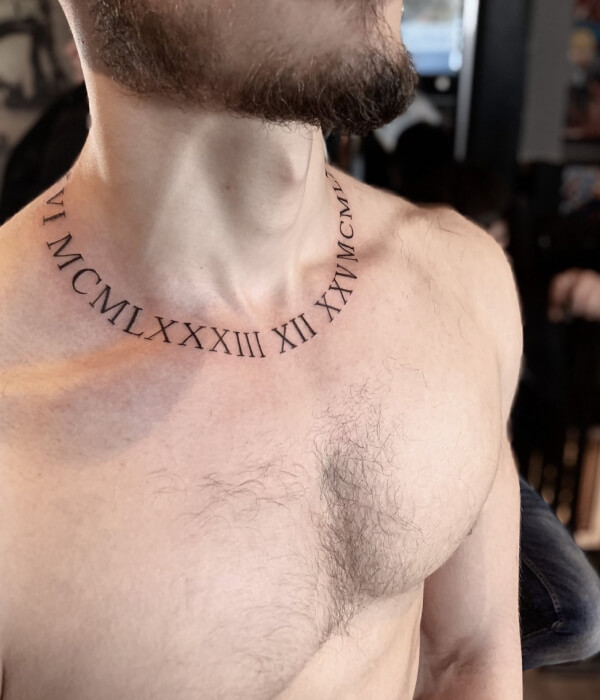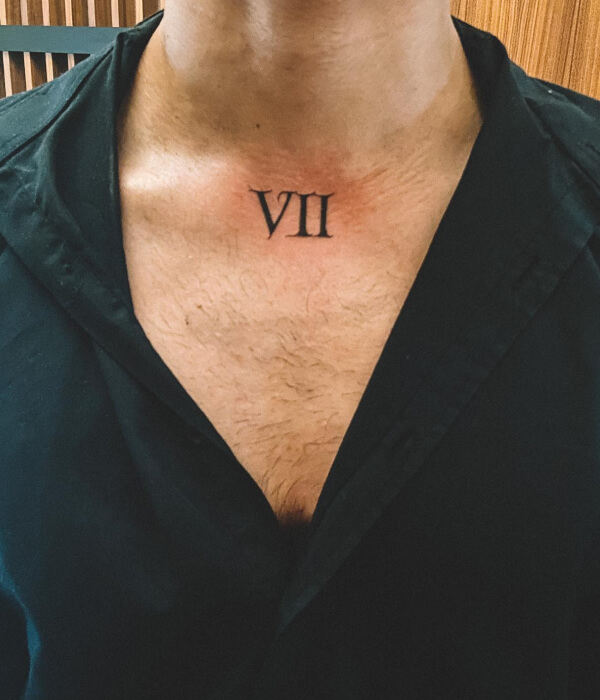 By selecting one set of carefully selected digits, you can create an understated yet eye-catching body art piece that reflects your history and legacy — making it truly unique! Plus, this type of ink will be manageable at work, thanks to its subtle nature. If you want a discreet but stylish alternative to traditional tattoos, consider getting yourself an elegant Roman numeral design today!
20. Dragon Collarbone Tattoo
Dragon collarbone tattoos have become increasingly popular in recent years and are an excellent way for men to express their professional style. This type of tattoo is eye-catching without being excessively flamboyant or over the top. It's unique because it can be positioned just above the chest area near the shoulder blade, drawing attention while leaving room for other designs like sleeves or larger back pieces if desired.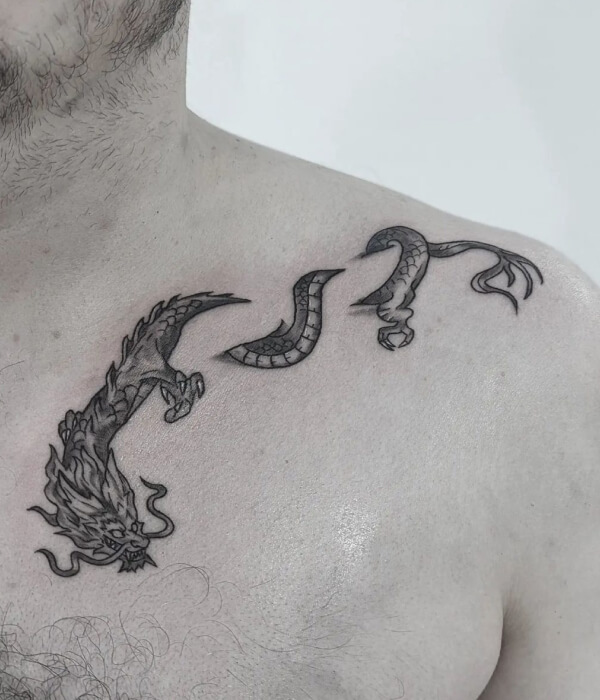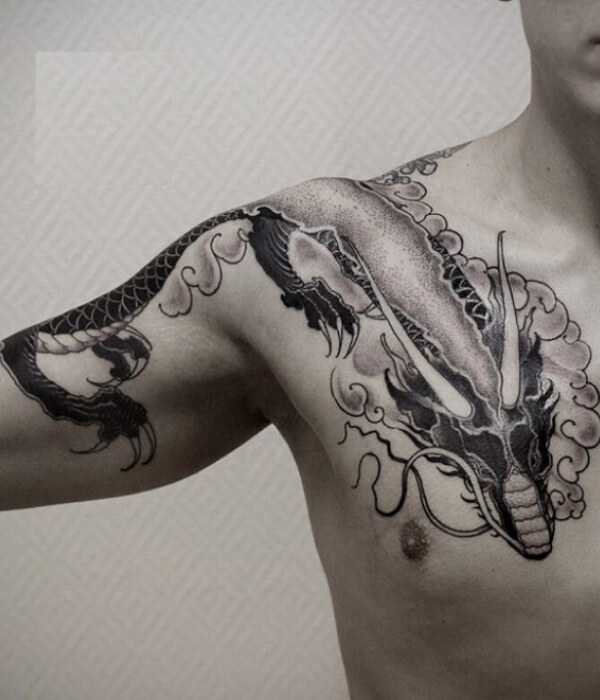 Dragon design on this part of the body offers amazing visual appeal with its intricate details, including wings; pattern tail swirls, and flames that make them look almost alive! You'll surely get noticed wherever you go with an appropriate dragon design chosen to represent your traits – such as the strength of purpose!
21. Crown Collarbone Tattoo
Collarbone tattoos have become popular among professional men to express their style. Crown tattoos add to this trend, indicating you are ultra-confident and unafraid to stand out.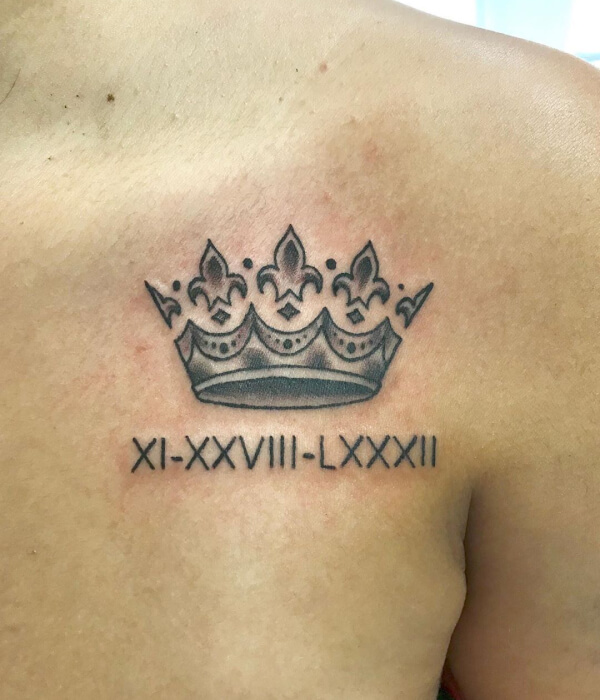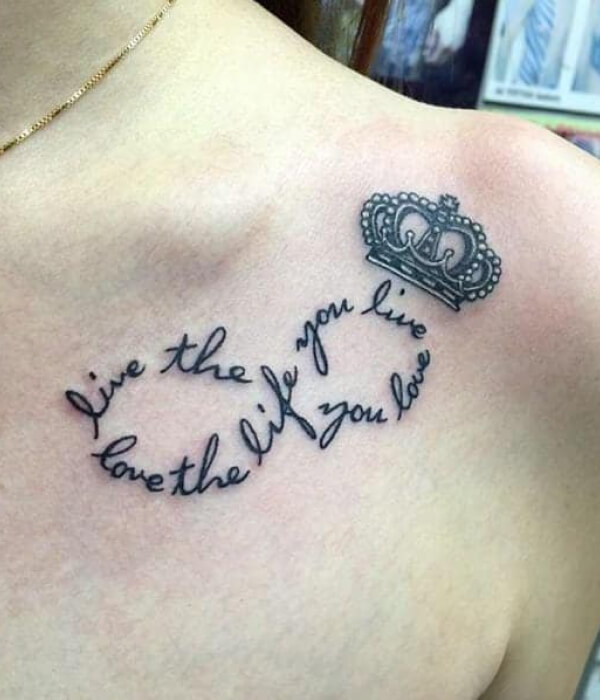 With its versatility in size and design, your crown tattoo can be tailored perfectly for your body frame – perfect for those who want something bolder than traditional chest or arm ink! So take charge of making a unique mark on yourself with a stylish crown collarbone tattoo today – it's sure to turn heads wherever you go!
22. Anchor Collarbone Tattoo
For the modern man, anchor tattoos on your collarbone can be a bold and stylish statement. From minimalist designs to vibrant artwork, an anchor tattoo perfectly showcases your personality. Not only do they look amazing, but by adding these meaningful pieces onto your body, you are committing to yourself that all will see!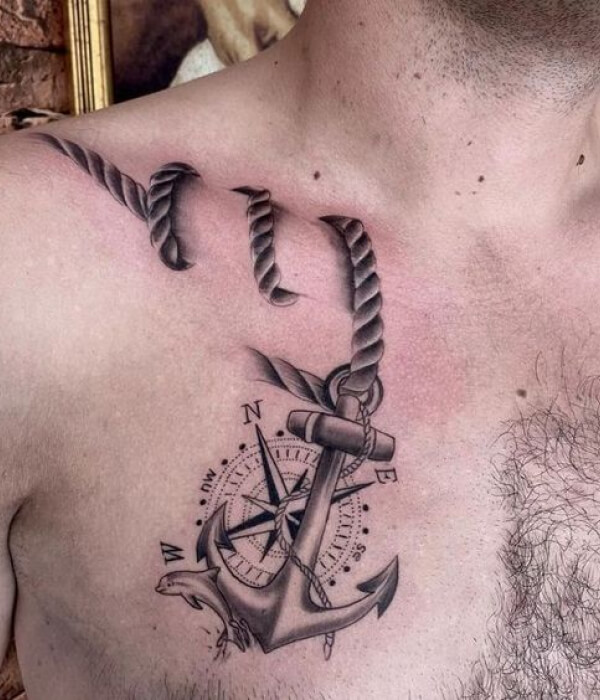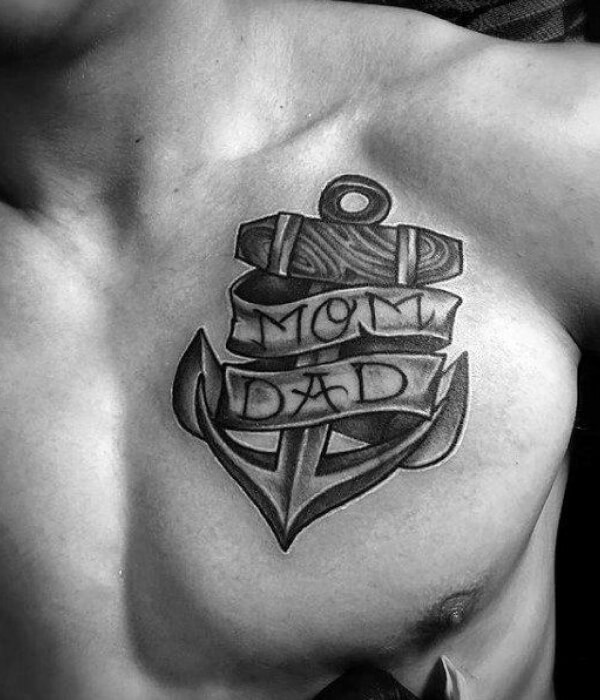 Anchor Collarbone Tattoos stand out in their unique design as symbols of strength and courage, not just any character but one with a tremendous meaning behind it – embodying bravery and never letting go no matter what life throws at us!
23. Sword Collarbone Tattoo
The trend of sword collarbone tattoos for men is growing steadily. A powerful and stylish statement, this tattoo style allows professional men to express their individuality tastefully. The unique placement near the neck area gives it great visibility without being overly intrusive or unprofessional; perfect for career-minded individuals!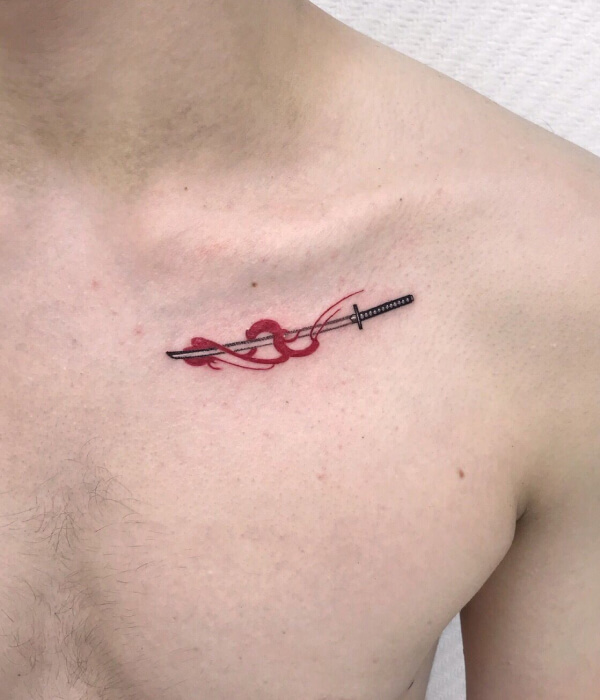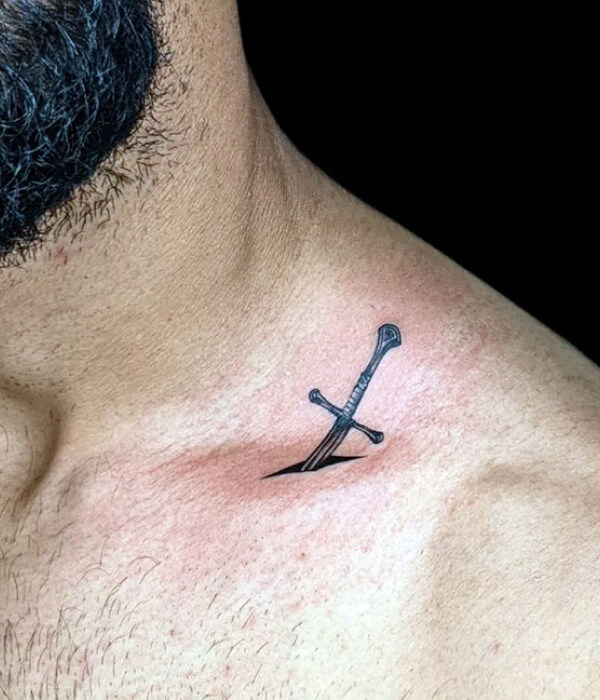 Whether you're looking at subtle traditional steel swords or bolder embellished designs, something out there will be sure to please – get your creative juices flowing when deciding on one today!
24. Diamond Collarbone Tattoo
A diamond collarbone tattoo is one of the most stylish and eye-catching tattoos for men. It's a beautiful representation of strength, power, and masculinity as it adorns your shoulder below the neckline. The size can vary from small to significant based on personal preference, no matter which you choose.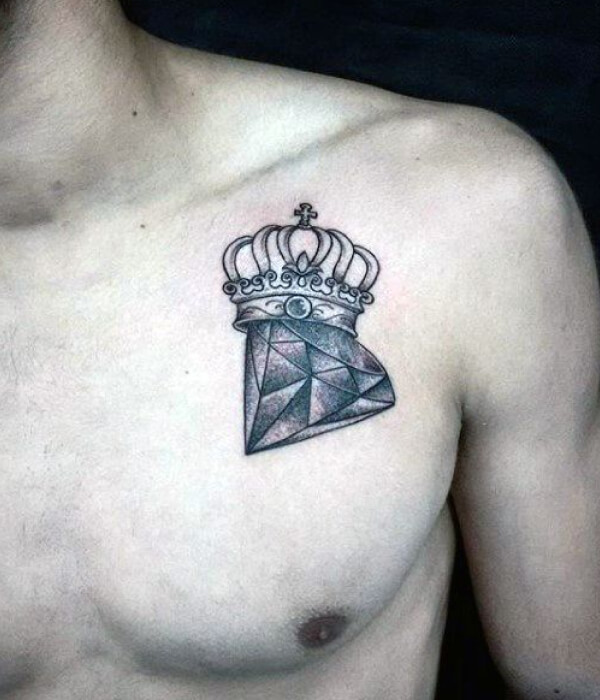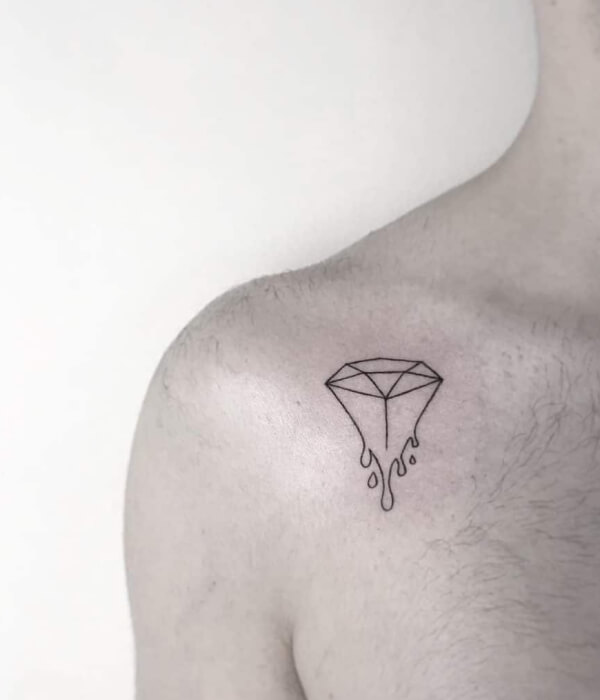 However, this captivating design will turn heads in admiration wherever you go! With its bold statement and aesthetic, solid presence, it's easy to see why so many are enjoying having their unique diamond tattooed onto themselves – make yours stand out today with an exquisite diamond collarbone tattoo!
Conclusion
Collar bone tattoos men are ideal for enhancing one's appearance and making a bold statement. They provide the perfect opportunity to uniquely express individual style, creativity, and personality. With some care, they can last years without fading or becoming damaged quickly, making them worth considering when considering body art options.
From traditional designs to abstract symbols – there is something out there that will fit any man's taste perfectly! When done well, collarbone tattoos look fantastic and add just enough definition without overwhelming other features on the body while still showing off a flair of confidence with their shoulder-accentuating presence. We hope this blog on collar bone tattoo for men is useful to the readers.
Please follow and like us: