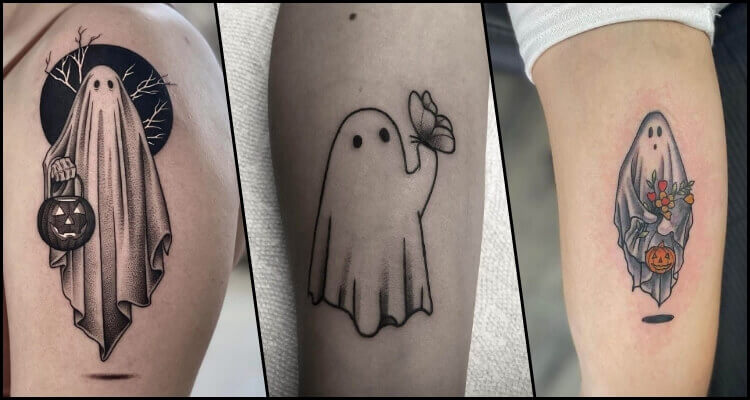 30+ Best Ghost Tattoo Design Ideas with Meaning
Posted on
All throughout the world, people are clamoring to get their hands on creative body artwork. There are a variety of tattoos you can get on your body, including ghost tattoo design. From a ghost tattoo on hand to ghost tattoo shoulder, from spooky to snazzy they are all there to amuse you.
Starting from meaningful tattoos to tattoos that hold no great significance, you simply can get any however you like it. Believe it or not, you can even use a ghost tattoo design to reminiscence a loved one who has passed away. Having a tattoo of a ghost can demonstrate that even though they are no longer physically present, they always shine bright upon you.
Although one might be a little scared to hear about ghost tattoos, but it's not always the case. Ghost tattoos are chilling but in a good way. A ghost is not one of the options for a spooky tattoo, despite the fact that there are numerous options available. Ghost tattoos are not only a terrific way of raising the tattoo game bar, but they are also a lot of fun, charming, and fascinating.
So, if you're looking for a stunning ghost tattoo design, this is the post for you. Whether you're looking for a ghost tattoo on hand or matching ghost tattoos, we've shared everything in this post.
We've compiled a list of the top 30 ghost tattoo ideas for you. So, continue reading to find out which ghost tattoo design will suit you the best among the 30.
The list is divided into three different sections to help you choose the tattoo that suits you best. Take a look…
30+ Ghost Tattoo Design Ideas
1. Funny Ghost Tattoos
If you don't want a scary ghost tattoo, then get a funny one. These tattoos, no matter how small, are a great choice for adventurous and self-confident people.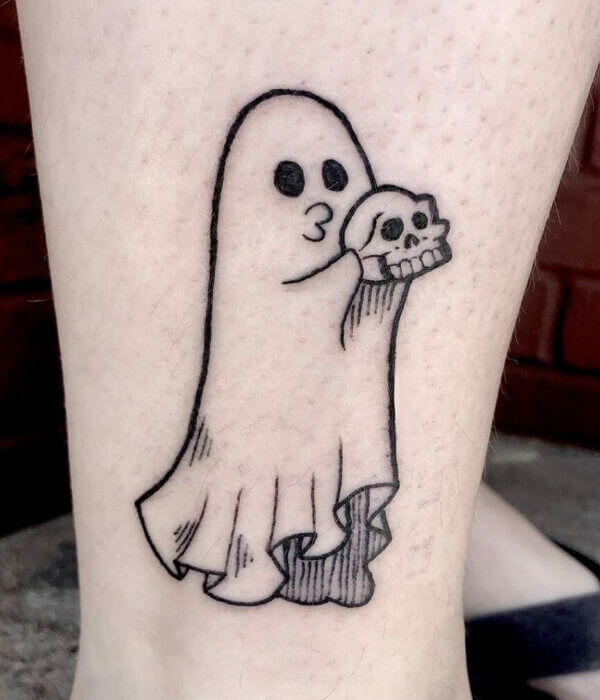 This is a great tattoo design to show the world that you're a witty, upbeat, and helpful little person who's eager to ease the burden of any given scenario.
2. Colorful Ghost Tattoo Power
A vibrant and vintage leg tattoo will demonstrate how you prefer to shine despite the challenges that life throws at you.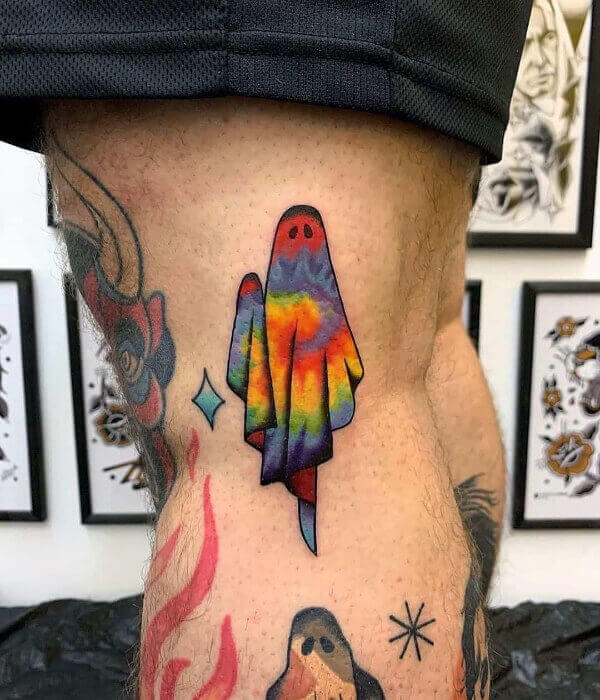 This ghost ink is perfect for you to flaunt if you're someone who has a positive outlook on life. Colorful Ghost Tattoos are a powerful way to express your true self to the world and let them know that you're constantly open to doing new things and taking on enjoyable tasks that make you feel fulfilled.
3. Story-Telling Ghost Tattoo
Create a vibrant and colorful tattoo using vibrant colors. Story telling ghost tattoo is a great way to tell your unique story through beautiful artwork. It will help you demonstrate that you are always forward looking and whatever the future may bring. You can build the narrative to fit your tastes and preferences exactly.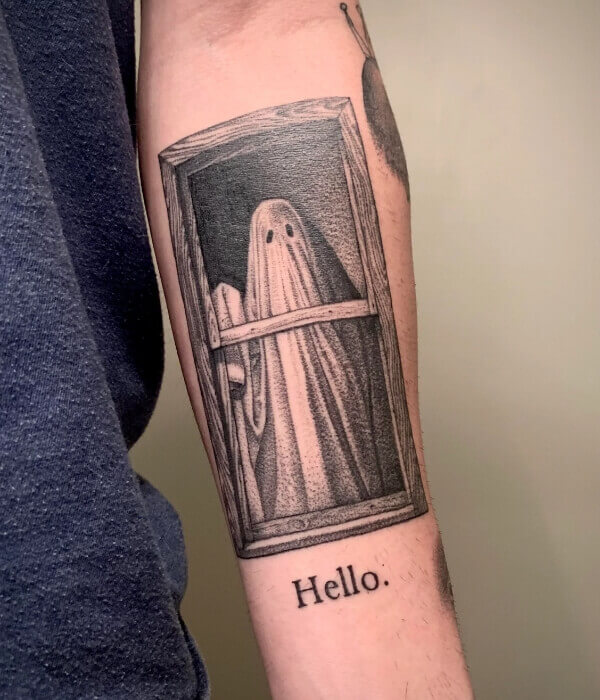 4. Ghost Flower Tattoo
You may give your ghost tattoo a more artistic and vintage appearance by adding some color to it. A ghost flower tattoo will look best on women who are searching for something that is both charming and easy to do.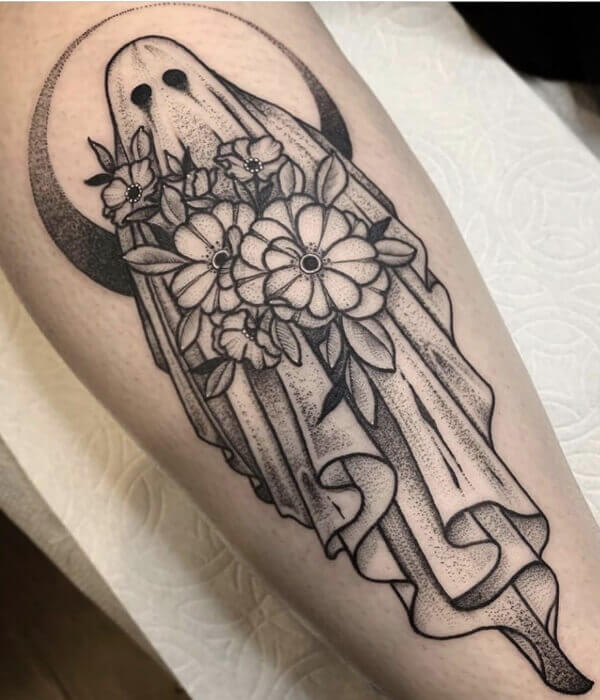 Flowers will come to represent not only your reborn feminine energy but also your illuminating path. You can get it etched on your arm or neck in small sizes.
5. Captain America Ghost Tattoo
If you're fond of Captain America, then this is the tattoo for you for sure! Get a ghost tattoo in Captain America style.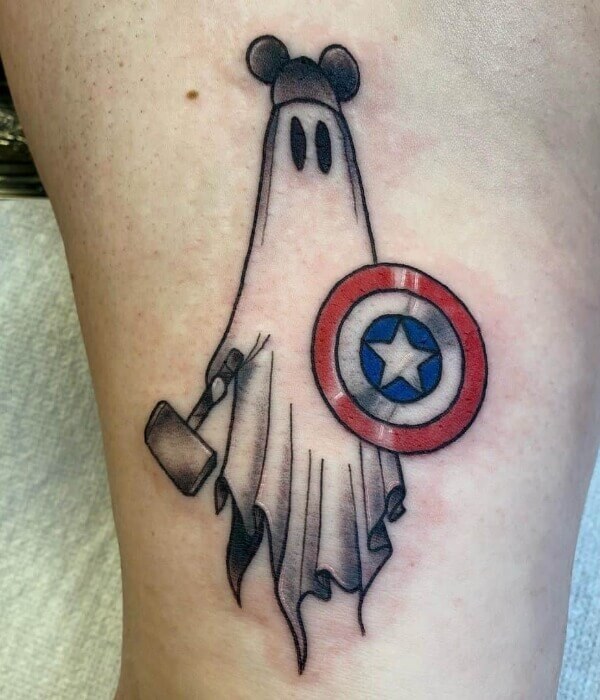 The best thing about this artwork is that you can personalize it according to your tastes. Be more creative and make it a reflection of your genuine affection for amusing tattoos and engaging characters. The ideal placement for your Captain America ghost tattoo is your shoulder or arm.
6. Ghost Tattoo with Anime Characters
Although it may sound different, yes, such a tattoo exists and is also widely known. This is for the keen anime watchers who like a specific antagonist in a certain anime. Besides, it will also depict that not every time the person is bad but the situation he/she is in.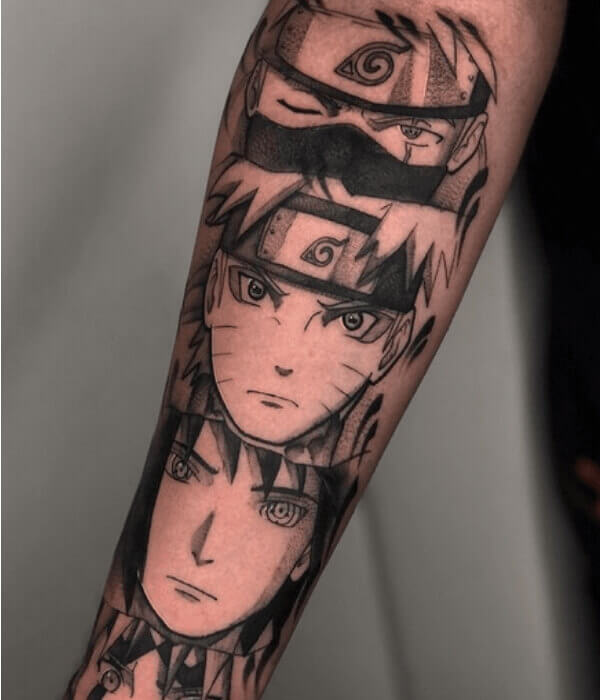 7. Cartoon Ghost Tattoo
If you're fond of cartoons and ghosts as well, then get a cartoon ghost tattoo. This makes for a unique tattoo design. If you're looking for a one-of-a-kind body artwork, then this is the one. You can get it etched on your neck, forearm, and wrist.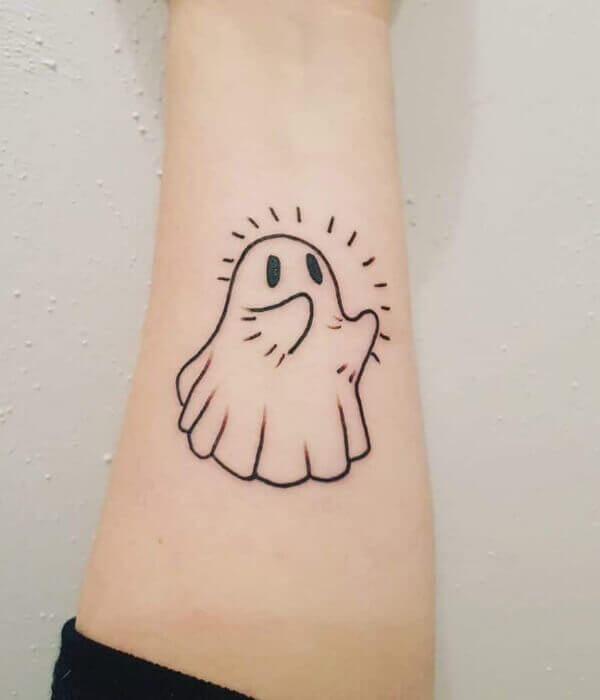 8. Ghost Tattoo Drawing Ink
Do you enjoy having a splash of color alongside your tattoos? If that's the case, give ghost tattoo drawing a shot!
You'll be able to demonstrate that you're always up for a good laugh and ready to have some fun in your own unique way by donning this vibrant purple ghost with zany socks. If you are the type of person who enjoys joking around in a variety of settings and is well-versed in the art of being silly, then this is the tattoo for you.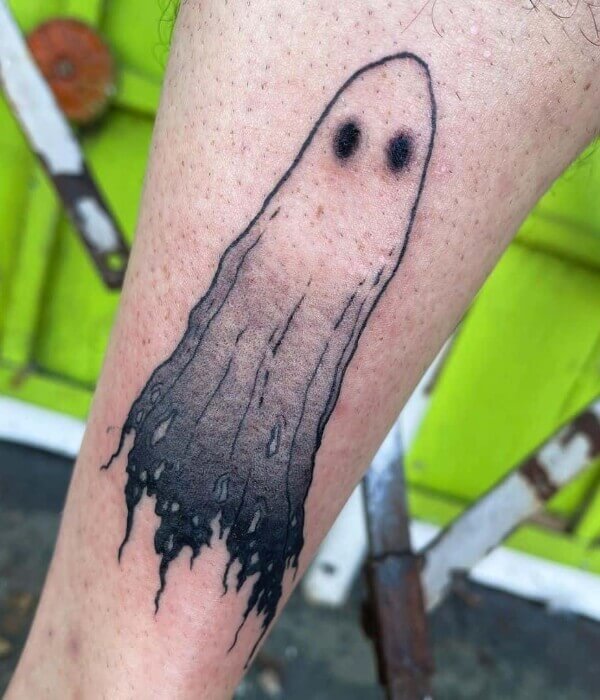 You can get it etched on your arms, calf, or wrist for the ideal placement of your ghost tattoo design.
9. Small Ghost Tattoo
Do you enjoy tattoos that are creative and fun? If that's the case, you should give this tattoo a shot.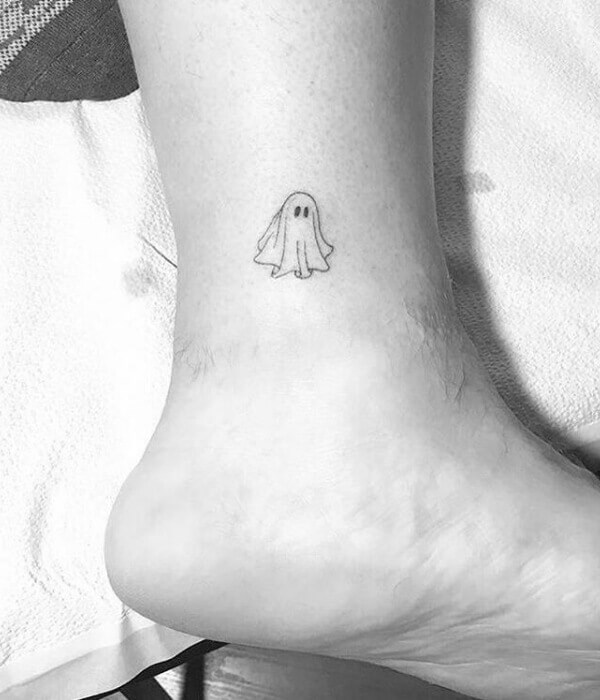 It is perfect for someone who doesn't want to go overboard with a tattoo design. A small and simple ghost tattoo looks unique and elegant. The best thing is you can have a small ghost tattoo anywhere, from your neck to your fingers.
10. Cowboy Colorful Ghost Tattoo
Cowboy ghost tattoos look awesome! A tattoo of a cowboy clutching a flower is perfect for a man or woman who enjoys drawing attention to themselves.
A ghost depicting you holding a floral will appear to reflect your more pacific or conciliatory nature. You can get a colorful cowboy ghost tattoo in small size and rock it with the certainty that being small doesn't mean being powerless.
11. Black Ink Ghost Tattoo
It can be made as a small ghost symbol that is black in color. This unique and beautiful tattoo design is for anyone who enjoys unusual tattoos and creative art.
A humorous black ghost tattoo is a reflection of how you choose to look on the bright side of things, including death. So, get this one etched on your forearm or shoulder for the best placement.
12. Ghost Cloak Tattoo
Both men and women who enjoy Halloween would love getting this cape-like ghost cloak etched. A tiny ghost cloak tattoo in black is an excellent way to express your genuine affection for Halloween.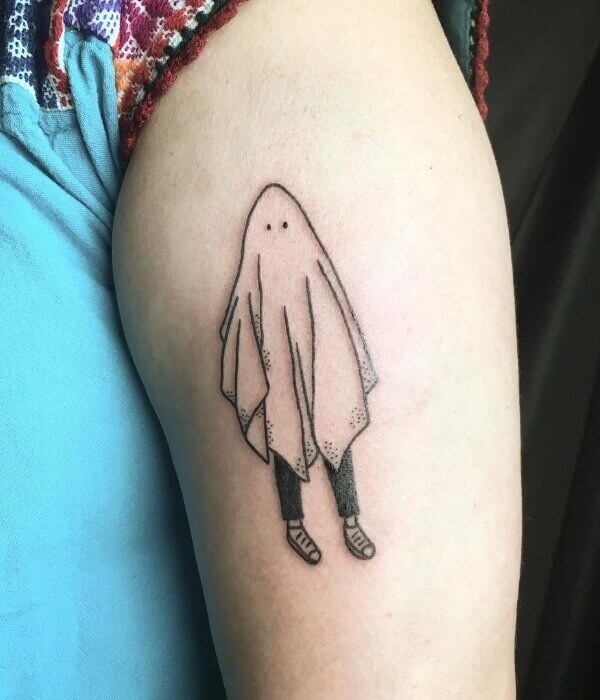 13. Small Black Ink Ghost Tattoo
A spooky ghost design that would look amazing on people who are passionate about vintage tattoos. Your ability to persuade others and your dogged pursuit of success will be represented by this tattoo design. You have the option of having it tattooed on either your forearm, shoulder, or ankle.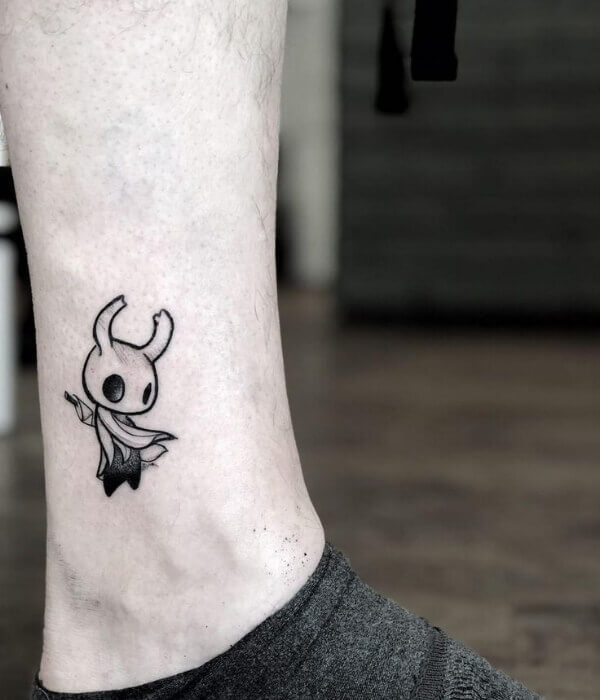 14. Ghost Tattoo Designs with Flowers
A ghost tattoo with flowers looks great! The delicate design is perfect for any flower-loving ghost tattoo fan.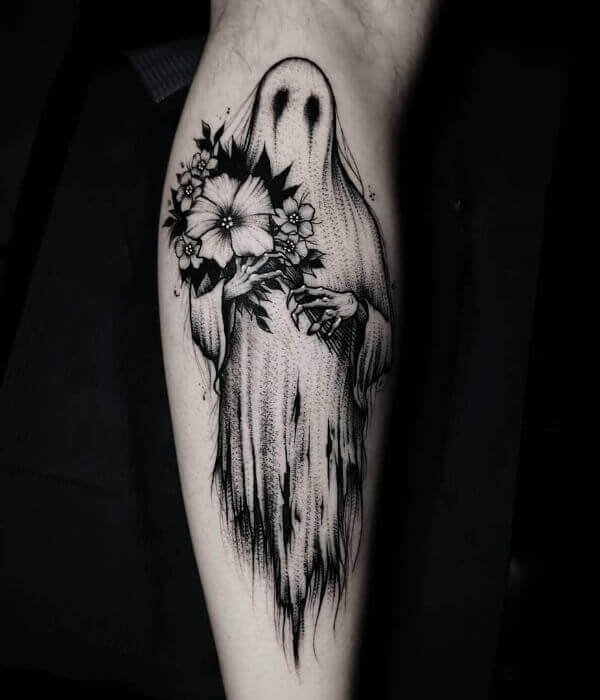 It could represent your growing intuitive abilities and will to triumph over adversity. This will prove to be a great ghost tattoo design for women who appreciate their feminine grace under pressure.
15. Minimalistic Ghost Tattoo
If you don't want to overdo your tattoo design, then get a minimalistic ghost tattoo. This one looks mesmerizing and very cute as well. So, if you're looking for a small cute ghost tattoo design, then this is the one for you.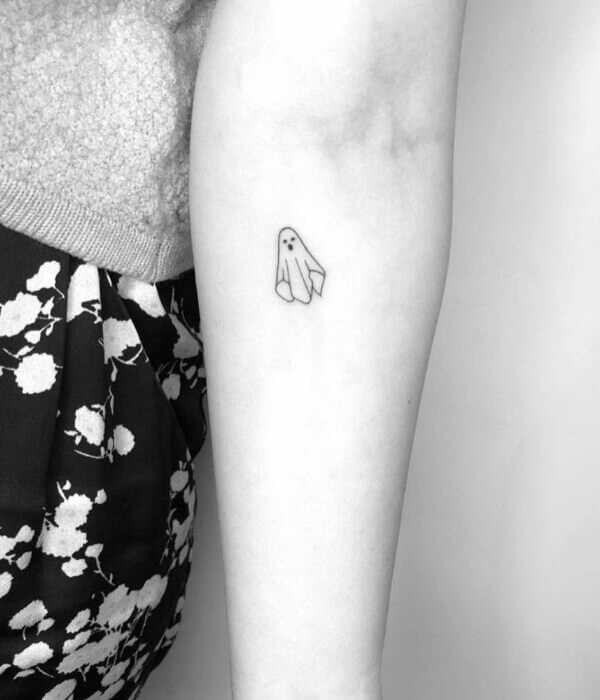 The ideal placement for this tattoo is your arm, ankle, and wrist. And if you've a problem displaying your tattoo, get it etched on your nape so that you can keep it hidden most of the time.
16. Large Ghost Tattoo
For people who are fans of getting catchy and huge tattoos, it is for them. Large ghost tattoos make for eye-catching tattoo designs. With this tattoo, you may show the world that you're not afraid to throw yourself into the deep end and make the most of every situation, no matter how difficult.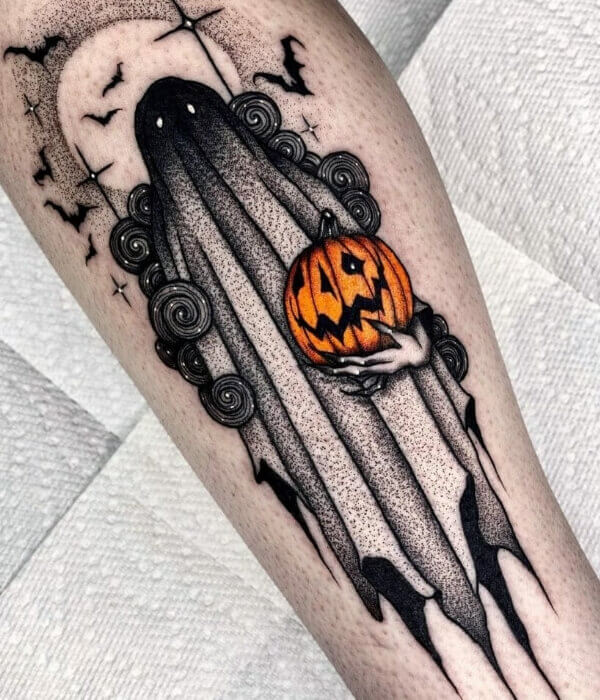 You can get it etched on your shoulders, chest, or back for great placement.
17. Retro Ghost Tattoo
Are you a lover of ghosts that are both creepy and nostalgic? This one will come to represent how you approach new circumstances and predicaments that present themselves in front of you.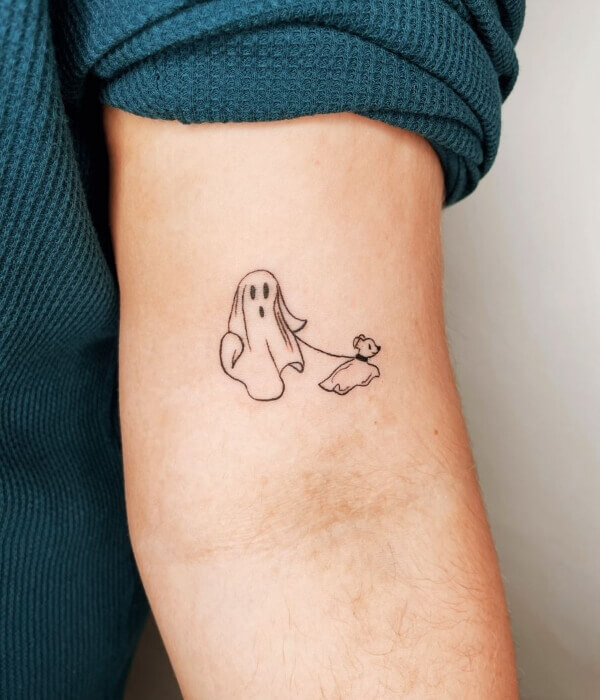 A Retro ghost tattoo could represent a guardian spirit, a spiritual healer from another realm, or even a deceased loved one. It is an excellent way to represent the ways in which you have grown and become who you are.
18. Ghost Tattoo with a Butterfly
Do you also enjoy being in nature? If yes, then what else could be better than a ghost tattoo with a butterfly?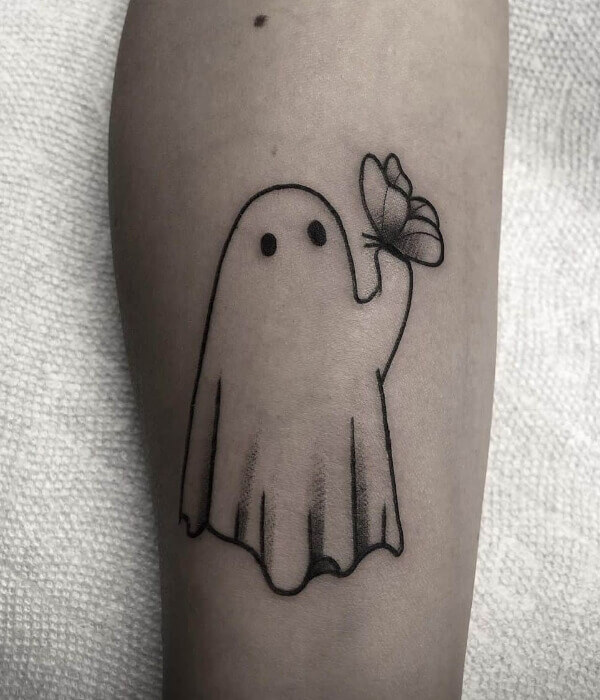 It's a great way to express your love for nature and showcase that you are in touch with your spiritual side. It's a win-win situation. Get a Ghost Tattoo with a Butterfly on your arm and show the world around you that you believe in a hereafter while at the same time appreciating nature.
19. Cool & Quirky Ghost Tattoo
If you want to have a unique tattoo design, then get this cool and quirky ghost tattoo. You can have ghost wearing headphones with musical symbols to make your tattoo impactful.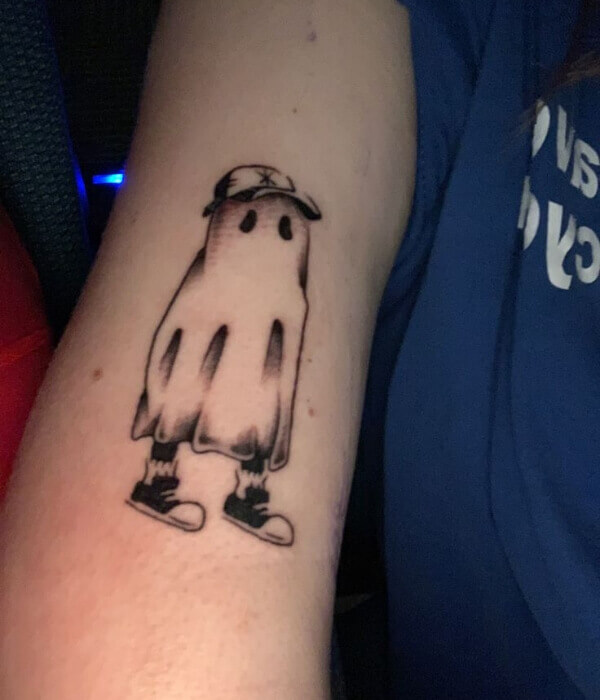 It is adorable and works wonderfully for people of either gender. It is great for the ones who want to have an outside-the-box tattoo design.
20. Forearm Ghost Tattoos
Acquire a collection of ghosts with a variety of appearances to demonstrate that you are continuously shifting and developing as time passes and as time progresses.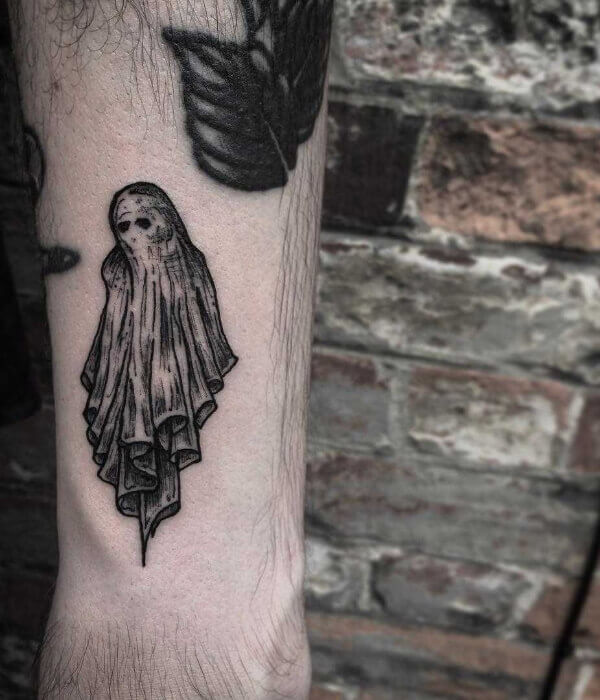 This tattoo is likely to appeal to anyone who has been through a difficult or trying trip and doesn't mind the prospect of tackling fresh challenges.
21. Ghost Face Tattoo
A small ghost face tattoo is perfect for people who want something unique and useful in black and white. It's perfect for individuals who want something unobtrusive, as it's feasible to get and doesn't break the bank.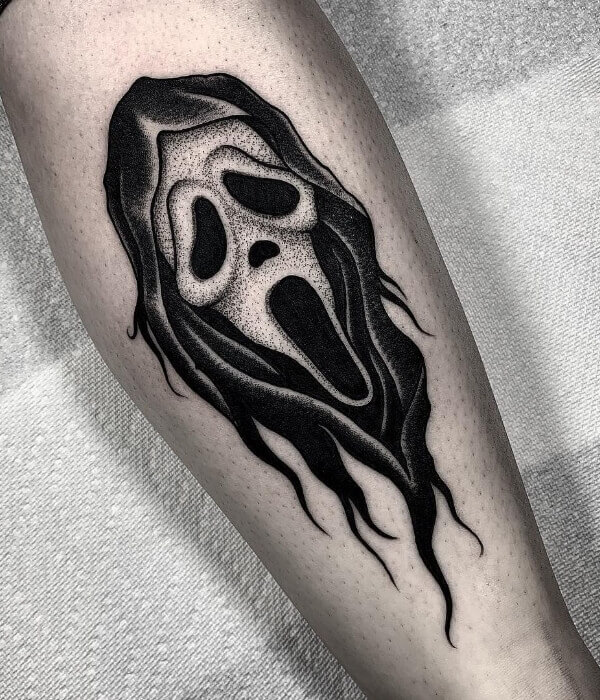 22. Holy Ghost Tattoo
If you value minimalism and transparency, then you're going to love this one! Holy ghost tattoos make for an eye-catching tattoo design that suits all, including men and women.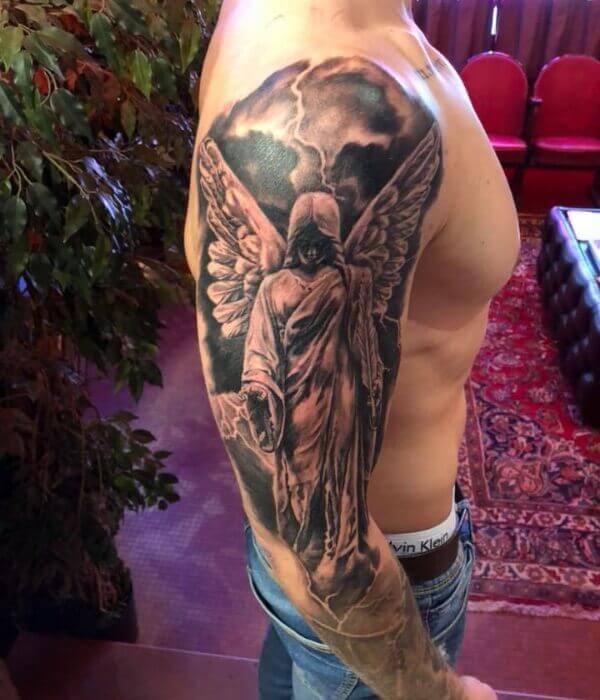 23. Boo Ghost Tattoos
Do you count yourself among the people who adore tiny and adorable shapes?
The minimalists among you will adore this design. Those who prefer minimalistic black-and-white tattoos may really appreciate this design.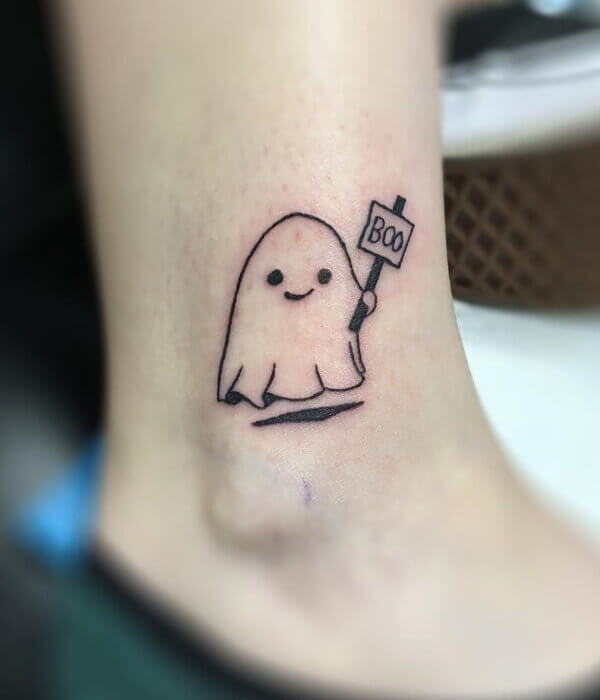 The benefits of this tattoo are, first and foremost, its reduced discomfort and cost.
24. Matching Ghost Tattoo
Anyone looking to commemorate a special someone with a permanent mark of affection, then get a matching ghost tattoo.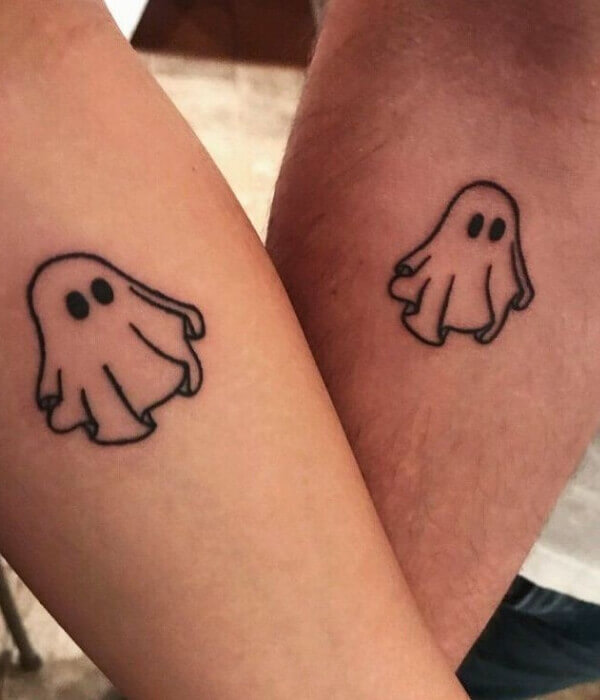 A matching ghost tattoo is an excellent way to represent the path you've traveled together and the challenges you've faced. You and your partner can have this ghost tattoo to demonstrate the positive side of your relationship even after so many ups and downs.
25. Ghost with a Crown Tattoo
A miniature ghost tattoo will look gorgeous with a crown. A ghost with a crown tattoo is ideal for conveying the royal side of your personality.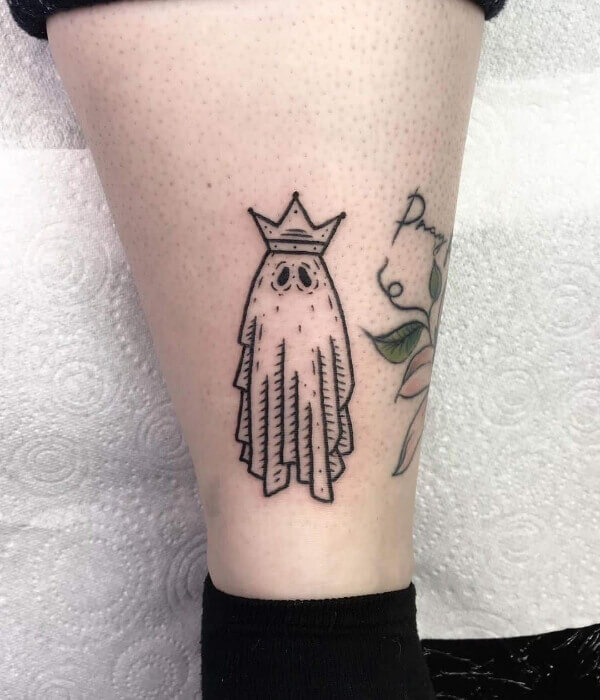 Just make sure to choose the right place for your ghost with a crown tattoo design for that lasting impression.
26. Scary Ghost Tattoo
A scary ghost tattoo in a small size will make for an impactful tattoo design. You can have just the face of a ghost with scary looks etched on your arm, or go for a full ghost tattoo. It's excellent for someone who enjoys watching scary movies or is fond of ghosts.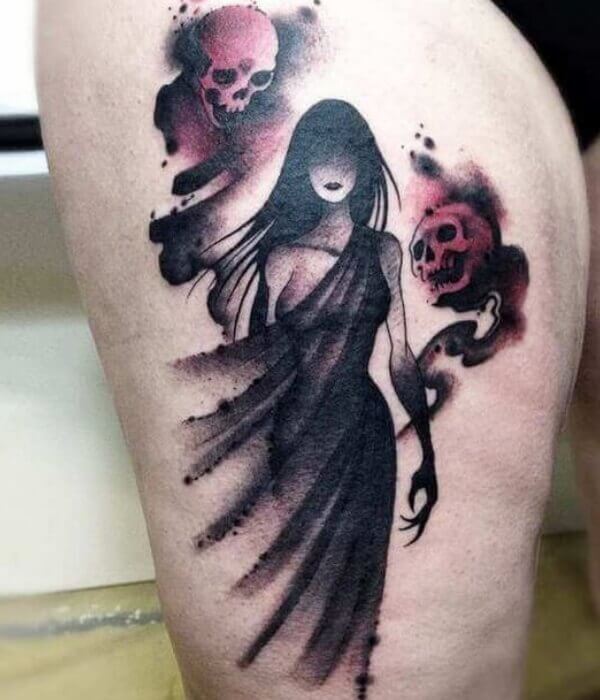 27. Black & Red Ghost Tattoo
True horror fans will look their finest in this black ink with red lines that runs through it. Try getting this eerie ghost tattoo across your arm or your leg if you're a fan of horror movies.
28. Ghost Tattoo Band
How about having a ghost tattoo band? Yes, if you're looking for a unique ghost tattoo, get a ghost tattoo band. It is going to make for an eye-catching tattoo design.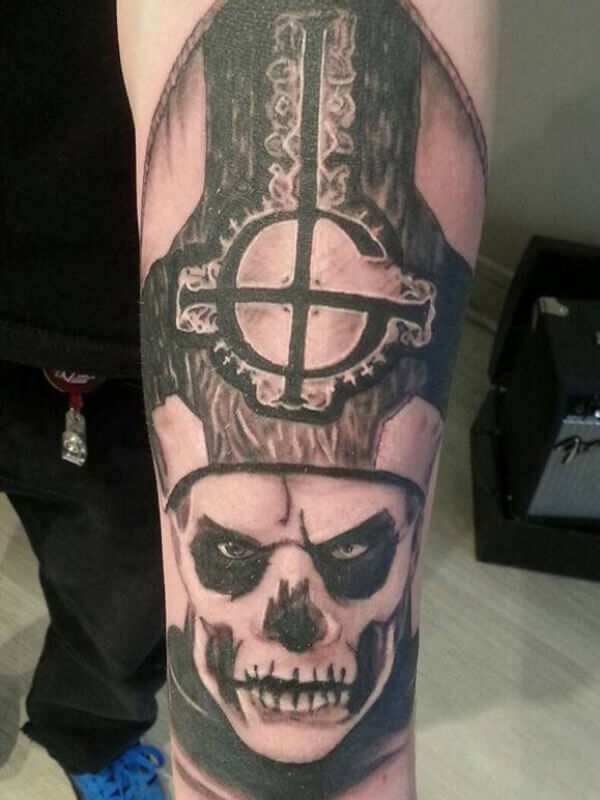 You can get it etched on your forearm if you have no problem in having a tattoo that is visible all the time.
29. Ghost with A Plant Tattoo
Include a plant in your ghostly creation to make it more interesting. A ghost with a plant tattoo is the best way to showcase your deep connection with nature and ghostly creations.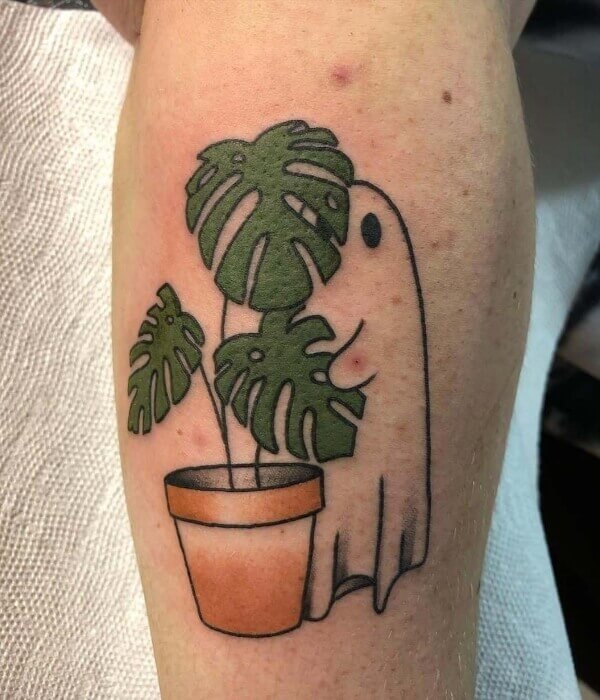 It is perfect for everybody who wants to get in touch with their feelings on a profound level from the inside out. This one will be great in small size etched on your arm.
30. Cute Ghost Tattoo
If you want to turn heads with your next tattoo, consider getting a simple ghost motif done in black ink. These kinds of tattoos serve as a symbol for people who have a natural curiosity for the unknown, have an open mind, and like seeing other countries all around the world.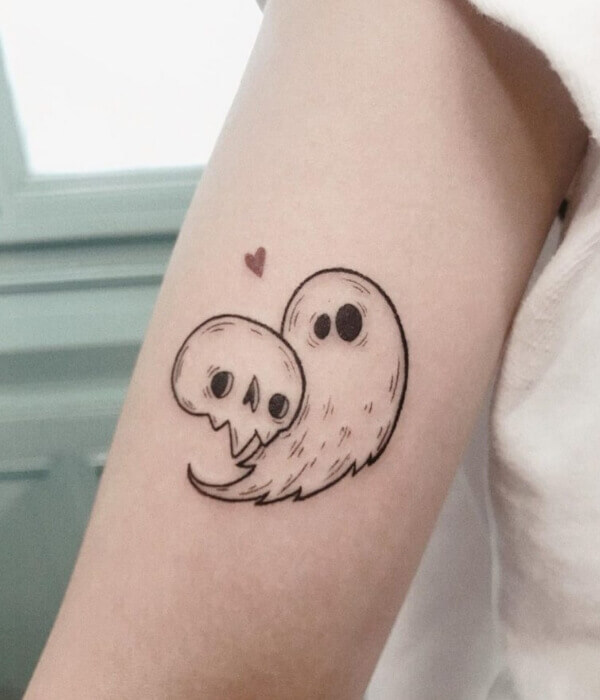 31. Two Ghost Tattoos
Two ghost tattoos are ideal for people in romantic relationships. You can get this tattoo design in recognition of your significant other or if you want to showcase your love life to the world.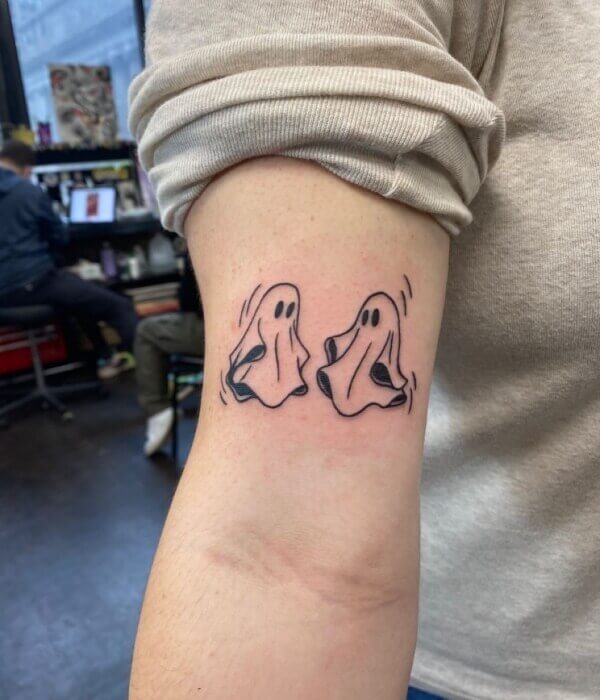 32. Ghost Tattoo with Angel Wings
Last but not least, ghost tattoo with angel wings. These tattoos look gorgeous and make for meaningful body artwork.
A ghost tattoo with angel wings can represent a variety of ideas, from flight to faith to guardianship. They serve as a memorial to a deceased family member or friend. Also, it represents your faith in God and helps you showcase your higher and more angelic self.
Also Read: Best 40 Inspiring Raven Tattoo Designs And Ideas With Meaning
Wrapping it up…
So, there you have it: the top 30 funky and meaningful tattoo design ideas for you. It's entirely up to you what type of design you would go with.
You can get a cute ghost tattoo, opt for a spooky ghost tattoo, or get creative to come up with your unique ghost tattoo design. All you have to make sure of is to choose a professional tattoo artist for your ghost tattoo design. It is because only a professional can help you with the design that you have been dreaming of.
Ghost Tattoo FAQs
1. What Does a Ghost Tattoo Mean?
There are many potential interpretations of the ghost tattoo. First, ghost tattoos are popular among those who enjoy spooky movies. Ghosts are a staple in the subculture that celebrates all things spooky and gruesome.
Aside from that, the meaning of a ghost tattoo is quite subjective. It varies from person to person who has it. There are many who get a ghost tattoo to symbolize the ever-present loved ones who have gone already. A ghost tattoo can also serve as a reminder of the many people who have your back.
In addition, the ghost tattoo can also represent fear. Aside from that, a ghost tattoo is a great way to express your determination and the courage with which you overcame all the adversities in life.
When we finally come to terms with the fact that there are some things in this world we simply can't fathom, we get the strength and wisdom symbolized by the ghost tattoo. Recognizing that you can't control everything is half the battle, and the ghost tattoo can serve as a constant visual reminder of that.
2. How Much Does A Ghost Tattoo Cost?
Well, the cost of a ghost tattoo design will vary based on several factors, including the size of your tattoo design, the kind of work you want (detailed or simple), the reputation of your tattoo artist, and so on.
On average, a small-sized ghost tattoo will cost you around $35 to $50. Whereas, you will need to spend around $250 or more for a large-size ghost tattoo design.
3. Which Is The Best Place For A Ghost Tattoo Design?
Your ghost tattoo's placement will be determined by the size of the overall artwork you choose to have done.
For example, if you are thinking of getting a small ghost tattoo, the best place for it would be on your finger, wrist, nape, behind your ear, or somewhere else on your body.
On the other hand, if it is going to be a medium-sized ghost tattoo design, the best places to get it are on your arms, forearms, ankles, and calves.
If you want a large tattoo design, you should get it etched on your back, stomach, or shoulder. These are the greatest places for it.
4. How To Choose The Best Ghost Tattoo Design?
Finding the perfect ghost tattoo is a relatively simple process. Before getting one, all that is required of you is to do some study and give it some careful consideration. In addition, before getting your ghost tattoo, you should consult with the tattoo artist who will be creating it. A skilled tattoo artist would be able to provide you with fantastic advice regarding the design of your tattoo. In point of fact, you are free to use your imagination to develop your very own concept for a ghost tattoo.
5. Can We Use Other Elements Along With Our Ghost Tattoo?
Yes, you can add various elements to your ghost tattoo design to make it more impressive and interesting. Your ghost tattoo design can, in fact, benefit from the addition of a number of different elements.
You can customize your ghost tattoo by adding details like butterflies, flowers, caps, plants, angel wings, and other things like that. Keep in mind that the addition of elements will have an effect on the meaning of your chosen tattoo design. Because of this, it is extremely important to select items based on the expression you want to convey to the rest of the world.
Thanks for reading!
Happy Tattooing… ☺ ☺
Please follow and like us: