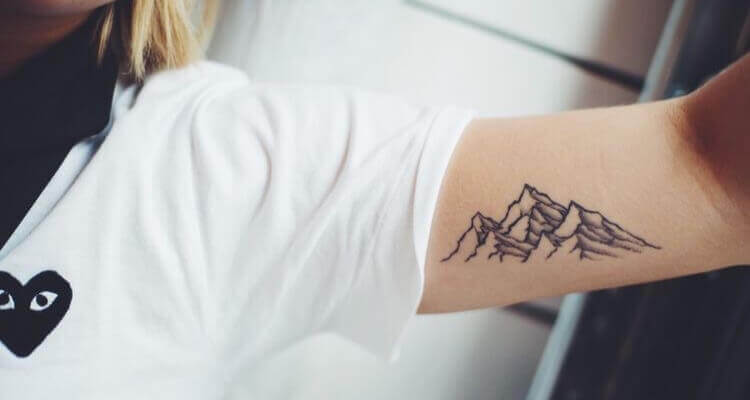 40 Amazing Mountain Tattoo Ideas
Posted on
Mountain tattoos are for those who love nature. If you're also a big-time fond of nature tattoos, then you are on the right platform. Here I am sharing the 25 most beautiful mountain tattoo designs with stunning mountain scenery tattoos that you would love to have etched on your body.
But before that, let's know what a mountain tattoo stands for.
Mountain Tattoo Meaning
A mountain tattoo is a symbol of strength, stability, and power. Nothing and nobody can move them; no matter how bad the weather becomes, no matter how opposite the winds blow, mountains are known to stand tall even amidst all the odds. Having a mountain tattoo will simply remind you of your strength. If at all, you will feel low anytime, your tattoo will give you courage and determination to face the challenges with your head held high. Besides, mountains also represent a journey and all difficulties that you've already overcome.
Here are some of the best mountain tattoo designs for you; take a look…..
1. Black Mountain Tattoo
Black mountain tattoos look timeless; you can get them etched anywhere.
2. Minimalist Mountain Tattoo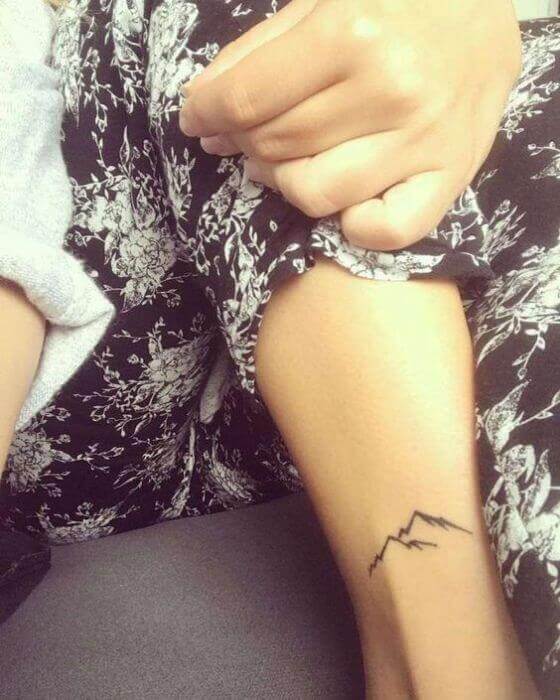 If you do not want to overdo your tattoo, then go for a minimalistic tattoo design, you will love it.
3. Cool Mountain Tattoo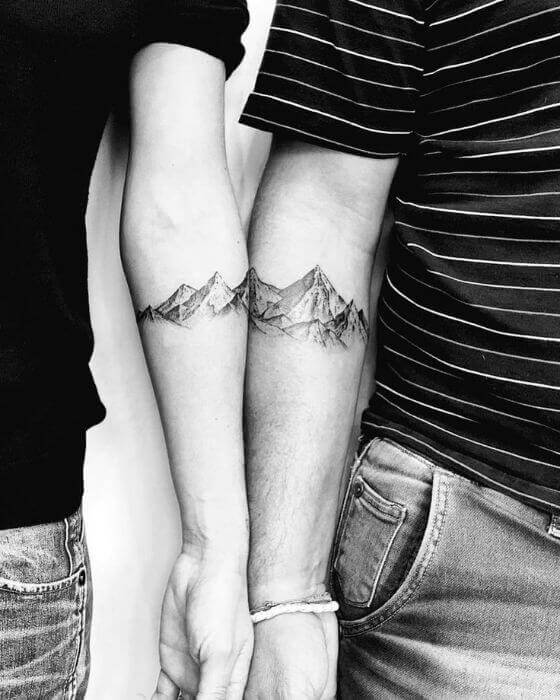 Give your mountain tattoo design a cool look by adding some additional detail to it, like a feather or a heartbeat.
4. Mountain Tattoo Band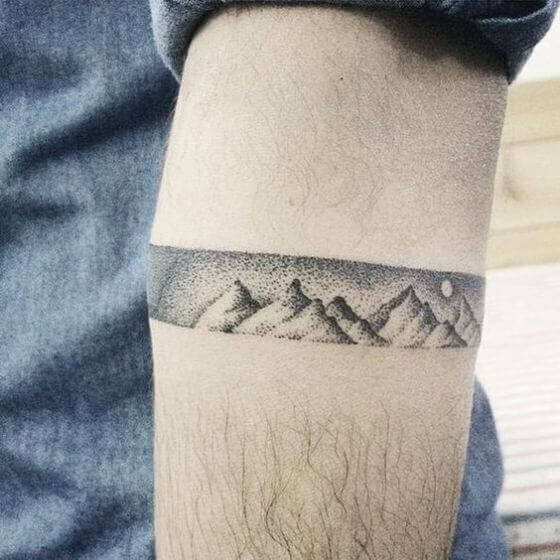 Get a beautiful mountain tattoo band on your arm. This will make for a head-turner tattoo design.
5. Snow-Capped Mountain Tattoo
Snow-capped mountains look amazing, so do snow-capped mountain tattoos. Get one etched on your arm or chest!
6. Mountain with Words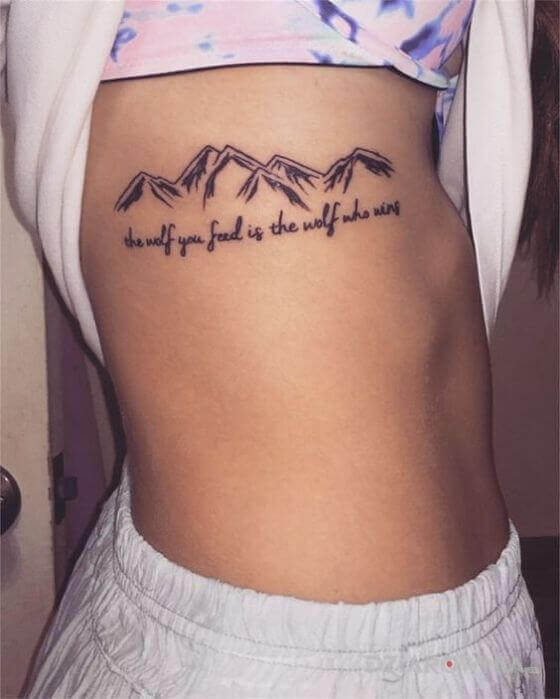 You can also consider adding a word (s) or a phrase to your tattoo design.
7. Realistic Mountain Tattoo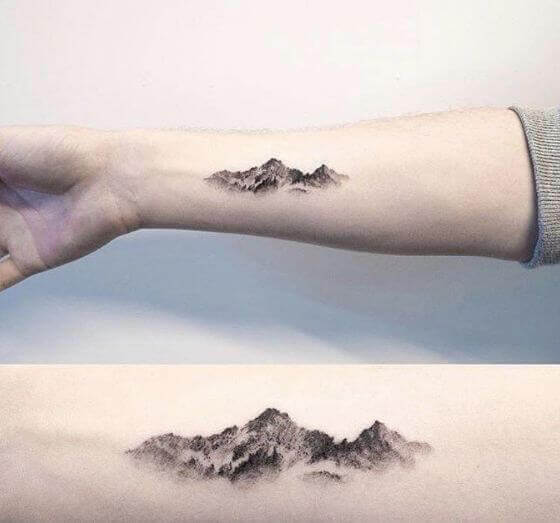 If you like realistic tattoo designs, then get mountains with a reflection in water etched on your forearm in black.
8. Mountains with Trees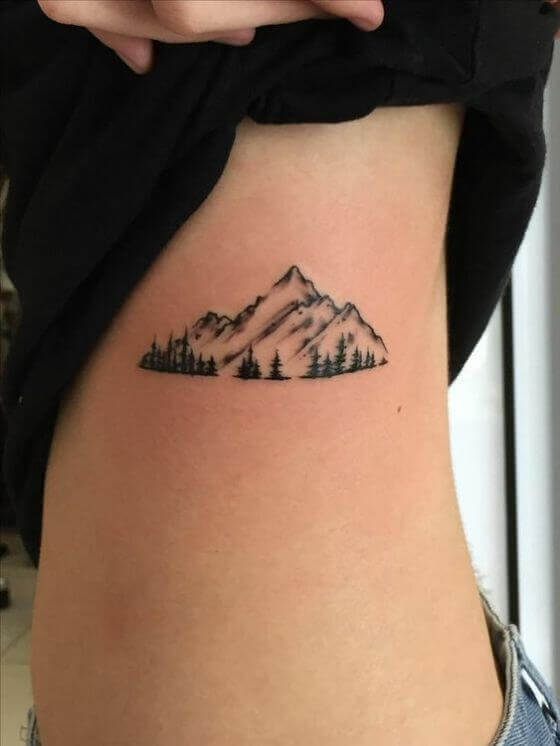 Take your nature tattoo design to another level by adding trees along with the mountains to it.
9. Forest sleeve Tattoo
Get mountains etched with the whole forest on your sleeves. This will make for a mesmerizing tattoo design, trust me!
10. Arm Tattoo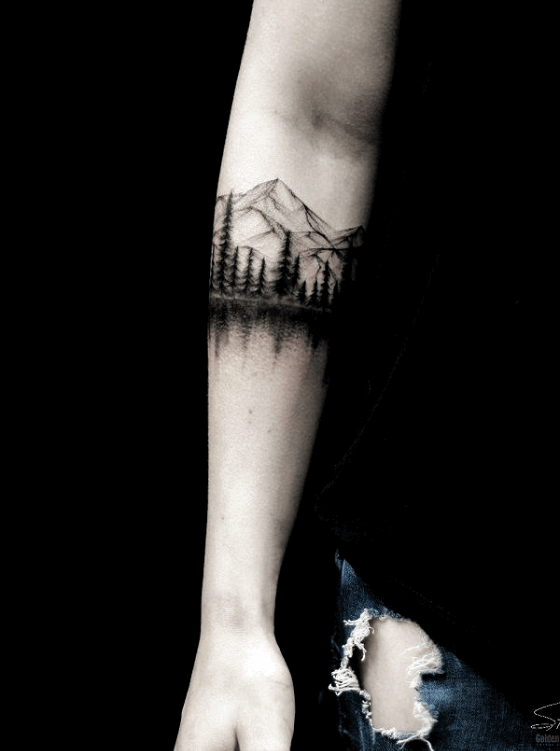 How about having a beautiful arm tattoo in black? Just try it out. It's minimal and very simple!
11. Black Mountain With A Heartbeat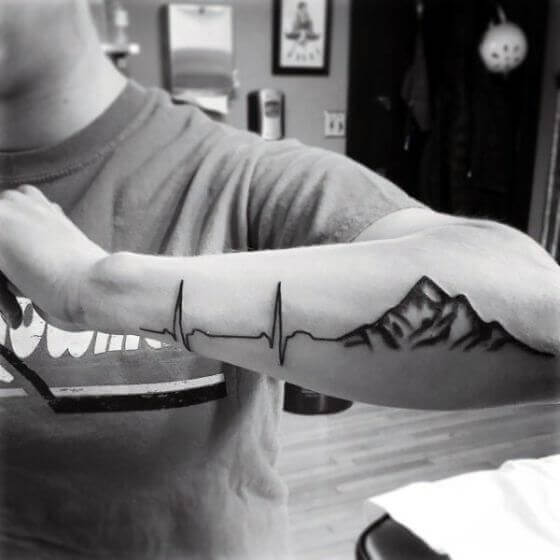 Heartbeats alone make for wonderful tattoo designs; adding a heartbeat to a nature tattoo is enough to take it to the next level.
See More: 85+ Heartbeat Tattoo Designs with Brilliant Combinations
12. Mountains With Planets Tattoo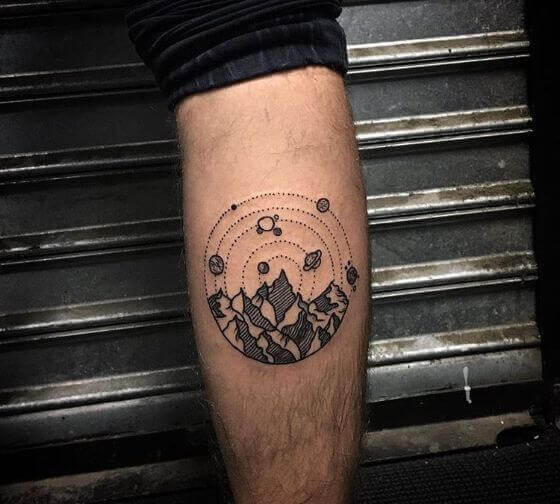 If you want an extraordinary tattoo design, then this one's for you. Get mountains etched with planets on your arm.
13. Mountain Outline Tattoo
Simple linework mountain tattoo makes for perfect tattoo designs for the ones who do not want to overdo.
14. Geometrical Mountain Tattoo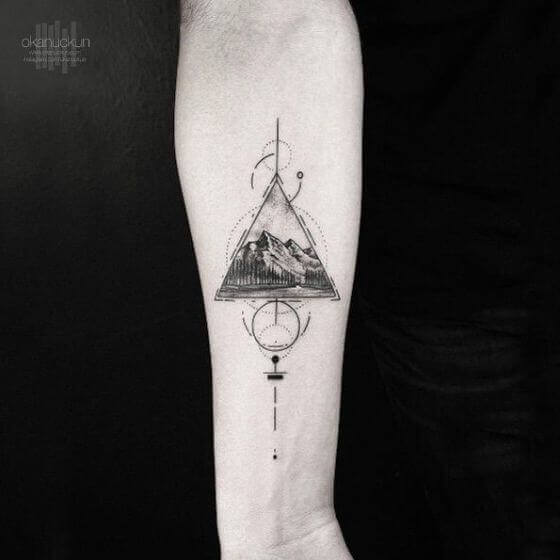 Add geometrical details to your mountain tattoo to make it look more elegant.
15. Mountains In The Heart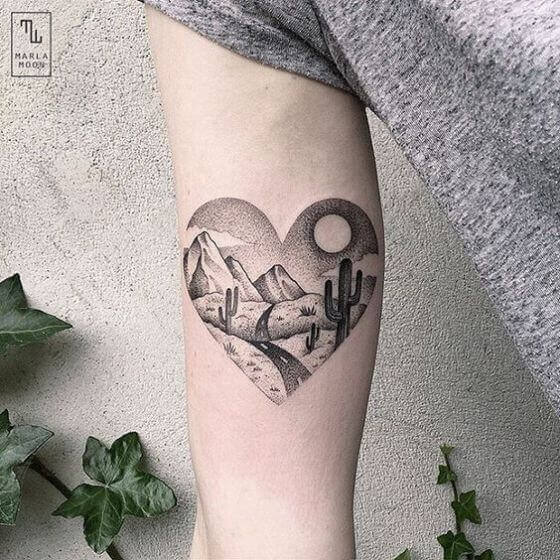 Get a heart tattoo with mountains and a whole forest inside it. This tattoo will look beautiful, vibrant, and colorful.
16. Chest Tattoo
You can even get a beautiful and colorful mountain tattoo on your chest. A perfect place for a nature tattoo, close to your heart!
17. Mountains In A Triangle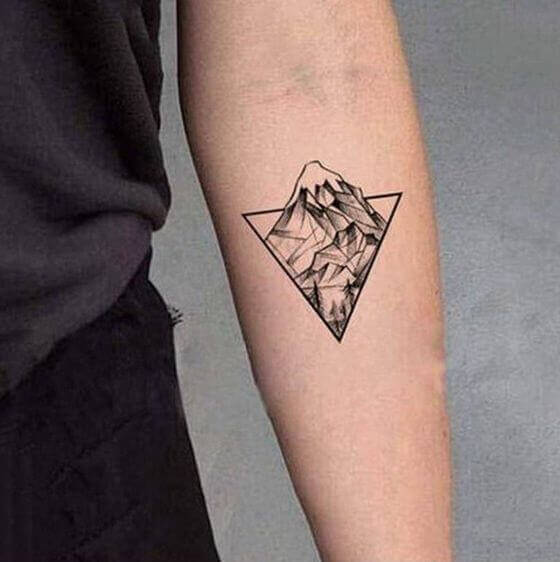 If you are looking for a small nature tattoo design, then get a triangle mountain tattoo. This looks simple and beautiful!
18. Mountains With Clouds & Forest Tattoo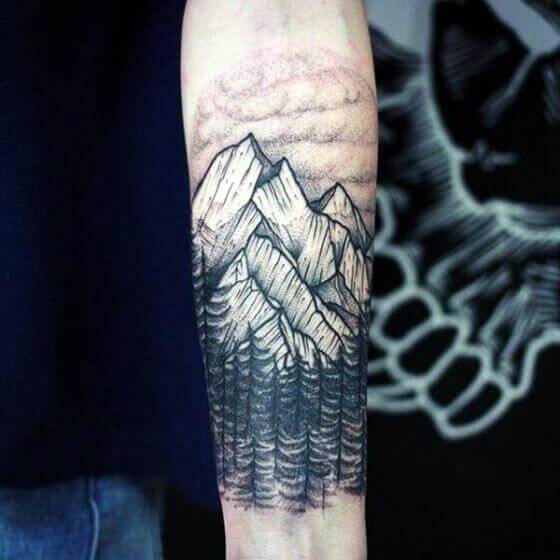 Clouds are a significant part of the mountains; they make the whole scene even more beautiful. Just add some clouds and forest to your mountain tattoo to make it look natural and scenic.
19. Wrist Tattoo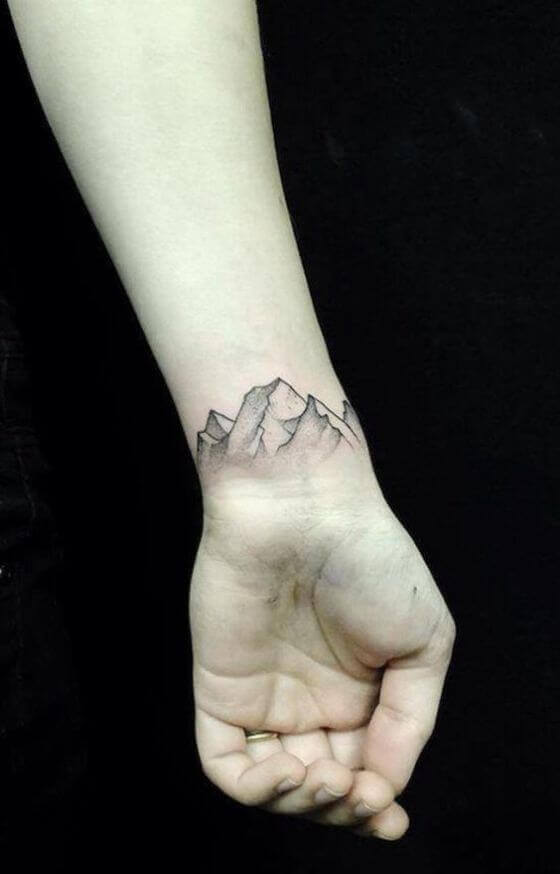 Get a small mountain etched on your wrist. Wrist tattoos look cool and very stylish.
20. Mountains With Blue Sky And Green Forest Tattoo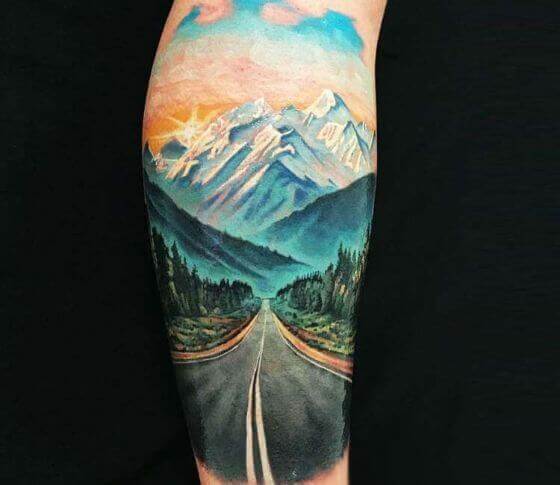 Another colorful tattoo design for those who love different colors in nature. The perfect place for this tattoo is your shoulder blade. You can also get it etched on your sleeves.
21. Intricate Mountain Tattoo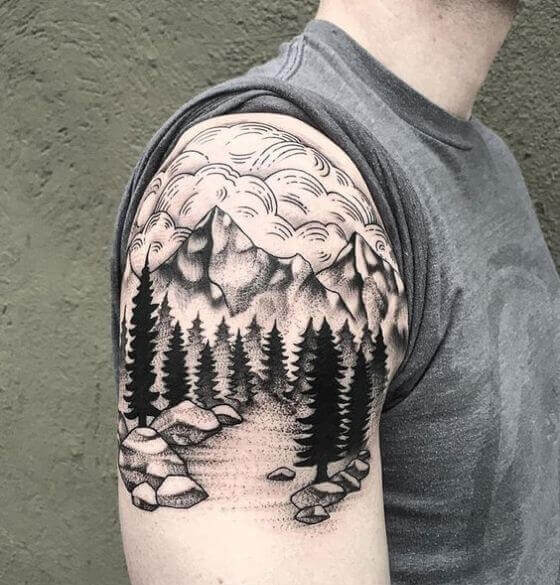 Add some wonderful details, like a bicycle along with some clouds, trees, and a river, to your mountain tattoo. This can be done in black ink, or you can get it done in color. Get it on your arm.
22. Mountain And Sunset Tattoo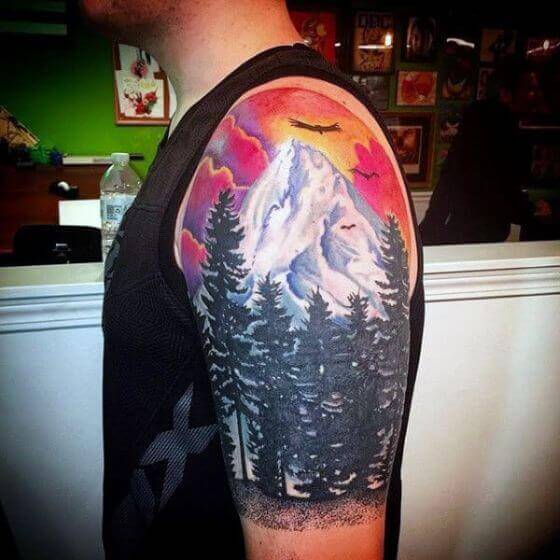 This is going to be a mesmerizing tattoo design, trust me. It will have everything that a beautiful scene with sunset on mountains looks like.
23. Trigonometric Tattoo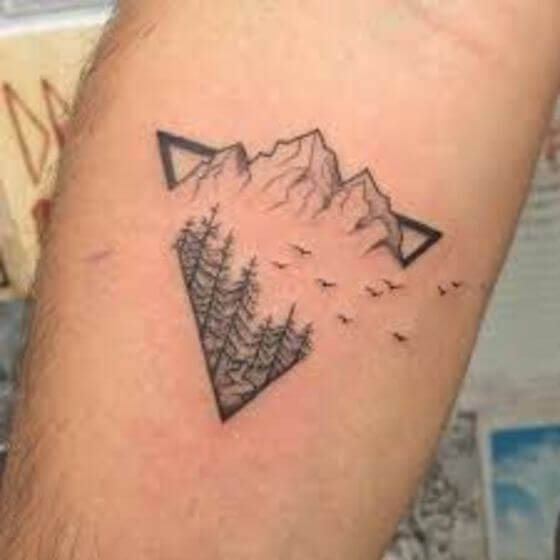 A simple yet amazing tattoo design for all those who love simplicity in their lives.
24. Black-Contour Tattoo
If you want to keep your nature tattoo simple, then try out black-contour on your ankle or foot.
25. Mountain with Date
You can also add some date or year that is significant to you to your mountain tattoo to make it memorable.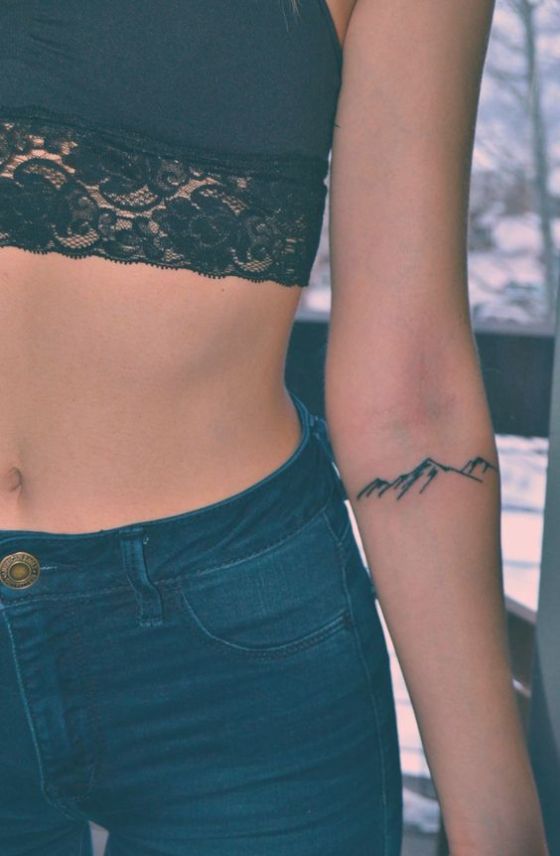 Happy Tattooing… ☺ ☺
Please follow and like us: