225 Amazing Rib Cage Tattoo Ideas
Posted on
Well, this is a tricky one, rib cage tattoos are one of the most painful ones among all tattoo categories, but they are also one of the coolest. Rib cage tattoo designs are very famous among women, who want to flaunt their beautiful side waist and this exceptional rib cage tattoo ideas.
You can go for many designs while going for a rib cage tattoo since it is one of the secret places of your body, a rib cage tattoo will only be visible to someone really close to you. Which provides you the liberty to be who you are.
Women go for quote tattoos, flower tattoos, rose tattoo, feather tattoo, flower tattoo, letter tattoos, minimalistic tattoos, etc. A beautiful and small pattern on your spotless skin over the ribcage, give it an awesome look.
Rib Cage Tattoo for Women
Rib cage tattoos are popular among men as well, and they go for more complex and large designs, such as lion tattoo designs, Tribal tattoo designs, Quote tattoos, 3D tattoos, etc. I still remember that dashed spider-web tattoo of Jason Statham, which he flaunted in one of his Transporter movies. Loved it.
People often go for side rib cage tattoo design, because it looks really classy and beautiful, but be aware that it is also one of the most painful places to have a tattoo. Basically because of the acutely thin muscles layer at that place.
If you are ready to take the pain, you can color yourself with the most beautiful designs, and patterns. They will make you feel like taking off your T-shirt every now and then and stare your awesome rib cage tattoo design.
Going for rib cage tattoo is challenging as your ribcage is covered all the time with your clothes, and due to a thin muscle layer, it takes a lot of time to heal and you have to be extra careful post-tattoo.
Rib Cage Tattoos for Men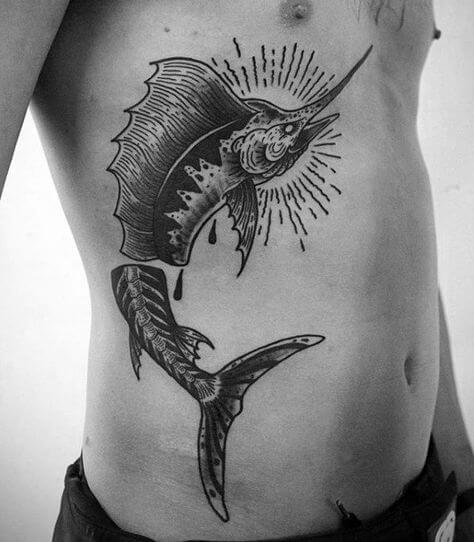 Since rib cage offers a big canvas for tattoo artists to do their magic, you can go for a plethora of tattoo designs varying in sizes and color combinations, and they will still look awesome and attractive.
You can also extend your rib cage tattoo design to other parts of the body, such as hips, chest, shoulders, abdomen, etc. Rib cage due to its central placement can be attached to any existing tattoo design as well if you wish to.
Rib cage tattoo ideas are great in their looks and significance, they are secret, hence, you can carry the most private thoughts on your rib cage. Check out our awesome collection rib cage tattoos, they are beautiful, elegant, and thoughtful. Give them a long stare and they will make you fall in love with them.
Please follow and like us: