Story Behind Celebrity Tattoos
Posted on
Behind every tattoo, there lies a story – a beautiful story from the past or something related to the future. Sometimes people dedicate their tattoos to their grim past as well. Whether good or bad, each tattoo depicts the story of the wearer. Of course, you must know why you got your tattoo, but do you have any idea why your favorite celebrity got his/her favorite artwork?? Not always…..
Well, here in this post, we'll share some of the best stories behind celebrity tattoos. Take a look.
1. Shawn Mendes – Butterfly Tattoo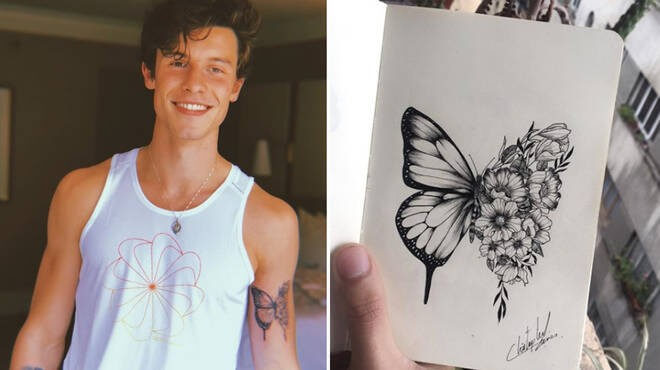 When it came to his latest tattoo, Shawn Mendes took a fan's advice to heart. Mendes appeared inspired to get the tattoo after one fan tweeted two photos of the "Senorita" singer with an intricate butterfly drawing tattooed on his arm and suggested he get the tattoo in real life. The 20-year-old actress retweeted the fan's original message, writing, "Wait this is awesome. Can u D.M. the drawing?"
2. Rihanna — Egyptian goddess Isis Tattoo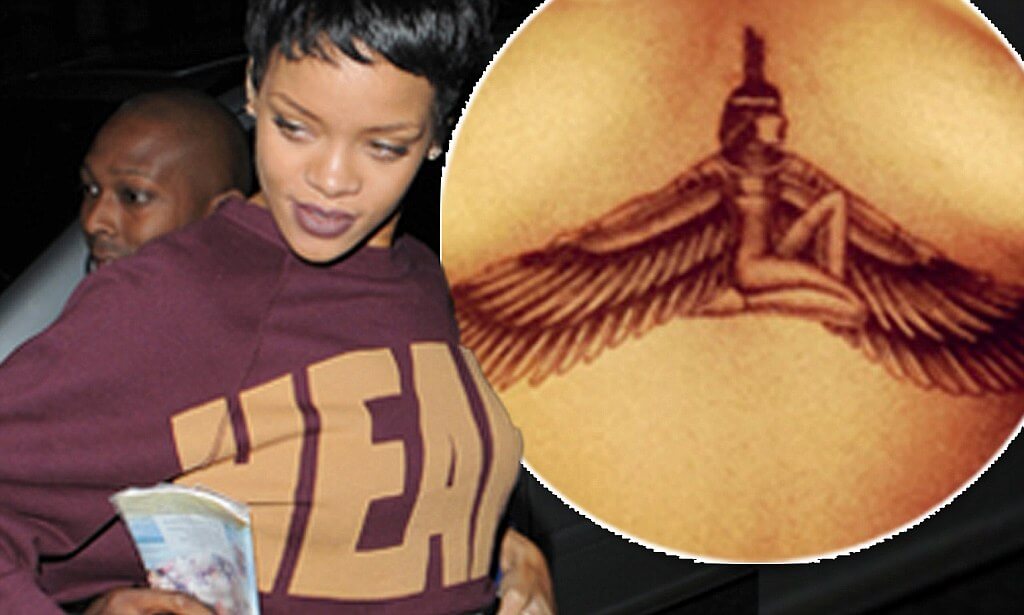 Rihanna, who is known for making bold statements, debuted a massive tattoo of the Egyptian goddess Isis right below her chest in 2012. The ink is a memorial to her late grandmother.
3. Adam Noah Levine — Black Beaded Necklace Tattoo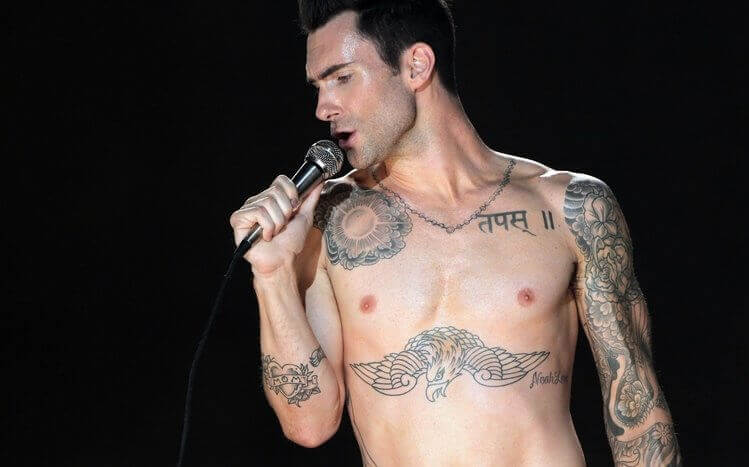 The American singer, songwriter, and actor who is best known as the lead vocalist of the pop-rock band Maroon 5 got a black beaded necklace around his neck. The artist seems to have no reason why he got this tattoo etched around his neck. Speaking about his neck tattoo, he said, "I was in Japan and I got this necklace," "I'm not sure why I got it — I think I was bored. But I like it."
Related: Dwayne 'The Rock' Johnson's Tattoos And Their Meanings
4. Ariana Grande — Bee Tattoo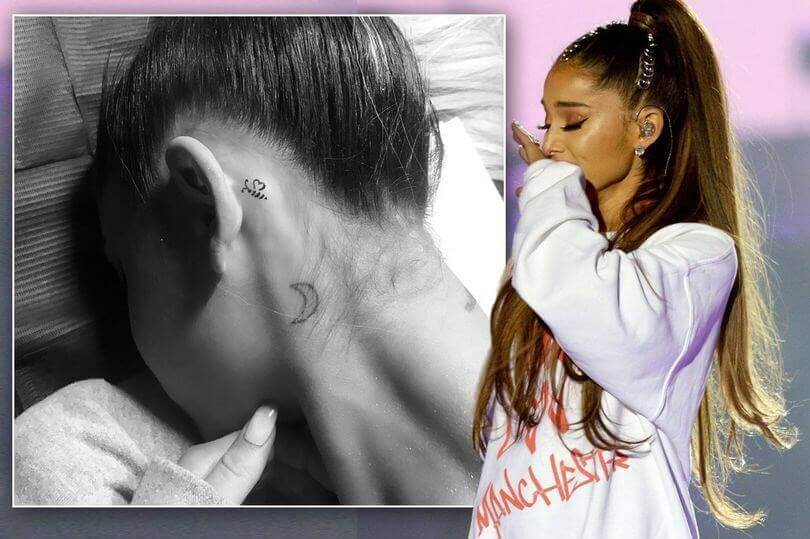 American singer and actress Ariana Grande-Butera got a bee tattoo near her ear in the memory of the Manchester Arena victims. Bees are a Manchester symbol that represents hard work.
5. Kendall Jenner — Meow Tattoo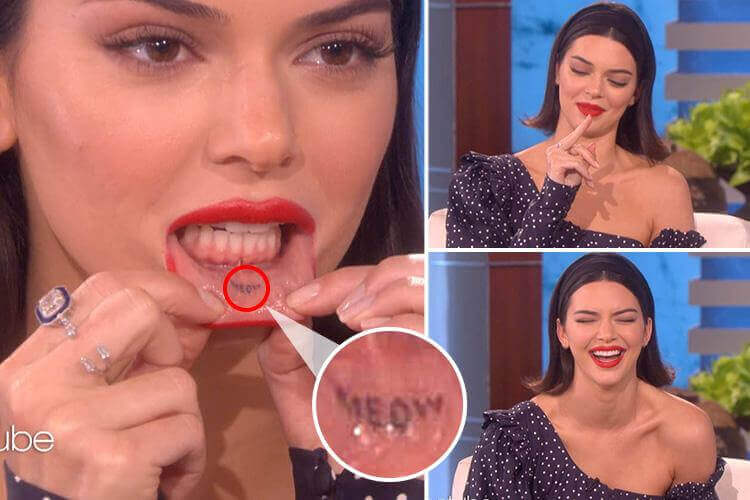 The model got her lip tattooed with the word "meow." The tattoo was etched by the celebrity tattoo artist JonBoy in N.Y.C. She opted for the now-signature marking after a night out drinking with friends. Speaking about her lip tattoo, Jenner said, "It was literally the first thing that came to my mind."
Jenner added, "I really didn't ever plan to show my newest 'meow' tattoo. I got it done back in July by JonBoy in New York, and I didn't plan on telling anyone. But, in an interview, I accidentally said something about it without even realizing. I guess I was just excited, lol."
Also See: Know All About Selena Gomez & Julia Michaels' Matching Tattoos
6. Vanessa Hudgens — Butterfly Tattoo
The High School Musical star Vanessa Hudgens' got a butterfly tattoo on her neck. And there is a sweet story behind her butterfly tattoo, which goes like this – Vanessa was named after a butterfly that landed on her mother's belly a week before she was born. Vanessa is a Latinized form of the word "butterfly."
7. Samuel Frederick Smith — Equality Symbol Tattoo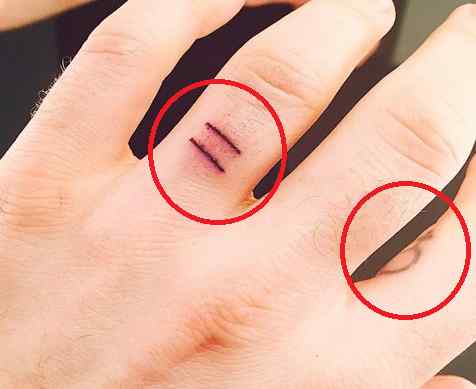 Samuel Frederick Smith, popularly known as Sam Smith, is an English singer. He has got 12 tats on his body, out of which one tattoo is of equal symbol tattooed on his left ring finger. He got an equality symbol that represents equality for everyone, including same-sex marriage. Speaking about his "equality" tattoo, Sam said, "This one is pretty self-explanatory. It shows my views on gay marriage and equality for all." Sam came out to the world in 2017 and has since advocated for equal rights for the LGBTQ+ community.
8. Miley Cyrus — Dog Tattoos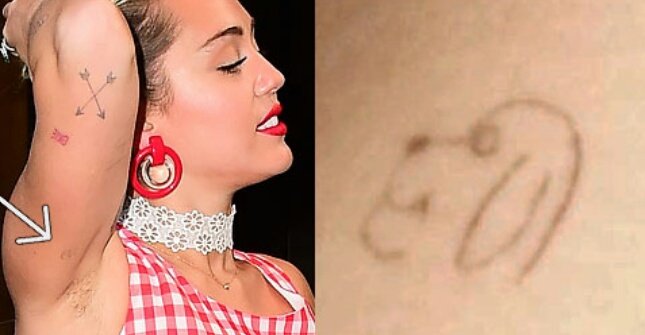 The "Slide Away" singer has at least four tattoos honoring her furry friends, the first of which is a tribute to her late dog Floyd, who died tragically in 2014. Cyrus has continued to pay tribute to her beloved animals since then. The other two are dedicated to her dogs, Mary Jane and Emu so that she can keep them forever.
9. Edward Harry Styles — "G" Tattoo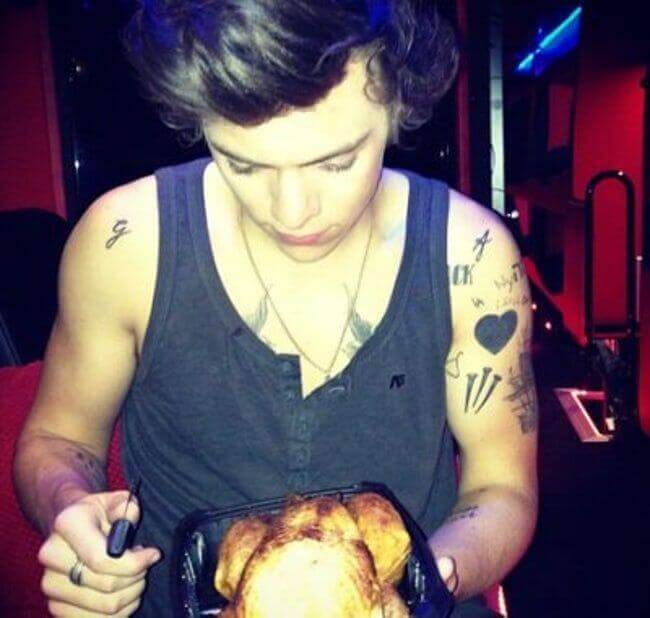 Edward Harry Styles, better known as Harry Styles, is an English singer, songwriter, and actor. He loves getting inked; he has more than 50 tattoos on his body. Each of his tattoos holds significant meaning; however, the best story lies behind his "G" tattoo. After losing a bet in 2013, the former One Directioner got the Green Bay Packers "G" tattooed on his left arm (just beneath the star).
Harry Styles is a huge football fan, and during one of their games, he bet his friend Cal that if the Green Bay Packers won, he would get their logo tattooed the next day. He asked Cal reassuringly if they were going to win, and he still said yes. Harry got the tattoo the same day, without even waiting for the game to end, and the Green Packers were unlucky enough to lose.
10. Edward Thomas Hardy — Homage To Leonardo DiCaprio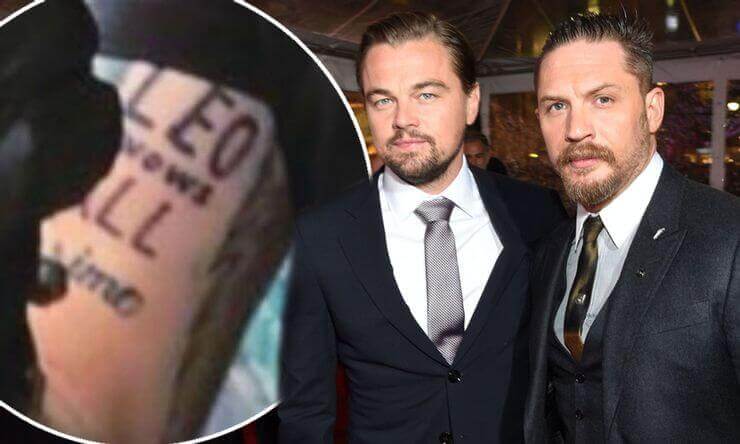 Edward Thomas Hardy, popularly known as Tom Hardy, is an English actor and producer. One of Tom's tattoos is a homage to Leonardo DiCaprio. DiCaprio predicted that Hardy would be nominated for an Oscar for his performance in the film, while Hardy predicted the opposite. The loser would be forced to get the winner's tattoo. Hardy lost the bet because he was nominated for Best Supporting Actor at the Academy Awards. DiCaprio was prepared with his design. "He wrote, in this really s—-y handwriting: 'Leo knows everything,'" Hardy said. "Ha! I was like, 'OK, I'll get it done, but you have to write it properly'… I haven't got it yet because it sucks."
Hope you like these 10 stories behind celebrity tattoos. What's the story behind your tattoo???
Happy Tattooing… ☺ ☺
Please follow and like us: