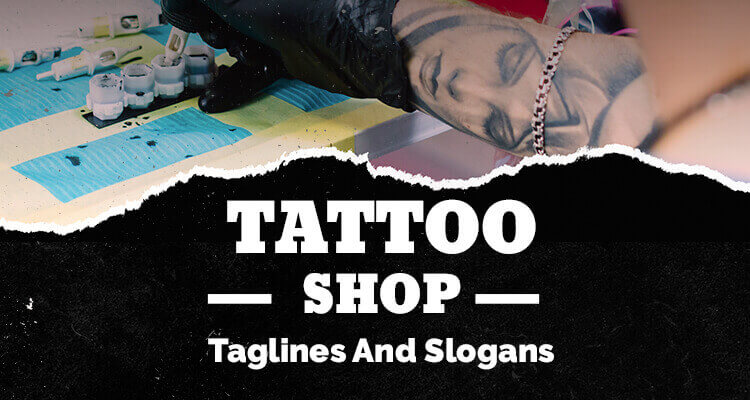 Tattoo Shop Taglines and Slogans
Posted on
The tattoo business is one of the most flourishing businesses today. People across the world are passionate about tattoos. According to research, 38% of people have at least one Tattoo across the globe, and the number is increasing on a daily basis. That is why more and more people are considering tattooing as a business option. Starting a tattoo artist is the dream of every tattoo artist. Every tattoo artist wants to own his/her tattoo studio. If you are also one of them, then this post is for you. Here I am sharing 201 tattoo shop taglines and slogans.
I hope you know that you will need an excellent tattoo shop tagline and slogan for your studio. Marketing your business is very important. And taglines and slogans are part of marketing. Believe it or not, the right slogan can help you to penetrate the market easily. It will help your customers to know that you exist. Only a tattoo shop name is not sufficient. You need to have a slogan as well. Moreover, the tattoo shop slogan should align with your business values that resonate well with your customers. Take a look at the below-mentioned tattoo shop taglines and slogans.
250+ Best Tattoo Shop Slogans and Taglines
1. We help you to adorn your body.
2. Body Art Studio.
3. Maori Experts.
4. Body art at reasonable prices.
5. Affordable and best deals.
6. A Progressive Tattoo Shop.
7. Adorn Your Skin With Us.
8. Let Us Adorn Your Skin.
9. Award Winning Tattoo Designs.
10. Get The Best Tattoo Here.
11. We Are Known For The Best Tattoos.
12. Be Bold, Get Tattoo.
13. Audacious Tattooing.
14. Feel Confidence.
15. Let Us Tattoo Your Style.
16. Get Comfortable In Your Skin.
17. Nature Intended Tattoos.
18. Ancient Style Tattoos In A Modern Era.
19. Trust Our Instincts.
20. Adept & Skilled, You Can Trust.
21. Experienced In High-Quality Tattooing.
22. We Care Because We Know What You Want.
23. Customize Your Style With Us.
24. Award Winning Tattoo Styles.
25. Express Your Style Your Way.
26. Get A Customized Tattoo.
27. Award Winning Bold Tattoo Designs.
28. We Can Bring Your Idea To Life.
29. Tattoo Worth Having.
30. Creating Great Tattoos For Over 10 Years
31. Creating Tattoo Since 1996.
32. Truly Authentic Designs!
33. Authenticity Is Our Legacy.
34. Clean & Classic.
35. Our Work Speaks For Us.
36. Break All The Norms.
37. Get Tattooed.
38. Break All The Norms, Get Tattooed!
39. Brighter & Bolder Body Art.
40. Safest, Affordable & Classy.
Related: Popular Tattoo Hashtags For Instagram, Facebook, Twitter
41. Most Affordable Customized Tattoos.
42. We Create Your Dream Tattoos.
43. Creators Of Body Art Since 1999.
44. Tattooing Is Our Passion.
45. Your Ideas Our Effort.
46. Committed To Give You The Best.
47. Custom Tattooing.
48. Customer Service Is What We Stand For.
49. Client Satisfaction Is Our #1 Priority.
50. Say YES To Body Art.
51. Work That Stays.
52. Quality Needs No Comparison.
53. Get What You're Looking For.
54. Be Who You Want To Be.
55. Tattoos Are For Bold.
56. Finest Body Artwork.
57. Get Your Dream Tattoo.
58. Tattoos Are A Good Addiction.
59. Get Addicted To Tattoos.
60. Finest Body Art At Finest Prices.
61. Clean, Classy, and Reasonably Priced.
62. Adorn Yourself.
63. Your Space To Get Tattoo.
64. Pain Is Temporary, Tattoo Is Permanent.
65. Great Tattoo With Great Price.
66. Become Stylish.
67. Have Your Own Style Statement.
68. Get Stylish.
69. Wait No More Get The Perfect Body Art.
70. Get What You Have Been Seeking.
71. Genuinely Fair.
72. Paint Your Dream.
73. Be Real.
74. Be You.
75. Your Body Your Rules.
76. Your Imaginations, Our Passion.
77. Our Passion Is To Bring Your Dream To Reality.
78. No Need To Go Japan For A Japanese Inspired Tattoo, When We Are Here.
79. We Are In Some Serious Business.
80. Great Talent, Great Tattoos.
81. Select From Wide Choices of Quality Tattoos.
82. Tattoos' Homeland.
83. Direct From Heart.
84. We Don't Do It For Money… We Do It For Our Passion.
85. Tattoos Are For Life.
86. Get Etched.
87. Get Your Favorite Body Art Inked.
Also See: Tattoo Equipment List
88. Love May Be Transitory, But Tattoos Are Permanent.
89. Your BF May Go, But Tattoo Is Going To Stay.
90. Live Life Your Own Way.
91. Ink Collectors' Treasury.
92. Treasure That Lasts.
93. Never-ending Treasure.
94. Tattoo Lovers' Favorite Spot.
95. Hot Spot For Hot Tattoos.
96. Tattoos Don't Hurt.
97. People May Hurt, But Tattoos Don't.
98. Tattoos Add To Confidence.
99. Be Confident.
100. For Your Own Tattoo Design.
101. Home For Great Tattoos.
102. Tattoos Are A Way Of Life.
103. We Can Make Your Vision A Reality.
104. We Can Transform Your Vision Into A Reality.
105. Let Us Transform Your Vision Into A Reality.
106. Unending Inspiration.
107. Get Inspired.
108. Let Us Give You An Inspiring Body Art.
109. No Pain No Gain.
110. No Gain, Without Pain.
111. Enough Of Whining!
112. Say NO To Whining!
113. Make It Possible.
114. We Make It Possible.
115. One Of A Kind Body Arts You've Always Wanted.
116. Perseverance, Art, and Tradition.
117. Pick That Sticks.
118. Pick Your Favorite Tattoo.
119. A Marriage May Not Last, But Our Tattoo Does.
120. Your Choice, Our Hard Work.
121. Our Tattoos Are Priceless.
122. Tattoo That You'll Love.
123. For All That Matters To You.
124. Get Tattoos In Reasonable Pricing.
125. Endure Your Tattoo.
126. Get A Real Professional Tattoo.
127. Get One More.
128. Pick One More.
129. Specialized In Classic, Bold, And Bright tattoos
130. Our Tattoos Last A Lifetime.
131. Shop You Can Trust.
132. Tattooists Who Care.
133. Select The Body Art You Want To Have.
134. Rebirth.
135. Specialized In Creating The Impossible.
136. When Talent Merges With Art.
137. Where Talent Merges With Art.
138. Tattoo With a View.
139. Get A Mark Of The Soul.
140. Tattooing With Experience.
Also See: Tattoo Frequently Asked Questions
141. Let Us Help You Tell Your Story.
142. Your Story Our View.
143. Known To Create Beautiful Stories On Body.
144. Where Vision Turns To Reality.
145. Where Visions Are Turned To Reality.
146. A Unique Body Art.
147. A Tattoo For A Great Start.
148. Tattoos Are Celebrities' Favorite.
149. It's Not A Profession; It's Passion.
150. We Don't Do It For Hobby; We Do It For You!
151. Look Adorable.
152. Make Your Special Day Memorable.
153. Make It Memorable.
154. Prettier Your Look With A Tattoo On Your Foot.
155. Anywhere, Just Get It!
156. It's Better To Fall For A Tattoo Than Falling For A Wrong Person.
157. Tattoos Are New Normal.
158. Go With The Trend, And Tattoos Are Trend.
159. Adore The Art!
160. Get A Tattoo From The Most Civilized People.
161. We Draw Better.
162. Ours Are The Best Tattoos.
163. We Have The Happiest Clients.
164. We Create The Best Tattoos.
165. We Draw The Best Tattoos.
166. For That Permanent Style.
167. Pain Is Transitory; Style Is Perpetual.
168. We Love Our Clients.
169. Our Customers Are Our Favorite.
170. Become Stylish With Us.
171. We Create Healthy Tattoos.
172. Ours Are The Best Tattoos.
173. The Incomparable Body Art.174. Unparalleled & Unrivaled Talent.
175. Your Body Is A Canvas.
176. Tattoo Is The Art Of The Body.
177. Don't Hesitate To Get A Tattoo.
178. There Is No Tomorrow For A Good Tattoo.
179. There Is No Good Day For A Good Tattoo.
180. Tattoo That You Love
181. You Are The Creator Of Your Destiny, And We Are The Creator Of Your Tattoo.
182. Tattoos Don't Hurt.
183. It Hurts Less Than A Breakup.
184. Get Ready To Love Your Experience.
185. Embrace Your Tattoo.
186. Select Your Favorite Art, We Will Draw For You.
187. Ours Is A View.
188. We Just Don't Draw; We Bring It To Life.
189. Professional Tattoos For Professional Customers.
190. We Can Ink What You Think.
Also See: Myths About Tattooing
191. You Think, We Ink.
192. Embrace Your New Addiction.
193. Tattoos Are Serious Addiction.
194. Welcome To The Group.
195. The Tattoo Family.
196. Get A Masterpiece With Us.
197. Let Us Brand You.
198. Never Rare.
199. Your Deserve Better Experience.
200. If You Are Searching The Right Place.
201. Perfect Place For New Concepts & Timeless Traditions.
202. Get Comfortable.
203. Get Branded.
204. We'll Make You A Brand.
205. For That Masterpiece That You Have Been Seeking.
206. We Take Tattooing Pretty Seriously.
207. Where Dreams Come True.
208. Where Art Is Brought To Life.
209. Our Designs Speak For Us.
210. Your Body Is A Canvas, And We Are The Artists.
211. The Right Place For The Right People.
212. Color Your Creativity
213. Let Us Adorn Your Dreams.
214. Helping You Become More Stylish
215. Be Different.
216. Your Tattoo Should Be Unique.
217. Flaunt Your Style.
218. Tell Your Story.
219. Tell Your Story Your Way.
220. Get A Tattoo And Chill.
221. Pause For A While.
222. The Friendliest Needle.
223. The Tattoo That You Need.
224. Get An Endless Joy With Us.
225. Tattoo Is An Endless Joy.
226. A Piece Worth The Pain.
227. Tattoo Without Pain.
228. We Don't Hurt You.
229. Our Tattoo Don't Hurt.
230. Add A Flair.
231. For That Hot Body Art.
232. You Will Love It.
233. Fine Art By Finest Talents.
234. Add Some Spark To Your Life.
235. Tattoo for Style.
236. Work Worth A Pain.
237. Style Perfectionists.
238. Get Transformed.
239. Masters Of Impossible Arts.
240. Get Creative.
241. Feel The Difference.
242. Most Effective Style At Best Price.
243. Great Talents Meeting Great Demands.
244. Get The Rarest Piece Of Art Here.
245. Get More Than Just A Tattoo.
246. You Deserve More Than Just A Tattoo.
247. For The Lifetime Of Experience.
248. We Draw From Heart.
249. Be Forever Stylish
250. We Make You Look Great.
251. Get Your Favorite Tattoo Today
252. Tattoos Are Just Another Way Of Enlightenment.
253. Life Will Change, But Your Tattoo Won't.
254. Beautiful Tattoos For Beautiful People.
255. Select Your Favorite Body Art.
256. We Bring Smiles To Our Customers.
257. Get The Good Tattoo.
258. Happiness Is Wearing Your Favorite Tattoo.
259. Tattoos Are Never Ending Impressions.
260. We Draw Tattoo With A View.
261. Best Tattooing, Best Rates.
Final Thought….
So, these are the best 261 tattoo shop taglines and slogans that you can leverage for your studio. Remember that taglines and slogans are a vital part of effective marketing. You can get creative while crafting a dandy slogan for your tattoo studio; however, remember that it should resonate with your values.
Please follow and like us: