70 Incredible Wave Tattoo Designs for Ocean Lovers
Posted on
Waves are the best tattoos for those who are looking for minimalist tattoo design. No matter how simple the design is. Wave tattoo designs symbolize too many things, like the natural forces, the move and, and at the same time, challenge us.
Wave tattoo meanings vary from person to person, depending on one's outlook and approach in life. Like; sailors, swimmers, and surfers often choose to wear a wave tattoo as a protective ensign, a message of unity with the elements. Even a simple wave tattoo represents one's acceptance that there are greater forces in the world compelling us. The best thing is wave tattoos can be done in any size and anywhere on your body, from your shoulder blade to your wrist, your chest to your arm.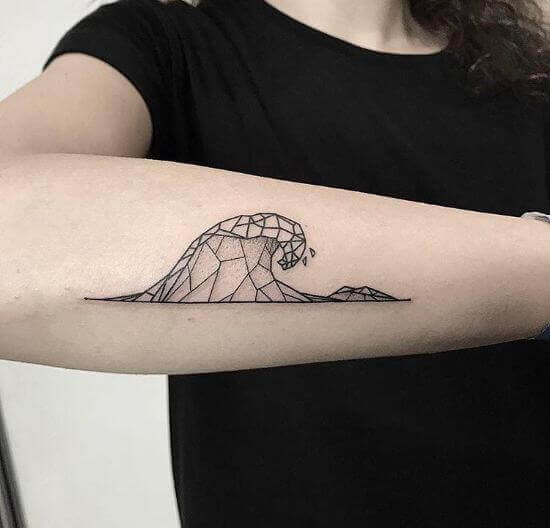 A simple wave tattoo can cost you around INR 2500 to INR 3000. While a large sized colorful wave tattoo can cost you anywhere between INR 7500 to INR 12000 depending on the design and the location where you get it etched on your body.
Here in this post we are sharing with you some of the best wave tattoo designs, which even include Japanese wave tattoos to ocean tattoos.
Here we go…..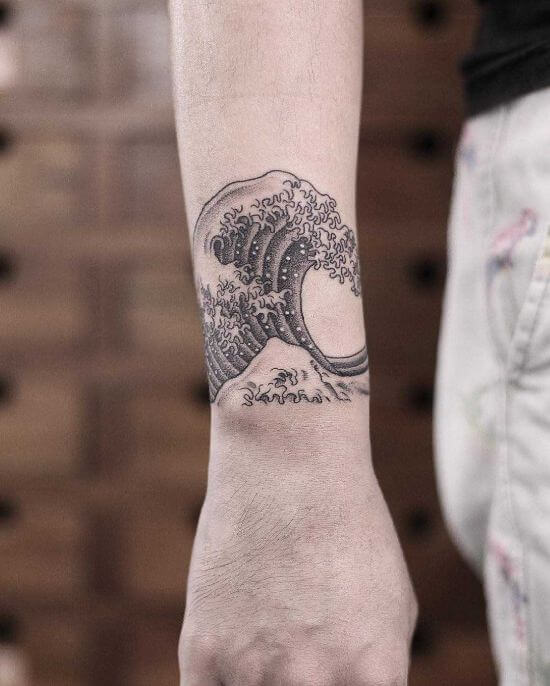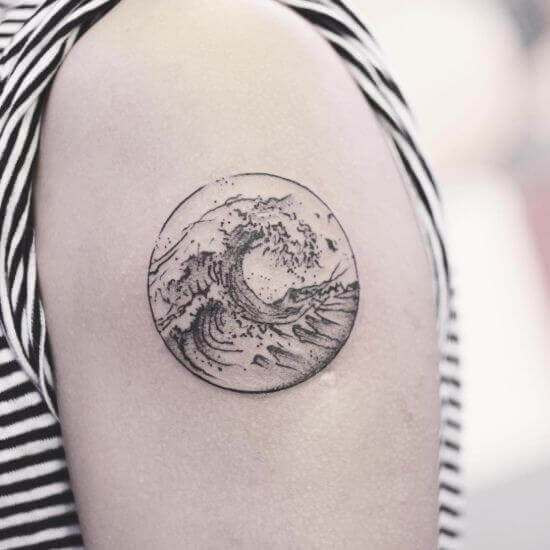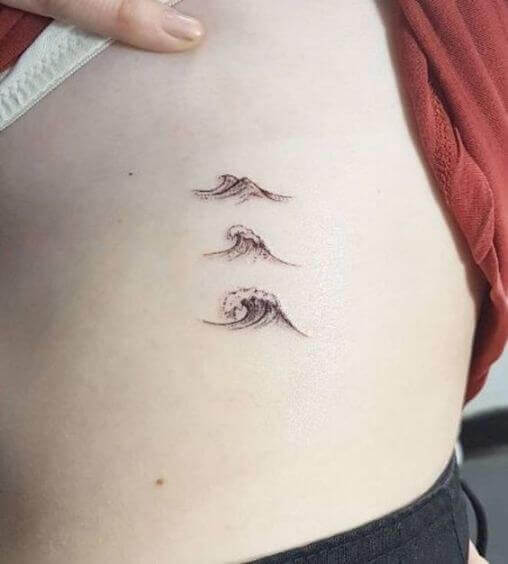 See More: Rib Cage Tattoo Ideas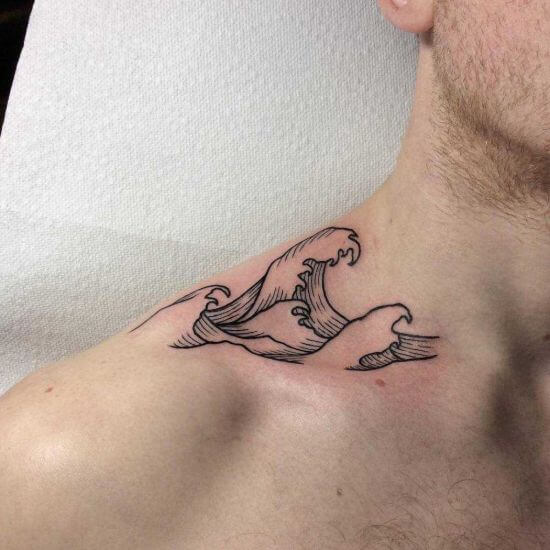 ---
1. A simple wave tattoo
Just a wave on your ankle or on your arm will make for a very beautiful tattoo design. If you want to have some really simple tattoo, then a wave will do the needful.
2. Geometric wave tattoo
Another beautiful and unique tattoo design is Geometric wave tattoo. It looks amazing when done on your forearm. And yeah, get it done in black ink.
3. Rectangular wave tattoos
For all the ocean lovers, this is a perfect tattoo design. You are going to love this design, if you really like oceans and waves in life.
4. Circular wave tattoo
Circular wave tattoos are relatively larger in size, however, they look great when etched on the shoulder blade or on the arm. Get this piece in black ink, you will love it for sure.
---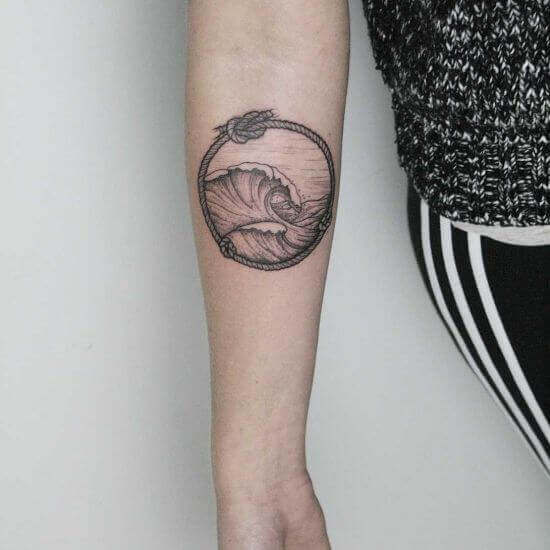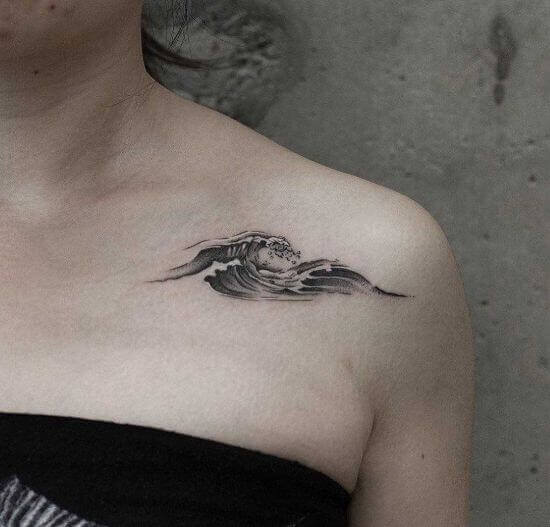 See More: Shoulder Tattoo for Men and Women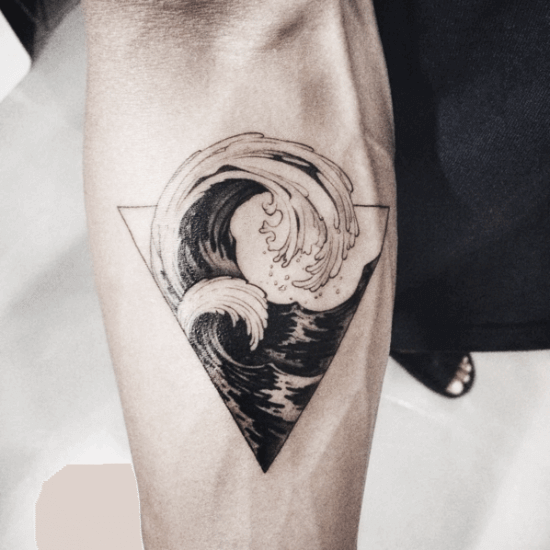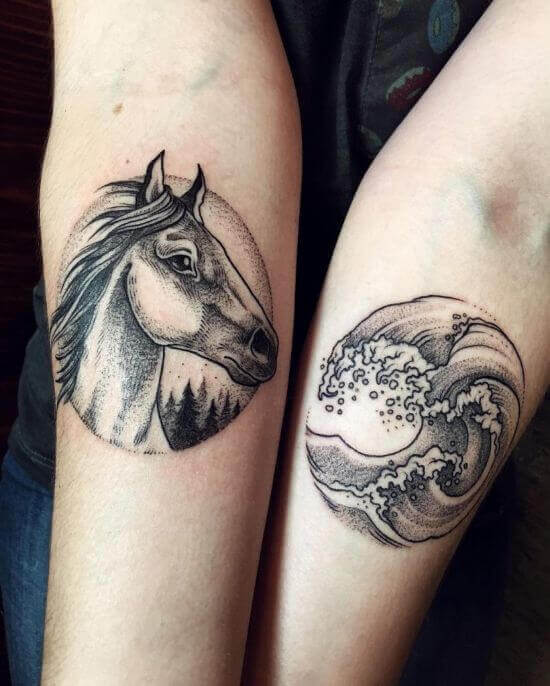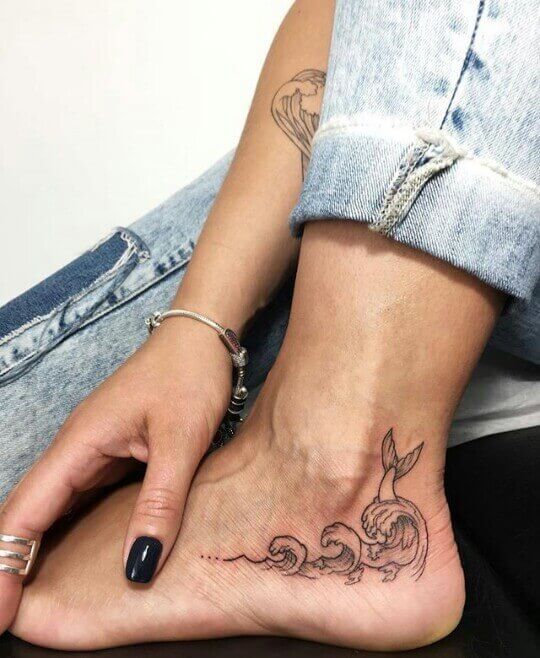 Also See: Ankle Tattoo – More Sexiness For Girls
---
5. Blue wave tattoo Designs
Believe it or not, blue waves look mesmerizing and very lively. If you are looking for a colorful yet simple tattoo design, then a wave in blue will look stunning. Get this one etched on your arm or wherever you want to.
6. Hawaiian wave tattoo
Hawaiian wave tattoos not only look artistic, but also very beautiful and gorgeous. They look like some drawing work is done on your body. These tattoos are a great hit amongst girls. If you also want to have a beautiful artwork on your body, then this is the tattoo for you!
7. Shaded wave tattoo
Shaded wave tattoos can be done in any size; however, they look great when done in larger size. You can get your arm covered with a shaded wave tattoo, and it will look stunning no matter what.
8. Watercolor wave tattoo
Watercolor wave tattoos look real and beautiful! Moreover, they are small in size and perfect for the ones who want to keep their tattoos hidden.
---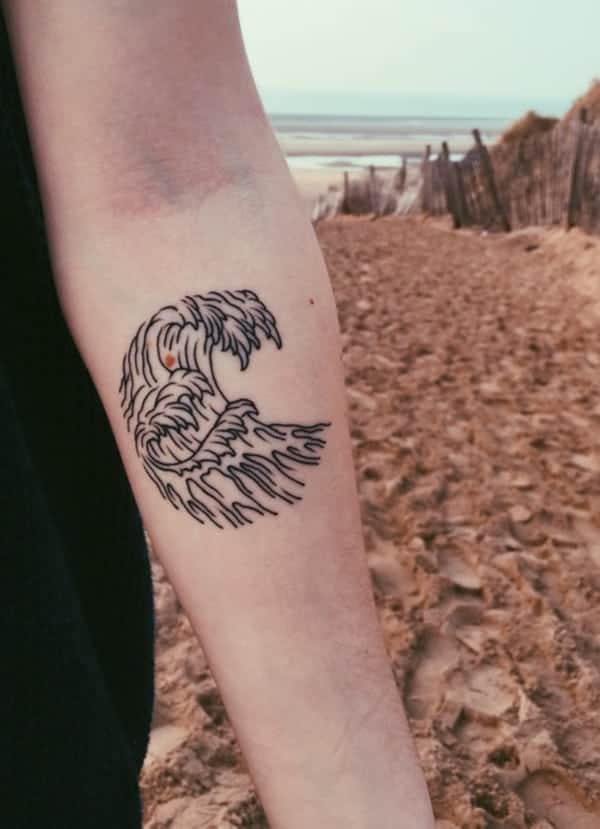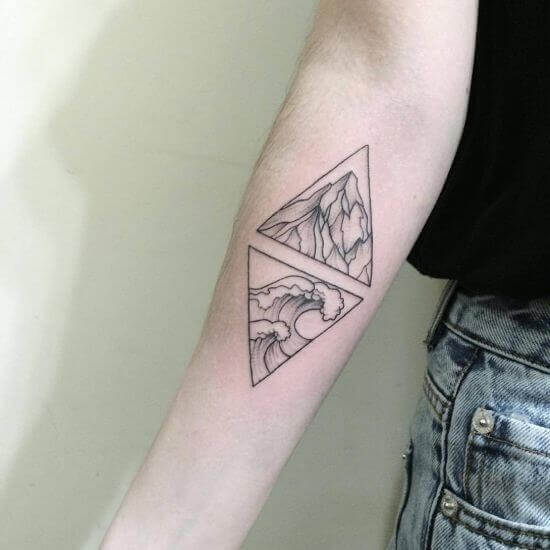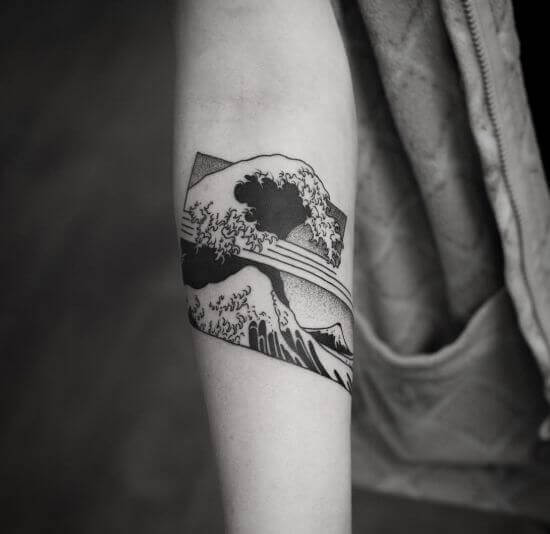 See More: Forearm Tattoo Designs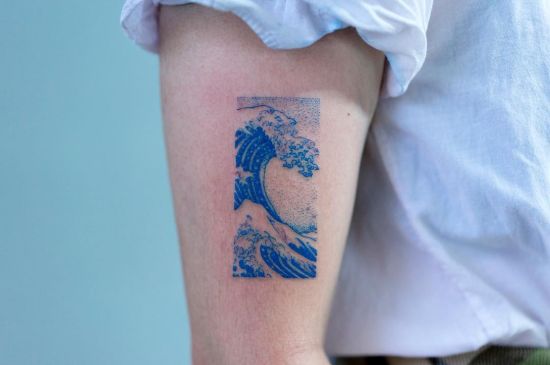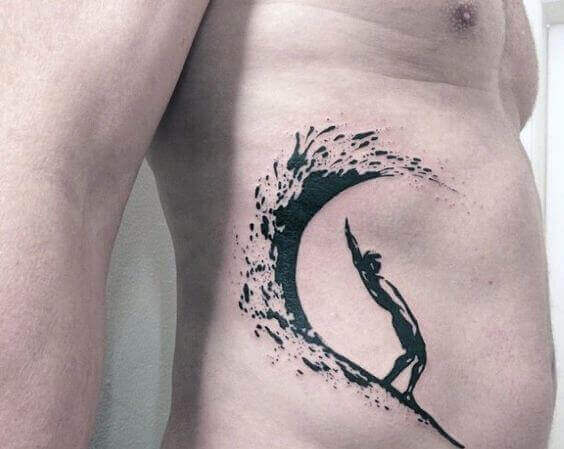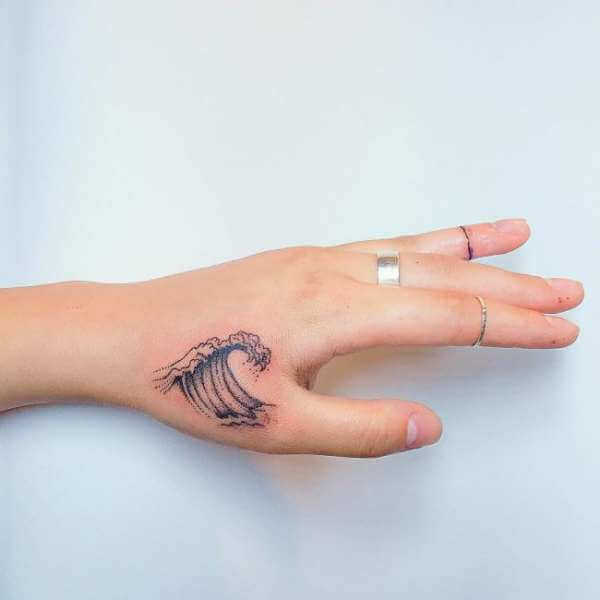 Also See: Thigh Tattoo Ideas for Girls and Boys
---
9. White color wave tattoos
White color tattoos look mesmerizing, especially when it is a wave done in white. If you wish to have a unique looking tattoo on your body, then a white color wave tattoo.
10. Blue and white wave tattoo
White ink gives a dramatic effect to a tattoo. And when it is blended with the blue ink appropriately, then the whole tattoo becomes breathtaking.
11. Japanese wave tattoo Designs
The best part of a Japanese wave tattoo is – it can be done in any size and on any part of the body. If you want to cover your entire arm with a tattoo, then this is the design or if you want some simple tattoo design, then also this design is perfect for you.
Related: 40+ Traditional Japanese Tattoo Style Designs With Meaning
12. Hokusai wave tattoo
The Hokusai wave is a phrase given to the works done in the image of a well-known 19th century Japanese artist Katsushika Hokusai's woodblock print works. Hokusai wave looks simply gorgeous!
---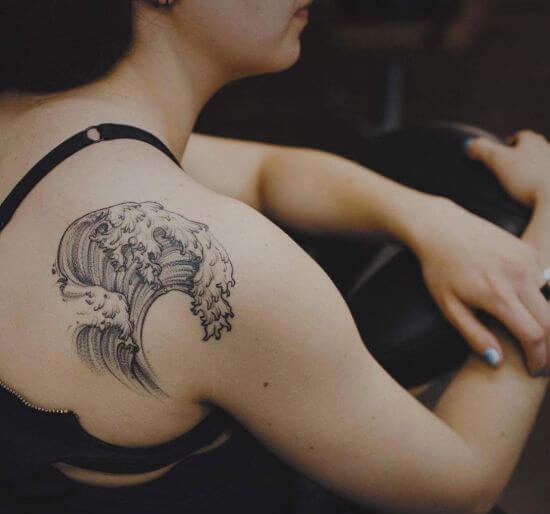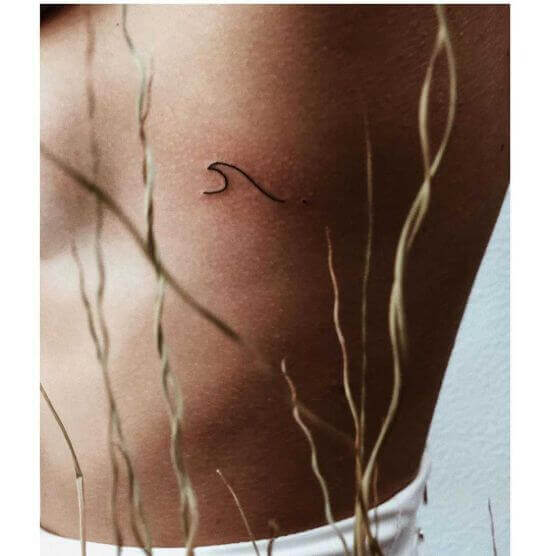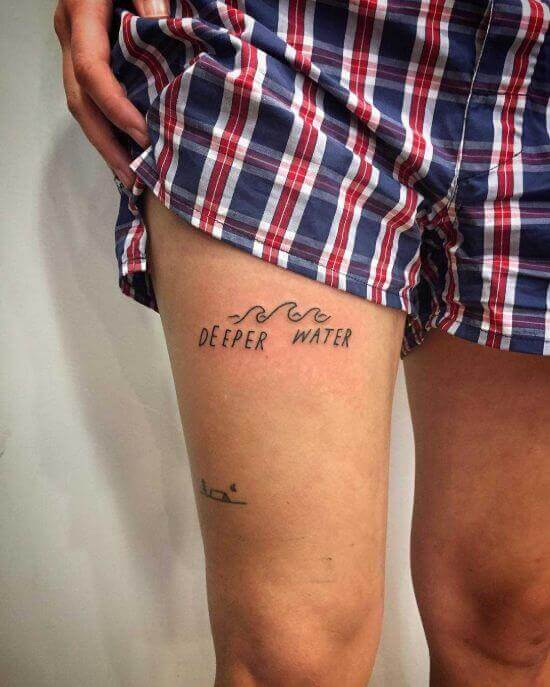 See More: Back Tattoos Images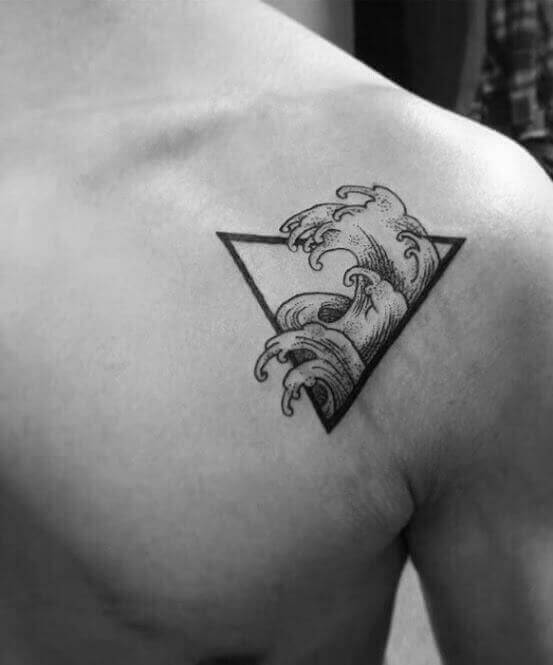 ---
13. Polynesian wave tattoo
Polynesian tattoos look very artistic and interesting. These beautiful tattoos look gorgeous when done on your feet area. Wearing a Polynesian wave tattoo on your feet will appear as if you are wearing a jewel piece.
14. Armband wave tattoos
If you are looking at an armband tattoo design, then get a wave etched in an armband form on your arm it will make for a breathtaking tattoo design.
15. Triangular wave tattoo
Triangular wave tattoos look simply stunning! Waves in triangular or diamond shape look very beautiful. Also, you can get a Hokusai wave etched inside a triangle.
16. Windswept wave tattoo
For the ones who strongly believe that life goes on even after huge struggles. This is going to be a remembrance to all their struggles that they have gone through and came out stronger. Windswept wave tattoo
---

Also See: Armband Tattoo Ideas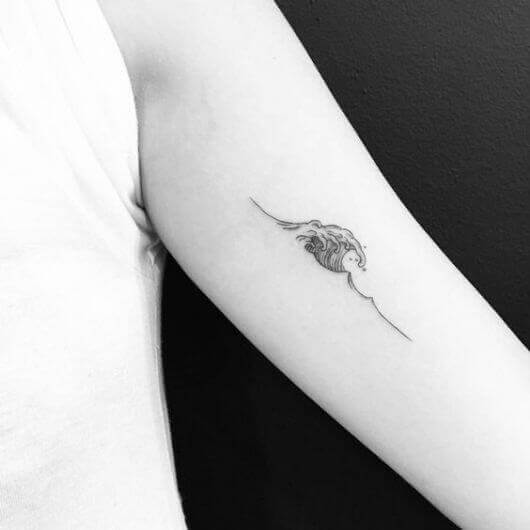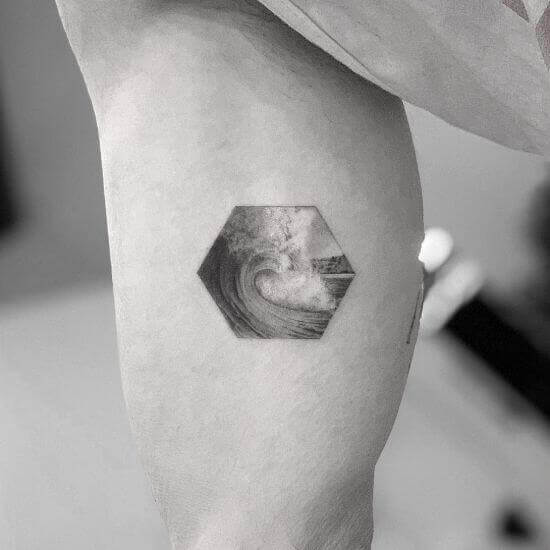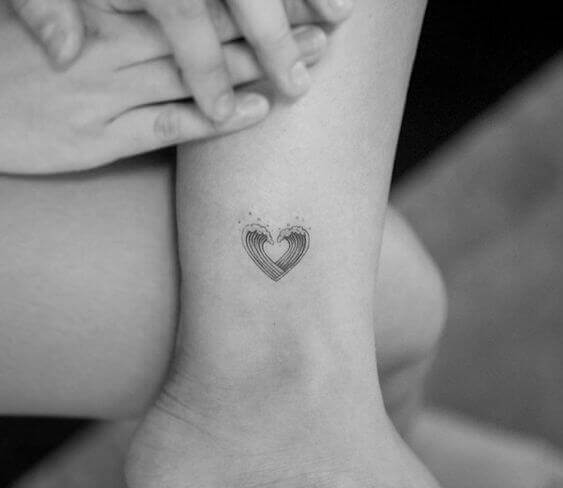 Also See: Small Tattoo Ideas
---
17. Black and Grey tattoo
Black and grey wave tattoos look gorgeous, a great way to represent a rough sea surrounded by grassy hills. A beautiful and outside the box tattoo designs in 2023.
18. Glowing wave tattoo
Get a Glowing wave tattoo etched on your arm. Glowing tattoos make for unique and outside the box tattoo designs. If you are also looking for a unique tattoo, then this is the one! Luminescent ink of this tattoo will make it look divine
19. California coast wave tattoo
California coast wave tattoos are full of colors. You can add as many as colors you want in it. It will simply look gorgeous.
20. Hourglass wave tattoo ideas
Hourglass wave tattoos are a unique way to represent how life keeps changing. It represents one's acceptance that there are greater forces in the world compelling and driving us! It will have a larger part of waves in the lower part of hourglass and the remaining part of waves in the upper part, displaying that nothing stays the same.
Related Post: 55 Amazing Hourglass Tattoo Ideas For Men And Women
21. Infinity wave tattoos
Your infinity wave tattoo will have two sets of waves, one upright and one inverted occupying the inner loops of an infinity symbol. This design looks cool and very creative as well. You are going to love this beautiful design for sure!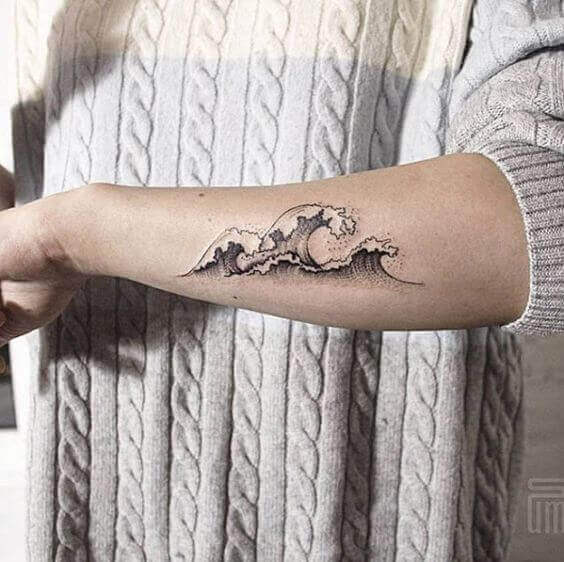 Also See: Neck Tattoo Designs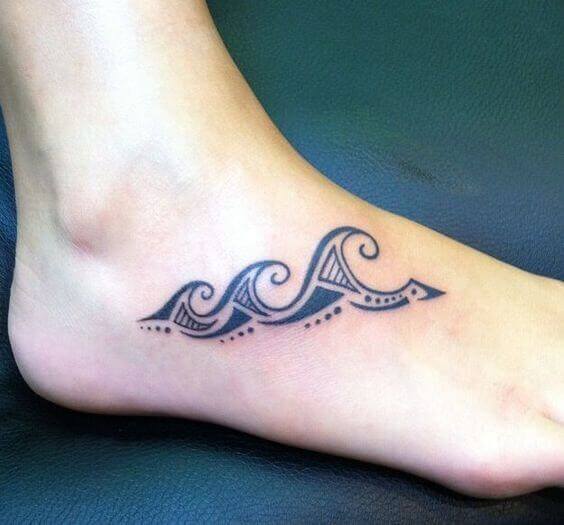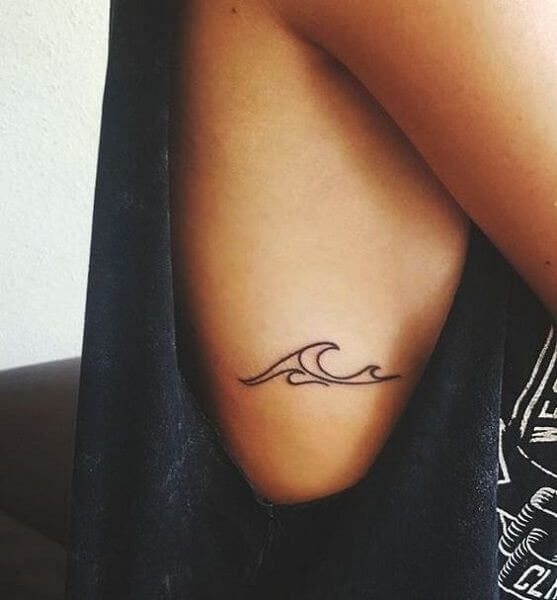 Happy Tattooing… ☺ ☺
Please follow and like us: