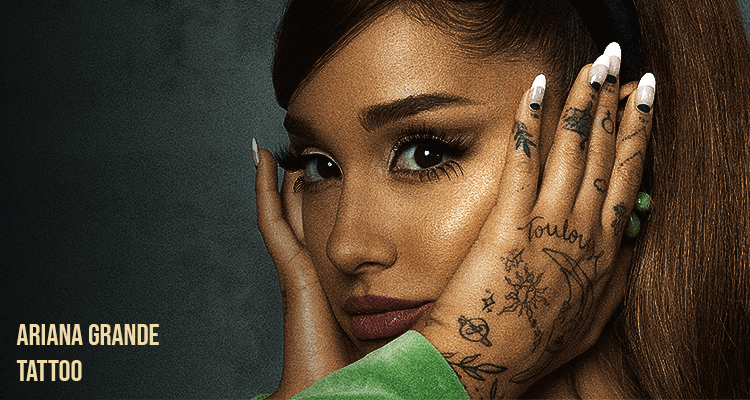 Ariana Grande Tattoos Descriptions And Wonderful Meaning
Posted on
Ariana Grande has been completely "effective" in leveraging her beauty regimen to communicate significant messages to her followers. Whether it's her distinctive ponytail, which apparently fits her mood, or a cat-eye, which inspires our own styles, the Sweetener singer isn't afraid to use her beauty to make a statement.
This is true with respect to her tattoos. Ariana has stunned followers with fresh and profound pieces of inked art throughout the years. The singer has explored her past and present with tattoos that symbolise key people, events, and even pop culture moments in her life, ranging from a little bee that delivered a message of optimism to an inked ode to her favourite Sweetener song.
Ariana Grande has had her fair share of tattoos throughout her time in the spotlight. The singer got her first tattoo in 2012 and has already piled up over 50! These cover her arms, hands, rib cage, neck, and other parts of her body, and they've obviously become a big part of her. She has some really fantastic tattoos, from tonnes that serve as personal memorials to others that are simply enjoyable to look at, and she continues exposing more and more.
Although admirers like her beautiful tattoos, the singer has decided to cover them up for her wedding to Dalton Gomez in May 2021. Ariana Grande is one of the most recognised and brilliant singers of recent times, thanks to her heavenly voice, exquisite hair, and attractiveness.
The celebrity is fairly young and quite gifted, with several hits in the music industry. Apart from having the star's nice girl image, she is also recognised for her tattoos, which represent her love for ink as well as her music and views.
Ariana Grande Tattoo Meaning:
1. Hebrew Script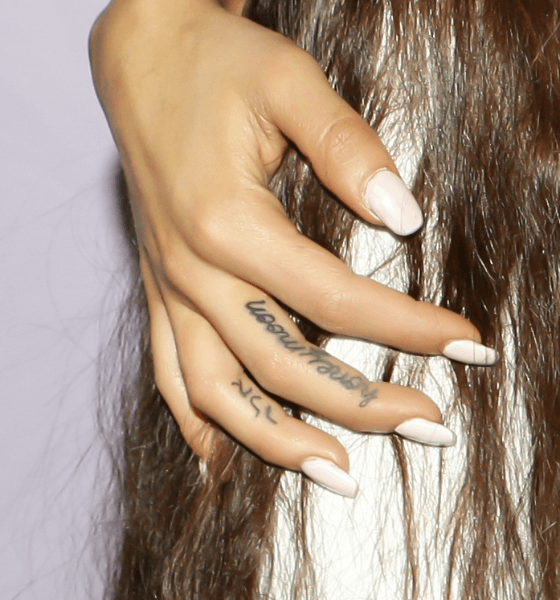 Ariana got an intriguing tattoo in addition to the "Honeymoon" tattoo. This tattoo, which is also on her right ring finger, has a Hebrew word. It says "dalet lamed aleph," which is the tenth of God's 72 names. This tattoo represents Ariana's Kabbalah beliefs and the name "shield from the evil eye and terrible nightmares, and aids in the rebirthing process."This is one of the Ariana Grande hand tattoo.
2. Ariana Grande 7 Rings Tattoo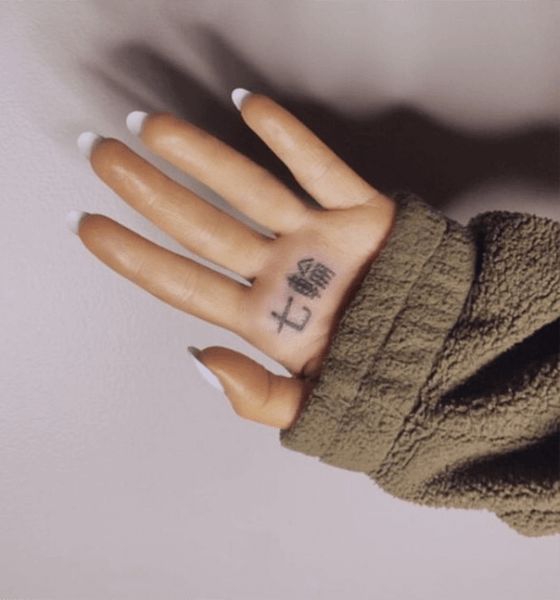 Following the release of "7 Rings," a song from Ariana Grande's upcoming Thank U, Next album, the singer honoured the song with a tattoo. She released a photo of the tattoo on her left hand on Tuesday, January 29. Ariana revealed on Instagram that the tattoo, which was done in Japanese Kanji characters, signified "7 Rings." Some fans, however, pointed out that the characters translated to shichirin, the Japanese name for a grill.
3. Ariana Grande Mille Tendresse Tattoo
Ariana Grande tattoo artist for this ink is Romeo Lacoste. Mille Tendresse is French for "A Thousand Tendernesses." On the same day that her brother Frankie Grande had a tattoo, she had this lettering done on the back of her neck. This phrase is also used in the film "Breakfast at Tiffany's," which Ariana evidently enjoys.
Related Post: Lady Gaga's Tattoos And Their Meaning
4. Lumos Tattoo
In May 2018, Ariana Grande received a "lumos" tattoo on the side of her hand. In the Harry Potter universe, the charm "lumos" is used to create light in the dark. This tattoo has numerous personal connotations for Ariana, many of which are profoundly intertwined with her music, life, and relationship. Sweetener, her latest album, contains several references to happier days ahead, like the song "the light is coming."
Her tattoo also refers to a large Dumbledore quotation on Pete's forearm, which reads, "Happiness may be found / Even in the darkest of times / If one just remembers to / Turn on the light." So the lumos ritual, which involves putting on a light, is the key to bringing happiness into her life.
5. Bellissima Tattoo
Ariana also got the word "Bellissima" tattooed on her side in little letters. Her granddad referred to her by her moniker. This tattoo is in some ways a tribute to her grandfather, Frank Grande. She received this tattoo during a house party when many of her friends were getting their first tattoos, and the singer described it as a "connecting event."
6. SWT Tattoo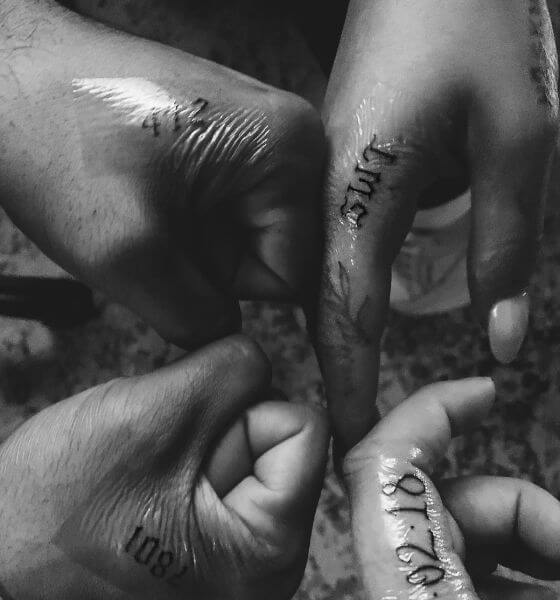 Ariana got ink before going on tour, and Ariana got ink after finishing her tour. The singer has been on the road for nearly nine months and, with only a few days remaining on her Sweetener World Tour, she's decided to mark the occasion with some permanent tattoo.
Ariana and three of her friends and collaborators debuted their new group tattoos on Instagram on December 18. The four received finger/hand tattoos to honour Ari's largest tour to yet, however they didn't exactly match. While Ari's tattoo says "SWT," the others have a variety of what appear to be various dates and numerals.
The gang has yet to explain the meaning behind the tattoos, but it's evident the marks mean a lot to the group, who captioned the photo "Family Ties."
Related Post: Presley Gerber's Tattoos with Meanings
7. Crescent Moon Tattoo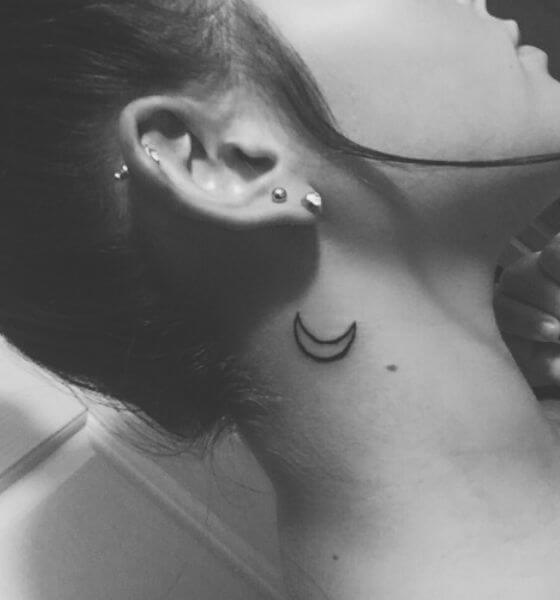 Ariana received an outlined Crescent Moon Tattoo on her neck below her left ear. Brian Nicholoson, one of her close friends and a dancer, also got the similar tattoo. She got this tattoo in honour of her favourite song, "Moo     nlight," which she holds dear to her heart.
8. Venus Symbol Tattoo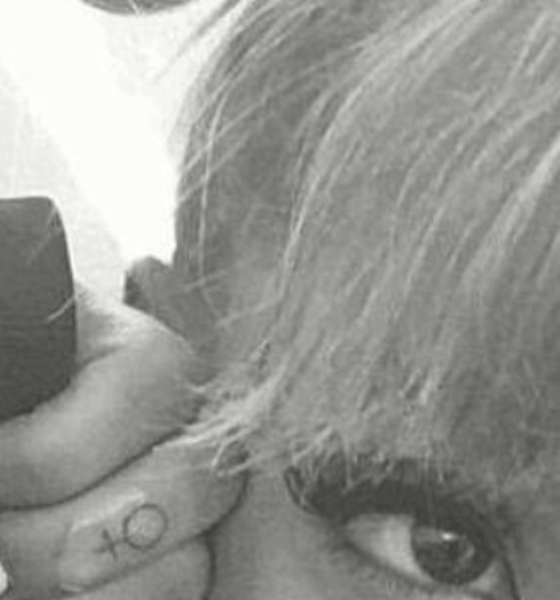 Ariana Grande has a Venus sign tattoo on her left middle finger, which is the symbol for women. Her feminist ideas and pleasure in being a woman are shown through the tattoo. Her open female sexuality is a common topic in her songs; for example, "God is a woman" is about "sexual female empowerment & how women are absolutely everything & the universe is within of us."
She has advocated for several women's concerns, both large and little, and she is well-known for combating the widespread sexism in how the media presents her. She believes that women are much more than sexual objects or conquests, that they deserve to be seen as individuals rather than being defined by the men they date, that they have the right to express their sexuality without inviting sexual assault or discrimination, and that women's thoughts and opinions on real issues are just as important as men's. She received this tattoo in August 2016, but it faded fast and became difficult to see until she had it redone in May 2018.
9. Honeymoon Tour Tattoo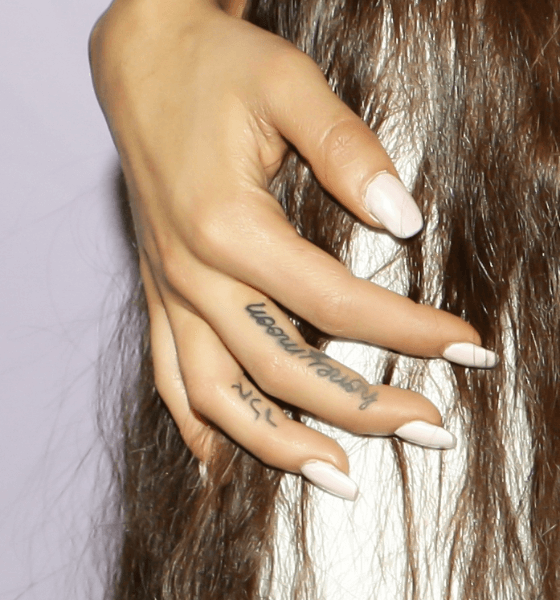 The words "Honeymoon" were tattooed on the side of Ariana's right middle finger. The tattoo is in lovely cursive script. She received this tattoo during her "The Honeymoon Tour," and it's a homage to her favourite song, "Honeymoon Avenue," which she wrote and recorded.
10. Lightning Tattoo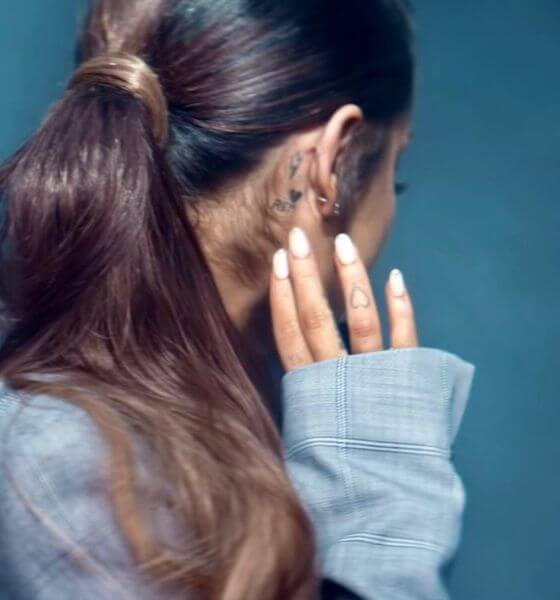 In June 2018, Ariana Grande had a lightning bolt outline tattooed behind her right ear. She hasn't spoken about it, but it's probably definitely inspired by her love of Harry Potter, since she is a major fan of the books. Pete Davidson, her fiance, also has a lightning bolt tattoo on his wrist, albeit his is much different. He's had it for a long time, but it was another of his Harry Potter tattoos that drew Ariana's attention the first time they met on the set of Saturday Night Live.
11. Hi Tattoo on Left Toe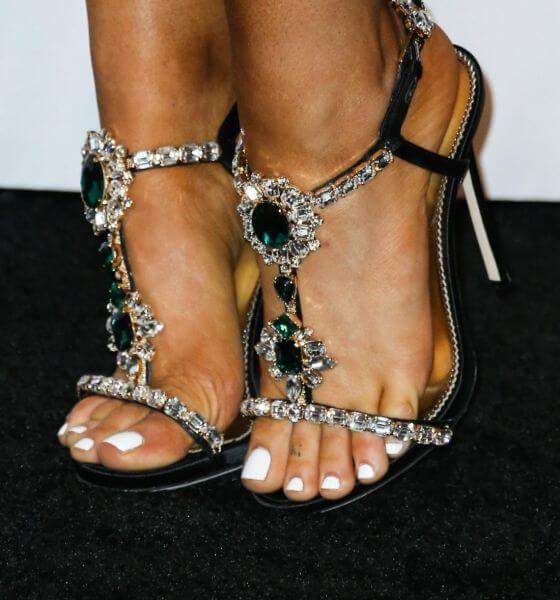 Ariana received a tiny, hardly noticeable tattoo of the letters "Hi" on her left foot toe. On June 13th, 2015, she got this tattoo with Ricky Alvarez and flaunted it on her Snapchat account. They both laughed about not being able to see the tattoo.
12. Branch with Leaves Tattoo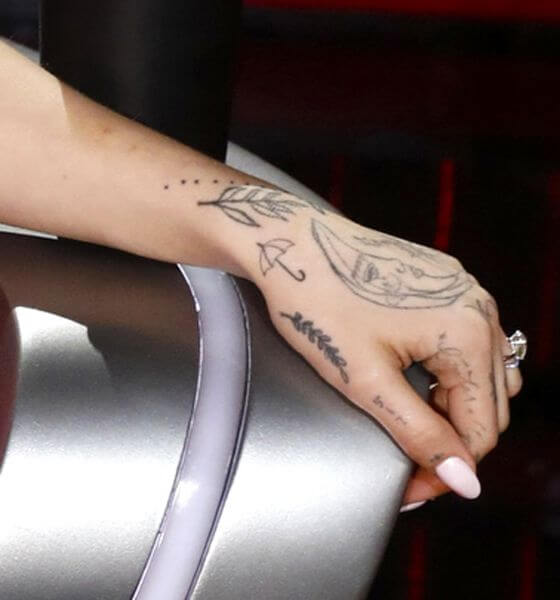 Ariana unveiled her newest tattoo on Instagram before embarking on her Sweetener world tour. The singer's newest tattoo is a leafy branch that stretches over her upper belly. Despite the fact that the tattoo appears where the singer had previously tattooed "Always" in Pete Davidson's handwriting, she disputed that it was intended to be a cover-up. "Not a cover up, just evolvin," she captioned a photo on Instagram.
13. Cloud Tattoo on Knuckle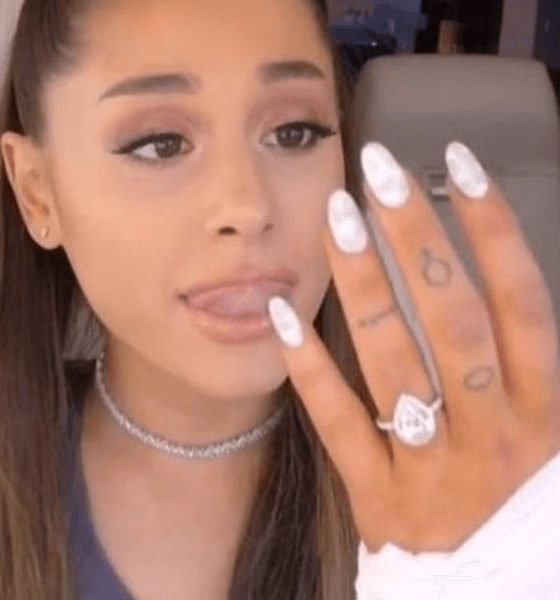 Ariana Grande's middle finger cloud tattoo was the first of several matching tattoos she has with her boyfriend, SNL comedian Pete Davidson. The tattoo stunned the world when it was shown at the Billboard Music Awards on May 20, 2018, despite the fact that she had only announced her breakup with ex-boyfriend Mac Miller 10 days previously.
The news of Pete and Ariana's engagement after only a few weeks of dating was even more stunning. Ariana is obsessed with clouds and has utilised them in her merchandising for years, even naming her current perfume after them. Clouds appear to have particular significance for the pair as well.
14. "A" Alphabet Tattoo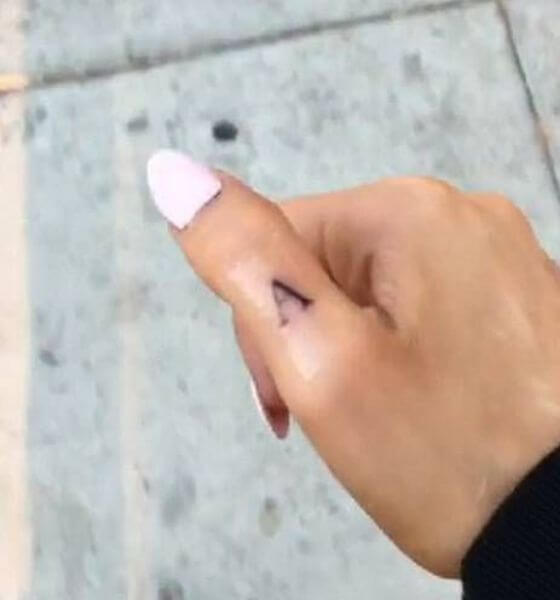 Ariana just got the letter "A" tattooed on her thumb. She got this tattoo in addition to the feminine gender/Venus symbol. She explained that she got the initial "A" tattoo for her longtime closest friend, Alexa Luria.
15. Bee Tattoo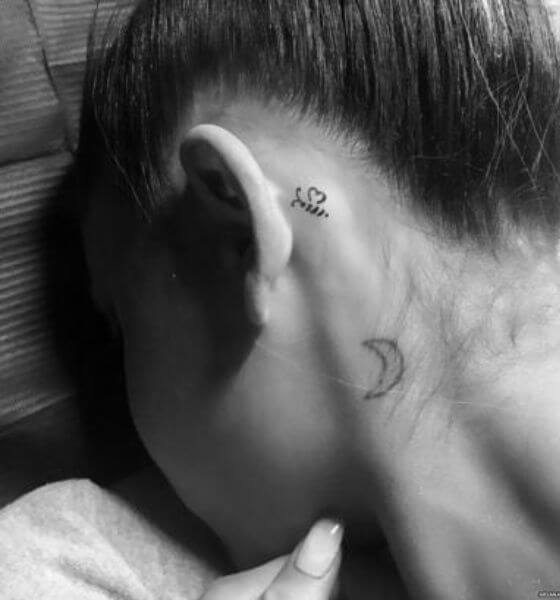 The "Dangerous Woman" singer got a little bee tattooed behind her ear one year after tragedy struck at her Manchester performance. Because the bee is the traditional emblem of Manchester, the ink was a homage to the people who died when a bomb exploded during her show.
16. Pete or Arte Tattoo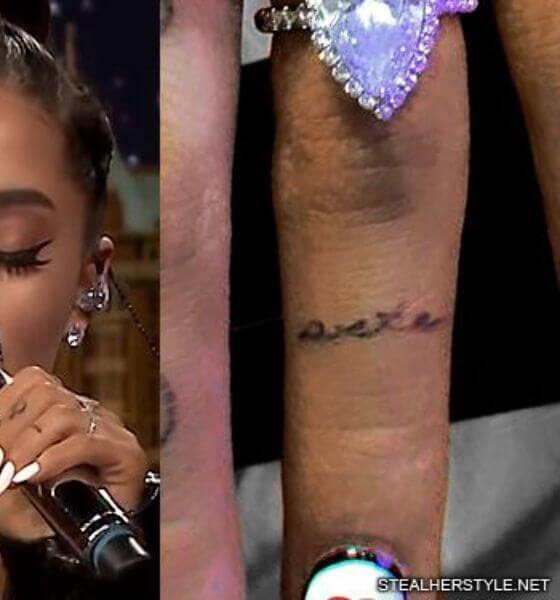 Fans are split on what this little inscription on Ariana Grande's ring finger symbolises. At first glance, it looks to be "pete," a sensible choice considering that she and fiance Pete Davidson have multiple tattoos devoted to each other and that it's on the very same finger as the engagement ring.
However, upon closer study, the letter "p" lacks a stem and has an additional up-swipe before the "e." That is why some people believe it means "arte," which is the Italian word for "art." Ariana Grande's visual accompaniments to her track "God Is a Woman" are greatly influenced by classic Italian painting.
The Capitoline Wolf sculpture and Michelangelo's The Creation of Adam are reinterpreted in the music video, while her VMA performance is based on Leonardo da Vinci's The Last Supper. She is of Italian descent, and one of her earlier tattoos was the Italian word "bellisima" on her side.
Please follow and like us: