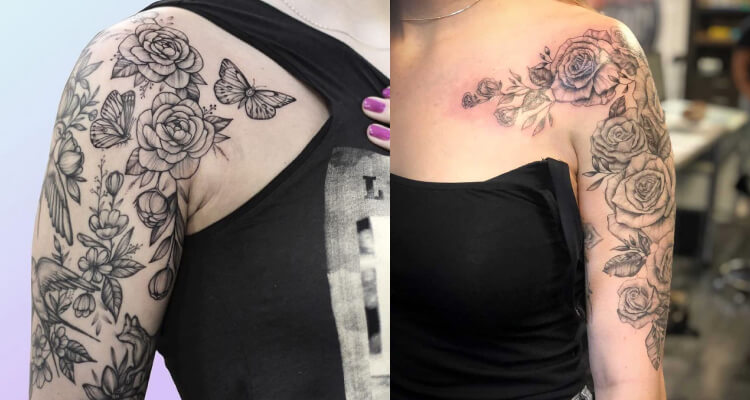 Best 35 Classy Half Sleeve Tattoo Design And Ideas
Posted on
Welcome to Half Sleeve Tattoo for Women! Tattoos offer the perfect way to express your personality personally and creatively. Tattoo ideas for half sleeves are trendy for women because they allow experimentation without being too large or overwhelming. There's something for everyone, from classic floral designs to modern abstract interpretations.
With an increasing number of customizable options available today – you're sure to find the look that fits you perfectly and helps capture your individuality through art permanently on display. So if designing one-of-a-kind artwork interests you, don't hesitate to get yourself those stunning half-sleeve tattoo ideas now!
Here are the best half-sleeve tattoo ideas for women
1. Flower Half Sleeve Tattoo
Flower Half Sleeve Tattoos for Women are becoming more and more famous. These tattoos can be the perfect way to express your unique personality and style in an eye-catching manner. They typically involve intricate flower designs, covering a large skin area on either side of the arm between the shoulder and elbow area.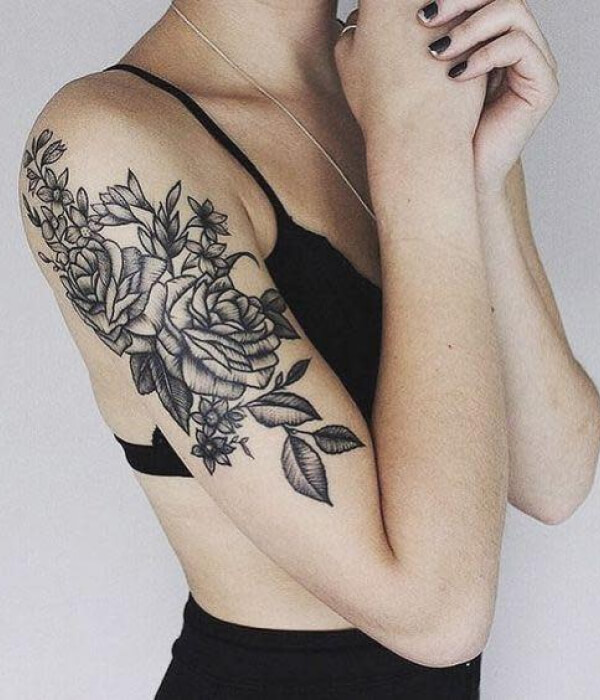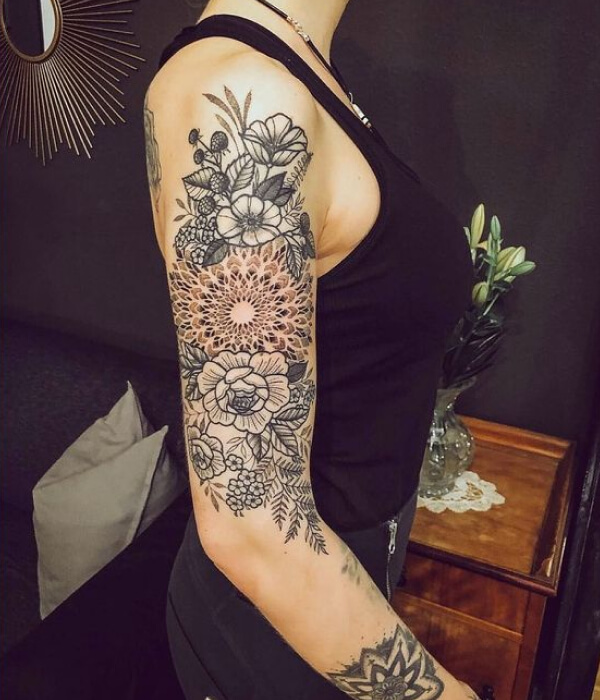 These Flower Half Sleeves add beauty to any woman's look and offer the opportunity to commemorate important events or showcase one's creativity. It doesn't matter if you're looking for delicate or bolder statement pieces – there will surely be a design that catches your eye!
2. Skull Half-Sleeve Tattoo
Skull female half sleeve tattoo have become one of the most popular forms of body art. This type of tattoo is bold, unique, and symbolic; perfect for those who want to express themselves creatively and stylishly. It's also an eye-catching statement that can make any outfit stand out. Women are pursuing these designs to represent strength, courage, freedom, and independence.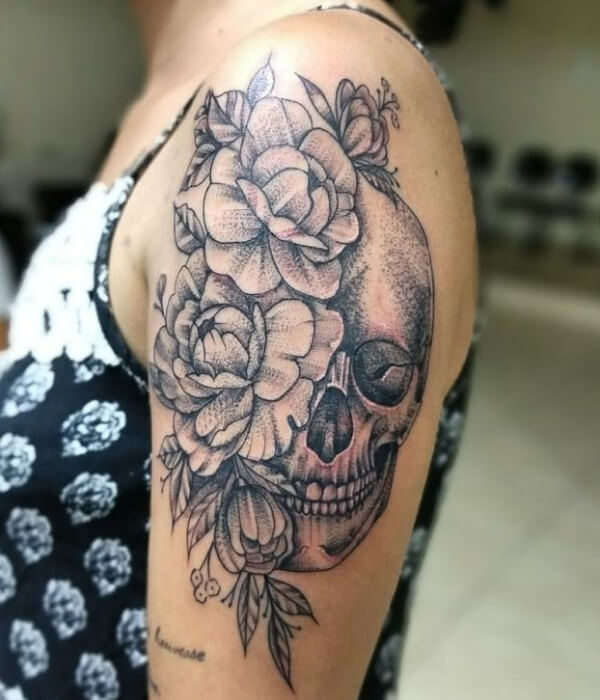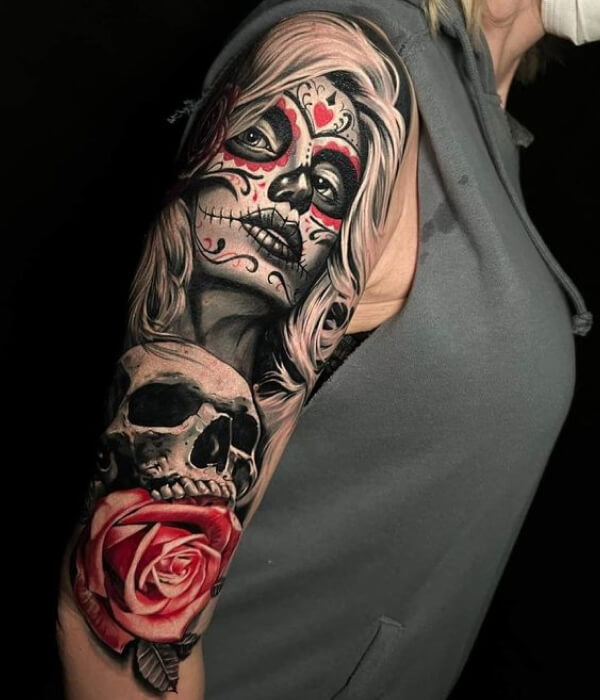 After all, it takes guts (and ink!)to get such a superior design permanently etched onto your skin! With so many cool variations available, there's something sure to suit everyone's style—from intricately detailed skulls with roses or art deco patterns right through minimalist black outlines – no matter what you choose, this tattoo will look chic on you!
3. Tribal Half Sleeve Tattoo
Tribal half-sleeve tattoos for women offer an appealing way to make a statement with their body art. These bold and unique designs are often seen in female celebrities, giving them a distinct yet attractive look. The intricate patterns, symbols, and colors used in Tribal tattoos complement the skin's natural curves while expressing an individual style that stands out from the crowd.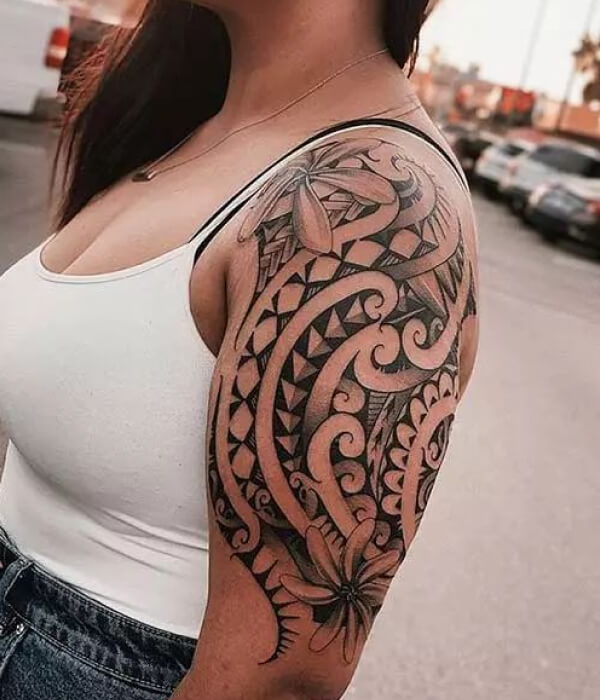 Whether you're looking to capture memories or express your personality through ink, modern tribal sleeve tattoos can be customized to match any woman's personal aesthetic preferences; with this type of versatile artwork available today, emerging trends in fashion have never been more attainable! It's an excellent idea for women's half-sleeve tattoos.
4. Cross Half Sleeve Tattoo
Cross tattoo ideas are popular among women for expressing their faith, as symbols of hope, or as an expression of style. These tattoos can feature several variations, including Celtic knots, crosses with wings, and more intricate designs with multiple colors to highlight the central theme.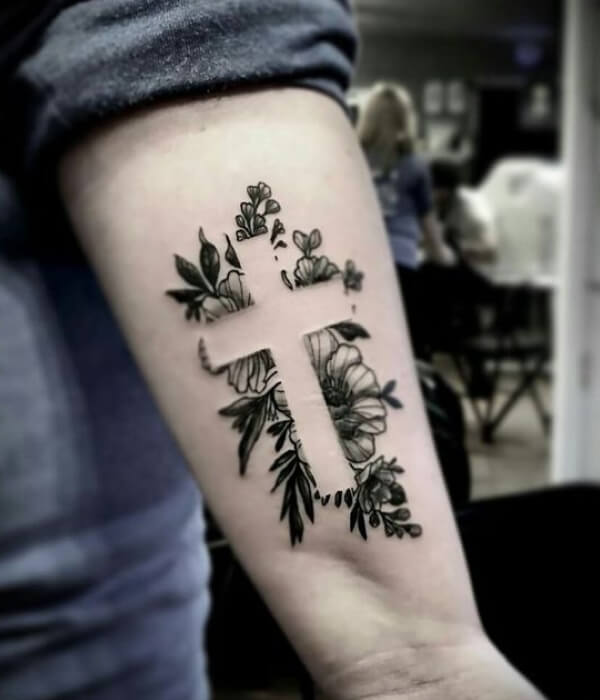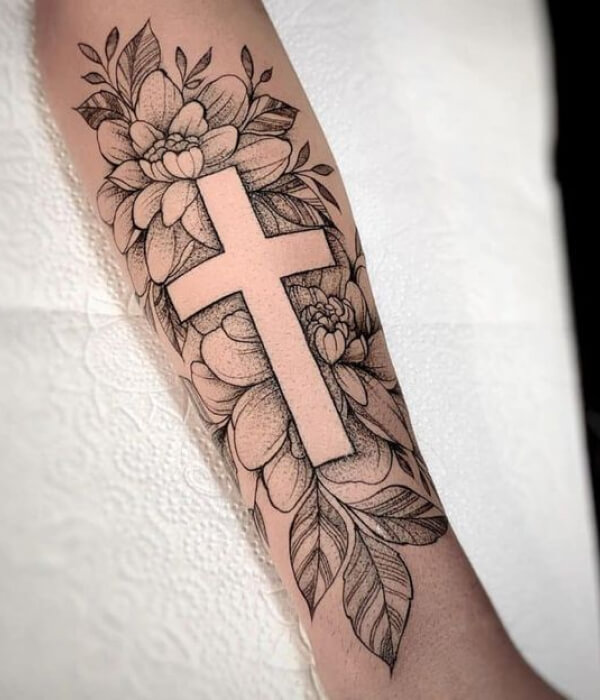 A cross symbolizes renewal and optimism, which makes it ideal for creative ladies who want to express themselves through art while also making a statement about something they believe in. For those looking for a unique way to show off their personality, cross half sleeve tattooing gives them the perfect opportunity!
5. Japanese Half Sleeve Tattoo
Japanese tattoo Half Sleeve Tattoo for Women is an intriguing cultural expression of individuality. This type of tattoo design typically covers the arms from shoulder to elbow, making a statement that symbolizes strength and femininity all at once. Traditional Japanese artwork like cherry blossoms or koi fish may also be incorporated into these tattoos, signifying a balance between nature and beauty with a sense of permanence.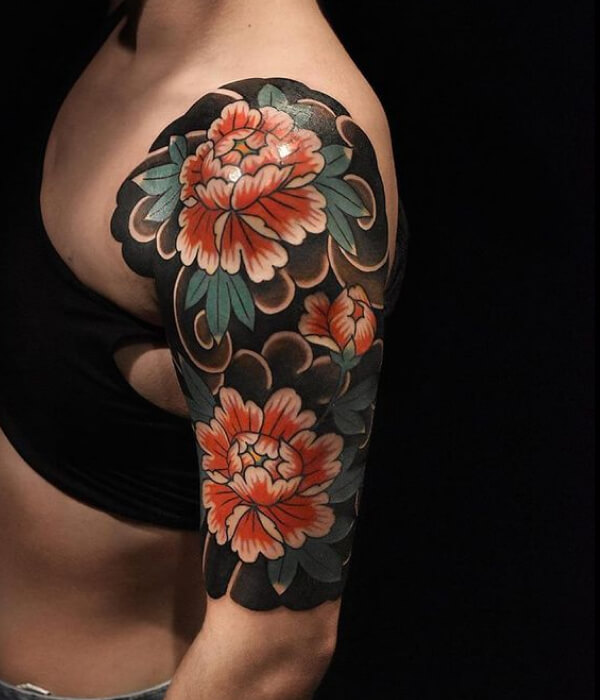 With its complex art form combined with bold colors and intricate line work, this option gives women something unique to set themselves apart while maintaining their professional image on the job front.
6. Polynesian Half Sleeve Tattoo
Polynesian Female Half Sleeve Tattoo is becoming increasingly popular amongst modern tattoo enthusiasts. These striking tattoos, which often cover the arms from shoulder to elbow, portray traditional Polynesian symbols and artwork in beautiful patterns and designs.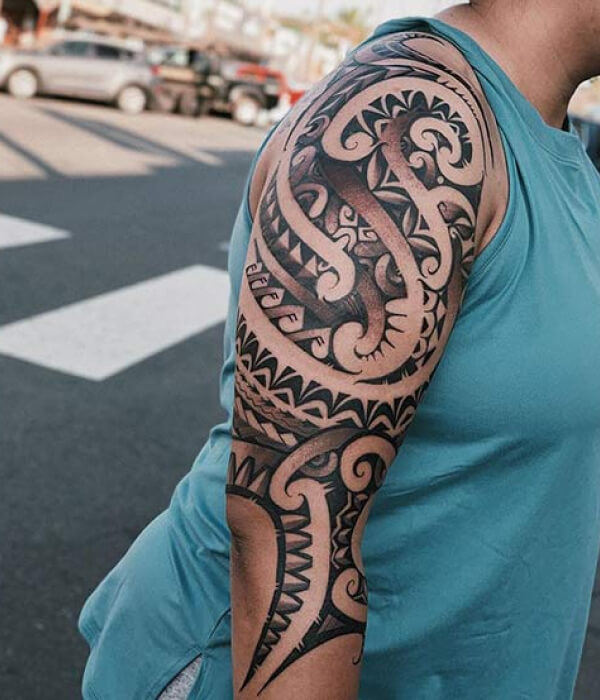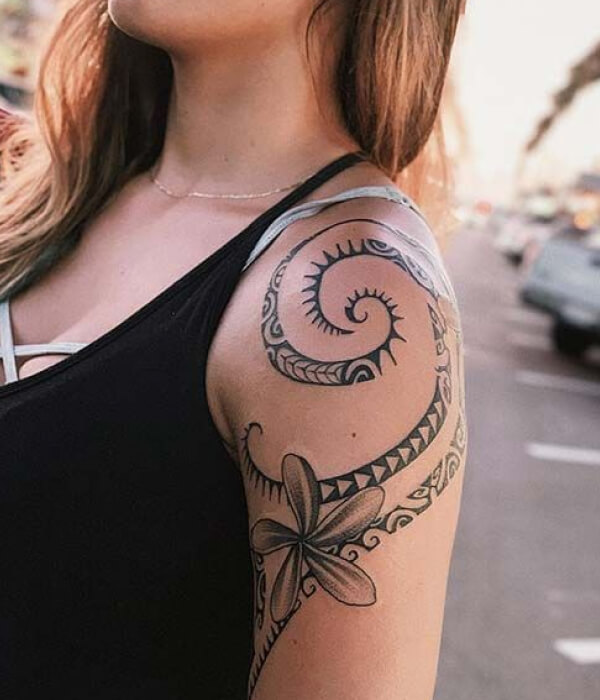 Their meaning goes beyond aesthetic appeal – many tribal markings represent people's beliefs or spiritual meanings passed down through generations within Polynesia culture. Whether you want to be part of a larger heritage or add some style to your skin art collection, half-sleeve tattoos offer an array of unique options that can enhance any woman's body canvas!
7. 3D Half Sleeve Tattoo
3D Tattoo have become famous for women to express themselves and making bold statements. A 3D half-sleeve tattoo for women is one of the most intricate types of body art that gives an incredibly realistic effect. By combining different elements such as shading, color, detailed lines, and patterns, this type of tattoo can be customized entirely according to individual preferences.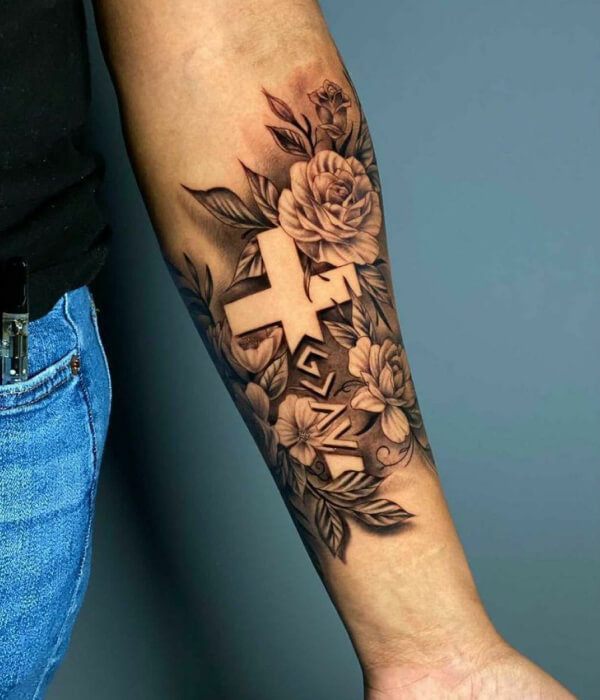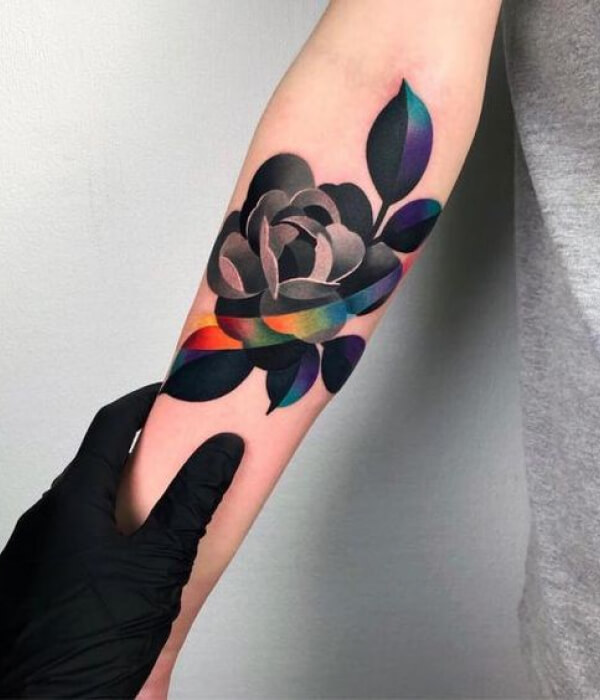 For many women, it's also seen as a powerful form of self-expression, creating beautiful stories with unique designs that artistically reflects aspects of their life experience or personal values. With so many versatility & customization options, professional, modern-day women are increasingly seeking 3D Half Sleeve Tattoos for impactful ways to express themselves through stylish tattoos!
8. Tiger Half-Sleeve Tattoo
Tiger tattoo ideas for the half sleeve is an excellent way for women to express themselves with a powerful symbol. A tiger tattoo can represent strength, courage, ferocity, and independence – perfect traits in the modern professional world. Whether you opt for bold colors or subtle shading, these tattoos offer striking artwork that never fails to make a statement!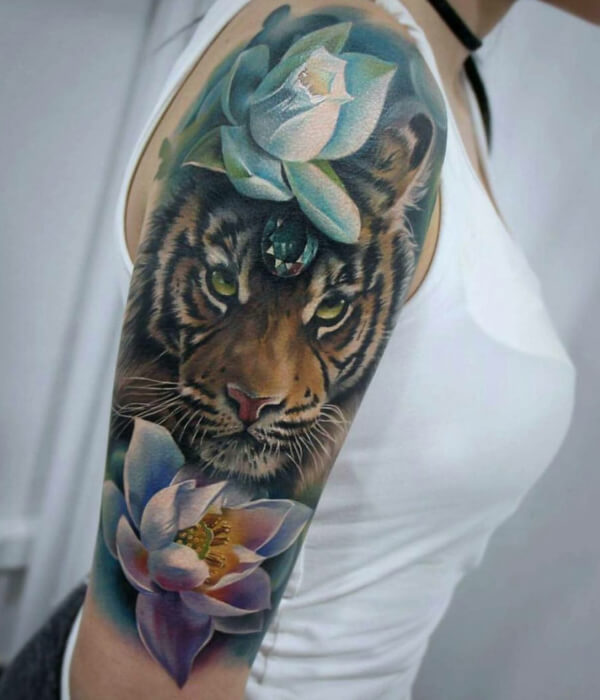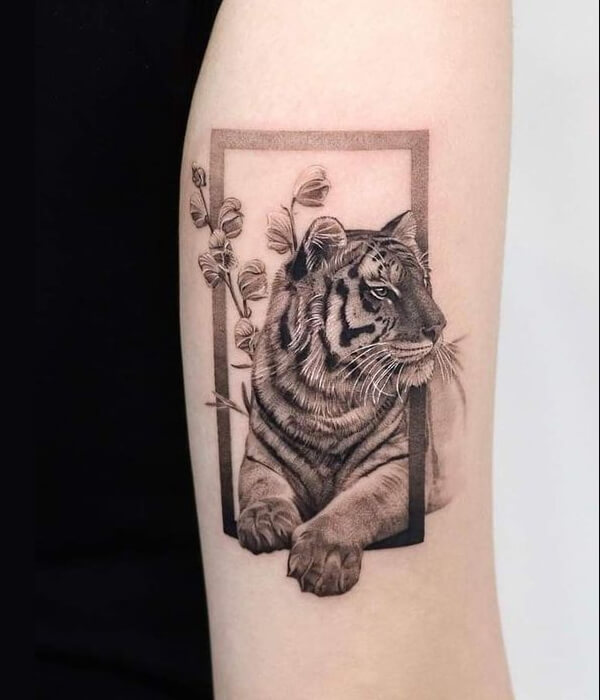 With attention-grabbing detail and intricate designs available from experienced artists around the globe, getting your own custom Tiger Half Sleeve Tattoo is easier than ever before. Make sure you look into all of your options when it comes time to choose one so that you end up with body art that perfectly encapsulates who you are as an individual and what motivates
9. Celtic Half-Sleeve Tattoo
Women have used Celtic half-sleeve tattoos to express their style for centuries. With the intricate designs, vibrant colors, and meaningful symbols associated with this unique body art, it's no wonder why so many female followers are drawn to it.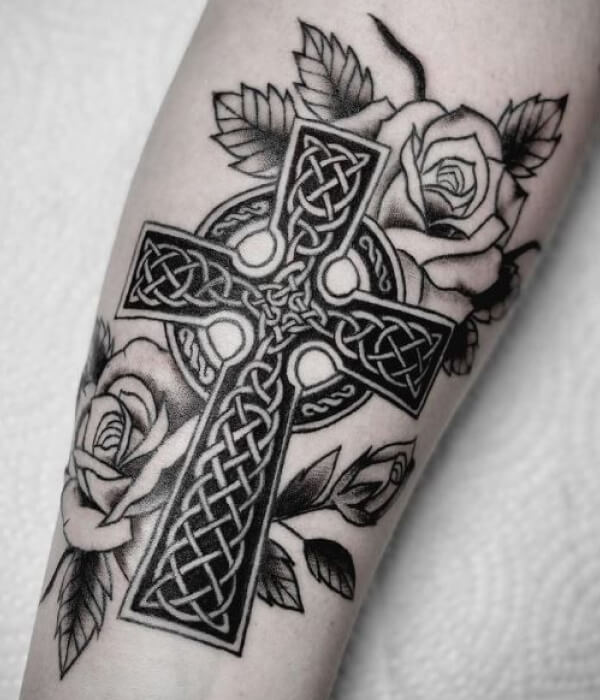 Whether you want something delicate or daring, a Celtic half-sleeve tattoo can be tailored just for you, which is stylish and carries deep personal meaning. It's perfect as an expression of independence and being true to yourself – allowing your inner beauty to shine through!
10. Dragon Half-Sleeve Tattoo
Dragon half-sleeve tattoos have become increasingly popular among women looking to make bold statements and express their inner strength. With intricate detailing, vibrant colors, and the ability to capture each individual's unique story through custom designs – these meaningful pieces of art offer an impressive way for women to show off their style.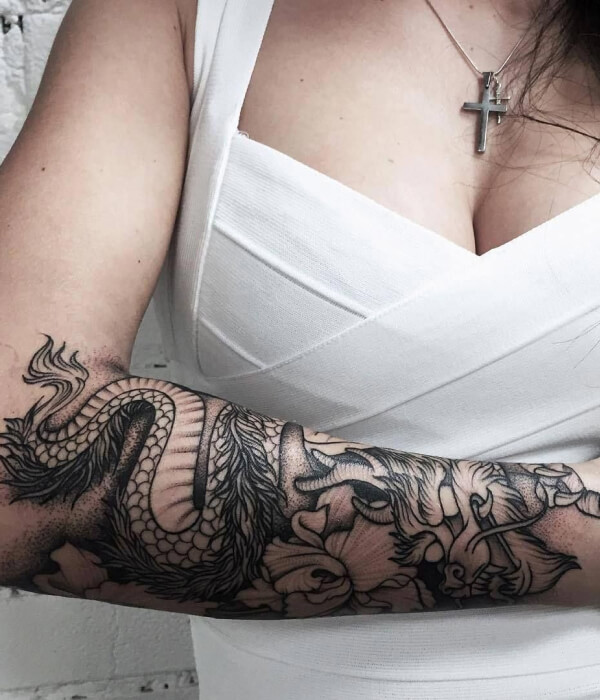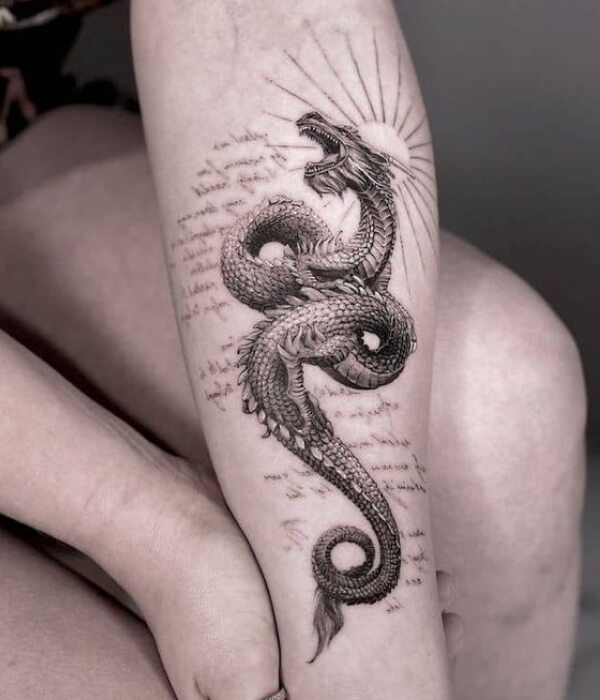 They are also durable enough to be worn with pride anytime you need them – from the office or school until bedtime! So if you want more than just your basic tattoo design, dragon half-sleeve tattoos could be perfect. Unleash your wild side one creative stroke at a time and tell everyone exactly how powerful and passionate you are!
11. Koi Fish Half-Sleeve Tattoo
Koi fish tattoos have become increasingly popular amongst women and for a good reason. With its striking design of two opposing koi fish swimming upstream with the backdrop of vibrant colors, it is no surprise why many female ink lovers have desired this tattoo as a half-sleeve option.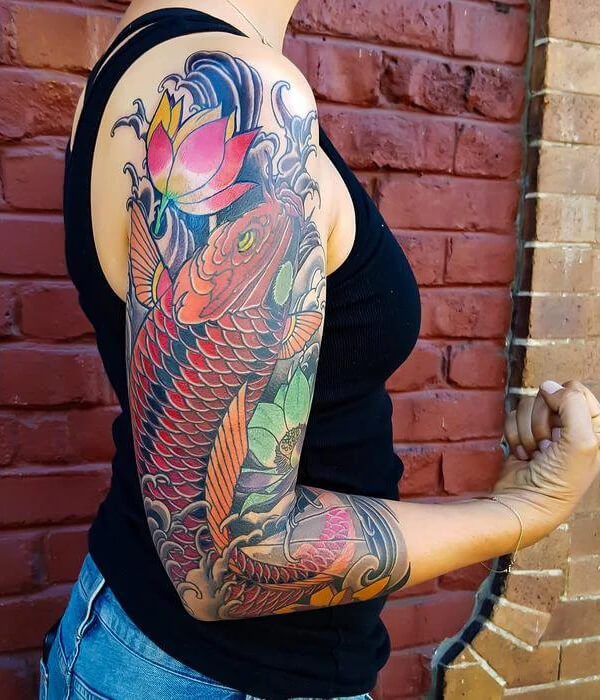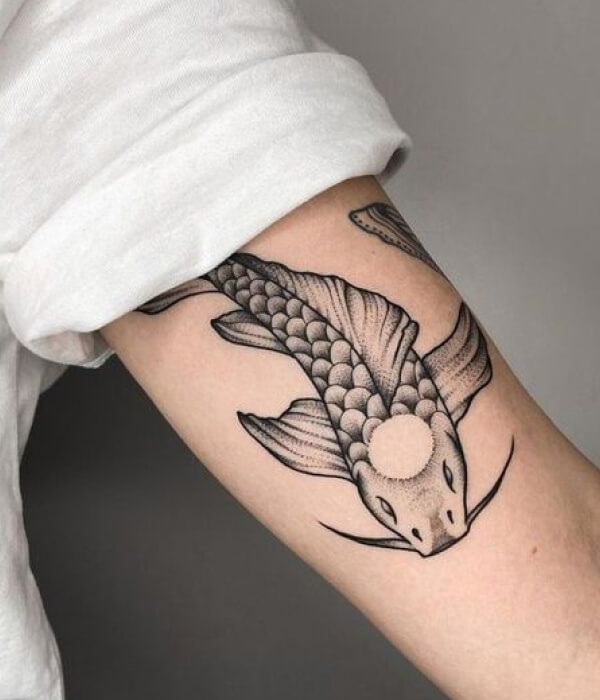 These attractive designs carry strong symbolism that represents strength, harmony, and determination – characteristics often associated with being a woman in today's society. While Koi Fish Half Sleeve Tattoos may require more commitment than other smaller tats, their symbolic meaning makes them even more valuable to the wearer!
12. Angel Half-Sleeve Tattoo
Women's half sleeve tattoos can be a unique way to express yourself and show the world who you are. Angel tattoo half sleeve tattoo is one of the most popular forms of body art among females today. It's an exciting design that symbolizes protection, guidance, hope, and love – perfect for strong-willed ladies looking to represent their inner beauty on their outer self!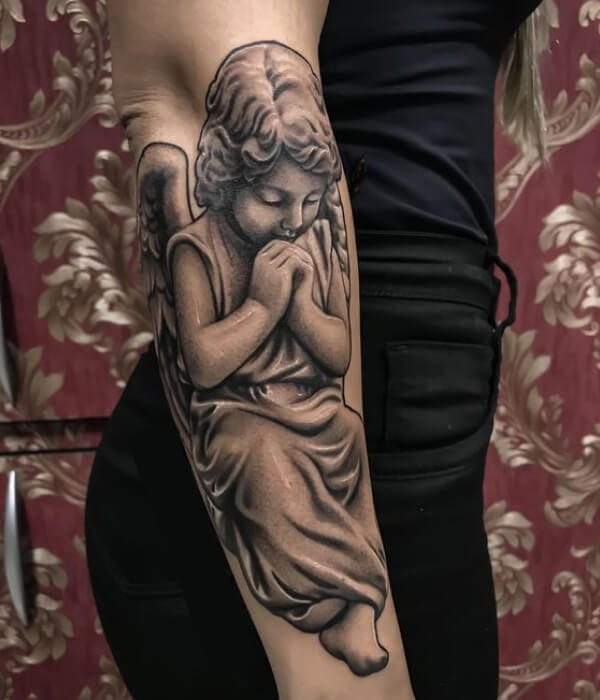 This type of art makes any style stand out with its intricate details and vibrant colors, and it also speaks volumes regarding your statement. Create a powerful presence by beautifying your arms while conveying the incredible meaning behind every line – angelic tattoos will bring what you need into focus to differentiate yours from all others!
13. Clock Half Sleeve Tattoo
Tattoos are gaining popularity among women, and clock half-sleeve tattoos are an attractive way to express your unique style. These captivating pieces can be a subtle reminder of time's passing or a bold statement about how you've made the most of it.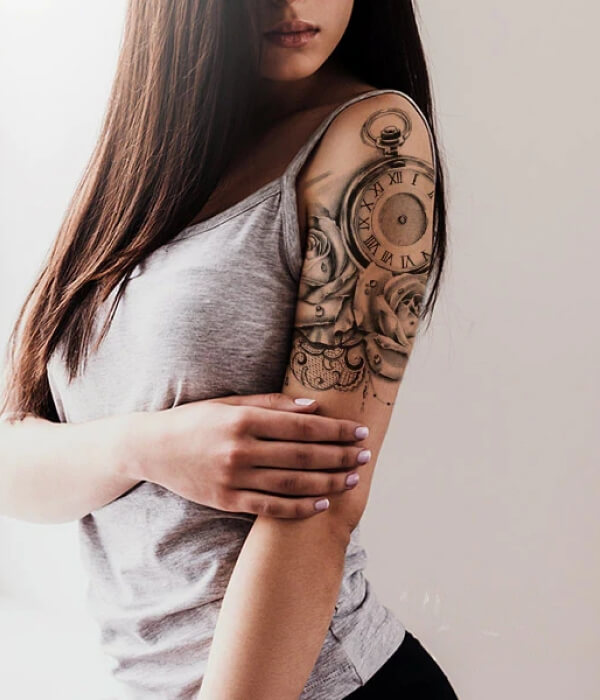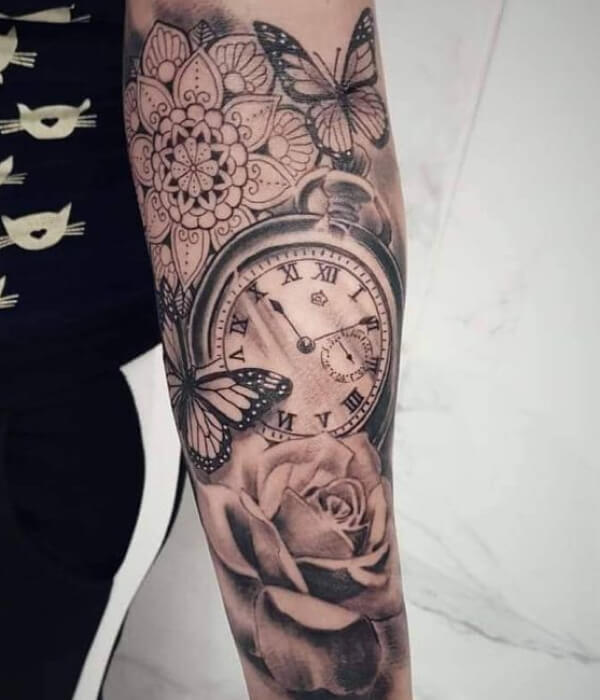 Clock tattoos may also represent eternity and all that is timeless – love, friendship, family, faith – or serve as beautiful artwork on your body canvas. Whatever reasons you have for getting one (or many!), let it be known–the iconic image of time will always remain fashionable! It's an excellent idea for a female half-sleeve tattoo.
14. Music Half-Sleeve Tattoo
Express your passion for music with a beautiful half-sleeve tattoo dedicated to it! Women worldwide are now discovering that body art is not only an expression of their style and personality but can also be combined with something they love- music.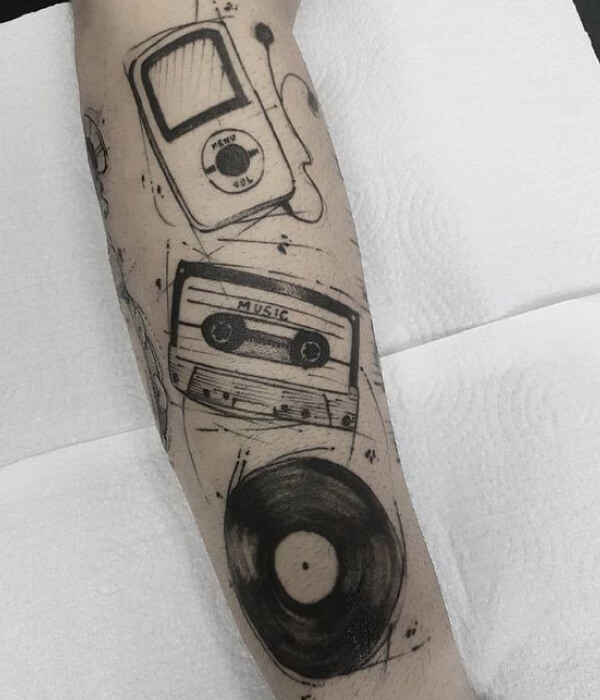 Whether you're a fan of rock 'n' roll or classical tunes, these stunning tattoos feature symbols such as musical notes, guitars, and vintage record players, which will make heads turn wherever you go. Get creative; add vibrant colors or intricate designs inspired by your favorite songs – let the world know how much music means to you.
15. Wolf Half-Sleeve Tattoo
Wolf half-sleeve tattoos are becoming increasingly popular for women who want to make a statement with their body art. These designs usually feature an intimidating representation of the wolf, using black ink and bold lines that create an intense image sure to leave a lasting impression.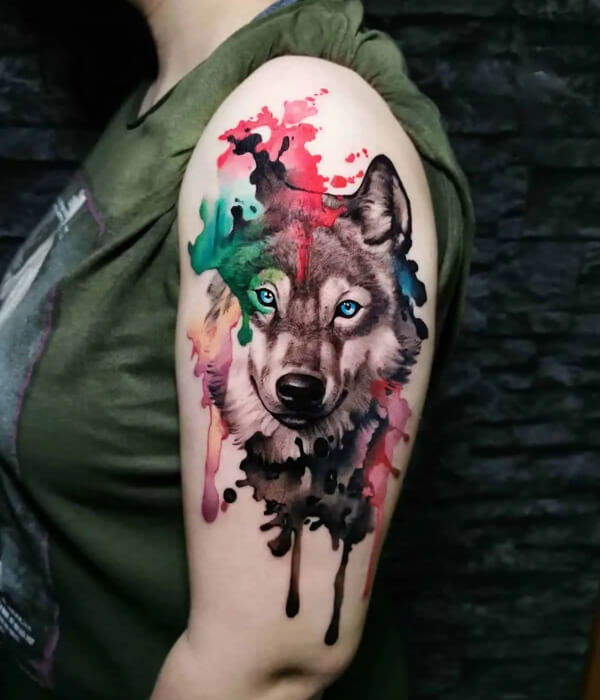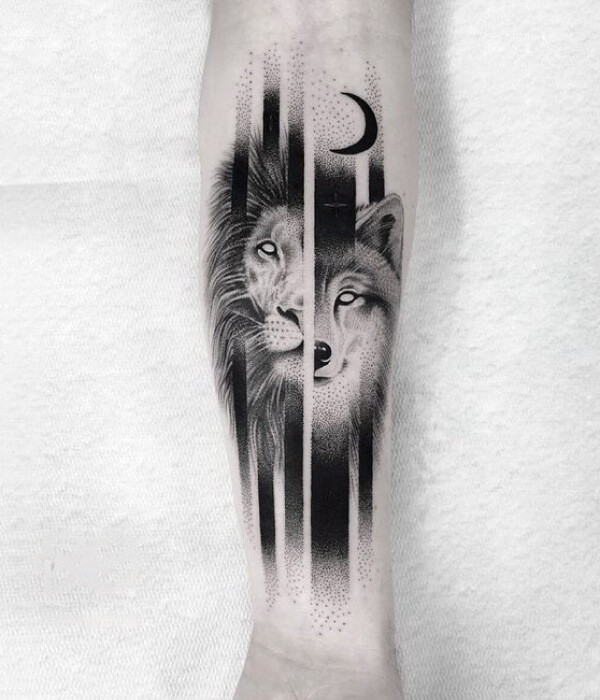 Wolf tattoos can be customized in many ways to symbolize various meanings depending on what it is about wolves that you find inspiring or meaningful – from strength and courage to loyalty and protection. The options are limitless when it comes to creating your unique design! It's the most popular half-sleeve tattoo for women.
16. Clouds Half-Sleeve Tattoo
A cloud half-sleeve tattoo is a unique and sophisticated way for women to express their personalities. The perfect combination of soft colors and stylish design make it the ideal choice for anyone seeking an eye-catching yet professional look. Many options can suit any woman's style, whether you prefer subtle or bold designs.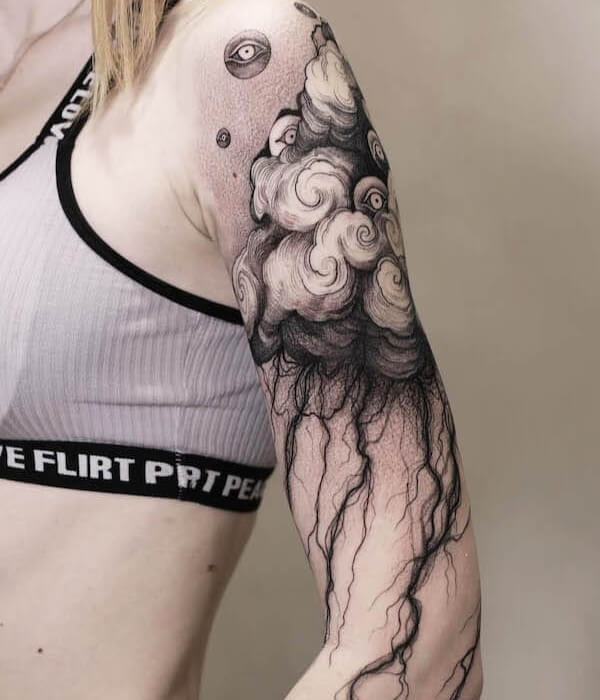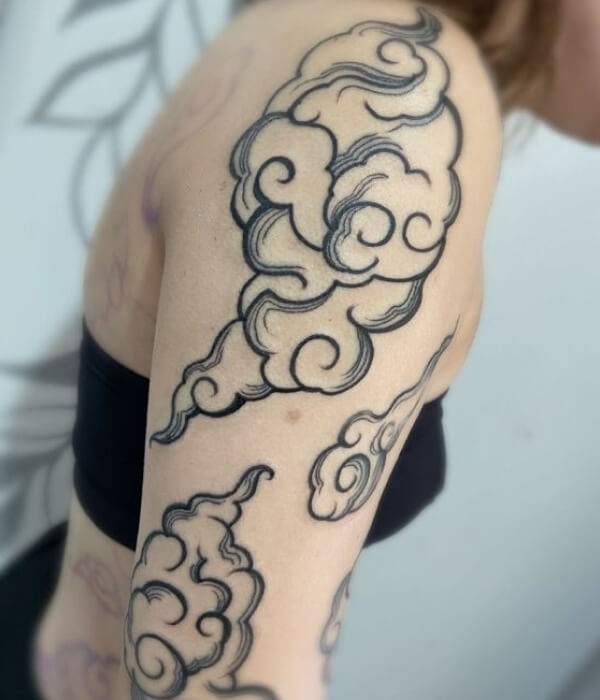 With its classic lines and varying hues, this popular tattoo will turn heads wherever you go, adding depth to the overall effect. With such versatility in artwork and color selection, this timeless piece makes an excellent addition to your fashionable wardrobe! It's one of the unique tattoo ideas for half sleeve.
17. Portrait Half Sleeve Tattoo
Portrait half sleeve tattoos for women are a lovely form to express themselves. From classic black ink designs to vibrant colored pieces that feature intricate details such as flowers or other meaningful symbols, these sleeves can truly be works of art!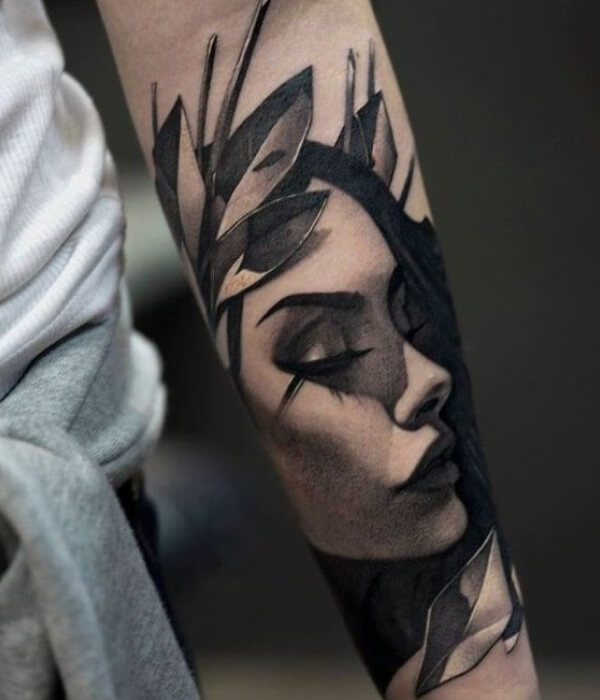 Whether you want something heartfelt with the names of loved ones incorporated into it or a more abstract design featuring traditional geometric patterns – there is no limit when it comes to custom-creating your personalized piece. With an artist's guidance and expertise in designing individual portfolios full of creative flair, anyone who chooses this type of tattoo will have shifted from just another person trying out body art to becoming part owner of a modern masterpiece.
18. Tree Half Sleeve Tattoo
Three half sleeve tattoos are an excellent choice for any woman looking to make a bold statement with her body through art. They provide a beautiful aesthetic that is unique and eye-catching yet made special given the symbolism of trees in many cultures across the world from strength and endurance to life cycles and new beginnings.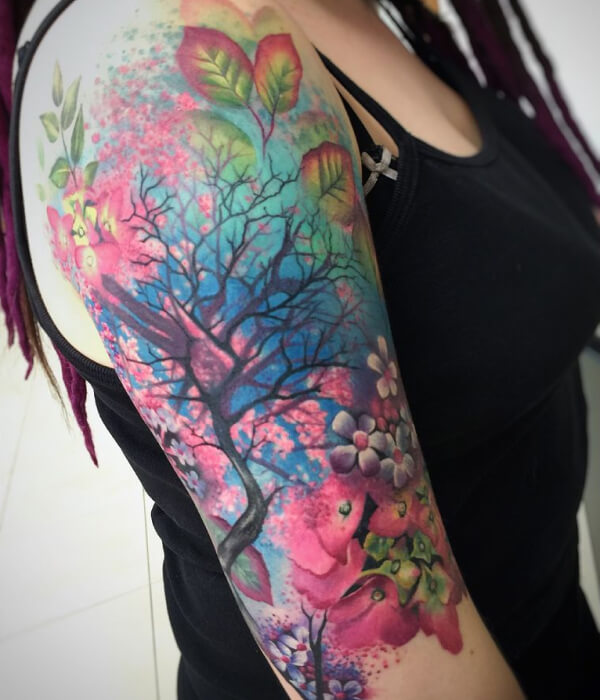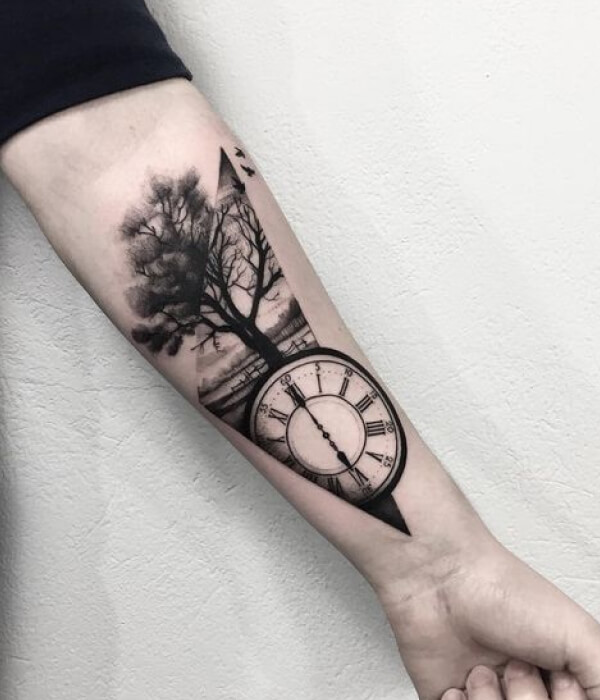 Weaving intricate designs or incorporating other meaningful elements can elevate this tattoo style for women by adding personal stories, values, or memories into your inkwork. Whether you want something classic like black ink & detail shading, vibrant colors popping off your skin -or both – get inspired now with these stunningly creative tree half sleeve tattoos on display!
19. Colorful Half Sleeve Tattoo
Half Sleeve Tattoo for Women has become more creative and diverse than ever. Colorful half sleeve tattoos are among the most popular designs that many female tattoo artists specialize in creating today. They feature intricate, multi-colored details made from vibrant combinations of pigments carefully chosen by experienced designers who understand how different color schemes can enhance one's body art experience.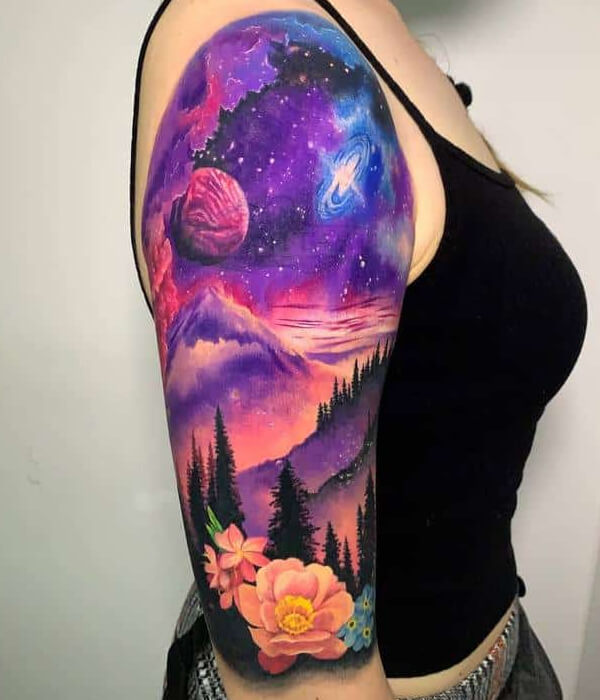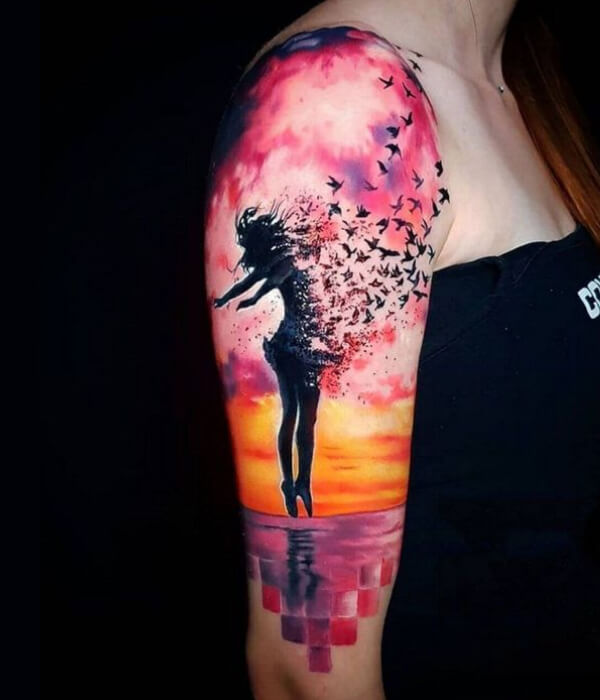 With modern technologies like airbrush detailing or using a wide range of colors available at any studio, it is easier now to customize your unique design with complete confidence, knowing you will have a fantastic piece of artwork on your skin forever!
20. American Flag Half Sleeve Tattoo
Tattoos have been a part of American culture for hundreds of years, and nowadays, they are more popular than ever. Women specifically have taken an interest in half sleeve tattoos featuring an iconic design that stands out – The American Flag Tattoo! This unique tattoo offers ladies contemporary body art and symbolizes patriotism.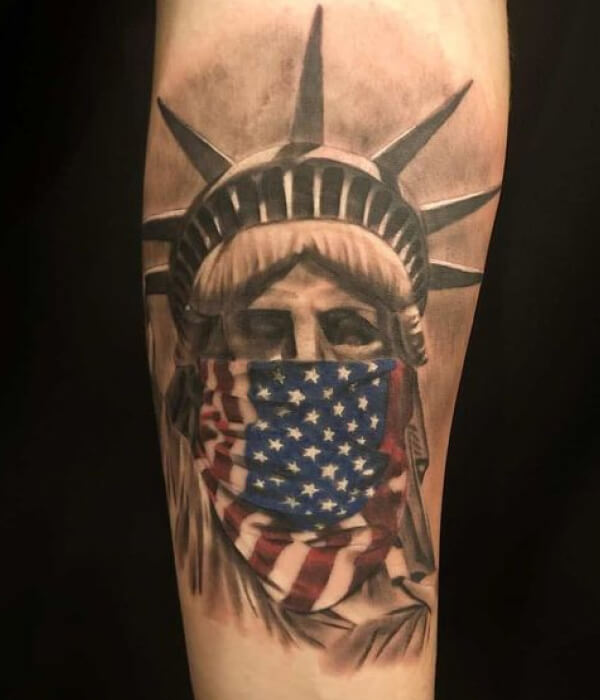 With its bold colors and intricate details, this timeless artwork will elevate any woman's style to new levels while expressing their individualism with pride. Whether someone is feeling patriotic or looking for something eye-catching, a USA flag-themed arm tattoo just might be perfect after all!
21. Arrow Half Sleeve Tattoo
Women show their boldness and daring by embracing the fashionable trend of arrow half-sleeve tattoos. This stylish tattoo has large black arrows pointing in various directions, creating an eye-catching display on the arm or leg.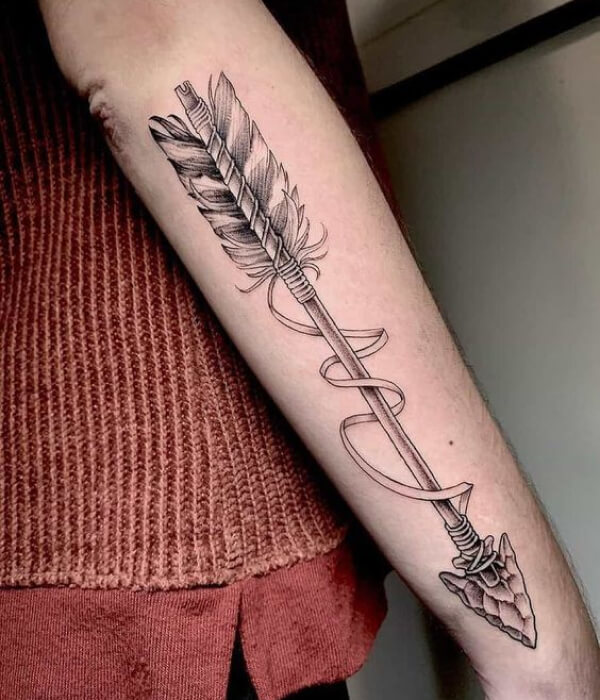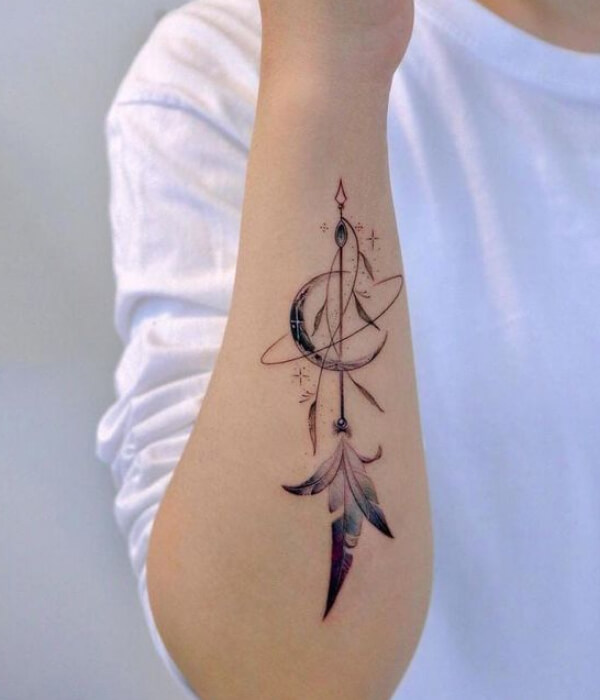 It looks great and carries deep symbolism for its wearer, representing progress, direction, confidence, and movement in life's journey. Women looking to make a powerful statement can do so while remaining professional with this aesthetically pleasing yet meaningful body art form!
22. Watercolor Half Sleeve Tattoo
An increasing trend amongst women is the watercolor Tattoo half sleeve tattoo. These tattoos feature delicate and vibrant colors which capture a special message or story, personally crafted for each wearer.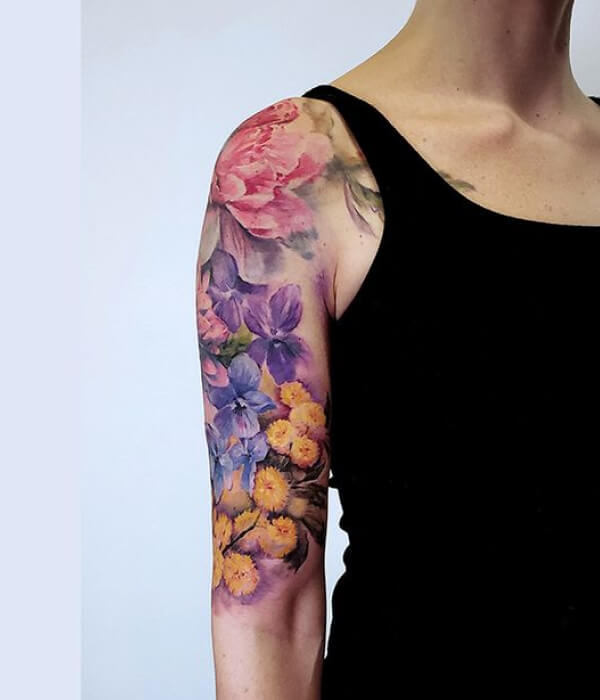 Getting this style of tattoo done by an experienced artist involves careful consideration thanks to its complex design elements that require precise measurements and placement for optimum results. Not only does it look aesthetically beautiful on any body type, but these unique pieces will surely be conversation starters as they tell your tale in one glance!
23. Mechanical Half Sleeve Tattoo
Women have embraced tattoos lately, and Mechanical Half Sleeve Tattoos are one of the latest trends to hit the market. This trend is stylish and can be a fashion statement for professional women who may not feel comfortable sporting full-sleeve tattoo designs.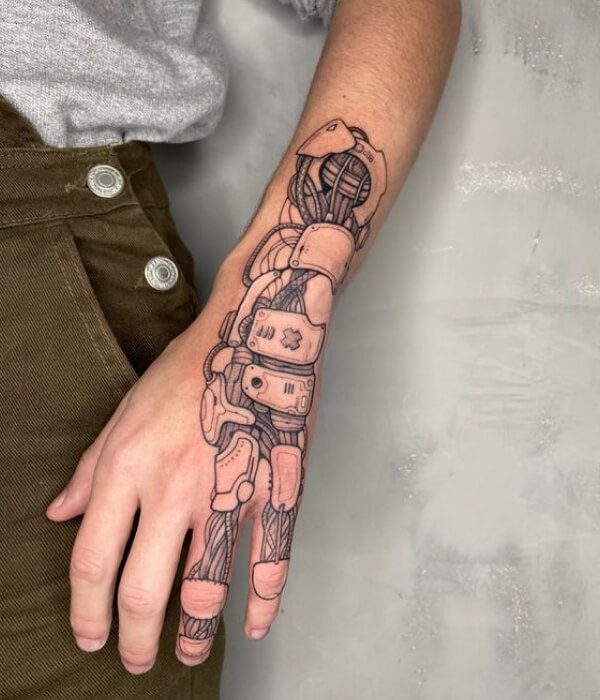 These intricate and unique half-sleeve designs featuring mechanical engineering elements such as gears or other technical parts could add an exciting twist to any woman's look in a subtle yet stunning way. Women seeking standout styles with plenty of personalities should consider opting for a creative mechanical half-style design that incorporates their interests into a body art form!
Conclusion
Half sleeve tattoo for women is a great way to show their individuality and style. They allow women to showcase something special about themselves while being fashion-forward with the latest trends. These tattoo ideas for half sleeve can range in size, shape, design, color, and texture – so all designs will be unique! With careful consideration and planning of your one-of-a-kind tattoo, you'll have an accessory that will make anyone stand out for years.
Women everywhere should keep exploring their creative side when choosing these beautiful works of art – it's sure to make them feel confident and proud every time they look at it!
Please follow and like us: