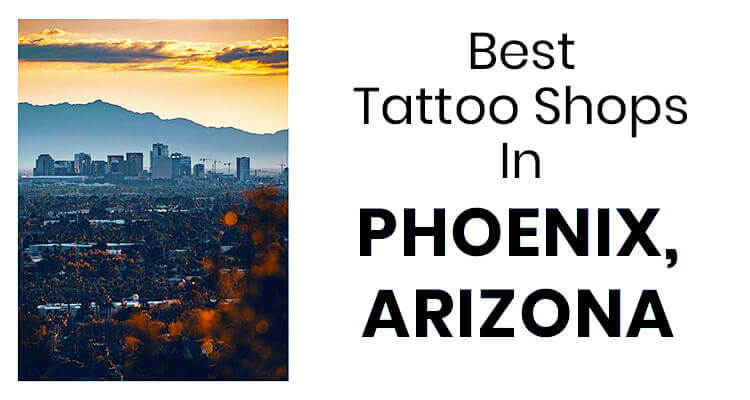 10 Best Tattoo Shops in Phoenix, Arizona
Posted on
Arizona is the rejuvenation of the Wild West, and it's also famous for many things. Every year, tourists flock to Arizona, and locals like to explore the city. Not surprisingly, tattoo shops and studios are one of the most popular attractions in Arizona.
Whether it's your first time visiting Phoenix or you are an experienced tattoo enthusiast, you may have trouble selecting the right tattoo shop. In this article, we have compiled a list of the best tattoo shops in Phoenix, Arizona for your convenience. We checked through the hygiene and health standards of all the places on the list.
High Noon Tattoo
High Noon Tattoo shop and studio is your best bet when you need unique cowboy tattoos.
Friendly and polite staff assist you with all the steps necessary to make your tattoo stylish and stunning.
In addition, they have a fresh and unusual style of tattooing, which makes them one of Phoenix, Arizona's leading tattoo artists.
To ensure that you and the tattoo artist are on the same page, we recommend booking a discussion before the appointment.
Contact details
Phone number 6022 661772
4215 N 16th street # 9 Phoenix, AZ, USA 85016.
27 Tattoo Studio
27 Tattoo Studio offers a clean, comfortable environment and the best possible experience for tattoo lovers. It is renowned for its high-quality tattoos that enthusiasts cherish for years.
The staff is expert at creating well-shaded tattoos in black and white as well as colors. They are experts in customized designs and use high-end equipment to make all the tattoos stunning to watch.
27 Tattoo Studio is one of the few completely disposable studios, as some tattoo parlours recycle the steel tubes, but they follow strict health guidelines.
It is one of Phoenix's top tattoo shops with over ten years of experience in this field.
Contact details
Phone number +1602 633 2607
600 N 4th Street #141, Phoenix, AZ 85004, USA
Golden rule tattoo
As one of the most popular tattoo shops in Phoenix, Golden Rule Tattoo's artists are trained in blood-borne pathogens and sterilization procedures.
A new tattoo's design can be chosen with the help of tattoo artists.
Those who are getting tattoos for the first time should check out Golden Rule Tattoo.
They specialize in both small and large tattoos, and their designs are creative and innovative.
Despite their openness to all suggestions, they are very helpful when it comes to suggesting the best locations for tattoos.
It is one of the busiest tattoo shops in Phoenix, Arizona, so we recommend booking an appointment before visiting.
Contact details
Phone number +1602 6267 297
4802 N 7th St, Phoenix, AZ 85014, USA
GreyWash tattoo
GreyWash tattoo shop has the most beautiful and creative tattoos we have seen in Phoenix. During your tattoo appointment, you can lie back in individual rooms.
With a wide variety of tattoos and customized tattoos, they are one of the best tattoo shops in Phoenix, Arizona.
The artists at the studio have been in the profession for more than seven years and are blood-borne pathogen certified.
GreyWash Tattoo is one of the few tattoo shops in Phoenix that specializes in Japanese, biomechanical, neo-traditional, colour, fine line writing, black and grey, traditional, and other tattoo styles.
You will be astonished by the variety of tattoos available.
Contact details
Phone number +1602 583 7523
13607 N 32nd St UNIT 1, Phoenix, AZ 85032, USA
ElectriK Needle Tattoo
ElectriK Needle Tattoo was established in 1996, making it one of the oldest tattoo shops in Phoenix, Arizona. The shop is specialized in both tattoos and body piercings.
During your consultation with their talented tattoo artist, you are free to ask any questions you may have. You can find everything you need about ElectriK Needlattoo on its website, which makes the process of choosing the tattoo easier for you.
From flower patterns to complex characters and portrayals, the ElectriK Needle Tattoo is remarkable for its variety and versatility. This kind of variety of tattoos can only be found in very few tattoo shops.
Contact details
Phone number 602 253 8288
1028 Grand Ave, Suite 3 and 4. Phoenix, AZ 85007 USA
Solace Tattoo Phoenix
The booking before your visit is a must at Solace Tattoo Phoenix, as it is one of the busiest and most popular tattoo shops in Phoenix. If you book your tattoo months in advance, it may take more than a few weeks for it to be completed.
Female tattoo enthusiasts feel safe and comfortable because most tattoo artists are women.
Booking an appointment and viewing the designs can be done via the website, which is user-friendly.
There are many museums and other artistic sights nearby, and it specializes in deep and creative tattoo designs. It's the kindness and hospitality of the tattoo artists that makes Solace Tattoo Phoenix a good choice.
Contact detail
115 W McDowell Rd Suite 3, Phoenix, AZ 85003 USA
Goliath Tattoo Studio
Its award-winning artists have made Goliath Tattoo Studio one of the top tattoo shops in Phoenix.
In order to achieve a unique style, the artist experiments with different designs, shapes, and colors. The artists are setting very high standards for the tattoo industry.
As the studio is closed on Sundays and Mondays, making an appointment is quite a task for people in a haste. They have designed their website in such a way that you can get a glimpse of the fantastic work they are doing.
Tattoos that emphasize faith and courage are offered at this tattoo shop. There is no limit to the designs you can choose. You can also request customized designs, however they may take longer to complete.
To ensure a high-quality experience, the studio never compromises on health and safety measures.
Contact details
Phone number 602 513 8001
13601 N 19th Avenue Phoenix, AZ, 85029 USA
Limitless Ink Tattoo and Piercing
There's no website for you to fill out, and they don't accept walk-ins at Limitless Ink Tattoo and Piercing. They've been in business for over seven years.
Their Instagram profile contains all the information you need. In terms of responding to all customers on Instagram, they are quite prompt.
Among their tattoos, they offer an incredible variety. Whatever the picture may be, they make it appear simple, whether it's a picture of a pet or a pattern of textures.
This portfolio is impressive, and even you'll be swayed by it.
Limitless Ink Studio is the premier tattoo shop in Phoenix, Arizona if you are looking for a different style of tattoo.
Contact details:
Phone number 602 332 4114
13050 N Cave Creek Road, Phoenix, AZ 85022, USA
Love and Hate Tattoo and Piercing
Love and Hate Tattoo and Piercing is the oldest tattoo shop in Phoenix, Arizona. Located in downtown Phoenix, which is the heart of the city, it is one of the favorite tattoo shops for tattoo aficionados. This is because it offers custom tattoos and piercings as well.
Two tattoo artists offer you a world of possibilities when it comes to tattooing.
There is something for everyone in their portfolio, from simple to complex.
Contact details
Phone number 602 973 4093
322 W. McDowell Road, Phoenix, AZ 85003 USA
Karma Tattoo Studio
The increasing popularity of tattoos is motivating more and more people to get them on their bodies.
All seven artists at Karma tattoo studio are well trained to create your dream tattoo and have been involved with this art for more than 9 years.
Karma tattoos are the most popular tattoos in the portfolio, but there are hundreds to choose from.
Karma Tattoo Studio is one of the few tattoo shops in Phoenix that has mastered the meaning of karma through tattoos, and you will surely like them if you are influenced by the east.
Contact details
Phone number +16232429924
1618 E Bell Rd, Suite # 107, Phoenix, AZ 85022, USA
1912 Tattoo Studio
1912 Studio is the newest tattoo shop in Phoenix as it was established in late 2019.
All their artists are certified award-winning professionals, and they specialize in Japanese traditional, fine line, black and white, and American traditional tattoos.
We liked the pleasant environment and the care they take for all the customers. The portfolio is impressive and they are also proficient at custom tattoos.
Contact details
Phone number + 16029074727
1247 E Northern Avenue, Phoenix, AZ, 85020 USA
Summary
We have selected the best tattoo shop for you, and it was a tough job. Additionally, we considered the hygiene of the place as well as the trendy and latest tattoo designs.
For those who are getting tattoos for the first time, all the above tattoo shops have experienced, knowledgeable professionals who are patient and understanding. Hopefully, you were able to find useful information and have chosen at least one of them for consultation.
If you've watched the 'epic tattoo fails' videos, I'm sure you know what I am talking about and I sincerely hope that you don't add to that list.
Please follow and like us: