60 Best Honey Bee Tattoo Designs
Posted on
Bees have been important to many cultures since ancient times. These brightly colored insects are essential for maintaining a balanced ecosystem, and they play a significant role in crop growth success. As one of the most hardworking and loyal species, the honey bee has become a popular tattoo design.
Honey Bee Tattoo Meaning
There is no doubt that these tiny creatures look amazingly beautiful as tattoos. Besides that, they hold a significant meaning. Honey bees represent environmental preservation because of the critical role they play in the environment and agriculture. Besides, honey bees defend their home even at the risk of their own life; it also represents loyalty and bravery.
A honey bee tattoo symbolizes love and affection. Bee is also associated with wisdom, knowledge, and creation. However, the most common and well-known meanings of bee tattoos are discipline, perseverance, and teamwork. There are myriads of honey bee tattoo designs, from a simple black bee to a queen bee with a crown to choose from. We've compiled some of the best honey bee tattoo designs to get inspired from. Scroll down to find your favorite honey bee tattoo design.
Here we go……
1. Sunflower Honey Bee Tattoo
Sunflower honey bee tattoos look impactful. If you're looking for a colorful tattoo design, then a sunflower honey bee tattoo is apt for you. It looks beautiful in tiny size etched on your neck or near the ear. The best thing is you can get this design in a larger size as well. If it's a large-sized design, then get it etched on your shoulder.
2. Black Honey Bee Tattoo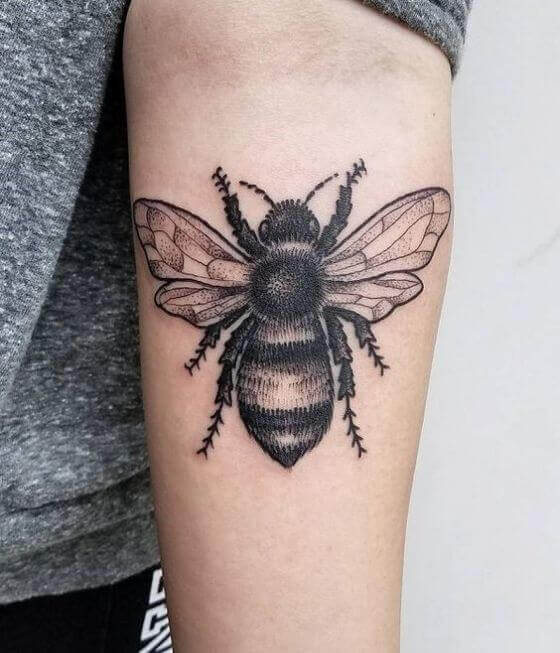 You already know that bees are black and yellow, but you can ink a total black or black-contour tattoo on your forearms, ankles, or shoulders. If you want something simple, focus on tiny ones that look great on the neck, wrists, and behind the ear.
3. Killer Bee Tattoo Design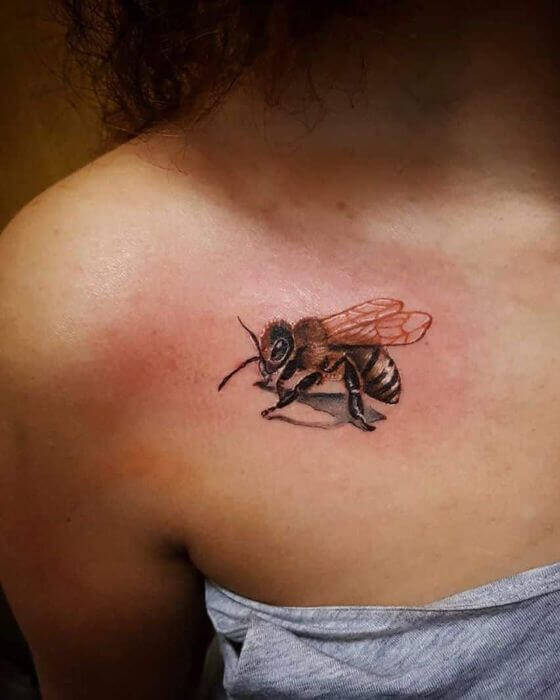 The killer bee symbolizes endless discipline and persistence. If you possess perseverance and discipline, then a killer bee tattoo design is for you. You can get it etched on your neck, wrists, or behind the ear.
See More: 70 Superb Shoulder Tattoo For Females
4. Honey Bee Tattoo with Flowers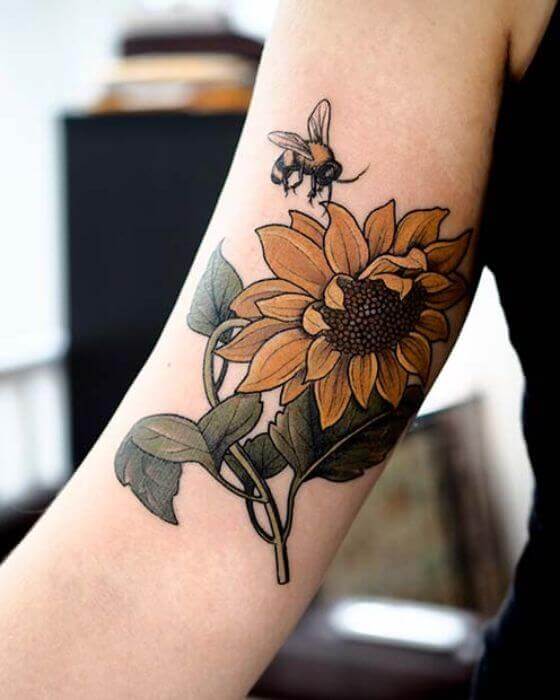 Add flowers to your honey bee tattoo design to make it look unique and fresh. Flowers like lavender will be a great choice to enhance the design—this one you can get inked on your arm or shoulder.
5. Honey Bee Tattoo with Beehive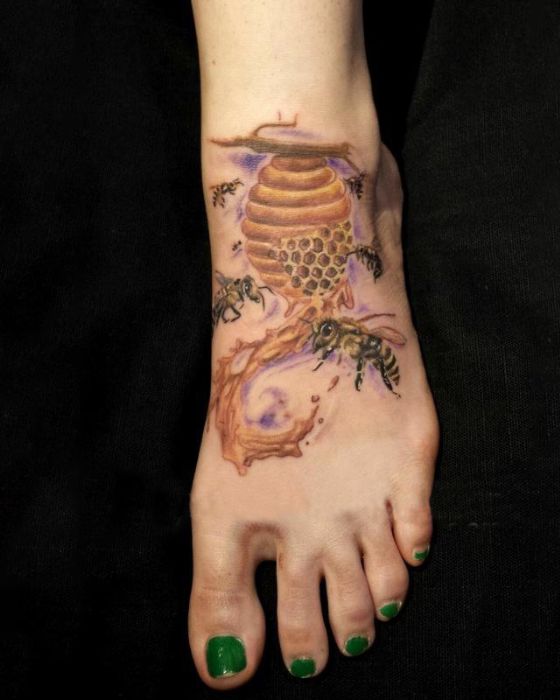 You can consider adding a simple beehive to your honey bee tattoo design. It will look amazing etched on your forearm.
6. Queen Honey Bee Tattoo
A Queen Honey bee tattoo design looks marvelous. A queen honey bee tattoo represents how appreciative and thankful you are for the help in your life and that you are grateful each time it gets you out of a jam. You can get a queen bee etched on your neck in small size. To make it look unique you can even add a crow to your queen honey bee tattoo.
7. Sweet Honey Bee Tattoo in a Dotted Circle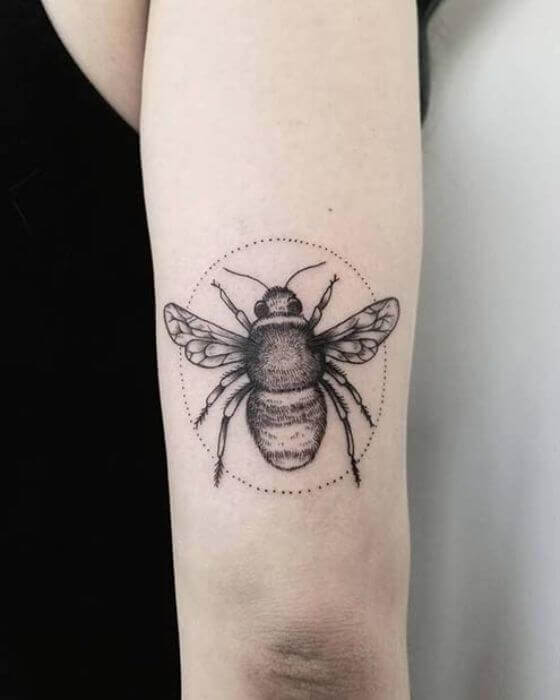 Get a sweet honey bee tattoo etched in a dotted circle. It will look pretty awesome etched on your shoulder that you can flaunt as and when you want. Get this one in black ink!
Also See: 80 Scorpion Tattoo Designs
8. Realistic Bee Tattoo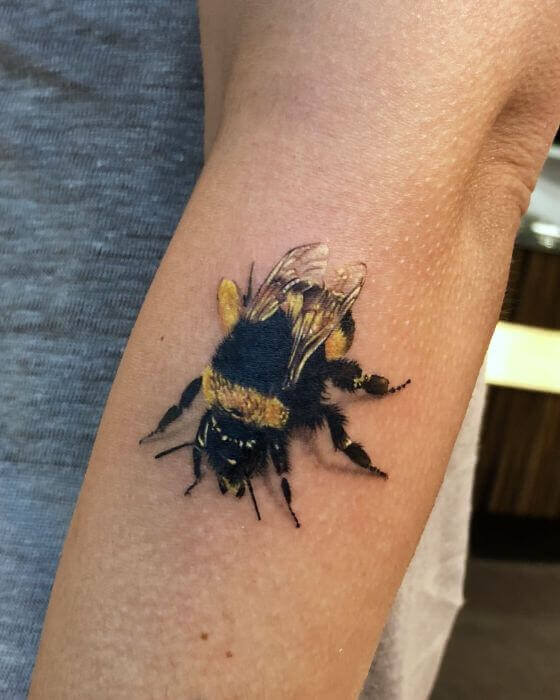 Get a super realistic honey bee tattoo design inked near the ankles. If you want to make a small tattoo design that isn't too big, the ankle is a great place to start. It can be done in enticing black and grey tones that look cool.
9. Honey Bee with Cartoonish Texture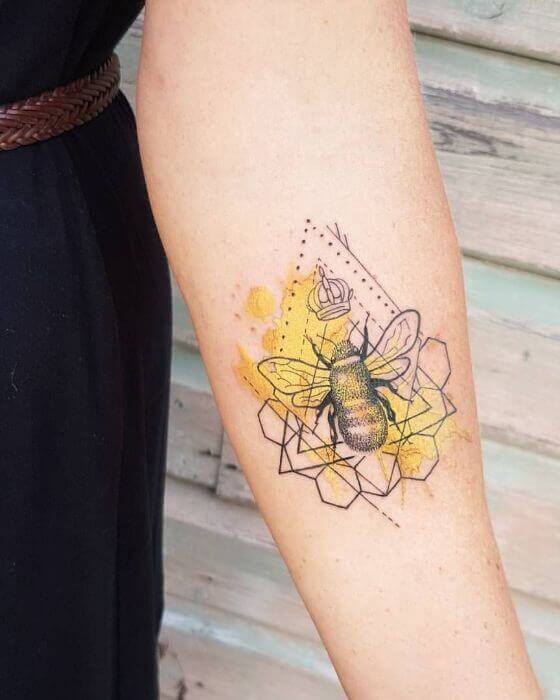 Make your honey bee tattoo look a little different by adding some cartoonish texture to it. A small honey bee in cartoonish texture looks cute and adorable. You can get it etched near the ear or on your wrist.
10. Honey Bee Tattoo with a Quote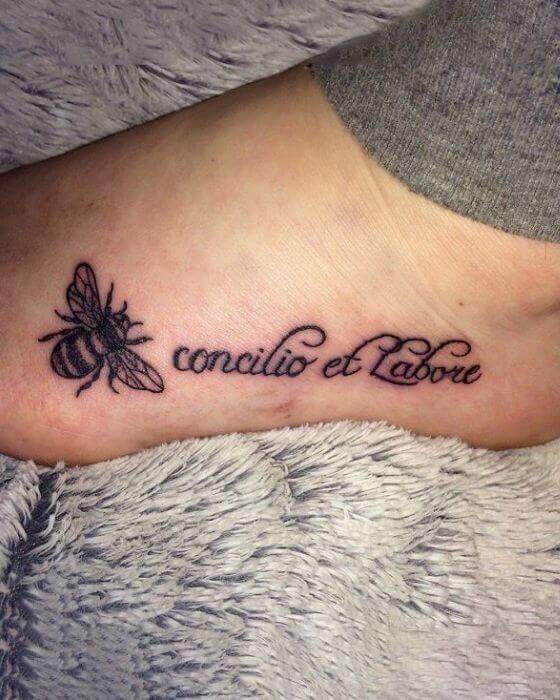 A honey bee tattoo with a quote is another way to flaunt a beautiful tattoo design. It makes for an appealing and meaningful tattoo design. Add a quote that resonates well with your personality. You can even consider adding a quote in a different language provided you know the meaning of the quote.
11. Small Honey Bee Tattoos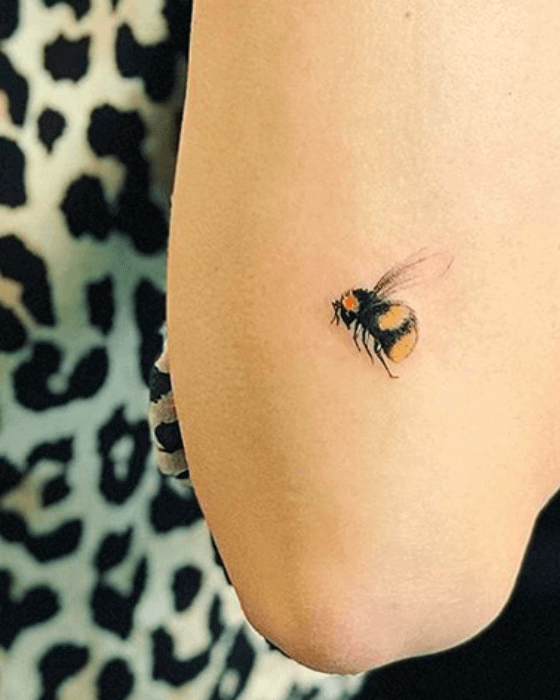 A cute and very adorable tattoo design for those who are looking for small honey bee tattoo ideas. If you do not want to overdo your tattoo, a small honey bee is perfect for you. The coolest thing about a small honey bee tattoo design is that it can be etched anywhere on your body. However, the best placement for your small bee tattoo is your wrist, neck, and ankle.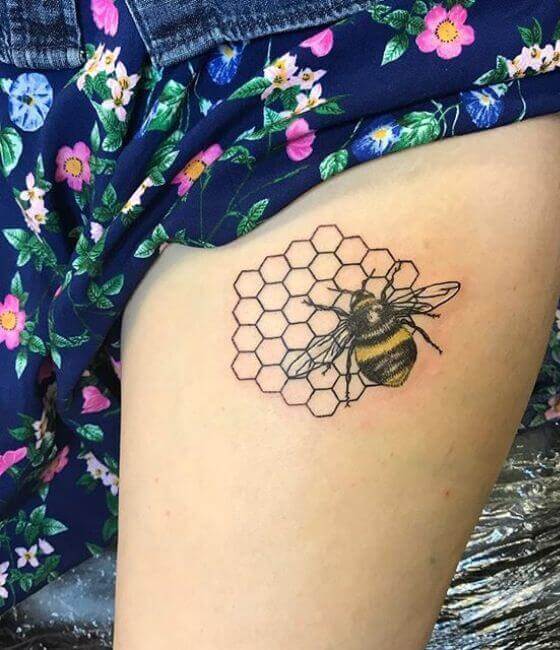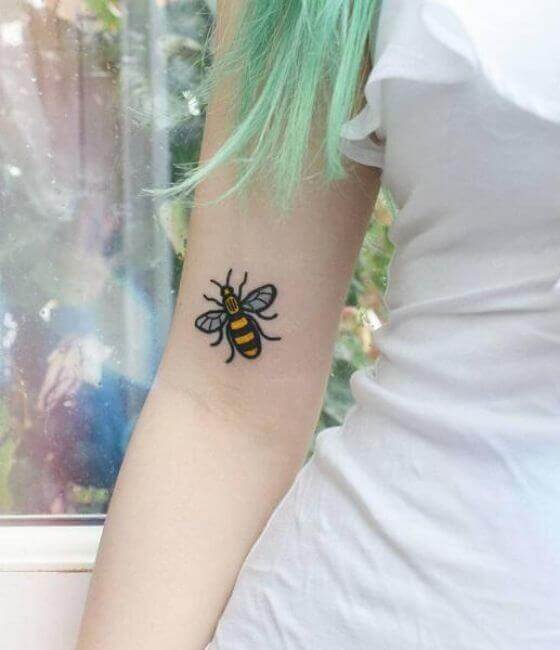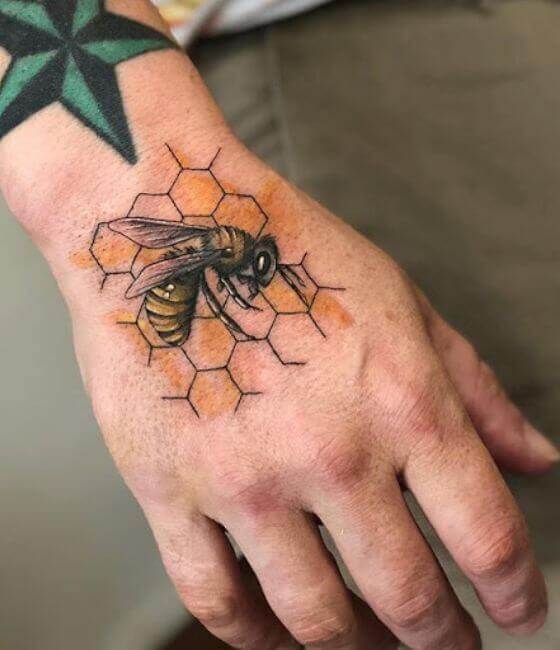 See More: 51 Best Neck Tattoo Ideas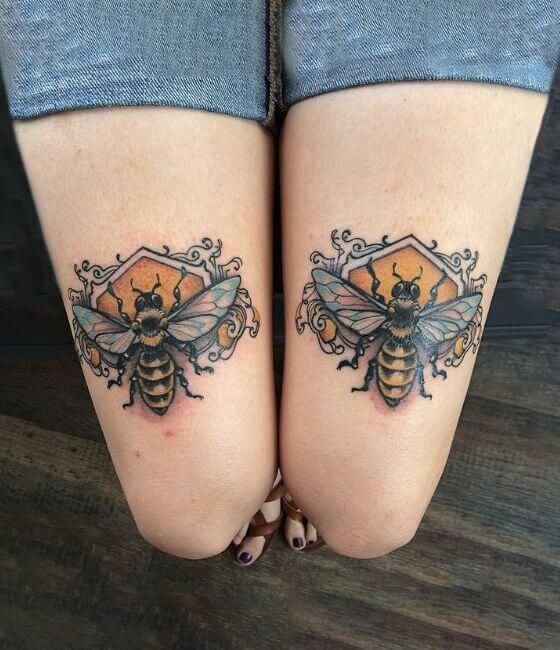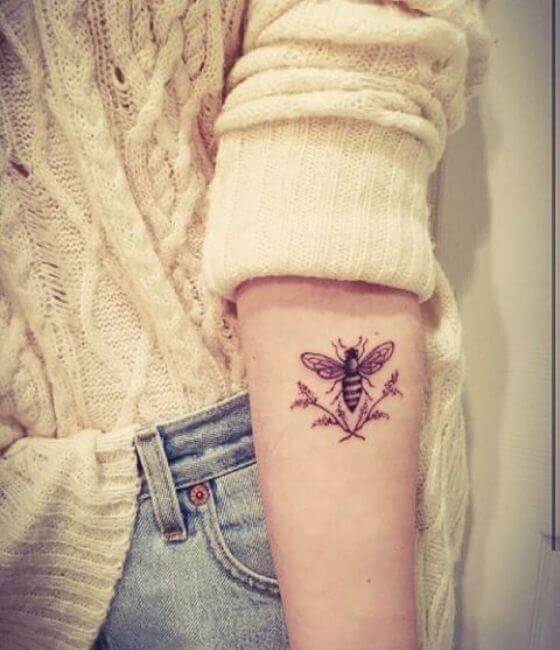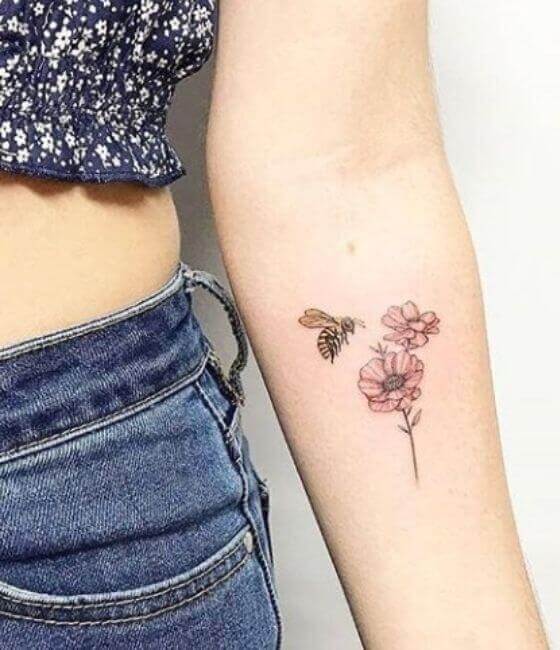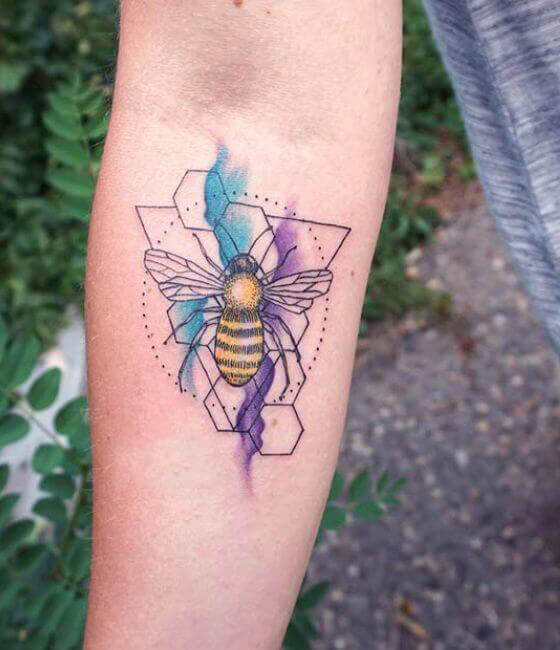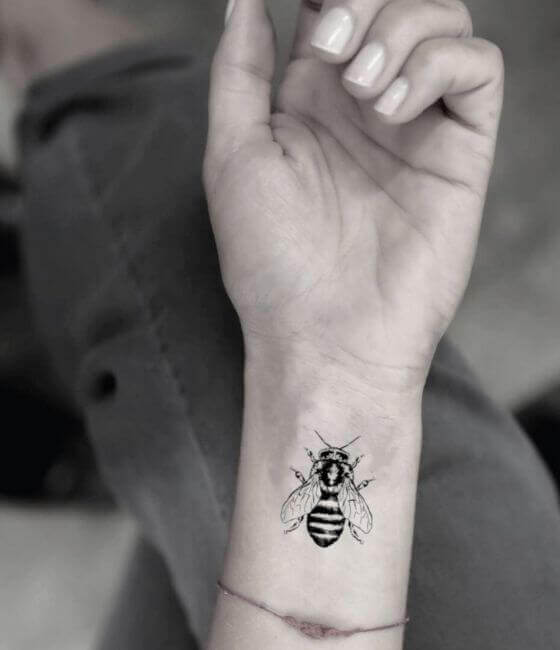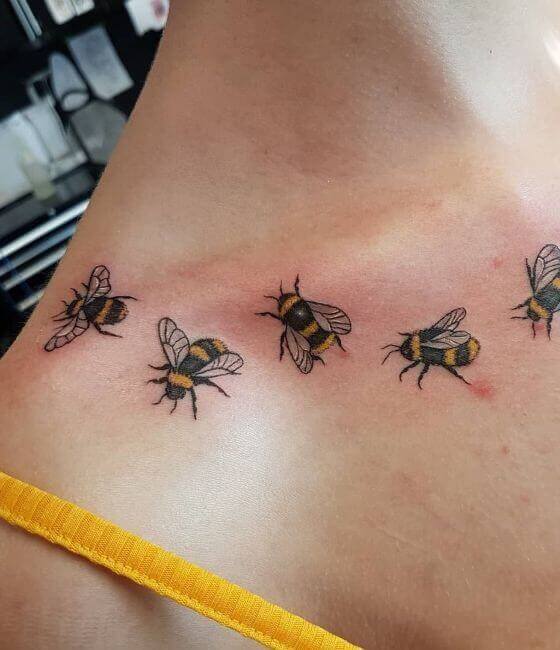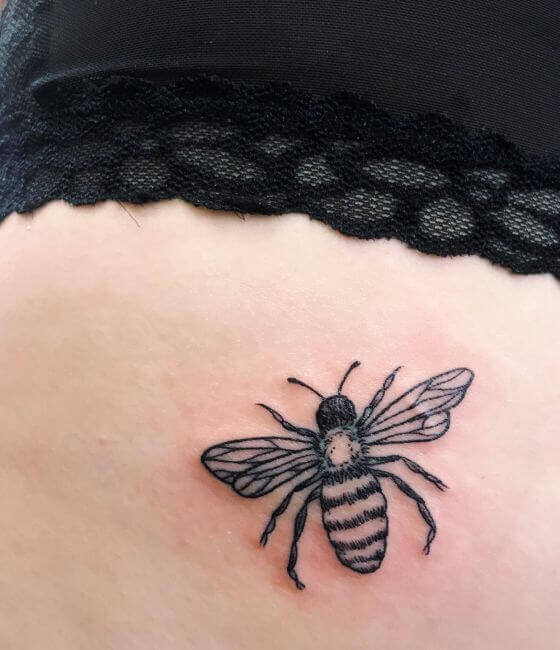 See More: Behind The Ear Tattoos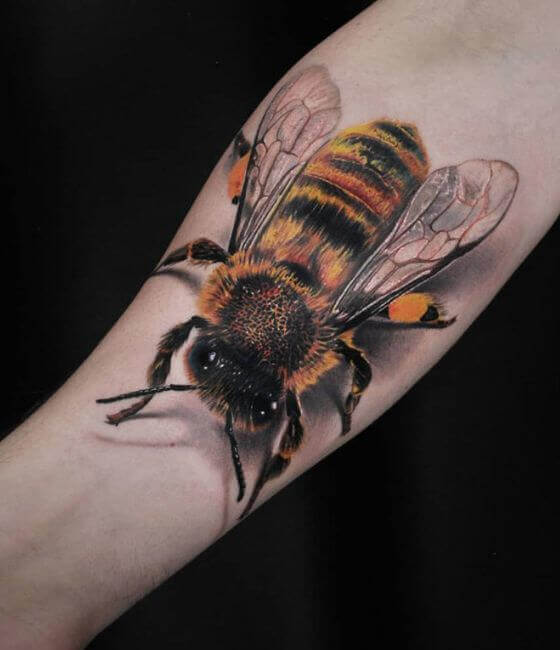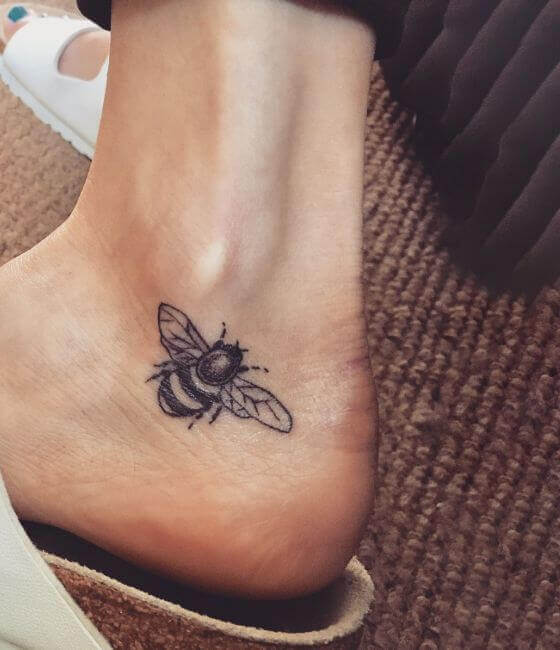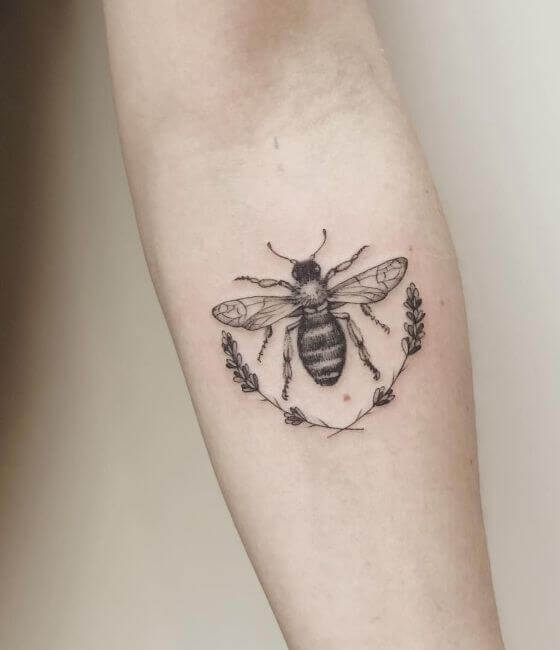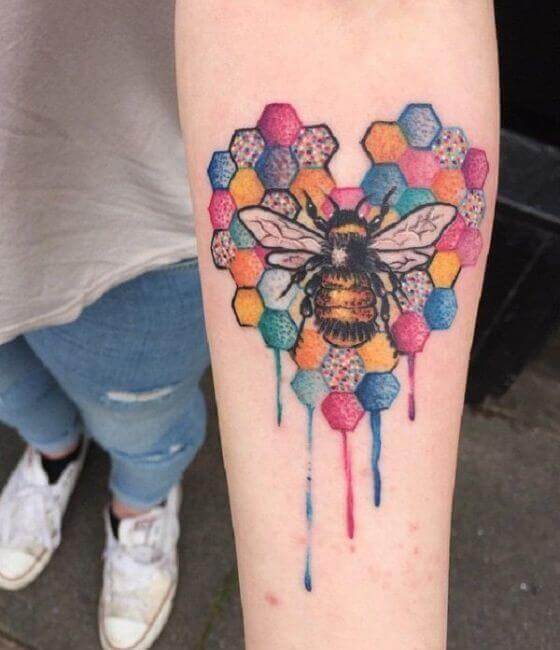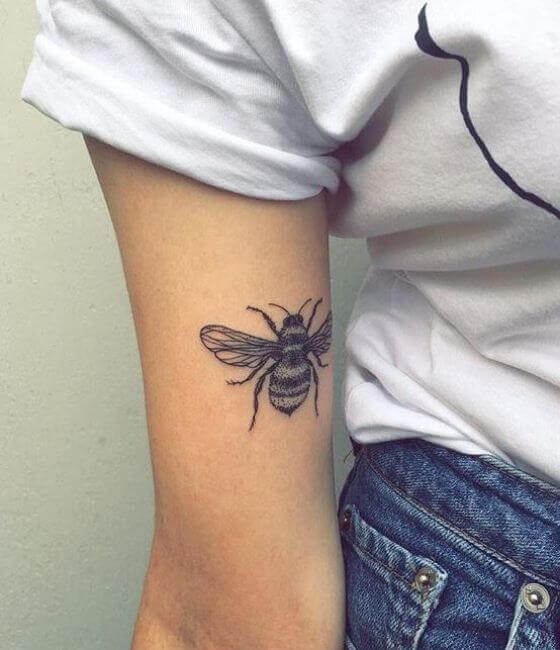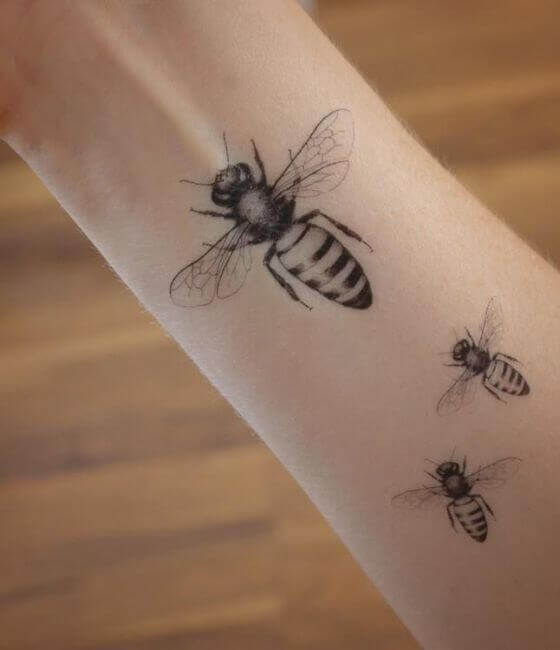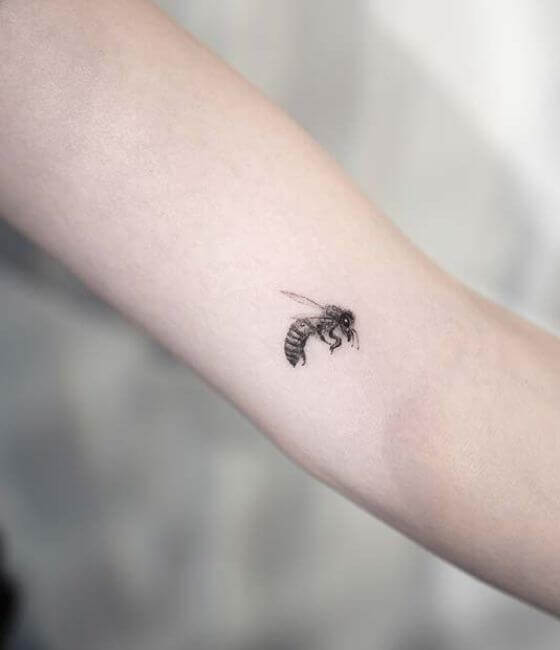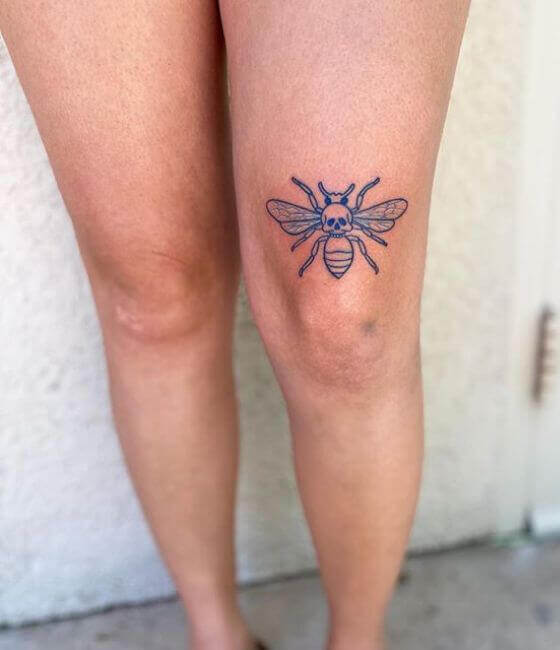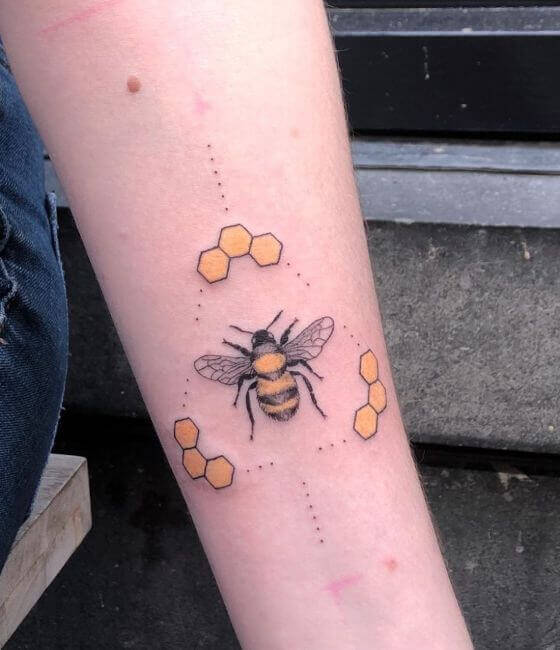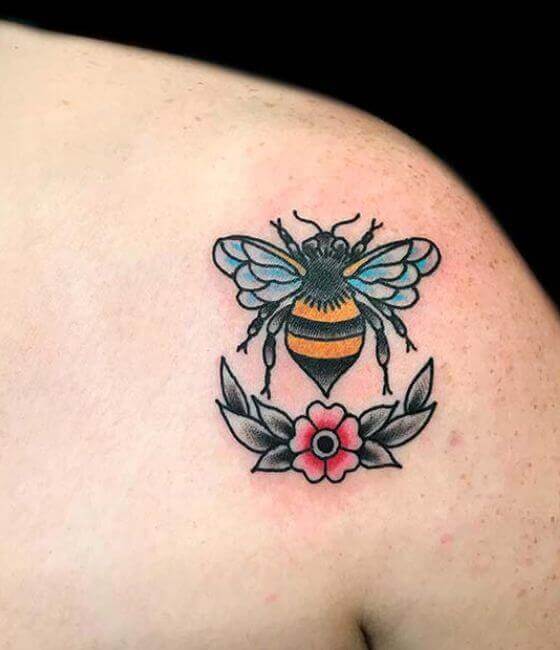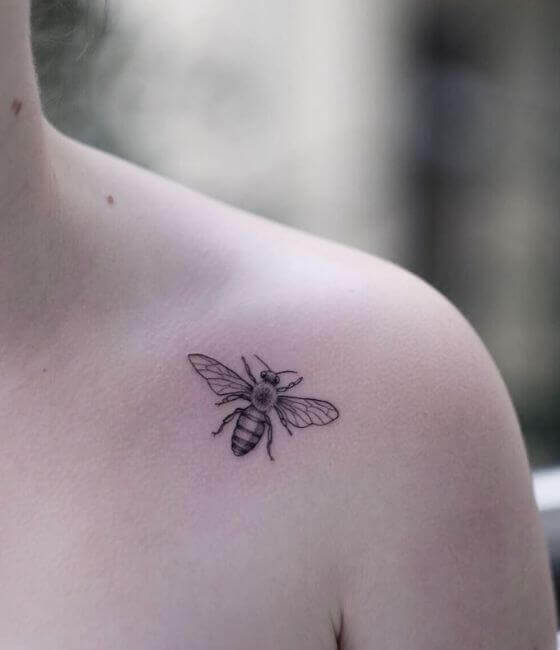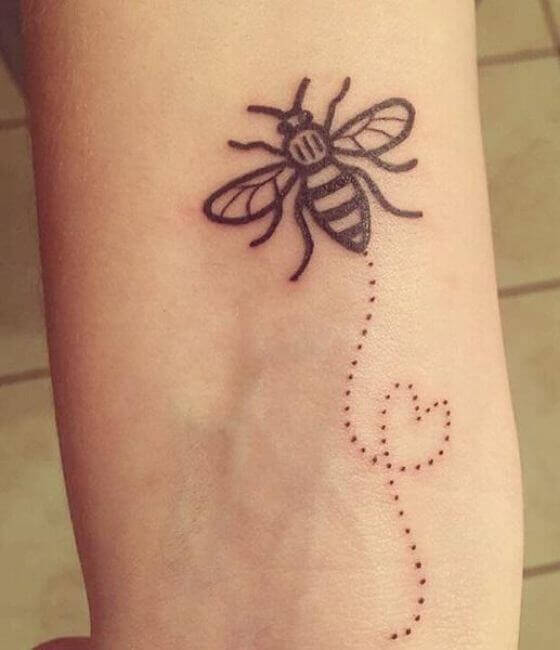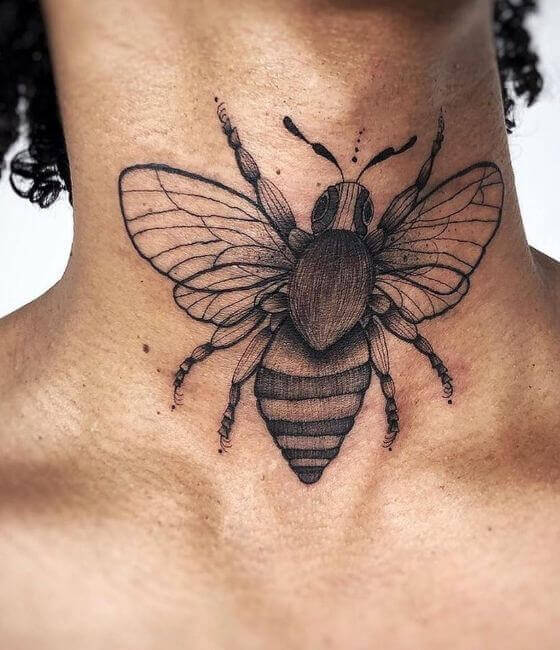 Wrapping it up….
So, these are the 60 best honey bee tattoo ideas for you that you can pursue. Apart from these, you can consider adding additional elements like dotted hearts, leaf stems, colorful flowers, crown, etc., to make your honey bee tattoo look extraordinary.
Happy Tattooing…. ☺ ☺
Please follow and like us: