60 Fantastic Japanese Sleeve Tattoo Designs
Posted on
Japanese Sleeve Tattoo, also known as Irezumi, Horimono, are famous worldwide for their unique patterns and color combination. These tattoos are worn by people who love traditional Japanese cultures. Like in any other tradition, tattoos were performed as a mark of punishment in ancient Japan. However, things have changed now, and today tattoos are considered a form of modern art.
Traditional Japanese sleeve tattoo ideas include Japanese cherry blossom tattoo to Koi fish tattoo, Japanese dragon tattoo to Japanese flower tattoo, etc. Each subject represents a specific meaning that has been derived from the traditional cultures of Japan.
Japanese Tattoo Meaning
Japanese tattoos have a strong cultural meaning attached to them that symbolize the Japanese culture and people. Like any other culture, the Japanese also have their unique style, which is readily apparent in their tattooing. Japan is one of the oldest civilizations to use tattooing as a form of permanent body art. Earlier tattoos in Japan were performed as a mark of punishment, but in modern times, society's viewpoint has changed dramatically. Today, the Japanese consider it a form of modern art and embrace it.
The reason tattoos had a negative representation in Japanese culture in the last century was Japanese gangsters and criminal organizations like the Yakuza. Japanese gangsters used to get their bodies decorated with traditional Japanese tattoos, such as dragons and koi fish. Earlier it was believed that tattoo is a thing for people involved in criminal activities. Apart from this, their behavior and attitude were the reasons that made them targets for societal repression.
But today, things have changed completely. People of Japan have started embracing tattooing, and people now get tattoos on their bodies. Japanese style tattoos look unique because of the design, pattern, and color combinations. More often than not, these tattoos are colorful and vibrant. Most people prefer to have Japanese tattoos on their sleeves.
The Aesthetic of Japanese Sleeve Tattoo Designs
Gone are the days when tattoos were reserved for tattoo artists and criminal organizations in Japan. Times have now changed, and Japanese sleeve tattoos have become a popular and fashionable choice for men and women in Japan. One can opt from myriads of options when it comes to Japanese sleeve tattoo designs, such as Koi Fish, Dragon, Geisha, Cherry Blossom, Tiger, Snake, Wave, or any other Japanese symbol or image. A Japanese sleeve tattoo is an excellent choice of tattoo – Bright, Bold, and Colorful! These tattoos look amazing by themselves and can be worn by anybody, whether a man or woman.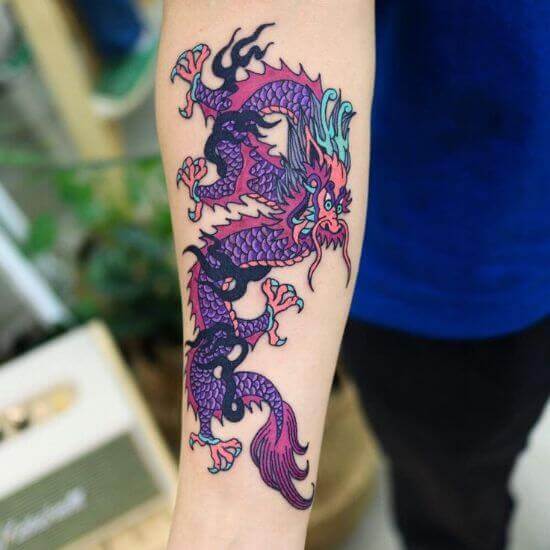 Japanese tattoos include many elements and symbols, each with a different meaning. Like, Japanese dragon tattoos, they are popular amongst men, and they represent strength and wisdom. At the same time, Japanese phoenix tattoos symbolize rebirth and fire. Apart from this, other symbols represent death, life, protection, determination, courage, wind, change, so on and so forth.
Additionally, Japanese style tattoos are known for their exotic use of colors and the symbolic meaning. Like the white color in the tattoo symbolizes purity and truth. On the other hand, Black represents mystery, while yellow symbolizes optimism and prosperity, green signifies youth, energy, and life, and pink represents good health and femininity. Likewise, each color in a Japanese tattoo indicates specific characteristics that is the reason these tattoos are so colorful!
The Cherry Blossom Tattoo
The most popular Japanese flower tattoo is – the cherry blossom! Because of its unique design, it is easily recognizable. Cherry blossom is indicative of the respect that the Japanese give to its ancient ceremonies and traditions. The cherry blossom tattoo is often coupled with other Japanese symbols to create an aesthetically pleasing tattoo representing Japanese culture.
More often than not, cherry blossom tattoos are seen as feminine. However, it holds great significance! Japan celebrates the annual blossom festival with full pompous. Every year, the cherry blossom season is celebrated with great joy by the people of Japan. It is the season when people feel grateful for both life and living.
Related Post: 60+ Eye-Catching Sleeve Tattoo Ideas For Women
Also Read: 60 Delicate Floral Tattoo Designs
Japanese Skull Tattoo
Another top-rated Japanese full sleeve tattoo is – Japanese skull tattoo. It looks fantastic on the sleeves. Japanese skull tattoo is very symbolic; it represents a significant change in your life and also represents the celebration of a good life. We go through numerous changes in life, and most of them consist of good things. Getting a Japanese skull tattoo is a great way to appreciate good changes in life!
Also See: Polynesian Tattoo Designs With Meanings And History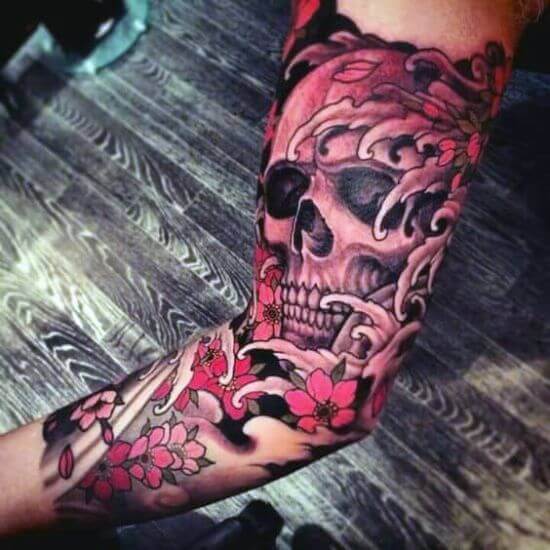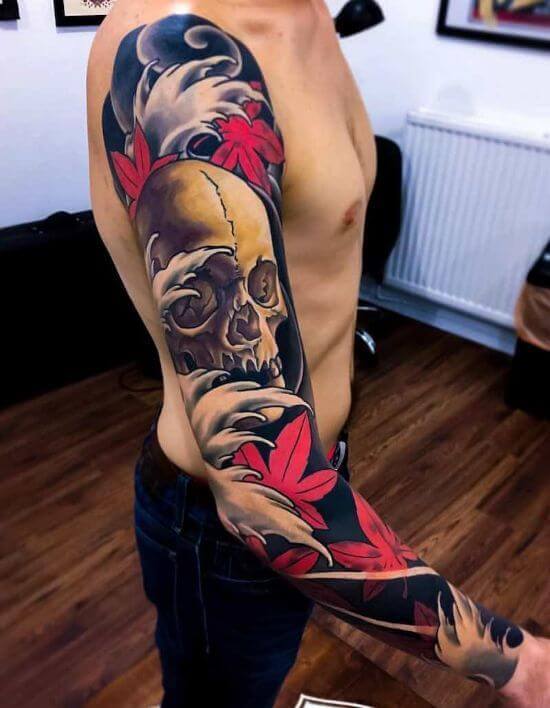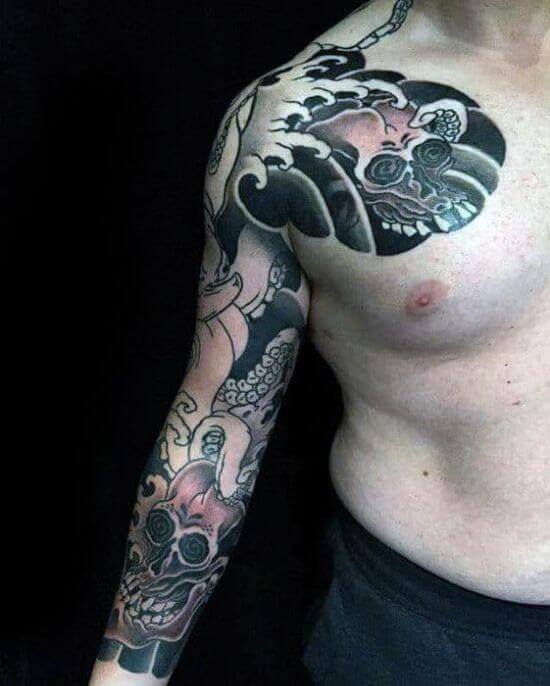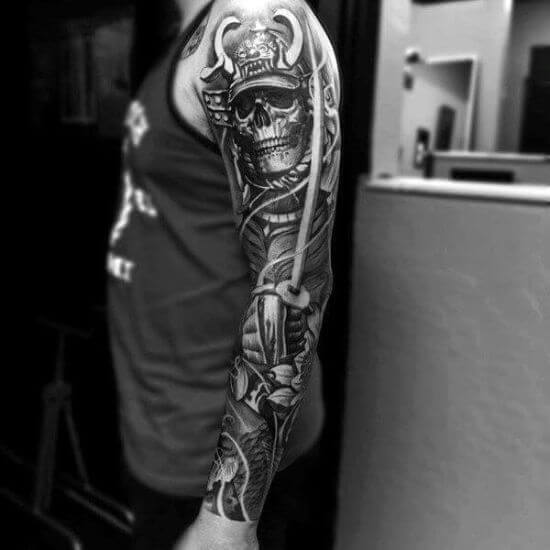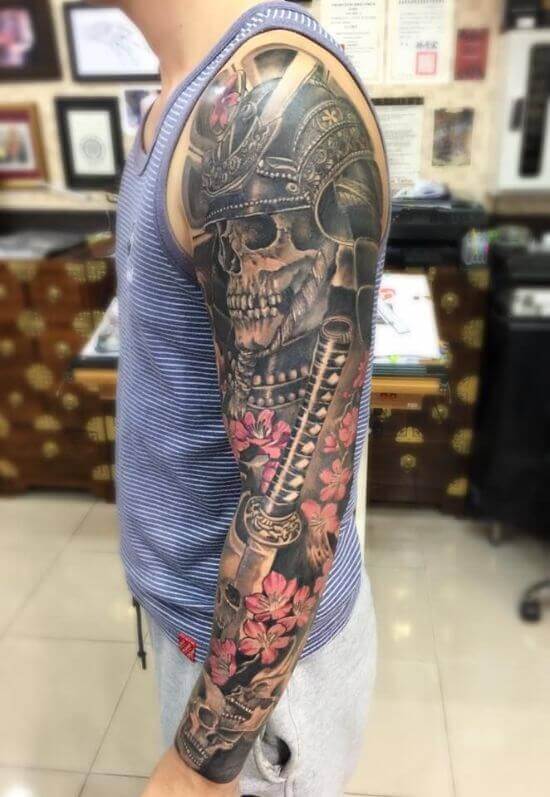 Also See: Greek Astrology And Zodiac Sign Tattoos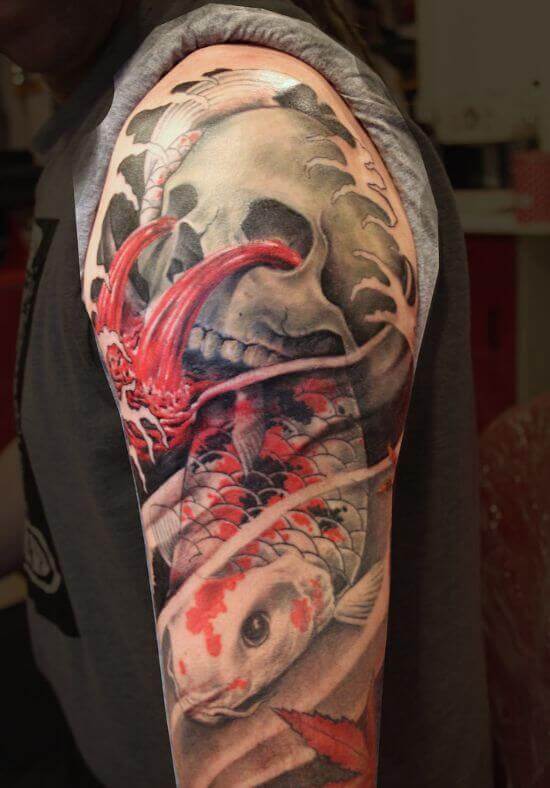 Japanese Dragon Tattoo
Japanese Dragon Tattoo, also known as Ryu Tattoo, is arguably the most recognizable creature in Japanese iconography. Dragons in Japanese culture represent profound blessing, wisdom, and strength. Usually, a dragon tattoo can be coupled with other elements, like a camel head, with the neck and belly of a snake, the talons of a hawk, the scales of a koi fish, chicken, or eagle, and the horns of a stag.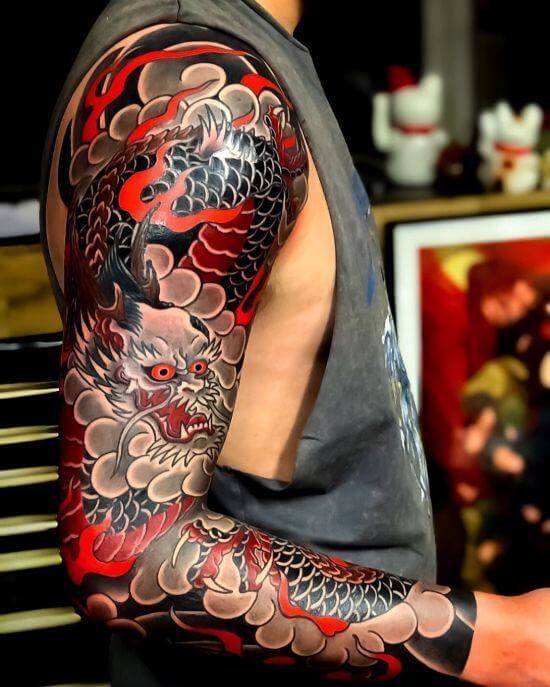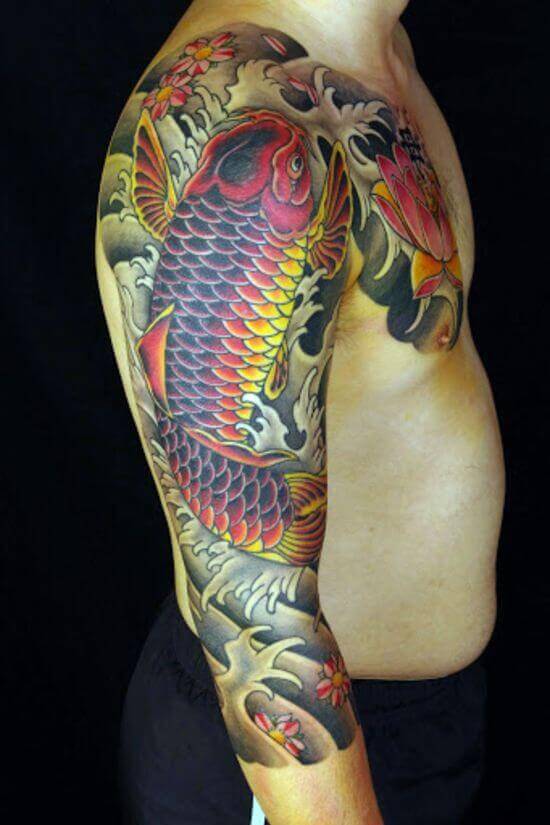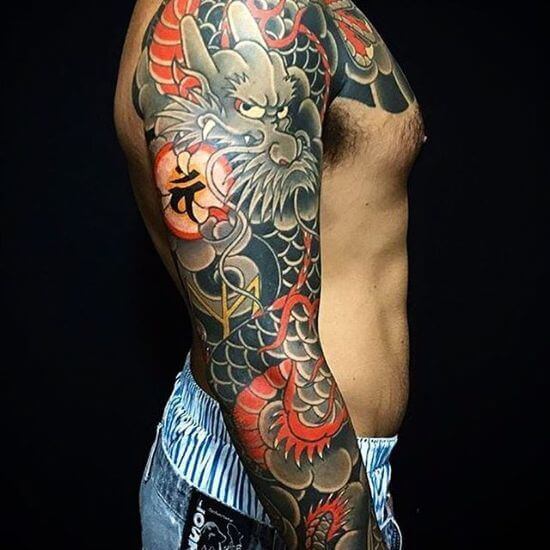 See More: 90 Breathtaking Dragon Tattoos Designs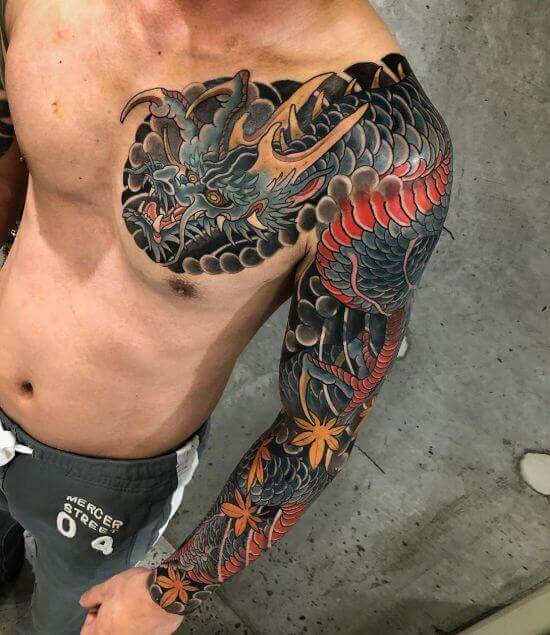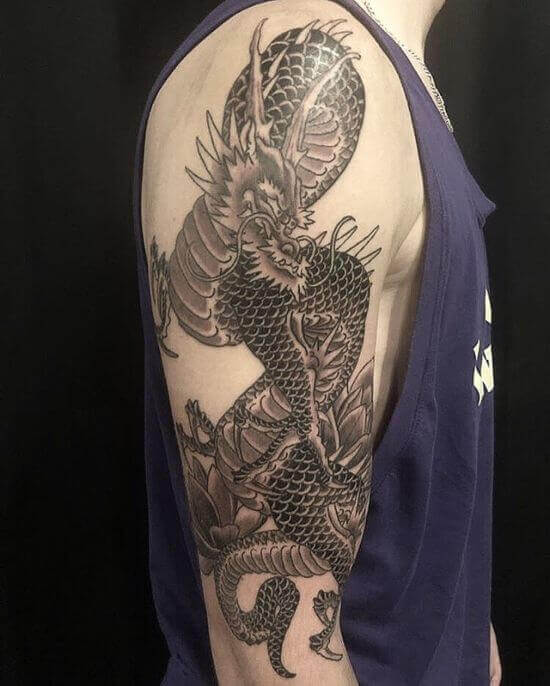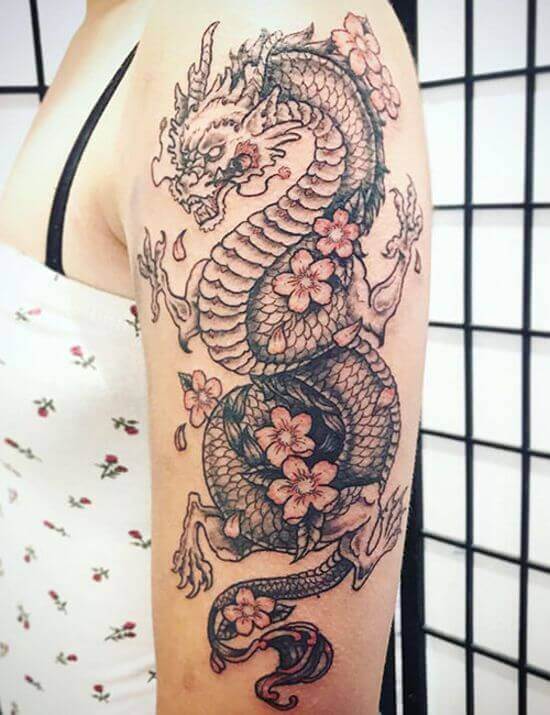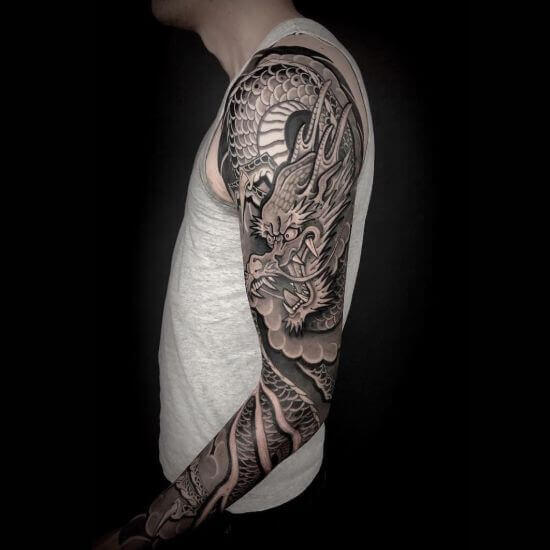 Japanese Phoenix Tattoo
Japanese Phoenix Tattoo, also known as Hou-ou Tattoo, are the symbols of the imperial household. Besides, this mythical bird symbolizes many other things, such as fire, fidelity, justice, obedience, and the sun. This fiery bird represents both harmony and disharmony at the same time. It is said to descend from heaven at times of peace and fly back to its heavenly abode when strife inhabits the land. This is the reason it is considered as an emblem of new eras. In Irezumi, they are usually depicted as having avian physiology with long necks and scales like snakes and peacock tail-feathers.
Also Read: How Much Does A Sleeve Tattoo Cost
Also See: Feather Tattoo: Designs and Their Meanings, Culture & Religion
Japanese Fox Tattoo
Japanese Fox Tattoo, also known as Kitsune Tattoo, is a revered creature in Japanese culture. They are considered extremely intelligent and are rumored to be immortal as well as magical. It is said that they continue aging until they grow old enough to become Tenko — celestial foxes — and ascend into the heavens. They can shoot lightning and fire from their mouths, fly, and psychically dream into others' minds. They are also known as shapeshifters as they can turn into humans to find love or drain the life-force from unsuspecting mates.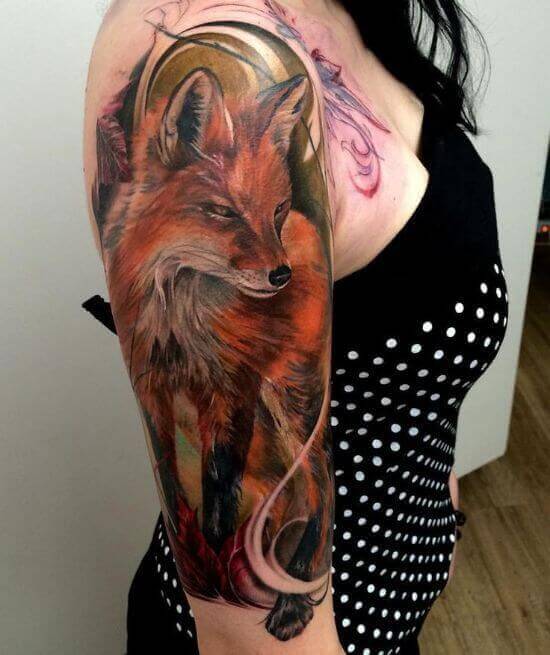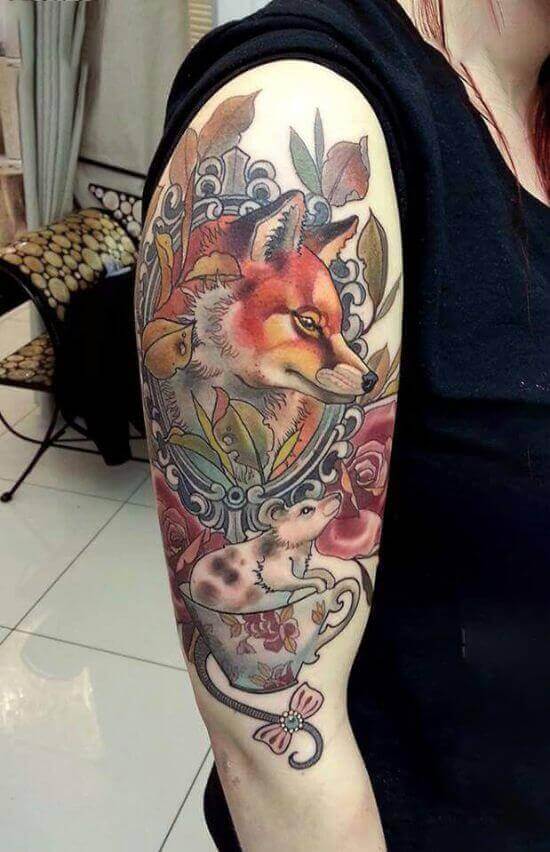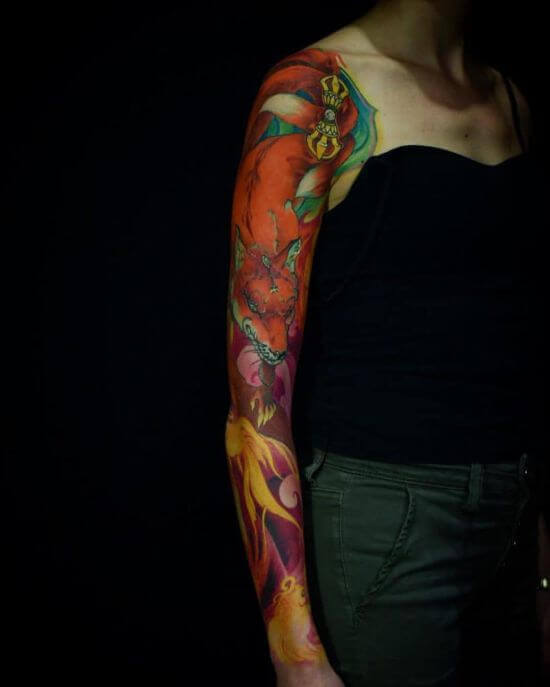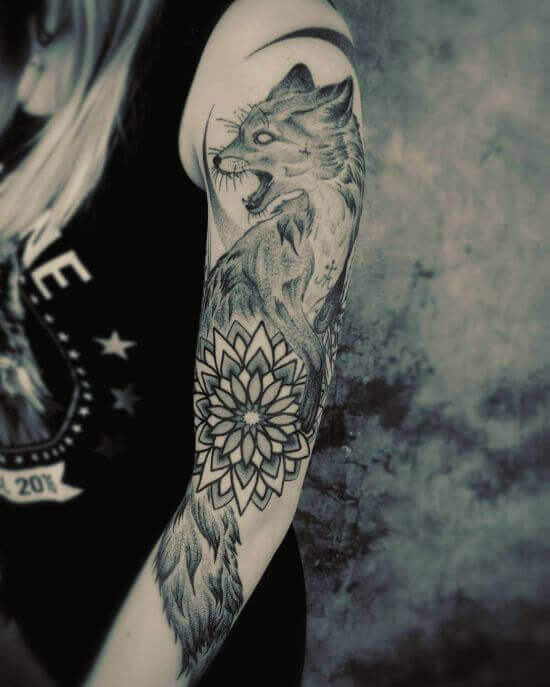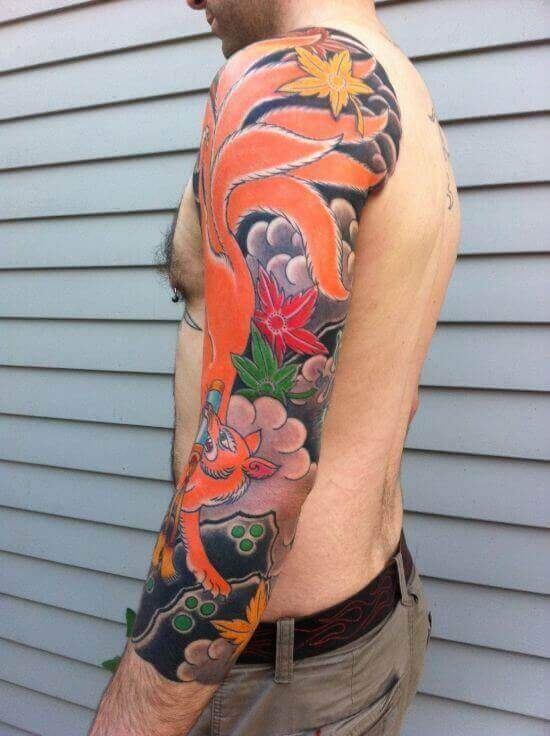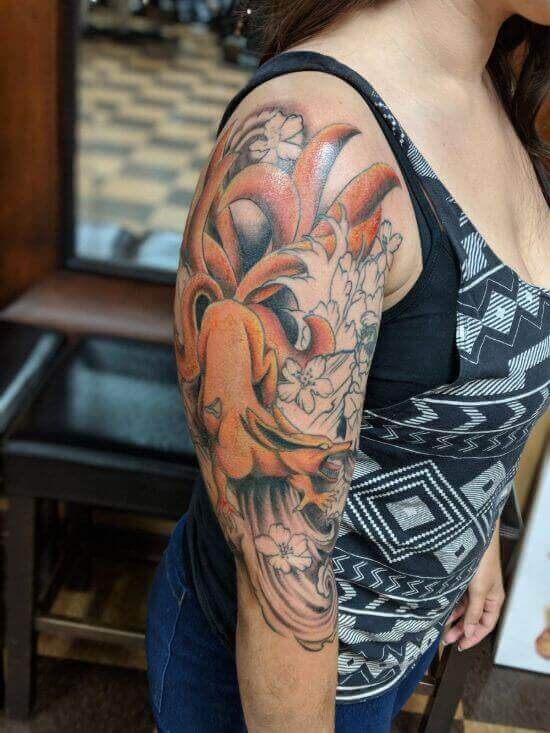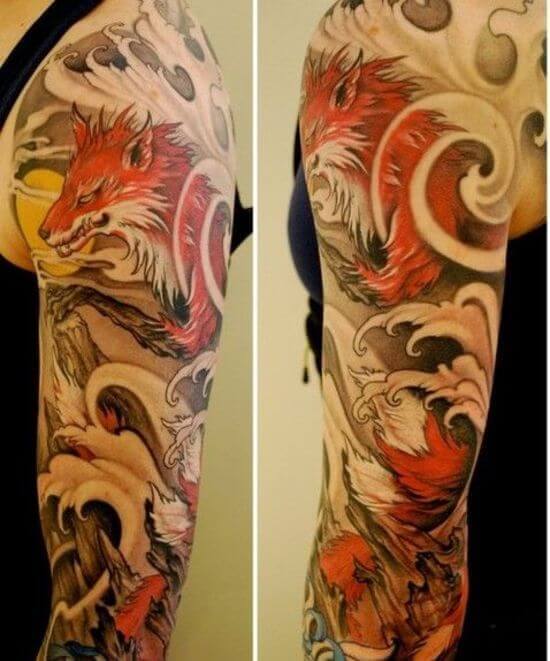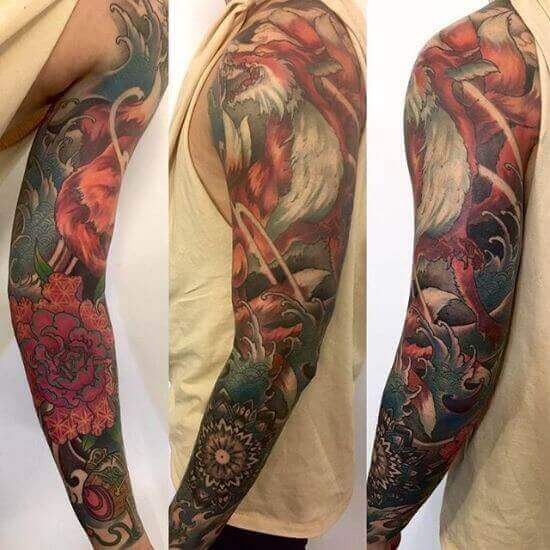 Japanese Snake Tattoo
Japanese Snake Tattoo, also known as the hebi have a wide range of symbolism in Japanese culture. However, they are often depicted as sharp-toothed guardian creatures that are said to protect coveted riches and treasures. Besides, they also symbolize transformation, rebirth, and the continual renewal of life.
How much Japanese tattoo costs?
Since Japanese tattoos are incredibly complicated and difficult, so they cost you more than the other simpler tattoo designs. Moreover, Japanese sleeve tattoo designs require aesthetically pleasing coloring and shading that takes months to complete, which again adds to the cost. Most of the Japanese sleeve tattoo design costs will be for the tattoo's shading and coloring.
To save money and time, some people prefer to have a sleeve outline only. However, if you have both the time and money to spend, then a full sleeves Japanese tattoo with complete shading and coloring will be the best tattoo design for you.
Where To Get The Best Japanese Style Tattoos From?
Well, you can get a Japanese style tattoo from anywhere as long as your tattooist is well versed with this kind of tattooing style. Since you know that Japanese sleeves tattoos are detailed and require a lot of hard work, so it is essential to choose an artist who is willing to spend that much time with you—all you have to make sure that the tattooist that you choose is aware of Japanese style tattoos.
Finding a tattoo shop specializing in Japanese style tattoos may be difficult; however, you can find it out with the right research. All you have to do is – do enough research!
Japanese style tattoos are bold and cover almost entire sleeves, so if you are still wary about the design, then get a temporary one first or maybe go for the outline of the tattoo on your skin and see if it looks exactly the way you want it or not. Because removing such a colorful tattoo will be very difficult, trust me!
If a sleeve is the place where you want to get your tattoo etched, then a Japanese sleeve tattoo is a big YES! The best thing about these tattoo designs is – you can have a single element from the Japanese culture, or you can have multiple elements incorporated in one design, making it meaningful!
The Bottom Line
Undoubtedly, Japanese sleeve tattoos look mesmerizing, no matter what. You will never regret having a Japanese style tattoo on your body. It makes for a head-turner tattoo design. All you have to take care of is to be sure that you want to get a Japanese inspired tattoo because it is a time-consuming design. Because of its intricacy and detailed pattern, it takes months to complete, which is a long time. You have to be really patient and calm while choosing to get a Japanese sleeve tattoo etched on your body.
Happy Tattooing…. ☺ ☺
Please follow and like us: