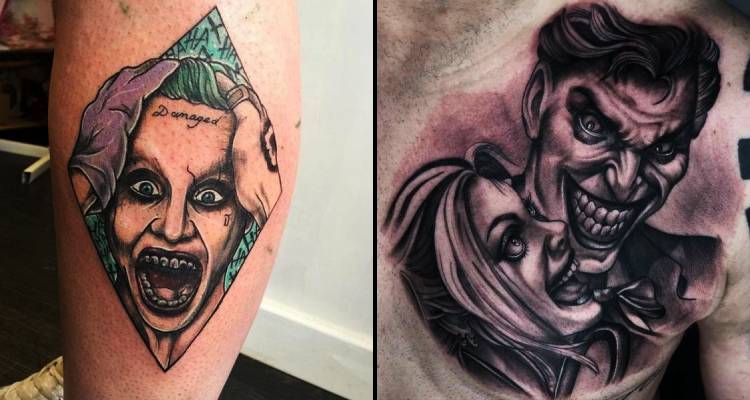 40 Best Mesmerizing Joker Tattoo Design Ideas for Youngsters
Posted on
The "joker," often known as a clown, is a fantastic tattoo design for men and women alike. These hilarious red-nosed figures were created with the intention of making everyone laugh. However, the name joker has been connected with the brilliant artist Heath Ledger in the dark knight since the Batman novels and films release. What can one say about an incredible performance?
That's why these humorous tattoos are inspired by Batman comics and movies. You can make some creative adjustments to your joker tattoo to make it more appealing. If you're interested in more Joker tattoo ideas, keep reading.
Let's first understand what a Joker Tattoo signifies.
Here we go…
What does a Joker tattoo symbolize?
It's far too simplistic to claim that he embodies our darkest desires. Many believe that a Joker tattoo represents the evil side of life; however, others believe that the Joker also signifies persistence. Joker tattoos can represent coping with the gloom that is always present and realizing that, as insanely terrible and anarchic as he is.
Since the premiere of the Batman television series in 1966, the character has become quite popular among tattoo enthusiasts.
A Joker tattoo may be the right choice for you if you're looking for a one-a-kind tattoo design to express extreme sides of your personality.
So, let's take a look at the 12 best Joker tattoo options below. Most of these Joker Tattoo Ideas are inspired by Batman comics and films.
Top 12 Joker Tattoos
1. Contemporary Joker Tattoo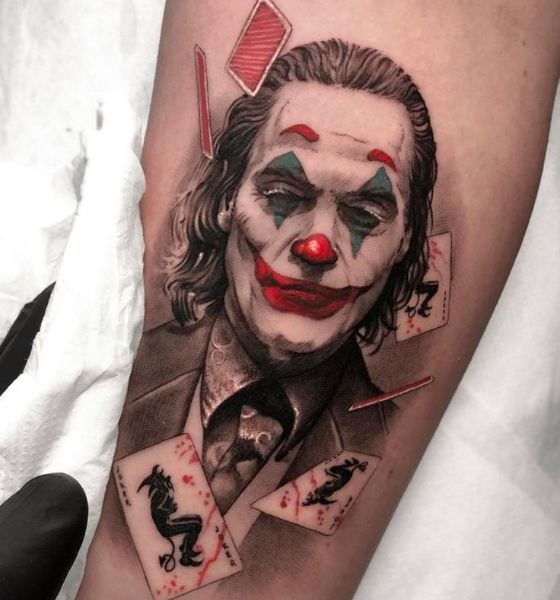 The contemporary style of tattooing refers to work that is a mash-up of many traditional tattoo techniques. Only an experienced artist in this particular style will be able to give you a perfect piece of body art. A contemporary Joker tattoo is a great choice if you want an outside-the-box tattoo design. However, make sure you get it etched by a professional artist.
2. Joker Tattoo for Women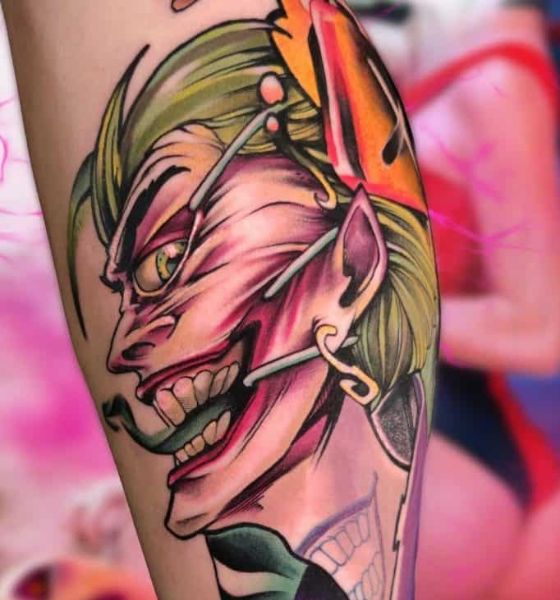 Joker tattoos are pretty popular among ladies who never miss the chance to flaunt their unique side. Beautifully etched joker tattoos reflect the person's true personality. There are myriads of options to choose from, such as joker face (which could be hilarious, sad, scary, wicked, happy, amusing, and so on), Joker with the phrase, etc.
Usually, joker tattoos are inked in cool colors with dark highlights. You can get a beautiful joker tattoo on your legs, shoulder, arms, back, and so on.
3. Heath Ledger Joker Tattoo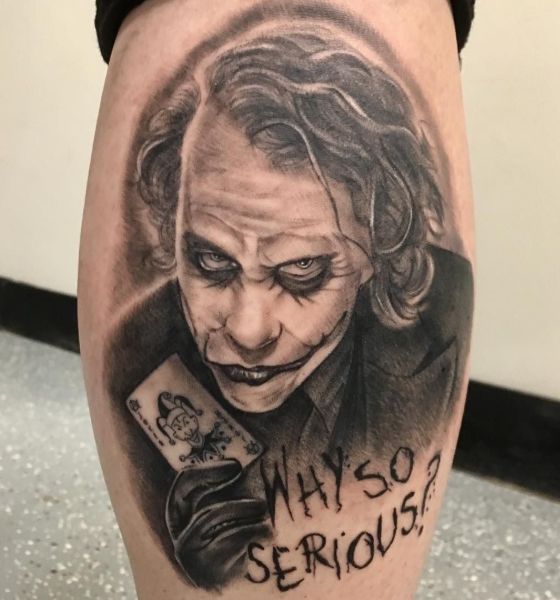 Heath Ledger's face tattoo is at the top of the list when it comes to Joker tattoo ideas. No matter how many people have already gotten the Heath Ledger Joker Tattoo, it still has its unique allure. Heath Ledger's visage is shown in this tattoo, with his famous joker expression all over his face and a joker card clutched in his hand. Get this tattoo in black ink to amp up the appeal.
4. Small Joker Tattoo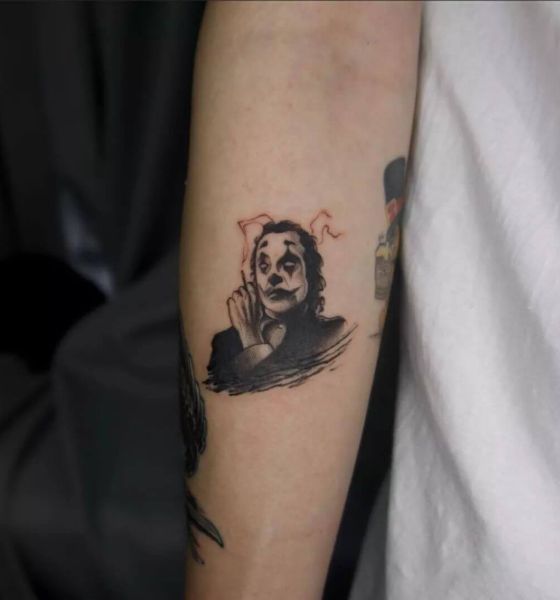 Small Joker tattoos can be just as complex as larger works; that's why only professionals should etch them. And a small joke tattoo will need a lot of detailed work. Just make sure you go to a tattoo artist who specializes in tiny tattoos.
5. Cartoon Batman and Joker Tattoo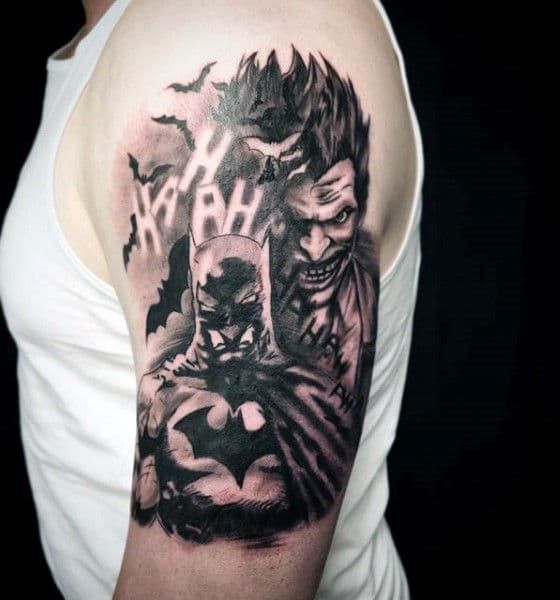 How about having a cartoon batman and joker tattoo for a design that stands out? This tattoo design will not only be a unique design but also help you relive your childhood memories. This tattoo is mostly popular among the young and is also practiced in various European countries. The tattoo is more appealing because of the beautiful colors in it.
6. The Joker Smile Tattoo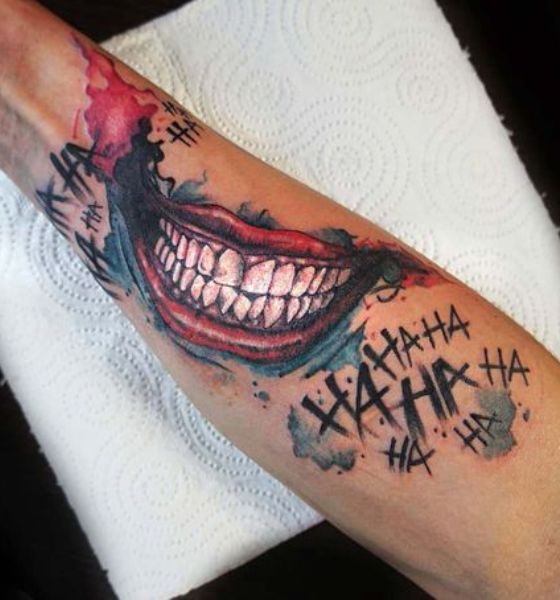 This design portrays the Joker's deformed face, who is Batman's arch-enemy. Get it etched in color ink as it will look stunning in color. The Joker's face in the tattoo will not be frightening, and also it won't appear to be gay and cheerful. Just like Heath Ledger's expression in the movie, this design will resemble the Joker's evil side. The tattoo's hues make it look unique and beautiful. You can choose to get this joker tattoo on your back, arm, waist, and leg.
7. Tribal Joker Tattoo
Tribal Joker Tattoos are perfect Joker Tattoo ideas for males. The tribal tattoos look cool; they have both a joyous and a sinister vibe about them. The Joker's smile conveys joy, while the eyes and forehead as a whole convey evil intentions. Historically, the tribal caste used these symbols to communicate their emotions. This tattoo looks good in dark black color. You can get it etched on your back, legs, and shoulders.
8. Harley Quinn and Joker Tattoo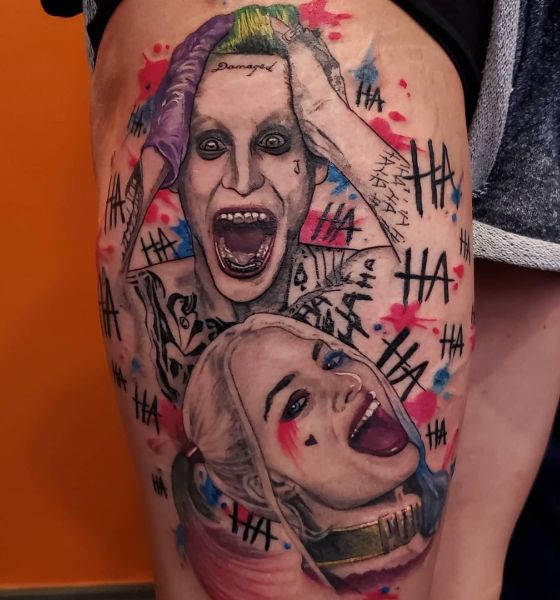 If you're a fan of the Joker and Harley Quinn love tale, get a tattoo of them together. This tattoo will feature imagery of the Joker holding Harley Quinn. If you want, you can have other elements such as hearts or quote added to your Harley Quinn and joker tattoo.
9. Joker Phrase Tattoo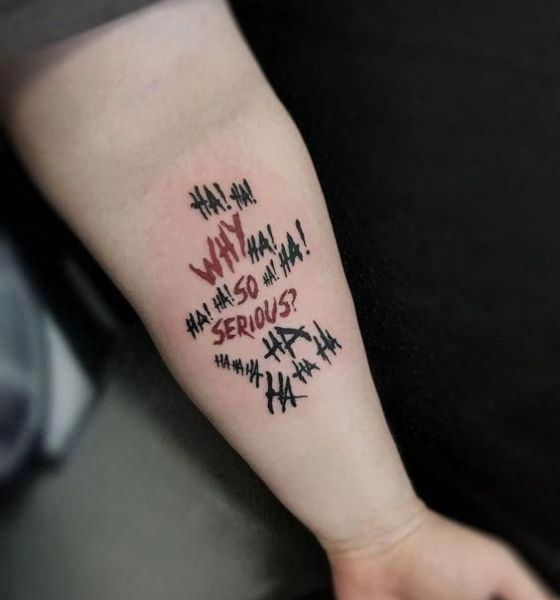 The Joker's most famous tagline is "why so serious?" making for a perfect phrase tattoo. The words of the phrase in this tattoo are arranged in such a way that they form the face of the Joker! Know that this is not an easy to etch tattoo design; that's why it is crucial to get it etched by a professional tattoo artist
10. Evil Jester Joker Tattoo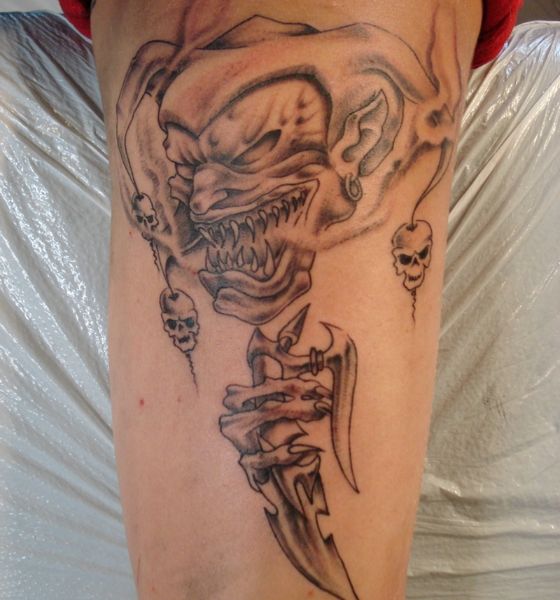 The joker face tattoo has an ancient legacy. The prankster joker is a well-known moniker for them. They're carried by folks who enjoy playing practical jokes, and they're a lot of fun. The focal points of this tattoo are the cotton hat with three bells around it and the broad smile that opens the lips wide from ear to ear. The darkened eyes and sparkling white teeth popping out of the wide mouth add to the beautiful finishing touch. This design makes for a realistic tattoo design. Get it etched on your arm, chest, or back.
11. Scary Joker Face Tattoo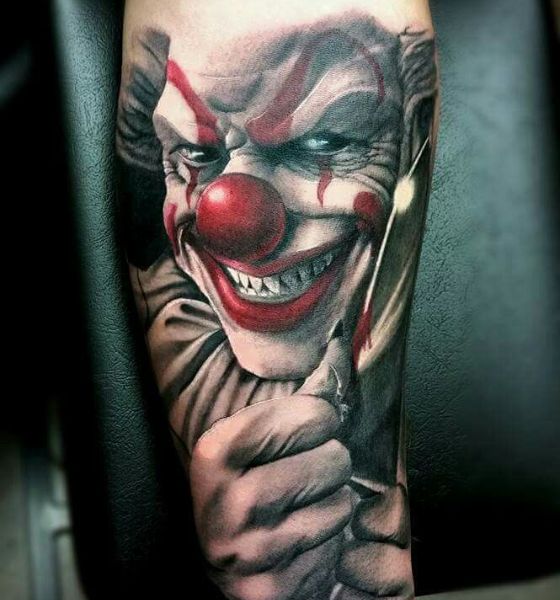 Scary Joker Face Tattoo designs are becoming increasingly popular among tattoo enthusiasts. If you love this design, then get it in white or bright colors. Curves are used to make the eyes and nose menacing. This tattoo looks fantastic with black shading around the face, neck, and shoulders. You can have it etched on your arm or chest.
12. Laughing Joker Face Tattoo
A joker face with a frightening laugh is one of the best Joker Tattoo ideas. This is, in fact, a popular tattoo option among tattoo lovers. You can choose to have this tattoo inked in color or in black and white – it looks awesome in any case.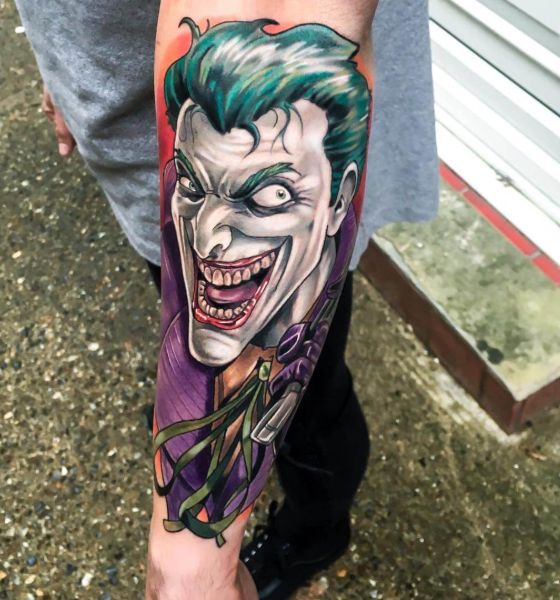 The design's major focus is the wickedness that seeps from the Joker's chuckle. The Joker's visage is likewise heavily influenced by the skull tattoo. The usage of red for the eyes gives it a more sinister appearance. The hat's green and red color scheme contributes to its ominous appearance.
---
See more Best Joker Tattoo Design Ideas: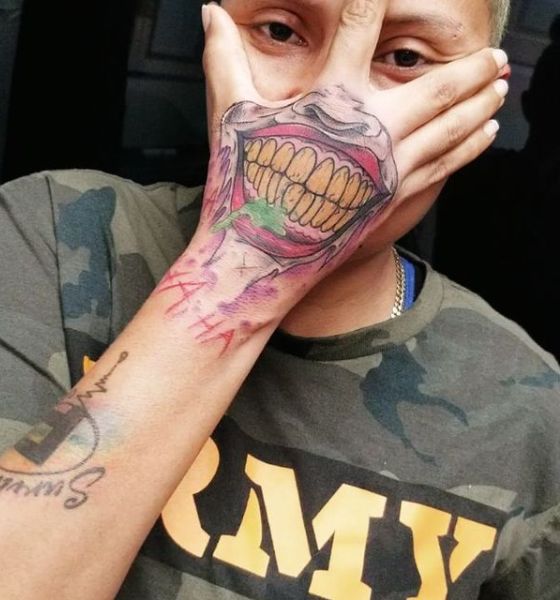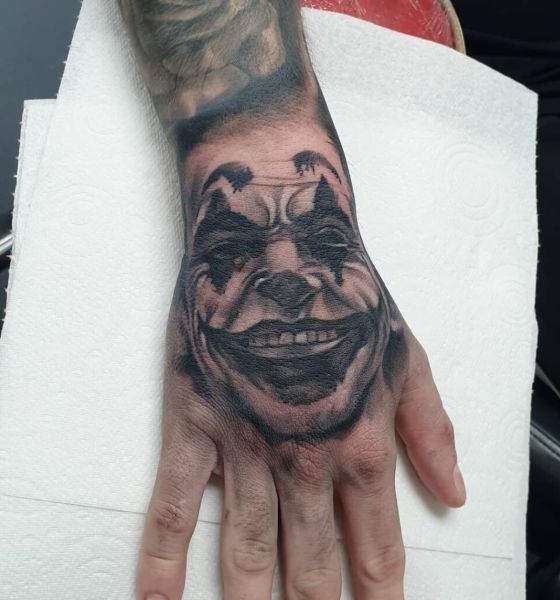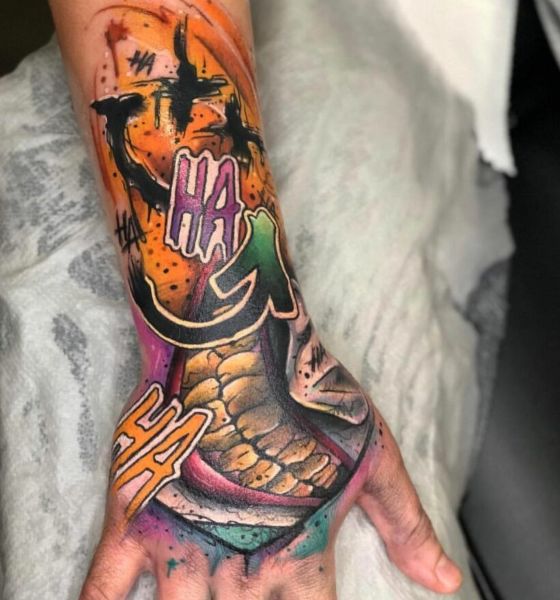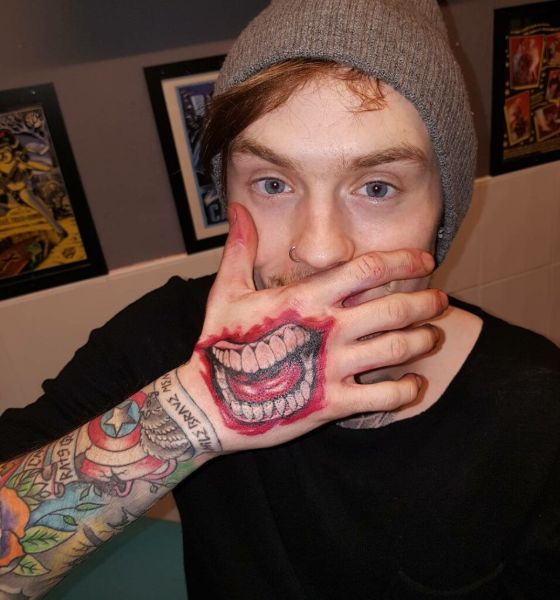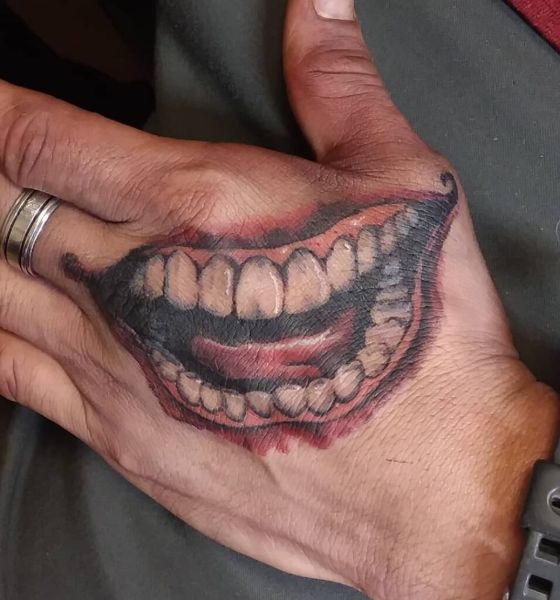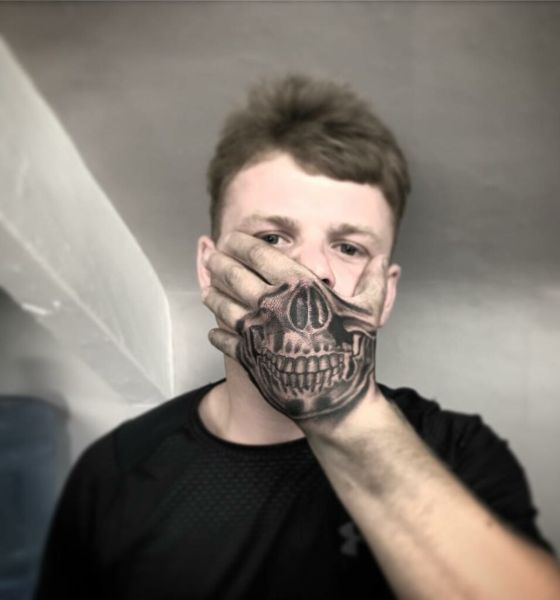 Related: 280+ Awesome Hand Tattoo Designs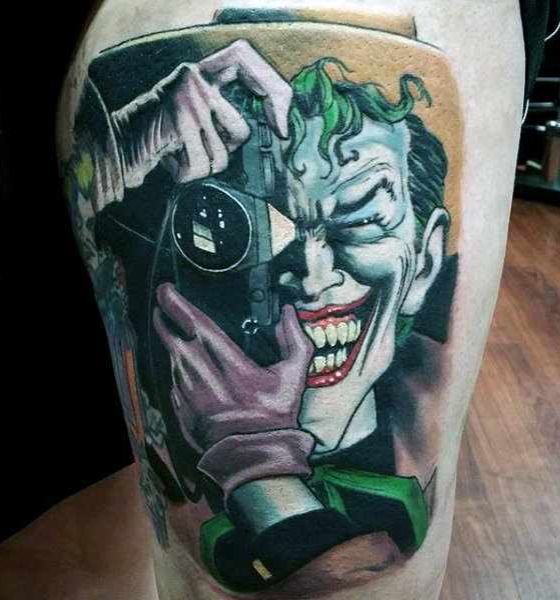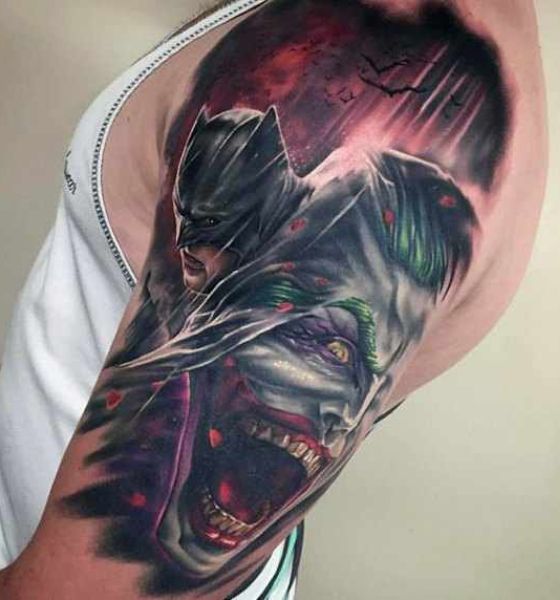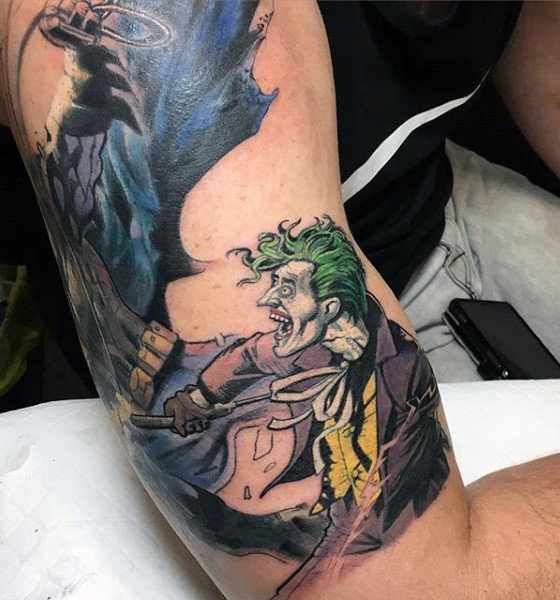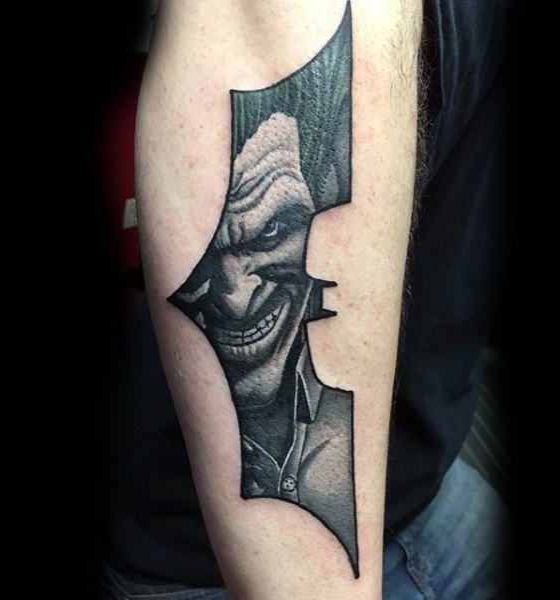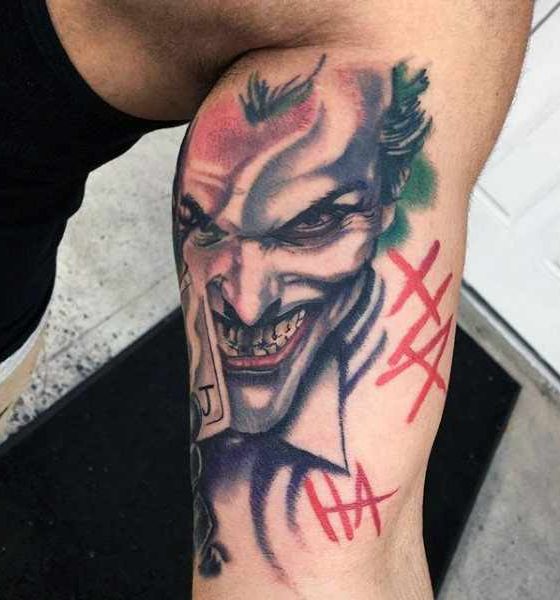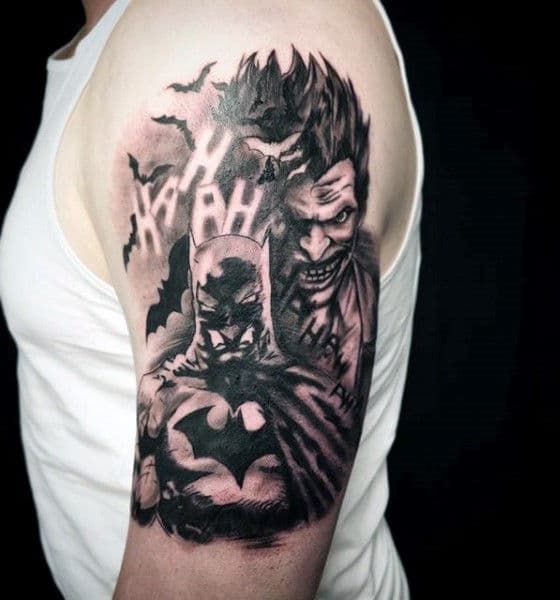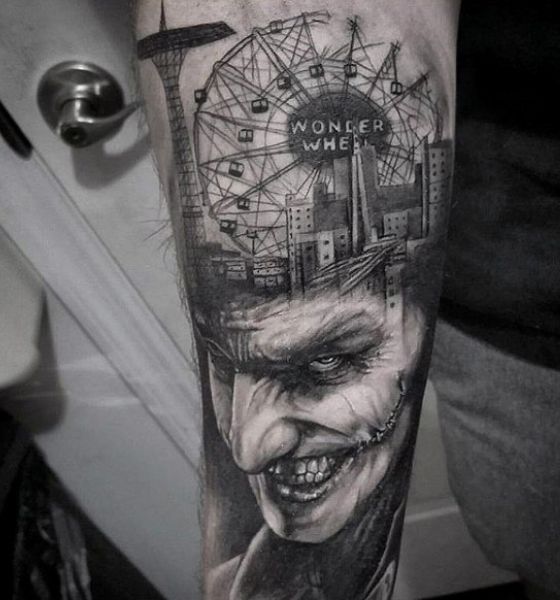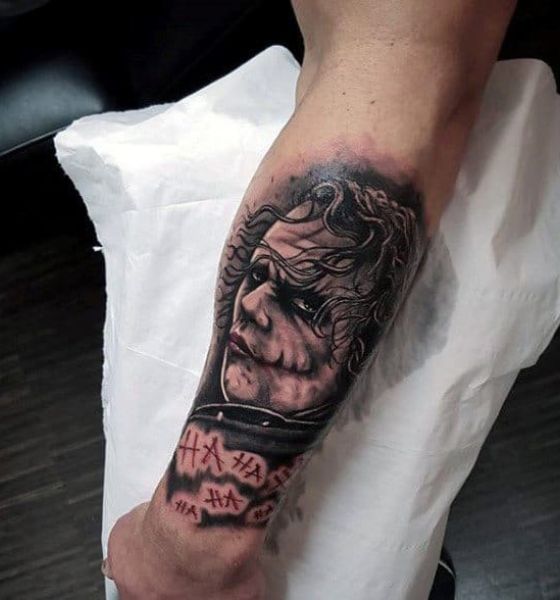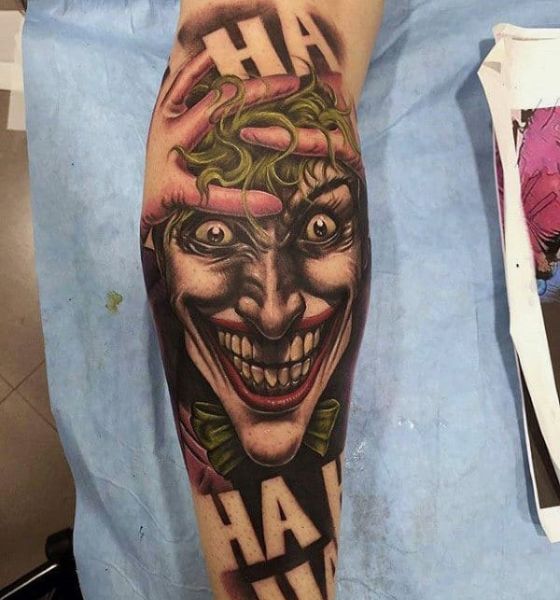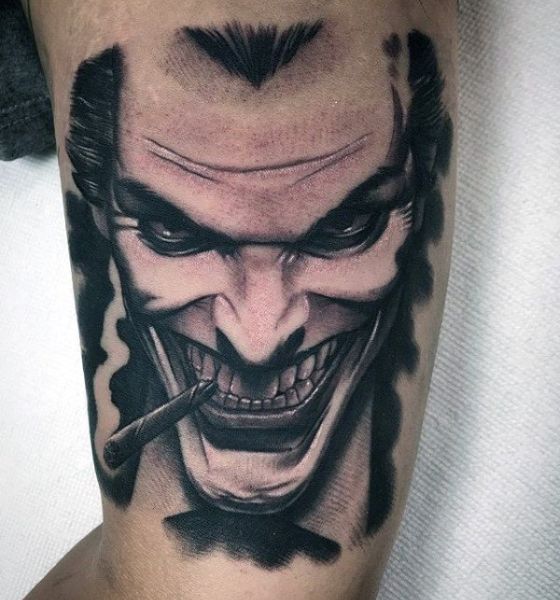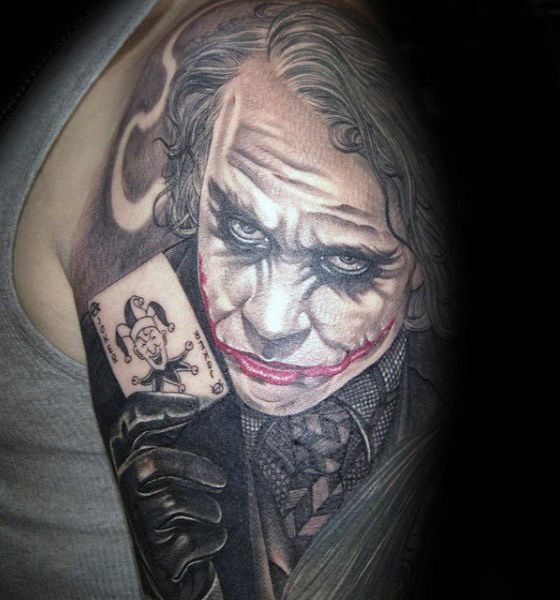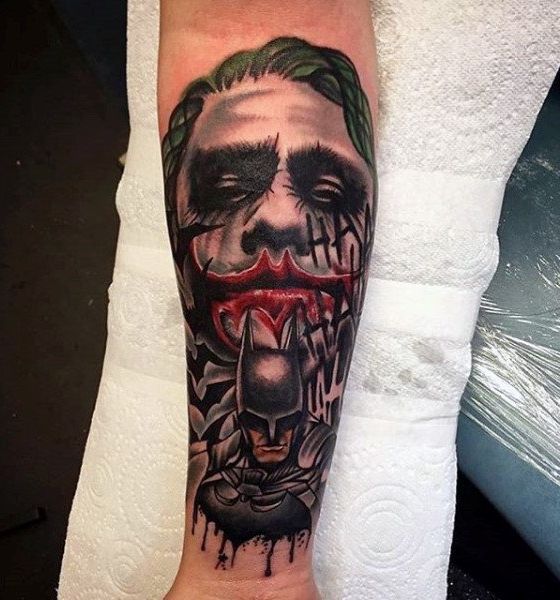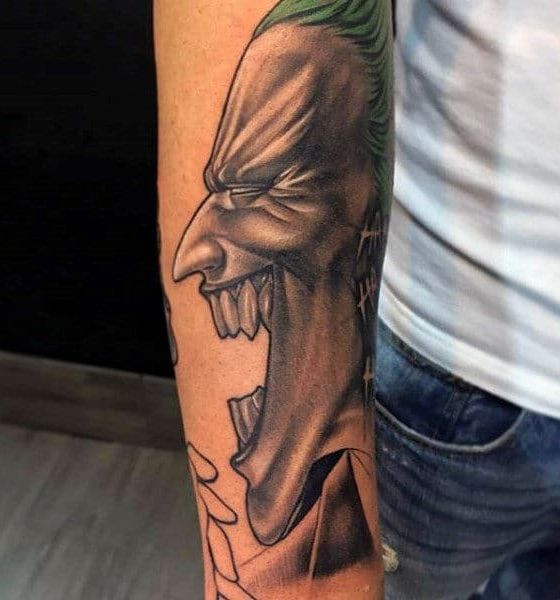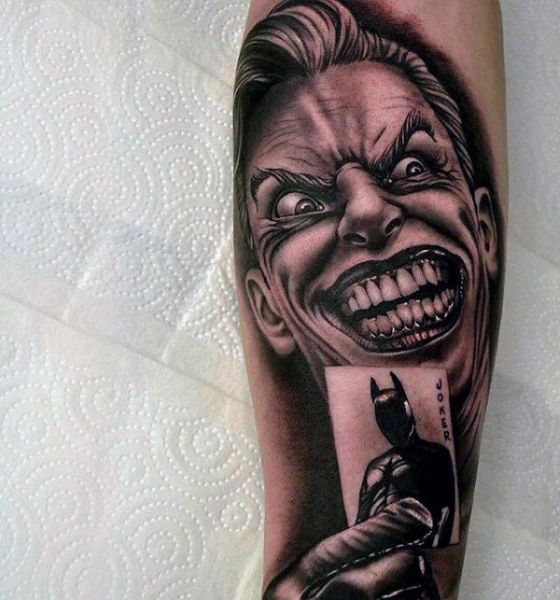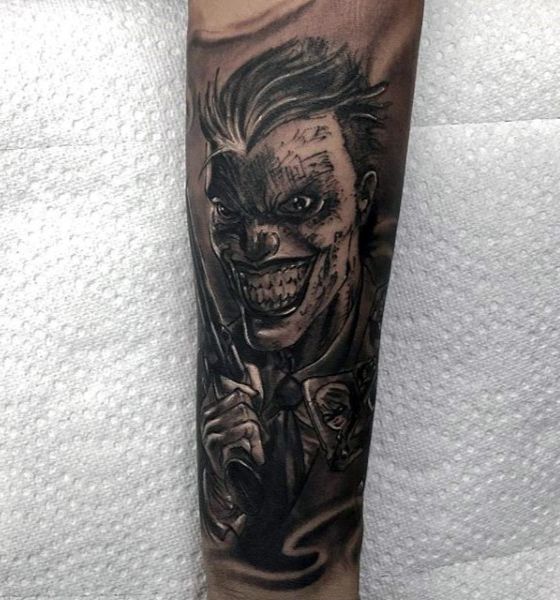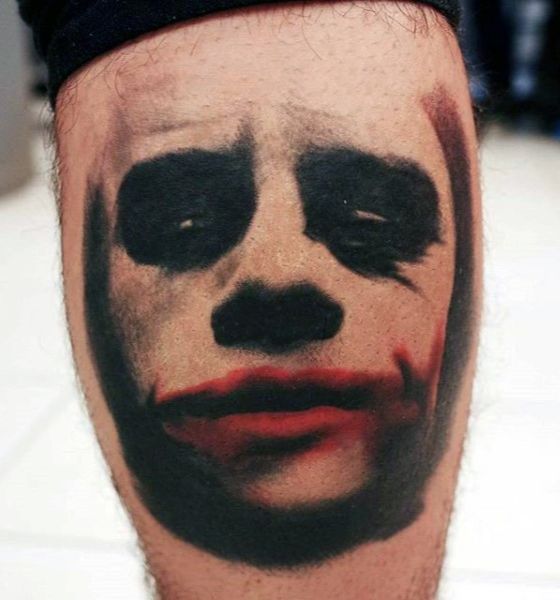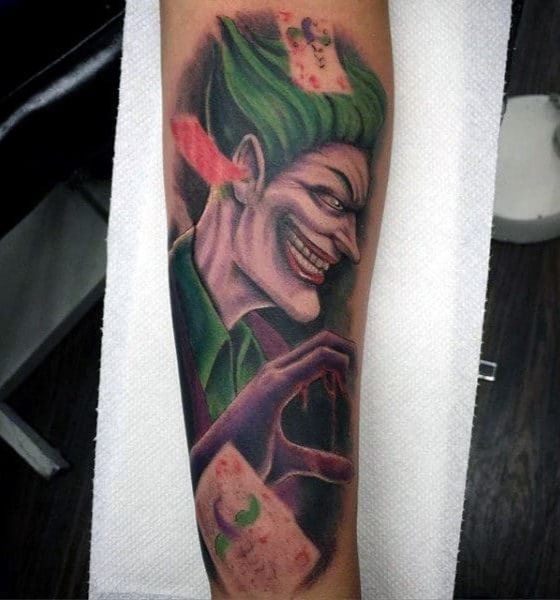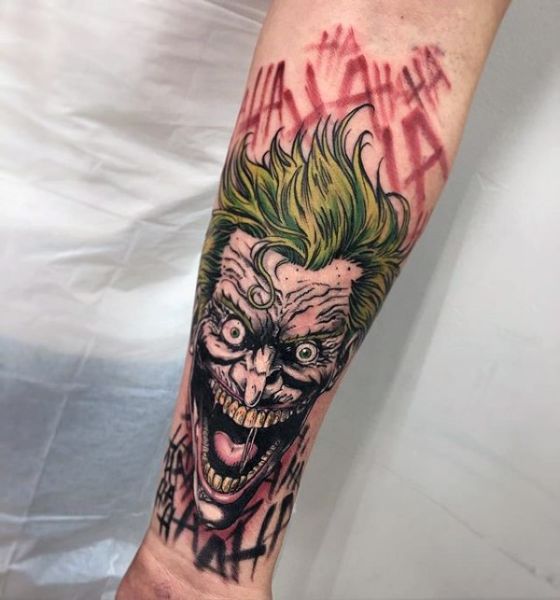 Final Thought…
So, these are the various Joker Tattoo Ideas for you to consider as your next tattoo design. Any of these tattoos can be inked on your body. All of the tattoo ideas listed above are hand-picked for tattoo fans looking for something different.
Please follow and like us: