45+ Amazing Octopus Tattoo Ideas & Meaning
Posted on
Tattoos have become so popular that you can get anything, from a quote to an octopus etched on your body. OCTOPUS, most of you may find yourself questioning whether or not octopus tattoos exist… But they do, and many people get them etched on their bodies.
Yes, they are a bit unusual tattoo ideas; however, they look cute when inked in the right place and by the right person. If you're seriously hunting for an exceptional tattoo design, then octopus tattoo designs are apt. Octopus tattoos come in quite flexible designs. And by adding unique elements to your octopus tattoo, you can come up with exotic octopus tattoo design ideas.
Besides being unique, Octopus tattoos also have symbolic meanings that invigorate people to get them etched on their bodies. If you're planning to get an octopus tattoo, then this post is for you. Here we have rounded up 45+ mind-blowing octopus tattoo designs for you, along with their meanings and placements.
Ready to take a look??
Let's get started then……
The Meaning behind Octopus Tattoos
You may know the octopus as the sea animal famous for its eight long arms, rounded body, and bulging eyes. However, there are many profound meanings held by octopus tattoos that coerce sea lovers and others to get it etched. Amongst its various implications, the Octopus tattoo also symbolizes spirituality.
Octopuses are unique creatures with the innate quality to heal themselves. This is the most prominent trait of octopus; that's why many people get octopus tattoo designs etched on their bodies. This trait inspires them to have the strength and courage to fight back all the odds in their lives.
They also represent freedom as they brilliantly free themselves from different situations, traps, and settings. Apart from this, Octopus tattoos also have a religious significance and affiliation. Christians believe that the octopus takes you into the darkness, as it's a demon from the sea that blocks people from seeing all the good things in life.
In contrast, the Polynesians find this mighty creature important; they believe the octopus represents the ruler of the sea, called Kanaloa. Other cultures give this sea creature a lot of preference that can be seen in tribal octopus designs.
Like these, octopus tattoos also connote physical strength, devotion, mental intelligence, sensitivity, transformation, and so on.
45 Best Octopus Tattoo Designs
1. Red Octopus Tattoo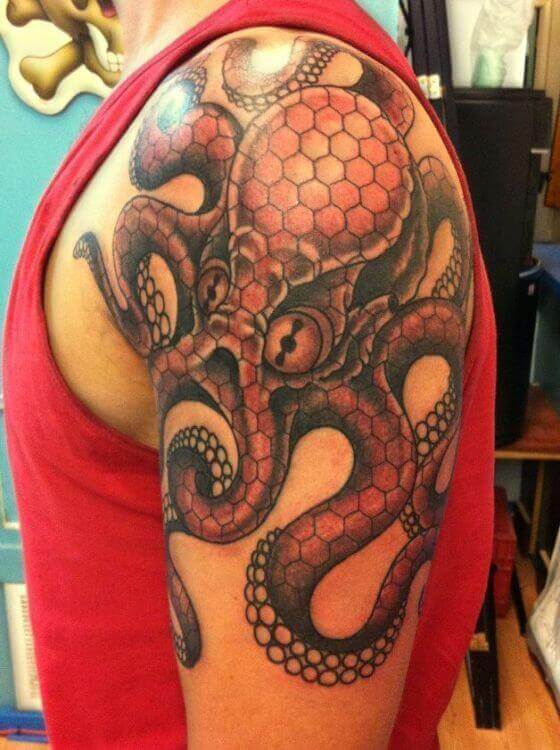 A very unusual and unique tattoo design for those who love sea creatures. This tattoo consists of black outlines with red colors filled inside. You can get it etched on your shoulder, arm, or calf. It makes for an appealing tattoo design.
Related Post: 70 Incredible Wave Tattoo Designs
2. Geometric Octopus Tattoo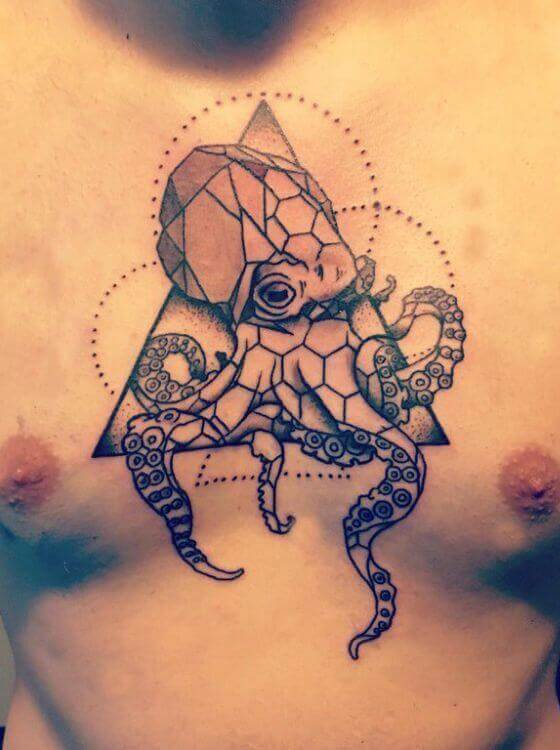 Geometric tattoo designs look awesome; even a geometric octopus tattoo makes for exciting tattoo designs. The tattoo will have a black outlined octopus with grey shading, along with other different colors.
3. Traditional Octopus Tattoo
This strange and beautiful animal signifies a powerful serenity that speaks volumes without saying a word. And a traditional octopus tattoo is a great way to flaunt your creativity. Get it etched on your back or arms. Make sure you find a reputable tattooist for this beautiful piece inked on your body.
4. Skull Octopus Tattoo
If you are looking for a bold tattoo design, this skull octopus tattoo is the best choice. This tattoo has a skull face in place of the octopus' head and black and white tentacles with grey shading. It looks realistic and comprises a lot of detailing and highlighting.
5. Neo Traditional Octopus Tattoo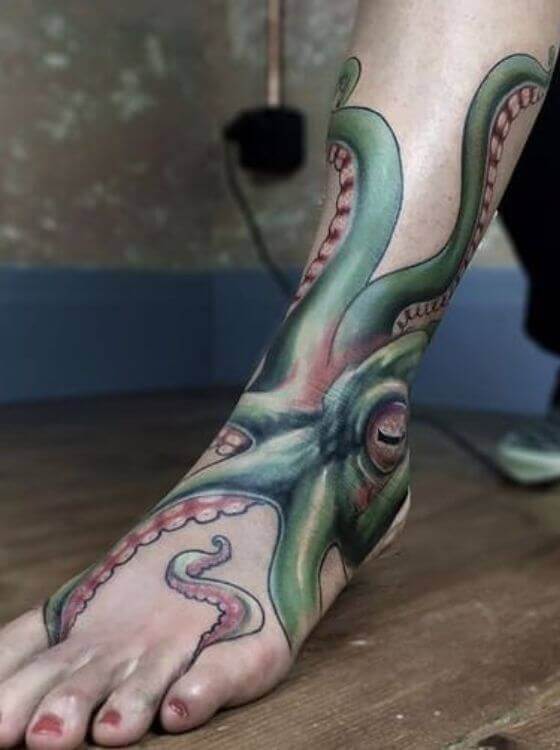 Neo-Traditional Octopus Tattoo design looks dramatic. The tattoo includes bright, vivid blue and red colors that look iconic. The shading effects in this neo-traditional octopus tattoo make it look fabulous on your arm.
6. Tribal Octopus Tattoo
Tribal tattoos have a strong association with the Polynesian tribe. It is perfect for the people associated with this tribe and wants to flaunt their connection with the tribe. There are countless tribal octopus tattoo designs you can choose from. This detailed tattoo consists of many different elements in black and grey shades.
7. Octopus Tentacle Tattoo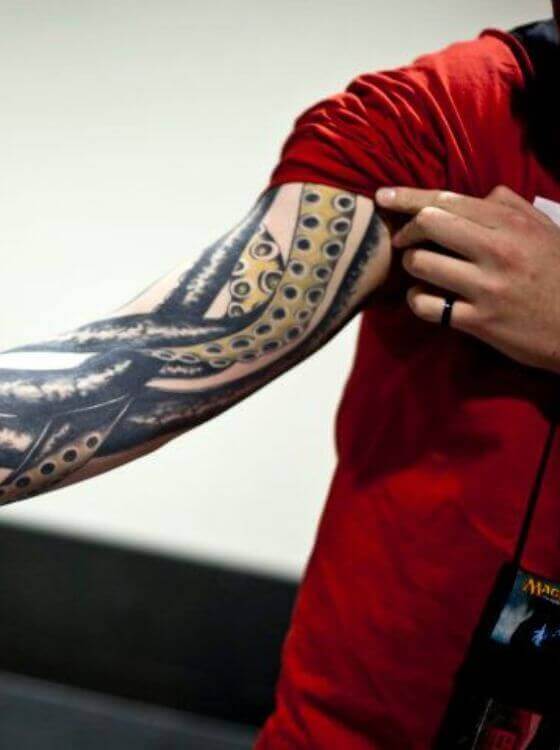 Tentacles or eight-arms are the main features of this sea monster. If you're looking for a cool tattoo design, then the octopus tentacles tattoo is perfect. It has an octopus' tentacles etched in black and grey ink along with some shading and highlighting.
8. Single Octopus Tentacle Tattoo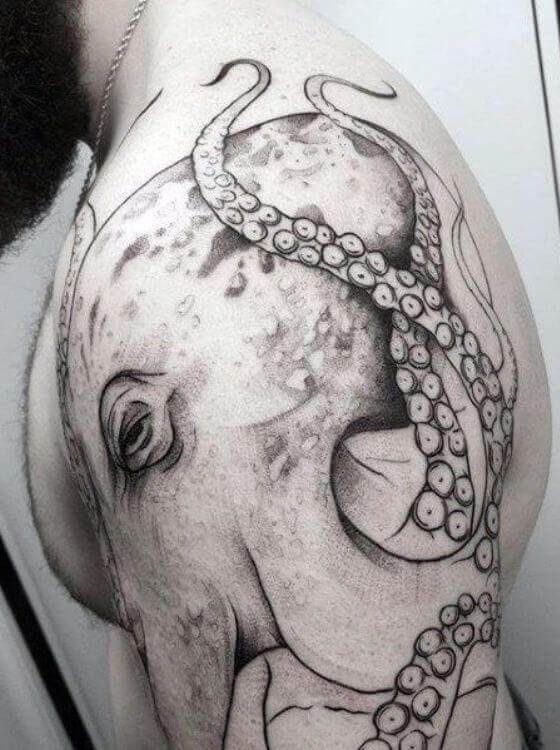 You don't necessarily need to get all eight-arms of octopus etched on your body. You can even get a single octopus tentacle tattoo on your arm or leg. The tattoo signifies regeneration, as the octopus' tentacles can grow back after they disengage.
9. Blue Octopus Tattoo
If you don't want a very colorful octopus tattoo, and neither are you looking for an absolute black tattoo, then go for a blue octopus tattoo. This tattoo comprises a black outlined octopus filled with different shades of blue ink. The light and dark hues of blue make this tattoo look mesmerizing!
See more: 65 Fabulous Colorful Tattoo Ideas
10. Realistic Octopus Tattoo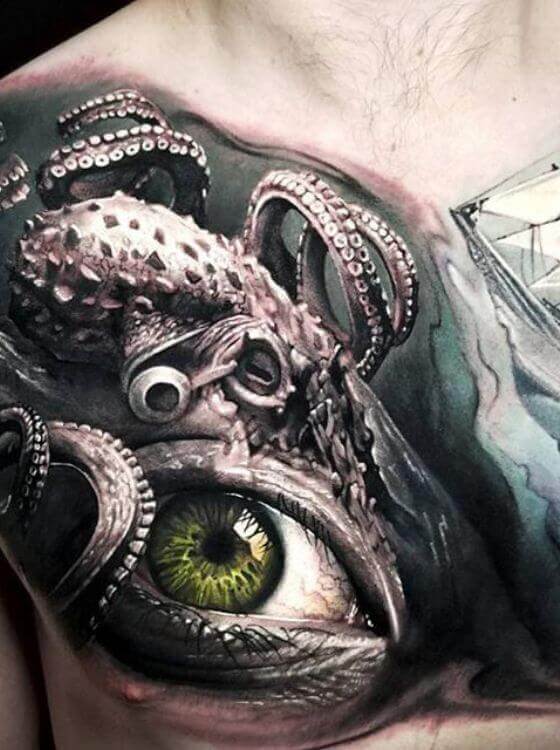 Octopus in real life is incredibly intricate, detailed, and powerful beings, famous for their strength and flexibility. All these qualities make a realistic octopus tattoo a real attention-grabbing piece. A perfect tattoo design that symbolizes one's desire to shock and stun. This tattoo includes a red color octopus with a blue color background.
11. Full Back Octopus Tattoo
An intricate octopus tattoo design to astound everybody around! It's a detailed tattoo design that will cover your entire back. A lot of time will be consumed to get this intricate tattoo on your back. It consists of the blue ocean color framing the main parts of the tattoo.
12. Black Octopus Tattoo
Spectacular octopus tattoo arm featuring hybrid dot work to shade the sea monster. The curve and swirls of tentacles also make this black octopus tattoo stand out.
13. Chest Octopus Tattoo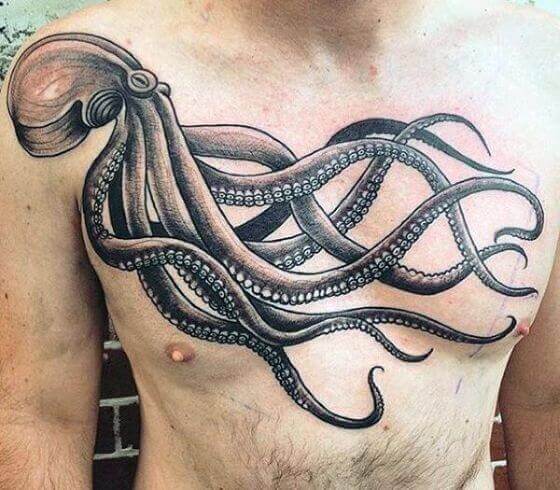 A killer tattoo design to be placed on your chest. This piece is a brilliant mix of geometric concepts elaborating sharp lines and fine black ink. The head and mantle are filled with circles surrounded by black fill bringing in dramatic vibes. It is an amazing artwork for people looking for unique octopus tattoo designs.
14. Giant Octopus Tattoo
An absolute masterpiece! This full-back giant sea creature tattoo has it all that you need for an intricate tattoo design. There are all the sea elements, from the lighthouse to ship, and waves complementing each other perfectly.
15. Octopus Thigh Tattoo
The thigh is a perfect placement for a medium-sized octopus tattoo. You can get a colorful octopus etched on your thigh. Even a watercolor effect will make for a gorgeous octopus tattoo.
16. Octopus Shoulder Tattoo
---
Octopus Tattoos Placement
The placement of any tattoo depends on its size and design—the larger the design, the prominent its placement. Even so, you can have an octopus tattoo design etched anywhere on your body. The best places for getting an octopus tattoo are the back, thigh, legs, ribs, and arms. These are perfect areas for getting a versatile tattoo like an octopus, as their tentacles can be emphasized appropriately.
However, if you're considering a tiny octopus tattoo, then your finger, ankle, and back of palm are excellent places. And for a medium-sized octopus tattoo, you can consider getting it on your thigh, hand, shoulder, or upper chest.
No matter where you get your octopus tattoo etched on your body, it will make for an eye-catching tattoo design. All you have to make sure of is to select the right placement and right tattoo artist for your octopus tattoo idea.
Once you know the ideal placement for your octopus tattoo, choosing the perfect octopus tattoo design won't be an issue. Here are the octopus tattoo ideas you can consider getting inspiration from for your next tattoo.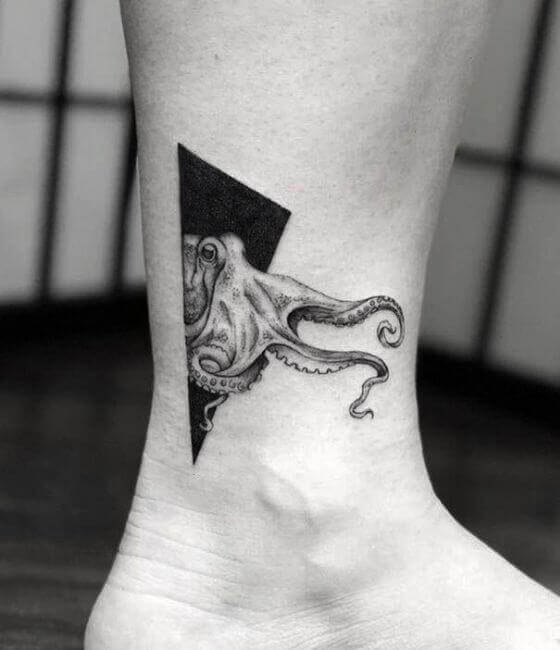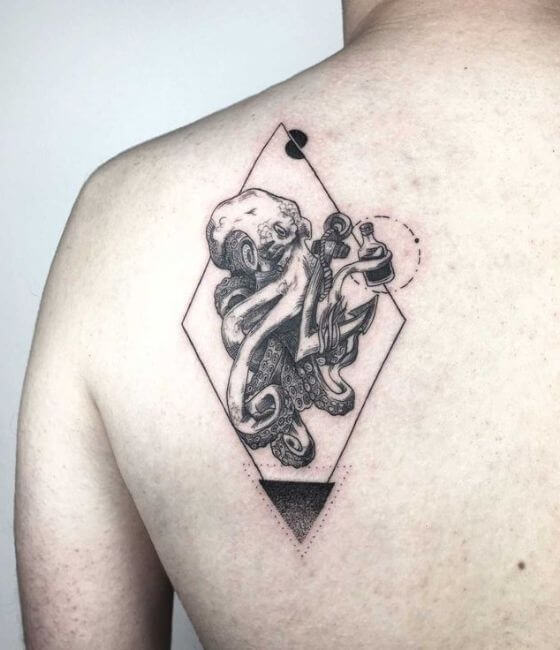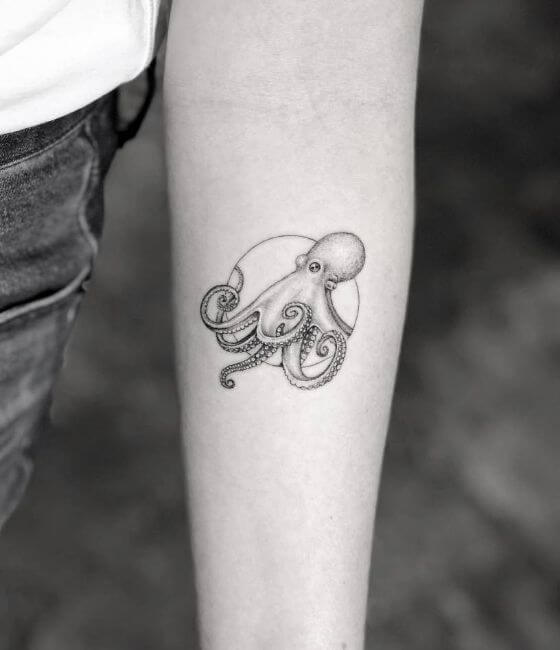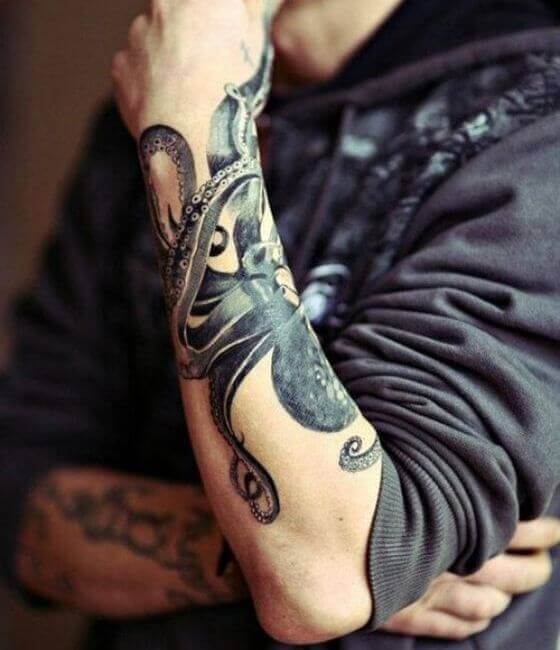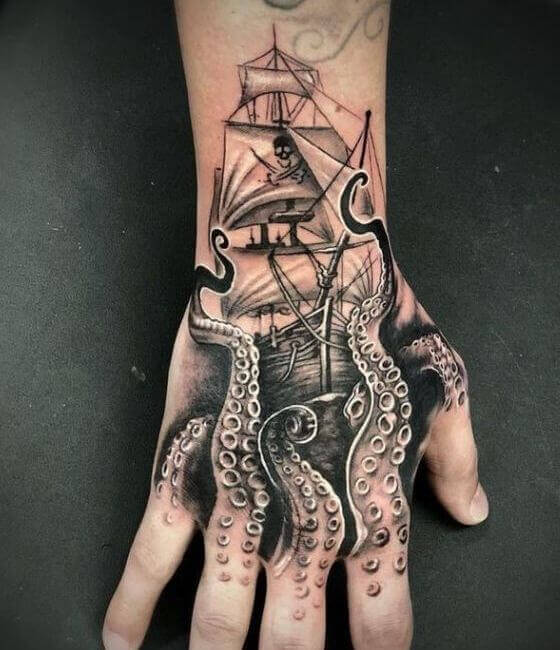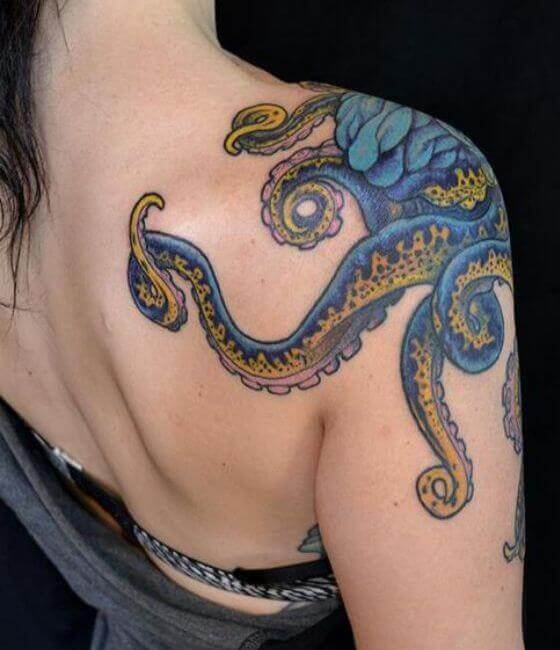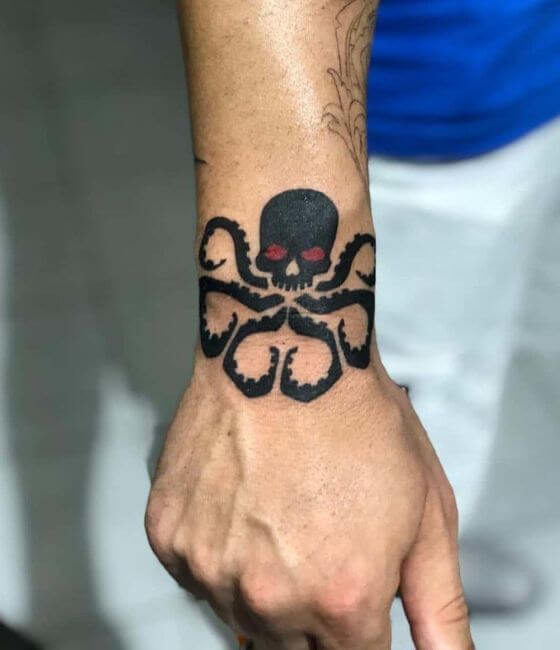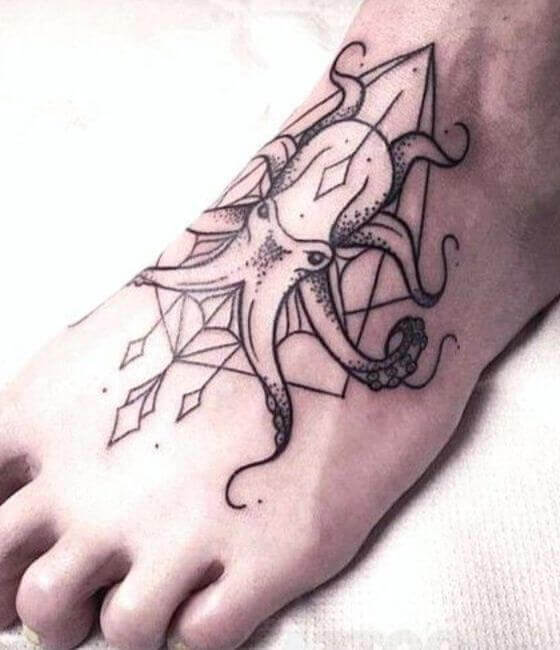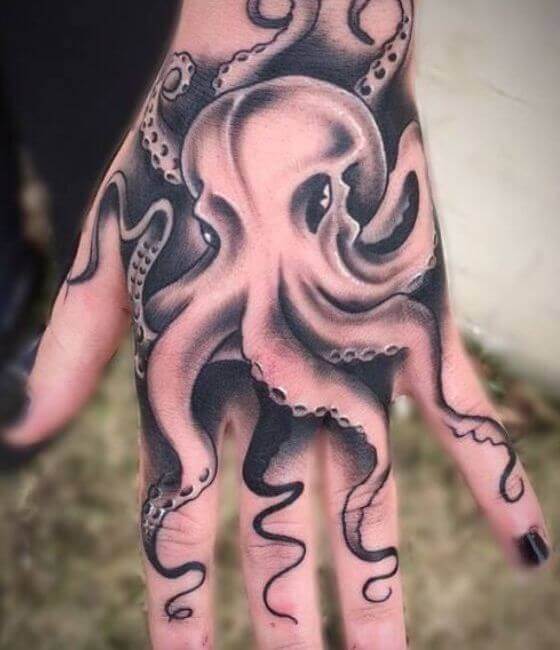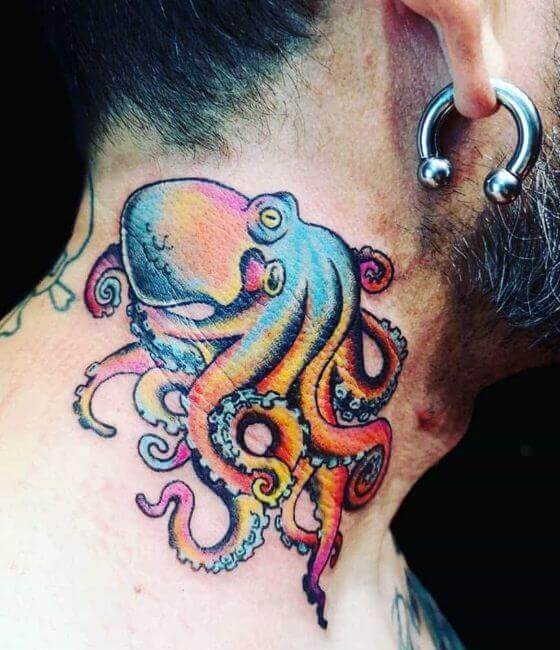 FINAL THOUGHT
These are the best 45 octopus tattoo designs for you to get inspired by! You can get any of these etched on your body. But make sure you get your tattoo etched by a professional and reputable tattoo artist only.
Happy Tattooing…. ☺ ☺
Please follow and like us: