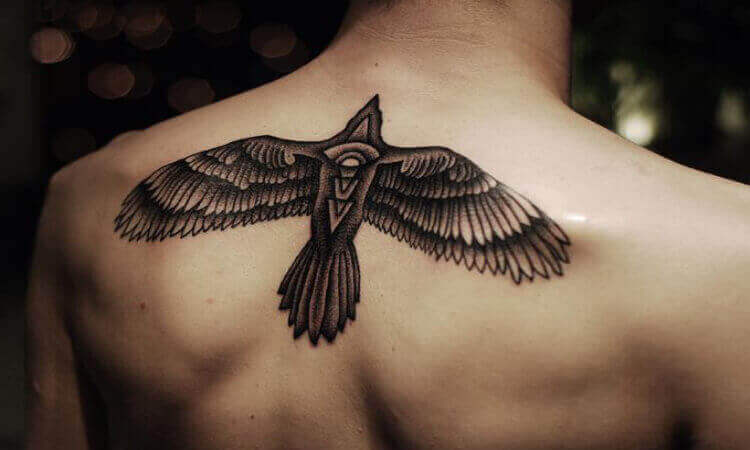 Back Tattoos for Men – Cool Designs for Guys
Posted on
Your back can work as a canvas, as the largest piece of artwork can only be done in that part of your body. Back tattoos are really very painful and expensive as well. However, there is something charming about those beautiful back artwork. People who look for large tattoo designs back can be a perfect place for them to go ahead with. Back tattoos look gorgeous, especially if you love to put off your shirts and T-shirts quite often. There are several different back tattoos for men.
There are simple back tattoos for guys, then there are full back tattoos for guys. And, if you want some small-sized tattoo then you can even choose a design from small upper back tattoos for guys.
Are back tattoos a good idea?
Yes, back tattoos for guys are a good idea for sure, especially if you want to flaunt a big artwork on your body. Many people get bored of seeing the same thing or artwork after sometime. For such people their back is the perfect location to get a tattoo. Believe it or not, back tattoos look gorgeous, especially when a person has a great physique as well.
The cost and the time involved in a back tattoos for men
Depending on the size and intricacy of the design, a tattooist charges for a small back tattoo. A back tattoo can cost you somewhere around $100 – $300.
The time taken by an artist in etching a back invariably depends on the size and style of the tattoo. Full back tattoos for guys take about 20-40 hours. While, small tattoos take around 6 – 7 hours. A larger sized back tattoo is done in four – six sessions, in which each session will be of 6 hours.
If you are also looking for a wonderful back tattoo design in 2023, then read this post until the end. Here in this post I am sharing with you some wonderful back tattoo ideas.
Here we go……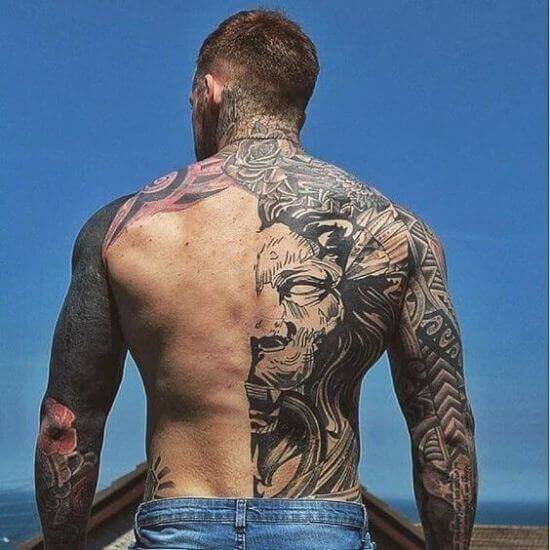 1. A Sword On Back
Simple yet very elegant back tattoo design for men. A sword tattoo can be done on any part of the body; however, it looks amazing when done on the back. Get a sword etched on your back if you want to flaunt something really simple.
2. Mandala On Back
Mandala is for males too, especially for the ones who love this intricate design. Mandala is one of the most used tattoo designs when it comes to upper back tattoos for men. Get a mandala tattoo on your upper back.
3. Floral & Geometric Design
Flowers in geometric patterns look stunning. This design specifically starts from the nape and covers the entire shoulder area. It looks nice and sober when etched in black ink.
4. Tiger O`n Back
Tiger, a member of the cat family, represents different things for different people. For some tiger is a symbol of vengeance, while some see it as the symbol of power, mystery and intelligence. If any of these qualities match with yours, then get this one.
5. Moon Phases On Back
The moon looks gorgeous, and very beautiful whether it is in the sky or etched on your back. Moon phases represent intuition, wisdom, birth, death, reincarnation, and a spiritual connection. You can get moon phases etched on your back either horizontally or vertically. It will look great!
---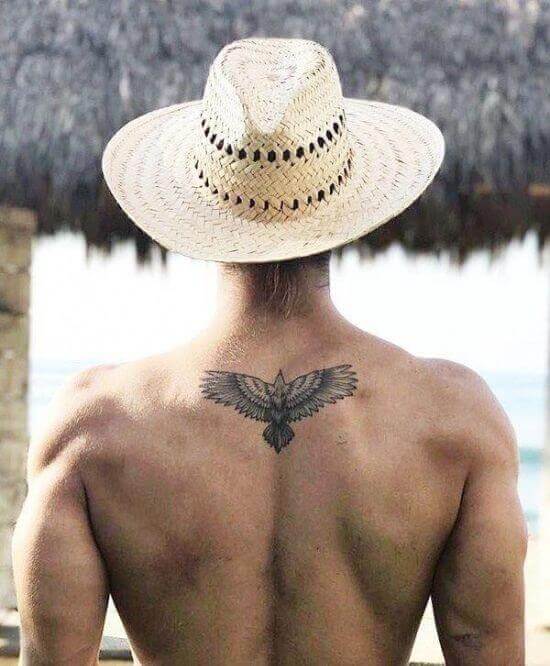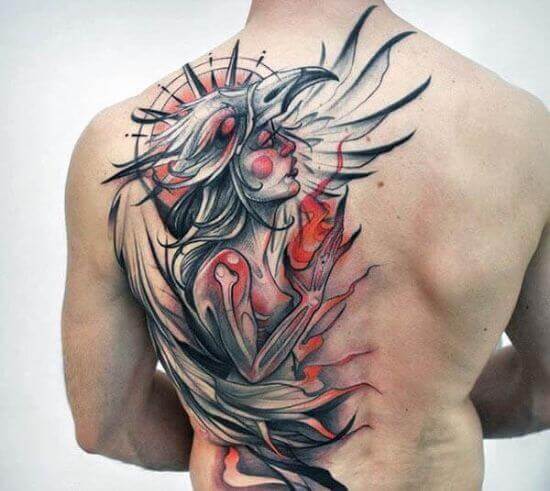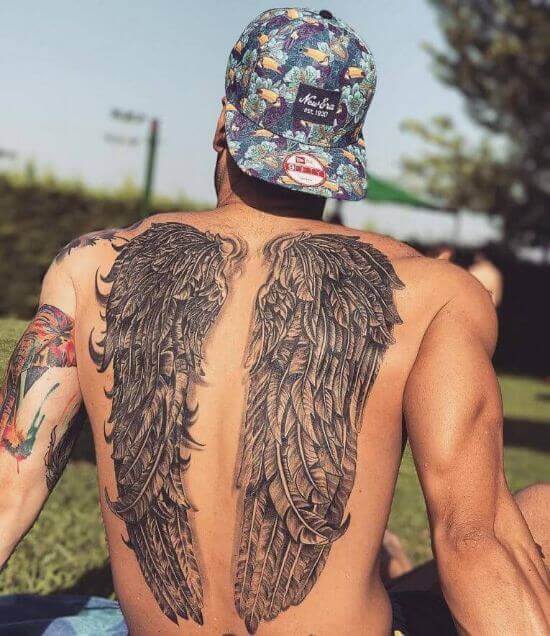 ---
6. Dragon On Back
Dragon tattoos are another wonderful tattoo design for men. Dragon tattoos look cool and very stylish. In most traditions, it is considered as the embodiment of chaos and untamed nature. But in the Orient, the dragon symbolizes supernatural power, strength, wisdom, and hidden knowledge. Get a dragon etched on your body if you also possess wisdom and strength.
7. Chinese Dragon
Chinese Dragon is also one beautiful tattoo design for men. You can get a Chinese dragon etched on your back in a larger size. It will look classy and elegant.
8. Tribal Dragon
Tribal dragons represent ancient culture. A beautifully etched tribal dragon on your back will look mesmerizing.
9. Bat On Back
Bats often represent death. It simply represents letting go of the old, and bringing in the new. Bats are the symbols of transition, the start or a new beginning. A bat either in black or in color ink will look stunning on your back.
10. Wing On Back
Wings look stunning, especially when etched on the upper back of the body. Wings represent both, the ability to fly and the improvement of the subject. Creatures with wings are often messengers of the gods, and they symbolize freedom and spirituality. Get a wing tattoo on your back if freedom is what you seek for!
---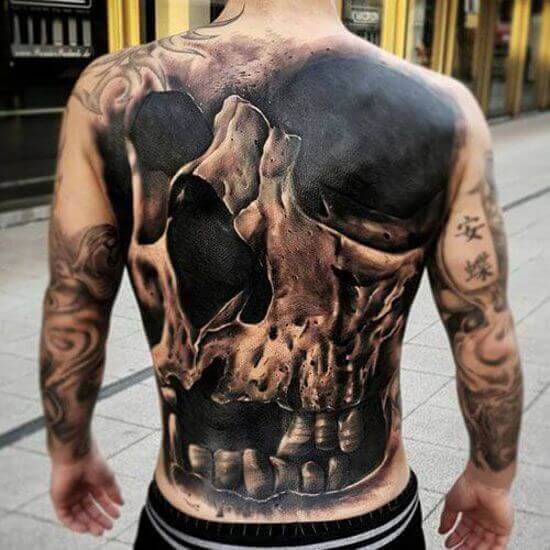 See More: Skull Tattoo Designs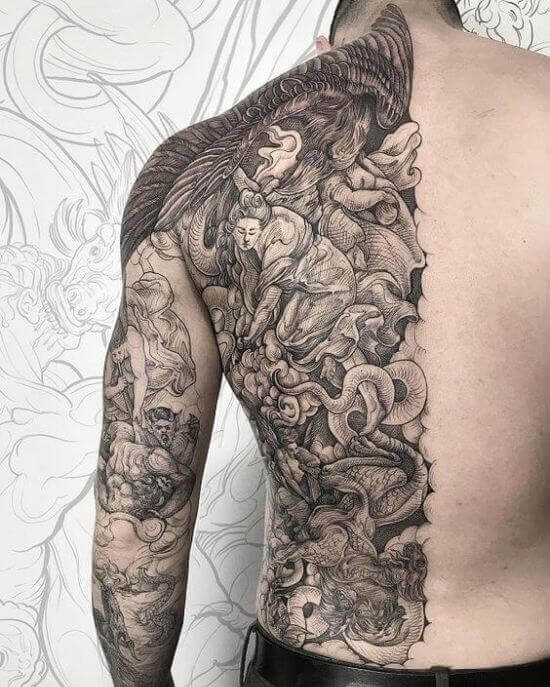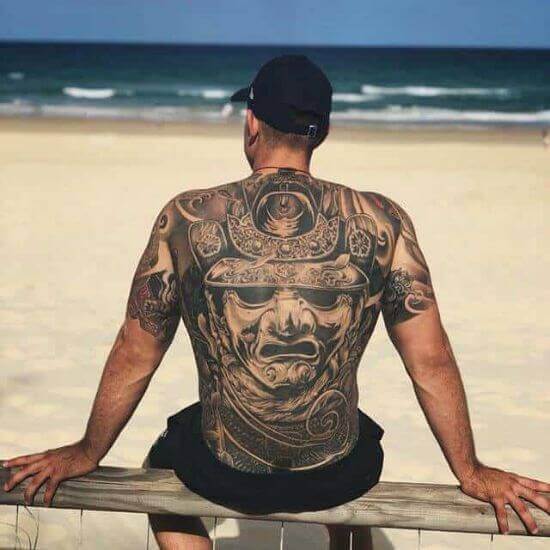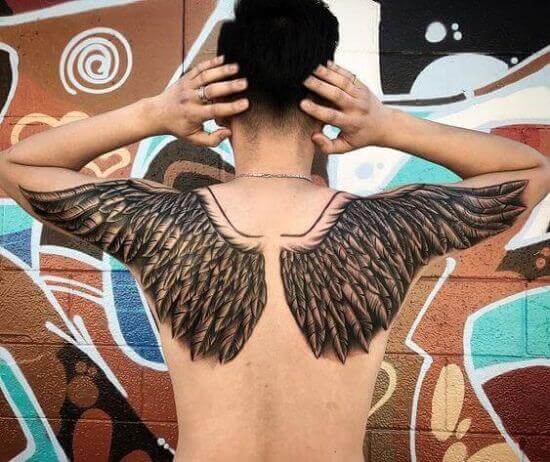 ---
11. Owl On Back
Owls represent magic, mystery, ancient knowledge, wisdom and femininity. Get a beautiful owl etched on your back. Get this one in a larger size to have an impactful tattoo on your back.
12. Compass On Back
This is the design for all travel enthusiasts. Compass tattoo looks great in any size, but on your back, you have the privilege to get it in a bigger size.
13. World Map On Back
World maps make for wonderful tattoo designs. This design looks simple, and if you are also looking for something simple, then this is the design.
14. Architectural Tattoo On Back
Architectural tattoos look great. And your back will be a perfect place for an architectural tattoo. As your tattoo artist would be able to etch a building as big as you want.
15. Crown On Back
A simple yet elegant tattoo design in 2023 for your upper back. You can get it etched on one side of your upper back. Crown tattoos look cool.
---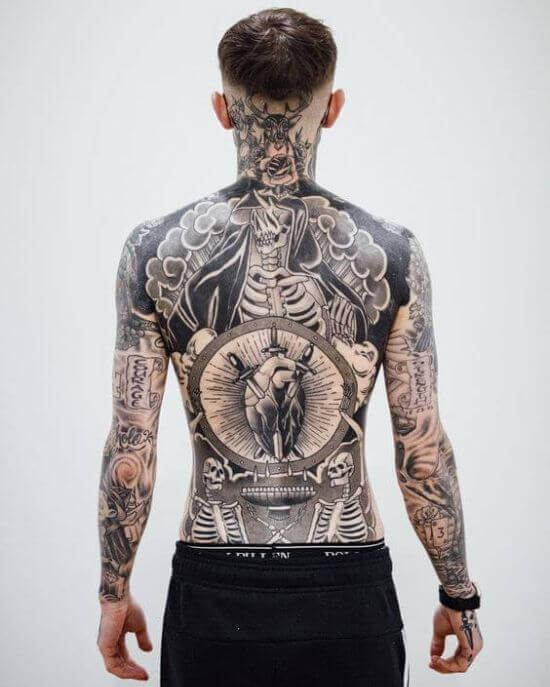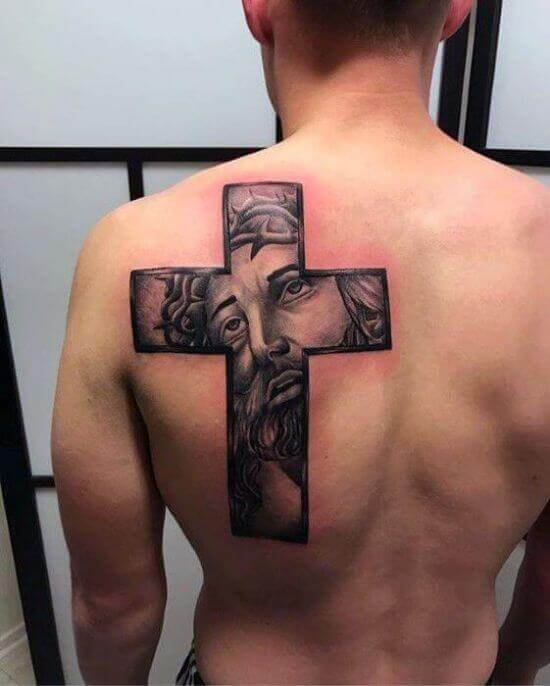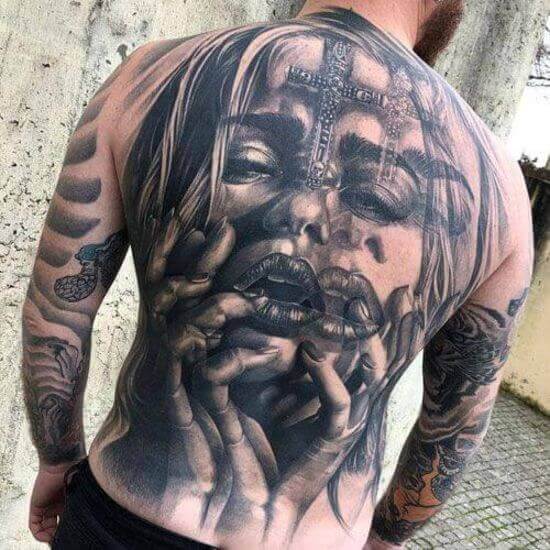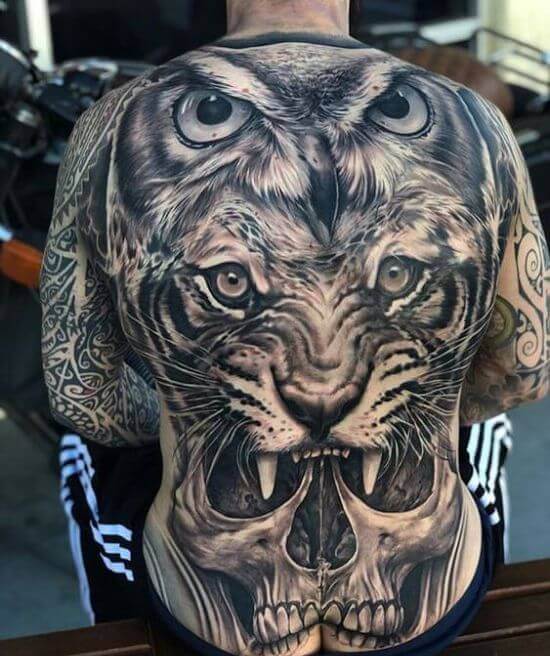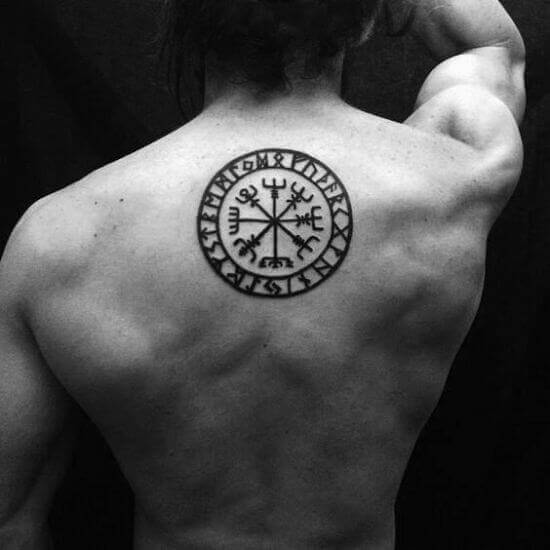 ---
16. Japanese Dragon On Back
If you are planning to get a dragon etched on your back, then a Japanese dragon can also be considered. Japanese dragon etched on your back will look stunning.
17. Skull Back Tattoos for Men
Skull tattoos etched on the back simply look mesmerizing. They look real and cool. They are larger in size and cover the entire back. If you are looking for some full-size back tattoo, then a full-sized skull with some cool elements will make for a nice piece of work.
18. Ship With Waves On Back
If you are looking for an outside-the-box tattoo design for your back, then a ship with waves will look marvelous. This is going to be a full-fledged tattoo for your back as it will cover your entire back.
19. Ocean Tattoo On Back
Get a beautiful ocean tattoo etched on your back. You can add all the beautiful elements to this tattoo to make it a full-fledged tattoo design.
20. Kraken Tattoo On Back
Kraken tattoos look unique! If you are looking for a unique tattoo design, then a Kraken tattoo will be a perfect design for your back.
---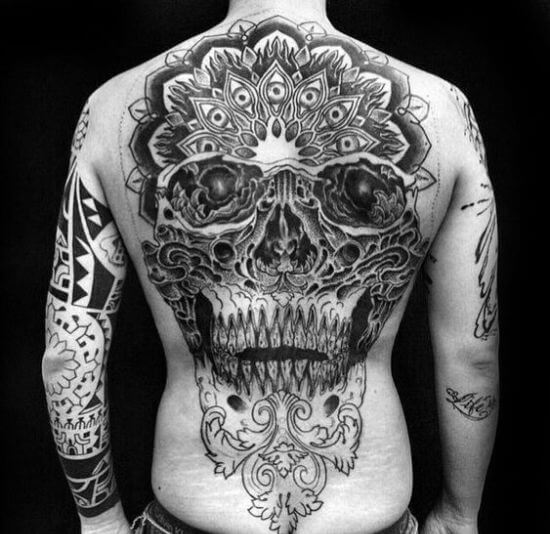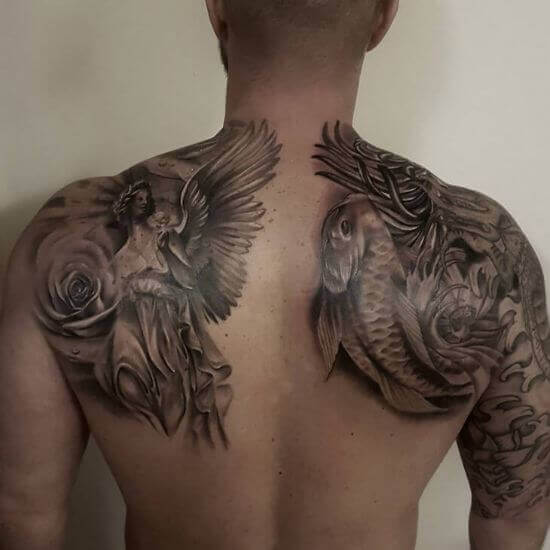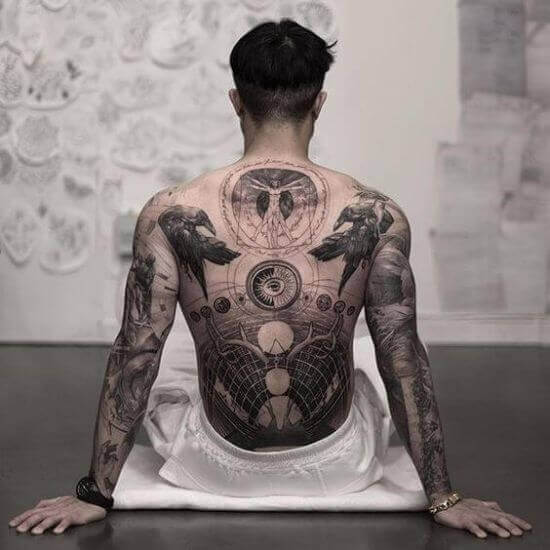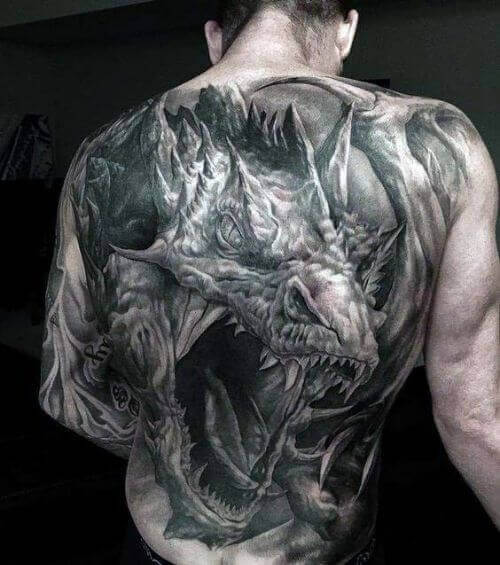 ---
21. Quote Back Tattoos for Men
Get your favorite quote etched on your back. Make sure you choose the one that suits your personality well. Quote tattoos look great no matter etched where.
22. Warrior Tattoo On Back
If you are fond of history and historical figures, then a warrior tattoo will make for the best tattoo design. Get a warrior etched on your back.
23. Guardian Angel On Back
Angel tattoos look perfect. If you want a big size angel etched on your body, then your back is the perfect place for it. Try out!
24. Lion Back Tattoos for Men
The King of the Jungle makes for a perfect tattoo design. Lion tattoos look great on the back. Get only the face of the lion etched on your back, it will make for an eye-catching tattoo design.
25. Grim Reaper On Back Shoulder
The black-cloaked, scythe-wielding personification of death will make for an outside the box tattoo design. Get this unique tattoo design on your back shoulder, it will look stunning.To conclude,
---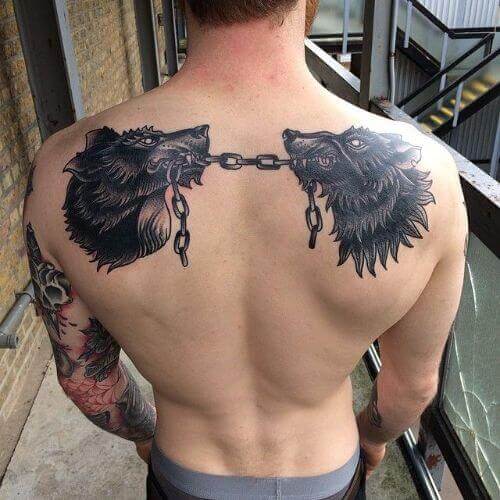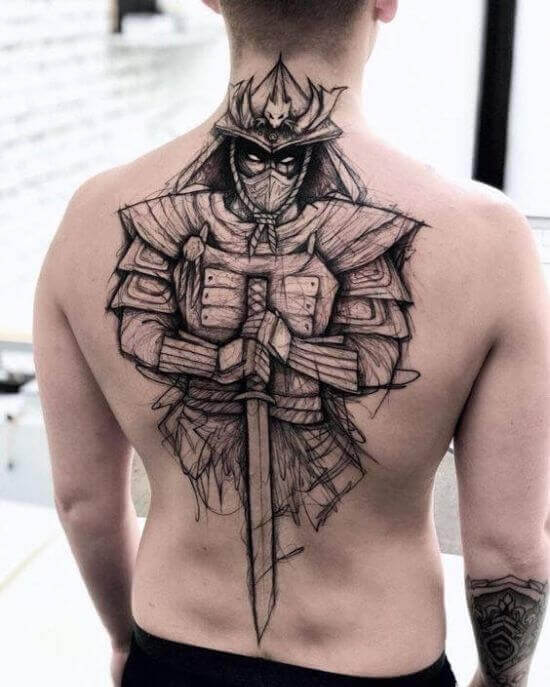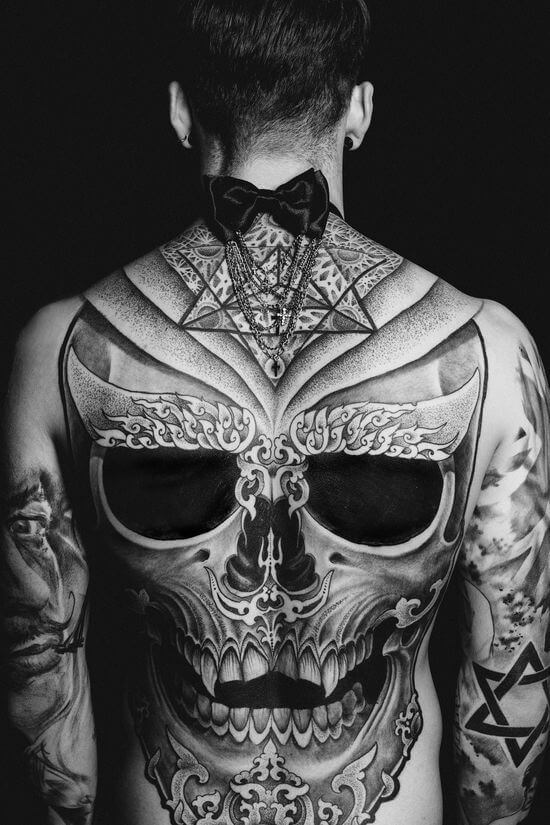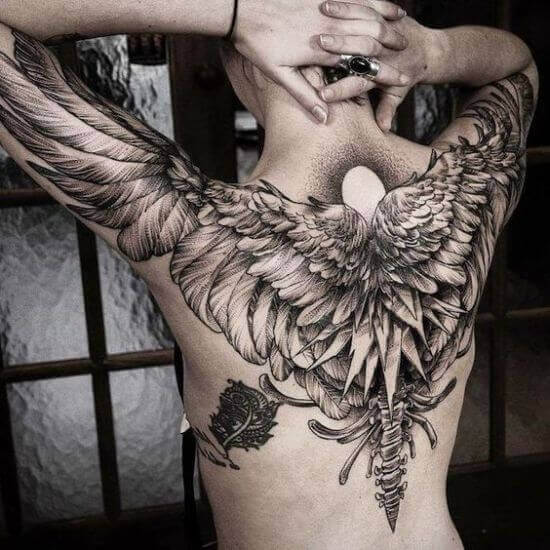 ---
If you have decided to get a tattoo on your back, then make sure you go to a professional artist who has experience in back tattoos. Back tattoo designs are intricate and should be done by skilled and experienced tattoo artists only. Only an experienced tattoo artist would be able to give you a perfect tattoo on your back. So, be sure to approach only an experienced artist!
Happy Tattooing…. ☺ ☺
Please follow and like us: