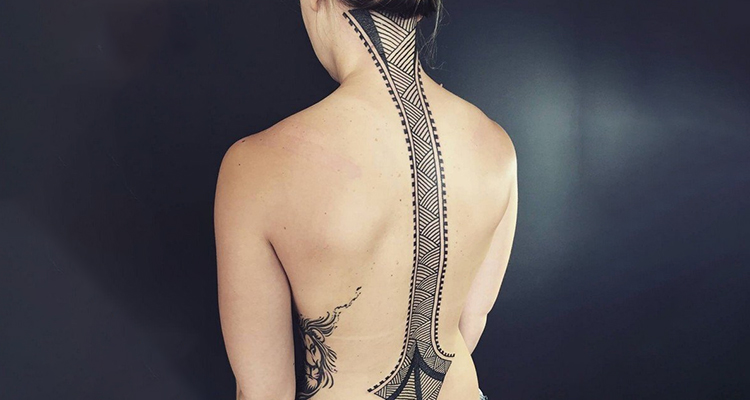 Spine Tattoo for Braves
Posted on
Tattoos come with no limitation, you can get a tattoo on any part of your body. Gone are the days when a tattoo was treated as the mark of shame or people with tattoo were not treated well. Today, getting inked is no problem. Some people get inked on some part which can be easily be seen by others like their arms, legs, neck etc. On the other hand, some want to have hidden tattoos in their body. There are many tattoo designs and body parts where one can get tattoo which is hidden more often, one is spine or back. People who are brave enough, they do not hesitate to wear a tattoo on their spine.
Mostly tattoo on spines are considered for the braves. Because our spine, harbors our nervous system and is covered only by a thin layer of skin, thereby making it one of the most painful places to get a tattoo there. However, pain threshold varies from person to person. But the fact is adorning your spine will give you the feeling of empowerment and will give you courage to stand tall even when going through tough in life.
Well, if you are also planning to get your spine inked, then here are some seriously stunning designs to go with…… The list covers tattoos for spine tattoo men and women:
1. A feather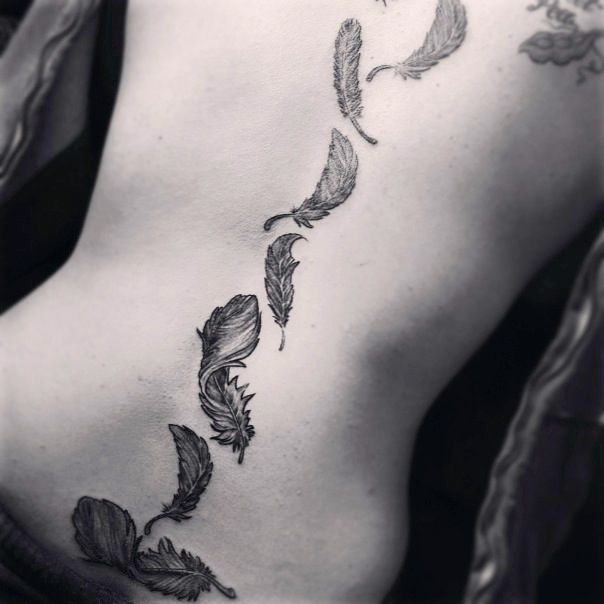 Just imagine a huge delicate looking feather covering your spine, which is sophistically done with black along with the shades of grey on your back. Whosoever will see will fall in love with the tattoo. Feathers are mostly admired by girls and hence look more girlie in nature.
2. Mandala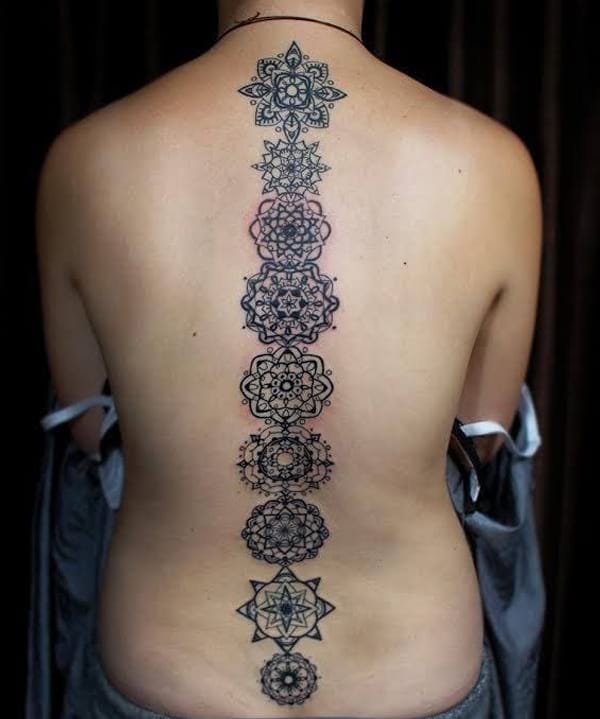 Mandala is always in trend. A mandala is a Sanskrit word, which means "circle." It is a spiritual and ritual symbol in the Indian religions of Hinduism, Buddhism and Jainism, which represents the universe. The one who is in the path of spirituality will know it much better. More often than not, people who meditate love to get Mandala on their spine as it represents the universe also.
3. Back Bone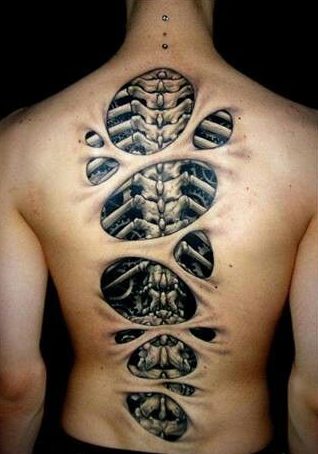 A human backbone looks amazing when done in black on the back of a person. Be it a girl or boy anybody who wants to have a design which is different from others then human back bone is the one.
4. Go Lyrical
One who loves music, lyrics of some particular song or some saying on your spine will look cool. The lyrics of your choice or your favorite adage will be done vertically on your spine, giving your spine an enchanting look. Go for it, if you believe that it is your kind of thing…!
5. A Colored Giraffe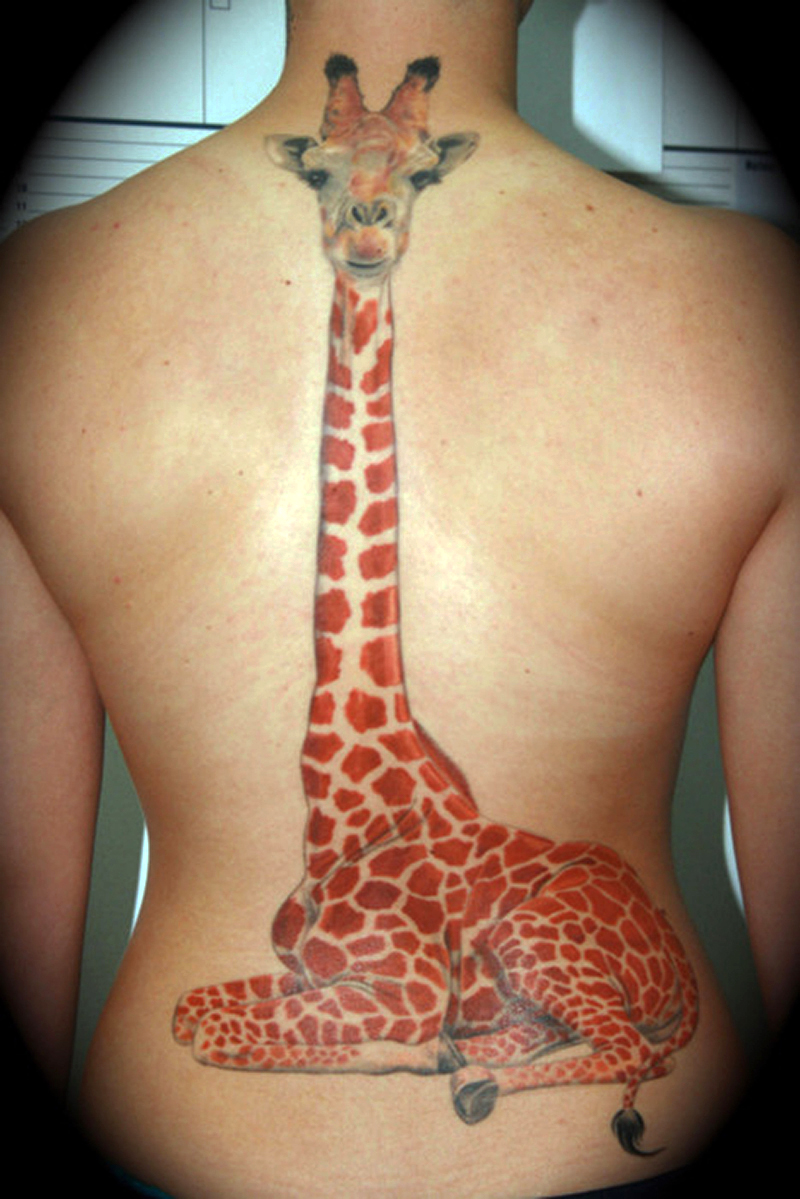 Just imagine a Giraffe sitting on your back… Yes, a colored Giraffe really looks cool on spine. It will cover the entire spine along with your lower back. This is the perfect design for animal lovers who do not hesitate to flaunt their love for animals. It will appear as if a miniature Giraffe is sitting on your back and believe you me, it looks really wonderful.
6. A Floral Pattern
Very girlie in nature, floral pattern on spine looks great especially if the flower is in pink. The whole pattern will cover your spine and the design will go upwards from your lumbar spine. An amazing design for people who are fond of flowers.
See More:
7. The Chakras
You must have heard of chakras, I am sure. Well, Chakras is a Sanskrit word which means 'wheel,' or 'circle.' These Chakras are the various focal points in our subtle body, which are used in a variety of ancient meditation practices. People who are keen meditator or who meditate will surely love the idea of getting Chakras inked on their spine. These Chakras are 7 in number and each Chakra has its dedicated color for example heart chakra is denoted by color Green, and likewise each Chakra has its color. Well, you can also get these Chakras inked on your spine, in their respective colors. The design is simply eye-catching.
8. 'LOVE'
Just get inked word LOVE on your spine. People who believe in love and believe that love can win anything. They will love to have the word LOVE on their spine. Also, it is a nice way to show your love to your partner. You can either get it simple or with some design. Mostly people chose birds, arrows or other symbol to complete the design.
See more: Love Tattoo designs on hand | Couple heart Tattoos
9. Flowers and Leaves
Once again girlie tattoo. To represent your femininity this is a best design to go with. Just beautiful flowers along with the leaves adorning your spine. If you want you can have it in any color of your choice and any flower of your choice.
10. Roman Numbers
Have you ever thought of getting Roman Numbers on your spine? You must have seen people having a roman number inked on their neck or somewhere else. You can get 1 – 10 in romans, or some important date, or some series of numbers in roman on your spine and trust, the design looks simply classy. The design will be done in vertical.
11. Quote of Your Choice
If you research you will find myriads of quotes and phrases online, that too in different languages like; Chinese, Latin, Hebrew, African, French, Hindi, Sanskrit etc. You can always find some meaningful quote/phrase which goes well with your personality. A phrase which can represent your true self is worth getting on your back and flaunt it whenever and wherever needed. Go with a phrase in different language. Whosoever will get to see your tattoo will surely ask for its meaning, but make sure you know the meaning of the quote which you are getting inked on your spine.
12. The Solar System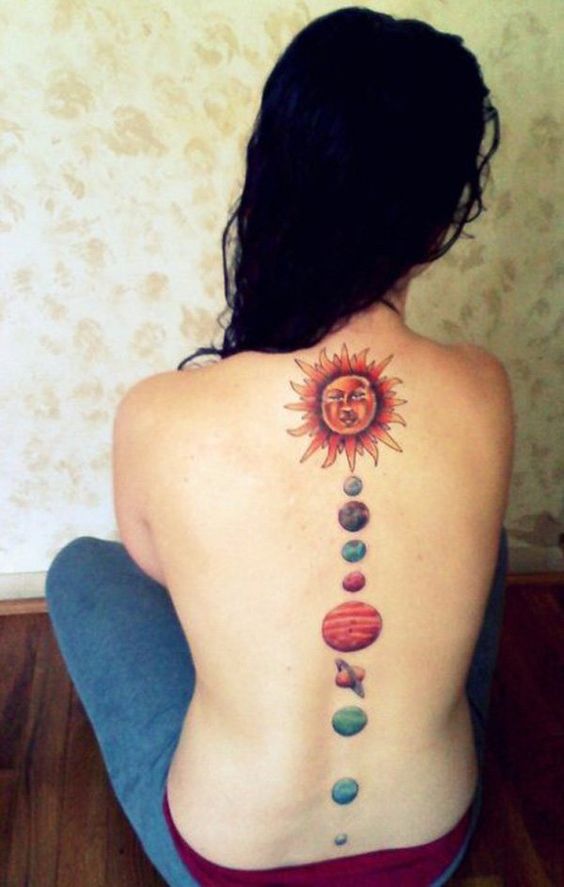 Were you the kind of kid who used to wonder how our solar system looks and all? Do you still find yourself interested in Solar System? If yes, then go and get inked a solar system on your spine. The tattoo will look stellar on your spine, whosoever will look, will admire.
13. English Phrases/Quotes
Well, mostly people love to get phrases inked in different language but phrases or quotes in English have their own swag. You can get an English phrase/quote inked on your spine with or without any design. The choice is yours absolutely if you want a design along with the phrase go for that or leave the phrase as it is. The design looks simple yet beautiful.
14. Flowers, Leaves and Butterflies
Seriously girlie tattoo, the design has everything which mostly girls love in their lives. The design looks delicate and beautiful on spine. It is absolutely up to you how big you want it, as it can be started from the lumbar spine and go upwards till your neck, covering your entire spine. Or it can be done in small size starting from thoracic spine. The tattoo looks very colorful and enchanting as it has beautiful butterflies in it. The size and the number of butterflies can vary.
15. Tribal Sword
It is for men, tribal tattoo designs are admired often as they look stunning. A tribal sword tattoo will look great and will give depth to your muscularity.
16. Animal Spinal Column
Not just human back bone but the animal vertebrae also looks beautiful when done on the spine. Well, it is specifically for animal lovers who want to dedicate their tattoo to their pet or to their favorite animal.
17. Signs & Symbols
Signs and symbols looks beautiful, you can choose symbols and signs which goes well with your personality and can get it done on your spine. Such tattoos are for those who like to define themselves through signs and symbols.
18. A Rose
Simply a rose along with few leaves and its stem will look mesmerizing. Of course it is girlie, and for the ones who are fond of roses. They can get their favorite color rose on their cervical spine. Tattoo looks beautiful and enchanting because of its color and presentation.
Also See:
19. Butterflies in a Mandala
Too many butterflies clubbed together making a beautiful intricate design. The tattoo will have butterflies either flying away or flying into the mandala. Either way, the tattoo looks beautiful and enchanting when done on lumbar spine. The design looks detailed and gorgeous on spine, and this one specifically has irregularities in the mandala design which differentiates it from other mandala tattoos. The design looks super sexy and it is specifically meant for the girls who love to wear short tops.
20. Music Symbols and Butterflies
For all the music lovers who love butterflies too, this design makes the perfect tattoo for them. The tattoo will have music symbols along with the butterflies on your spine. Tattoo looks melodious and super cool. The flying butterflies across your back will look like some melody.
To conclude……
Tattoo designs on spine looks super cool. If you think you are ready for the pain then go for the design which suits you the best and can represent your personality. Other than these twenty designs in the list there are many designs which you can get on your spine, or you can be creative and can come up with your own design. You can go for quotes in any language, floral designs, intricate tribal designs, mandala designs with different flowers, geometrical patterns, stars and galaxy etc. It is up to you how creative you can go with your tattoo design and how smart your tattoo designer is to give you exactly what you have envisioned.
Spine tattoos have an amazing attraction value, though they are quite painful. But no pain can prevent tattoo lovers from having one. Tattoos on the spine are eye-catching and great head turners.
Please follow and like us: