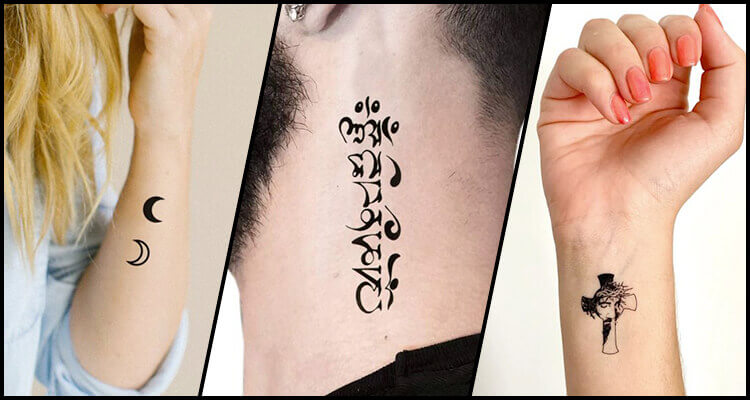 51 Best Temporary Tattoo Designs ideas 2023
Posted on
Tattoos are quite popular among people these days. Both young and adults love to have tattoos etched on their bodies. Tattoos have become a widespread fashion for both men and women. The best thing about a tattoo design is it can be done on any part of the body, depending on the individual's choice. But you cannot ignore that tattoos come with pain. And not everybody can endure that pain that comes with body artwork. And that's when people opt for temporary tattoo designs.
The good thing about temporary tattoos is that you can easily clean off a particular design and have another. We understand that a permanent tattoo is not everybody's cup of tea. Therefore, we have listed the 51 stunning temporary tattoo designs for you to get some inspiration (if in case you need some :))
But before that, we will take a look at some questions you might have regarding temporary tattoo patterns.
Here we go…
Are temporary tattoos painful?
Well, the quickest answer to this is No, temporary tattoos are not painful at all!
Permanent tattoos are frequently done with needles that are inserted into the skin while the tattoo is being applied. The practice of injecting needles with colored dyes straight into the skin was first practiced in Egypt. But in the case of temporary tattoo design, no needle is used.
Your temporary tattoo artist must be exceptionally skillful in order to create a flawless and well-designed tattoo. He can create an enchanting tattoo design on your skin without letting you feel any pain.
How long do temporary tattoos design last?
The quality and quantity of ink used to create a temporary tattoo determine how long it will last. Some of these tattoos last for a longer period of time, while others, such as Tattly tattoos, only last for a few days.
The average duration of this tattoo is one to three weeks, depending on the size of the tattoo. The skin type is also a role in determining the longevity of the product.
Is the temporary tattoo pocket friendly?
Regardless of the size of the tattoo, the cost of creating a temporary tattoo design is not outrageously expensive. Temporary tattoos can be created using paints, brushes, or sticker decals, among other mediums. It is both budget-friendly and reasonably priced.
It's now time to take a look at some of the best temporary tattoo designs.
Let's get started…
Top 51 Temporary Tattoo Designs
Below are the most beautiful temporary tattoo designs you can get inspiration from.
1. Butterfly glitters temporary tattoos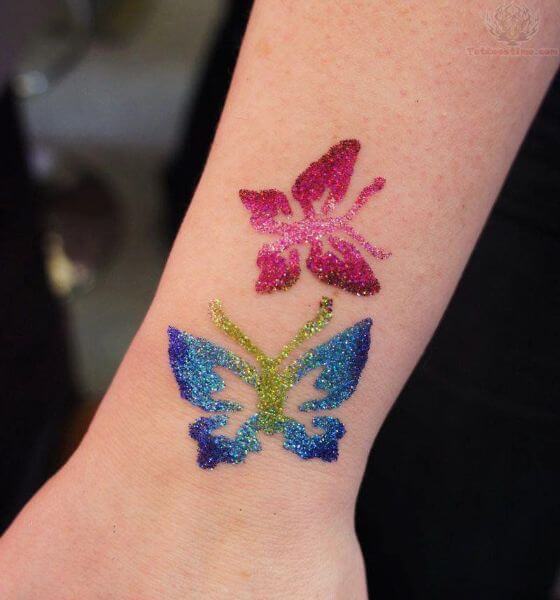 There is something about this particular design that every lady wants to have. It is available in a variety of styles and colors, and it has been personalized with glitters to make it sparkle. Depending on your preference, you may have this tattoo design etched on any part of your body and modify it at any moment.
2. Temporary Balloon Tattoos
Temporary tattoo inks are truly non-harmful, which makes them a safe option for anyone, including children. Children can even have a temporary balloon tattoo etched on their bodies, maybe on their birthdays or during vacation.
3. Bracelet Temporary Tattoo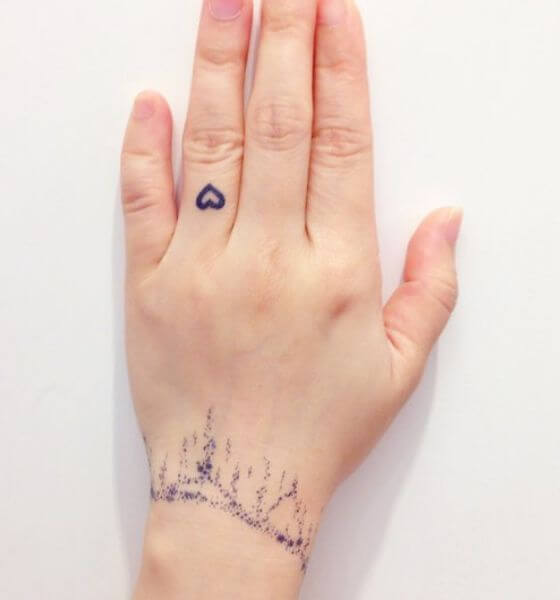 If you're looking to add a lovely tattoo to your arms or wrists, a bracelet temporary tattoo is your best option. There are many different places where you can get this tattoo done, such as the upper arm, ankles, around the neck, or on the wrist. The design is suitable for both men and women.
4. Graceful Temporary Face Tattoo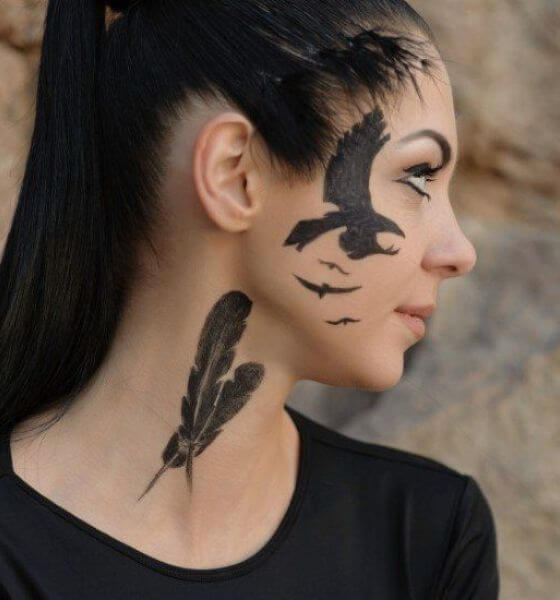 As said earlier, temporary tattoos can be removed at any time. So, if you're looking for a one-of-a-kind tattoo placement, consider getting a beautiful temporary tattoo on your face. This tattoo design is exquisite, and it gives radiance to the face, making it appear more aesthetically pleasing.
5. Glow In Dark Temporary Tattoo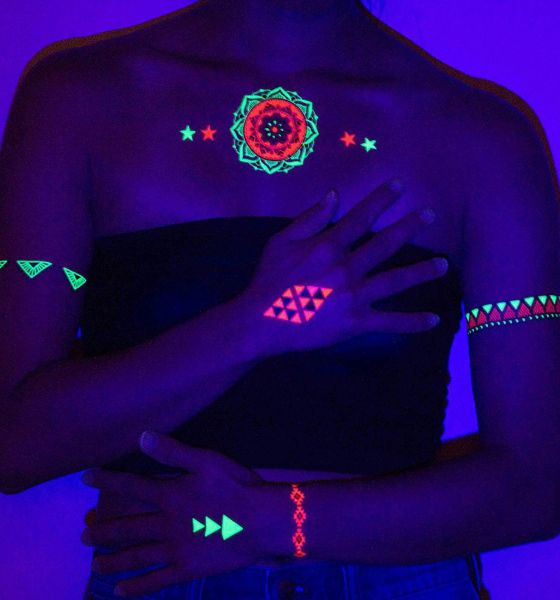 As the names imply, glow-in-the-dark tattoos shine brightly at night, especially in dimly lit areas. It shines at night and seems much more gorgeous when drawn on any portion of the body that can be seen from a distance.
6. Temporary Foot Tattoo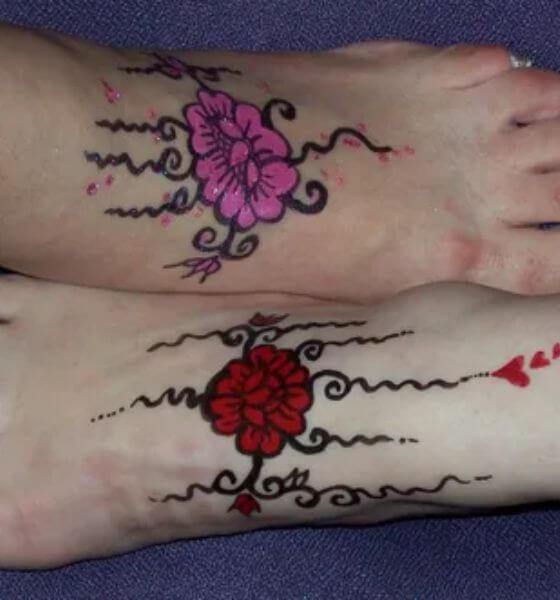 If you cannot have your tattoo on a place where it is visible, then get a foot tattoo. Get your feet tattooed with a beautiful and colorful design to make them stand out. When combined with nail polish, this gives your feet a gorgeous appearance. You can only imagine how wonderful your feet will appear once you put on your slippers for the evening.
7. Temporary Sleeve Tattoo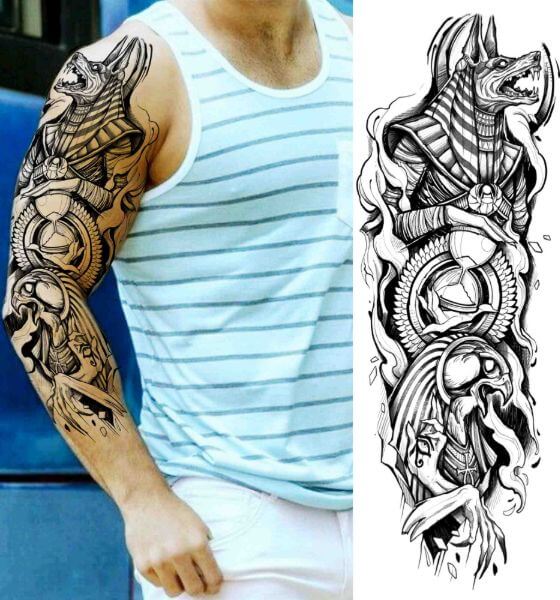 Are you a guy looking for a temporary tattoo design to adorn your body? The most suitable option is a temporary sleeve tattoo. A temporary sleeve tattoo can be done in a variety of designs and styles, depending on your preferences. So choose the one that suits your style.
8. Temporary Mehndi Tattoo Design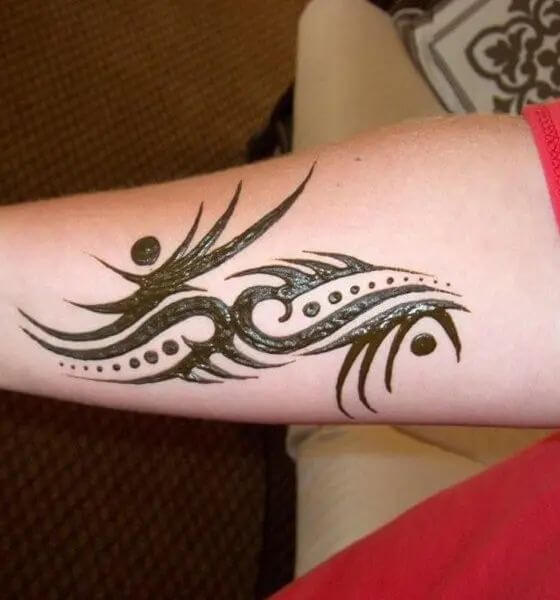 The mehndi tattoo design is another stunning tattoo option for those looking for temporary tattoos. It appears to be quite attractive and enticing. It is a widespread practice in Indian culture. More often than not, women get the Mehndi design applied to their hands and feet. Usually, it is done on special occasions, such as weddings, festivals, and so on. However, if you want to embellish your body with a unique design, then a temporary Mehndi tattoo is the best choice.
9. Large Rose Temporary Tattoo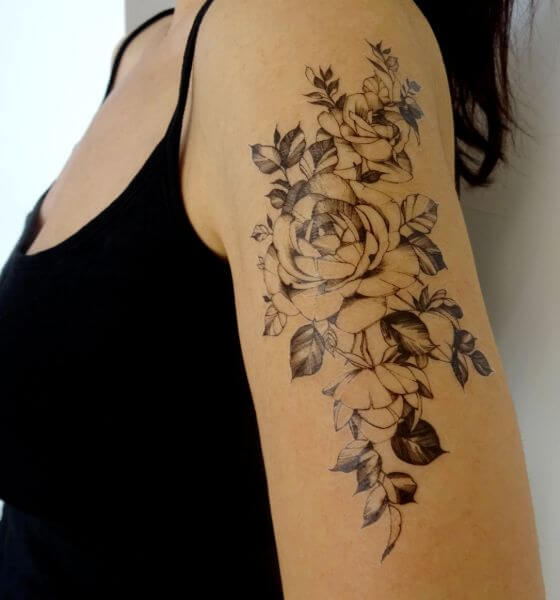 Rose tattoos are quite popular among women. So, if you're confused about what design you should choose, go for a rose tattoo design. You can get a rose tattoo in any size; however, larger roses look awesome. You can get it applied to your shoulder or neck region for that appealing placement.
10. Pencil Rose Temporary Tattoo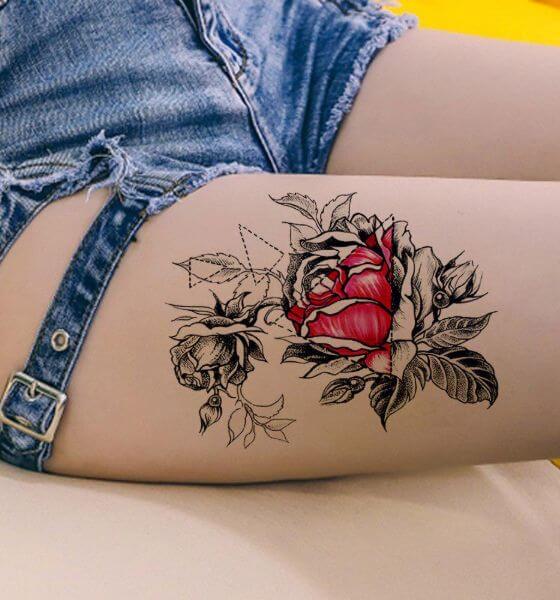 Are you looking for a unique rose tattoo design? Get a pencil rose temporary tattoo on your arm or wherever you wish. This tattoo will be applied in black color with some shades that will appear as if done with a pencil. You can even choose a washable sticker. It is easy to apply a washable sticker, and the best thing is you can remove it at any time.
11. Starfish Temporary Tattoo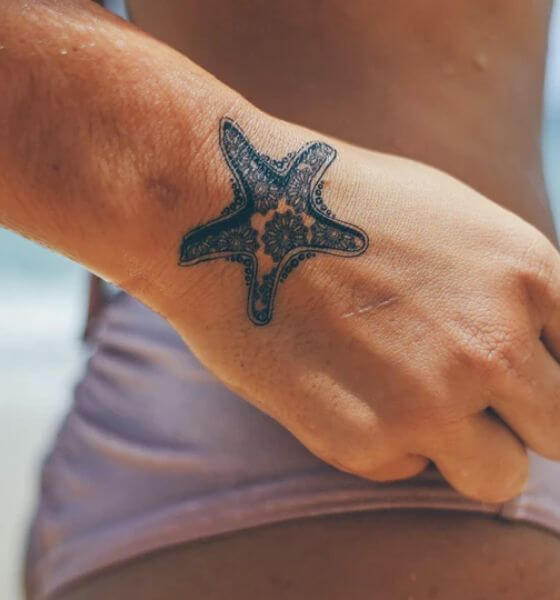 If you are looking for a temporary tattoo design for your children, this style is perfect. Children will certainly like having this design tattooed on their skin. It is typically performed on children at parties or during any competition in schools.
12. Temporary Arrow Tattoo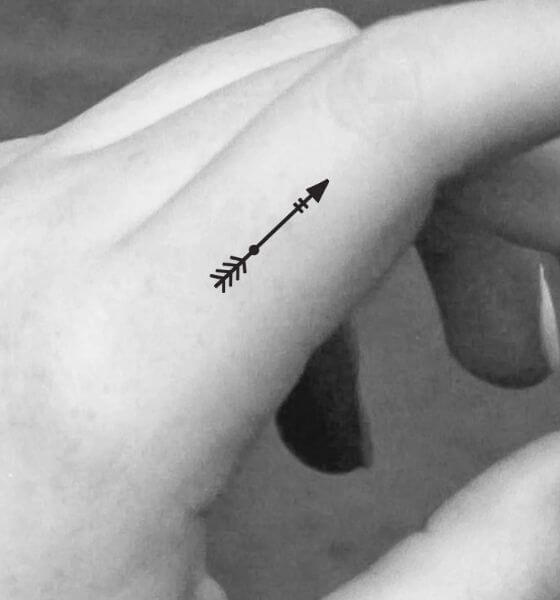 Arrow tattoos are simple and elegant, whether temporary or permanent. So, if you're looking for a simple tattoo design, get an arrow etched on your skin.
13. Tribal Bands Temporary Tattoo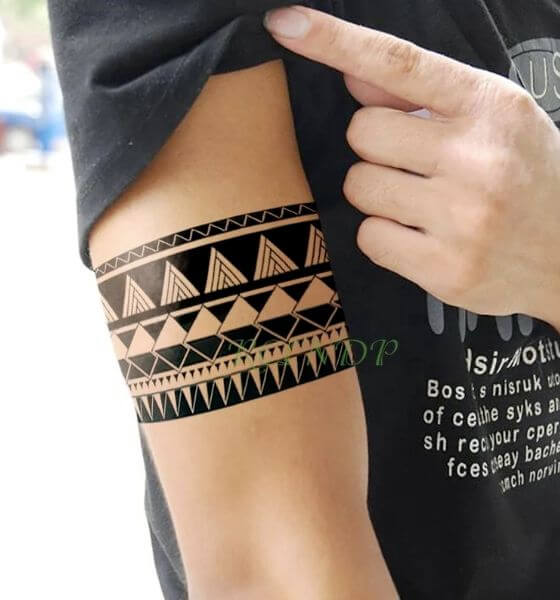 It is most suitable for females who wish to have these tribal patterns tattooed around their wrists. It appears to be incredibly fashionable as well as stylish. Even men can have a band tattoo around their wrists. All they have to do is to select a plucky tattoo design.
14. Neck Temporary Tattoo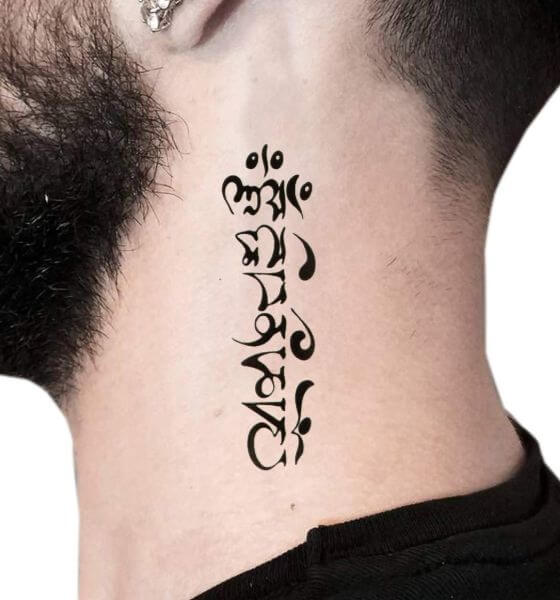 Neck temporary tattoo designs look gorgeous and, of course, sultry too. Neck tattoos are very popular among females. You can have a stylish neckband tattoo etched around your neck. Make sure to choose an elegant tattoo. You can embellish your neck with a beautiful temporary tattoo, like a butterfly, star, neckband, etc.
15. Star Temporary Tattoo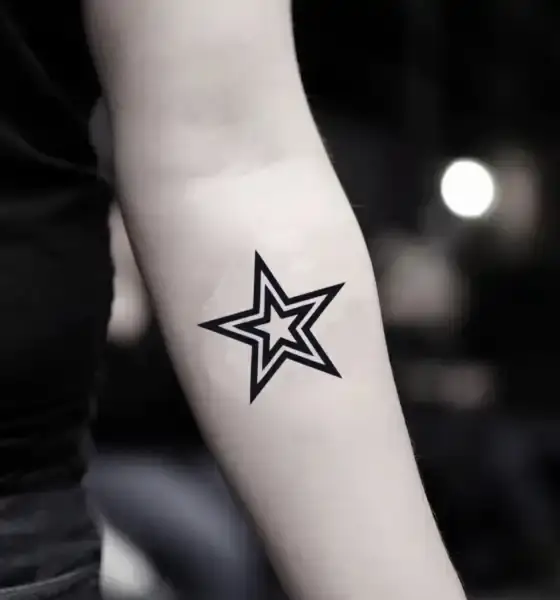 Getting a temporary tattoo design done is not difficult. A tattoo artist can create small or large stars on any part of your body, depending on your budget and preferences. This design can be applied to the neck in the same way that individuals who appreciate Rihanna's tattoo design. Consequently, if you don't want a permanent tattoo, getting a temporary star tattoo is preferable.
16. Sun Temporary Tattoo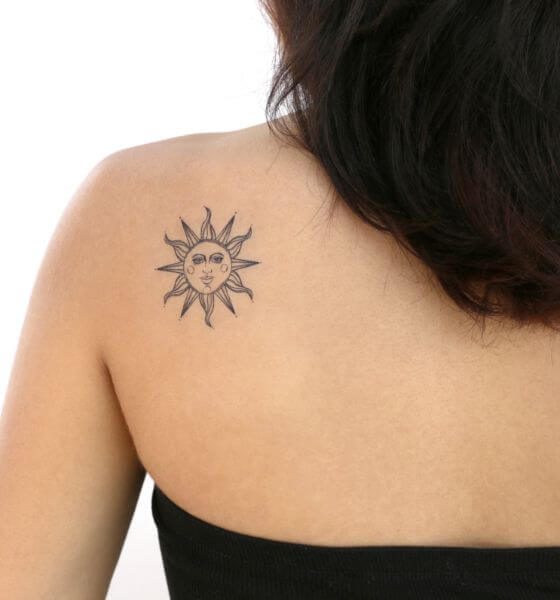 If you truly want to appear sexy, get a Sun temporary tattoo on your chest. Sun tattoos are widespread among males; however, females can also get sun tattoos.
17. Temporary Large Leaf Tattoo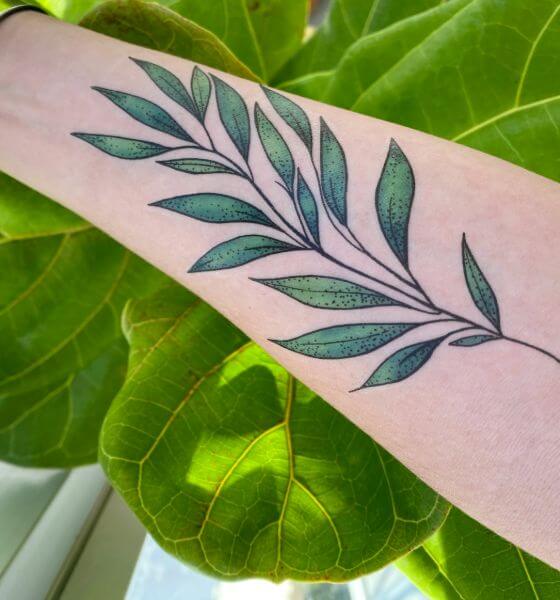 A huge green leaf represents youth and vitality. If you want something enormous and unique on your hand, you can have it done in watercolor.
18. Celtic Temporary Tattoo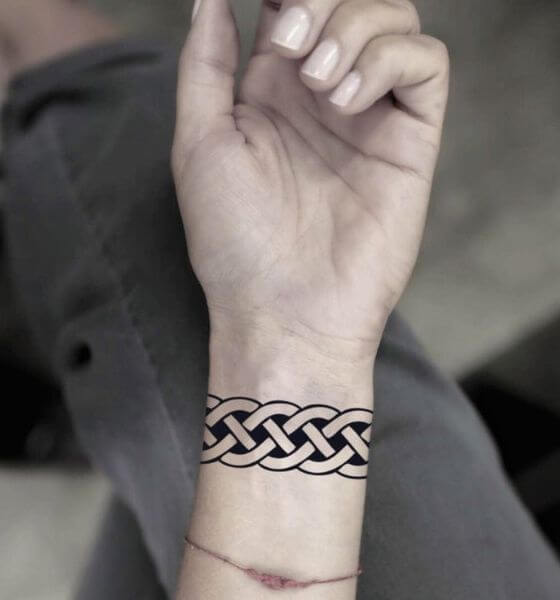 This tattoo design is more akin to a tribal pattern with a crazy style incorporated inside it. Both men and women can etch Celtic temporary tattoos. You can have it done in a variety of colors because this is what makes it visually appealing. This design appears to be very realistic when etched with a lot of colors.
19. Temporary Finger Tattoos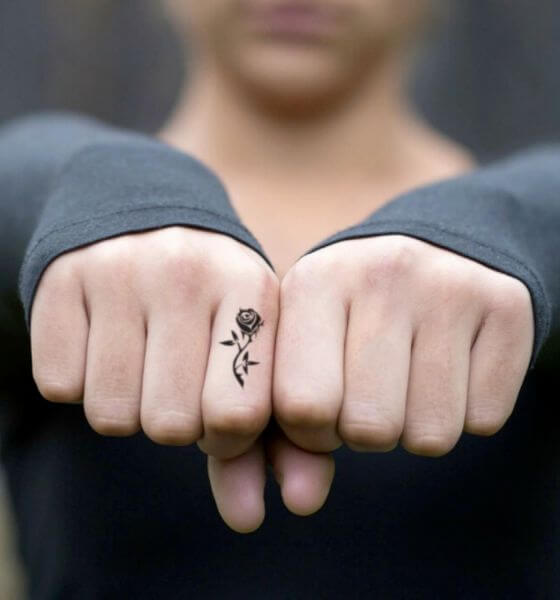 It's also more of a tribal tattoo, which is quite popular among females. There are several different designs you can choose from for your finger. Finger tattoos look unique and very simple.
20. Scorpion Temporary Tattoo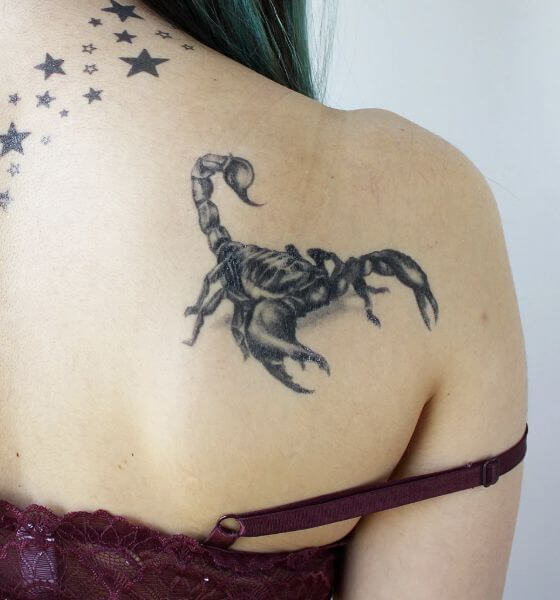 The Scorpion tattoo design is the perfect option if you're a man looking to show off a bicep tattoo. It is widespread and appears to be real because of its color shade. This tattoo design is perfect for guys who are unsure about what kind of tattoo they should get on their skin. It is simple and elegant. This tattoo design would look great on the forearm, back, or chest, depending on where you get it done.
21. Skeleton Temporary Tattoo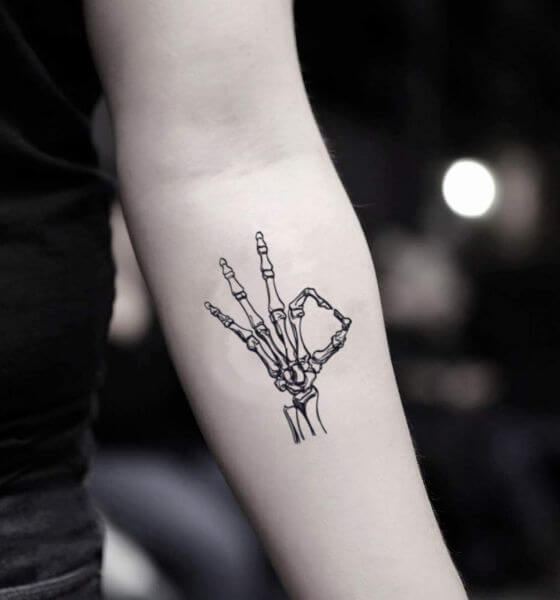 Skeleton tattoos look gorgeous. That is why a large number of young people are interested in getting this tattoo. Scorpio is also one of the zodiac signs; some get it for that reason. So, whatever your reason be, a scorpion tattoo looks excellent. You can get a small-sized scorpion tattoo near your ear for that appealing placement.
22. Flower Temporary Tattoo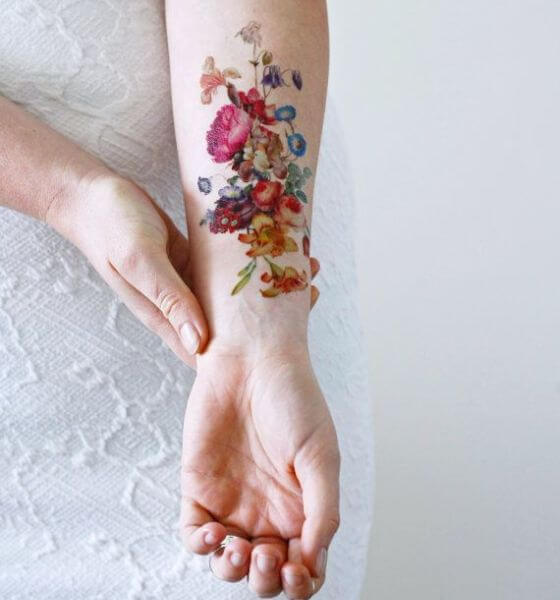 Flowers tattoos have been around for a long time and are among the most popular temporary tattoos available. You can get any flower, from a rose to a temporary tulip tattoo etched on your body.
23. Dragon Temporary Tattoo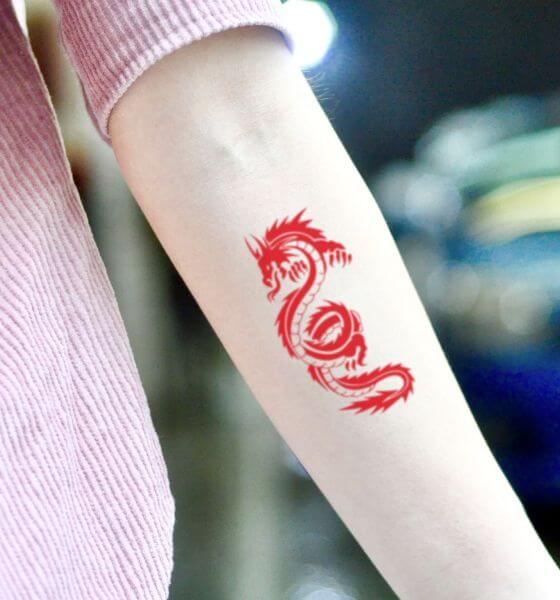 Dragon tattoos look awesome. Make sure you get a temporary dragon tattoo placed in the right location for that appeal.
24. Dragon Temporary Tattoo with a lot of detail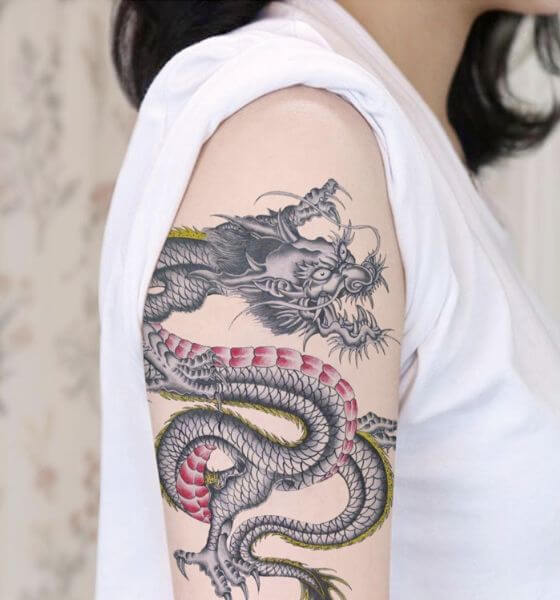 Men are naturally recognized for having large tattoos on their bodies that are visible from a distance. If you really want a temporary tattoo, you may get a dragon pattern done in intricate detail.
25. Bird Temporary Tattoo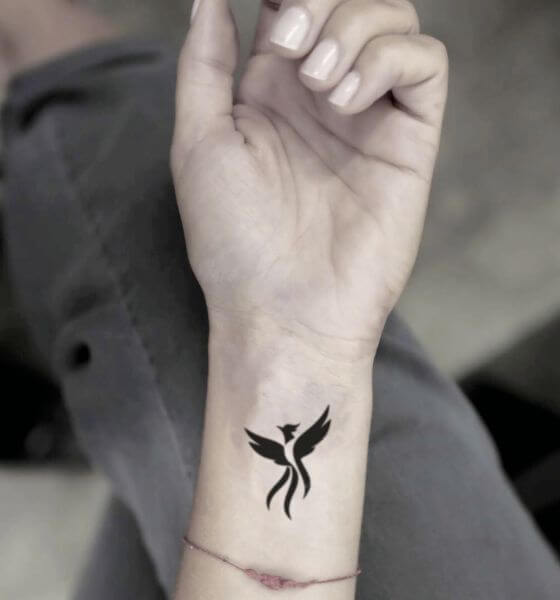 Bird tattoos look cute, so if you're fond of these cute creatures, get one applied to your body. The best part about a temporary bird tattoo is that these tattoos are found in a variety of patterns. You can choose the one that suits you the most.
26. Cycle Temporary Tattoo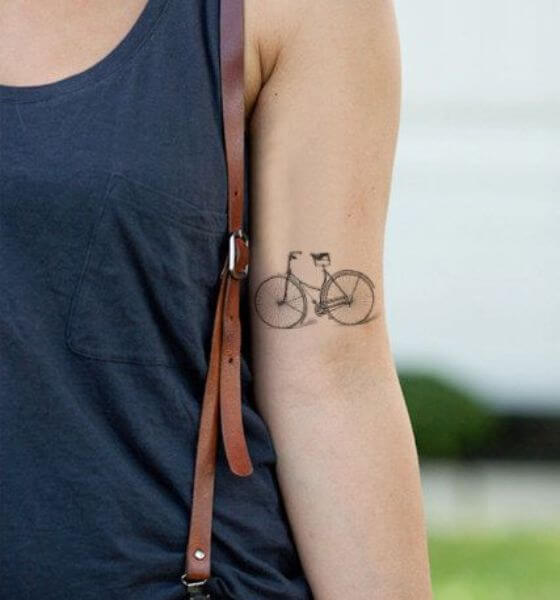 If you're a sports enthusiast and looking for a cool tattoo design, a temporary cycle tattoo is for you. This design looks cool and lovely. You can have this applied to your forearm.
27. Temporary Animal Tattoo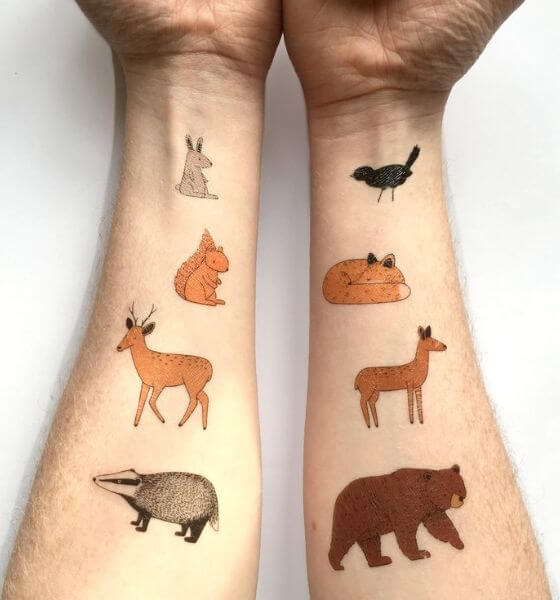 Get your favorite animal tattoo applied to your body. Animal tattoos make for stunning body artwork. You can have any animal tattoo of your choice etched on your body.
28. Temporary Moon Tattoo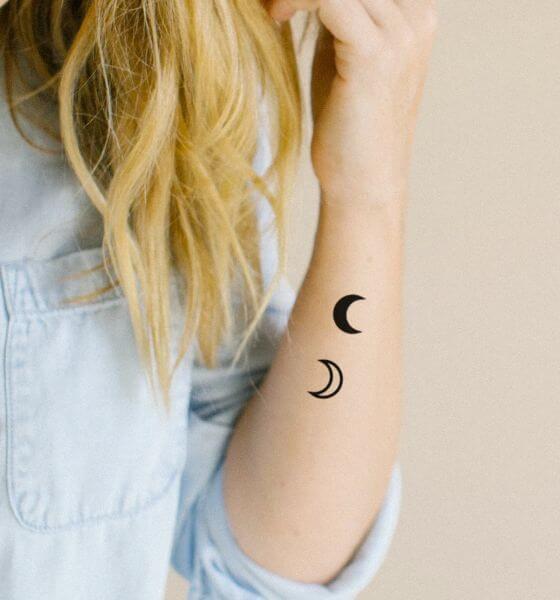 A small-sized moon etched on your finger will look awesome. So, if you're looking for a sweet tattoo design, this is the one.
29. Henna Tattoo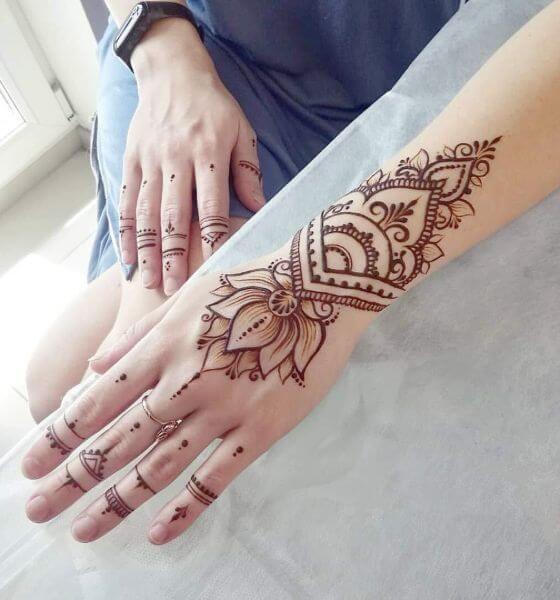 This is also a non-permanent tattoo design that is popular among women. You can get a henna tattoo anywhere on your body. Many females choose to wear it on their hands or their fingers. Depending on how the artist designs the piece, it might last anything from a few days to several weeks.
30. Temporary Animal Face Tattoo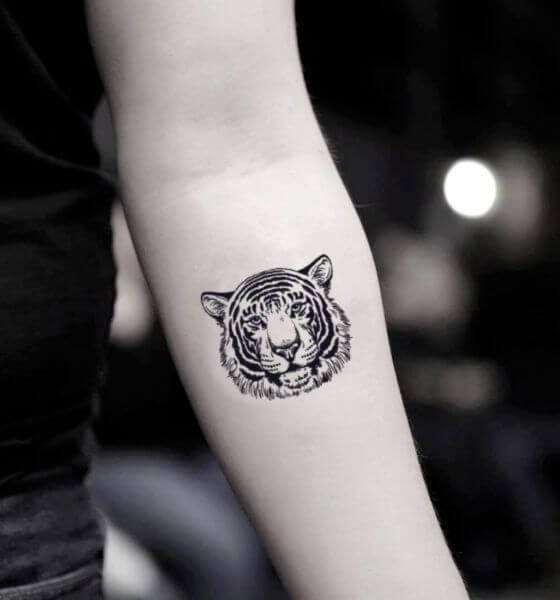 Tattoos with animal faces are prevalent, and they look particularly stylish when worn on the skin. Tattoos of animal faces are very popular among men. If you aren't sure what kind of animal face you want, you can opt to make yours temporary instead.
31. Waves Temporary Tattoo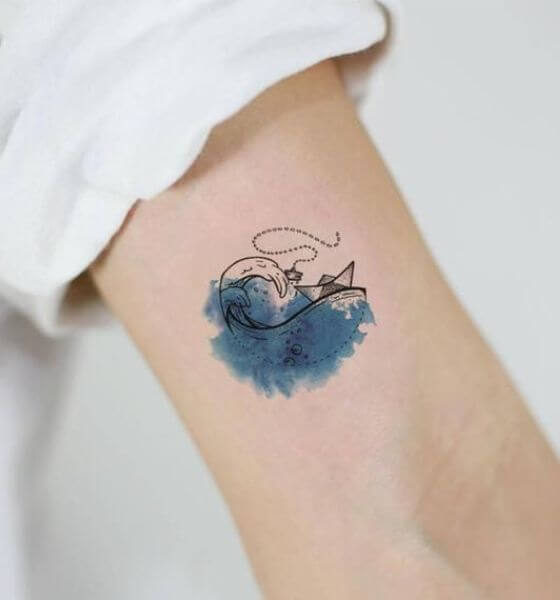 Get waves in a Dark Pattern applied to your body. Wave tattoos look beautiful, especially when done in small sizes. You can have a temporary wave tattoo on your arm or leg. It is typically done with black ballpoint pens.
32. Water Transfer Temporary Birds Tattoo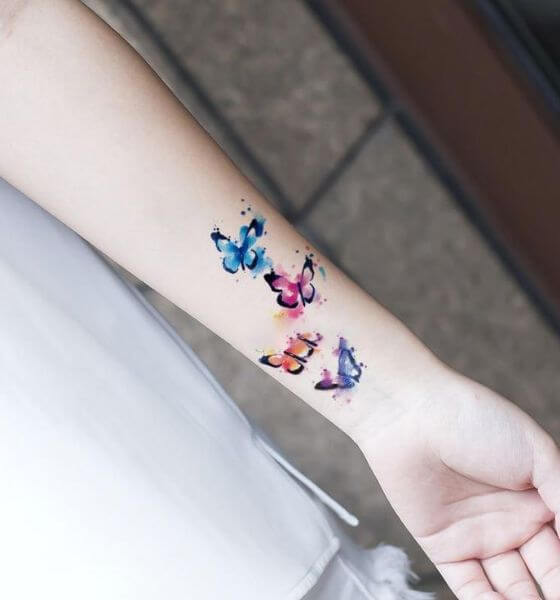 It's a decal pattern that's available in stylish stencils for a variety of parts. Prior to putting it on your body, you have to combine it with water. It has a distinctive appearance because of the presence of water.
33. Temporary Roman Numerals Tattoo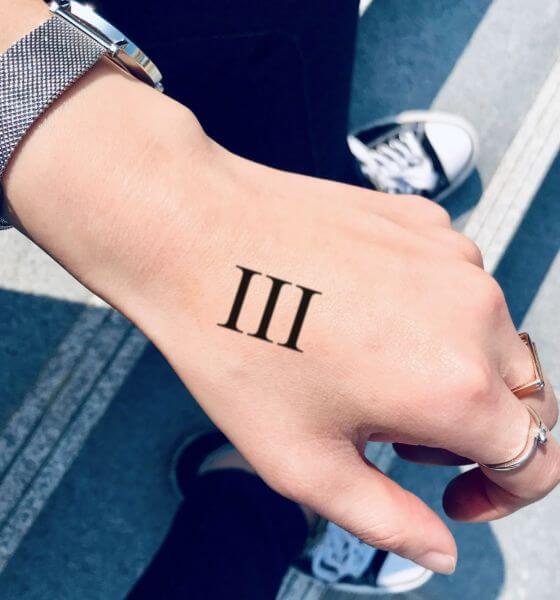 Roman numeral tattoos are adorable and allow the owner to conceal them easily when necessary. A Roman numeral tattoo will be an eye-catching tattoo design in a tiny size. Although tiny Roman numerals tattoos are self-contained, additional features can be added if needed. A wrist, finger, or near the ear are all excellent locations for your little roman letters tattoo.
34. Temporary Sunflower Tattoo
Any tattoo with circular motifs looks fantastic on the shoulders, and sunflower is one of them. The curving contours will accent your shoulder superbly. You can get a small sunflower tattoo on your shoulders or a medium-sized sunflower tattoo with its leaves reaching down your arm to create a half-sleeve tattoo design.
35. Temporary Bluebird Feather Tattoo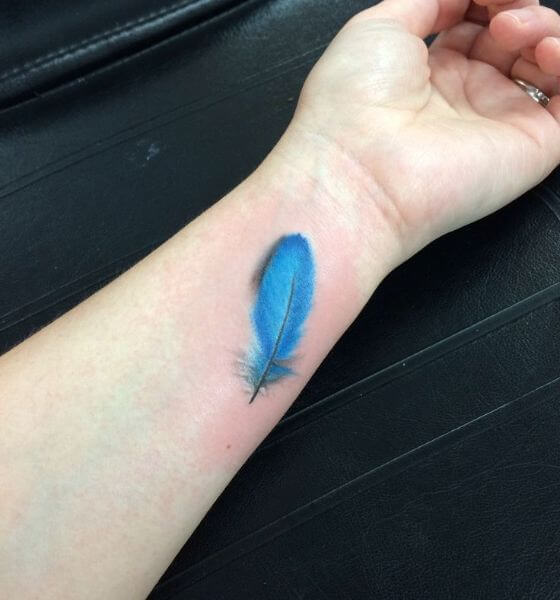 Consider wearing a gorgeous feather on your thigh; it will look very stunning when paired with a short skirt or shorts! You can even get matching feather tattoos on both feet for that appealing touch.
36. Tiny Heart Temporary Tattoo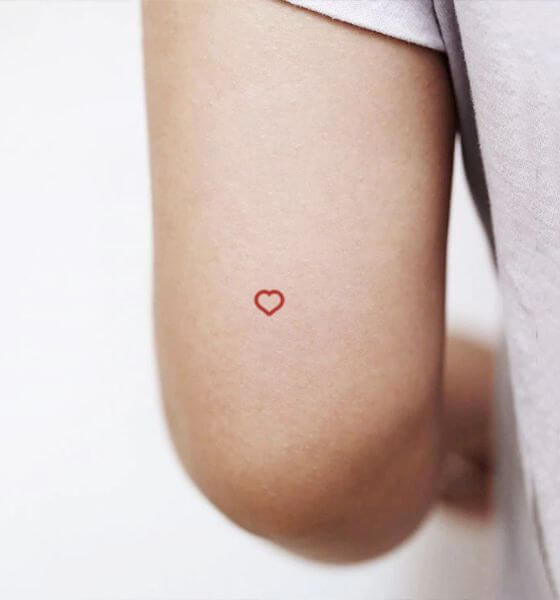 Consider a little heart tattoo. Though the heart pattern is one of the most frequent, it is nonetheless attractive. They have a unique quality that never goes out of style. You will see many girls with tiny heart tattoos, I believe this is because they are attracted to girls. Ideal for those who desire a tattoo but not a big one. A black or white heart tattoo on your wrist, neck, or shoulder will look appealing.
37. Temporary Twin feather Tattoos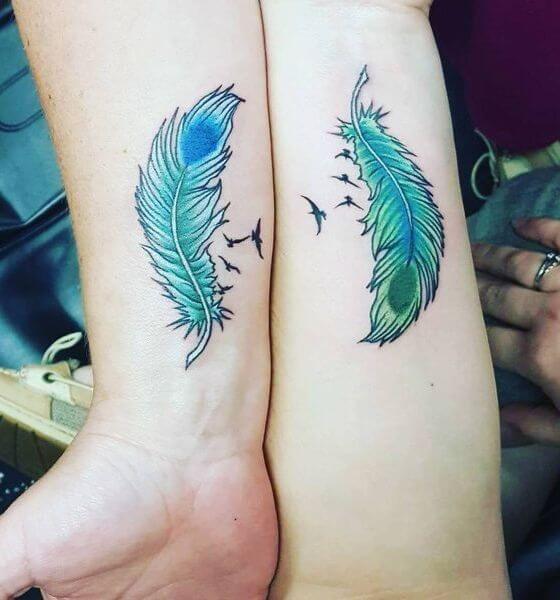 Twin feather temporary tattoos are for those looking for unique tattoo designs. This design will have two same feather stickers that you can apply on both your forearms or ankles. This tattoo looks awesome; trust that!
38. Music Symbol Temporary Tattoo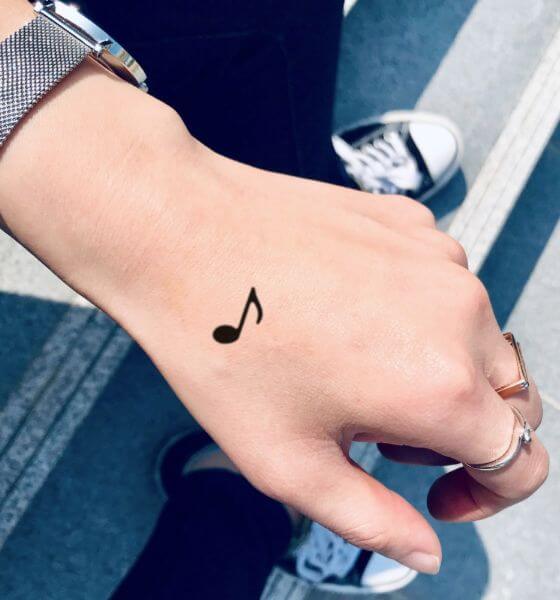 A music symbol is a perfect design for all the music fans out there to display their passion for music. However, this design is for those who are sensitive to music and know how to express their love for music without flaunting it in front of the world. A small music note emblem on the inside of your wrist or near your ear will look fashionable and committed to music. This design is for music lovers.
39. Phrase/Quote Temporary Tattoo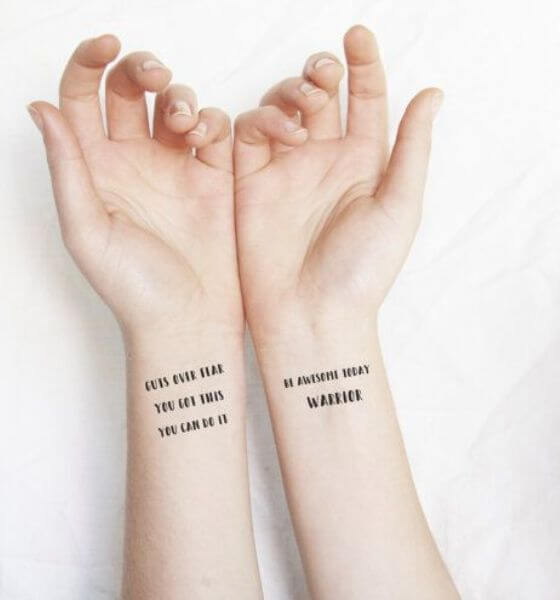 You can have any quote that you feel best represents your genuine self on your body. You can opt for a quote in bold letters or italics; up to you, it will look stunning. Your quote can be in any language, but make sure you understand it. Quotes look great on the inside of the forearm, wrist, neck, or waist.
40. Temporary Angel Tattoo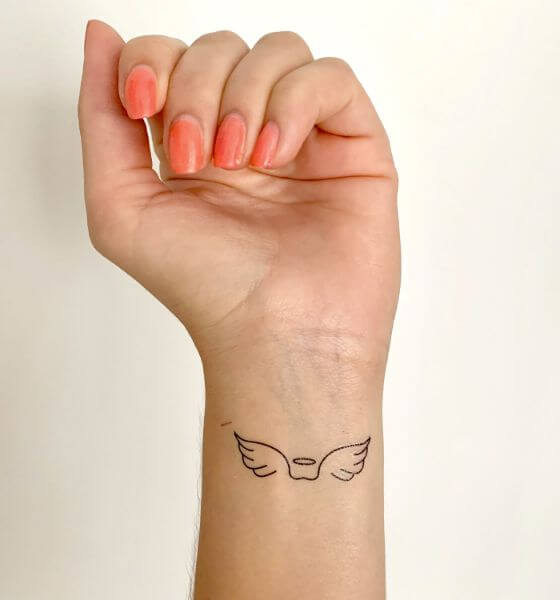 Angel tattoos are the favorite tattoos designs of many women. These tattoos look gorgeous, especially when worn on a shoulder blade. Their charm never fades. You can get angel tattoos in a wide variety; choose the one that fits your needs.
41. Temporary Tiny Floral Tattoo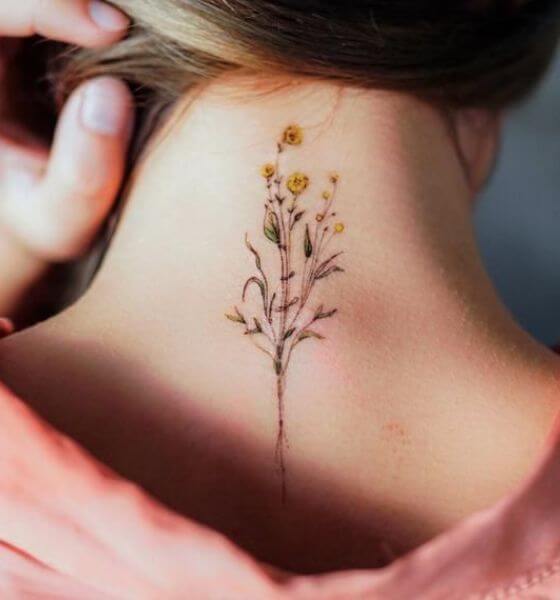 A delicate floral symbol or design on your neck, back, lower back, or calf will look wonderful. You can ink a sunflower, dandelion, rose, lotus, or marigold with branches. Ideal for nature enthusiasts!
42. Temporary Geometric Tattoo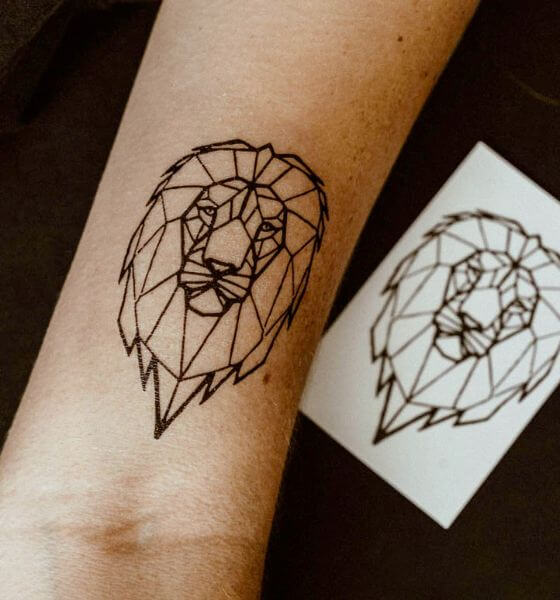 Geometric elements make great tattoo designs. You can have your favorite geometric symbol applied to your body. The best places for your temporary geometric tattoo design include ear, nape, arm, and feet.
Also See: 320+ Fabulous Geometric Tattoo Designs
43. Temporary Name Initial Tattoo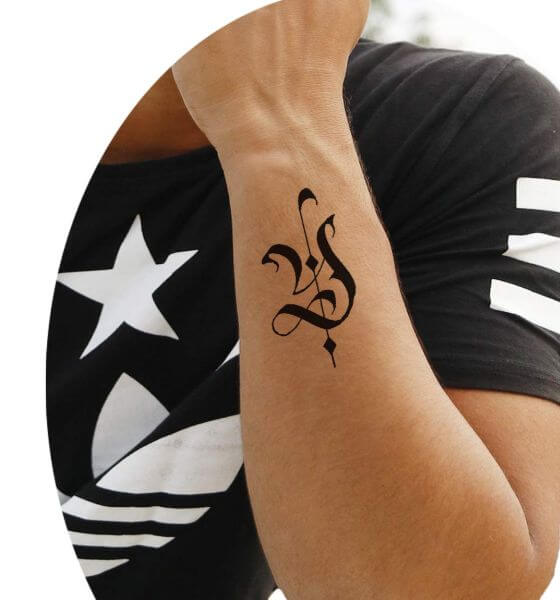 If you want to show your love to someone special with a tattoo design but are scared to get a permanent one, get a temporary name initial tattoo etched. The initials of your name or the name of someone you like make wonderful tattoo designs. Have you noticed Selena Gomez's lowercase "G" near her ear? It's lovely. Your initials can be tattooed in lower or higher case. It looks well around the ear, wrist, and finger. Try it!!
44. Temporary Name Tattoo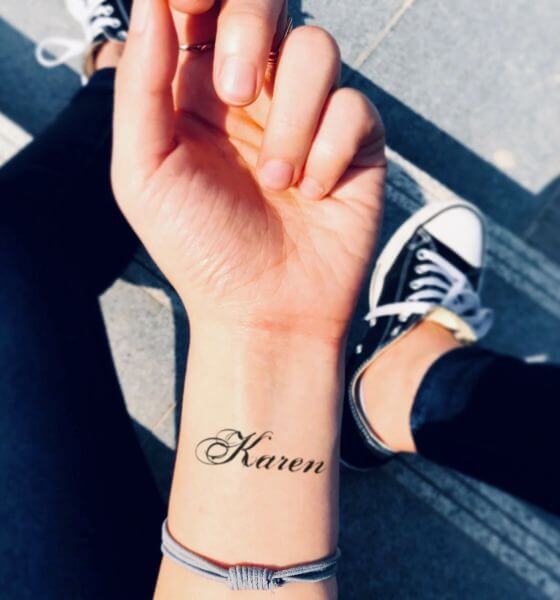 Another popular tattoo design is the name of the person you adore. Many people get their partner's name tattooed on their bodies to show their devotion. Get a temporary name tattoo design if you don't want it to be etched in permanent ink. Name tattoos look best on the arm, hand, chest, etc.
45. Temporary Peace Symbol Tattoo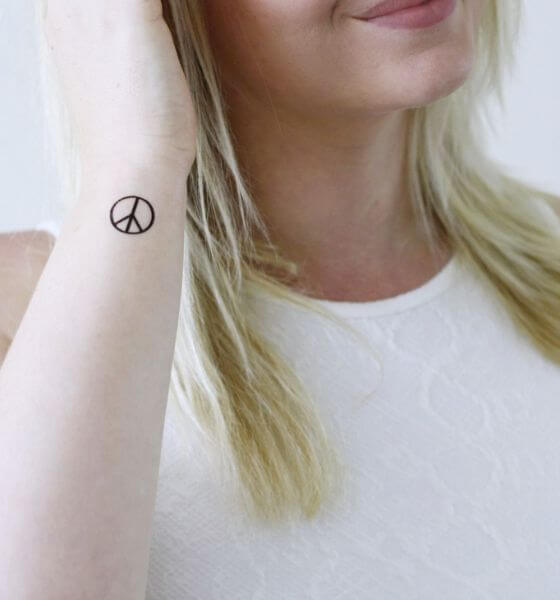 The peace symbol is a great tattoo design. You can have a temporary peace symbol placed on your arm, shoulder, neck, and nape. This tattoo looks mesmerizing!
46. Temporary Zodiac Sign Tattoo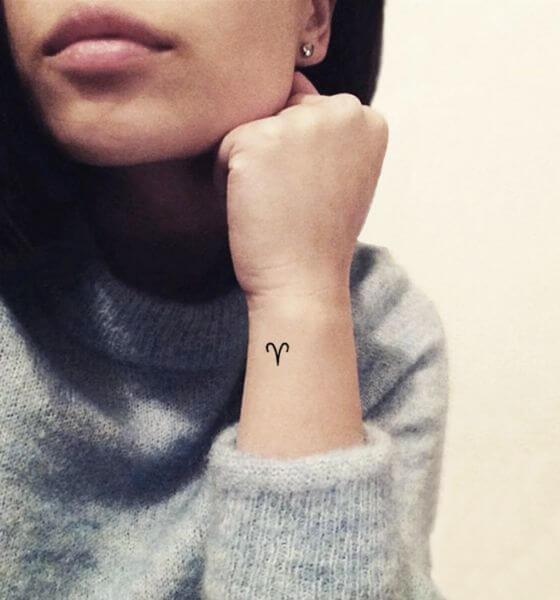 Another popular temporary tattoo design includes a zodiac sign tattoo. You've probably noticed that each zodiac has a lovely symbol. Zodiac sign tattoo stickers can be found easily online or offline. If you're not sure what design to choose, your zodiac sign can be the best option. Your nape, neck, arm, and shoulder are the best place for this tattoo design.
47. Temporary Cross Tattoo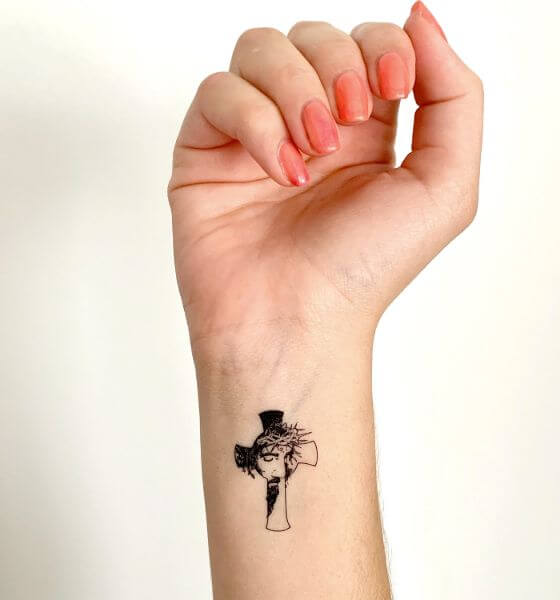 A little cross tattoo is for individuals who believe that having a cross tattooed on their skin provides exceptional protection. Or for those who love to display their love for Christ. Some do it because it appears exquisite, although theories vary. But it looks stunning on the wrist, neck, nape, and arm.
48. Glittering Small Stars Tattoo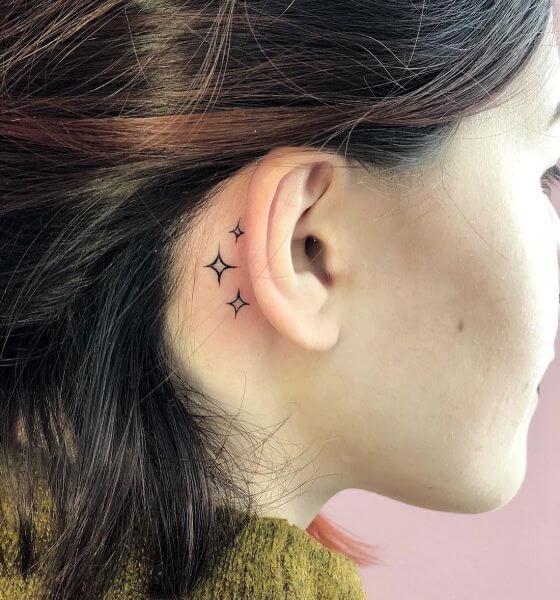 You can have glittering small stars placed on your body. This temporary tattoo design looks awesome on girls. So, if you're planning to attend a night party, a glittering star tattoo is perfect for the theme. It will shine and make you stand out amidst the crowd.
49. Temporary Star(s) Tattoo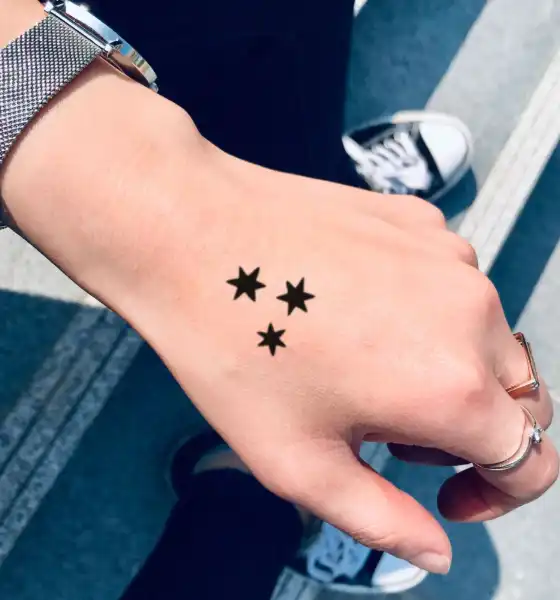 Tiny stars are ideal tattoo designs for girls who want tattoos but don't want to go overboard. A star tattoo is a popular design that has its own unique beauty. You can get a single star or a series of stars placed on your nape, neck, chest, arm, or shoulder. This design looks great!
50. Bird's Water Temporary Tattoos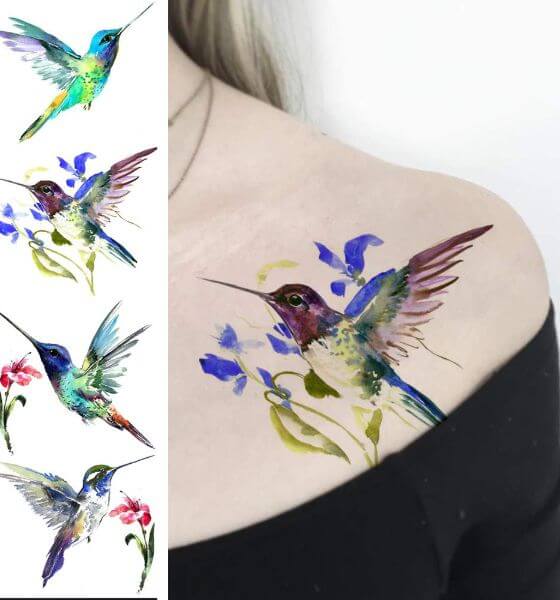 This is a fashionable bird's water decal pattern that you can get online. All you have to do is to use some water to get them into your body. There are a variety of these tattoo designs available online. You can choose the one that you like the most. They also come with and without quotes or phrases.
51. Temporary Girl Face Tattoo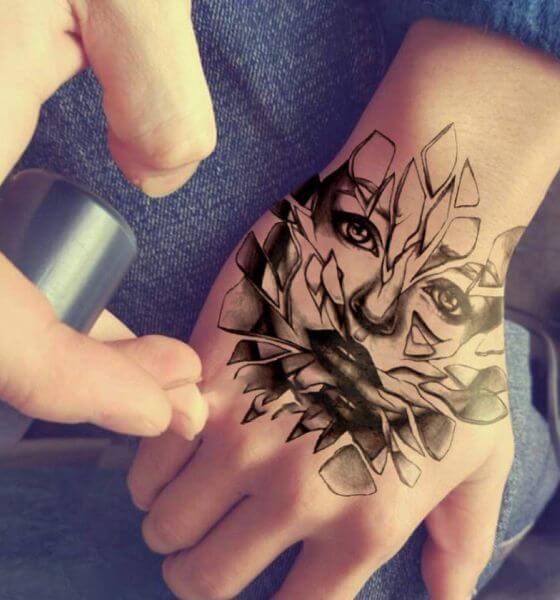 There are a variety of Temporary Girl Face tattoos available online. These water decals are easy to apply and look fabulous! Try it!
So, these are the top 51 temporary tattoo designs for you. Hopefully, this list has been informative for you and will help you choose the best temporary tattoo design.
Happy Tattooing… ☺ ☺
Please follow and like us: