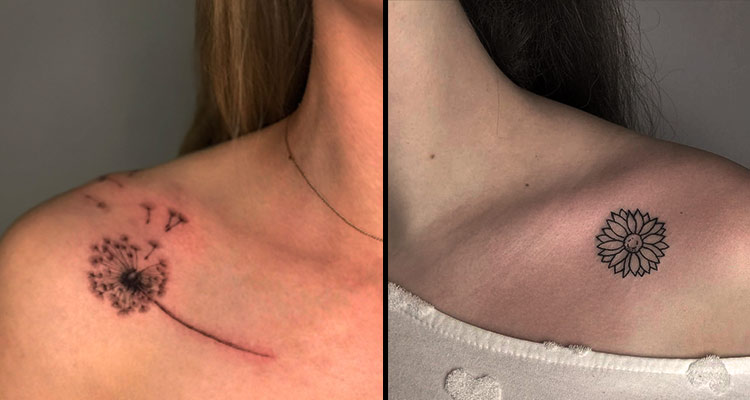 55 Attractive Collar Bone Tattoos Designs For Women 2023
Posted on
Tattoos naturally are beautiful when done on the skin. The part of the body it is drawn starts to look beautiful and enchanting. There are numerous tattoo designs you can choose from; however, the collar bone
tattoos look incredible. But, know that collar bone tattoo designs come with immense pain.
Aside from that, there are a few questions that come to mind when you want to have a tattoo inked on your collar bone. The collar bone is a unique spot of the body for tattoos and also a sensitive part of the body. Collar bone tattoos are pretty popular with women.
If you are thinking about inking a tattoo on your collar bone, then this post is for you. In this post, we shall discuss everything about collar bone tattoos, including some of the questions that you might have regarding these tattoos.
So, let's get started…
Are Collar Bone Tattoos Painful?
Naturally, having a tattoo on any part of the body is a painful experience. The Collar bone tattoo is usually the most painful of all tattoos because this region of the body is not as fatty as other parts of the body.
The bone is just under the membrane. Definitely there will be an increase in the amount of pain when having a tattoo on this part. The needle vibrates while the tattoo is inked on you; this causes much pain.
So, if you have less tolerance to pain, it is advised to get your tattoo etched on the fleshy part of your body. Of course, tattoos on the collar bone look appealing, and nothing can beat these tattoos.
Are Collar Bone Tattoos Easy to Hide?
Collar bone tattoos, to be honest, are difficult to conceal. It all relies on the type of clothing that the individual chooses to wear. You have the option of keeping it hidden for reasons that are known to you or exposing it.
You should make sure that you will not be bothered by whether or not people can see your tattoo when you decide to get one on your collar bone.
Collar Bone Tattoos For Female
Females are more likely to have tattoos on their collar bones. The reason for this is that it adds to the beauty of their dress, especially if it is a well-designed tattoo. This tattoo can be done in a variety of ways, depending on the individual.
Some people may opt for a quote collar bone tattoo or a simple art piece such as a rose flower or leaf. In comparison, others choose to have the tattoo on both sides of their collarbone. The colors used make it look captivating and beautiful. Several designs of collar bone tattoos are common with females; some of them are listed below. Take a look…
1. Small Flower Tattoo on Collar Bone
Small Collar bone tattoos are stylish and also unique. The neck, shoulder, and chest regions are considered the most painful parts of the body to have a tattoo. For a collar bone tattoo, you should be ready to endure a lot of pain. Flower tattoos are painful but also unique.
A small flower tattoo can be done slightly below or above the collar bone. The tattoos can be extended around the neighboring areas if you want a larger size flower tattoo on the collar bone.
Flower tattoos are one major design of tattoo that perfectly fits the collar bone. Flower tattoos are usually beautiful after it has been designed. Whether they are small or big, it's always beautiful. The way it is positioned on the collar bone also doesn't matter. There is a design of small flower tattoo named Magnolia tattoo. It is designed from beneath the collar bone down to the upper arm. Aside from that, you can consider having a rose, lotus or any other flower of your choice etched on your collar bone.
2. Quote on Collar Bone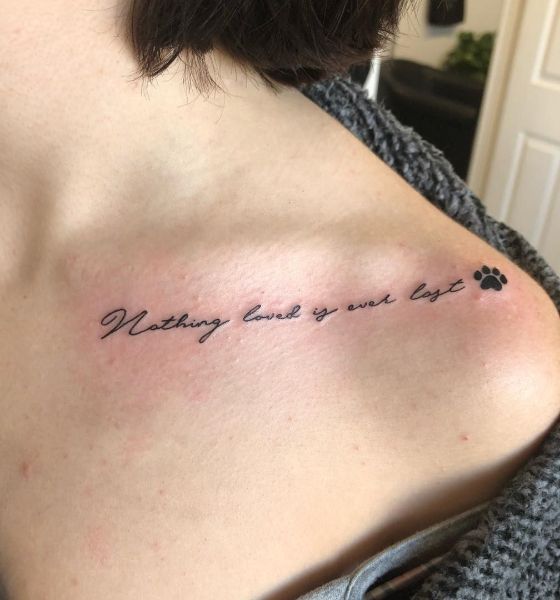 Collar bone tattoos for Women are usually very beautiful and also require great accuracy. Some people love to get minimal tattoo designs on their collar bones. And a quote makes for an excellent tattoo design on the collar bone.
While some women choose to have short words, birthday dates, wedding dates, Sanskrit verses, or poems etched on the collar bone. Whatever you choose to get, a quote on collar bone looks stunning.
3. Butterfly on Collar Bone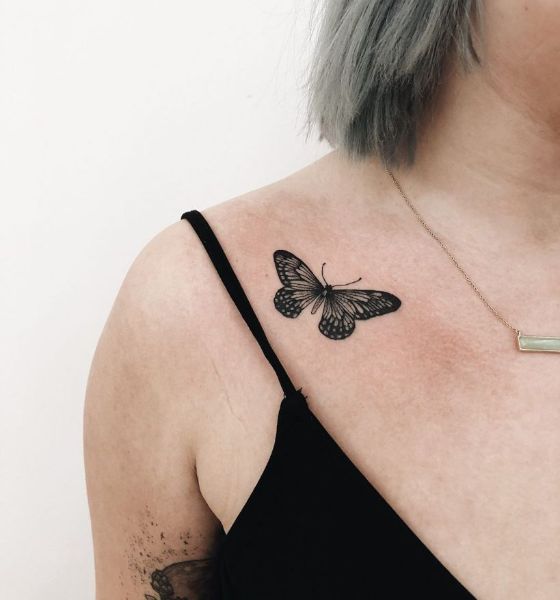 Butterfly tattoos are quite popular among women. Many females choose to have a butterfly tattooed on the collarbone. A tattoo of a bright butterfly looks quite lovely and beautiful.
Butterflies are a sight to behold in nature because of the variety of colors they display. It symbolizes splendor, Feminism, resilience, and adaptability. The addition of a butterfly tattoo to a woman's skin enhances her attractiveness and appeal. Different butterfly tattoo designs include the following:
3D Butterfly tattoo: A 3D Butterfly tattoo design usually look beautiful and real on the skin. The color in the 3D tattoo design makes it look attractive and eye-catching.
Grey and Black Butterfly Tattoo: Black and grey butterfly tattoos are for those who do not want to overdo their tattoo design. It looks beautiful and gorgeous. The color mixture gives the butterfly tattoo a beautiful discrepancy, making the tattoo unique.
Semicolon Butterfly Tattoo: It is a lovely tattoo design with a semicolon in-between the butterfly. This design signifies the person with the tattoo has an open mind towards people and is courteous.
4. Rose Collar Bone Tattoo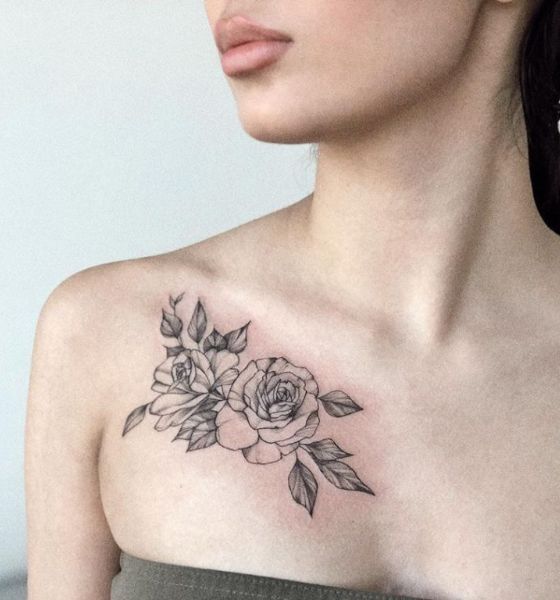 Another tattoo design that is quite popular among females is the Rose tattoo. This tattoo design has existed since prehistoric times. Rose is a symbol of passion.
Collar bone rose tattoos are frequently one-of-a-kind because the tattoo artist goes beyond the traditional way roses are designed. You can opt to have a little rose tattooed on your collarbone or have additional elements added to the rose tattoo to make it look unique.
Tattoos with red roses on the collarbone are typically rather lovely. Other rose tattoo designs that can be created on the collar bone include the following:
Rose with single-line signature: It is designed with a single line below with the rose flower tattoo as a topper on the single line. This tattoo looks bold and unique.
Classic Rose Tattoo: It is for those looking for a unique tattoo design to flaunt on their body.
Heart Rose Tattoo: This design is usually done in small sizes to form a heart shape. A beautiful tattoo design for women with a minimalistic approach towards life.
Minimalist Rose tattoo: It's a small design of tattoo that doesn't require many colorful features in it.
5. Name Collar Bone Tattoo Designs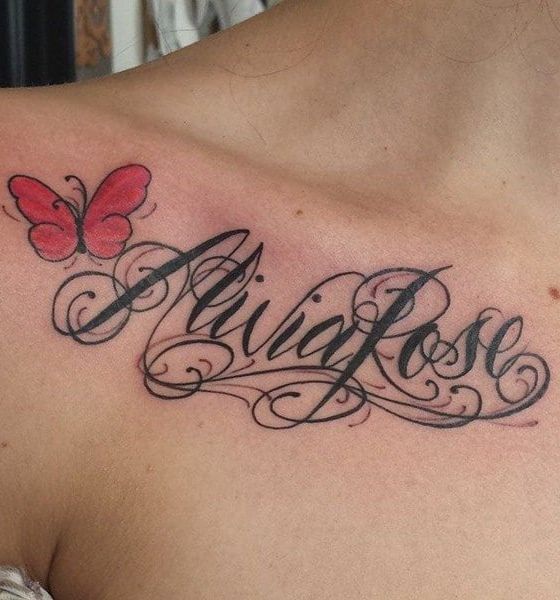 If you have someone special in your life and you want to commemorate your relationship with him with a unique tattoo design, then a name collar bone tattoo is for you.
Moreover, name tattoos look simple and elegant. So, if you're looking for a minimalist tattoo design with just a name, this is the design for you.
6. Jellyfish Collar Bone Tattoo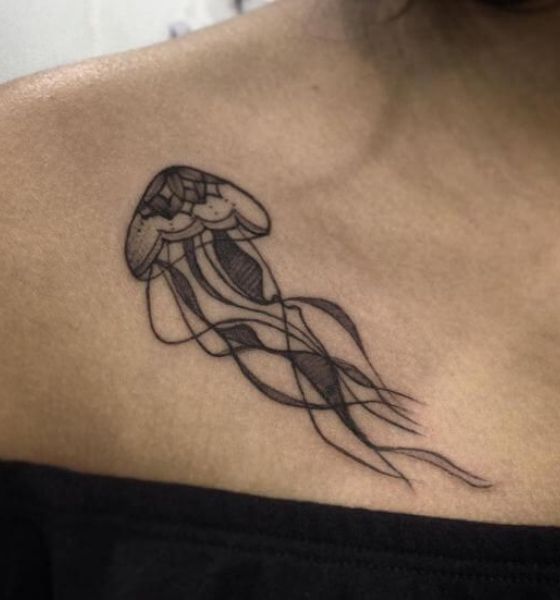 If you want a cute tattoo design on your collar bone, then get a Jelly Fish etched there. These tattoos look awesome on the collar bone.
7. Small Dots and Line Collarbone Tattoo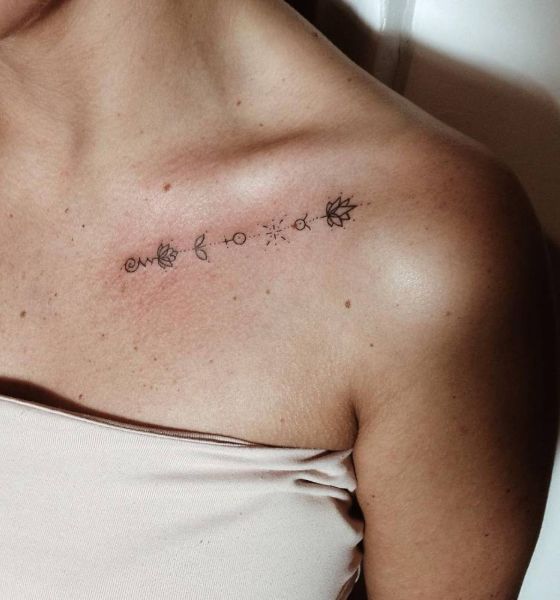 If you don't want to overdo your tattoo design or keep it simple, get small dots and lines etched on your collar bone.
8. Light as Feather Collar Bone Tattoo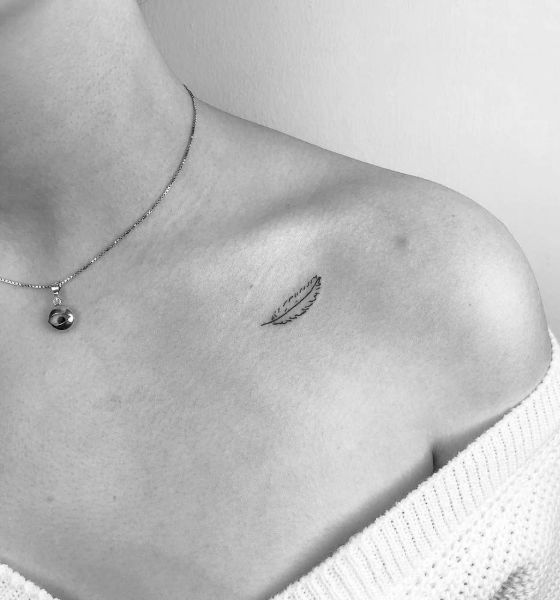 A feather tattoo is another popular tattoo design among women. If you're looking for a light tattoo design, then get this one etched on your collar bone.
9. Arrows Collarbone Tattoos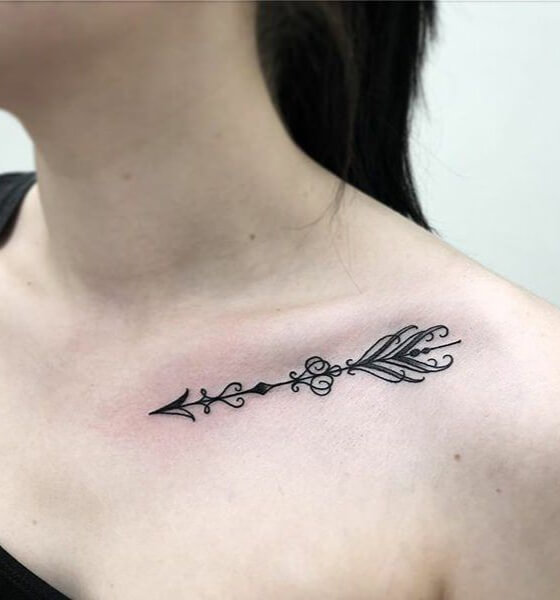 Arrows make for cute tattoo designs. A small-sized arrow etched on your collar bone will make for an eye-catching tattoo design. So, if you want a simple design, this is the one for you.
10. Selenophile Collar Bone Tattoo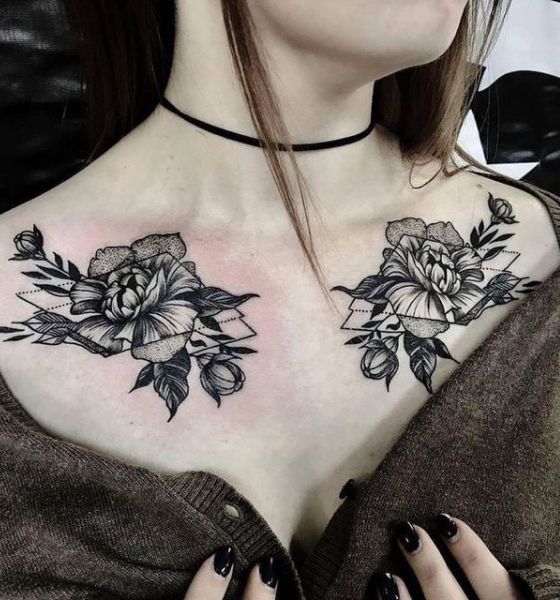 If you're looking for an outside-the-box tattoo design for your collar bone, then get a Selenophile collar bone tattoo. It will look gorgeous there.
11. Inspirational Collar Bone Tattoo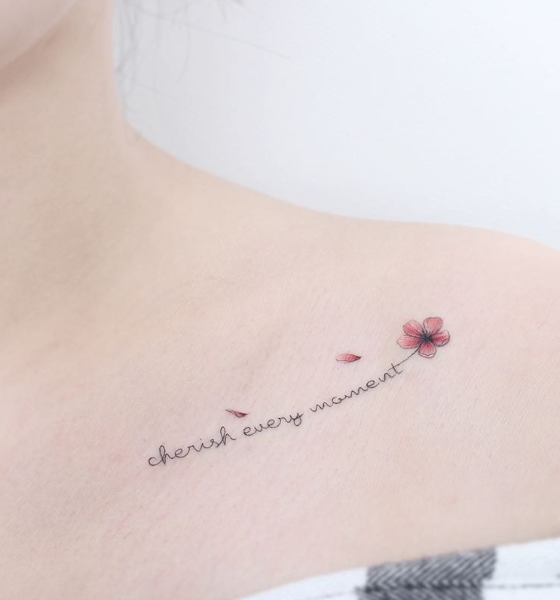 Anything that inspires you, maybe a quote, a saying, a phrase, or your loved one's name, can be etched on your collar bone. So, find out what inspires you and get it etched on your collar bone. Make sure it is positive and inspires you to grow and flourish in life.
12. Full Collar Bone Tattoo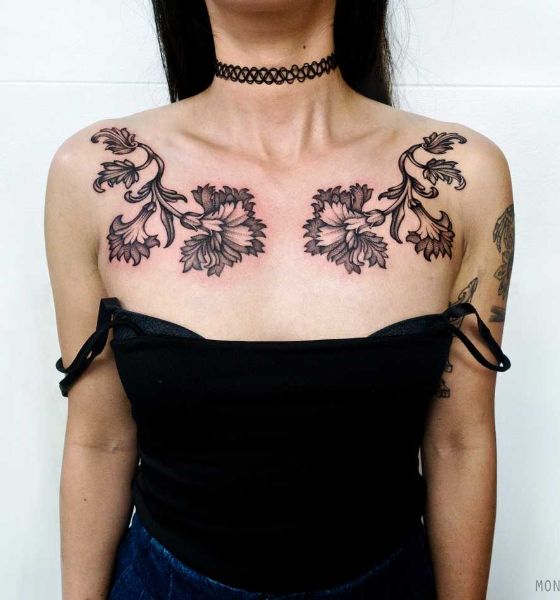 If you want to get a large-size tattoo, then get a full collar bone tattoo etched on your collar bone. You can get a scene, such as your favorite travel spot or an intricate mandala inked on your collar bone. Full collar bone tattoos look fabulous but make sure you have no problem at work or the personal front.
13. Anchor Collar Bone Tattoo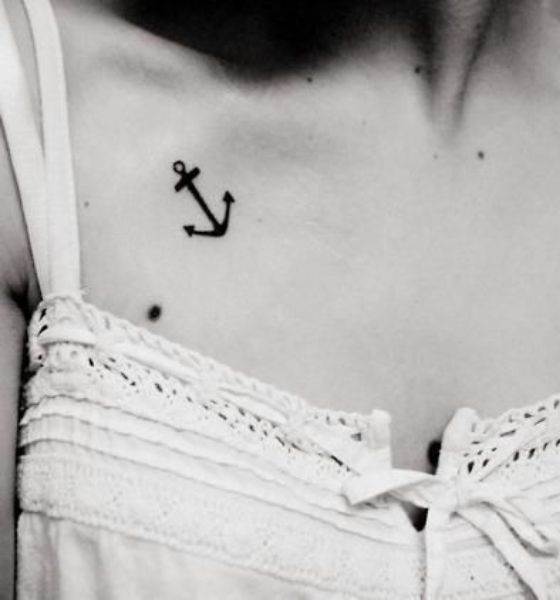 Anchor tattoos look beautiful, especially on the collar bone. It can be drawn with quotes around it. Anchor tattoos have their unique significance to the person who has them. The position of the anchor tattoo on the collar bone signifies strength to stand during tough times. So, if you believe you have had seen a lot in your life, and you came out as a winner, this is the design for you.
14. Bumble Bee Collarbone Tattoo
It can be inked on both sides or only on one side of the collar bone. This design is available in a variety of styles. It is a symbol of devotion and vitality. There are numerous bumble bee tattoo designs available. This tattoo can be designed in a variety of ways, including 3D, geometric, and cartoon honeybee tattoos. Bees flying to land on a flower, bees flying around a flower, or bees inside a flower are just a few of the tattoo designs.
Collarbone Snake tattoo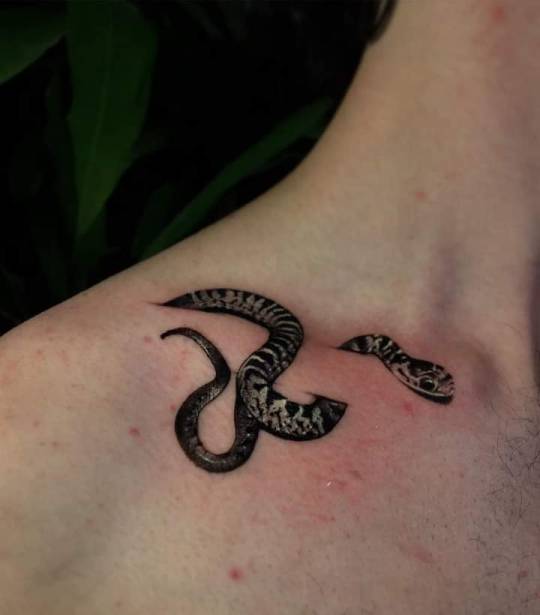 See more: Snake Tattoo Ideas
15. Unique Water Color Tattoo on Collarbone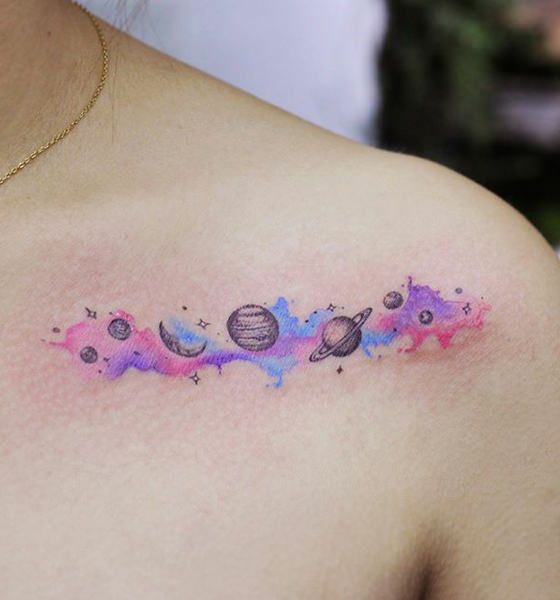 This tattoo looks captivating as it has beautiful colors in it. It always makes for a unique and eye-popping tattoo design and is quite popular among females. The watercolor design is very creative and mind-blowing. It's one of the latest trends and designs of tattoos.
Watercolor tattoos can be designed in many different ways and styles on the collar bone. These tattoo on the collar bone looks exceptional. You can use any color of your choice for your water color collar bone tattoo, either a bright color or cool colors.
16. Feather Tattoo on the Collarbone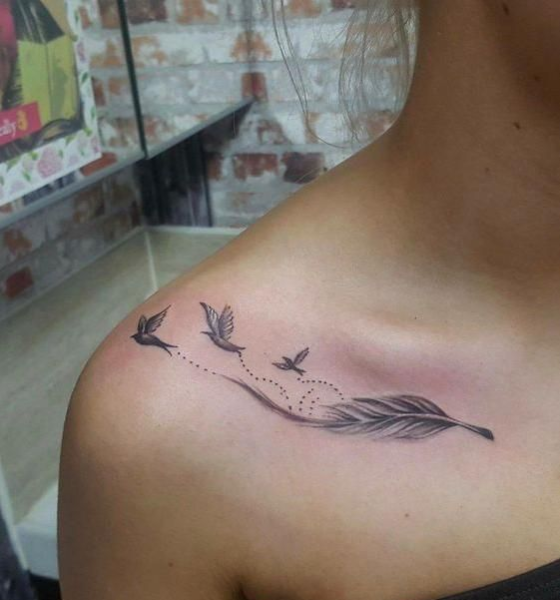 Feather tattoos are done in different designs on the collar bone. This idea of tattoo can either be small or bold in size. You can decide to make the feather tattoo either in grey and black ink or watercolor design of feather tattoo.
This design can be etched in different styles and patterns that you can choose according to your preferences. Some of the most popular feather tattoos on the collar bone include 3D feather tattoo, memorial feather tattoo, peacock feather tattoo design, simple feather tattoo, stay strong-feather tattoo, white ink feather tattoo, and so on.
17. Bird Tattoo on the Collarbone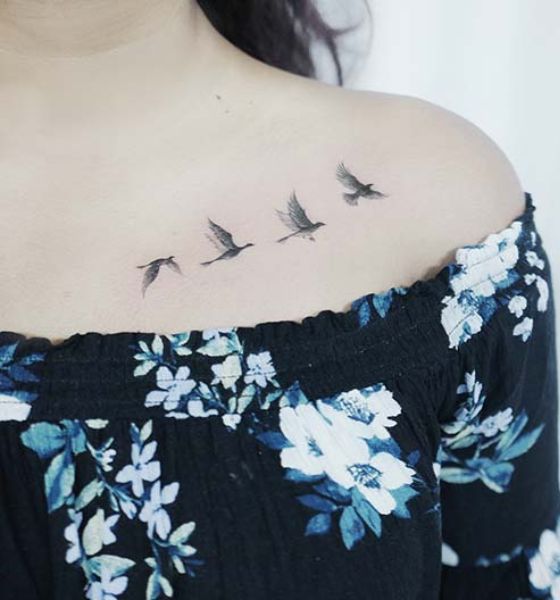 A bird or too many birds etched on collar bone make for a stunning collar bone tattoo design. It speaks of nature and freedom.
A bird tattoo design can be one-of-a-kind and fashionable. One such design features four tattoos of flying birds. It depicts the four stages of bird flight in four distinct ways. It looks stunning on the collarbone and is particularly lovely when done in watercolor or 3D.
18. Cute Collarbone Tattoo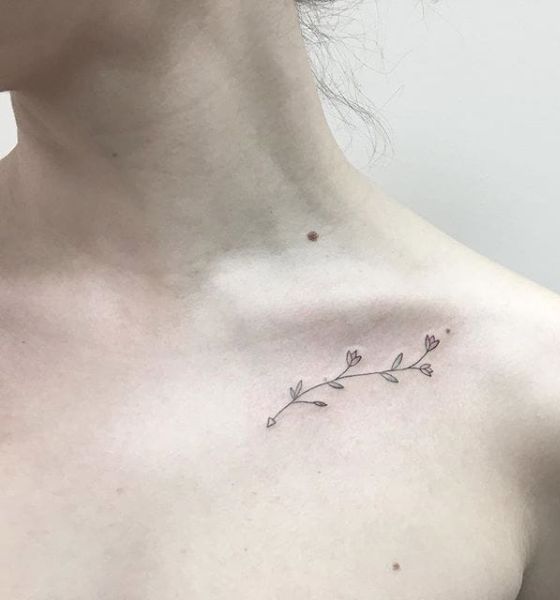 It is recommended that while choosing a tattoo design, you choose something distinctive and appealing. The collar bone is an area of the body that is difficult for women to conceal. Women have an abundance of trendy garments that reveal the collar bone. Therefore, a cute and lovely design is recommended if you've decided to get a collar bone tattoo.
This design could be anything from rose blooms to floral designs, heart shapes, feathers, quotations, dates, dots, lines, and so on.
19. Colorful Floral Tattoo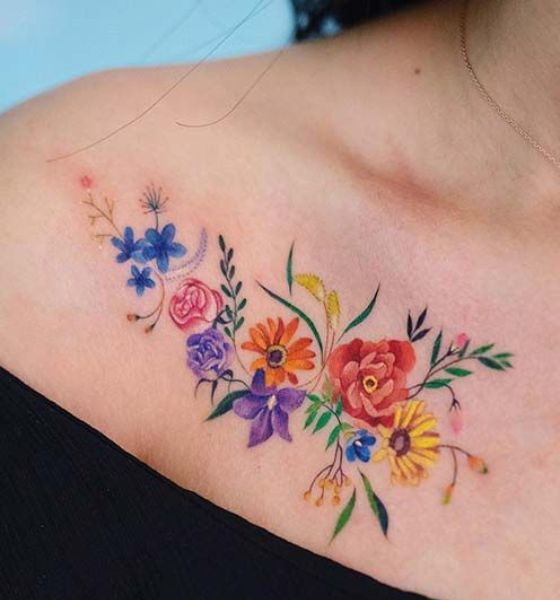 Colorful floral tattoos look awesome on the collar bone. Different flowers signify different things for an individual. For a spiritual tattoo design, it's suggested you have a lotus flower tattoo design. It represents virtue, refinement, revival, and renewal.
Other floral tattoos that are very famous with women are Lily flower tattoo, Jasmine flower tattoo, Hibiscus flower tattoo, Peony flower tattoo, Rose tattoo, Daisy tattoo, and many more.
20. Music Notes Collarbone Tattoo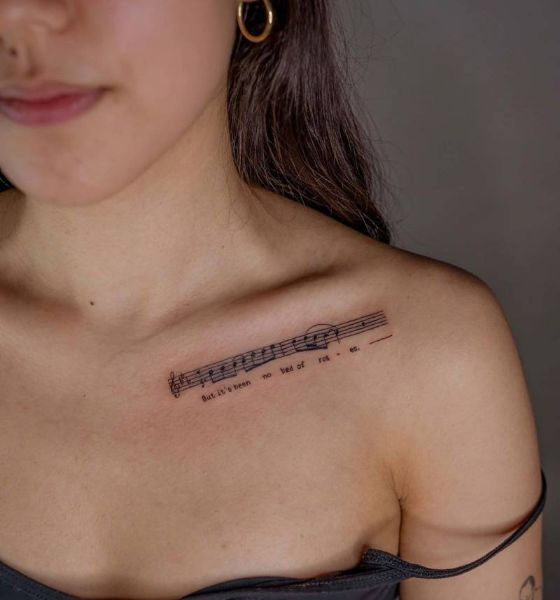 Music notes collarbone tattoos look gorgeous. Generally, the treble clef, crochet, quaver, semiquaver, and other musical notes are tattooed on the collar bone. This design is mainly done by musicians or people who generally enjoy music. Depending on your choice, it can be designed in a geometric shape, colorful, or three-dimensional design.
21. Heartbeat Collarbone Tattoo
A heartbeat collar bone tattoo design looks unique and is perfect for a woman looking for a simple tattoo design. A heartbeat tattoo signifies life and existence. To make it more creative and meaningful tattoo, you may decide to add some other unique features at the end of the heartbeat, which has some significance to you.
22. Arrow with a Bow Collarbone Tattoo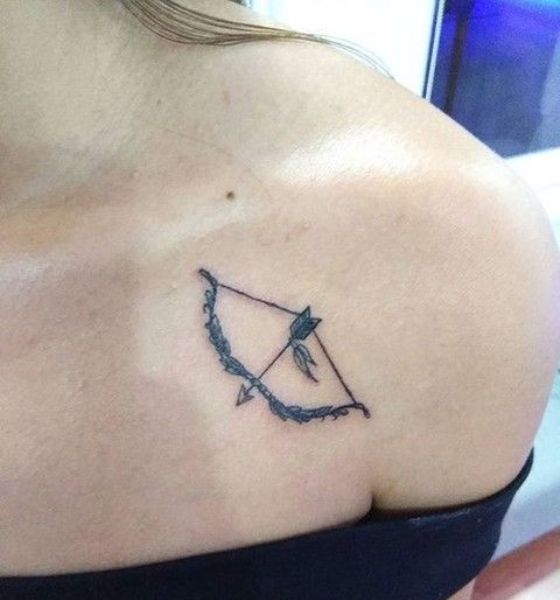 It symbolizes power and strength in females. A bow and arrow is a simple tattoo design that describes a man's movement in life. This tattoo suits both males and females because of its significance. So, if you love its unique significance and are ready to have a tattoo in a bigger size, this is the design.
23. Stars Collar Bone Tattoo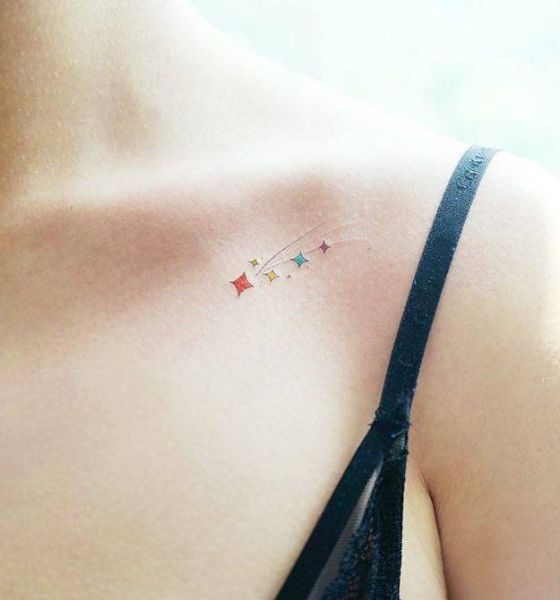 The Stars Collar bone tattoo can be set in lines under the collar bone. Collarbone tattoos with stars can be engraved in any color, including black or watercolor.
24. Heart Collar Bone Tattoo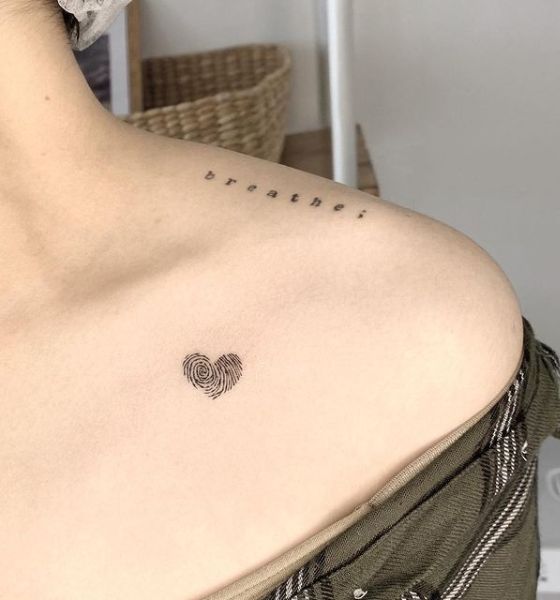 The heart tattoo design is generally related to love and passion. This tattoo design has been in existence for many years now. You can get this design either in black ink or in red color. It looks beautiful either way. A red colored heart tattoo symbolizes romance, while black color signifies grieve.
25. Sanskrit Collar Bone Tattoo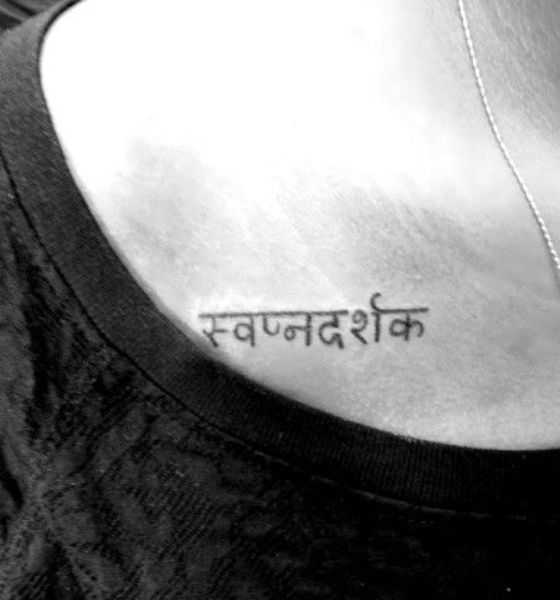 Sanskrit collar bone tattoos are intricate and lovely. They are tattoos with chronological language. This tattoo design can be inked in a variety of ways on the collar bone. This design is ideal for females because it may be drawn as a necklace and worn around the neck.
These tattoos are intricate; hence, it is crucial to get it done by someone who possesses knowledge and expertise in intricate tattoo designs. Also, make sure you know the meaning of Sanskrit verse when you choose one for your collar bone.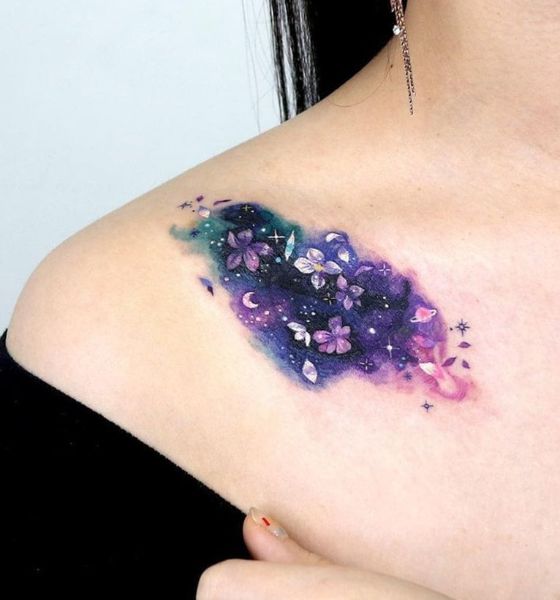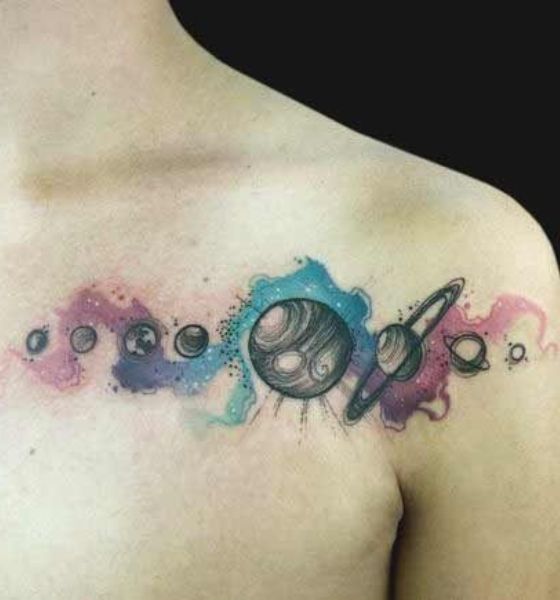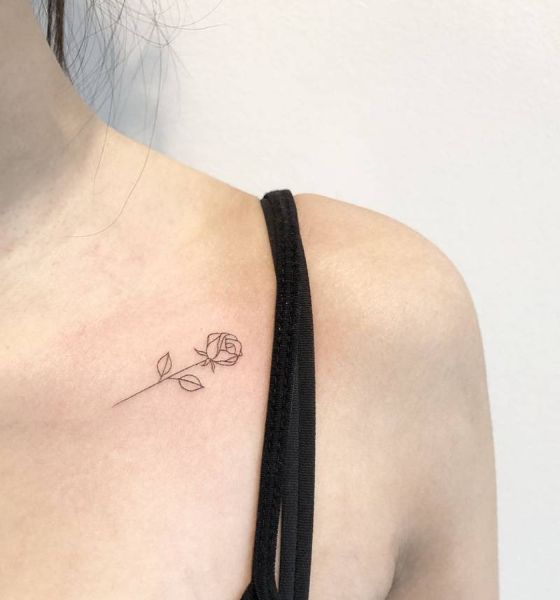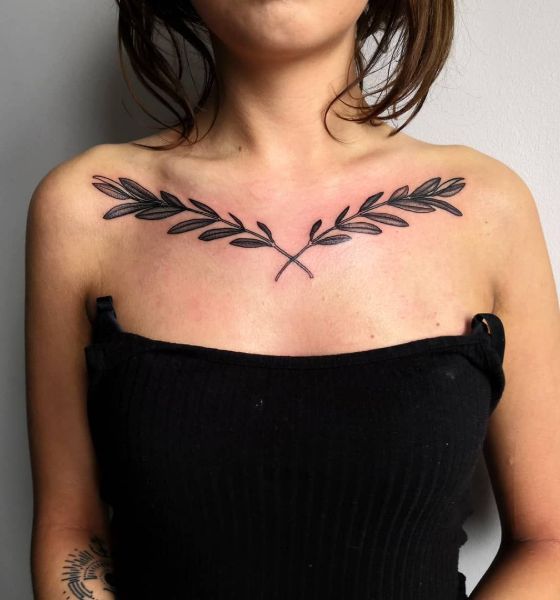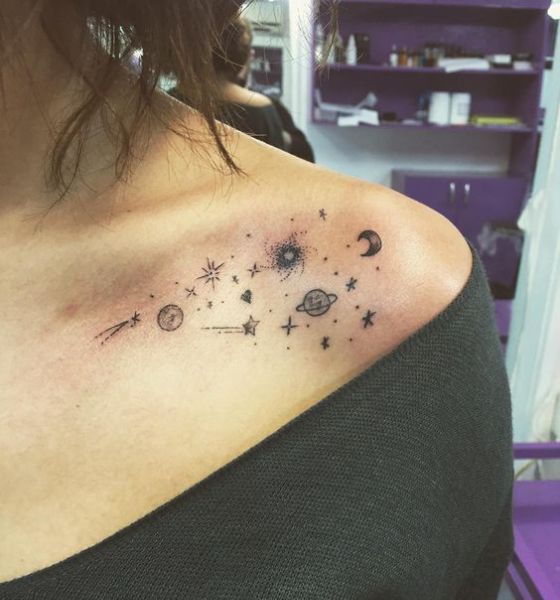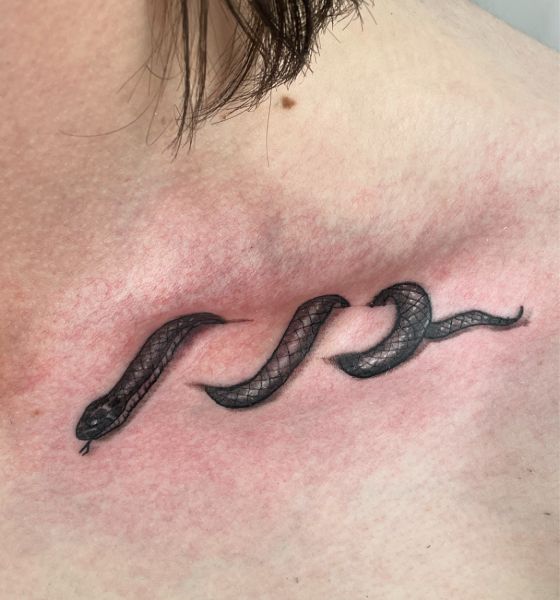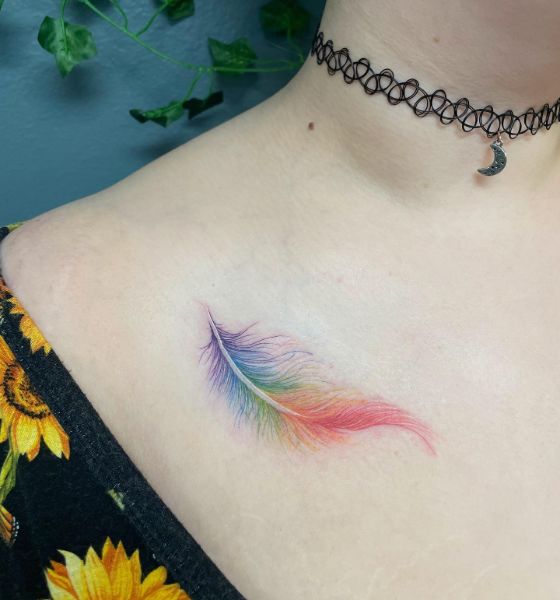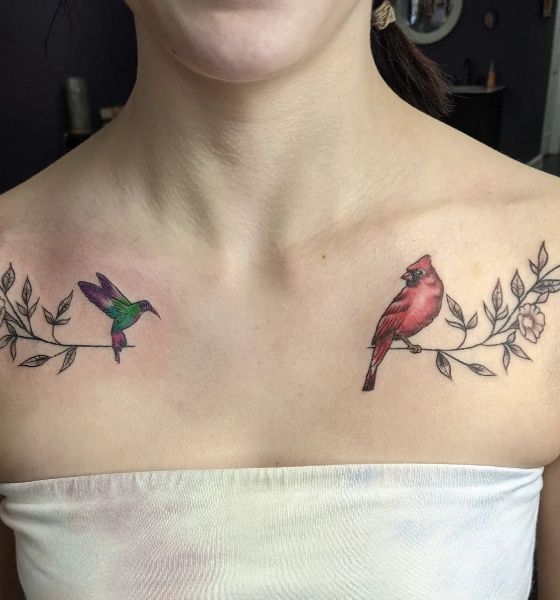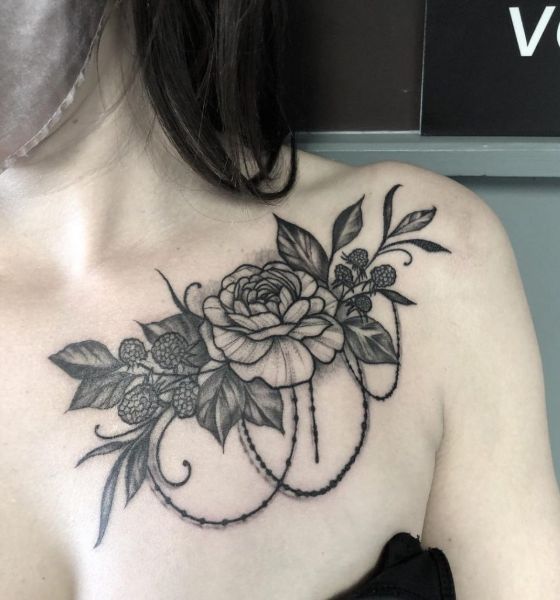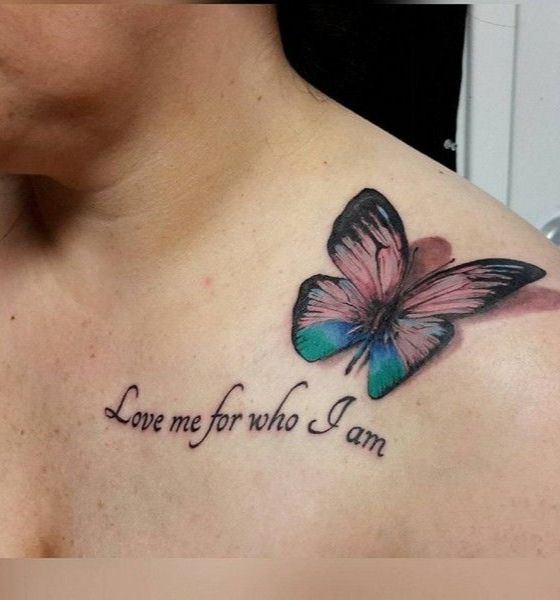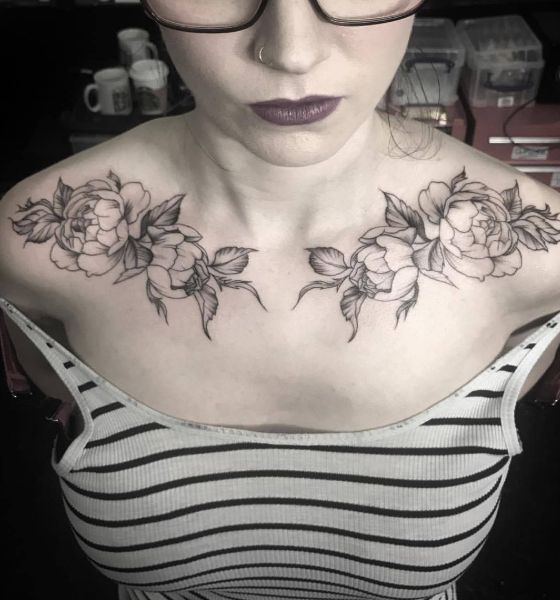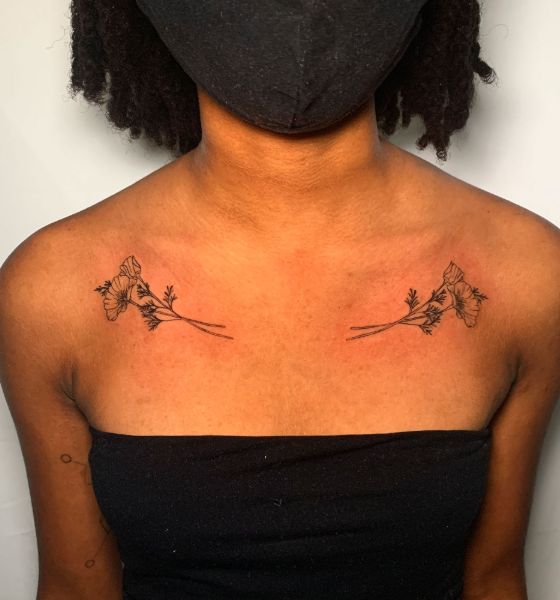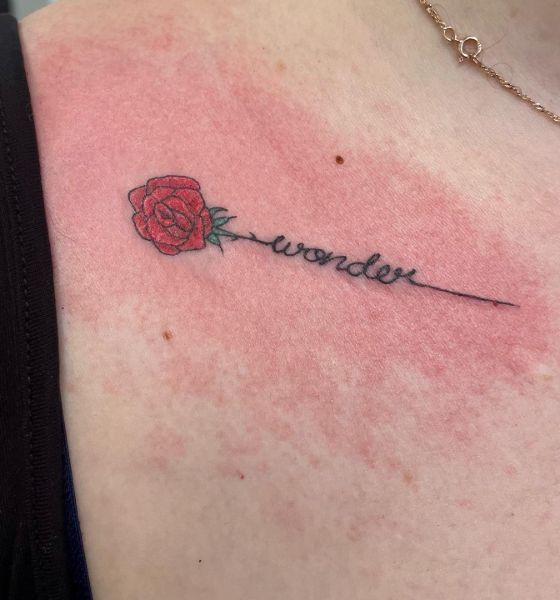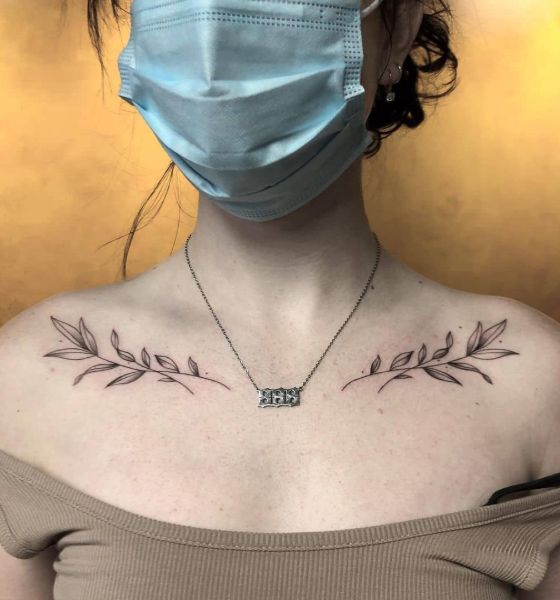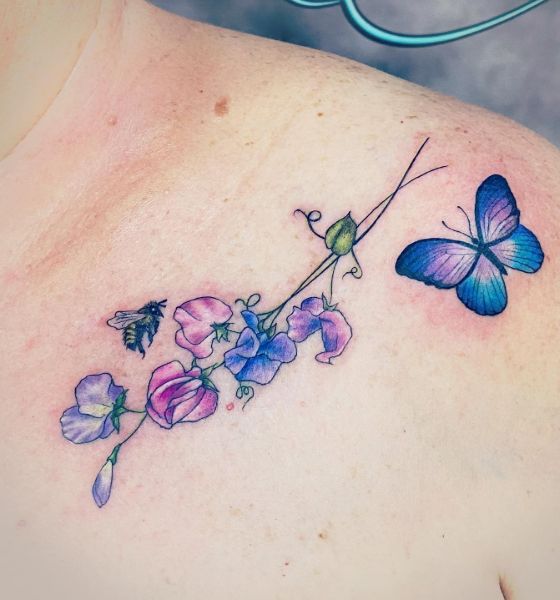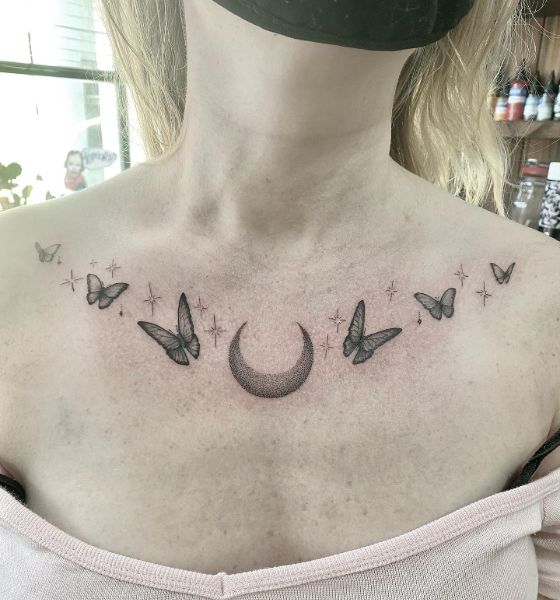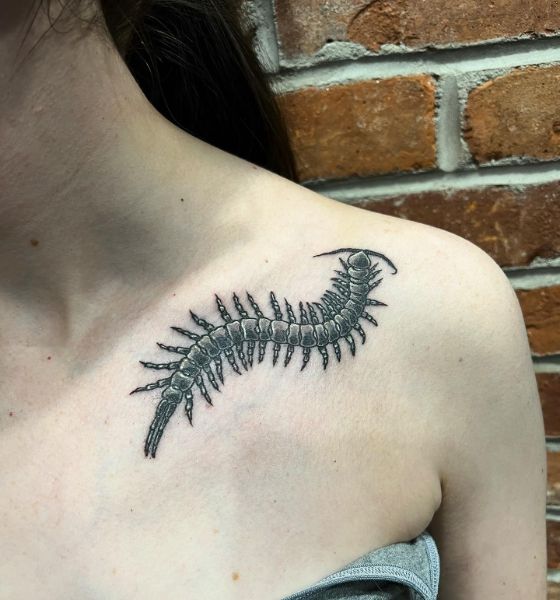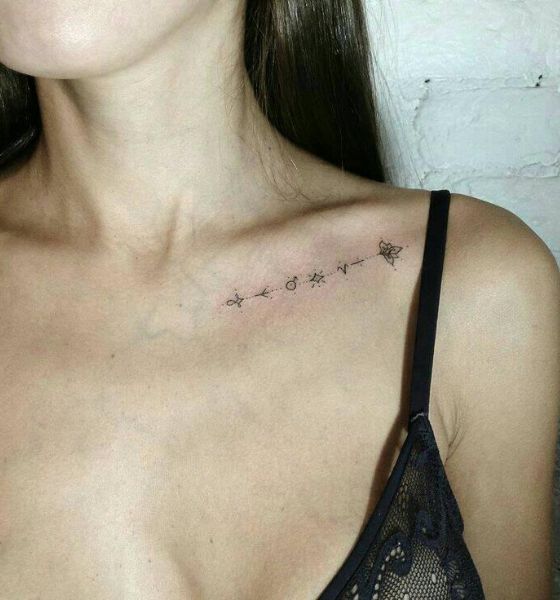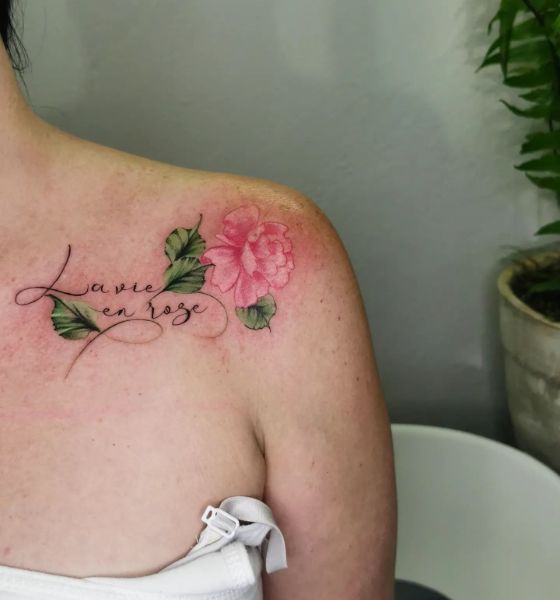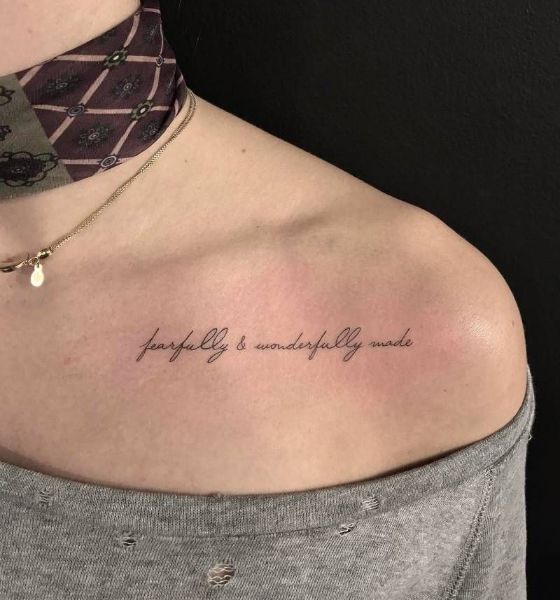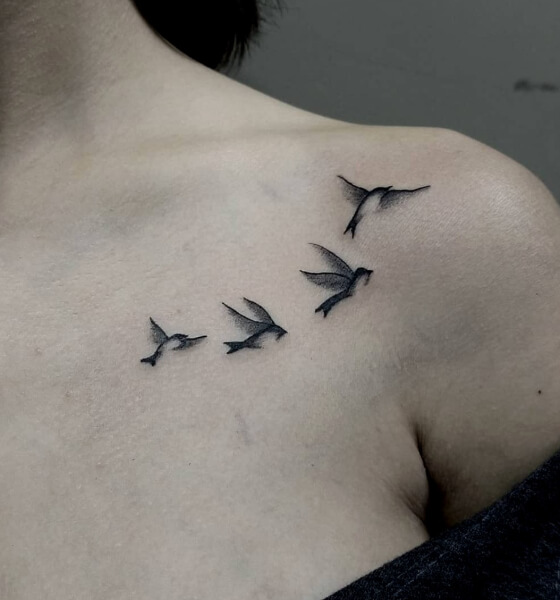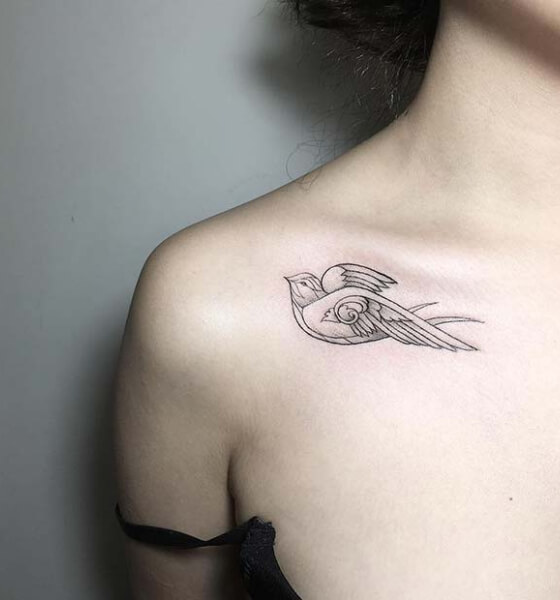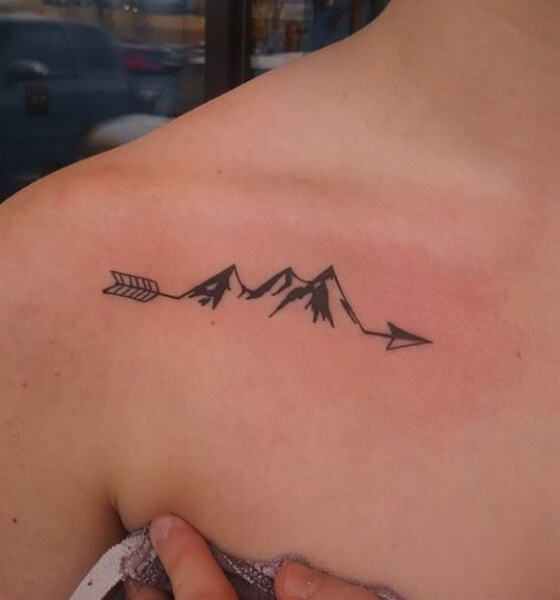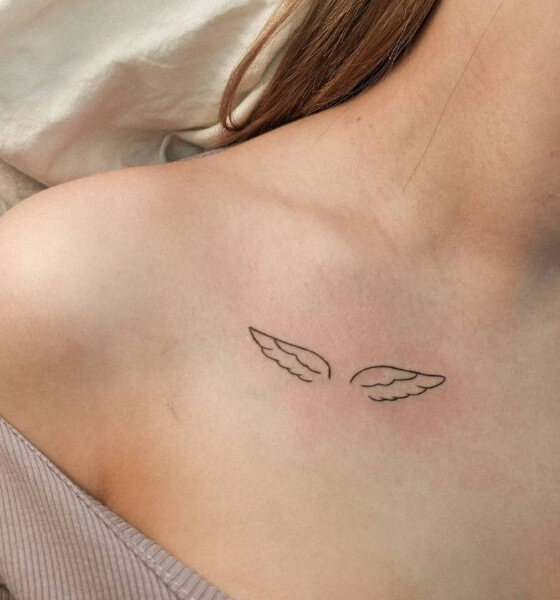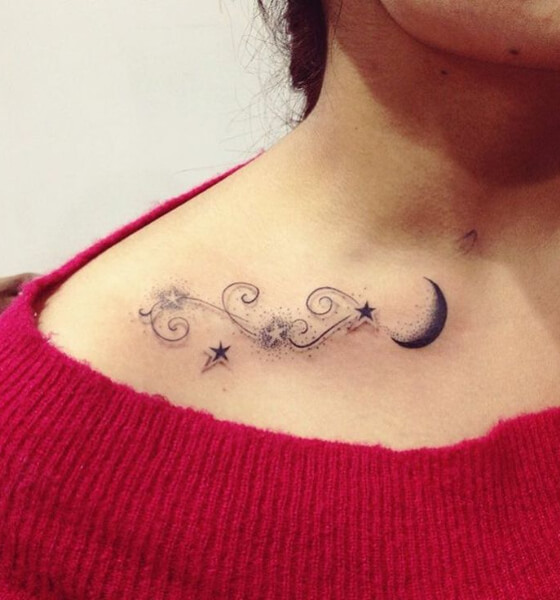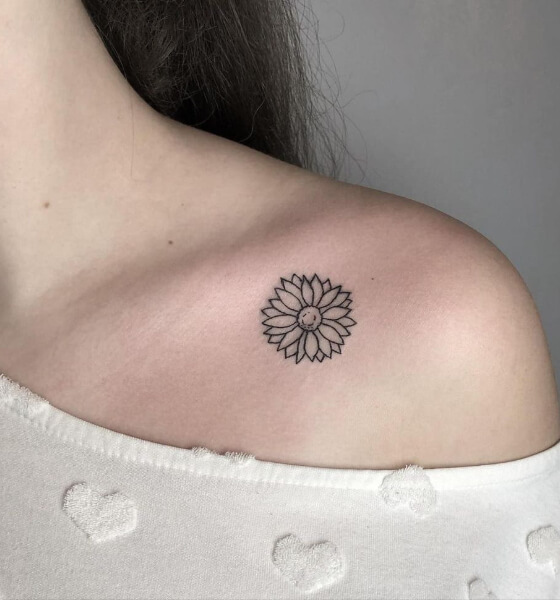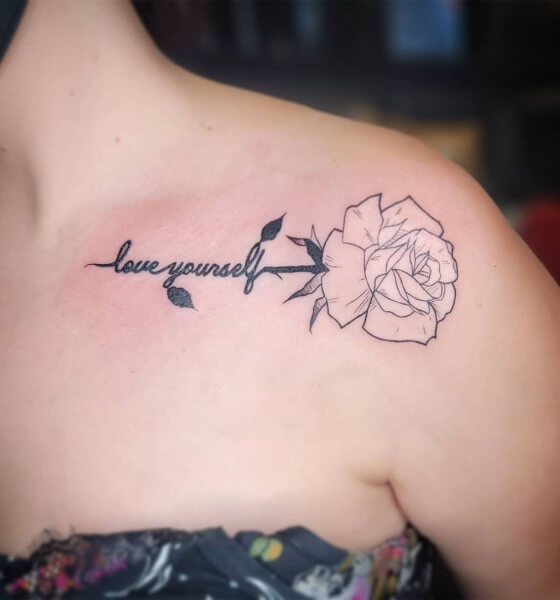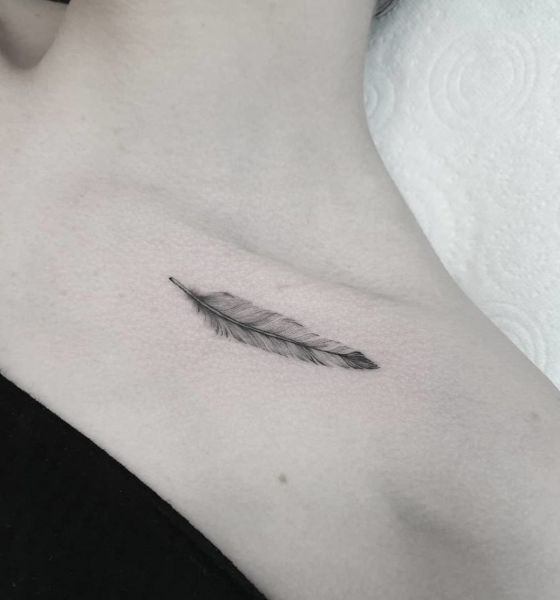 Wrapping it up…
So, these are the top 55 collar bone tattoos for women. Hopefully, this article has been informative for you and will help you choose the best tattoo design for your collar bone. All of these collar bone tattoo designs look stunning and are significant in their own ways.
All you have to make sure to get a stunning collar bone tattoo is to find an experienced tattoo artist. Your tattoo is a commitment for a lifetime; hence, it is crucial that you only get one from a professional artist. With a professional, you can be confident of getting the best collar bone tattoo that you can cherish all your life.
Happy Tattooing… ☺ ☺
Please follow and like us: