40 Gorgeous Dream Catcher Tattoo Designs
Posted on
In this article, we will discuss
Introduction
Dream Catcher Tattoo Meaning
History Of The Dream Catcher
Why should you choose a dream catcher for your next tattoo design?
Dream Catcher Tattoo Ideas
Introduction
Dream catcher looks amazingly beautiful. People place dream catchers above their bed, as it is believed that they catch bad dreams. Dream catchers are easy to make. They comprise a willow hoop that contains netting or a web with beads or feathers hanging from it.
It is believed that good dreams come through the holes and land on the owner; whereas, the bad dreams get tangled in the web. Believe it or not, dream catchers make for a magical tattoo design. Whether you want to get it etched for the symbolic meaning behind it or its looks, a dream catcher is perfect. Not only do Dream catchers look beautiful, but also they look stylish.
If you're looking for an exceptional tattoo design, then this post is for you. Besides dream catcher tattoo meaning, we have also handpicked 40 amazing dream catcher tattoos for you. In this article, we will discuss everything about dream catcher tattoos along with some magical tattoo designs.
Let's take a look……
Dream Catcher Tattoo Meaning
Dream catchers symbolize safety and protection. They are believed to provide protection from bad dreams, negative spirits, and bad omens. Most tattoo wearers choose this design as they feel dream catchers will protect them from anything bad.
History Of The Dream Catcher
Dream catchers are believed to have originated from the Native American Culture. Anishinabe people, which meant "original people," were the first to create the gorgeous dream catcher designs. These people lived on the border of the Central United States and Southern Canada. In America, they are famous as the Chippewa people, and in Canada, they are known as the Ojibwa people.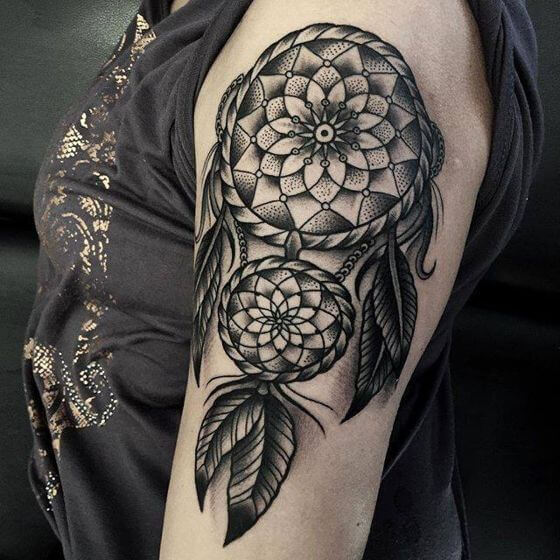 According to the Anishinabe people, a Spider-Woman travels around the world and visits newborn babies. She used to weave magical webs above the cradleboards; these webs were meant to protect the babies from bad dreams and made sure that they have only the good dreams passing through the web.
Long ago, the Ojibwe people were all located in one area called Turtle Island. But gradually, Ojibwe Nation dispersed to the four corners of North America; therefore, these clans started believing that it's not easy for Spider-Woman to make journeys to all those baby cradleboards in all four corners. So the mothers, sisters, and grandmothers started weaving magical webs for the new babies using willow hoops and sinew.
Women of Ojibwe nation used to make dream catchers with natural material that didn't last long. That is why they were continually being replaced with new materials. It is believed that dream catchers accompany the baby through to her next life cycle.
They filter out the bad dreams and allow only good dreams to enter into the owner's minds. Dream catchers have eight points where the web connects to the hoop; these eight points represent Spider Woman's eight legs. There are different variations of the dream catcher. Some people use beads, while some use feathers in the dream catcher's center that symbolizes air.
Ojibwe people used many different feathers on the dream catcher. However, some tribal women only used owl feathers to make dream catchers. Owls are known to have wisdom; that is why tribal women also used owl feathers. Apart from the owl's feathers, they also used the eagle's feather as it represents courage.
Why should you choose a dream catcher for your next tattoo design?
Dream catchers make for unique tattoo designs. The best thing is they can be personalized as per your requirement. Dream catcher tattoos are quite popular amongst women; however, men can also have them with less feminine elements associated with them. Like female dream catcher tattoo, Dream catcher tattoo for men also has many different variations.
You can get a dream catcher tattoo on thigh or a dream catcher tattoo on hand or anywhere else. Moreover, you can even add different elements to a dream catcher tattoo, such as beads, feathers, hearts, jewelry, and patterned designs. Now without further ado, let's check out these 40 amazing dream catcher tattoo designs:
Dream Catcher Tattoo Ideas
1. Dream catcher Ankle Tattoo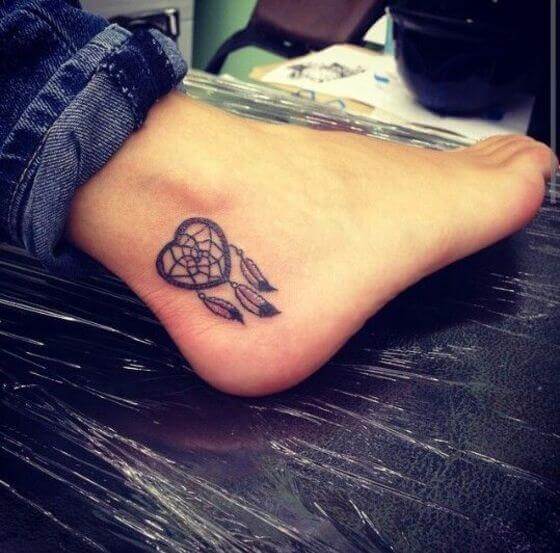 Get a beautiful dream catcher ankle tattoo. Not only does it look beautiful, but it also makes for a realistic tattoo design.
2. Dream Catcher Arm Tattoo
The arm is one of the most popular places for dream catcher tattoos. A dream catcher armband will look magical and stylish.
3. Dream Catcher with Rose tattoo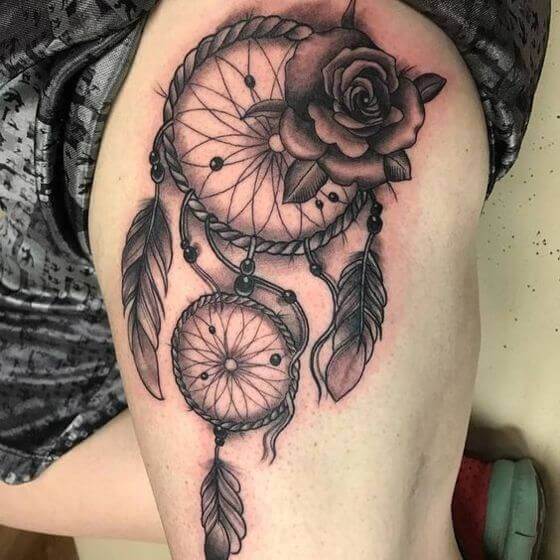 If you're looking for a delicate tattoo design, then go for a Dream catcher with a Rose tattoo. They look gorgeous!
4. Dream Catcher Spine Tattoo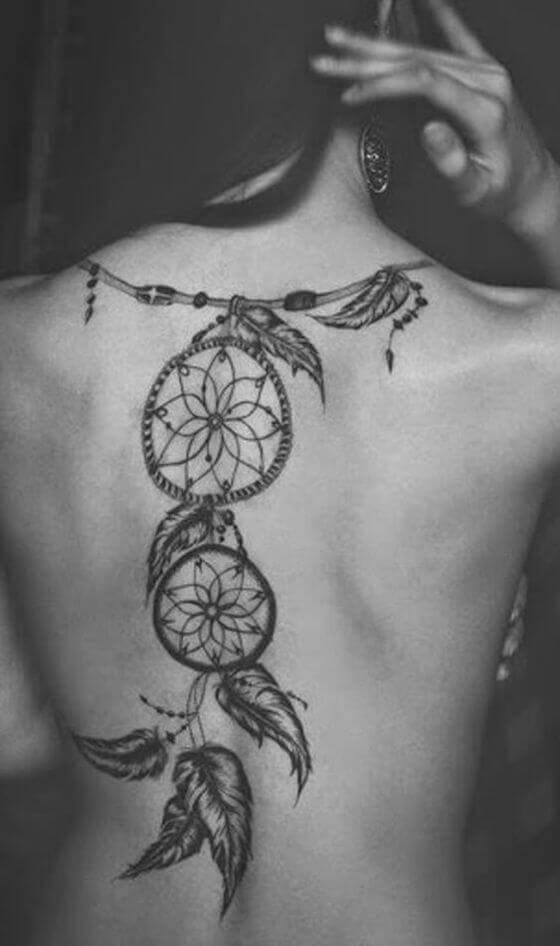 Spine tattoos look fantastic. If you're set to endure the pain that comes with spine tattoos, then this is for you.
5. Dream Catcher with Quotes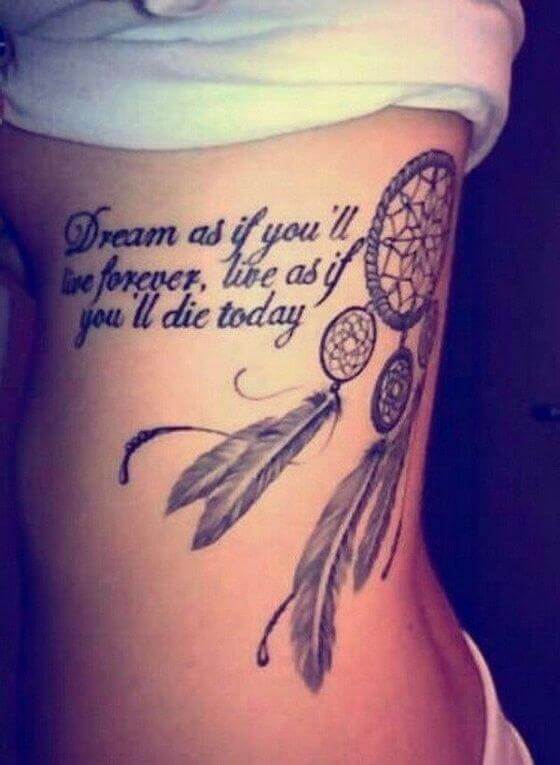 Add your favorite quote to your dream catcher tattoo.
6. Cartoon Dream Catcher Tattoo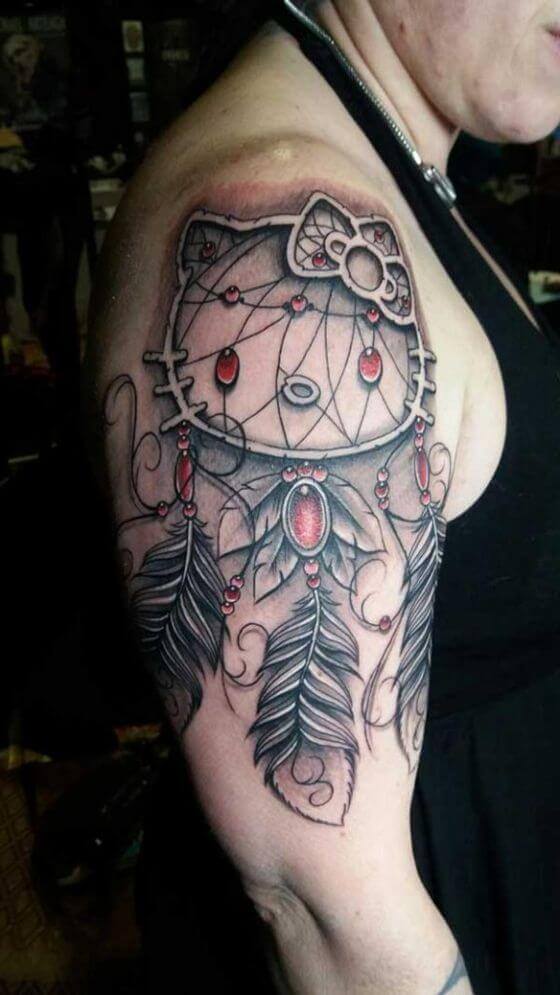 If you are fond of cartoons, then get your dream catcher tattoo in a cartoon shape.
7. Dream Catcher Neck Tattoo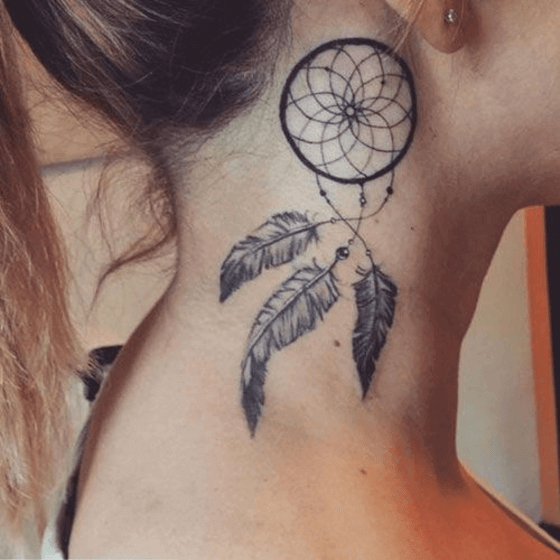 The neck is a perfect placement for a small dream catcher tattoo design.
8. Dream Catcher Finger Tattoo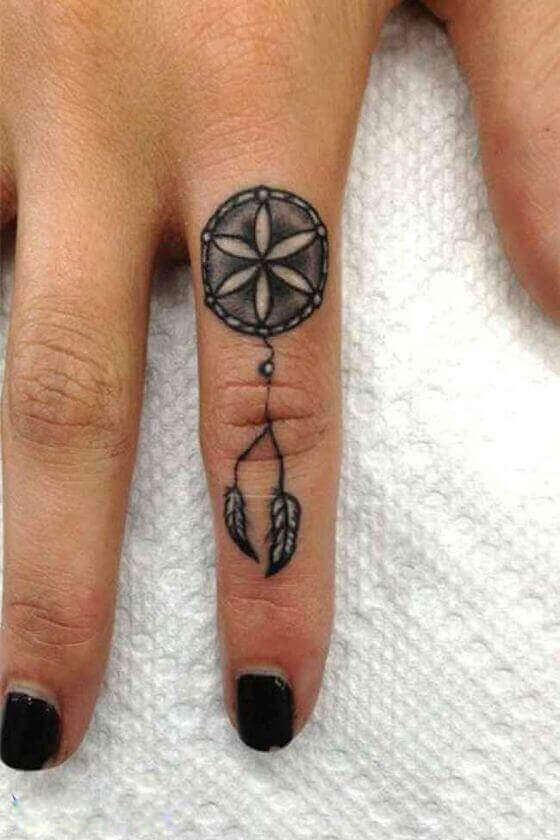 Your finger is a beautiful spot for a tiny dream catcher tattoo. A small dream catcher tattoo looks cute and elegant.
9. Dream Catcher Tattoo on Thigh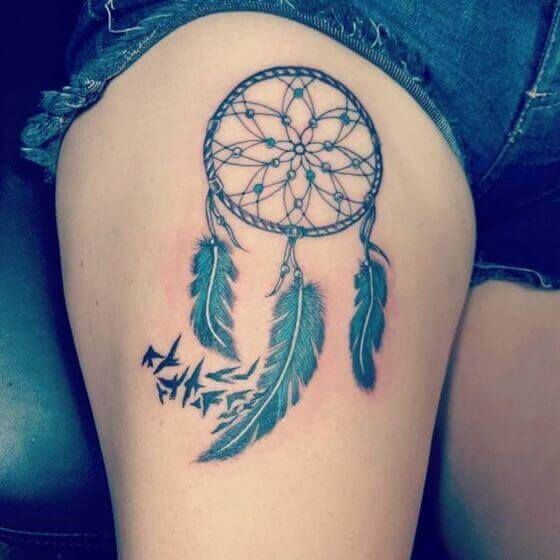 The thigh is another trendy place for dream catcher tattoos. The best thing about thigh tattoos is they can be kept hidden as and when the wearer wants.
10. Family Dream Catcher Tattoo
You can personalize your dream catcher tattoo by adding your family members' names on the web. It is an excellent option to dedicate your tattoo to your family members or loved ones.
11. Dream Catcher Floral Tattoo
Women love flowers, and dream catcher floral tattoos make for great feminine tattoo designs.
12. Dream Catcher Shoulder Tattoo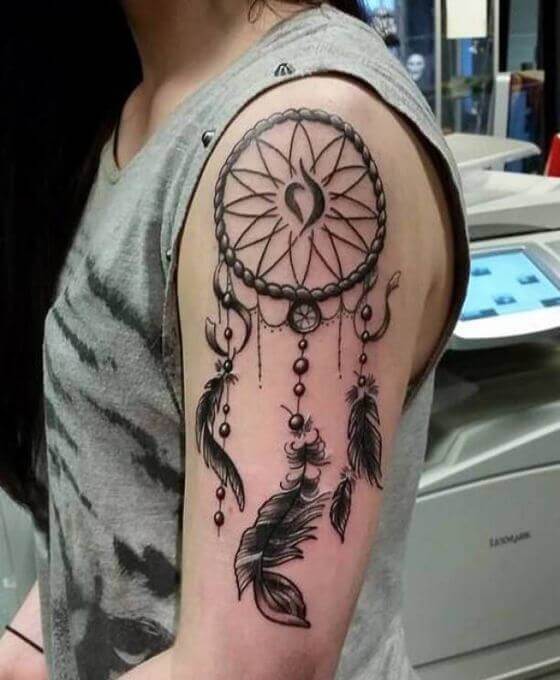 Shoulder tattoos look awesome, and a dream catcher on your shoulder is a perfect option for your next tattoo design.
13. With Heart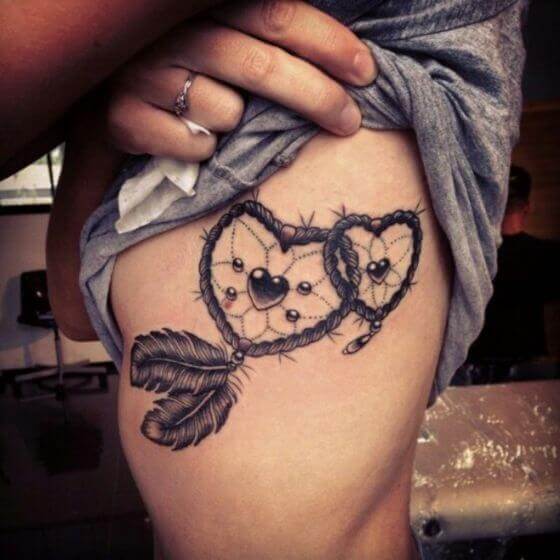 Take your dream catcher tattoo to the next level by adding a small heart to it. A small heart hanging on the dream catcher will look perfect. It makes for an elegant tattoo design.
14. Clock Tattoo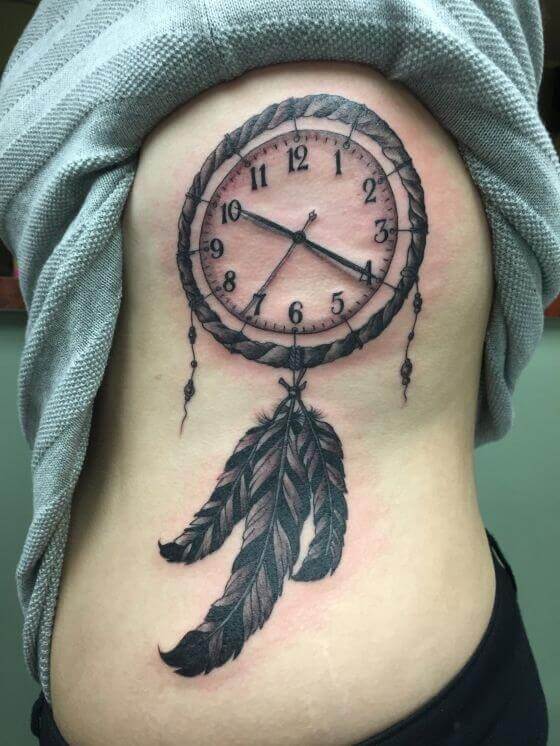 Customize your dream catcher tattoo by adding a clock to it. You can get a watch or timepiece etched on the inside of the dream catcher design.
15. Watercolor Designs
Watercolor dream catcher tattoo will have stunning colors. But watercolor tattoos should be done by the skilled artist only. So, make sure you go to an artist who is experienced in watercolor tattoos.
16. Bird Dream Catcher Tattoo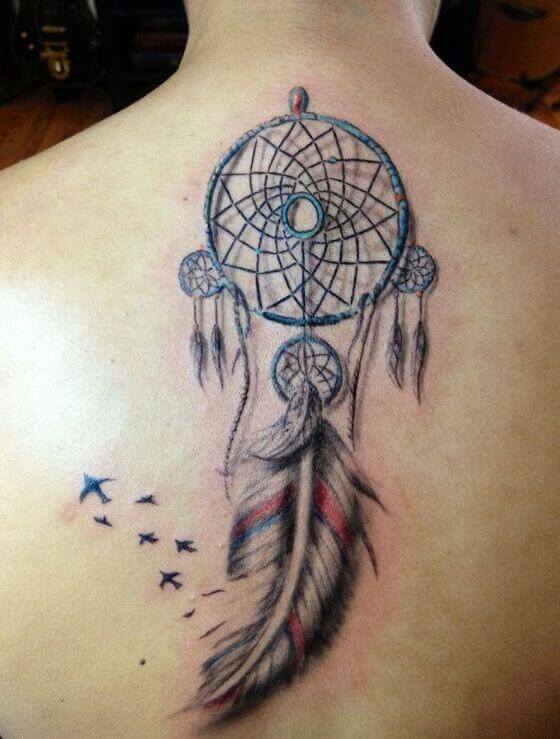 Get a bird etched sitting in the middle of the dream catcher. You can even have small birds hanging at the end of the dream catcher.
17. Moon Dream Catcher Tattoo
Moon Dream Catcher Tattoo looks magical. Instead of having a traditional dream catcher shape, get a moon shape dream catcher. The moon goes well with the dream catcher as it is associated with dreams.
18. Branch Dream Catcher Tattoo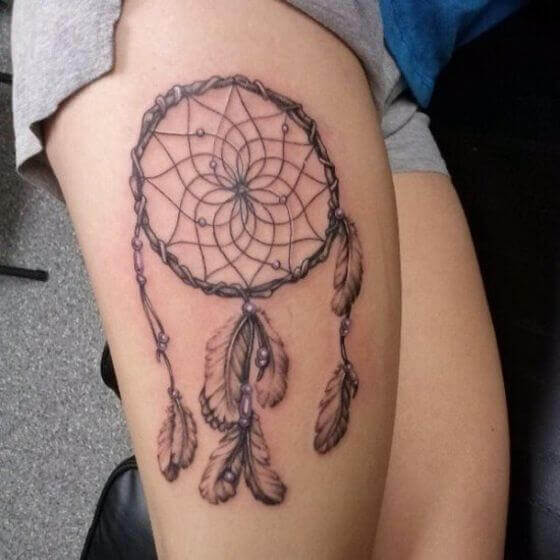 Get a bit creative! Rather than having traditional feather dangling, add branches to your dream catcher tattoo. A unique and elegant tattoo design for you!
19. With Ribbons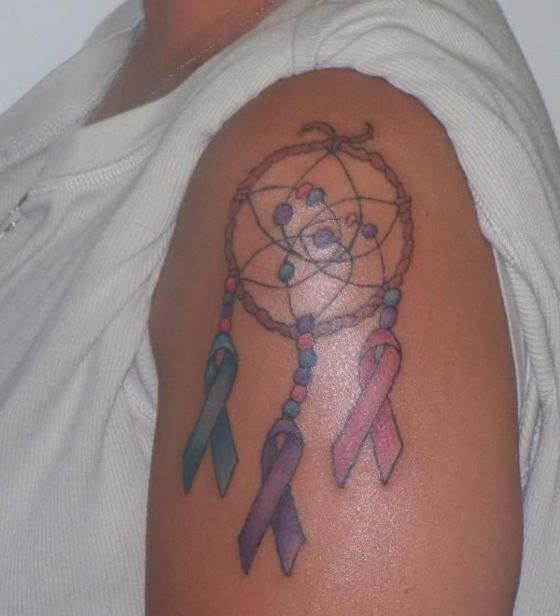 Dream catchers with ribbons dangling make for eye-catching tattoo designs.
20. Butterflies Dream Catcher Tattoo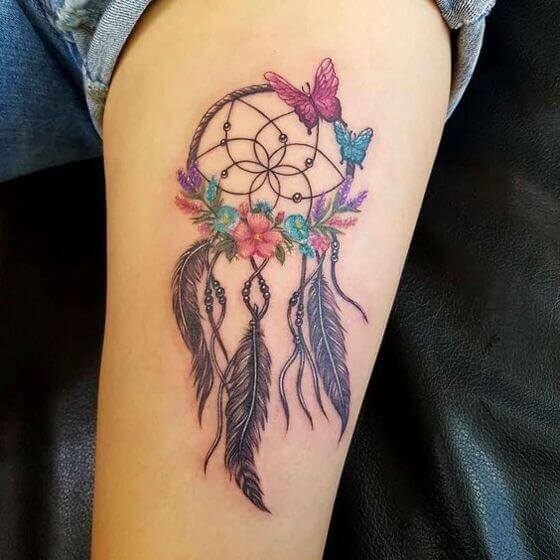 Butterflies Dream Catcher Tattoos are perfect for both, men and women. You can have them in black ink or get them etched in colored ink. This tattoo design looks terrific! Get it engraved on your arm or back.
21. Behind the Ear Tattoo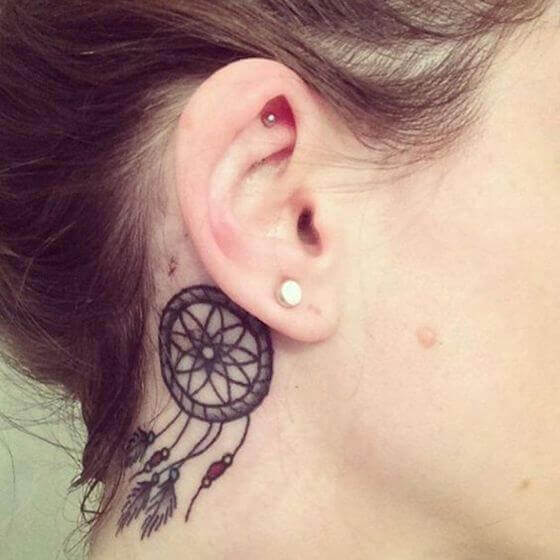 If you are looking for a small tattoo design, get a dream catcher tattoo behind your ear. Tattoos behind the ear make for very sensual tattoo designs.
22. Matching Tattoos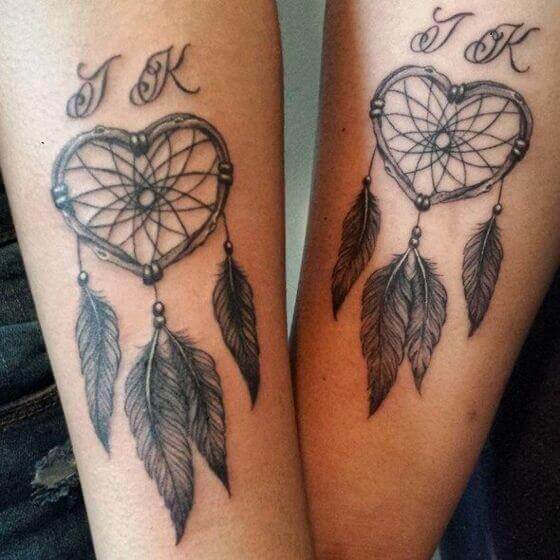 Dream catchers make for great matching tattoos or couple tattoos. Both men and women can wear them. You can even personalize it by simply adding the name of your partner. It looks cool!
23. Name Dream Catchers Tattoos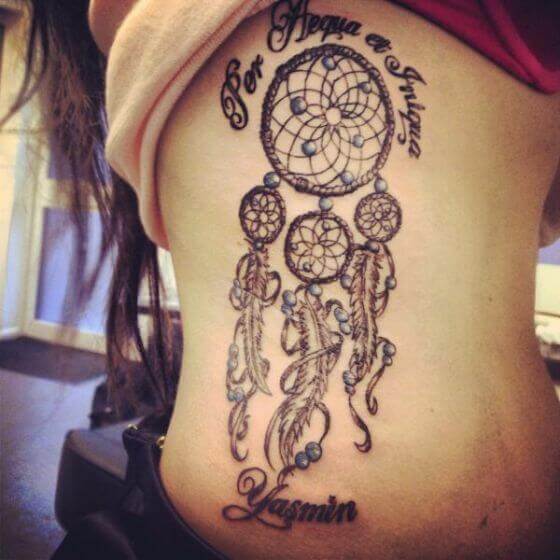 Get a personalized dream catcher tattoo. Chuck the traditional feathers or strings, get your loved ones' names dangling down from the dream catcher. It's a cool way to show your love for your family members.
24. Small Tattoo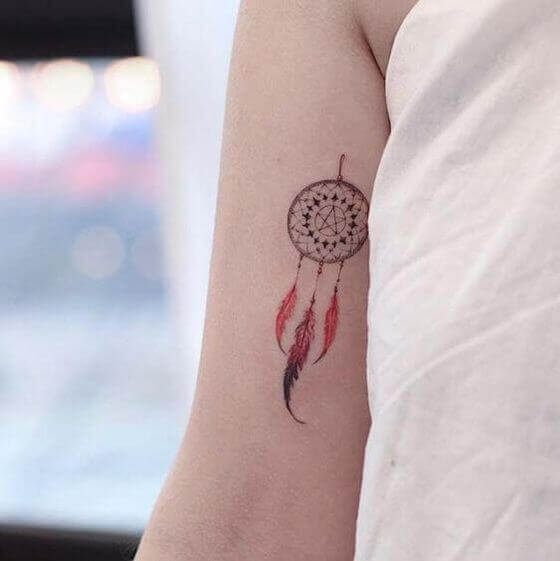 If you're one of those people who prefer small tattoos, then a tiny dream catcher tattoo is apt for you. You can get a small dream catcher tattoo anywhere on your body, from the back of your ear to your ankle. Small dream catcher tattoos look mesmerizing; also, they make for the best minimalistic tattoo designs.
25. Multiple Dream Catchers Tattoo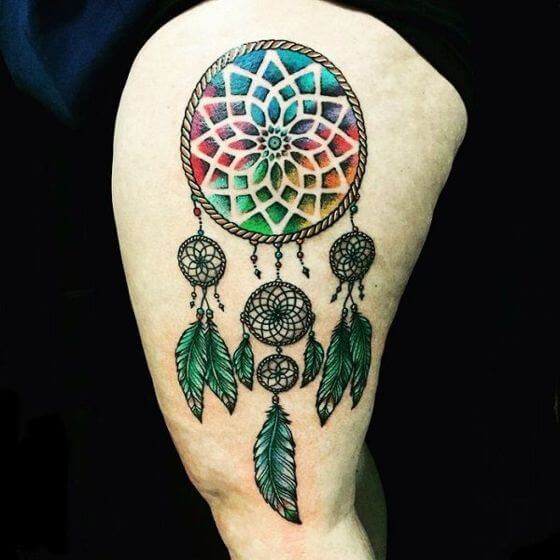 Multiple dream catchers tattoo make for a unique tattoo design. You can get a multiple dream catcher tattoo on your back or on your thigh.
Get a dream catcher tattoo and keep all the bad dreams, bad omens, and evils away forever!!
Happy Tattooing….. ☺ ☺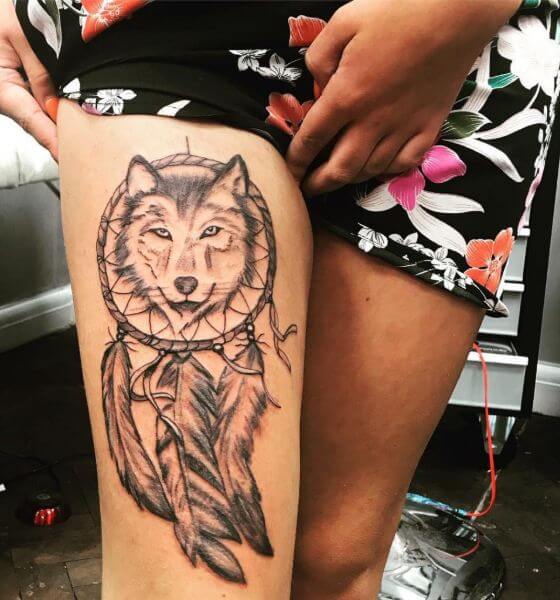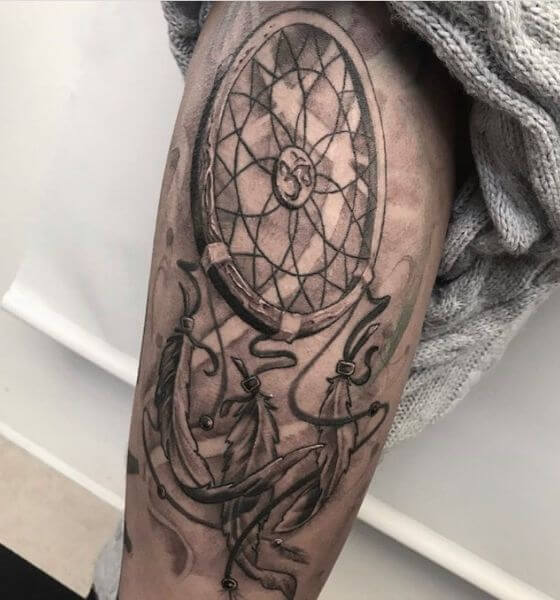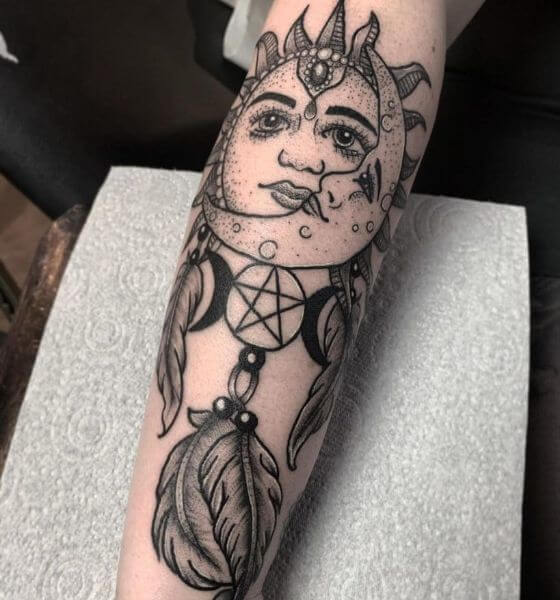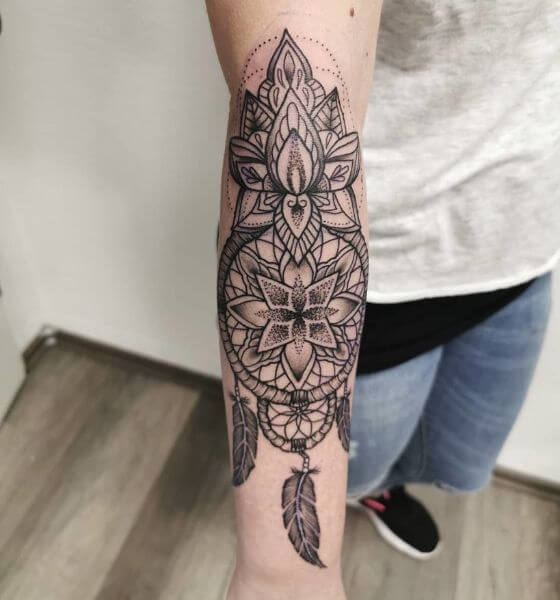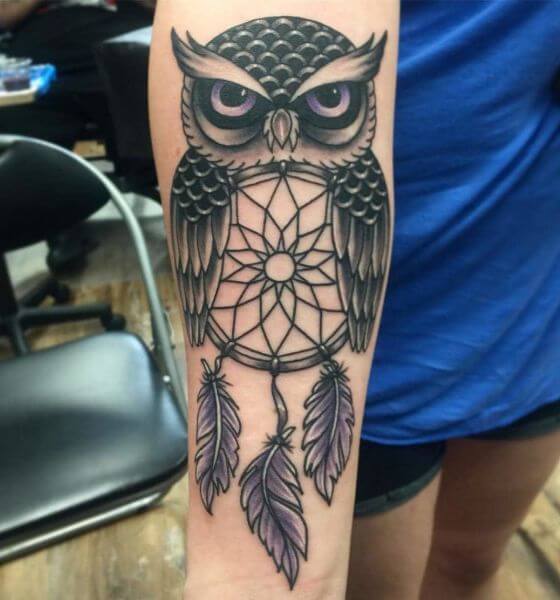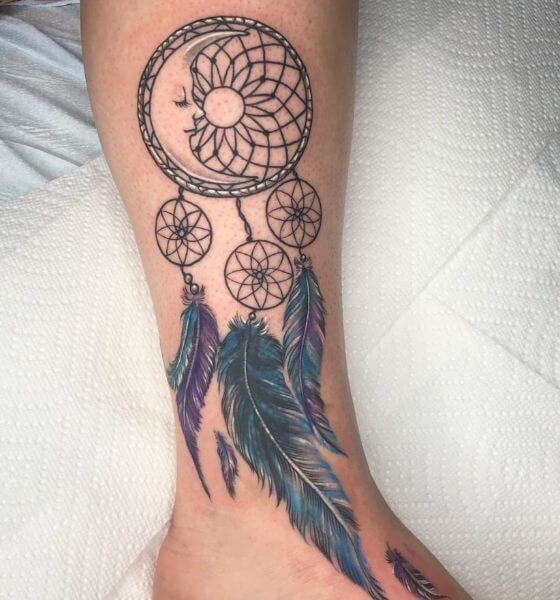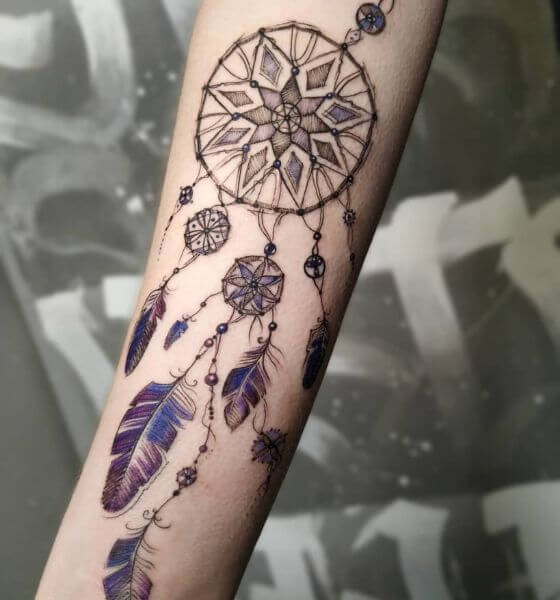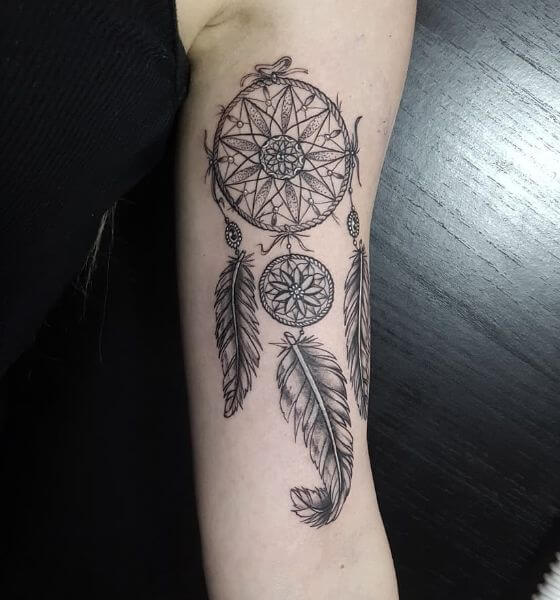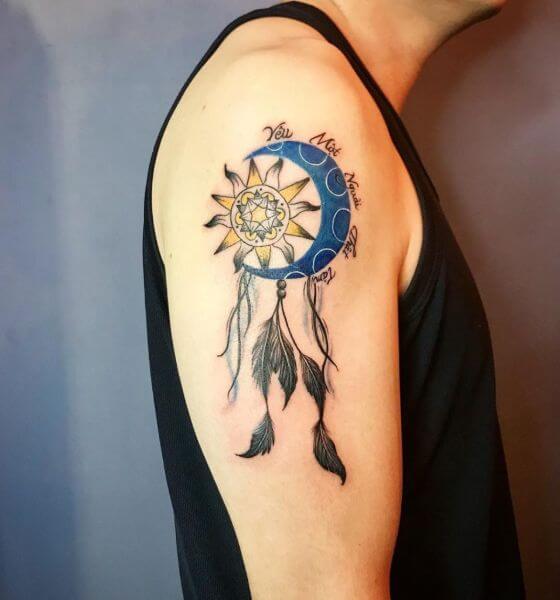 Please follow and like us: